Many people are looking for vinyl siding ideas for ranch style house. It is because vinyl siding is often identified in ranch design. And we agree that a ranch house is beautiful, especially one that is located in the countryside. We can always sense the tranquility of living far away from the city's hustle bustle once we look at a ranch house.
What about vinyl siding? Actually, if you want to redesign your home in a ranch style, there are several choices of siding. However, vinyl has its own advantages. Vinyl siding is not expensive, easy to install, easy to obtain, easy to maintain, and quite popular. Because of that, vinyl siding is considered ideal for a cladding solution.
The most important thing is, vinyl siding does not have to be painted. Other siding materials should be coated with a color layer. On the other hand, the color of vinyl siding is baked in. It means that the vinyl siding's color cannot be stripped, scratched off, and abraded.
So if you consider having vinyl siding for your ranch house's exterior, here are fifteen ideas that may inspire you.
Mid-Size Elegant Two-Story Ranch Style House with a Lovely Vinyl Siding
This traditional ranch house looks elegant in a blue vinyl exterior. The exact color is Pacific Blue by Certainteed Fiber Cement.
The siding itself is Hardie 8'/4 Cedar Mill in Iron Grey with Arctic White trim. Combined with the stone, the vinyl siding seems to blend seamlessly. The stone, which is Prestige Weather Ledge by Dutch Quality Stone, gives another level of style.
Do you see the grout in this house? For your information, the mortar on this house was not colored. A basic type of masonry cement was used from a local supplier. Beautiful, isn't it?
The metal roof is also pleasing to see. The color is black. Black combined with greyish blue may look a bit grim, but when mixed with arctic white, the combination is really upping the ante.
Large Timeless Ranch Style Building with An Insulated Vinyl Siding
This two-story house is a National Award Winner! It has been awarded by 2008 Vinyl Siding Institute Award. No wonder, because this house is lovely in its beige color. This house actually had been renovated. The designer removed its existing siding and changed it into Alside Prodigy Insulated Vinyl Siding.
Besides, there is also a Pelican Bay Shakes and Precision Fiber glass entry door and sidelights. It looks perfectly nice with the vinyl siding. And for the roof, its light brown color makes the whole exterior of this house look simple but still graceful.
Beautiful One-Story Ranch Style Cottage in a Grey-colored Vinyl Siding
Looking for an idea for a cozy, warm, and inviting retreat? You can steal some looks from this house. It is a mid-sized cottage. If you think the grey color is boring, you should think twice. In this house, grey, on the contrary, looks alluring. The exterior paint color of this house is Benjamin Moore Iron Mountain. It is an exquisite choice indeed. The trim has a similar paint as well.
The front door/transom is an antique thing from Mexico. Unfortunately, there is no further detail about this front door. But you still can achieve the same look with a classic door. The overall exterior is also perfect, combined with the gable roof.
The Greystone Ranch Style Home Decorated with Vinyl Siding Exterior
This house cannot be one hundred percent classified as a ranch house. It has a touch of arts and crafts style in it. However, this large grey house has perfect vinyl siding for its exterior. The brand of the vinyl siding is Crane Siding in Greystone color. Crane Siding is considered the best brand of vinyl siding in the market. And this house is the proof of that statement.
The Shakes' color of the siding is Slate, and the brand is Exterior Portfolio. As you can see, it turns out that Greystone looks stunning combined with Slate, and the trim is Azek White. All of them are mixed with the Prestige Stone as the stone in this house's exterior.
Lovely Vinyl Siding Gable Roof in a Yellow Ranch Style House Idea
This warm yellow ranch house also has a bit of beach style in it. Its vinyl siding gable roof makes it look even warmer. Yellow may not be a popular choice when it comes to house's exterior. But in this house, the yellow color is proving itself the best. If you are wondering, the yellow paint in the main body is Sherwin Williams 6688 Solaria.
The finish on the shutters is also adorable. It is refreshing to see something other than black paired with yellow. Most people like to play safe by combining bright color with neutral color, and black the most common and safest choice. But as you see, there is no black or other dark colors in this house's exterior.
Sad to say, there is no detailed information about the exact color of the finish on the shutters. However, if you want to have auburn, tan, or rich brown color (which looks perfect with yellow), you may want to consider using Gel Stain by Minwax. It goes on most materials.
New Contemporary Ranch Style Vinyl Siding Exterior with a Shed Roof
Even though vinyl siding always looks nice on a traditional ranch house, it doesn't always have to be a classic ranch style. This house, on the contrary, has a touch of contemporary style. Instead of the gable roof, this house has a modern and stylish shed and shingle roof. It turns out, these roofs are also perfect when being mixed together with vinyl siding.
This two-story building has grey vinyl siding. And it even proves that vinyl siding is actually applicable for any style. Grey, especially combined with black trim like in this house, is often used for a contemporary and a minimalist modern style. It is because minimalism radiates an expensive aura. The black finish and trim even look more expensive combined with glass doors and huge windows.
Big Ranch Style Vinyl Siding Exterior Completed with a Hip Roof
Bright and colorful are not the kind of types that are usually associated with traditional ranch houses. However, this beautiful ranch house is not usual. It has a slight touch of coastal style in it. This large two-story vinyl house really has it all.
First, look at the stunning front door. Both glass and the door are sourced locally through Manning Building Supply. The blue color is matched seamlessly with the roof.
To achieve this bright and colorful look, here are the paints used in this house's exterior. For the main house, the color is Sherwin Williams Tony Taupe (SW 7038). The door color is Sherwin Williams Reflecting Pool (SW 6486). The ceiling color is Sherwin Williams Raindrop (SW 6485). And for the white trim is Sherwin Williams Extra White (SW 7006).
The front of the steps is awesome too. The tiles were sourced through a supplier in Jacksonville, Florida; it is TGF35 Bangle Glass 400 Azure Micro Blocks. The tile is trimmed with kiln-dried pine material. Indeed, trimming is not always necessary. But if you do trim, it makes the whole look much cleaner than running the tile to the end and just seeing it exposed because each tread was open on end.
Next, look at the stucco finish. It is called "oyster on grey mortar", and it was not painted. Fabulous, isn't it? The stucco base finish was in the porch wall to the right of the entry door. It was finished with a tabby-colored coquina shell that is blown into the stucco for shell finish. It looks adorable in this vernacular style of the house. The finish was also repeated in other areas on the exterior.
A Metal Roof in a Ranch Style Exterior and Grey Vinyl Siding
Who said pale grey wasn't a nice choice for a house's exterior? This cottage has a two-story vinyl siding exterior in grey color This house's exterior is a perfect example of a traditional farmhouse, except it is completed with a metal roof. Most people think that a farmhouse or ranch style house is always painted white. Even though this house is on the traditional side, it doesn't use the usual white color. Instead, grey is the choice.
If you are curious, the exterior paint color used in this house is Sherwin Williams 7015 Repose Grey. It looks as if the grey had been diluted, while in fact its pale grey comes from the paint, undiluted.
To avoid looking too pale, the designer decided to use one accent color. And it was painted on the front door. Sadly, no further information was given about the exact paint color of the door. However, if you want to add an accent color like this, you can use Sherwin Williams Holiday Turquoise SW 0075.
Family Super Ranch Style with Vinyl Siding House Exterior Idea
This huge ranch and craftsman-style house has a split-level mixed siding exterior, which makes it look unique. The siding and the exterior of the house are a gorgeous neutral color. It uses Sherwin Williams Body Color Anonymous SW 7046. The accent color is Sherwin Williams Urbane Bronze SW 7048. The trim color is Worldly Grey SW 7043.
If you look at the front door, you will be amazed by the beautiful stain. It is from Northwood Cabinets – Custom Truffle Stain. The stain looks nice with the stacked stone as the accent. The exterior Stone is from Eldorado Stone – Rustic Ledge in Clearwater.
The front porch of this house looks inviting and warm for every guest. No wonder the color of the stain on exterior wood gable and the front porch is indeed relaxing. Even though there is no exact information about the paint used, but if you want to redecorate your front porch like this, you can consider using Sherwin Williams stain Weathered Teak SW 3134. It is a bit darker but at 75% opacity, and actually, it is a very handsome stain.
A Creamy Green Vinyl Siding Exterior in a Sizeable Ranch Style Two-Story Home
Having a small cottage in the countryside is good. But it is even better to have a large timeless two-story creamy green ranch house with vinyl siding. This green is indeed lovely. It is not too bold but still gives an unusual look.
No detailed information about the paint color used in this exterior, but there is a quite similar color if you want to try. It is Benjamin Moore Kennebunkport Green HC-123. And for the white trim, Home Depot has a color called "Cream Puff". It is creamy-white with a tint of yellow, looks very close to this trim.
The vinyl gable pendants are perfectly combined with the creamy green and yellowish-white of this house exterior. The overall exterior looks of this house is topped by the elegant shingle roof. It adds a more traditional look to this timeless ranch house.
Modern Ranch Style Dark Charcoal Grey Vinyl Siding Exterior House with a Shingle Roof
Vinyl exterior home is quite common in a farmhouse style residential building. But what about a house with a contemporary look? The house looks stylish and modern but still has a slight touch of ranch and countryside look.
You can see that unusual combination in this house. This mid-sized contemporary grey house has vinyl siding combined with a bright accent color, balcony, and a shingle roof. We know that dark and neutral color is often associated with a modern look because its simplicity never fails to fit into a minimalist style, which is the key in a modern look.
For the dark grey vinyl of this house exterior, it is a dark charcoal grey from Sherwin Williams. No exact name or color provided, but it is easy to find a certain name once you already know the shade. While for the siding brand, it is LP Smart Siding.
Example of Ranch Style Stone Exterior Home Design with Vinyl Siding and Metal Roof
This house is a perfect example of a farmhouse with stone exterior. Completed with a metal roof, this large house truly represents a traditional ranch style home. The type of this metal roof is the Galvalume roof. Actually, Galvalume always has the harsh, shiny look. But that is not the case in this house. There is a "clear" coated Galvalume and there is something called "pre-weathered". The latter is less white-shiny in the sun. Basically, this roof has a shiny silver metal look, but it takes on different colors along with the weather.
Basically, this house was a custom design by Burleson Design and built by Coachman homes. Unfortunately, they do not share much information about the brands and manufacturers of materials used in this house. However, for the stone used here, you can be sure that it is Del Rio Limestone.
An Idea for Transitional Ranch Style Design with Flat Roof and Vinyl Siding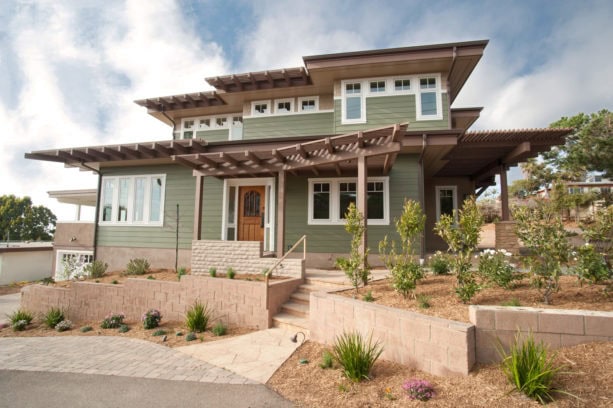 This transitional ranch house has a flat wood roof, which is not very common for a farmhouse. However, the paint color of the siding is considered the traditional color for a ranch house. So this building has a perfect combination of ranch and contemporary style mixed together.
When it comes to the paint, here is the list of paint colors used in this house exterior. The green siding is Sherwin Williams Sage Green Light SW 2851. The trellis and fascia are Sherwin Williams Rookwood Medium Brown SW 2807. The window trim is Sherwin Williams Classical White SW 2829, the color was used to match the factory window color.
Vinyl Siding Gable Roof in A Traditional Ranch Style Residential Building
A crisp, clean house like this is always pleasing to see. Actually, this house features architectural forms that are rooted in traditional ranch-style buildings. However, with the polished spotless white paint, it has a touch of contemporary style as well.
This two-story large cottage has a vinyl gable roof that is combined with a material roof. The vinyl roof looks a lot like wood but is actually vinyl. The "wood" roof is scalloped shiplap, and the color is House White, while the metal roof is from Rheinzink. The roof shingles are Yellow Cedar. That combination is modern and elegant. It really adds to the home's appeal.
The huge glass windows also create a bright and homey feeling to this house. This kind of window can pour a natural light right into your house, so you don't actually need any additional lighting during the day. These elegant windows are from Lapage.
Colossal Three-Story Cottage in a Lovely Ranch Style with Vinyl Gable Roof
Mostly ranch style house is small or at least mid-sized. However, this cottage is exceptional. A three-story large cottage in ranch style is undeniably beautiful and elegant. Even though it may look classic, but the vinyl gable roof makes this cottage look more like a ranch house.
When it comes to the siding, it is actually a mix of lap siding and shingles. All of them are from James Hardie Plank. The color is Arctic White. It creates a perfect contrast with the roof and the trim.
The perfect "centerpiece" of this whole exterior is, of course, the front door. It is a solid wood door that was stained in a rich walnut. The elegance of this door is also emphasized by the sidelights. Both are from Simpson.
Closing
So, do you consider having a vinyl siding and change into a ranch style in your next home redesign planning? Ranch-style house is actually not that difficult to achieve. What makes a ranch-style house is commonly a single-story building with an open-concept layout. It also usually has a patio space. For the doors, ranch-style house of-ten has sliding glass doors, an attached garage, and wide roof eaves. Don't forget vinyl siding.
However, ranch-style house is not limited to those "rules" only. As you saw In the post above, there are many additional pieces that can be added to your ranch house. And you can always mix two styles at a time. It is perfectly okay to have a ranch house with a slightly contemporary style or even a rustic style.
What makes the house look elegant, stylish, and lovely is the style and the color. You may have already realized that in the article above, most of the traditional ranch house has a green paint color for its exterior. You can always use another calming and pastel color. But one thing for sure, always do test samples prior to painting a whole house because one color might look good on one home but can look completely different in a different environment.