A back porch is one of the best features that you can add to your home if you're planning to remodel it.
There are a lot of advantages you can get by adding this new feature to your property. A back porch will totally transform your outdoor space and the way you spend your time outside.
Did you know that despite the size, a back porch can add financial value to your home?
A well-designed back porch surely will make your house look more attractive. It's safe to say that back porches are a good investment.
Despite the fact, you can't deny the more functional reason why you should have a back porch, even if it's a small one.
A large or small back porch will let you enjoy the outside without really being outdoor. It would be even more beneficial if you added a screen and/or a cover on your back porch to fully protect you.
Just because you only have a small remaining space in your backyard doesn't mean you can add a porch.
Even if you have a small house, adding a small back porch will serve as additional seating space. This way, you can turn it into a small outdoor dining space or even an outdoor living room.
To spark your creativity, here are 16 small back porch ideas that you should totally try to add to your house: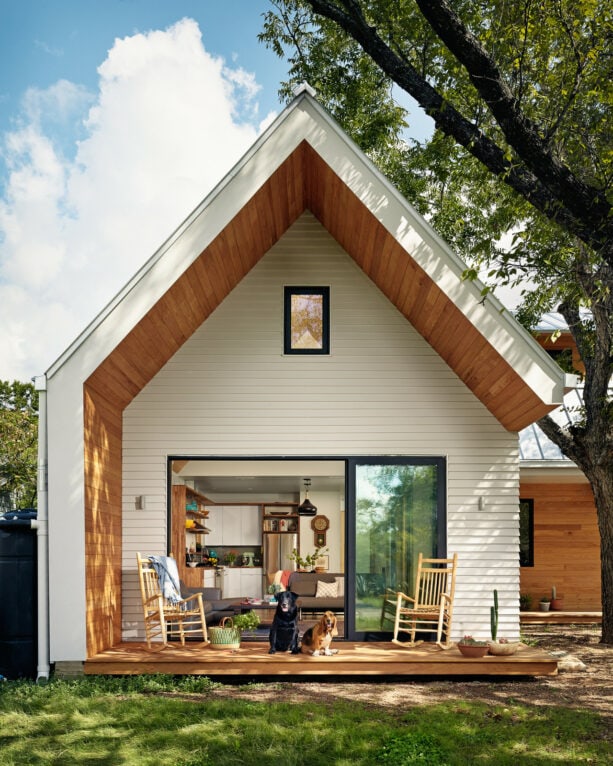 An open small back porch like this will give you a full sensation of being outside. It seems a bit too packed if you add a screen around such a compact porch.
A screen will only cover the charm of the certain style you embrace for your back porch.
This Scandinavian small back porch has a visible charm that can be easily seen from the neighborhood. And maybe that's part of the reason why the homeowners decided to let it open.
This back porch is situated on an elevated deck. The decking beautifully matches the wooden element in this porch, a key element that should be added in a Scandinavian space.
The panel wall that extends to the ceiling adds warmth to this porch, making it look more inviting. Moreover, the white horizontal panel and the white trim work well as a backdrop that complements the wood element.
Since this is a small porch, it would be counterproductive to add a lot of seating spaces. To promote comfort, the homeowners placed two identical rockers.
A potted cactus and other low plants are enough to accentuate the porch for the decoration.
2. Screened-in Small Back Porch in a Contemporary Style
Thanks to the screen, this small back porch looks perfectly enclosed and protected. This is a cedar porch with a flat roof and a black trim.
Even though this small back porch is attached to the main house, it appears as if this was an additional building, an extensive spot that was added later after the whole property had been built.
It's because the back porch has a different material and finish from the main house, and the contrast is highlighted. But that's part of the charm.
This small back porch is located on a raised deck, so the homeowners added several steps to access it from the backyard landscaping.
Inside, there's a set of tables completed with some chairs as seating space. Sitting here would be comfortable because the owners don't have to worry about insect bites, rain, or snow.
It is actually a simple small back porch. To make it look more inviting, the homeowners added some functional yet aesthetic decorative elements, a ceiling fan, and two contemporary wall sconces in the porch's posts.
3. Eclectic Small Back Porch Idea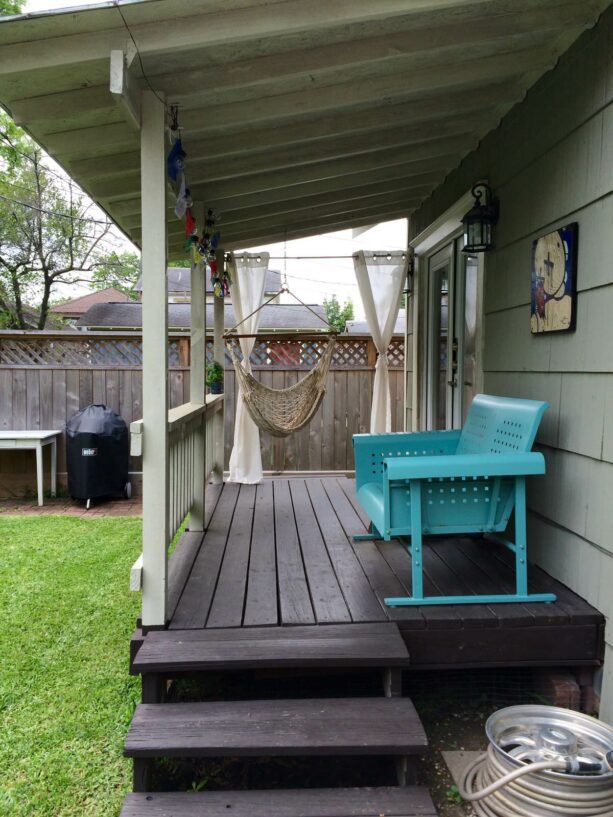 This is a tiny and compact back porch that looks quite narrow. It is covered with a roof extension, a sufficient cover to make this area protected from rain and snow.
This back porch is also situated on an elevated deck, so it also takes several steps to reach it from the ground.
The decking is made of dark-tone wood. Using a dark tone on a large surface of a small area like this is actually counterproductive because it will only make the area appear even smaller.
However, the homeowners managed to solve that problem. They're still able to use this elegant dark wood tone floor, but the floor is also paired with white posts and railing and soft minty green siding.
But, what truly counters the darkness' effect is the bright blue chair. It's a good idea to add a pop of color to a dark floor like this.
The bold chair exudes a modern style, but there's also a curtain that works as a temporary screen on one side of this porch, and such drapery will never fail to give you a shabby chic and classic look. On the other hand, the swing has a bit of a rustic look.
Such a combination delivers a perfect eclectic style.
4. A Small yet Elegant Traditional Back Porch is Attached to the House
Usually, a back porch is an additional building that's attached to the house.
It's obvious to see that some back porches were added later after the property had been fully completed. However, this one is quite different. This small back porch is not only attached to the main house, but it's also part of the house.
It is located at the rear of the garage, but according to the designer, it only had access from the house's exterior.
From this angle, it seems as if this small back porch was open. But actually, this area features large phantom screens. Phantom screens like these are better than the usual screens because they offer a more open feel.
Since this back porch is part of the house, so it has a roof to cover it, along with partially enclosing walls.
This way, the homeowners are freer to furnish it with any indoor furniture without having to worry about the weather condition. Moreover, there's also a wall-mounted TV to complete this back porch.
So, even though it is small, it is still a great place to enjoy some downtime while watching TV and enjoying the outdoor area.
5. Transitional Small Back Porch with a Stone Accent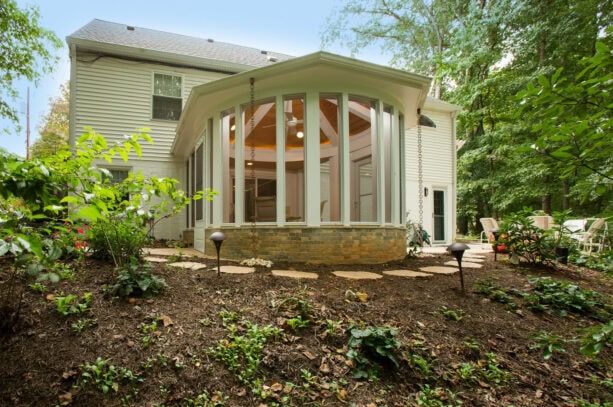 The screen in this transitional small back porch works like tall windows.
A series of tall glass panels surround this back porch in a half-circular shape, creating a more whimsical look. To support the glass panel screens, the designer built a low stone wall for this back porch.
The stone wall serves as an accent, adding a traditional touch to this modern setting and transforming it into a transitional back porch. Plus, the stone wall also looks pop against the all-white exterior wall.
This area is also connected to the patio on the right side.
Building a screened-in porch and a patio side by side means that homeowners give two options for family and friends, whether they want to spend their time fully protected or in a more open space. They don't have to worry about the weather.
The open patio is perfect for spring and summer days, while the screened-in porch is more suitable for colder days.
The owners added a walkway from the back porch to the patio to connect both areas. The walkway frames the outer part of the porch, complementing the stone wall.
6. Minimalist and Elevated Small Back Porch with a Railing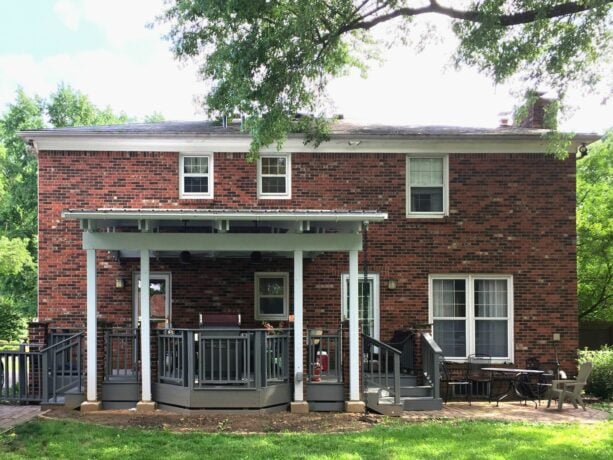 Frankly, this small back porch is quite minimalist. The only element that makes it look stunning is the brick exterior wall of the house.
It has steps, each on both sides of it, to access this porch from the ground because this is a back elevated porch.
The steps look a lot like a small staircase because it's completed with a railing that extends to the perimeter of the back porch, serving as a screen and a protective railing at the same time.
This back porch doesn't have any roof extension. But, you can see that it's covered like a pergola, but with a roof to fully protect the seating spaces.
There are four white posts that stand over the black railing that are meant to support the pergola. The white posts and black railing work as contrasting elements that add visual interest to this porch.
It seems that this small covered area is used as an outdoor kitchen. It is completed with some chairs and some potted plants to liven it up.
7. Craftsman-style Small Back Porch Surrounded by Decking
The contrast between this back porch and the main property is so visible that it makes people think that this porch seems to be a bit out of place.
It's a craftsman-styled back porch made of wood, with exposed posts and beams, wood columns, and an open decking around. The wood also seems to be unpainted, so people can see it in its natural glory.
The back porch is the area where it has a roof on it. It is slightly elevated than the surrounding decking, and we can see that the back porch is smaller compared with the deck.
The elevation efficiently separates the deck and the back porch, along with the roof. Having a back porch and an open patio side by side gives people more options in choosing the kind of seating space they want to enjoy.
They both still look bare in this area, without any furniture or decorations. It's actually easy to furnish a back porch, though.
You just have to find a set of comfortable chairs as seating space. Better yet, opt for rockers, a swing, or even a hammock to create a more relaxed seating space.
8. Beach Styled Small Back Porch with a Bed Swing
This small back porch has a refreshing beach style, complete with decking and a roof extension.
Homeowners added a screen along with a railing around to make the people inside feel safe.
Apart from the beach style that makes this small back porch looks warm and inviting with the white color palette and grayish brown wood tone, the only thing that catches the most attention is the bed swing.
It's true that picking the right furniture piece for your back porch will ensure comfort.
There are many comfortable lounge chairs, armchairs, couches, and even sofas, but incorporating a bed swing will take your small back porch to a whole new level.
The bed swing is also decorated to enhance the back porch's beach style. It is completed with a mattress and a sheet in patterned blue color and some patterned throw pillows.
This surely adds a pop of color to a white and wood combination. Plus, the blue color corresponds well with the coastal style, representing the ocean perfectly.
9. An Outdoor Dining Space is Placed on a Small Back Porch
Completed with a flat roof extension, this small back porch is part of the house, not just an additional building that's added later.
That's why the walls of this back porch are actually the siding of the house, which is a cedar siding.
Generally, this is a simple and minimalist back porch. It is situated in an elevated area, so the homeowners needed to build some steps to reach it. The back porch itself seems to be made of concrete, as we can see from the steps.
In order to support the roof, there are three wooden posts that also work as a physical barrier to separate this back porch from the surrounding backyard landscaping.
Due to the simplicity, the homeowners made it into something more functional than aesthetic. They turned their small back porch into an outdoor dining area.
This is actually a great idea, especially if the kitchen is only one step away, only separated by the french doors.
Situating your dining area outdoor will help you save more space if you have a small house and a small kitchen.
Make sure you incorporate a cozy set of dining chairs because the outdoor dining area can also be used as a spot to hang out to enjoy being outside.
10. The Small and Open Back Porch is Made of Stone and Brick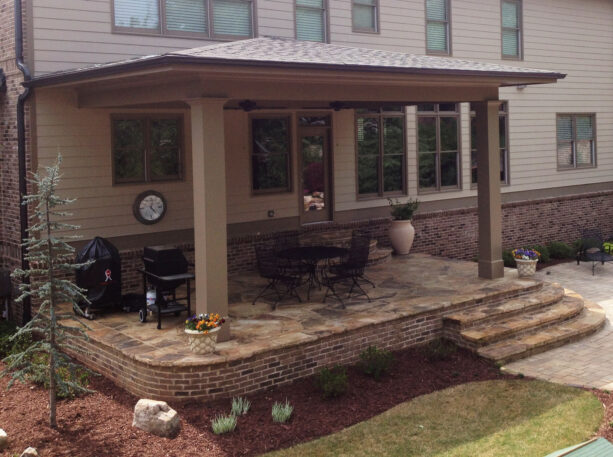 This is an example of a classic small back porch completed with a roof extension.
This back porch is elevated from the ground to match the exterior wall. The wall that elevates it is made of brick, similar to the lower part of the house's exterior wall.
However, it's obvious that this back porch is actually made of stone. It seems that the stone tile is placed on top of the brick and creates a layered look. The same goes for the steps, too.
The steps are made of bricks, but it has a stone cap to match the whole back porch.
There are two imposing columns to support the hip roof. Even though this area is open without any screen, somehow it looks shady. Maybe it's because it doesn't get a lot of sunlight.
This can be an ideal place to enjoy being outdoors during the hot summer days. Imagine sitting here without having to worry about UV rays.
It seems that this small back porch functions as an outdoor kitchen space. A simple one, but it's enough to have a grilled chicken.
The black furniture and tools clearly don't help make this area brighter. But, to add an accent, the homeowners placed a potted colorful flowered plant in each corner of this small back porch.
11. Arts and Crafts Small Back Porch with a Motorized Screen
It's obvious to see how stylish, luxe, and elegant this small back porch is.
According to the designer, the whole property used to be a single-floor bungalow. It was later restored, and the back porch was added, completed with a door, phantom's window, and motorized screens.
The clients desired to unite the outdoor living space and the home's indoor and make both comfortable all year round in an ever-changing climate area.
The phantom motorized screens were added to each door and window, letting the homeowners control the warm breeze and sunlight that penetrates this small back porch without letting in debris or insects.
Due to the screens, it's possible for the homeowners to turn this porch into one of the home's inside areas.
The screens are phantom's clear vinyl that blends seamlessly with the classic home design. They can be retracted out of sight easily when not in use.
They also mix harmoniously with the window and are not meant to contrast the beauty of the house.
This way, the designer was able to preserve the classic feel and look of the window yet somehow still add the modern touch of motorized screens.
12. A Raised Small Back Porch that is Connected to the Patio
This is another back porch patio that is connected together.
The small back porch is covered with a roof even though it has an open sensation due to the lack of screens. It seems that elevating a back porch is quite a trend these days, so no wonder this one is also raised from the ground.
Yet, the elevation of this porch is a bit high. You can judge it from how many steps it has. Plus, this back porch is also surrounded by a retaining wall, indicating how high the back porch is located from the ground.
In order to enhance the elegance, the designer installed two stone columns to match the stone walls around the porch. This area functions as an outdoor kitchen, complete with a grill and a set of dining tables.
However, this back porch can also be used as a stand-alone seating space. There are additional benches that work as extra seating.
The steps are meant to connect the back porch and the patio. The patio is situated lower on the ground, with no cover whatsoever. This is a better option for homeowners to fully enjoy the outside view.
13. A Modern Small Back Porch is Made of Concrete
The designer stated that the clients of this project desired to have an ultra-modern aesthetic look for their exterior and back porch.
Compared to the previous pictures, this back porch is considered very small. It is a minimalist concrete back porch that is covered with a roof extension.
Actually, the back porch is only a small elevated area, a narrow spot that's barely able to accommodate a seating space.
Yet, the homeowners managed to add two small armchairs and a small round table to complete the whole look. It proves that in spite of the size, it's important to make your back porch as functional as possible as a seating area.
Due to the lack of space, it's quite impossible for the homeowners to add a lot of decorations.
That's why they simply rely on the contrast between the concrete and the wood exterior wall as a stunning element that makes this small back porch looks pretty.
There's also a decorative lantern that's both aesthetic and functional to illuminate the whole area.
14. Small and Narrow Back Porch with an Awning
Actually, this back porch is not that small, but it is so narrow that it's quite challenging to add some seating spaces.
However, this cottage-style small back porch delivers a sense of place that is enhanced by the large windows and the beautiful view around.
The various types of spaces volumes let the homeowners connect the indoor and outdoor areas in different ways.
This back porch is made of concrete to exude a modern vibe. The smooth and polished look of concrete can be easily paired with any modern element, like metal siding and black framed huge windows in this project.
Instead of a roof extension, this area is covered with an awning. A large awning is attached to the metal siding, completed with a panel ceiling to fully protect the small back porch from the rain and snow.
When it comes to seating space, there's only one here. It consists of four Adirondack chairs and one small decorative table that seems to be like a turned-down large pot.
Simple and minimalist, that's the best way to describe this small back porch and the seating space. It may be a bit bland for some, but actually, simplicity and minimalism are important keys to a modern design.
15. Ultra Stylish Small Back Porch with a Roof Extension
Unlike most pictures above, this small back porch is not raised from the ground. It has the same level with the landscaping around. But that doesn't make it any less attractive.
This small back porch is part of the house. That's why it shares a similar horizontal wood siding with the house, which is actually the exterior.
The combination of polished dark tone wood and concrete like this actually contrasts, but the polished look of them makes it subtle.
The black frame of the door and windows tie them together perfectly. It's clear that the homeowners wanted to keep this back porch as contemporary as possible with such timeless and versatile elements as wood and concrete.
The seating space also represents a contemporary style.
There are two ultra-modern low back white chairs completed with a bright yellow ottoman for each chair. The ottomans can work as a decoration, too, because it adds a splash of color, an accent to this neutral color palette area.
Apart from one potted plant, there's no other decoration or accessories on this small back porch. The owners wanted to keep this area free of clutter and make it feel more open.
Too many accessories surely won't help. That's why instead of sconces or lanterns, there are only recessed ceiling lights to light up this porch at night.
16. Dividing Two Areas in a Small Back Porch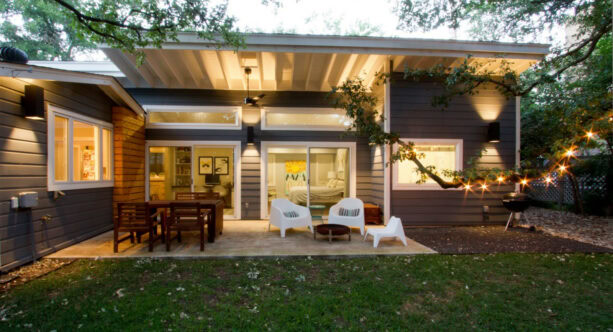 Even though this back porch is small, the homeowners managed to incorporate two seating spaces at once.
This area is partially covered with a roof extension, but we can't deny the open feeling that this back porch offers.
It is also situated on the ground. The only element to differentiate it from the surrounding lawn is the concrete. This back porch is made of simple concrete that looks in contrast to the green grass around.
This is actually an outdoor kitchen. You can see the grill on the right side of the picture.
The outdoor kitchen area is made of black gravel. It appears that the homeowners wanted to zone each different spot by using different materials. That's part of the charm.
One of the seating spaces is actually an outdoor dining area. It is a set of wood dining tables with wood chairs for four people.
Another seating space is meant to be a more relaxed space. It consists of two armchairs and one small chair with one table.
They provide an extra seating space and indicate that this small back porch is not exclusively meant for an outdoor dining space and kitchen.
What to Add to Your Small Back Porch
Size should not be an obstacle for you in decorating your back porch.
Even if you only have a small back porch, make you don't miss these out when decorating:
Flower. This is a natural way to add a pop of color to your small back porch. If you build the porch on a deck made of dark tone wood, incorporating colorful blossoms will make it look livelier. There are many ways to add flowers to your small back porch, from using pots, a floor flower planter, or even a wall flower planter.
Cozy seat. Be creative if you turn your small back porch into a comfortable spot. When it comes to furniture sets, don't just settle with a matching and aesthetic chair and table. Make sure you put your comfort first. Adding a bed swing is a good idea. Better yet, you can also add a hammock as a reading spot. For a more traditional setting, opt for a sectional or a couch.
Porch accessories. Accessories won't just add the finishing touches but also build style and character. The ideas are endless. You can add water pail, lanterns, rugs, statue, and the list goes on and on. It will be better if the accessories are also functional.
Screen. Actually, you can let your small back porch open. An open small back porch will make it look more spacious. However, an open porch exposes the area to insects and extreme weather conditions. To make your small back porch more protected, add a screen around. A motorized screen is a better option if you want to control the amount of sunlight and the warm breeze that penetrates your back porch.