Generally, a full bath must have a shower, a toilet, a sink, and a bath. However, it usually cannot be applied to a small to mid-size bathroom. Eliminating the tub may be uncommon but it gives you more space to experiment with bathroom designing. A bath with only a shower, a toilet, and a sink is called a three-quarter bath.
Many people are a bit hesitant if they want to redesign their bathroom and take out the tub. It is because they think that replacing a bath with a shower will devalue the house. Several real estate agents indeed said that it didn't matter if you have a tub not in the master bathroom as long as you have at least one tub.
However, that doesn't apply to all buyers. Young couples with toddlers may want to have at least one tub in the house because they find it too difficult to bathe small children in a shower. But other prospective buyers mostly don't have any problem with the lack of a tub, especially if the shower was completed with many features.
So if you only have a small master bathroom and want to have more space in it, here are some pictures of a master bathroom, that even without a tub, still looks stylish, modern, classy, and luxurious. These bathroom pictures may inspire you to have a shower instead of a tub.
1. Small and Trendy Master Bathroom with a Trough Sink and Without a Tub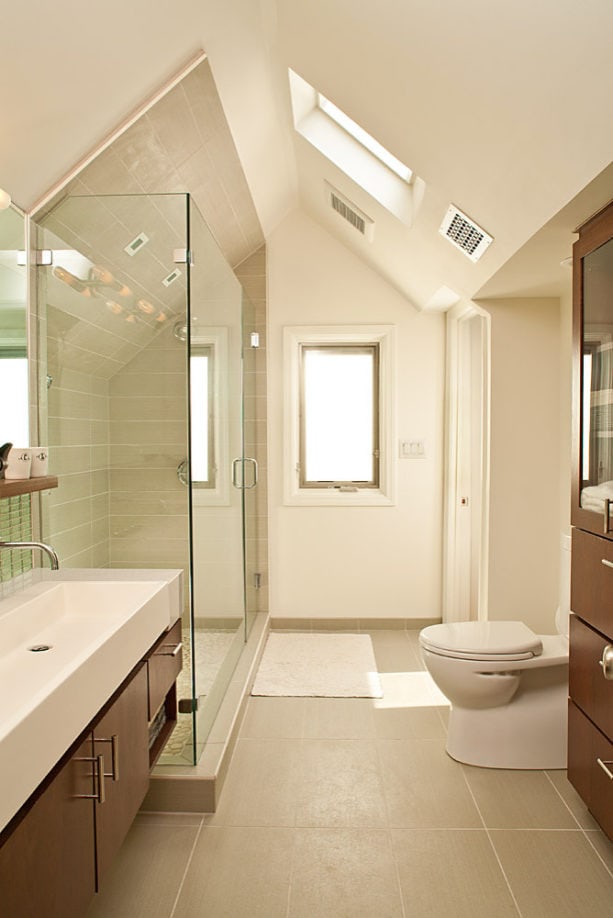 This trendy bathroom is approximately 66" long and 36" wide. The beige color of this bathroom makes it look clean and spotless. This bathroom uses tile for the flooring and wall. The floor tile and shower wall tile is by Dal Tile: P'Zazz in Gray Shimmer.
The shower stall is separated with the toilet area by the glass door. The white toilet is CAROMA – BONDI 270 Easy Height Round Front Plus toilet. It was installed in front of the shower stall, next to a wood cabinet.
The stylish and polished sink is from Lacava. It is the 48 1/4" Lacava Luce Vessel (optional hole drillings) 5104-001. Above the sink, you can see the accent glass tile backsplash. That beautiful backsplash is Crossville Tile: Prima.
2. Elegant Traditional Master Bathroom Without Tub in Beige Color
Elegant and traditional bathroom doesn't have to be spacious. This timeless bathroom proves it. The beige tile makes the whole look more lovely. When it comes to the tile, that is all natural materials. The marble tile in the shower stall, above and below, is Diano Reale 12 x 12, while the smaller tiles are a tumbled marble in beige color. The liner is a 3×3 tumbled marble Noce.
If you are wondering, the marble tile in the shower's wall was not purchased from a manufacturer. The home owner bought it from a stone and tile place in Chicago. It blends harmoniously with the wall color above the toilet. Unfortunately, there is no information about the color paint used, but if you want to apply a similar color, you can try Sherwin Williams – Front Porch 7651.
Even the toilet looks classy. It is Clayton by Toto. The toilet is placed in the corner, while the shower stall is on the other side. Both are separated by a huge glass door. Under the shower, there is a bench from Frontgate. The dimension of the toilet area is 36", while the shower is 43 x 70.
3. Modern Master Bathroom Without Tub Featuring a Long Vanity and Quartzite Countertops
It is quite uncommon to have a long vanity in a small to mid-sized bathroom, but it is not impossible. Look at this modern master bathroom. It features a long vanity, with 106" overall, completed with Quartzite countertops. The countertops are in Sea Pearl color. It matches perfectly with the white recessed-panel cabinets and gray walls. The vanity looks more elegant with light fixtures. You can find the similar one on lightingconnection.com.
The flooring is dark limestone. It is paired with the shower light grey marble to convey a more modern appearance via the higher contrasting shades. For the shower floor tiles, there is no information about them. But as an alternative, you can choose a Carrara 5/8 x 5/8 marble mosaic tiles.
The shower walls are tiled with Lena white marble and applied in an offset joint pattern. Next to the shower corner, you see the open cabinet that can be used to store towels. But in this bathroom, it is used to display some decorations.
4. The Stunning Master Bathroom With Porcelain Mosaic Tiles and Without Tub
This stunning master bathroom features porcelain mosaic tiles for the floor and backsplash. They are from Cepac tile. For the shower stall, the wall tiles are handmade. The beige color gives a warm ambiance yet an elegant appearance.
The beige tiles surprisingly look great combined with the grey color in the wall. It is Sherwin Williams – Comfort Gray. On the other hand, the light wood color of the cabinets, vanity, and window blinds gives a pretty accent.
Speaking of cabinets, they were all custom made by Woodstock Woodworks in Austin, Texas. These louvered cabinets deliver a more contemporary look. Unfortunately, there is no further information about the material of the countertops.
The shower faucet in this bathroom is Grohe Freehande, while the shower stool was purchased at West Elm. Each piece in this bathroom was picked in a neutral color to create a simple yet stylish design.
5. A Barrier-Free Shower Stall Without a Tub: Perfect for a Small Master Bathroom
This bathroom is a perfect example of a classic walk-in shower design. Completed with a pedestal sink, this bathroom looks even more classic. The toilet and sink are from Kohler Bancroft.
When it comes to the paint color, here is the list of the paint color used:
The wall tile in the shower stall is Clay Basics in Cotton White 3 x 6 and Random Bamboo 1 x 6. It was purchased at Nemo Tile in New York City. The white tile is from the same manufacturer and the color is called "cotton white". It is stoneware, very hard, and irregular, which means, no two tiles are alike.
You may wonder about the slip resistance on the floor, because it looks too polished and glossy. The floor tile 13" grid. It is overlaid by cuts forming a slightly inverted pyramid sloping down about 1/4" per foot from cornet to center. This gentle pitch is enough to drain water quickly and completely. The floor tile is Daltile, Veranda Solids, the color is Saddle. It has a comfortable, leathery feel to it, and easy to grip.
The frame-less door hardware is called "Hydroslide" from CR Laurence. This tempered door and stationary panel are 3/8" thick. It is uncommon to have a sliding door for a shower stall, but this bathroom is indeed special.
6. Grey Master Bathroom Without a Tub Completed With Light-wood Cabinets
This grey bathroom is not actually small, but the home owner prefers to have a shower instead of a tub. This bathroom features a grey porcelain tile with flat-panel light wood cabinets, solid surface countertops, and an integrated sink.
The tile you see here is a porcelain tile from Tile Gallery. It is Mosa, Terra Tones, in light gray #206 and has a smooth finish with dimension 6" x 24". There is a stacked bond since this bathroom was actually a mid-century modern renovation, it was a nod to the home's history. You see these tiles are polished and may be a bit slippery when wet. But the tiles here are approved for wet locations. So even though the tiles are glossy, it has slip resistance.
The vanity is part of the Evolution Collection from Hastings. It was purchased from Hydrology in Chicago. And the towel hook is a Parker Bath Towel Ring by Atlas Homewares. The medicine cabinets are the M-series from Robern. That medicine cabinet was carefully picked on this project because they have a clean aesthetic and function well. Last, the linear LED is Luminii, Kendo M Wet Graze, 2700K color temperature.
7. A Master Bathroom Without Tub with Low Window Inside Shower Stall for Natural Light
This master bathroom has a low window inside the shower stall. It is useful for the natural light to pour in. This mid-sized urban modern bathroom features porcelain tile, medium tone wood floor, flat-panel yellow cabinets, white walls, and wood countertops.
The shower enclosure is made of aluminum and temprered. It is true divided light design, made of dark anodized aluminum. It means this aluminum doesn't rust. The manufacturer is American Shower Door, Commerce, CA. This enclosure is suitable for a steam shower.
Usually, any steam shower usually has high tile walls and tile ceiling. These areas need extra durable substrate under the tile, because the intense moist heat really affects the upper walls and ceiling.
The wood floor is not a common wood. The wood species is Australian Cypress with a tung oil finish. This wood is known to be less prone to warping from moisture in the air.
The bright yellow cabinets are custom-fabricated by a local cabinet-maker. If you want to order a custom cabinet like this, you can tell your cabinet-maker to make a full face-frame cabinet doors and drawer heads with a custom color. These cabinets are hung from the wall.
The awesome part is, it also has a LED light underneath. So even this bathroom is full of natural light during the day, after the night comes, this LED light can radiate a warm light. These cabinets are also completed with countertop in a teak plank. The thickness is roughly 2".
The mirrors are from Restoration Hardware. These pendant lights were also custom-made by getting twisting fabric-covered power cord, some classic sockets, and some light bulbs. The cords wrap around a galvanized pipe painted black. The pendant light location can be set up, down, left, or right easily.
8. Transitional White Master Bathroom with Blue Cabinets and Without Tub
This transitional white master bathroom looks crisp and polished. It has a blue cabinet as an accent as well. The combination of shower wall tile and bathroom floor tile is absolutely beautiful. Two different patterns turn out great when combined together.
The shower wall tile is Daltile – Pickets – Matte White CG-PKMTWH7530, purchased from Prosource in Austin, Texas. The bathroom floor tile is Lili Cement tiles from Tiffany Collection, color 3. The grout's color is Laticrete #44 Bright White. This all-white combination, surprisingly, does not look pale.
The white color paint is made warm by the beautiful fixtures. The fixtures are from Brizo, Litze collection in the brilliance of luxe gold. The blue vanity is from Amerock, completed with a golden champagne finish as its pulls. It is painted by Sherwin Williams – Naval SW 6244.
The overall dimensions of this bathroom are 4'-11" wide by 8'-10" long. It is painted by Sherwin Williams – Repose Grey SW 7015. The door hardware is from Emtek C520ROUUS19 with a flat black round knob.
9. Alcove Shower in a Contemporary White-tiled Master Bathroom Without a Tub
It is actually not recommended to have a wood floor for the bathroom. It is because wood cannot absorb moisture. And because the moisture level in the bathroom is considerably high, it will make the wood damp. However, there are some exceptional cases, and this bathroom is one of them.
This contemporary bathroom features a white stone tile and dark wood floor. It is also completed with open white cabinets that are perfectly matched with the white walls. The tiles used for the wall in the shower stall are Carrara marble 6 x 12". The flooring in the shower is a 2" Hexagon mosaic.
There is no detailed information about the dark wood floor. But it totally looks like Douglas Fir Wire Brushed with a double stain treatment. The black stain was sanded off before the brown stain applied.
Lovely, isn't it? That dark wood floor will look even more polished, shined by the ceiling fixture. The whole set of ceiling fixtures looks like one of the Perrin & Rowe collections.
10. A Mid-sized Without Tub Master Bathroom with Grey Floor
This mid-sized transitional master bathroom has white subway tile and mosaic tile. The gray floor looks harmonious with a white wall-mounted sink, gray painted walls, a hinged shower door, and a niche. If you wonder, the sink is TECLA Rectangular White Ceramic Wall Mounted or Built-in Sink MAR02011.
The walls and flooring in the bathroom are made up of 2" hexagonal Carrara honed marble mosaic. The subway tile shower wall was purchased from Waterworks. It is Dover white, 3 x 6. What's beautiful in this tile is it is hand made, so it does have a little irregularity. It is a handcrafted and a "Home Depot" standard white subway tile. It has a nice thickness and weight to it as well. This tile provides a wonderful creamy white that goes great with the honed marble mosaic.
The niche is honed Carrera slab. The dimensions are approximately 18" width and 24" height. Below, there is a wood bench. This teak bench flips up and down for convenience. The fixtures, shower, and grab bars are from Rohl Home Plumbing Fixtures. The bathroom stool is in nickel finish. It is from Restoration Hardware.
11. Classy and Luxurious Black and White Master Bathroom Without Tub
This bathroom belongs to a villa in Bangalore, India. It has a distinct stamp of luxury, glass, and grandeur. The black and white theme of the main villa is extended harmoniously here, in shades of grey, black, and white. This bathroom features a gray stone tile and concrete floor.
The main attraction of this bathroom is the tiles behind the toilet. If you wonder what the manufacturer is, those tiles are custom-made. The tiles are a combination of vitrified and stainless steel tiles pasted on a mesh.
The tiles used on the shower's wall and floor is a 60cm x 30cm stone finish tile from SOMANY global, India. A darker 2×1 feet stone finish tile from the same manufacturer is used on the window wall. A 60cm x 60cm tile of the same finish and make is used on the floor.
The shower panel is from Johnson & Johnson, India. This type of shower panel is awesome because it makes plumbing is easy due to its wall hanging models.
12. Gorgeous Victorian Marble Floor Master Bathroom with Blue Walls and Without Tub
This victorian style master bathroom represents elegance in any way. This features a wall-mount sink, a one-piece toilet, and blue walls. The catch in this bathroom is, of course, the shower. Instead of using a shower stall like the other master bathrooms mentioned above, it only has a cage-like shower area, complete with a curtain. It does not have a shower set as well. Instead, there is a rain-drop shower style.
The shower style is from Catchpole & Rye, La Cage Shower range. There is no added information about the shower head. However, there are some similar products you can purchase. One of them is Elements of Design DK1251 10" Rain Drop Style Shower Head, finished in chrome.
This question may pop in your mind, does the water flow all over the floor? So, the floor is made of a honed Carrara Marble, in a single slab. However, the floor was intentionally made to tilt gradually towards the water drain. It looks a lot like a hollow circular bowl. Yes, there is some occasional overflowing, but this type of floor works most of the time wonderfully.
Closing
What do you think about master bathroom without tub? After looking at the pictures above, did you get inspired to remove your tub and use shower only instead, or are you still hesitant to change your tub?
If you prefer to use shower only in your master bathroom, here are some tips for you to consider:
The shower area should not be less narrow than 30". The ideal dimension for a shower stall is roughly 36" – 48".
When selecting a large format tile, most manufacturers provide literature regarding the slip coefficient and whether it is approved for wet areas. Make sure to obtain this information from the tile company prior to purchase and installation.
Even though there is one example above using wood floor in the master bathroom, it is recommended to use tile which looks like wood as opposed to actual hardwood or engineered wood. Considering the level of moisture in the bathroom, wood lookalike tile is the way to go.
Good luck with your next bathroom project experiment!