In case you haven't heard, mid-century modern is a pretty design that's about order and simplicity.
This design doesn't only apply in an interior but also in landscaping. There are plenty of ways to incorporate mid-century modern in your landscape, and one of them is through the fence.
Commonly, mid-century modern fences are made of wood, even though there are also some of them that are made of steel. The main point is the design and the finish of the fence.
Typically, fences in a mid-century modern style have lain in a horizontal position. Apart from making it look stylish, modern, and streamlined, a horizontal fence is more cost-efficient than a vertical fence.
However, a vertical mid-century modern fence still looks clean and fresh. All you have to do is just focus on the symmetry. It is a thing that every designer needs to achieve a balance.
The mid-century modern fence should make sense of precision and balance.
Forget about bold colors. The designer/landscaper commonly opts for a basic color for the fence that's often repeated throughout the landscape and the house exterior to evoke a feeling of cleanliness and simplicity.
For further detail about a mid-century modern fence, here are 14 attractive designs of it that you can recreate:
1. Horizontally Lain Tight Knot Cedar Fence in a Mid-Century Modern Style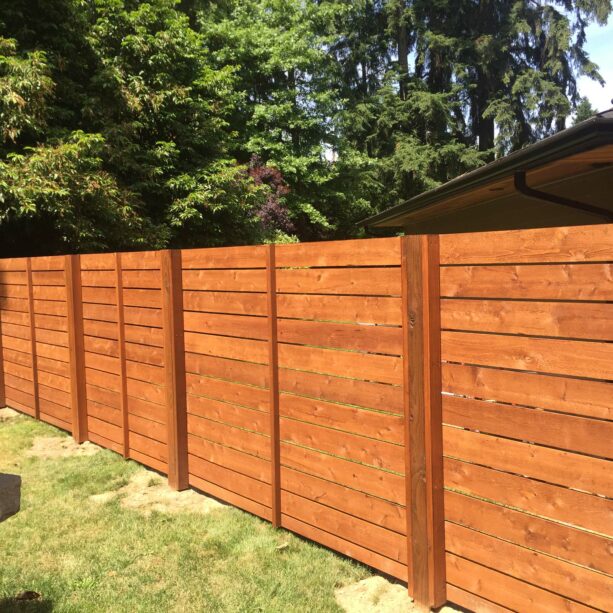 The minimalist and simple look is so strong in this mid-century modern fence.
No additional ornaments or decorations are meant to steal attention here. There's not even a single different height found in this fence. Instead, everything looks clean, polished, straight, and streamlined, perfect for a mid-century design.
The fence has a horizontal pattern, a typical design for a mid-century modern design. It's made of tight knot cedar 1×6 S1S2E and stained in Benjamin Moore Translucent stain.
The clear stain makes the natural charm of cedar pop and prominent under the bright sunlight.
It seems that this mid-century modern fence is used to protect homeowners' privacy. We can see from the height of it and the tight slatted pattern.
The fence that also works as a privacy screen is perfect for front yard landscaping in a house near a busy street. Or, this can be used in a side yard to create a boundary between the owner's property and the next one.
This fence has lumber posts that were constructed upon a concrete bed. That's enough to create a strong and sturdy construction for the whole fence, but at the same time still delivers a simple and minimalist design.
2. Combination of Steel Screen and Metal Posts as a Mid-Century Modern Fence
The simple way to create a unique look in a mid-century modern fence without attracting too much attention is by using two different designs. Still, make sure you use similar material.
This mid-century modern fence has two designs, but both of them are made of metal.
On the left side of this picture is a solid steel 16 gauge fence with no spacing to deliver privacy. On the right side, there's a line of metal posts set in concrete below the grade.
These posts have wider spacing than the tight metal fence on the left side. It shows that these posts are meant to display the beautiful front yard landscape to the passers-by.
On the other hand, the metal fence is supposed to be a protective screen to conceal the front windows.
Incorporating posts with wide spacing like this along with a tight-spaced metal fence will make your property look less like a fortress, delivering a more open and friendlier look for the neighbors. However, at the same time, you can still maintain your privacy.
No need to add extra decoration for this kind of fence because its difference is enough to create an appealing appearance.
3. Black Painted Mid-Century Modern Fence with a Chalkboard
It seems that this mid-century modern fence is made of vinyl that was meant to mimic wood. Vinyl fence is cheaper than wood if you want a more cost-efficient material.
This vinyl fence is painted in black to create a minimalist look.
Similar to white, black is also a neutral shade that can be used as a canvas for the plantings you might want to add. It has a horizontal pattern to keep the typical look of a mid-century modern design.
Basically, nothing special with this black-painted vinyl fence. That's why the designer added a functional yet decorative item to accentuate it.
There's a chalkboard right in the center of this fence, a genius way to keep your children entertained while playing outside. It's obvious that this kind of decoration is perfect for you who have toddlers and kids.
Creating a chalkboard is easy. You don't need to purchase a board in a similar size to your fence or even custom make it. You can install a wide board and paint it with chalkboard paint.
It can even be painted in your favorite color; no need to use black if your fence is painted in another color.
4. Clear Red Cedar Mid-Century Modern Fence Installed on Top of Concrete
It appears that cedar, is one of the most popular materials for mid-century modern fences. It's because cedar is highly durable. Compared to the other types of wood, cedar will last longer.
Moreover, it contains natural oils that are useful to keep it resistant to insects and decay. This natural oil can increase the durability of cedar even without any chemical treatments.
This fence is also made of cedar, red cedar to be exact, and stained in a clear coat to show its natural color. It has a light and pale tone that suits the mid-century modern design.
When it comes to the design, actually, this fence is very simple. It has lain in a horizontal pattern with no additional top.
Thus, to add extra height, the landscaper built this fence on top of a low stone wall with a concrete cap.
Combining stone, concrete, and wood might be a bit too much for a mid-century modern design. That's why, to avoid being too flashy, keep the decoration minimal and the color natural.
To increase privacy, let the spacing between each panel be small and tight.
5. Meranti Mid-Century Modern Fence with an Oil Finish
This wooden fence is meant to frame and border the sideyard landscaping. That's why it should follow the line of the landscape, hence, the L-shaped.
To achieve a mid-century modern design, the designer opted for meranti to build this fence. Meranti wood also has a charming natural shade that delivers a simple yet elegant look.
To keep everything clean, straight, and symmetrical, the landscaper used a minimal amount of plants in front of this fence.
It's plain to see that the landscaper wanted to make the most of the fence. So they didn't only use it as a border and a screen, but as a backdrop for the plants.
In front of the fence, the landscaper built some stone beds for Coral Bark Japanese Maple trees planted symmetrically with a precise space between each other.
These stone beds are surrounded by artificial turf, which is a better option than the real grass as a ground cover because artificial turf doesn't need to be mown regularly.
6. A Low Mid-Century Modern Fence Made of Redwood Lumber and Steel Posts
It's wrong to think that mid-century modern fence should be built as tall as possible because it's meant to be imposing.
In this project, the homeowners preferred to use a low mid-century modern fence to keep the friendly and inviting atmosphere.
To create a decorative look, the designer added fabricated square steel posts for the redwood lumber horizontal panel.
This fence is completed with a gate, and to differentiate the fence and the gate, the designer built square-shaped steel similar to the post.
To keep and maintain cohesion throughout the landscaping, the designer installed steel beams with galvanized hangers to create a pergola in front of the fence.
If you want to build a metal structured pergola similar to the fence and the gate, you have to keep your fence as low as possible, enough to create a solid boundary, but still open to show the consistency between the fence and the pergola.
As a finishing touch, you can add a house number plate made of shiny metal and put it against the wooden fence to make a little decoration. The plate will contrast the wood but in a subtle and humble way.
7. Tight Panel Mid-Century Modern Fence with Louvers Top
It's true that the sky's the limit if you want to create a perfect design for your fence.
Mid-century modern fences don't have to lay horizontally in a simple manner. In fact, you can add some decorations as long as they won't look too different from the main fence.
In this project, the designer was able to create something different that's unique and functional at the same time.
The main fence is a tight panel with no spacing to maintain privacy. This wooden fence is built on top of a concrete structure that went all the way up in the corner to create a sturdier construction.
At the top, the designer added louvers. It reminds you of a lot of windows, which may be why the designer used a louvers top in the first place.
They wanted to resemble windows through the fence. It's because the solid concrete base and the tight panel fence make the property look like a fortress. It needs a more relaxed and breezy top to counteract the fortress effect of the main fence.
Louver's top can also work as an extension, something to add an extra height to your wooden fence.
This is an excellent way to decorate a mid-century modern fence. And since this is a mid-century modern design we're talking about, make sure you keep both materials, the top and the fence, the same. That goes to the finish, too.
8. Dark Mid-Century Modern Fence with Light Wood Panel Extension
We can see that this is an extra long fence. It was installed along the house's perimeter to create a border and a boundary.
In the side yard, however, where privacy becomes the biggest issue, the homeowners decided to add an extra length by incorporating an extension.
The extension is also made of wood, similar to the main fence. However, the treatment and the finish are different.
The extension is made of a lighter tone wood, which looks odd against the dark horizontal lain fence. This light tone wood brings out a more modern touch, which looks more suitable in a mid-century setting like this.
Contrasting the fence and the extension might be challenging in a mid-century modern landscape because you want to maintain simplicity. Still, at the same time, you can't resist the temptation to present a more fun look.
Pro tip: make sure you use similar material for both the fence and the extension. They should also have lain in a similar position to achieve cohesion and symmetry. If you want to contrast it, always look for a neutral or natural shade that complements each other, not dramatically contrasting.
9. Corrugated Metal Mid-Century Modern Fence Paired with Breeze Block Wall
If louvers are an excellent element to let more air penetrate through your fence, actually, there's another alternative, which is way cheaper than wooden louvers top.
This mid-century modern fence is completed with a breeze block wall that has the same function as louvers. Both are meant to make the area on the other side of the fence breezier.
The excellent part is breeze block wall like this could be used as a backdrop to anything you put in front of it. It also provides a beautiful contrast to the corrugated metal fence around.
Instead of redwood, cedar, or Meranti wood, this fence is made of corrugated metal sheets painted black. The metal sheet is framed as the main structure by a dark metal post.
The whole fencing is built on top of a low wall that seems to be made of concrete and finished in a black color to match the corrugated metal fence.
In front of the whole fence, on the outer part, you can build a plant bed and plant some low trees or shrubs to add a pop of greeneries against the black mid-century modern fence.
10. Weathered Steel Panel Mid-Century Modern Fence with Flower Boxes
Don't let your horizontal panel mid-century modern fence become too bare and plain. We can't deny that simplicity is the main charm of a mid-century design, but at the same time, we simply can't resist the urge to decorate the fence.
To make it look pop but minimalist, you have to add a functional decoration. In this project, the designer installed flower boxes right on the fence, being attached to it.
The fence is made of weathered steel panels that look quite similar to wood. The strips of steel are completed with posts at the backside to support them. The flower boxes are welded to the front side.
Along with the flower boxes, the landscaper also built a plant bed in front of it with bushes to accentuate the fence.
Decorating your mid-century fence with greeneries is perfect for adding a natural touch and counteracting the "harsh" look of metal with a soft nuance of plants.
If you want to adopt this idea, remember to keep the space between each strip of steel wide. Not too wide to sacrifice privacy, but not too tight, so it's unable to hold the flower boxes' structure.
11. Asian Style Mid-Century Modern Fences are Used as a Backdrop for Vertical Gardens
You'll always be able to use two styles at the same time for your fence. See how the designer managed to mix Asian style and mid-century modern for the client's fence.
In Asian style, the most common element to complete it is the water feature. That's why it should be added against the fence to tell anyone that this is a perfect Asian-style fence.
The water feature has two levels, and it is made of concrete to enhance the clean and polished look of this landscaping.
To top it off, the designer also added a decorative Buddha artwork against the fence that has a similar finish to the fence.
Aside from the Asian style, this fence also has a mid-century modern design. We can see it from the simple, straight, and symmetrical lines it has.
The fence is basically made of wood that seems to be redwood lain horizontally with a tight slat. It is constructed above a staggering concrete wall that's meant to be the base.
As though the water feature wasn't enough, the designer also functioned this fence as a backdrop for vertical gardens. They attached a metal railing where the creepers' plants can grow through it.
Look how the creepers add a pop of lush green color to the wooden fence and the concrete wall.
12. Mid-Century Modern Tall Cedar Fence with a Safety Glass Panel at the Top
If you have a side yard, turning it into a walkable path with enough decorations is essential instead of letting it be a neglected dark alley. This side yard proves that this area can be maxed out.
Look how it is bordered by the tall mid-century modern fence.
The fence was built high to promote privacy, so the homeowners don't have to feel exposed by the neighbor. It is made of cedar, like a usual mid-century modern fence.
Since this fence is meant to be a border and a screen, keeping the panel tight shut is reasonable, so there's no space to peek through.
As the cherry on top, the designer also installed rain patterned safety glass panels at the top. These glass panels are useful to add an extra height to the fence while delivering a mid-century modern style to the whole landscaping.
To decorate it, the designer only added some LED path light in front of the fence to illuminate the sideyard, giving a sense of security and showcasing the majestic fence.
There's a narrow plant bed added over the fence for the bushes to create an organic accent to the cedar fence.
13. Corrugated Metal Surrounded by Lumber Frame Mid-Century Modern Fence
Corrugated metal can also be used to enhance the mid-century modern design.
After all, metal is an element that's often associated with modern style since it has a sleek and stylish appearance.
However, if it stands alone, corrugated metal steel can evoke an industrial style instead of mid-century modern. So, the best solution if you still want to use it is by combining it with wood.
This metal fence is beautifully framed with a lumber structure completed with decorative posts.
It runs along the side of the landscaping, bordering it from the wildlife on the other side. It's also combined with a horizontal wooden gate that separates this side yard from the next area.
Both deliver a contrasting and complementing look at the same time.
Even though this fence looks plain, the designer's right by not adding extra attached decorations. It's because the texture of the corrugated metal fence and its contrast with the frame has already been a good decoration.
Add some attached elements to it, and you'll lose the minimalism.
However, it won't hurt if you add a plant bed over it. The plant bed is not specifically used to decorate the fence but brackets the gravel path.
14. Tight Slatted Vertical Panel Mid-Century Modern Fence
It's wrong to think that mid-century modern fence only comes in a horizontal position. If building cost is not an issue, you can build your modern wood fence in a vertical pattern.
Even though it isn't as cost-efficient as its horizontal counterpart, it's obvious that a vertical wooden fence like this looks more stylish, elegant, and decorative.
One of the main reasons why people use vertical fences instead of horizontal is because it can make the fence appear taller. It surely helps with privacy.
So if your privacy is your main concern, it's better to install a vertical mid-century modern fence with tight slats like this.
This fence has a perfect L-shaped layout. In the longer part, the designer added an extension to add extra height to the fence. Basically, the top is also made of a wooden panel, but it has a larger gap, to begin with.
The extension and the main fence are basically made of the same material and finished the same way, too. It's the designer's way of creating a consistent look.
As a decoration, a low wall made of concrete is installed over the fence. This concrete can work as a bench.
There's a long and narrow planter bed, between the concrete bench and the fence to add a similar plant that goes on through the perimeter.
Tips to Decorate Your Mid-Century Modern Fence
The fence's main purpose is to create a boundary between your property and your neighbor's.
The fence is also useful to give you privacy, protecting you from unwanted attention.
However, it's important to make the most of any fence, including the mid-century modern fence.
Your fence should be more than just a border or a privacy screen. Well, here are some excellent ways to decorate a mid-century modern fence.
Install flower boxes. If you have a tall, horizontally lain mid-century modern fence, it would be a waste if you don't use it as a backdrop. And since a tall and majestic fence is a more suitable background for a larger plant container, you can use flower boxes instead of using them as a pot station. Place some flower boxes strategically throughout the fence. Make sure to create symmetry.
Build a plant bed. Flower boxes mean you have to spend extra money to build the construction attached to the fence. If you're rather tight on budget, you can build a plant bed in front of the mid-century fence. It would make your fence a canvas. Remember, landscaping in a mid-century modern design means you have to limit your plant selection to only some varieties and repeat them throughout the plant bed along the fence to get a simple look.
Build a vertical garden. Alternatively, you can create a vertical garden right in your mid-century modern fence. Purchase some vertical garden kits, and you can install them on your own. It's worth knowing that fences can be a good element for the ecosystem. Let the wildlife give you a helping hand in your vertical gardening project. So, choose flowering climbers for the butterflies, moths, and bees.
Add an extension. It's possible to add extra height to your mid-century modern fence. All you have to do is just install some decorative top. The tops can be a rain screen, louvers, or even wooden panels similar to the fence but in a wider space. It would be even taller if you built your fence on top of a concrete footing.
Mix materials. We all know the charm of wood in a mid-century modern setting. Yet, it would be far more beautiful if you were able to mix it with other materials, like metal. Metal and wood are two different materials that would be hard to mimic each other. It means that when juxtaposed, they could create a pretty contrast; you need to make an unusual look for the fence.