The siding of your house will be the foundation of your home's entire style.
There are a lot of options out there, and with the wide variety of them to opt for, it makes sense if you get overwhelmed.
To make up your mind, you'll need to choose the material you'd prefer for your home. In this article, we'll be discussing metal siding.
Choosing a metal material, like steel, will give you a straightforward installation. Plus, it is also durable and maintenance-free. No wonder, in terms of metal siding, steel is a popular option.
When it comes to metal siding, the horizontal placement is the most common type of siding. It gives a classic look and is relatively easy to install, making it a favorite option for those who want a quick siding renovation.
Vertical metal siding, on the other hand, is quite uncommon. But if you want something a little different, vertical metal siding is an excellent option.
Frankly saying, though, vertical metal siding is less attractive than the horizontal one for some.
But we can't deny that it has a greater weather-tightness characteristic, is easier to maintain (though not quite to install), and has a more unique look than horizontal siding.
Yet again, attractiveness is a matter of personal taste. Below are the pictures of considerably aesthetic vertical metal siding for your property, and you're free to judge whether they're really good or not:
1. Vertical Standing Seam Metal Siding in a Dark Gray Color
The great thing about this large trendy three-story house with a shed roof is that it has mixed siding materials, but somehow, the designer made all of them look cohesive.
In front of the exterior, there's standing seam roofing metal siding in a vertical position, which is painted in Sherwin Williams – Metal Shavings.
This vertical metal siding is accompanied by horizontal clear sealed cedar siding as a trim, installed around the window, installed over a rain screen system.
Look how contrast the vertical metal siding and the horizontal cedar siding. They both have different textures and characteristics, finished in different ways. But when juxtaposed, they complement each other.
At the back of the house, the light gray siding is Hardi-panel siding, a fiber cement product painted in Sherwin Williams – Polished Gray.
As a trim, instead of cedar panel like at the front, this back area also has Hardie with the paint color. It is narrower and darker than the surrounding Hardi siding, with a 4" reveal.
The dark gray color of it is meant to match the standing seam metal siding at the front.
All in all, the combination in this exterior delivers a perfect contemporary style. Even though the materials are different, most of them are finished in the same color.
2. Vertical Corrugated Galvanized Metal Siding to Create an Industrial Look
Compared to the previous picture, this one is actually a small house with only one story. But, it looks as stunning because it features a unique industrial look on its exterior.
To achieve the right industrial look, the designer used corrugated galvanized metal as a siding installed during the construction phase.
Since this house only has one story, there is no mixed siding material. All of the exteriors have vertical metal siding.
This is a good option if you have a small house. Using mixed materials in a small house will only make it look too overwhelming. It's better to stay simple and cohesive if you have a one-story house like this.
The only accents are the simple wooden posts, the glass panel windows and front door, and the concrete front porch.
For an industrial look, it's recommended to stick with every element that has an industrial style, like metal, wood, and glass like this, and stay away from any flashing decorations on the siding.
3. Vertical Standing Seam Corten Steel in a Rust Finish
Similar to the previous picture, this house also features an industrial exterior. However, this property has two stories, so it's possible to have two different siding materials.
On the first floor, the designer incorporated seemingly stucco walls, while the upper floor has standing seam Cor-ten steel siding in a vertical position.
This vertical standing seam Cor-ten steel siding is finished in a rusty look, an aged and weathered appearance that adds visual interest to the exterior because it looks in contrast to the smooth stucco walls below.
The designer combined the vertical metal siding with black trim for the windows as an accent. You can clearly see it on the second floor.
Below, the stucco walls are also completed with black trim. It seems that the black trim ties them all together, along with the glass panels for the windows.
If you want to recreate this look, make sure you also have a flat roof like this because the combination of metal siding and stucco will reach its balance if both of them have a similar rectangular shape with no soffit for the gable roof.
4. A Combination of Horizontal Wood and Vertical Metal as a Mixed Siding Material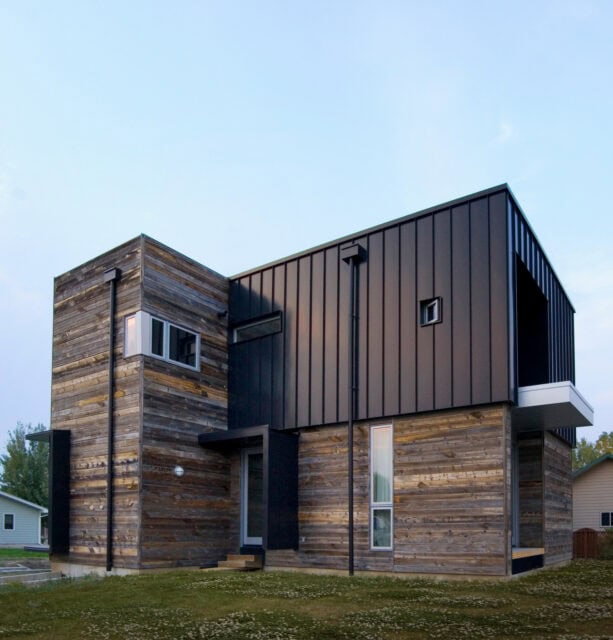 If you're not ready to go all metal, then this look of mixed material will inspire you.
This house has a contemporary exterior with two stories and a flat roof, similar to the previous house but much smaller.
The vertical metal siding is only in a half part of the second floor, while the rest of the exterior has horizontal wood siding.
If you're wondering, the wood siding was actually reclaimed snow fence from Wyoming, with mostly a variety of pine in 30-40 years old.
These woods were sourced from Centennial Wood Products and installed as a rain screen to let air movement that allows it to dry.
The vertical metal siding is actually standing seam, but it was custom rolled from 24 ga. coil stock. According to the designer, the seams stand 2" and are 16" apart from each other.
This meal creates a closure at the bottom of the overbuilt bit. After that, there's a continuous hemmed "L" flashing to close off the standing seams with a drip edge.
The rain screen matches the vertical metal siding perfectly because both are finished in black color, clearly contrasting the horizontal wood siding.
Even though cedar is the most popular material for wood siding, this house proves that almost any type of wood can work well as an exterior with a vertical metal siding.
One tip: if you want to have an industrial exterior, it's better to stay away from the polished and smooth types of wood.
Reclaimed wood like this is a better option because its tone and texture will give you a rough and unfinished appearance, one of the key elements in an industrial look.
5. 1-1/2" Vertical Metal Panel Siding in Hickory Moss Color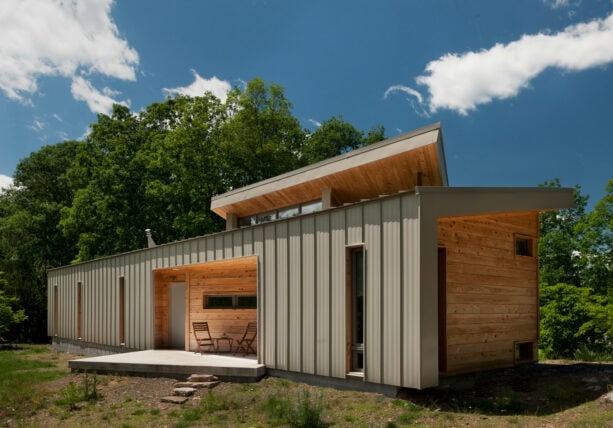 This is an ideal example of a small yet trendy one-story house with a shed metal roof and mixed siding.
Basically, the idea is just the same, where the vertical metal siding is paired with a different type of siding to create a contrast. This house has a combination of metal siding and wood siding, which seems to be cedar.
The metal siding is in a vertical position, in contrast to the wood siding. It is standing seam metal with a 1-1/2" panel by Fabral, and the color is Hickory Moss.
The horizontal wood siding delivers more character to this exterior, creating a lovely transitional look.
See how the wood siding brings out a traditional vibe, while the metal siding gives a modern style. When combined together, they have become a lovely transitional style, even though this combo can also work on a contemporary style.
As an accent, you can add an asymmetrical concrete front porch like this because concrete can complement both wood and metal, delivering a seamless look to the exterior.
6. Vertical Salvaged Metal Siding in a Cabin
If you think that a cabin in a cold climate should be made of wood to enhance the warm and cozy ambiance, you're wrong.
This cabin in the wood is totally not made of wood. Instead, it has a vertical salvaged metal siding that doesn't make it any less warm and inviting.
Despite the all-metal exterior, this cabin will remind you of the house on Little House in the Prairie.
Still, this property is completed with the wood element, too. Yet, the wood is not on the siding. Instead, it is used for the trim, the posts, the beams, and basically the structure for the front porch.
This is a good idea to apply if you don't want to use mixed siding materials, but you want to incorporate wood in your vertical metal siding exterior. Don't forget to add a decking, too.
At the entrance, it seems that the designer used a Hardi-panel siding in a horizontal position. It is used in a small portion with a color that blends seamlessly with the metal siding around.
Obviously, the designer intended to make the vertical metal siding as the main point of the exterior, so the other material should be kept humble.
7. Vertical Corrugated Aluminum Metal Siding in Black Paired with Light Gray Standing Seam Roof
This house is located in an area that has freezing winter weather. And since the goal of this project was to build an energy-efficient house, the designer should use environmentally conscious and economical materials.
Insulating the house was a primary concern for the designer, and they had to create something that would naturally trap the heat, so the usage of the heater could be minimized.
The result is this vertical corrugated aluminum siding in black color.
We all know that black is the right color if you want to absorb heat. So the exterior should be all-black, except for the roof. Even the front door was painted in black to match the surrounding siding and to absorb extra heat for the interior.
The black vertical metal siding is paired with a standing seam galvanized steel roof in a light gray color.
Yet, the roof is also positioned vertical, even though the panel is way larger than the metal siding. They create a seamless look despite the contrasting tone, adding height to the house.
This is a perfect look for a small one-story house. The vertical exterior metal siding and the similarly vertical roof will make the house look taller.
The only accent is the wood fascia that separates the siding and the roof. Even though this is a different material, the fascia managed to mix harmoniously with the roof and the siding.
If you want to create a house like this, it's important to know that this house is only suitable for those who live in a colder area. The black metal siding will entrap the heat from the sun.
If you live in a dry climate, the heat inside will be unbearable.
8. A Pair of Cedar and Vertical Metal Siding to Create a Contemporary Exterior
This three-story house has a contemporary style with three different sidings. There's an olive-painted wall, horizontal cedar siding, and vertical metal siding.
Even though all of them make a great exterior, the most eye-catching is the vertical metal siding. Despite the fact that vertical positioning is quite uncommon, this siding also takes up most part of this house's exterior.
It forms an L-shaped in the upper part of the house, while at the top right corner, the designer built an olive-painted wall, similar to the one on the lower floor.
There is a horizontal cedar siding in the middle part, which is on the second floor, to contrast the metal siding and accentuate the olive-painted wall.
The vertical metal siding is finished in a dark tone; it could be black or a very dark gray.
Either way, this siding makes the cedar siding looks more prominent, similar to the olive wall, because black can work as a backdrop to let the other materials look more highlighted.
9. The Vertical Metal Siding is Used as an Accent Against the Exterior Stone Wall
This ranch looks unique and surely stands apart from its neighbors. It's entirely off the grid, thanks to the sleek contemporary it has, which is actually an icon for energy efficiency.
Actually, this house is made of stone. Look at the light-colored stones with some darker parts that make the most of the exterior.
However, the designer used vertical metal siding as an accent. That's why it's installed in the middle part. The siding is a standing seam metal panel to accentuate the lighter stone.
You've seen a combination of vertical metal siding with woods. Now, it's time for you to see how impressive a combination of metal siding with stones is.
They both have different characteristics. Similar to woods, stones offer a traditional look that no one could resist. However, metal is more modern and contemporary.
What ties them together is the large glass panels on the windows. Glass is a timeless element that can fit perfectly into any style.
Suppose you want to use different materials for your exterior. In that case, it's important to use such timeless elements to tie them together unless you want to achieve an eclectic style.
Glass will make both the stone wall and metal siding look cohesive despite the different textures.
10. Vertical Metal Roofing as one of the Mixed Sidings of a Three-story House
The first impression of this house is it has different exterior materials, and each of them has a contrasting character to the other.
The various materials are Cultured Stone by Eldorado Stone used for the first floor, Hard lap siding in a light gray color on the second floor, Windswept weathered wood vertical siding in a dark brown color on the left side of the house, and vertical standing seam metal roofing in a dark gray color in the upper portion.
Similar to the previous picture, the vertical metal siding in this house is also meant to be an accent, not the main part. Actually, it's quite hard to pinpoint which one is the main siding because all of them seem to have a similar portion.
However, since this house is situated on top of the hill with a raised ground, it's easier to see the vertical metal roofing siding on the upper part from afar. That's what makes this vertical metal siding look more prominent than the other materials.
Like the previous picture, the glass panels for the windows are the timeless elements that tie the different materials.
Apart from the windows, the gray tone also ties them all together. We can see all the materials are finished in gray color, even though in different shades.
11. Vertical Metal, Hard Panel, and Hardi-plank Lap Siding to Create a Midcentury Modern Exterior
It's obvious that the homeowners wanted to go all-metal even though they have a two-story house.
Unlike the previous pictures that have mixed siding materials for each story, this house has vertical metal siding for both lower and upper parts.
However, it might be impossible to use all metals for your interior. That might be the reason why in some parts of the house, the designer installed hard panels and Hardi-plank lap siding as an alternative.
The main part of this exterior is built as vertical standing seam metal siding. The darker gray in a horizontal position is hardi-plank lip siding, and the rest is hard-panel siding. They're all united by a flat membrane-style roof.
See that even though there are other materials for the siding, they look a lot like metal siding. Moreover, they are also finished in a gray color, a color that's often associated with metal and a modern look.
It's pretty clear that the homeowners wanted to make them imitate the look of the metal siding to create unison.
12. Gray Vertical Metal Siding with a Shed Roof to Create a Seamless Look
Simple and minimalist, that's the perfect way to describe this one-story building.
Due to the fact that it's small, it's quite impossible for the homeowners to use mixed siding materials. That's why they used metal siding for the entire exterior.
This gray house has a vertical metal siding, similar to the previous pictures. But what makes it different is it also has a shed metal roof.
Both the siding and the roof are made of the same metal and finished in the same treatment, with the same sized panels. It makes them blend seamlessly together, creating one flowing look from the ground to the way above.
This is an excellent way to increase height if you want to make your house appear taller. You should recreate this look if you want a minimalist look that pulls off a modern vibe.
Be careful with the color of the vertical metal siding, though. If you live in a hot area, stay away from dark colors, for they can make your interior feel unbearably hot.
Light gray like this is always a safe option because it's neutral, and it reflects the heat, so your interior can be cooled.
13. Vertical Metal Siding in Red Color as a Pop of Color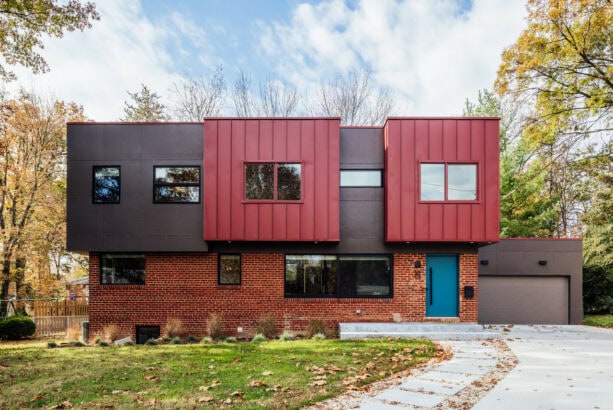 All of the vertical metal sidings you've seen before are in a neutral tone, like black or gray.
Does it make metal neutral? Of course not. You can paint the metal in any color you like.
In this modern exterior, you see that the vertical metal siding is painted in a bright red color, obviously used as a pop of color to the surrounding exterior.
Actually, this is a minimalist house despite the mixed siding materials.
On the first floor, the wall is made of bricks. But the bricks have been polished and coated to create a smooth finish like this, an appearance that is mostly associated with a modern design.
On the second floor, there are black panels that seem to be made of wood. The black panel siding serves as a backdrop for the bright red colored vertical metal siding.
Why red? Maybe that tone can complement the brick wall perfectly because the natural tone of brick is also reddish brown. Plus, bright red will look prominent against the black color.
The red vertical metal siding is not the only accent color on this exterior. The bold blue front door also works as a pop of color, a statement to make this house look more playful.
See how contrasting the red vertical siding and the blue door is, but that's part of the charm.
14. Vertical ATAS MPV Multi-purpose Metal Panel Siding with a Gable Roof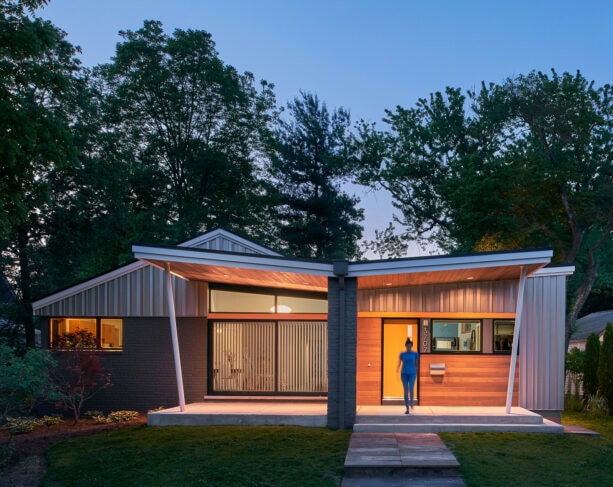 This mid-century exterior looks flawless with the vertical metal siding that serves as a backdrop.
Unlike the previous picture where the metal is supposed to be highlighted accent, in this exterior, the metal siding doesn't get the spotlights, but it surely makes most of the exterior.
It's because metal is often associated with modern style; it looks fit to this mid-century exterior that also has a touch of a modern vibe.
The vertical metal siding is not only on the siding but also on the soffit of the gable roof.
Below the roof, the wall was painted in Benjamin Moore – Flint, which is a dark gray tone, to match the natural gray of the metal siding. On the other hand, the metal siding is a multi-purposed ATAS MPV steel panel with a factory Kynar finish.
At the front part, there's a horizontal, vertical grain cedar siding juxtaposed with the metal siding. It is a 1×6 shiplap finished with Sikkens Cetol sealer to achieve a polished look.
To complete the whole look, the designer added two "posts", which are actually steel pipe columns painted in white and orange front door, which was painted in Benjamin Moore – Tangelo.
15. Tips to Decorate Vertical Metal Siding
There are some different ways of approaching and decorating vertical metal siding.
Basically, there are no rules for what will look best for your exterior, but here are four basic rules to create an aesthetic vertical metal siding to inspire you:
Mixing it with wood siding. If you're not ready to go all metal siding, you can combine it with wood. The most popular type of wood as a siding is cedar. You can add interest to your house's exterior by combining two different materials and two siding placements. For instance, install vertical metal siding with horizontal cedar siding. Those two should also have contrasting finishes to create an aesthetic look. Commonly, such a combo is used for a contemporary exterior.
Neutral color with metal siding. If you have an exterior stone wall, you can contrast it with vertical metal siding. Light metal siding is an excellent option if you have a multi-colored stone exterior wall. On the other hand, the darker stone will work best with light-colored vertical metal siding. To top it off, vertical steel siding will deliver the best for both cold and hot climates. Yet, if you live in a hotter area, you should go for lighter vertical metal siding because light colors will reflect more sunlight, helping to keep the interior temperature cool.
Pair it with brick. Vertical metal siding and brick walls might contradict each other, but when juxtaposed, they both will create a transitional look because brick is often used in a traditional exterior, while the metal siding is more modern. If you combine brick and metal siding, it's recommended to stick to one color palette to create cohesion despite the different styles of siding.
Adding the illusion of height. If your property is considerably small with only one floor, it's recommended to use vertical siding. It is a great choice to add the illusion of height. If you don't want to use vertical metal siding entirely, you can use mixed materials, but make sure the vertical metal siding is on the roof or in the upper part. This way, your one-floor house will appear taller than it actually is.
Use mixed siding materials. Don't hesitate to use multiple siding styles, especially if your house has unusual designs, because mixed siding materials will enhance your home's unique design. For instance, use vertical metal siding, stone wall, and wood siding at the same time, along with different colors to add more interest to your house.