If you are looking at stamped concrete around pool ideas on any platform, you'll see that this is basically large rubber stamps made out of molds used to stamp, design, or imprint to the concrete.
Stamped concrete is also known as imprinted or patterned concrete. The stamps here are very detailed. It will be difficult to tell whether you are looking at wood planks, tile, cobblestones, brick, or stone after the product is finished.
Concrete is known as the most versatile and durable material. It is not only used in the outdoor area; concrete can also be used as countertops.
So what is the difference between concrete and cement?
A friendly reminder: both are totally different materials. Yes, cement goes into concrete. However, concrete is a result of water, aggregates, admixtures, and cement mixed together. Aggregates include limestone, pumice, sand, or anything locally available, while admixtures are actually chemicals or compounds enhancing the malleability and strength of the concrete mixture.
When all of the ingredients mentioned above are mixed and poured together, it becomes concrete that is workable and wet. As it dries, it will get hardened and stronger. It takes about a month for concrete to dry out or fully cure to reach its peak strength.
You can pick the designs and colors for your stamped concrete around your pool. There are various styles and colors, but some of them can enhance certain architectural styles. So be wise when choosing the stamped concrete for your pool.
Basically, stamped concrete colors tend to be similar to earth tones because the idea of stamped concrete is to mimic natural stone, like wood or bricks. Here are some best colors of stamped concrete for your pool:
buff (combination of yellow and beige)
camel
gray (from light to dark)
brown (from dark chocolate to light tan)
terra cotta
Those colors can be mixed to create the certain color you want to achieve for your pool remodeling project. Most homeowners don't want one single solid color without any depth. So, you can create tonal variations and depth based on the techniques that make the concrete look like wood, bricks, or any surface you like. Here are some popular colors and designs that may inspire you:
1. A Minimalist Backyard with Stamped Concrete Around a Rectangular Pool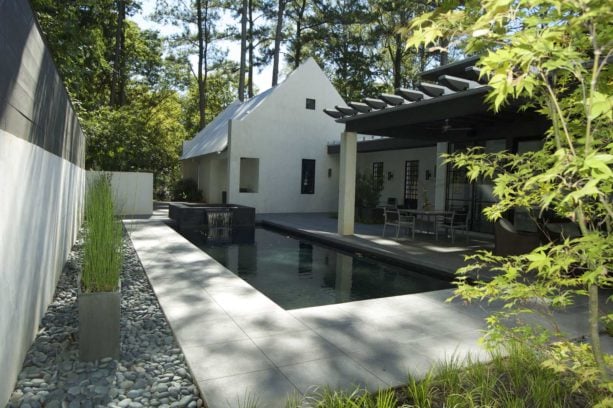 This is a zen pool that truly resembles peace and tranquility. This pool is located in a minimalist backyard with a neutral color palette.
A combination of white, black, and grey will never fail to make the room (in this case, the outdoor area) look chic and modern. And you can see that everything in this area is simple.
The rectangular pool is surrounded by stamped concrete in light grey color. The stamped concrete is shaped in a simple square. It looks nice combined with the pebbles in the outer area, which share a similar color. The concrete features black pigment. It was finished with acid-etched. There is a spa with a waterfall feature too. Both are formed and clad in slabs of black granite.
There is no tile here. The pool here is black plaster. If you are curious, the spillways are roughly 20" from the pool surface. And the pool's dimension is approximately 14' x 32'.
2. A Rustic Backyard Featuring a Custom-Shaped Pool and Stamped Concrete Around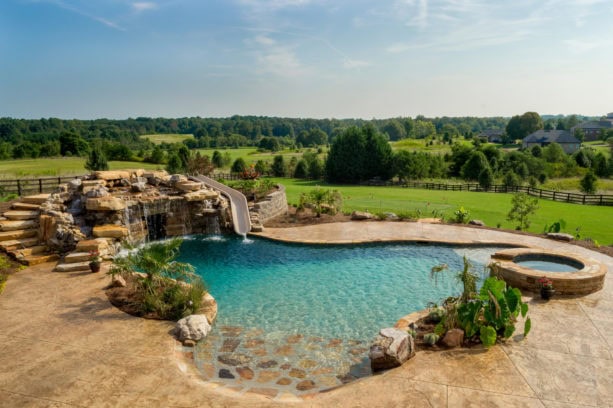 The pool and landscape here are perfectly designed. If you are not really into a simple and minimalist design, you might like this one. This pool looks a lot like an oasis in the middle of a large grass area. This is such a nice idea for a large rustic backyard.
This pool is custom-shaped. It is obvious because the shape is unusual, not like the common shape of a pool. There is a spa with a stone wall. In the opposite of the spa, there is a waterfall feature, complete with a slide and a stack of rocks. There are also some narrow steps that lead to the top of the waterfall.
The stamped concrete around the pool was picked in a light brown color. It is sure to match the whole stone used in this area. The concrete itself was cut in a conventional shape, in a large square shape. It blends seamlessly with the stone steps that lead to the pool.
3. A Large Modern Backyard with Stamped Concrete, Pool, and Spa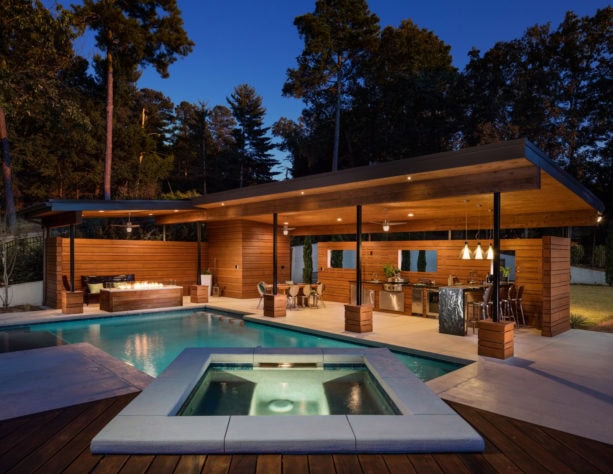 This modern pool is completed with a dining bar area, a large kitchen, and an outdoor living room equipped with a custom fire table.
Look at the kitchen. It seems that the complete cooking area is there. You can see a refrigerator, sink, even a wine cooler, and grill. The dining bar area is also stylish with that leathered granite countertops.
This is such a nice place for the whole members of the family to let loose after a long hard day. Besides, this can be a perfect space to chill with some guests as well.
The pool was designed in an L-shape and in an open-air cabana house concept. There is a spa-like bathroom completed with an outdoor shower (hard to see from this angle) to create a unique combination. There is also a real spa, installed a bit higher than the pool. The pool itself is in a traditional rectangular shape. It is finished with Antigua Pebble and tanning ledge.
The stamped concrete here is in beige color. It blends seamlessly with the white stone of the spa. Beige stamped concrete also looks perfect combined with the wood walls and ceiling of the outdoor kitchen area. This is truly a nice example of an entertainment area suitable for either large parties or small family cookouts.
4. A Huge Mediterranean Styled Kidney Pool with Stamped Concrete Around
This outdoor pool looks dreamy and classic at the same time. This is a Mediterranean-styled pool in kidney shape. It features a poolside bar, a grotto, a wading area, a hot tub, and a slide. This is totally a dream backyard pool setup. This area is connected to the house by a large covered outdoor living area, which is completed with a fireplace and a built-in barbecue.
This pool area can be accessed from the master suite, living room, and dining room. Perfect, isn't it? The stamped concrete used here was stone-like. From this angle, it totally looks like a real stone in a dark grey color. The stamped concrete blends seamlessly with the real stones used for the slide, the spa, and the waterfall feature.
If you want to have a similar slide and fountain like this, you can check Staggered Rock Canyon Garden Feature by Design Toscano. Even though that's not the product used here, it can be your best bet to create a unique Mediterranean look like this.
5. A Contemporary Pool Surrounded with Black River Rock and Stamped Concrete Slabs
When you see this pool, a combination of style and modernity is the first thing that catches your attention. This looks like a beach with its striking blue color. It has a tropical design which is emphasized by the banana trees lining up on one side of the pool.
Basically, this is a traditional pool with a conventional rectangular shape. But the designer manages to combine traditional and modernity in one look. This pool is bordered with black river rock and concrete slabs with limestone copping. The small minimalist backyard features a stamped concrete in a light grey color that looks nice with the blue color of the pool tiles and steel lounge chairs.
6. A Grecian Shaped Pool with Travertine Stamped Concrete Decking Around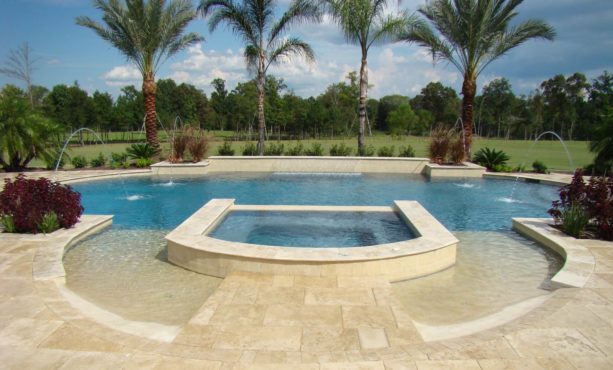 This pool truly resembles Rome. However, this stunning pool is not located in Rome. This Mediterranean pool is in Houston, Texas. This is a Grecian-shaped pool featuring materials that resemble a Roman forum.
The stamped concrete here is in beige color. That is meant to create a simple and minimalist look. This pool has a travertine decking combined with Jerusalem limestone coping. Both transform the look of this backyard, making it look like a design coming out straight from a magazine.
There is a large column of planters on both sides of the pool to create a fiber optic that illuminates the jets. The jets here are Laminar Jets that can squirt a perfect stream of water into the pool.
There is a spa in the center area, right in the middle of the planters. The spa is completed with a waterfall fountain that is impossible to see from this angle.
7. A Freeform Pool with Natural Stone Hot Tub and Stamped Concrete Around
This is an example of a mid-sized classic pool in a custom shape. It is completed with a natural hot tub design and stamped concrete. The most unique and striking part of this pool is the cascading stone fountain. Those huge rocks were stacked in a beautiful design to create a focal point of an outdoor area.
There are some stone steps to reach the peak, and there is also a water slide that can be accessed from the peak. It looks like fun, even for adults. The stamped concrete here is in a dark grey color. It is cut in a usual rectangular shape. It looks nice combined with the stone fountain that has a similar color.
8. A Traditional Pool Backyard with Stamped Cantilevered Coping Concrete Around
This lovely backyard has an oasis that looks nice in the middle of the "desert." This is basically a traditional backyard, complete with stamped concrete and a custom-shaped pool. Unlike the other pools you've seen before, this swimming area looks simple. There is no spa, grotto, waterfall feature, and such. But that doesn't make this pool less cool.
This backyard features the ultimate facelift that adds a custom vinyl liner, which is Mountain Top, an in-ground swimming pool. The homeowners decided to have the custom vinyl liner instep, stamped cantilevered coping, deep end bench. It is combined with a lovely water feature to make this the utmost backyard oasis.
It is quite difficult to see from this angle, but this yard also has a paver patio and a nice outdoor fireplace. The stamped concrete here is in a light grey color. It mimics a stone perfectly. The shape is in a traditional rectangle and square, pieced together.
9. A Tuscan Stamped Concrete and Custom-Designed Pool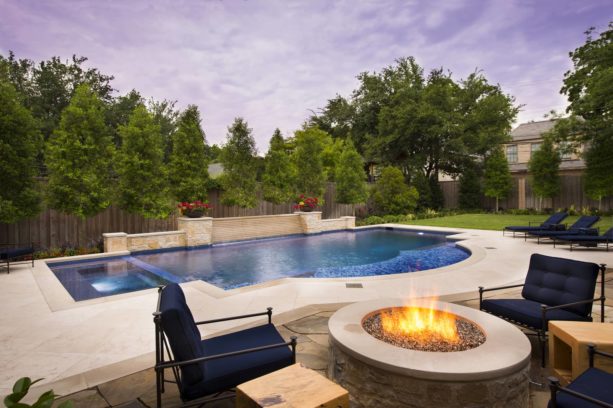 This is an example of a Tuscan-style backyard featuring a custom-shaped pool and stamped concrete. The pool is large enough to accommodate all members of the family. There is also an outdoor seating area complete with a fire pit on one side of the pool.
If you are curious, the fire pit was built on-site. It is completed with an interior of fire brick and topped with Leuder limestone chopped stone that perfectly matches the house. There is a fire glass to fill around the gas burner as the medium.
The decking here is ivory travertine lined with a limestone banding. The tile used is HM140 from Master Tile. The plaster color here is a custom blend sunstone, which is 5 Turtle and 5 Mediterranean.
You may wonder whether such stone is perfect for a patio, whether it is slippery or not. For your information, travertine is not as porous as other stones usually used for a patio. Yes, it is more likely to be more slippery when wet. So it would be nice to add a sealer in a non-slippery material.
For a recommendation, you can use SolidStepCote. That is a special sealer that can turn your pool decking anti-slip. It is recommended to use SolidStepCote #4 or #3 for a travertine swimming pool deck
There is a spa area in this pool too. And at the far end of the pool, you can see a beautiful waterfall feature. The whole dimensions of this pool are 23' x 6" x 36', while the spa is 5' x 13'. The wet deck is roughly 7' x 20'.
10. An Extensive Stamped Concrete Pool Deck with a Raised Hot Tub
This is a stunning outdoor space in a classic traditional design yet with a touch of elegance too. This area is completed with a raised hot tub, a custom-shaped swimming pool, a cabana with outdoor cooking, and an outdoor fireplace. This can be a perfect spot to relax and chill with the family or to host a pool party.
There are three little steps on the pool's side that lead to the seating area that is placed side by side with the spa. The spa itself was built in the middle of a set of identical waterfall features that let the water flow into the pool.
The extensive stamped concrete pool deck is in beige color. The travertine paved areas look matched with the exterior of the main property. Basically, this outdoor area has a warm and soft color that resembles a classic home design. Perfect for a large house in classic or colonial style.
11. Mountain Style Backyard Area with Stamped and Stained Concrete Around a Pool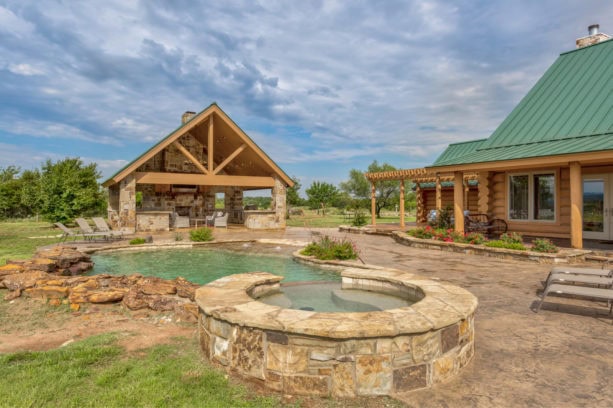 For a farmhouse-style house, adding a pool with a mountain and rustic design like this is highly recommended. This is a perfect example of a rustic backyard completed with a freeform pool, stone beach entry, rock flower beds, and stamped concrete deck.
The stamped concrete looks a lot like porcelain tile. The color is light brown with black streaks here and there. This concrete is also stained in a clear sealant. It is to make sure the natural color is still there, sure to match the natural stone of the spa and the rock weeping wall.
Next to the pool, there is a pergola for a sitting area. The pergola has a post and beam structure completed with stone walls and pillars. The stones are similar to the ones in the spa. Overall, this outdoor space looks stunning with a neutral color palette.
12. A Sizeable Pool with Fountain and Stamped Concrete and Artificial Rocks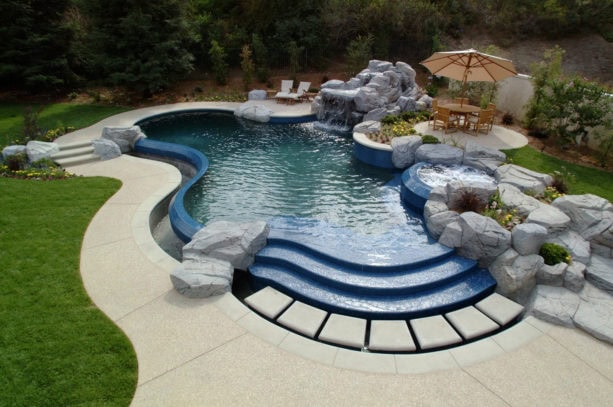 This unique-shaped pool is a totally extraordinary pool. This can be your inspiration to decorate a large backyard with a timeless design. It is located in a huge backyard and is completed with a sitting area with an umbrella and a patio with lounge chairs. Basically, this spot is a perfect area to chill and relax. The blue pool looks in contrast with the green grass next to it. Both are separated with creamy white stamped concrete.
This pool also features artificial rock water features, a vanishing edge, and wet steps in all the tiles. There is also a spa attached to the pool. The artificial rock water features look matched with similar artificial stones around the pool. The stamped concrete was cut in a large rectangular shape to deliver an elegant and modern style.
Closing
Have you made up your mind?
From the pictures above, you can see that there are many patterns and colors of stamped concrete. Each of them can represent one certain style. When it comes to colors, most stamped concrete has two colors: an accent and a base color.
If you want to create the base color for your new concrete, there are two ways: color hardener and integral color. Regardless of the technique, the result will make your stamped concrete's color look more emphasized.
After installing your stamped concrete, you should also know how to clean and maintain it. Like traditional concrete, the stamped surface can last for a long time if it is properly installed and maintain. Stamped concrete needs to be cleaned and maintain regularly, depending on the amount of traffic it gets, the type, and exposure conditions.
It's true that sealers inhibit stains. Most contractors usually apply some coats of protective sealers to shut off the penetration of grease, oil, chemicals, dirt, and other substances. Besides, sealers also protect the concrete from UV exposure so it won't fade. Yet, it won't hurt either to remove grease, oil, spills, or any damaging substances immediately.
However, if you really see stains on the surface of your stamped concrete, here are the things you should do:
Rinse the surface with a garden hose using high pressure.
Scrub it with a brush or push broom. Don't forget to use a small amount of liquid dish soap.
Rinse it again after scrubbing. Make sure you have removed the soap residue.
If this doesn't work to remove the stains, you can use a pressure washer on the stains. However, make sure you don't use a too high-pressure setting. If possible, you can ask for a professional's help. Contact a contractor specializing in professional concrete cleaning.
Keep in mind that stamped concrete should be resealed once in 2-3 years. It depends on the weather conditions of your living area. Before being resealed, make sure the concrete has been cleaned. Here's how to reseal it:
You can use a leaf blower to let the concrete completely dry. Or you can also air dry it for 24 hours. NEVER apply a sealer to a wet or even half-wet surface.
After it dries, use a 1" nap roller to apply the sealer. You can add an anti-skid additive to the sealer.
Next, apply a second coat after the first coat is completely dried (not sticky when you touch it).
Easy, isn't it? It doesn't take much effort to maintain and clean your stamped concrete properly. So, it might be the best time for you to remodel your pool and design it with stamped concrete around.