Spanish-style homes with courtyards are considered striking when it comes to a large property. Spanish style architecture is also known as Spanish revival. It resembles the rich architecture of Latin America and Spain. Basically, this home-style will give you an eclectic look.
Spanish-style homes are quite popular in all areas of the United States. However, they can be commonly found in California, Texas, and Florida.
The combination of Spanish colonial, Mediterranean, and Moorish is indeed perfect for a hotter area. It fits the warm climate very well.
So if you are interested in Spanish style home, what elements that should you put in your home besides white-washed exteriors and luxurious Mediterranean-style accents?
Here are some important keys to designing a Spanish style home:
Tile roof. The most common characteristic of Spanish-style homes is tile roofs made from clay. The "S" shaped tiles are commonly painted in reddish-brown or simply red. Those tiles usually slant downward too. The tiles are useful to keep the house interior cool and protect it from harsh climates.
Prominent arches. You can never find a Spanish-style home without arches. Arches can be found over porch entries, doors, or windows. There might be several porch arches supported by columns too.
Decorative tile. Tiles are usually painted beautifully both for the interior and exterior. Walls and floors are usually covered with decorative tiles. These tiles can be found on the kitchen floors and staircases too. The finish is a combination of glossy and matte.
Stucco exterior. Thick stucco walls with a textured surface are another characteristic of Spanish-style homes. More often than not, the stucco walls are in earthy tones, off-white, or simply white.
Wood. Heavy wooden gates and doors are something that you should not miss if you want to design Spanish style home. The wood color should balance the stucco walls. If the stucco is in a dark color, doors should in a light tonewood. And vice versa.
Guest casitas. In Spanish, casitas mean "little house." The little house is quite similar to a guest house detached from the main house. Casitas can be situated on the back or the front of the main house. It usually has a separate entrance too.
Wrought-iron railings. It is a unique feature in a Spanish-style home. The wrought-iron railings usually feature an ornamental accent. They can be used for gates, balconies, windows, stairs, and such.
Private courtyard. This is the highlight point in this article. A Spanish-style home without a courtyard is nonsense. This courtyard is useful to entertain guests in milder climates. For colder days, fire pits or fireplaces can keep everyone warm. During summer, there are shaded galleries to block the UV rays.
Want to look at the visuals of Spanish-style homes with courtyards? Here are some pictures that have all the points mentioned above.
1. Spanish Mediterranean Style Home Featuring a Courtyard with Stunning Water Feature
This Spanish Revival building looks lovely. There are half-circle archways that separate the courtyard and the fireplace with a sitting area.
Half circle arch itself is reminiscent of Tuscan and Spanish architecture. This style of arch can bring a warm cozy feel to a Spanish-style home.
In the courtyard, you can see a stunning water feature stands in the center area.
This patio fountain is in a perfect square shape. Right in the middle of it, there's a majestic olive tree that will remind you of summer and tropical places.
The tree is surrounded by lovely foliage. The wall squirts several streams of water into a small below around the tree. It is also completed with LED lights below.
The stepping stones are combined with grass to create a more natural and tropical look. It seems that the stones used here are stamped concrete. The grass also looks like artificial turf. Either way, both are perfect to create a Tuscan look.
2. White Spanish Style Home with a Mediterranean Red Sandstone Courtyard
This is a nice example of a Spanish-style exterior. This room features a clay roof in a reddish-brown color. It is combined with stucco white walls exterior.
The most prominent characteristic of a Spanish-style home in this picture is a courtyard. As stated above, a Spanish home is often related to a private courtyard. And it also features decorative tiles/pavers.
It seems that the pavers are Red Sandstone, 6×30 Pearl Drop Interiors Design Morning Glory. This paver is sold by a unit in SqFt. The size is an extra-large crate with random flagging and a natural cleft. This is a natural stone. The color may be slightly different from this picture.
This type of tile is usually used for pool, spa, balcony, corridor, entryway, fountain, and even indoor use like bathroom flooring, kitchen backsplash, dining room, countertop, and shower surround.
The pink pavers look nice combined with the small blue fountain in the middle of the courtyard.
The fountain is made from decorative ceramic tiles. There is a bowl inside with pouring water. It is surrounded by pebble stones as an accent. It may be hard to see from this angle, but there is a palm tree beside the pool, which makes the whole exterior look more tropical.
3. Combination of Hacienda Spanish Style and Tuscan Design Home with Stone Courtyard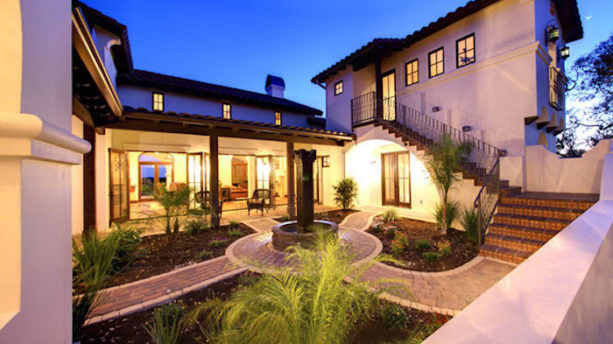 This is a majestic house with Spanish Hacienda style. It combines the elegance of a Spanish colonial look with the simplicity of a Tuscan design.
This courtyard can be accessed from four areas. There are four paths from the fountain that lead to different rooms.
From this angle, it can only be seen that the second path leads to the living room with double doors, the third path leads to a double window of a room, and the last path opens to the stepping stairs that lead to the second story of the house.
The pavers appear to be stamped concrete that mimics a brick. It is not as decorative as the other Spanish-style homes, but the stones have more than one color.
The centerpiece of this courtyard is the tall fountain. The brown fountain is surrounded by a circular stack of stones that look to create a wall around. The water from the fountain is pooled inside.
On each side of the walkway, there are some bushes and tropical plants that make this patio look even cozier. There is no towering tree, but small trees with wide leaves are more suitable in this exterior for they resemble a hot summer day in a tropical country.
4. Traditional Spanish Style Home with a Central Courtyard Surrounded by Walled Gardens
This large house is designed in a U-shaped. There are four parts of the house surrounding a courtyard in the center. There is a wooden gate in the entryway completed with a roof.
Basically, the design objective is to make a literal replication of a California Hacienda era, which is in the 1800s. Those four adobe structures accentuate the central private courtyard.
The courtyard is actually walled gardens. With secondary terraces, the walled gardens expand the interior towards the morning light and the views. This is a simple, traditional, but completed with rustic detail style.
If you are wondering, the house plaster is painted in Benjamin Moore – White Blush. The heavy timber is in Benjamin Moore – Fairview Taupe color. The Shutters are also painted in Benjamin Moore – Caldwell Green.
When it comes to the roof, it is a saltillo tile roof that is handmade in terra cotta color from Mexico.
Unlike the other Spanish-style homes, this home doesn't feature an S-tiles roof. This roof is a traditional 2-piece mission tile. Some areas like Carmel Valley, Montecito, and Santa Barbara don't allow the use of S-tiles because they aren't a traditional shape.
5. Spanish Colonial Style Home Featuring a Private Courtyard
The whole landscape of this home represents the formality of Santa Barbara/Spanish Colonial-style early homes in an Arcadia neighborhood.
There are a variety of decorative tiles, brick, and stone, reinforcing the eclectic look of a Spanish home.
From this angle, you can see the off-white stucco walls. It is combined with a decoration in the center of the wall. There is a blue double door that leads to the interior.
In the center of the courtyard, there is a low wall in a perfect square shape surrounding a Crape Myrtle tree. The tree is also surrounded by Dichondra grass.
There is no water feature here, but that doesn't mean that this home is less fantastic. This patio also features Hibiscus, a rose garden in pea gravel, and formal Boxwood hedges, though they are not visible from this angle.
If you are curious, the materials used in this home are La Negra and Cantera volcanic stone, natural fieldstone, brick, and hand-crafted Spanish decorative tiles. Those are used to build interest throughout this property.
6. Old California Mission Style Home and a Courtyard with Spanish Style Outdoor Fireplace
This is an old California Mission-style house. This is actually a remodeled version. The original home is a funky 1970s cottage that has no certain style. After being remodeled, this property looks a lot like a real old home that perfectly fits the Ojai California landscape.
This Spanish-style courtyard is completed with an outdoor fireplace with Indian overtones that border the courtyard's exterior. This whole look uses glazed, stained, and distressed handmade doors and trims to achieve an old-world feel.
This mid-sized patio courtyard features handmade terra cotta tiles in custom size throughout. The tiles are finished with wax and dark stain to create a used, real-life texture from an old era.
The wrought iron Spanish lighting combined with glass doors and wood windows are perfect for achieving an antique Indian design.
The owners of this property are from India, so the designer decided to combine Spanish colonial style with an Indian look. To complete the look, the designer added an outdoor hallway and an outdoor shower with an olive tree.
7. Spanish Style Two-Story Home Remodel with a Stamped Concrete Courtyard
This is perfect Mediterranean landscaping. This courtyard features many tropical trees that perfectly represent a Spanish-style home.
From this angle, it is clearly visible there are banana trees, palm trees, and some unidentified greeneries. Those trees look nice combined with the creamy white exterior color, wooded windows, and the fountain in the central area.
The beige walkway here is a Sonora Gold Flagstone. The stone blends seamlessly with the low wall of the fountain, which is also made from a stack of stone, though there is no detailed information about the stone used. It seems that the fountain wall features a natural stone too.
The exterior color is actually a custom color. The designer worked with Merlex, mixed some different paints to achieve this light sand color. The result is perfect. It looks stunning against the windows' color, which is chocolate brown. The windows are Pella. The chocolate brown color is actually a custom glazing color.
8. Large Mediterranean Courtyard Brick in a Beige Spanish Style Home
This is a bright and colorful courtyard. What makes it stand out is the foliages and flowers here and there. It is quite unusual to add pretty flowers in Spanish style home.
Usually, a Spanish courtyard would involve tropical plants, like palm trees or banana trees. However, it turns out that bright potted flowers like this are also nice in a tropical setting, especially if the pots are decorative ones. They can blend seamlessly with decorative pavers.
Since the foliages and flowers here are already sufficient to catch everyone's attention, the designer decided to use a simple brick as the paver. However, they are not simple bricks. The paver is McNear red wire-cut bricks in a herringbone pattern. Even though they are simply bricks, but they were picked carefully and set beautifully.
There is no water feature or fountain as the centerpiece here like you've seen in the pictures above. However, the other elements in this courtyard have created their own shine, so this courtyard doesn't need a focal point to draw any attention to.
For instance, those Spanish hanging baskets deliver the right Mediterranean look. Those light strings accentuate the courtyard. And the Architectural Traditions windows complete the whole look.
9. Spanish Style Split-Level Home Featuring a Courtyard with a Fountain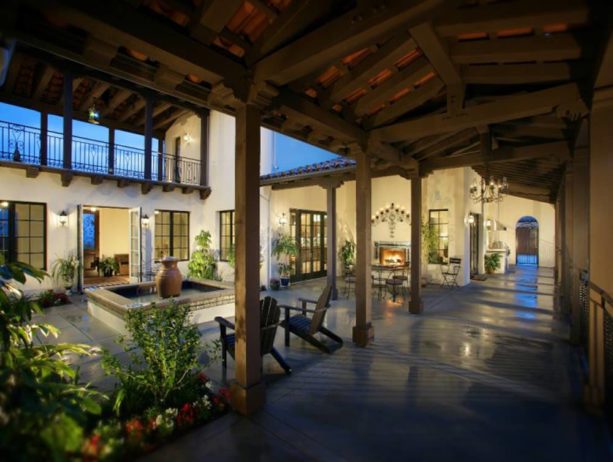 This is a perfect example of a Mediterranean courtyard surrounded by a white split-level home. That white stucco wall fits perfectly into a Spanish-style home's characteristic.
This courtyard also features an outdoor fireplace, complete with a sitting area in front of it. That built-in fireplace makes it possible for homeowners to enjoy their time outside even though it is not summer anymore.
The pavers (or should we call them the floor?) here look glossy in black color. However, it might be a visual effect or biased by lights.
Unfortunately, there is no detailed information about the material used for this paver. However, it seems like a stamped concrete. Stamped concrete can mimic any type of material perfectly, like natural stone, porcelain, and even wood.
In the central area of this courtyard, there is a water jug that sprays water to the fountain below. This fountain looks elegant, surrounded by a square-shaped wall that seems to be topped by ceramic tiles.
This focal point looks perfect combined with the greeneries around, wrought-iron wall lamps, chandelier, and wall decoration.
10. Brick Spanish Paver Courtyard in a Hacienda Style Home
This large courtyard makes outdoor living perfect. Outdoor living at its finest. It features a sitting area involving a couch and two armchairs with a footrest. There is also a standing sunbrella to protect these seats from UV rays.
This courtyard has Spanish brick pavers for flooring. It is combined with terra cotta tile floor that was purchased unsealed and alter was sealed topcoat with TerraNano tile sealer, Cantera stone columns in Tobacco brown color, and some other areas covered by Cantera stone surrounds. There is also a breezeway with Manganese Saltillo flooring in 12 x 24.
That classic hacienda roof makes this house a perfect example of Spanish style home. It is not only the tile roof, but the overall classic hacienda architecture layout of this house also makes it an inspiration for a Spanish home.
The classic materials used here are Travertine flooring, Mexican tile, Spanish tile, Saltillo tile, Cantera Stone in Recinto, Tobacco Brown and Pinon color, copper sconce lighting, and brick pavers. Some of them are not visible from this angle.
11. Large Tuscan Style Courtyard in a Two-Story Colonial Spanish Home
If you usually throw a garden party, this courtyard can be your inspiration for your remodeling project.
This is a perfect courtyard that can accommodate many people. It features a built-in outdoor fireplace completed with a sitting area in front of it and an outdoor dining area.
Both areas are separated by an elegant fountain that perfectly matches the white stucco walls of the house's exterior and the fireplace.
This large Tuscan courtyard features terra cotta tiles, which are the characteristic of Spanish style home. This patio has no cover, which is simpler and more open but has no protection whatsoever from the weather.
That tile roof, the two-story house with prominent arch, glass windows with brown trim, white walls, iron wall lamps, decorative potted plants, terra cotta tiles, and fountain as the focal point are what make this courtyard a Spanish style.
12. Lovely Cocktail Courtyard in Stone Exterior Spanish Style Home
This is a cocktail courtyard with Mediterranean style. This courtyard features a grey look that may look dull for some, but with a spark of lively decoration, it can look so stunning.
This area can be accessed from a dining room separated by a glass panel sliding door. That door retracts to the exterior wall of the dining room.
It features a fireplace that is hard to see from this angle. That is a stone corner fireplace.
There are two sitting areas. One is with a set of brown sofa and couch with footrests, complete with two low round tables. Another sitting area only includes two lavender armchairs facing the other area. Behind them, there is an antique french limestone fountain basin.
When it comes to the pavers, this patio features a Chicago common brick weaved in a traditional basketweave pattern.
There is a stone stairway that opens to guest suites or guest casitas on the second floor of this property. That stairway mixes harmoniously with the stone wall opposite of it and the beige wall of the dining room.
Fun fact: this courtyard wonderfully opens to a view of a native desert, McDowell Mountains beyond, and the Reatta Wash. What a breathtaking view to enjoy during the sunset.
13. U-Shaped Courtyard Surrounded by Spanish Style Balconies in a White Exterior Home
There is no cover in this courtyard. It means that the heat of the sun will go directly to the ones sitting on this patio. It is such a nice way to build a tropical design courtyard.
From this picture, we can see the bright blue sky right upon this courtyard. The homeowner clearly doesn't have to go to the beach to soak up the sun.
This bright courtyard is surrounded by Spanish style house's exterior completed with elegant accents. Those in the balcony can directly look down on the patio.
There are four access ways to this patio. It can be seen from the four doors there, the twin wooden doors, and the double glass doors on both sides of the patio.
There is no archway here. Instead, you can see the arched doors and windows. This is a more modern way to implement a Spanish style to a home than using the real archways.
This property also features a white stucco wall with glass doors and windows. Those are perfect for letting the natural light pour into the room. In the central area, there is a sitting area complete with a sectional sofa and a fire pit.
14. One-Story Spanish Style Home Completed with a Courtyard Tile Patio
Another bright patio without cover here. However, unlike the previous courtyard, this one is completed with trees and foliages. That makes this patio is more shaded and not too exposed to the sun.
This huge area also features an outdoor fireplace, three seating areas, two sunbrella to give more protection from the sun, and the bright decorative water feature in the center as the focal point.
The decorative tiles as the pavers are in terra cotta color.
Surprisingly, the combination of terra cotta tiles and a bright green fountain doesn't look too intimidating. Instead, they both compliment each other even though they are at a different end of the color spectrum. Both are patterned too, and they create a beautiful pattern block. There is no such thing as too much pattern in Spanish style home and courtyard.
The white chairs with dark frames are there to balance the bright look. The white sunbrella and the white stucco walls tone down the colorful patterns as well. Basically, this courtyard looks lovely, warm, and inviting.
15. Bright and Colorful Courtyard in an Elegant Spanish Style Home
A patio that looks like a wedding venue, why not? This sweet and romantic Spanish Style courtyard can be your perfect inspiration.
his patio has no cover, so there is no protection from the weather. However, sun exposure is the best element of a tropical design, especially in a Spanish-style courtyard.
This large courtyard features a swimming pool in a traditional rectangular shape, three prominent arches that open to an indoor seating area, artificial grass, and a central area with a double set of sofas and chairs. It seems that this central area is paved by porcelain tile in white and beige color. It fits perfectly with the color of the sofas and chairs set, which are also white. They create a neutral color scheme combined with black and white throw pillows.
There are some standing lampshades on each side of the sitting area that enhance the warm look of this area. They are in white color too.
The designer decided to pick every furniture piece here in a neutral color to balance the bright color flowers in the archways and in the palm trees.
Closing
What do you think about those striking courtyards in a Spanish-style home above?
Combined with other patio styles, those courtyards are totally brilliant, aren't they?
To help you achieve the perfect Spanish-style courtyard, here are some quick guides to create a striking private courtyard in your Spanish-style home.
Elements not to miss in a Spanish courtyard garden:
It should be an extension of the indoor living space.
Paver of the patio should be made of brick, tile, or stone set in decorative patterns.
Water feature. It can be a birdbath, fountain, or just a basin of water.
Bed areas. You need to carefully pick the plants for the limited planting area.
Container plants.
Plants to choose in a Spanish courtyard garden:
Vines and weaving plants: wisteria, trumpet vine, confederate jasmine, crossvine.
Creeping and filler plants: moss rose, wild strawberries, sedums, and any kind of herbs.
Tropical perennials for big containers: geraniums, bougainvillea, Moy hibiscus, Brugmansia.
Cactus: agaves, soft leaf yucca, ocotillo, spineless prickly pear, sedums.
Shrubs: cassia, pride of Barbados, bottle bush, palms, esperanza, coral bean.
Trees: crape myrtle, mesquite, citrus, live oak, golden rain tree, wild olive.
Basic maintenance requirement:
Regularly sweep your patio and always keep the water feature clean.
Pinch back or trim the herbs routinely. You might want to use them for cooking.
During fall or late winter, cut back the vines.
Don't forget to use fertilizer for the potted tropical perennials.
Prune the shrubs and trees during fall or early spring.
Irrigation:
When it comes to irrigation, the Spanish courtyard garden should be irrigated by hand watering. When your plants have finally set their new roots into the ground, don't forget to water them during the spring and summer once a week. Potted perennials may require more frequent watering. It depends on the type and size of the plants.
Spanish-style homes completed with a courtyard are not that hard to achieve. With all those guides, you can start remodeling your house right now. Good luck with your project!