Extending your home is not an unusual thing to do these days.
One of the main elements that you shouldn't miss is the outdoor fireplace to create a comfy outdoor living space. With an outdoor fireplace, you can enjoy your nights regardless of the season.
However, in the same areas, especially in the midwest, having an outdoor fireplace is such a waste. Many people consider having an outdoor fire pit is more beneficial since it is less expensive.
Is that really so? If you think a fire pit is better than an outdoor fireplace, think again. Both indeed can allow you to enjoy the warmth of the fire and ambiance in the evening. Yet, a fire pit can be an eyesore for a luxurious outdoor living space.
Moreover, a fire pit is not suitable for a winter property.
You can only enjoy your fire pit during the summer nights. It also needs much more regular maintenance than an outdoor fireplace, not to mention a large fire pit can take up a lot of space.
So, an outdoor fireplace is still the best choice if you want something premium for your backyard remodeling project.
To top it off, adding an outdoor TV can be the best thing you can do. Nothing screams "comfort" better than an outdoor TV over an outdoor fireplace.
Imagine you can enjoy the cool evenings while binge-watch your favorite TV shows. Or, you can host a game-and-grill party during the golf, baseball, or football season.
Here are some ideas of outdoor fireplace with TV you can take inspiration from:
1. Contemporary Patio with Outdoor Stone Fireplace and TV
This patio features a contemporary style. It has a post and beam structure with exposed logs for the posts and beams. When it comes to the columns, a long low stone wall can be used as a bench and base for the posts.
Attached to the beam, there is a long stone fireplace. Stacked of what seems like fieldstone surrounding the fireplace in the central area.
On both sides of the fireplace, there is also a pair of built-in wood storage because this is a wood-burning fireplace. It is perfect to create a natural style for a traditional patio.
On top of it, there is a wall-mounted TV that perfectly fits into the stone wall. There is a wooden shelf on the bottom of the TV. It can be used as a display rack. In this case, it is used to keep the candlesticks that are helpful to illuminate the area.
Moreover, that shelf is also beneficial to keep the heat and smoke from the fireplace away from the TV.
2. Pavilion with Travertine Decking and Outdoor Fireplace Completed with 42 inch TV
This is a project of the renovated garden, including a custom-designed iron pavilion.
This pavilion features graceful detailing in the roof and columns. It also has subtle landscape lighting and gas lanterns to make the area more lively in the evenings.
The area used to be a swimming pool. But now it has been renovated with all new travertine decking and coping. There are LED string lights in the beams to illuminate the area too.
This pavilion has a low wall made from what seems like travertine. It matches with the fireplace too. The fireplace is completed with a fire screen from Jackson Pottery.
On top of it, there is a wall-mounted TV, right in the middle of two wooden posts. The TV area is roughly 42" in size. Even though it is not fully protected, the TV is covered enough by the weather and the elements from the fireplace.
3. Beautiful Side Yard with DIY Outdoor Fireplace Kit and 36 inch TV
This stacked stone fireplace is a DIY product from Daco Stone. The total height is 8 feet. However, it can be customized to be wider or taller.
This 36" outdoor fireplace kit comes in several pieces and ready to assemble. If you are unsure about installing it on your own, you can have it installed by Daco Stone too.
Delivery options available include stone mantle, stone veneer with pre-cut corners (100% natural real-cut), mortar (type "S" high strength premixed), fire mortar, fire brick, natural stone hearth pieces, 8" block risers, 3 chimney sections (6" each section), throat, and firebox. Footer is omitted, though.
This fireplace features two wood storages on both sides of the fireplace. The top of the wood storage can be used as a display spot. It is a natural stone that can be used to display potted plants.
On top of the fireplace, there is also a similar narrow countertop to support the TV. Unlike the other outdoor fireplaces with TV, this one doesn't have a built-in spot for the TV. So the tv here is not mounted. Instead, it stands on the top of the fireplace.
4. Large Outdoor Fireplace Completed with a Weatherproof 65 inch TV
This large backyard is completed with four armchairs in a seating area, an outdoor fireplace, and an outdoor TV.
This poolside area is perfect for family gatherings. Even though the fireplace spot is not that spacious, it is sufficient to accommodate the homeowners.
The fireplace is built from what seems like fieldstone. That natural stone gives a classic and traditional style to this contemporary backyard. Moreover, it is also combined with wooden armchairs.
There is no wood storage on the fireplace's sides, but instead, there are two beautiful potted flowers as a decoration.
On top of it, there is a 65" wall-mounted flat-screen TV. As you can see here, the TV is installed in an open backyard with no cover.
So, the designer and the homeowners decided to use a weatherproof TV. Usually, this kind of TV features an anti-reflection screen as well as built-in smart capabilities. The remote control is also dust- and water-resistant.
Below the TV, there is a black shelf to support it. The black shelf is also useful to separate the TV from the fireplace, so the heat won't harm the TV.
5. Rustic Style Outdoor Fireplace with Custom TV Cabinet
Unlike the other outdoor TV you've seen before, this one is perfectly protected.
This outdoor TV is mounted above the stacked of bricks fireplace. It is different from the others because it is fully covered with a custom TV cabinet made from cedarwood.
When the TV is not being watched, the homeowner can close the cabinet, so the TV is protected from the weather and any elements outside.
The fireplace itself is considerably small with a farmhouse and rustic style. It doesn't feature wood storage. Instead, there are two lantern lights on its sides to illuminate the whole area in the evenings. Above the fireplace, there is a wood separator that separates the fireplace and the TV.
The post and beam structure of this pergola also enhances the classic farmhouse style. It seems that this pergola is paved with concrete.
6. Outdoor Fireplace with Built-in Wood Storage and TV for Mid-sized Traditional Backyard
This stone gazebo is completed with a comfortable seating area, including a couch, a pair of armchairs, and a round coffee table. This seating area is located right in front of an outdoor fireplace.
It is a wood-burning fireplace, complete with wood storage on its left side. This natural stone fireplace is quite tall, and it blends harmoniously with the wooden posts and the stone paver.
Above the fireplace, there is a wall-mounted TV with a narrow wood shelf beneath. It appears that the shelf is simply for a separator between the fireplace and the TV because it is hardly used as a display rack due to its dimension.
7. Outdoor Living Room with Square White Columns and TV Above a Fireplace
This outdoor living room is indeed designed to entertain. This spot was optimized to create an extension of indoor living.
In this backyard, you can see a pool, putting green, and this covered seating area. This seating area is located right beside the pool. It looks like it was paved with travertine.
It features a gas fireplace, a set sofa, and an outdoor TV completed with a state-of-the-art sound system. The TV is mounted right above the fireplace. It fits into the wall.
There is no shelf below to separate it from the fireplace, but it seems that the fireplace wall is thick enough to absorb the heat.
This area is partially covered, so no need to add a weatherproof feature to the TV. It is squared with cast stone columns and covered with a beadboard ceiling.
The homeowner can enjoy daytime swimming to an intimate evening gathering party here. They can also play some games on the putting green. Basically, this backyard is perfect for the whole family to enjoy.
If you are curious, the fence displayed here is a custom cedar fence 8' board-on-board. It is also stained with a solid stain from Sherwin Williams "Buckthorn" SW3003.
8. Transitional Stone Patio and Fireplace Completed with a Flat Screen TV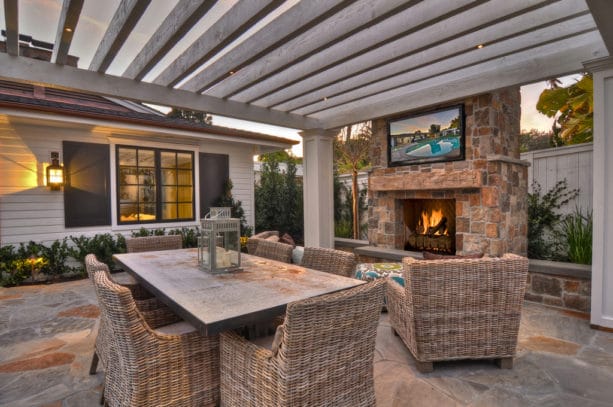 This spacious backyard is completed with this lovely partially covered patio with exposed beams structure.
This can also be said as an outdoor pavilion. It features a square-shaped stone fireplace and a flat-screen TV. Both create the perfect lounge while enjoying the view outside and having an outside dinner. The mature landscaping of this backyard setting brings a sense of total privacy.
Since this is not a fully covered area, the homeowner used a weatherproof cover when the TV is not in used. The TV is perfectly mounted over the fireplace, separated by a narrow, pointed-out stone wall. The fireplace is similar to Duluth Forge Dual Fuel Ventless Gas Fireplace Insert – 32,000 BTU, Remote.
This fireplace lets you build a custom fireplace outdoor. It can be framed without spacing on the top and sides of the unit and without adding air gaps due to the zero clearance approved insert.
This fireplace can be recessed directly into a wall or paired with a face mantel. The dual burner produces many flames as well as a realistic sprays brick liner. It also comes with remote to control every aspect of this fireplace.
Overall, this pavilion's dimension is roughly 16' x 20'. The white columns here were built with MDX. It is an engineered wood product that is perfect for exterior applications. This one is an exterior grade MDF.
9. Custom Designed Wood Burning Fireplace to Accommodate an Outdoor Rated TV
This fireplace looks as if it was a product straight out of the medieval era. The arched top gives a sense of a classic look.
This majestic-looking fireplace creates a focal point on this partially covered patio. It is a wood-burning fireplace that is completed with two similar matching wood boxes on both sides.
This stacked stone was custom designed to accommodate an outdoor TV nook. The sandstone mantel and hearth delivers a perfect place to spend the cool evenings next to the fire.
The tops of the wood boxes are optimized. The homeowner used them as display spots. Big potted plants were put there to complete the whole look of this outdoor fireplace. The same goes for the extended wall above the fireplace. It is used as a display shelf to accommodate two decorative sculptures on both sides of the TV.
The fireplace is attached to the exposed wooden beams. The beams are supported by white columns. Those columns look nice, standing on both sides of the fireplace.
10. Classic Backyard and Tile Patio with Fireplace and Outdoor TV
This outdoor dining area is an example of a mid-sized classic tile patio design. It features an outdoor fireplace, a TV, and a roof extension. It also has stone flooring, which is actually a New York Bluestone. This bluestone looks harmonious with the stone on the fireplace's wall.
The blue ceiling, light blue color from Benjamin Moore, also completes the whole look and gives additional warmth to this outdoor seating area. The ceiling is beadboard, and it is used on the walls too.
You may wonder whether the fireplace has an opening to vent up top going out or not, or is there anything used for fire, like candles or Sterno?
In fact, this is a full-height chimney wood-burning fireplace. So, the chimney is perfect for accommodating the dust and smoke from the burning woods.
Above the fireplace, the TV is perfectly mounted. Since the area is considerably perfectly covered for the TV, it seems that the homeowner doesn't really need a weatherproof cover to protect this outdoor TV.
There is a stone-open shelf below the TV to protect it from the dust and smoke of the wood-burning, though. And that shelf is used to accommodate a decorative lantern light too.
11. Timber Framing Pavilion with Wide Fireplace and TV
This pavilion features the heavy timber portion built by Hugh Lofting Timber Framing.
The heavy timbers here are Douglas Fir. It looks perfect combined with the brick flooring and wall for the fireplace. Those elements create an example of a classic patio design.
This pavilion also features outdoor furniture pieces, an outdoor fireplace, and an outdoor TV.
When it comes to the ceiling and the beas, the Douglas Fir timbers feature coats of Sansin Bark color. However, Sansin discontinued the Bark color. So, it is recommended to use a darker tone of brown. The choices are Teak #34, Acorn #25, and Cocoa #1111. For something a little lighter, your best bet is Butternut #24.
The brick and stone used in this pavilion are mica schist blend. It is a typical stone in Philadelphia, where this pavilion is located.
If you live in the same area, you can visit Rolling Rock Building Stone in Boyertown, PA. It is an excellent resource for natural stones. You can show the people there the blend of stone used here, and they can tell you what it exactly is.
The fireplace itself is traditional wood-burning but accentuated with a more modern touch.
The white trim around is the undeniable modern touch to this traditional fireplace. There is a wood box on the left side, while the fire set is put on its right side. Inside the fireplace box, it seems that the homeowner used Round Fire Pit Grate, Welded Steel, 24" With Char-Guard from Aspen Industries Inc.
Since this is a covered pavilion, the TV can be mounted right on the wall without additional weather protection. The TV delivers an extra comfort to this area, combined with the Denpasar Collection from Century Leisure outdoor furniture pieces.
12. Gazebo with Outdoor Lighting, Fireplace, and TV
This is an example of an outdoor kitchen complete with a built-in grill, cabinets, and countertop. It also features a seating area with a set of sofa, armchairs, and a coffee table.
As the focal point, there is a natural stone custom-built fireplace in the far corner of the room. The gray stoned hearth here can also be used as an extra seating area.
This gazebo looks warm and inviting with its ambient landscape lighting, custom wood decking (red balau hardwood with no stain), outdoor cook station, custom wood structures, outdoor fireplace, and outdoor electronics.
This gazebo is situated in a large classic backyard. This covered area is a 15×15 structure along with the attached breezeway.
When it comes to the TV, even though it is mounted above the fireplace and the gazebo itself is partially covered, the designer still used an outdoor TV.
An outdoor TV is different from the usual TV. It is usually completed with special features to accommodate you to watch anything outside despite the light and the weather.
The question may arise: how is the cable connected? Is the cable box located outside since it is not visible here?
Well, it clearly depends on the climate. If possible, the designer recommended keeping all components inside. This one was placed inside too.
13. Modern Patio with Outdoor Gas Fireplace and Wall Mounted TV
This modern patio is such inspiration for a contemporary style. It features a stone fireplace 14 feet high. Yes, it is going through the porch roof. And it is approximately 6 feet wide. It is a 48" Montigo fireplace in linear firebox style.
If you want to purchase the same product for your outdoor fireplace, the designer recommended that you check with your architect/firebox distributor to match the specific room dimensions.
This modern fireplace is surrounded by Lueders rough back stone in beige color. This neutral stone really complements the fireplace. Both truly represent the modern design. Moreover, it is also completed with Lueders Limestone for the floor. Along with the furniture set and the fence, they deliver a perfect neutral color palette.
FYI, the fence was designed by Global Fence. It is made from Douglas Fir and stained, even though the designer didn't have the exact color because it was selected and mixed on-site.
The TV is wireless, so the homeowners don't have to worry about the cable set. There is no cable box here because it is saved inside the house in an A/V closet. The TV is mounted right above the fireplace, and it seems there is no mantel to separate it from the fireplace, which makes sense because it is a gas fireplace that won't spread dust and smoke like a wood-burning fireplace to the TV above.
Closing
So, what do you think about the ideas above?
Regardless of the materials used and the styles, we can conclude that outdoor fireplaces are much more beautiful as part of your backyard design. It even adds the benefit of privacy screening.
Yes, it's true that outdoor fireplaces are more expensive than fire pits, but they get used more even during long winters.
Outdoor fireplaces are also better in windy areas. Don't worry; the smoke from your outdoor fireplace won't blow up your seating area. It will go through the chimney. Overall, the outdoor fireplace's design lets you take up much less square footage of your backyard than a fire pit.
When it comes to the TV, how do you mount a TV to an outdoor fireplace?
The basic thing you should do is keeping your TV at least 3 ft away from a small flame. It is recommended that you go an extra mile by measuring the heat temperature at the spot where your TV will be mounted.
Always check the manual guide of the TV, make sure how much heat that the TV can take. Place a thermometer in the spot above your fireplace to ensure the temp is not above your TV can endure.
You should also make sure that the TV can handle smoke or any dust that might arise from the fireplace. Make sure you have a special cleaning solution to wipe off the TV screen of any fireplace residue. Adding an extra layer of protection, like a small countertop below your mounted TV, is always a wise idea.