Post and beam carport seems to be the least intimidating carport when it comes to the building and installation. Looking at the structure, it appears that you can build your own carport using the timber frame. But can you actually install your post and beam carport on your own?
First, it is important to know that post and beam construction is a building structure that relies on heavy timbers instead of dimensional lumber. The structure is rooted in early Asian architecture. However, post and beam design has gained popularity across the world.
What makes post and beam building is interesting is not only is it easy to install, that structure is also durable.
You can see that there are some post and beam structures built around medieval times that remain erect nowadays. That's the proof of post and beam's durability. Even after natural disasters, like earthquakes and hurricanes, post and beam structures usually the only building that stands still.
On top of that, the post and beam structure can be installed relatively fast. It is because they don't feature load-bearing walls. With fewer restrictions on structural conditions, post and beam structures have highly customizable floor plans. It means that doors, windows, and such can be added almost anywhere in the building (in this case, carport) whenever you see fit.
However, this construction method is quite uncommon. It is because the material is considerably pricey. And generally, the contractors are not familiar with this structure.
So what is the difference between post and beam and timber framing? Both structures have a rustic and industrial appearance of bare timber. It becomes a central element of the visual profile of the building.
When you use large timbers in a post and beam structure, you don't need many support beams. Therefore, it can create a dramatic open space for a garage. Bare beams and wooden structures deliver an airy and warm essence of natural elegance to your property.
If you want to find inspiration for your post and beam carport, here are some pictures that may inspire you. Scroll down to find what you're looking for.
1. Cedar Post and Beam Carport Styled as a Traditional Structure
This detached carport features a 26' x 26' dimension. This picture shows the front angle of the carport. This is not a large carport, but it can surely accommodate one big car inside. Two small cars can easily fit inside, too, parked side by side.
It seems that this carport is completed with concrete pavers and travertine. Travertine is more expensive than the actual paver. It is because the stone has to be quarried. Yet, the installation is easier and faster. On the other hand, concrete pavers are easier to find. They are mostly available locally. However, concrete pavers are more difficult and need more time to install.
All of the lumber in this carport is solid western red cedarwood. It is styled as a post and beam timber frame structure. The whole design looks like a mountain-style building, especially with the stone post bases.
2. Traditional Post and Beam Carport in Front of a Garage
This is a perfect combination of carport and garage. The carport is installed right in front of a garage building, though they are not attached. There is a wheel run made out of concrete and decomposed granite for the center section. Both lead to the garage building, secured with a pair of swinging doors with glass panels.
The carport builds like a pergola. It was a custom-designed and custom-built carport, so there are no available plans to be shared.
This carport looks simple, but actually, it involves a lot of skilled carpentry and concrete piers. And because this building is pergola-like, it has a roof section attached.
The center beam appears t just rest on a peg coming up from the main structure. There are no notches, brackets, or bolts seen in this picture. But the roof is actually attached with countersunk stainless steel bolts.
This building is not completely open. The roof secures the cars pretty well, and that's a perfect idea if you live in a sunny area. The roof here is corrugated metal panels.
3. Rustic Post and Beam Carport Combined with Cedar Panel Siding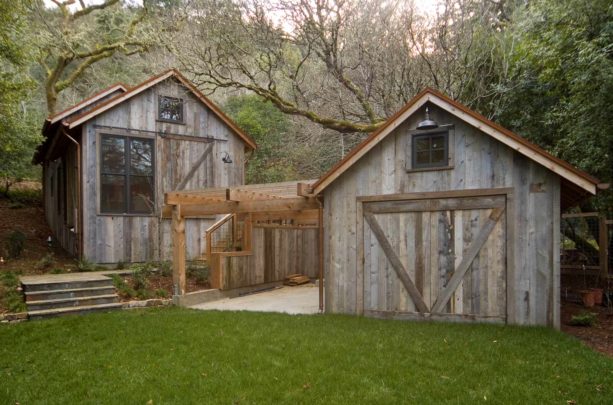 This guest cabin has a rustic design, featuring a rustic garage and carport. The carport and garage buildings are detached from the main building. Both are separated by a low steep slope decorated with small steps and a walkway.
The barn-like garage can accommodate one car only. But it is combined with the attached carport building right next to it.
The garage is enclosed with four walls, and it has a double wooden door with siding. The siding is cedar 1×10 T&G. It is left to weather naturally, so the color is not achieved by paint or stain. The cedar is installed over building paper and exterior grade plywood.
The carport is in post and beam structure. The open roof is like a pergola, but this carport has a low wall on one side. It is not totally enclosed, but the car parked here will be secured enough from any element outside. It is completed with a concrete paver, which is good for the car because it has a non-slip feature.
4. Inspiration for a Timeless Post and Beam Carport in Cedar Wood
This is a perfect example of a timeless garage in post and beam structure.
This garage is built in front of the main entrance of the house. The concrete driveway leads right to the front door. From this angle, it is quite hard to see the attachment of the garage and the main building. But actually, the roof connects them both.
This post and beam structure uses cedar for both the frame and ceiling. The frame and ceiling are not painted. They are only stained in a clear finish, so the natural color of the wood is clearly visible, thus make the whole building look timeless.
This carport seems easy to construct on your own. And it's actually possible to do that.
If you want to do a DIY project, you can purchase the kits and construct your own carport in a post and beam structure like this. Texas Timber Frames provide the pre-cut timbers for you to construct.
5. Spacious Mountain Style Post and Beam Carport with Green Trim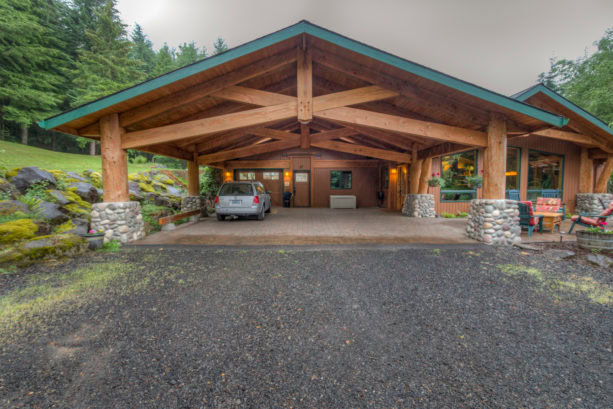 This is a nice carport building for a quiet resort on a mountain. You can obviously see that this is a large carport. It can accommodate four cars at a time. That is an attached carport that leads to the side door.
The carport is not fully enclosed, but with its large size, clearly, it can protect the cars parked there perfectly.
The frames and ceilings are made out of red cedar wood. The wood is stained in oil, so it looks glossy but doesn't lose its natural color.
What makes it lovely is the green trim. From this picture, we can actually see that green can look so gorgeous when combined with the natural color of the wood. There is no information about the paint used, but Sherwin Williams – Oceanside can be your best bet.
The stone post bases are the key elements here that give this building a mountain style. It is also combined with interlocking stone pavers as the carport's floor.
6. A Post and Beam Carport with a Stamped Concrete Driveway in a Lake House
This is a rustic traditional design that looks as if it had just popped up from a storybook. The design looks medieval, like a castle you usually see in a child's book. This is a perfect lake lodge with a classic stone exterior.
Now, look at the carport. It is actually a porte-cochere. It features a stamped concrete and brick paver patterns. It has stone pillars as well, down a driveway of the carport's floor.
The medium tone ceiling looks contrast combined with the stone floor and exterior. But that's what makes this carport looks unique.
The best accent and decoration here, of course, is the light fixture. It has a classic vintage design that can radiate a warm yellow light during the night. There is no information about the manufacturer of the light, but Aspen 24×33 in 6 Lt Rustic Lodge Semi-flush by Kalco Lighting is pretty close.
7. A Barn Styled Carport with Post and Beam Structure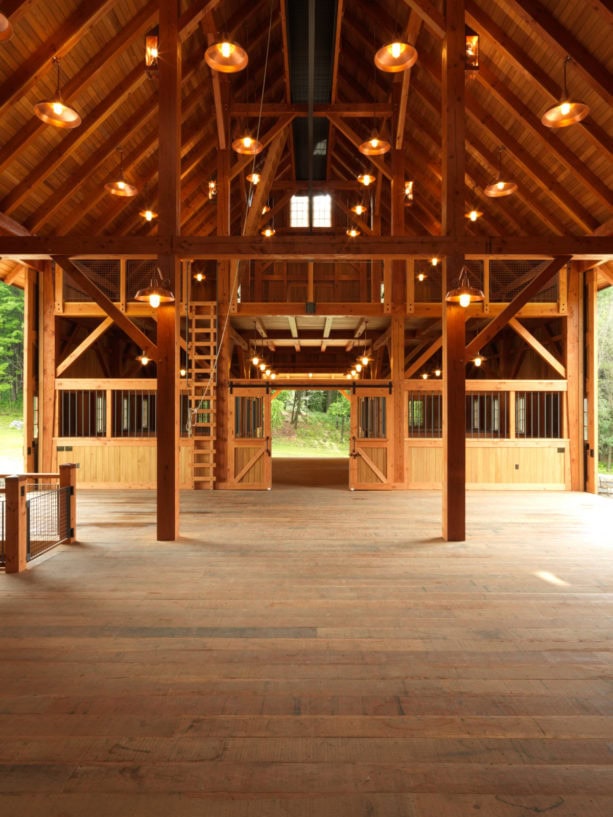 This carport is actually from a barn remodel project. No wonder it looks a lot like a barn, but with a modern and stylish touch. This carport barn is made out of oak wood and stain in a natural finish. What makes it modern is the numerous pendants on the ceiling. Those are Hi-Lite lighting with Warehouse Shade copper fixtures.
Unlike the other carport's floor, which usually is a concrete or stone paver, this floor is wood. It is meant to match the frame and the ceiling. The floor is white oak in 2" thick. It needs to be screwed down installation, but it looks nice in this whole barn.
8. Lakeside Timber Frame Post and Beam Carport with Natural Stone Base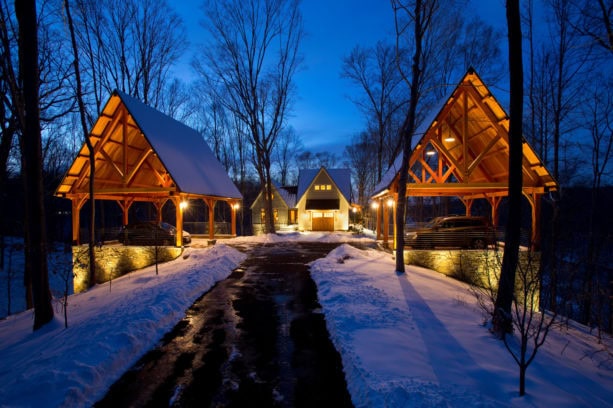 These are large mountain-style carports that can accommodate four cars at one time. Because these are quite large carports, the designer decided to separate them both. Each carport is built facing up to each other. Both are separated by a spacious concrete driveway. The carports are also detached from the main property. It needs a good walk to reach the house from the carport.
The owner of this house is a nature lover. They wanted their home to has a spectacular view and park-like setting. The carports and the main building are both completely wooded. All structures are set within a natural stone base. The exterior materials are shingle siding, fir ceilings, corten steel walls, a partial metal roof, and, of course, timber framing in post and beam structure.
The combination of metal, wood, and stone is warmed with the LED lighting in classic pendants. Now that you see this picture again, don't the visually powerful twin carports remind you of level ground and a parking area?
9. Arts and Crafts Styled Carport with Post and Beam Structure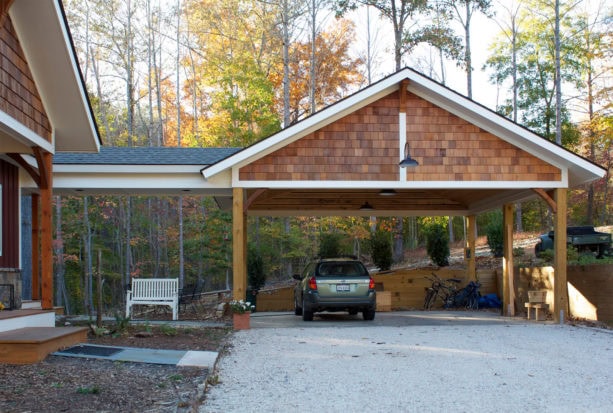 This carport is basically detached from the main house. But there is a breezeway between the carport and the house, connecting them both. This is an arts and crafts carport with a touch of modern design. The modern look is resembled by the white trim. White, as a neutral color, will never fail to deliver a chic and minimalist appearance, which is the key element of a modern design.
This mid-sized carport can accommodate two cars parked side by side. It features cedar shake shingles on a gable roof. Actually, this is an open carport. But on one side, there is a low retaining wall because this building was built in a sloped area. The retaining wall is a divider between the garden and the main house's area.
The cedar pillars here are painted in brown color. The paint is matched with the one used in the retaining wall. The dark brown wood siding on the roof is also there to create a great contrast to the whole look.
10. Large Elegant Attached Post and Beam Carport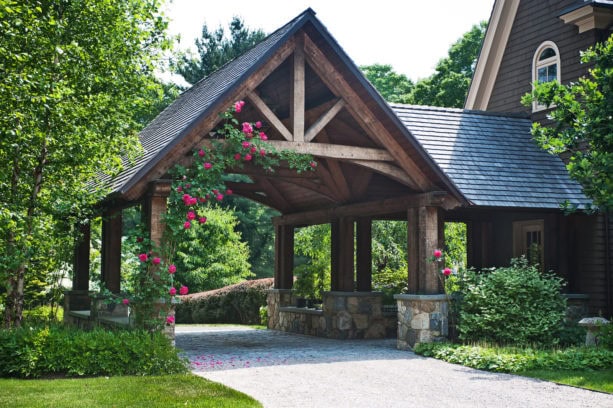 This carport is not only elegant, but it also has a classic look, which is beautified by the pink rose in its frame.
This is basically not a carport, but a porte-cochere. Porte-cochere is literally "coach gate" in English. It is a covered structure at the house's entrance that lets the guests exit their vehicles. The covered structure protects them from the weather. In a nutshell, porte-cochere is a drop-off area.
However, you can also park your car here. That's why this structure can also be classified as a carport. It features a dark gable roof attached to the main house. There is a short breezeway connecting the carport and the front door.
The cedar wood frames look weathered to deliver a classic look. It is weathered naturally, and it is stained in a transparent stain. The exposed timber is combined with the stone pavers in the driveway and the stone post bases.
11. Timber Frame Post and Beam Carport in a Mountain Style House Exterior
This is an example of a mountain-style home but with a nautical theme. It may not have a blue wall or any shell decoration. But when you see the roofline, you'll know that this house's design mimics the ship with a unique prow look. Basically, it's just a typical gable roofline, though.
The carport is attached to the main building. It can be functioned as a patio or an outdoor seating area, too, because instead of using a stone paver, this carport features porcelain tile flooring. There is a table set in front of the carport.
The gable roofing is supported by wooden frames made out of cedar. These exposed timbers are stained in a transparent stain. It is also combined with stone exterior and stone post bases that are matched with the chimney.
12. How to Install Post and Beam Carport
From the pictures above, you may want to install your own post and beam carport. This timber frame structured design is actually not that difficult to install. However, for a better result, it doesn't hurt if you contact your carpenter to discuss what to do and what not to do. Here's a quick guide to building your own carport:
Things you need to have:
Shovel.
Set square.
Hammer.
Drill.
Screws.
Post supports.
Pencil.
Concrete.
Timber
Steps:
Size and Mark Beam Height. First, you need to measure the beam height and mark it on the end of the post. Don't forget to measure the thickness of the beam so it can fit squarely on the post.
Cut the posts. Along the marked lines, cut along the posts. The result is the cutout that is supposed to support a beam. Knock it out with your hammer and chisel any rough edges off. For the corner post, mark the post again dan cut another side on it.
Support the posts. You need someone to help put those posts to the supports you made before. Make sure those posts are level using a spirit level. The cutouts should face outwards.
Brace the posts with clamps and timber. Once the posts are level, you should use the screw in the posts to the support. Brace them with clamps and timber so they won't move while you are finishing.
Pick up and nail the beams. With the help of someone, you should pick up the pre-cut beams. Next, nail them to the cutouts at the fixed posts' top. Hold them in place and make sure they have been cut on 45°.
Screw the beams together. When the beams are secured in their place, screw them together. You need to put the batten screws in various heights so they don't strike each other at the joins. Keep screwing and nailing in the beams until the carport framework has been finished.
Good luck with your post and beam carport project installation!