An attic bedroom with slanted walls is not uncommon these days. This kind of room is usually built as an extra space, so it can be used as a guest's room. However, an attic bedroom can be used for your child(ren) too. It is a perfect space for privacy.
If you have a small house, turn your attic into a bedroom is a nice idea. You surely don't want to waste even the slightest bit of space in your house. The problem is, designing an attic bedroom is quite challenging, especially if it has slanted walls or a ceiling.
How can you turn a cold and gloomy room into something liveable that is also warm, cozy, and inviting too?
Don't worry. Here are some ideas you can get inspiration from if you want to turn your attic space into a bedroom.
1. Loft-Style Attic Bedroom with Mural Paintings and Wood Slanted Walls
This small bedroom proves that size doesn't matter. Having a small attic space surely won't limit your creativity.
In this contemporary bedroom, the designer decided to add a mural painting on one of the walls. It adds dimension to the room as well as makes it more stylish. The mural painting is done by Abby Manock.
As it is an attic bedroom, it also features slanted walls. The wood slanting is built right above the bed. It may be a bit scary for the claustrophobic, though. But the slanting walls are built in a modern style.
The walls were built like siding but in a larger piece. In fact, it looks a lot like bamboos in a clear coat.
What makes this bedroom look even more stylish is the laminate floor. The dark blue laminate floor surprisingly matches the mural painting.
The white bedding and sheet are there to balance the whole look with a neutral color. The white wall in the head of the bed delivers the same vibe too.
2. Unique Mid-Sized Attic Bedroom with Medium Tone Accent Slanted Walls
Want to style your attic bedroom in rustic design? You can take a look at this loft-style bedroom.
The first word that comes to your mind when you see this bedroom may be "chic," Parisian chic. It is because this bedroom is indeed located in Paris. No wonder it looks this stylish but comfortable at the same time.
The combination of bright white and medium tone wood here is incredible. There's always something nice in two neutral colors combined together.
The white walls here are painted in Seigeurie ref 1001 in Simple White. It looks contrasted but still blends seamlessly with the wood pillars and accent on the slanted walls.
The window is installed right above the bed to make sure the natural light will come into the room directly. There is also a glass panel window and door to create a bright bedroom.
A combination of white and natural light will never fail to deliver an illusion of a bigger room.
3. Extra Bedroom in the Attic with Slanted Ceilings and Walls with no Fireplace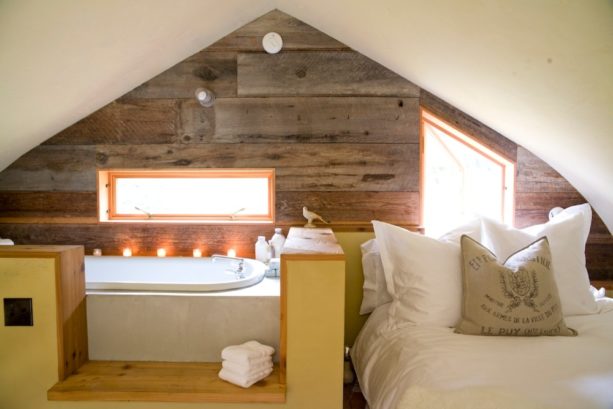 If you want to turn your attic space into a guest bedroom, you can get your inspiration from this small country bedroom.
In this picture, you can see that you actually don't need a big space to build a bedroom with a built-in bathroom. In fact, you don't even need a completely separate room for the bathroom.
In this bedroom, you see the bath area is built right next to the bed. It is only separated by the low walls. The bathroom itself only features a bathtub, but it is enough for a guest who only spends a day or two in your house.
In the back of the bed, you see the wood wall. That is a salvaged barn wood, unfinished, from the original barn. The wall looks matched with the brown wood floor.
The white slanted walls created a not-so-circular small dome above the bed. And that's what makes this bedroom different from the others.
4. Mid-Sized Transitional Attic Bedroom with Beige Slanted Walls
This transitional bedroom is really one of a kind! This attic transformation has conjured up a mid-sized bedroom featuring beige slanted walls and a medium tone wood floor.
This room is perfect for one of your family members who want to have more privacy by living in the attic.
The walls are painted in Benjamin Moore – Ivory Porcelain. It creates a clean, bright, and polished look in this bedroom.
The white slanted walls look classic combined with the medium-tone wood floor. The wood floor is partially covered with gray carpet to add more colors to the room.
The cabinets here are obviously custom-built ones. It fits perfectly with the height and width of the room. The cabinets end before the wall starts to slant. It looks as if the cabinets were a wall with some niches—such as space-saving storage. Behind the headboard, you can also see the bench completed with some throw pillows. That would be a nice spot to enjoy the view outside the window.
5. Eclectic Bedroom in the Attic with Multicolored Slanted Walls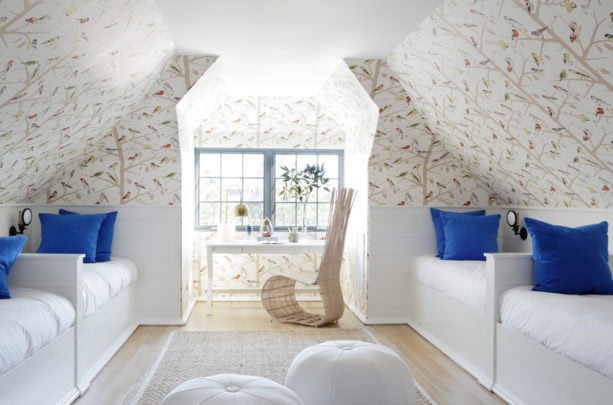 This is a perfect idea for an eclectic room. Instead of the bed, there are some upholstered benches here lined on both sides of the wall. They look snuggly and cozy, even though they can only accommodate one single person. Each bench is completed with throw pillows as well, so there actually be no problem if some guests spend the night here.
The most eye-catching part of this room is, of course, the wallpaper. That's what makes this room eclectic. This is "A-Twitter" Summer Wallpaper. The wallpaper features a graphic branching tree as the background, while a flock of songbirds is standing on each branch. The color is a combination of winter and summer features. So this wallpaper delivers colorful bright hues and chic neutrals at the same time.
Every surface of the walls here is covered by this beautiful wallpaper. The decoration in this room also supports the eclectic look. The light-tone wood floor, the white rug, and of course, the unique rattan chair from kennethcobonpue.
6. Attic Bedroom and Playroom Remodel With Slanted Walls Open to Windows
An attic space doesn't have to be a real bedroom. Sometimes, it can be a playroom and a day bedroom like this. If you have toddlers and kids, this can be a great idea for you.
This room features slanted walls on both sides of the room. The walls are open and look like a big niche. Each niche contains double glass windows to make sure the natural light pour into the room.
The room dimensions here are 13' – 5" X 24' – 10". It is big enough to accommodate a day bed and some cushions, chair, table, and cabinets. In the back of the room, there is a storage unit that can be used to store toys. This storage is called Storagepalooza from Crate & Barrel
The centerpiece of the room is the lovely swing chair. You can find a similar chair in Anthropologie. The bright block cushions are from Serna & Lily. The daybed mattress is placed upon a wood frame from DucDuc.
7. Simple Girl's Bedroom in the Attic with Low and Slanted Walls
This is a perfect room for a girl, an idea for a contemporary girl kids' room. It looks lovely with the pale mint color and a pop of color here and there.
The walls are slanted in the back of the room. They create a perfect nook that can be used to enjoy the view from the windows or simply to read a book.
In front of the nook, on one side of the wall, there is a Pottery Barn Kendall Bed. It is soft and feminine, perfect for a little girl. The beautiful bedding here is from Serena & Lily. In the opposite of the bed, there is a bench right next to a window. The red bench is completed with some throw pillows to guarantee comfort for the sitter there.
The wall here is painted in Sherwin Williams – Windowpane. It is also accentuated with reusable vinyl clings decals from Love Mae. The birds look lovely upon the bed.
8. Rustic Attic Bedroom with Vaulted Ceiling and Slanted Walls in a Natural Wood Finish
This is a simple bedroom, such a nice idea for you who prefer to keep everything as minimalistic as possible.
This bedroom has simple forms, finishes, and designs so they won't clash with the striking slanted walls. The slanted walls here are made from wood with a natural finish. It creates a stylish contemporary look in a rustic design.
Even though this is a simple bedroom, the furniture pieces were selected thoroughly to create a rustic aesthetic look. Each piece should have a natural finish in them. You see the nightstand with a weaved door here, and a basket that is also a bench made out of wicker, all of them are natural finish.
The dark wood-toned accents can also be seen in the lounge chairs and side tables. They deliver a great contrast to the light color of the ceiling and the carpeted flooring.
9. Tiny but Trendy Twin Attic Bedroom with Gray Slanted Walls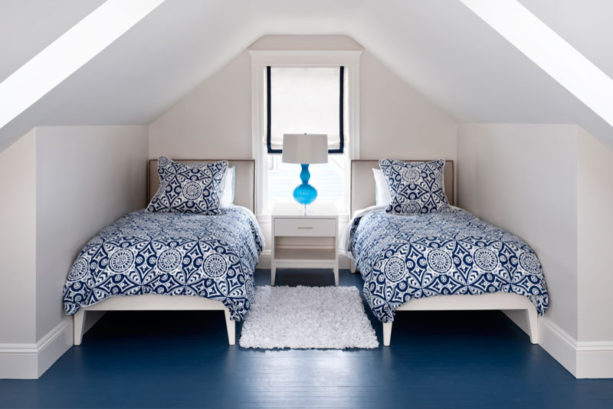 Tiny spaces can deliver a trendy look. This is an example of a trendy bedroom featuring a blue floor and gray walls. The walls are vaulted and can serve as a ceiling too. This small space can accommodate two people, with a twin bed in it.
The trendiest part of this bedroom is the floor. The blue floor is actually painted. The color used here is Benjamin Moore – Newburyport Blue HC-155. It looks contrasted to the gray walls. The walls are also painted in Benjamin Moore; it is Classic Grey.
The beds and bedside table here are from West Elm. The bedding is from Serena & Lily. The lovely white rug here is similar to Safavieh Paris Shag Sg531-1111 Rug, Off White, 3'0"x5'0". The small window in the back of the bedside table is enough to let the natural light pour during the day.
10. Spacious Guest's Bedroom in the Attic with Polished Slanted Walls
Have a larger attic space? You can turn it into a bigger guest's bedroom as well. Or, if you have a growing family, this large space like this can function as a kids' bedroom. You see in this picture that this room can accommodate four single beds at the same time.
The vaulted wall can serve as the ceiling too. It features two small windows completed with blinds. The windows are installed right above the bed to make sure the light will fall perfectly onto the bed every morning.
The simple white wall color here is accentuated with the floral headboards and bright orange pillows in each bed. The mint-colored carpet here is matched with the neutral color of the wall, while the light tone wood floor balances the whole look.
11. Classic Extra Bedroom in the Attic with Crisp Slanted Walls
This attic bedroom is quite spacious. So it can deliver a classic elegant bedroom that's perfect for your daughter.
This bedroom actually features a farmhouse style. However, we can't shrug the classic vintage look emanating from the old treasure box, the chandelier, and the snuggly high bed and bedding.
The white wall here a bit vaulted above the bed. It creates a more stylish design in a traditional style.
The crisp white wall, combined with white bedding, white curtain, and white chair, blends seamlessly with the carpeted floor in light brown color. This wall is painted in Sherwin Williams – Pearly White.
12. Shabby-Chic Style Attic Bedroom with Natural Finish Slanted Walls
This attic bedroom is more like a loft. The walls here are slanted and serve as an open ceiling too. The ceiling was opened up to the bed area. This bedroom has a lower ceiling that may be intimidating for the grown-ups, but surely they will get used to it. It is because this place is a perfect spot to loosen up and get more privacy.
Below the bedroom, there is a bathroom that is impossible to see from this angle. There is also another bedroom that can be accessed by a walnut ladder. And because this is a low and tiny space, you can only use a mattress without a bed here. But that's perfect to create a warm and cozy sensation.
What makes this loft-style shabby chic room unique is the natural finish walls. The walls are slanted above the bed. The walls are made out of natural timber wood, painted in white. There is no information about the color paint used, but you can use Benjamin Moore – White Opulence OC-69 to achieve a similar look.
13. Inspiration for a Girl's Attic Bedroom with Bright Decoration and Blue Slanted Walls
Want a more colorful bedroom for your daughter? This may be a perfect idea for you. This room used to be an attic space. After being transformed into a bedroom, this room is also completed with a bath and a closet space.
The area is not that big. It can only accommodate one single bed. However, the warm purple color on the walls, the white trim, and the window that lets the light pour in create an illusion of a bigger room. The window is an eyebrow window that was installed into the roofline. It allows more daylight into this room. Plus, this window adds a beautiful visual element to the room's facade.
The slanted walls and ceiling create a dome-like space. The design looks perfect combined with a medium-tone wood floor. If you are wondering about the cooling system, this room is completed with a mini-split system.
14. Idea for a Small yet Stylish Attic Bedroom with Light Gray Slanted Walls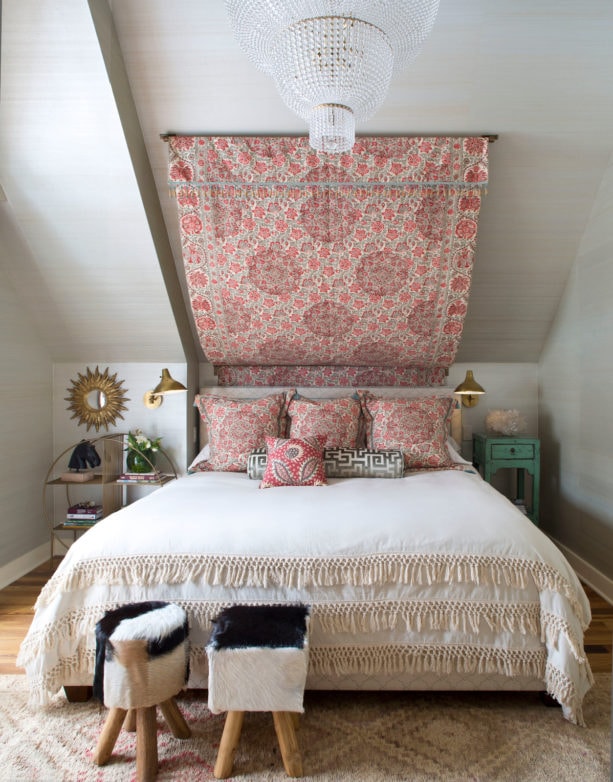 This is an eclectic bedroom with a touch of bohemian style. The gray wall is slanted upon the headboard of the bed. It makes the room look a bit too tiny, but the owner decorated it very well. This tiny space doesn't look too full. On the contrary, it looks unique and inviting at the same time.
The most striking point in this bedroom is the fabric above the bed. It has a similar pattern with the pillows, creating a bohemian look.
This canopy fabric is actually Kaya Medallion by Schumacher. You see, this bed doesn't have a headboard. It is to make sure that it will fit perfectly to the wall that creates a narrow niche. It is obvious that this bed is custom-made.
Every piece of the furniture here fits well into an eclectic design. It looks matched with the medium-tone wood floor. The floor is partially covered with a nude rug to match the ivory white bed sheet.
15. Comfortable Four-Bed Attic Bedroom with Slanted Walls Above the Beds
If you have a growing family, this bedroom can be your best inspiration. This is an attic bedroom for boys. This transitional boys' room features slanted brown walls over the bed. It is hard to see from this angle, but if you are curious, this bedroom has four beds. Two of the beds have a trundle. So this space can accommodate six boys at one time.
The slanted walls may look a bit too low. You may think that this room is not for adults, for they could whack their heads on the vaulted walls. But in fact, that's not the case. According to the homeowner, adults are in this room all the time. The ceiling here is over 8'.
There are three windows here. Two of them are installed above the beds, on both sides of the slanted walls. The center window is smaller, located at the far end of the room. The roman shade in the center window can be used as a centerpiece because its multicolor can accentuate the window.
Closing
Do you think you can turn your attic space into a bedroom after looking at those pictures? It may be good for you if you transform your extra space into a room, especially if you have a growing family or you often have guests visiting you.
When it comes to decorating a bedroom with slanted walls, there are some tips to make the whole room comfortable, even though it is practically located in the attic. From the pictures above, we can conclude that there are things you should do:
Color the slanted walls and ceiling in white or any light color. Why? Because white and light color deliver the illusion of space. It makes the room look bigger than it actually is.
Add a bench or window seat. That can be a perfect spot for storing things, working, reading, and such. It may be impossible to add a coffee table, reading area, and additional storage in an attic bedroom due to a lack of space. So you need to maximize the existing space without crowding it.
Create a canopy or a faux one. This is an ideal design for a teenage girls' bedroom. You don't have to use a real canopy fabric if it's too much for you. Just use a piece of light fabric or netting on the slanted wall.
Be efficient with storage. Attic bedrooms with slanted walls usually have limited space. Your best bet has built-in closets or cabinets. It is also recommended to have wall shelves instead of a standing rack.
Add some textures to the room. If the room is small, stay away from stripes and florals because those patterns are too much for a smaller room. However, a plain room is not a choice either. So as an alternative, you can use one or two textured pieces in the bedroom, like bedspreads or cushions. Wallpapers, wall finish, or textured paints can also be your choice.
Well, good luck with your next remodeling project!