Opting for a yellow color for your house's exterior wall to create a sunny, bright, and warm look can instantly make it pop in the neighborhood.
However, choosing exterior colors is not only about standing out; it should also be attractive.
Make sure you choose the right color for the shutters that can match your yellow exterior. This way, the shutters can be a lovely accent for the yellow color around.
Yellow is an intense color. Even the palest yellow can still look bold and vibrant. That is why, when selecting the shutter's color, you have to be careful.
The color should fit the entire style of your house's exterior but at the same time complement the yellow.
Yes, you can always go for neutral colors, like black and white, as the safest option. However, sometimes playing safe is not really fun.
If you want to experiment with other bright and bold colors or tones, like red, blue, or green, that can accentuate your yellow wall perfectly, you can check these pictures out.
Not all of them feature bright shutters' color. Some of them are in a neutral color. Yet, these shutters totally work well with a yellow exterior:
This is considered a safe option.
The homeowners opted for a neutral color for their shutters.
Deep color like navy is more or less like black. It can create a bold contrast against the creamy yellow wall, but at the same time, it doesn't make a drastic change when paired with yellow.
If you choose this kind of color for your shutters, you don't need to worry about the shade of yellow you selected.
As a neutral color, the navy will complement any color and shade. However, the designer also added white trim to bridge the yellow wall and the navy shutters in this exterior. This way, there are two neutral colors to balance the yellow's brightness.
This exterior, after all, is a traditional-style exterior.
No wonder even the yellow shade chosen isn't the bright one. In a traditional design, the elements used are rarely meant to draw attention.
So, pale yellow was selected, along with neutral shades, like navy blue and white, to accentuate the entire look.
2. Deep Green
This is another traditional exterior design, yet the designer managed to make the whole look brighter with this color palette.
We all know that green and yellow are considered the best match. If you don't want to use neutral colors to be paired with your yellow walls, you can always opt for green.
On this exterior, the siding is painted in Benjamin Moore's soft gloss fortified acrylic with color OC111 and pastel base 0961B. The result is this yellow pastel that creates a warm and inviting look.
The designer managed to pull off a contrast effect by pairing the yellow pastel wall with deep green shutters.
The green shutters match the roof perfectly. The combination of pale and deep tones like this, in two complementing colors, will deliver a more intense and bolder appearance.
This exterior style is for you if you think neutral colors are boring and want to experiment with other bold colors.
3. Soft Cyan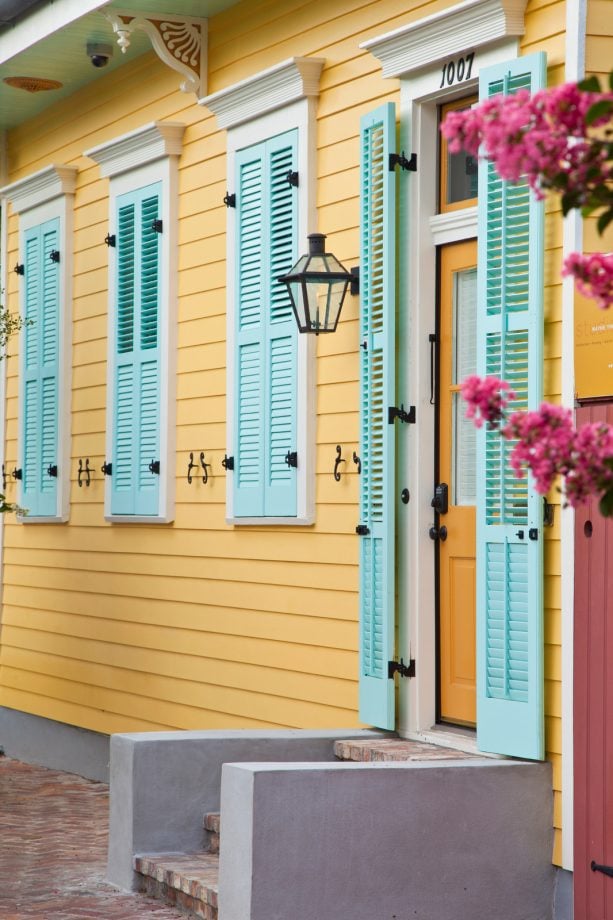 Pair your yellow wall with bold yet soft color like cyan for a contemporary entry.
In this exterior, the wall is painted in Benjamin Moore – Nacho Cheese and the shutters are painted in Benjamin Moore – Seagrove. Both are actually pastel colors, yet they have their own intensity.
A combination of two soft colors that radiate warmth will make your house look stand out among your neighbors.
You can paint your front door in an intense orange color for a focal point.
The front door here is meant to create a contrast as well as provide a bold statement. To neutralize the bright colors used in the exterior, you can use black hardware and a wall sconce. This way, the bright colors you use won't hurt the eyes.
4. Brown
This is a traditional house with a colonial style.
Like other traditional houses, the colors selected for the exterior are not that bright and intense. However, the homeowners wanted to add a splash of color to their home exterior.
That is why, instead of white or beige, the exterior wall here was painted in a soft yellow color.
Yet, the yellow shade is not bright and bold. The soft yellow blends seamlessly with the white trim around. However, the designer painted the shutters in dark brown to avoid being too plain.
This is the look that you should copy if you want to incorporate a deep shade in your pastel and neutral-colored exterior.
It turns out that deep brown complements soft yellow perfectly. The deep dark brown serves as a lovely accent, even though it is also a neutral shade that can be an alternative for black.
5. Black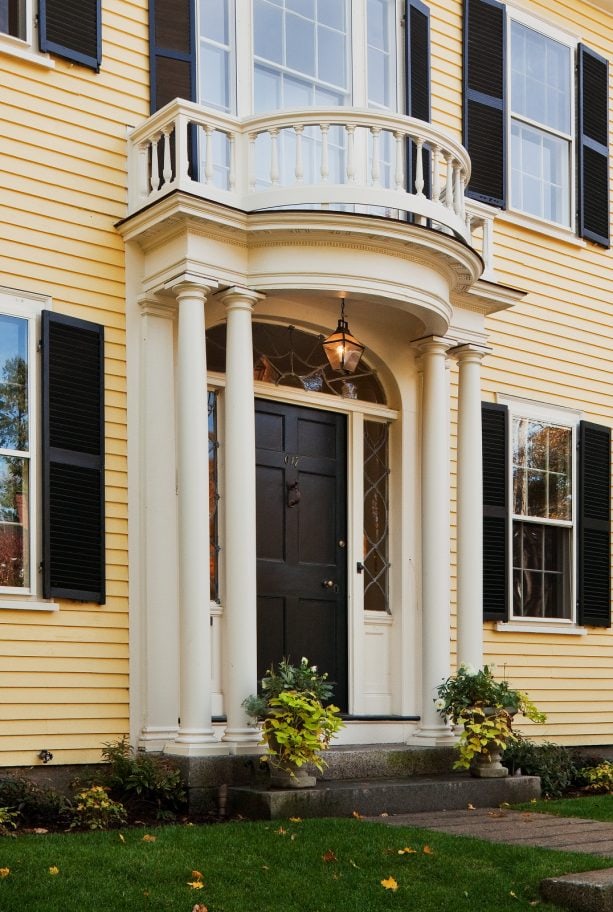 You can always combine your yellow exterior wall with black shutters for a sophisticated and elegant look.
Black will never fail to up the ante. It is also the safest option to combine with a yellow wall.
Black is able to neutralize any bright color, if you think the color is too intense. Unlike white, a black accent will add more depth to your house, while white will make it look brighter.
In this exterior, the designer also incorporated white. The trim and the posts are painted in an off-white shade, that blends seamlessly with the yellow wall around but looks contrast against the black shutters.
The combination of black and white in a yellow exterior wall can enhance the traditional look of your exterior but also highlight the stylish look.
6. Gray
This beautiful Mediterranean house features yellow egg yolk, a perfect backdrop for the pink flowers framing the arched doors.
You know that most Mediterranean or Tuscan houses feature white stucco walls because it is one of the key elements in a Mediterranean style. However, this house is quite different. The designer decided to paint the exterior wall in yellow egg yolk that can draw any attention.
The shutters are painted in gray. Obviously, the shutters are not meant to attract attention or create a bold contrast against the yellow wall.
The shutters are more functional than decorative. It is because the bright pink flowers have become a focal point that looks contrast against the yellow wall. That is why the shutters were painted in a plain color that won't attract any attention.
It is because using too many bright colors in one place will be overwhelming. That is why, if you don't want to carefully select a paint color for your trim, you can copy this look.
Consult with your gardener to create a flower frame like this, and you don't have to worry about your shutters' colors. And gray is the best option if you want to make the shutters look plain against the yellow wall.
7. Bright Pink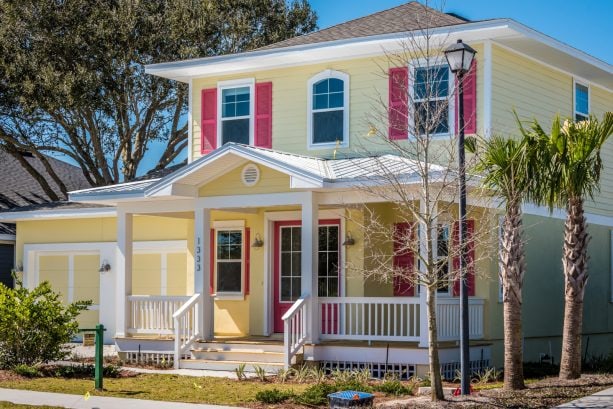 This is the opposite of the previous picture. This beach-style exterior obviously features bright pink shutters to contrast the yellow wall.
The shutters in this exterior are meant to draw attention. It is because bright pink may not be the first shade that comes to your mind when you think about the best pair for a yellow wall.
However, intense and shocking pink can be an excellent accent for yellow walls and white trim.
Even though the exterior wall is painted in yellow, that only serves as a backdrop. The real attention stealer here is the bright pink shutters.
If you want to incorporate bright pink or another shocking color in your exterior like this, make sure it is only used as an accent color, for instance, for shutters' color like in this picture.
Plus, the color should be used wisely. Don't use it too much even though it is put against the pale or soft color background.
Last, make sure your background is in a neutral color. If you want to use another intense color, like yellow, as you see in this picture, make sure you combine it with white trim. The white color will soften the yellow, making it a perfect backdrop for an intense accent color.
8. White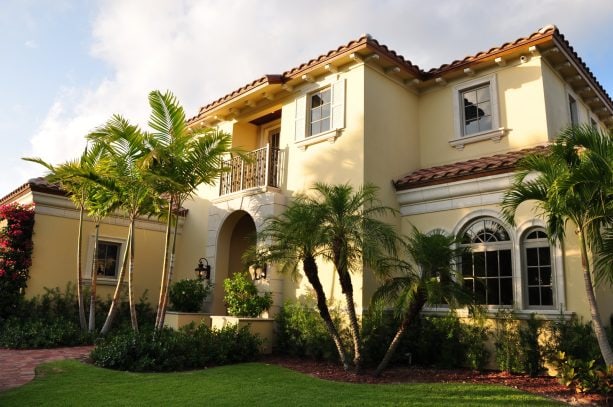 White will never make you disappointed. Similar to black, white is also a neutral color that will accentuate your yellow wall perfectly.
This Mediterranean exterior features a soft yellow color, which is actually Sherwin Williams – Compatible Cream SW 6387.
For some, this kind of exterior looks pale and monotone. However, some people prefer to use this color combination.
The main reason is not to attract attention but the blend with the surrounding neighborhood. The soft sunny yellow still delivers an elegant look, that works well with a large house like this.
The white shutters match the white trim because it is clear that not every window in this exterior has shutters. For the windows that have no shutters, they are framed by white trim that blends with their gray color.
Using neutral colors to complement yellow walls in your exterior will deliver a traditional look, yet it is ideal for a large classic house.
9. Blue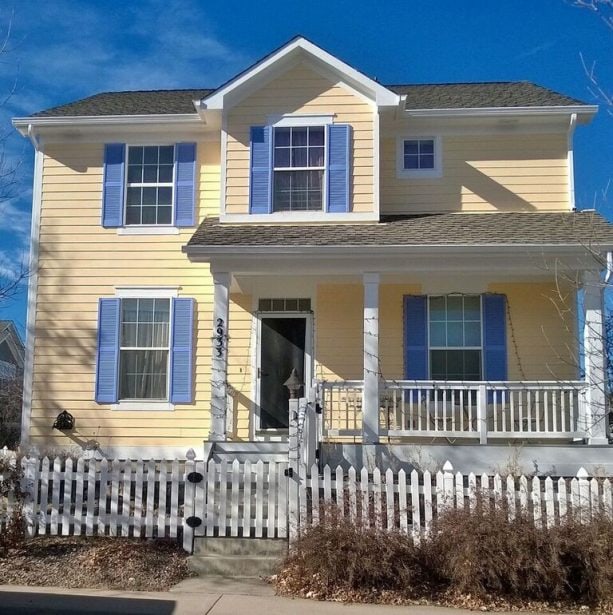 This house clearly counters the previous picture. This one is also a large old house, but the designer thought that old houses didn't have to be traditional.
This pretty two-story vintage house has a stunning combination of bright, fun, and cheerful colors. The yellow wall radiates warmth and happiness, while the bright blue shutters add a fun element to this exterior.
Blue is the perfect shutters' color if you want to create a drastic contrast with the yellow wall around. It is because yellow is a warm tone, while blue has a cool undertone. When combined, both colors will create a bold statement.
So, even though the design of the house is traditional, the colors are more eclectic and modern. That is another contrasting element that can be quite playful to experiment with.
In order to neutralize both intense and opposite colors, the designer also painted the trim in white color.
White will balance any bold colors. So, the intensity can be toned down. Yet, white won't shade the brightness of yellow and blue either. It just makes them look soft and prettier.
10. Deep Red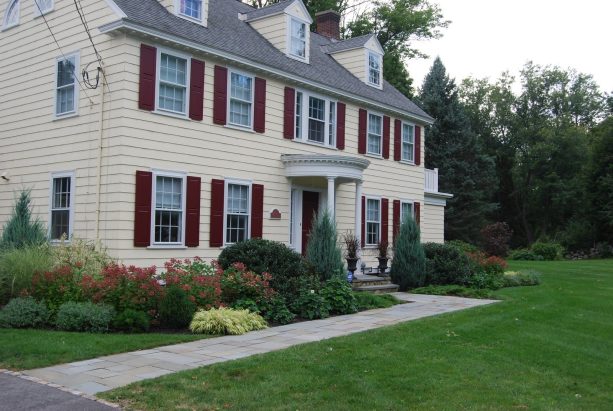 This is another bold contrast for the yellow exterior wall.
When combined with yellow, red will draw much attention. It is because both are intense and bold colors. However, it turns out that red complements yellow nicely because both have a warm undertone. This way, red and yellow will deliver a warm look to your house.
However, if you want to play on the safe side, pick a pale yellow color for the exterior wall and paint the shutters in a deep red color.
The combination of light and deep shade will create a less intense and softer look, perfect for a traditional design or for those who don't want to incorporate too many bold accents in their exterior.
Moreover, deep red like this works like black. In fact, any deep shade will never fail to give you a sophisticated and elegant look. Yet, deep red is indeed more fun than black.
So, if you want to add a splash of bold accent to your pale yellow walls, it is recommended to use deep red. It adds character as well as depth to your house.
Don't forget to mix them with white trim as a neutralizer and a bridge to transition the two different shades smoothly.
11. Tips for Finding a Color for Your Shutters That Go With a Yellow House
From the pictures above, there are not too many shutters' colors that can be paired well with yellow siding.
Some of the best colors are green, blue, red, and a variety of neutral shades.
Here are some tips if you want to experiment with shutters' colors:
Neutral shade: yellow siding can create an intense and bold statement, so you may want to pick a safe color for the shutters. A neutral shade for the shutters against the yellow siding is perfect for a traditional or classic look. It is perfect for you who are conventional enough to not try new things. A neutral shade is a safe option because it won't disturb the warm and sunny color of your house's exterior.
White shutters: Instead of picking a dark neutral shade, white is an even safer option. If you prefer a deep yellow color for your siding, white shutters will make your house look bright and cheerful. However, you can choose an off-white shade like cream or ivory if you think bright white is too stark.
Gray shutters: As another neutral color, gray can also be the best alternative for white. Gray shutters can perfectly complement the yellow exterior wall.
Don't hesitate to choose red: If you don't want to play on the safe side, red can be your choice for shutters' color. The combination of yellow siding and red shutters will definitely draw attention. Similar to yellow, red delivers warm undertones. For an exceptionally vibrant look, paint your shutters with a bright red. But, if you want to create a sophisticated and elegant look, go for a darker red, like maroon, for your shutters.
Pick cool blue: If you want to create a contrast, you can choose excellent blue color for your shutters. Yellow is a warm color, yet blue has a cool undertone. When combined together, both colors deliver maximum contrast. If you want an understated look, paint your shutters in blue-gray or robin's egg blue. For a more formal exterior look, paint your shutters in a deeper and darker blue, like navy. If you want to make a stand-out exterior look, combine your yellow siding with cobalt blue or rich royal blue shutters.
Soft green shutters: Green is a typical cool-toned color. Similar to blue, it can create a drastic contrast when paired with yellow siding. That combination will totally set your house apart from your neighbors. If you want a soft look, choose a sage green for your shutters. If you want a more elegant look, paint your shutters with rich hunter green. On the other hand, green can also blend with yellow siding because some green shades, like olive or spring green, have intense yellow undertones. Those shades are your best bet if you want to create a gradation and blending look with your siding.
Good luck with your project!