Having a porch, be it a front porch, side porch, or back porch, is essential. A porch can be used as an outdoor space to enjoy some time in nature.
But, what about porch is not relevant anymore for you? It turns out that you live in an area where the weather is not nice most of the time. Your porch is only collecting dust.
The solution? You can enclose your porch.
Enclosing your porch means you can extend your living space. You don't have to worry about the bad weather anymore. Despite the weather, you can spend your quality time on your enclosed porch comfortably.
1. What Things Should You Do Before Enclosing a Porch for Living Space?
There are things you should do, the technical things, before enclosing your porch:
Insulating ceilings and walls. Determining the type and how much insulation is used depends on the room's function and the existing structure.
Replacing or adding windows with energy-efficient models. You need help from a professional to determine if the window frames can be salvaged or not. Don't forget to complement or match the existing window styles.
Plumbing. The room's proximity to the existing plumbing will impact the cost and difficulty of installing plumbing significantly.
Fixture and electrical wiring. It is recommended to build in future electrical lines immediately from the outset to avoid expensive revisions later.
Millwork, flooring, and drywall.
Details like window trim and door, moldings, or chair railings can make a significant difference in a before-after project. Such details can give a perfect look for an enclosed porch.
Cooling and heating system. Some homes may already have had systems to accommodate additional rooms like this. Yet, there are some homes that need a supplement. For an option, you can consider using baseboard heating. This type of heating is easy to install yet quite pricey to operate. Alternatively, you can use a wood-burning stove. There are new models that are attractive and efficient. They can heat a large room too.
2. Who Should You Hire to Enclose a Porch for Living Space, a Designer or a Contractor?
A designer will help you decide the best design, style, and furniture pieces for your enclosed porch.
Keep in mind that a good interior designer won't just choose pretty things. They also have a great understanding of the building process and construction, which is basically the basic knowledge that should be mastered by both contractors and designers. In a nutshell, the designer will help you in the finishing touch of your project.
A contractor, on the other hand, is someone who will help you in architecture and construction. A contractor will be much involved in the building process, including the electrical, plumbing, heating/cooling, and such.
Simply, the contractor should be the one you contact first when you want to enclose your porch professionally.
However, enclosing a porch for living space is basically a simple thing. If you don't mind settling for less, you can do this in your DIY project.
3. Where Should You Enclose a Porch for Living Space, Side, Back, or Front Porch?
Basically, regardless of the porch, you can always enclose it to create a whole other room.
Each type of porch has its own benefits to be transformed into a specific room. Side porch, for instance, can be easily converted into den/family rooms, playrooms, or home offices. The front porch, if your house faces the east, can be a great sunroom. The back porch can be used as a kitchen extension.
Generally, any porch can be changed into a light-filled room that's enclosed all year round. Yet, the porch's location, as well as its floor and wall material and the condition of the existing foundation, can influence the difficulty of enclosing it.
4. Why Enclosing a Porch for Living Space Beneficial?
Having an enclosed porch is considered more beneficial than having an open one. Here are some advantages of it:
Can be used throughout the year. As stated before, patio, deck, or front porch is great, but when the weather is not nice, the usage may be limited. An enclosed porch, on the other hand, can be used year-round despite the weather. If you love being outdoors, it is always an excellent idea to enclose your porch. It will let you have maximum time to enjoy the outdoor setting.
It gives privacy. You will have more privacy if you enclose your front porch. An open porch makes you exposed to passers-by and neighbors. An enclosed porch will protect you from unwanted attention. This is especially useful if you live in a dense neighborhood.
It can keep the insects out. Gnats, flies, mosquitoes, and other insects can be a great disturbance when you enjoy your time outside. With an enclosed porch, you can keep those insects out.
To extend space. Enclosed porches give you extra pace. This is much appreciated if you have a small house. This extended space can be used as a sunroom or even a mudroom where you and your guests can store coats and footwear conveniently. Moreover, an enclosed porch can be used as a space to entertain guests, perfect for a small and intimate gathering.
It protects patio furniture. Having an enclosed porch means your patio furniture will always be in good condition. An enclosed porch protects your furniture pieces from external elements that may damage them. This way, you can extend the lifespan of your furniture. Plus, you don't have to transfer the furniture pieces in and out of storage during the winter to keep them away from the extreme temperature.
It gives more safety. If you have pets or young children, safety should be put into top consideration. Therefore, an enclosed porch is more preferable to an open one. With an enclosed porch, you don't have to worry since your pet's and children's space is restricted due to their own safety.
5. How to Enclose a Porch for Living Space Easily and Cheaply?
There are several ideas for you if you want to enclose your porch to extend living space easily and cheaply:
Screen porch windows. This is the most common way to enclose a porch. There are many ways to use a screen. The simple design can be created on your own in your DIY project. For a more complicated design, it is recommended to hire a contractor.
Curtains and drapes. By installing a window rod and railing, you can use floor-to-ceiling curtains and drapes to enclose your porch.
Mosquito nets/curtains. This is the easiest way to enclose a porch without the expense of screening it. This is ideal for you who live in a geographical location where insects are a nuisance.
Pre-constructed window wall system. The wall systems can be installed using your existing roof. The walls are sized and pre-fabricated to fit the openings. Panels may vary in designs, can be opened, slid, or swung to let maximum airflow in and out. This is the most suitable DIY project for most homeowners.
Railings. If you don't want to fully enclose your porch, you can just install safety guard railings along your porch, completed with posts too.
Glass. You can install glass windows and doors around the porch to extend your living space. It is cost-effective and high-protective, too. Glass porch enclosures will give you an outdoor sensation while still being fully protected at the same time.
Shades and blinds. They offer protection from harsh weather and vibrant sun. Shades and blinds also give you privacy and add texture and ambiance to your porch. Moreover, they also keep the surroundings cooler. For a more boho look, try to use bamboo for wooden blinds.
Here are some pictures of the enclosed porch to extend living space in various types of enclosures mentioned above:
6. Enclosing a Front Porch for Living Space with a Screen
This is a fully enclosed front porch that can be used as a sunroom, thanks to the screens around. The screens are wide enough to let natural light come into the room.
Moreover, they are also combined with a glass panel single door that can also give the benefits of glass.
The screens are not installed alone. They were built in a painted siding. It seems that the siding used here is wood, and it is painted in soft sage green color.
The combination of the sage green wall, gray floor, and white ceiling creates a perfect craftsman-style porch. Moreover, the furniture pieces here are also in vintage style, suitable for this arts and crafts area.
If you want to enclose your porch like this, you need to hire a contractor and a designer. Wood siding like this has to be built professionally. It is because the siding seems matched with the house's exterior. It means that in order to create a matching look like this, especially combined with screens, you have to get professional help.
7. Using Aluminum Shutters to Enclose a Porch for Living Space
According to the designer, this back patio was looked into by the next-door neighbors.
So, the homeowners decided to enclose this porch to get some privacy. However, the porch is not fully enclosed. The front side is left open to enjoy more outdoor sensation. The enclosure is only on the roof and on both sides.
Both sides of this porch are enclosed with aluminum shutters. The shutters are from Weatherwell Elite Aluminum. They give a perfect solution for creating privacy while at the same tie letting in the airflow.
The roof here is actually an extension of the main house. Since the shutters can be just installed right away, this can be included in your next DIY project.
8. Extended a Living Space by Enclosing a Porch with Curtains
If you want to have an enclosed beach-style porch with minimum effort, you can use curtains and drapes like this to enclose the porch. The drapes and curtains are also combined with glass windows. The glass windows run along the porch, complete with a single glass door too.
Since this is a tropical and beach-style house, glass windows and doors like this are needed to let the natural light come into the room. However, glass doesn't offer the perfect privacy you sometimes need. Plus, during the hot summer days, it would be quite uncomfortable to spend some time here due to the heat and UV rays from the sun.
That's why thick and dense curtains like this are needed. They can be opened and closed to give a preferred ambiance for the homeowners.
If you want to mimic this look, it is recommended to hire a contractor and a designer too. The contractor will help you build the siding around the windows and door, while the designer will help you create a beach-style design like this, with the right choice of drapery and curtains.
9. Enclosing Half Front Porch with Window Glass for Living Space
This unique front porch is only half-enclosed.
Basically, this is a spacious front porch with an elevated floor made of concrete. The clear boundary between this porch area and the yard is the paver. The raised concrete is meant for the porch area, while the gravel is for the yard.
Since the open porch is also on the concrete floor, it means that it used to be a part of the enclosed one.
Enclosing only half of the porch like this is an excellent idea if you want to have a choice, whether to spend your time privately or openly while enjoying the outside view.
The enclosed porch is basically an extension of the indoor living. We can see that there is a french window there opening to the room inside. This porch is enclosed with tall glass windows and a glass door too.
The porch seems professionally built because it is quite impossible to install tall glass windows along with a glass door attached to the metal siding and exposed beams like this on your own.
10. Enclosing a Beach-Style Porch with Painted Wood Siding for Living Space
Enclosing a small porch like this is not as easy as it looks, especially if it looks neat and professional-built like this. This enclosed porch has a lovely beach style with its white ceiling, white walls, and light blue floor.
This porch is enclosed with painted wood siding completed with glass windows. However, unlike the previous pictures of porches before, the glass windows here are not as tall. These windows are the only half size of the wall, while the wall itself is basically a wood siding painted in crisp white color.
With a platform bed and some comfortable throw pillows, this front porch has been successfully transformed into a sunroom. The homeowners can enjoy some quality time here comfortably while enjoying the natural light.
The windows are completed with rolled-up shades, so the homeowners can get the privacy they need.
11. Enclosing a Decking Porch with a Glass Roof for Extended Living Space
For a greener and more natural style, enclosing a porch with a slanted glass roof like this is a great idea. It will give you a look at a greenhouse.
The glass roof is also combined with a screen in the upper part of the wall. They provide an optimum light to this porch. That is why the homeowners added some plants here and there because they will get the most of the sunlight here.
This is basically a decking porch. The homeowners intended to enclose it, so this area could be used as an extended living space.
In order to maintain privacy and optimum light, the glass is installed on the roof instead of on the windows. The windows are the only half size of the wall. This porch itself is surrounded by siding.
12. Side Lattice Panel to Extend Living Space by Enclosing the Porch
It seems that this back porch is not fully enclosed because sometimes back porches don't need an optimum guard for privacy.
This porch features Tuscan columns, a white railing, beadboard ceiling, and a side lattice panel as privacy screening to enclose it. All of those elements give this spacious porch a stately and finished look.
The privacy screening, a side lattice panel, is only installed on the side. It is a custom-designed lattice made for this porch. It is installed right above the white railing, which seems to be made of metal.
The metal railing is completed with Tuscan columns attached to the ceiling, following along the perimeter of the porch.
This way, the front side of this porch remains open, while the side of it is covered with a lattice panel.
This is an excellent idea if you have a close-by neighbor and you want some privacy while enjoying your time on the porch. The open front enables you to enjoy the outside view freely.
13. Enclosing a Classic Back Porch with Decorative Wood Panels and Bricks for Living Space
What a unique classic back porch! Unlike the other back porches that are usually enclosed with railings or glass windows, this one has a sturdier yet more stylish enclosure. The enclosure is a combination of polished brick walls and decorative wood panels.
The open ceiling with exposed beams in this porch reveals that this was actually a pergola, while the wood floor also indicates that this used to be a decking porch.
The homeowners enclosed it to get more privacy but still maintain the airflow and natural light. Thus, instead of using glass windows or screens, they decided to use decorative wood panels combined with brick walls.
Yes, decorative wall panels like this don't give a fully enclosed area. Yet, the holes in it allow more air to flow into the porch. In order to fight the heat, there is a ceiling fan installed in the exposed beam.
14. Enclosing a Back Porch for Living Space with Metal Railing
This back porch faces a beautiful view of the lake. It is understandable that the homeowners didn't want to sacrifice such a view when enclosing their porch.
That is why, instead of fully enclosing the porch, they decided to use metal railings along the porch, complete with posts.
Enclosing a porch with a railing like this is suitable for a back porch, where privacy doesn't really matter.
Unlike the front porch, in the back porch, you don't have to worry about unwanted attention from the passers-by and your neighbors. The back porch is usually located on the backside of your property.
15. Combination of Wood Ceiling, Railing, and Screen to Enclose a Porch for Living Space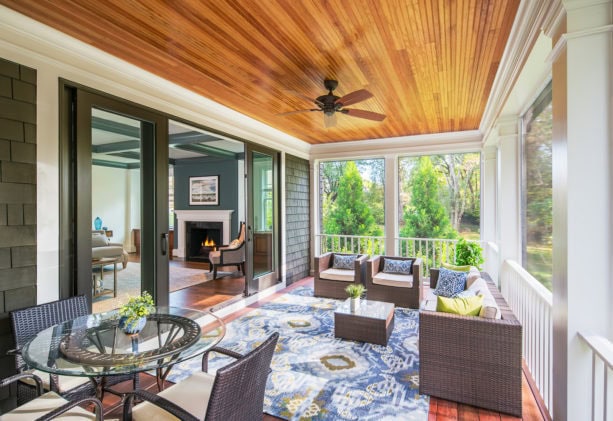 The combination of wood ceiling, white railing, and screen is considered a maximum way to enclose a porch.
The wood ceiling encloses the upper part of this porch perfectly, so the homeowners don't need to worry about the weather. The railing gives a clear boundary and limits the area of this porch. And the screen fully protects this area from bugs and any disturbing external elements.
The screen also enables the homeowners to enjoy the natural light and outside view. They give a sensation of being outdoors while at the same time being protected.
16. Enclosing a Mediterranean Porch with Bricks and Mortars for Living Space
This lovely porch obviously has a Mediterranean look. It can be seen from the arched opening. This porch itself is enclosed with bricks and mortars. Bricks and mortars will give a more permanent and solid look to the enclosed porch.
However, due to its extra protection, it will be quite difficult for the natural light to enter this area lest there is no window.
We can see that there is only a small window installed on one side of this porch, which means that it isn't really used to optimize the airflow. The airflow and the natural light can only enter the room through the large opening.
That is why the opening here is not completed with doors. Apart from easing everyone to come in and out of this porch, this doorless enclosed porch also lets the homeowners enjoy the outside view.
Judging from the detailed result of this enclosing project, it is quite challenging to complete this task alone without any help from a contractor. Enclosing a spacious porch with bricks needs a help of a professional. Or, if you want to do it alone, you need at least someone to help you finish this project.
Closing
Please keep in mind that when you enclose a porch, it is important to decide first the design, the materials used, and the budget you have. Those can be the considerations whether you want to hire a professional or you want to do it on your own.
Enclosing a porch for living space can be a DIY project, but the result will be much simpler than the professionally enclosed porch. So, consider everything carefully before you start this project.