Many of us are still wondering, what's the use of window well for a basement. Even not all of us know what a window well is.
A window well is an excavation in a semi-circular shape surrounding a basement window.
Typically, a window well is constructed from a solid barrier. The barrier is usually made of plastic, steel, fiberglass, and concrete, even though less common materials are used.
Plastic: This material is cheap and considerably easy to install. You can just stick the plastic wall cover to your dug-out hole. However, you should also know that plastic falls apart under the pressure of being outside after some time.
Steel: Corrugated steel has an industrial appearance, is strong, sturdy, and easy to install. Compared to plastic, steel lasts longer, up to 20 to 3o years. However, it is quite pricey.
Fiberglass: There are many designs you can choose from. One of the most popular ones is faux stone design. Fiberglass is weather-resistant. It can also stand against dirt, water, and other factors. Fiberglass is very light and easy to install. However, this one is also not cheap.
Concrete: If you want a material that can last for a very long time, consider using concrete. Compared to the others, this one lasts the longest.
Besides the materials above, there are also other materials used for basement window wells because the designs are actually endless. Each material has its own pros and cons.
If you want a more unique look, you can choose a more uncommon material like natural stones, rocks, or bricks for your window well. Just make sure you have consulted it with your landscaper or designer.
So, do we actually need a basement window well?
According to the latest International Residential Code: habitable attics, basements, and sleeping rooms should have one operable rescue opening and emergency escape. That's one of the benefits of having a window well: as an emergency exit.
Window well can also be helpful to prevent moisture damage to the windows of the basement that are below grade. They will keep the soil away from the openings while at the same time letting sunlight come into a below-grade room.
If you want to install a window well right now, here are some pictures of them that might inspire you:
1. A Pair of Rockwell Basement Window Well Ideas with Steps to Climb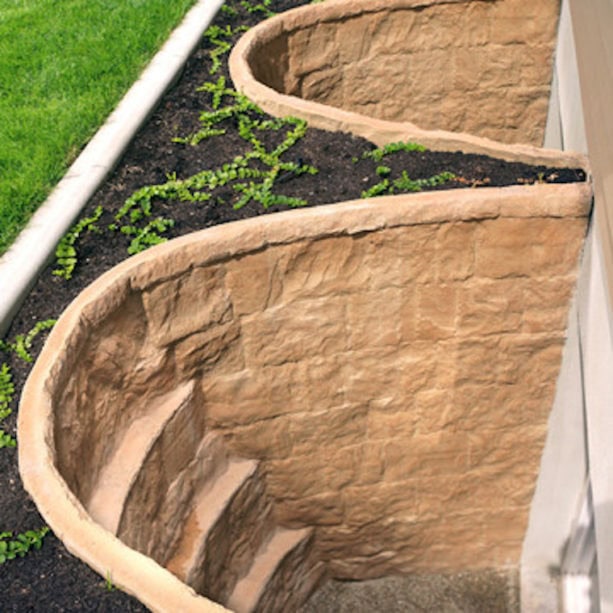 There are two identical basement window wells here. The designers decided it would be safer that way because there are two sets of windows in this basement. The window wells here are made of Rockwell, giving an additional texture to the whole landscape.
The Rockwell egress wells let the natural light come into the basement. Moreover, they also provide a way of emergency escape.
There are several steps to ascend installed at the front side of the wells. We can see that the steps are quite narrow, which means that they should solely be used as makeshift stairs, not as a planter box.
The design of this well is quite simple, perfect for a timeless design. Contrary to popular belief, being simple when it comes to basement window wells is very useful.
When there's an emergency case, the homeowners can easily escape through this well because there is no "obstacle" on their way.
2. Traditional Basement Window Well Ideas with Cover
It is clear to see that unlike the previous basement well, this one is not for an emergency escape.
This basement window well is only used as a thing to let natural light in and allow the airflow. It is because this well is completed with vertical trellis at the top, and it is covered with a window cover too. It is impossible for the homeowners to slip through the trellis in an emergency escape.
However, this basement window well is enchanting in a traditional way. The design is simple yet safe. This way, there is no way pets or kids can accidentally fall through the well. It creates a cleaner space too. The well seems blended with its surrounding.
3. White Basement Window Well Ideas with Raised Beds for Plants
This white basement window well blends harmoniously with the window's frame.
In this kind of window well, many of us wonder about the drainage. According to the designer, this window well was actually tied into the sump pump system in the house. A solid PVC drain pipe was tied into the perimeter drain. This well is also completed with a "dry-well" at its bottom. It consists of a dug-down area filled with gravel, so the collected water can dissipate.
This window well was manufactured by Bilco brand Scapewell. It creates a minimalist yet trendy look to the landscape. The designers also stated that this egress window was designed to let natural light into the basement as well as satisfy the window well requirements for a basement.
There are "steps" on the wall too. Those steps have two functions. First, they can be used as raised beds. The homeowners can plant flowers or any plants in this area. Second, they can also be used as emergency access. Yes, it might be quite difficult to climb up these steps; that is why, according to the designers, they were not meant to be a primary set of stairs. They could only be used in an emergency case.
4. Extra Wide Stone Basement Window Well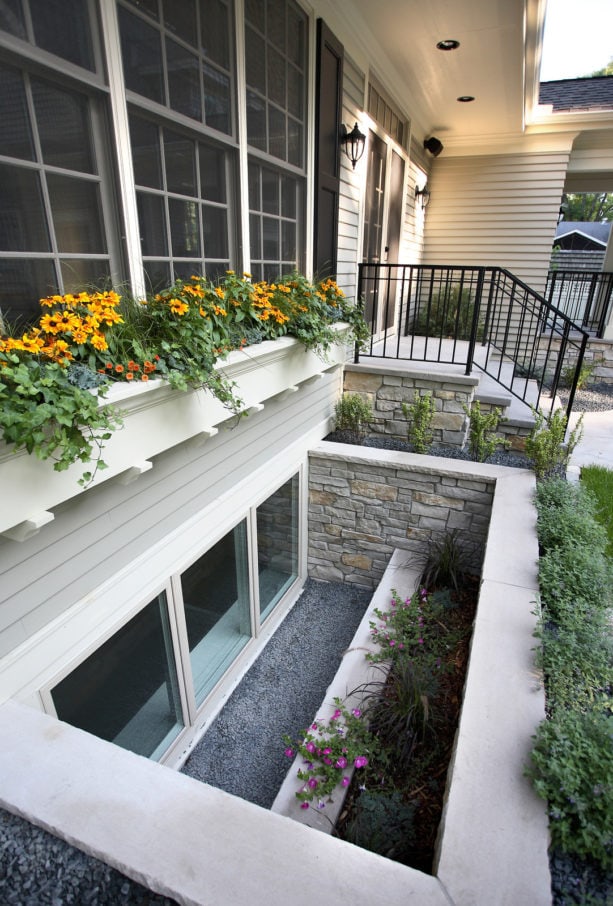 It is quite unusual to have a wide window well like this. It is because, commonly, window wells are designed in a circular shape. However, the designs are not only limited to that. If you want something unique, you can install your window well like this.
We can see that there are triple instead of single or double windows in this basement. The designers later created a well that could accommodate those three windows. Instead of circular, the well was designed in a rectangular shape.
In order to add a texture to this house's exterior, the window well was made of stone, similar to the wall of the stairs in the house's entrance.
There is a long planter box in this well. And because this well is not that deep, instead of installing steps, the designers made this planter box that can also be used as a step to climb up. The flowers and plants in the box, on the other hand, soften the strong angular look in this area.
5. Poured Concrete Basement Window Well with Tiered Planter Boxes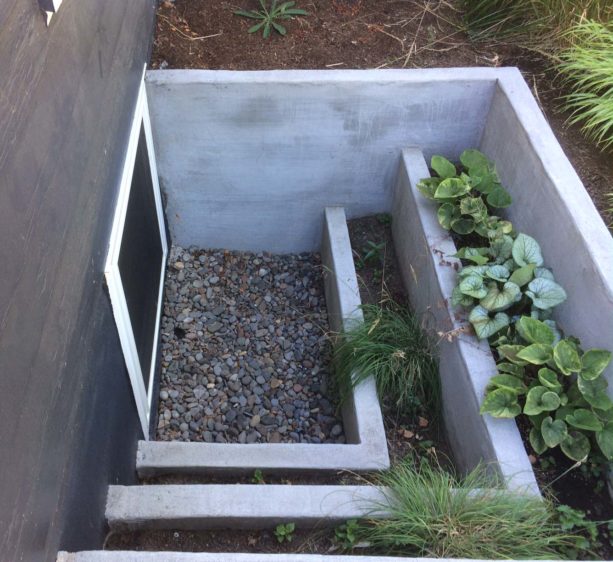 Similar to the previous one, this basement well is also in a rectangular shape. This well is made of poured concrete, a sturdy material that can last long.
Instead of steps, there are tiered planter boxes in this well. The homeowners decided to plant green foliages in those boxes to create some accents.
We can see that the tiered planter boxes add dimension to the window well. Moreover, it is also combined with pebbles at the bottom of this well, creating a more textured area with a touch of a natural look.
6. Corrugated Metal Basement Window Well with Decorative Bushes Around
This trendy basement window well is made of corrugated steel. It seems that, unlike the other window wells you've seen before, this one is not that deep.
The corrugated steel is also meant as a retaining wall because the opening of this well is surrounded by decorative bushes planted on the soil.
Since seemingly there are no steps or a kind of entrance in this opening, this window well is mainly used as a thing to let natural light come into the basement, and of course, to let the homeowners see the outside view through the windows when they are in the basement.
7. Vinyl Basement Window Well with Glass Cover
This craftsman-style window well is made of vinyl. It is such an excellent inspiration for a cottage house. This window well is in a perfect rectangular shape with a wide dimension. What makes it unique is this well is completed with glass covers.
There are a pair of glass covers installed side by side. This way, the homeowners can just open one and let the other stay closed to make sure the sunlight doesn't blind them. It appears that there are potted plants and flowers too in this basement well. It means that there are steps there that can be used as an emergency escape and can also be used as a display rack to place some pots of flowers.
8. Light Tone Wood Basement Window Well with Tiny Steps in the Corner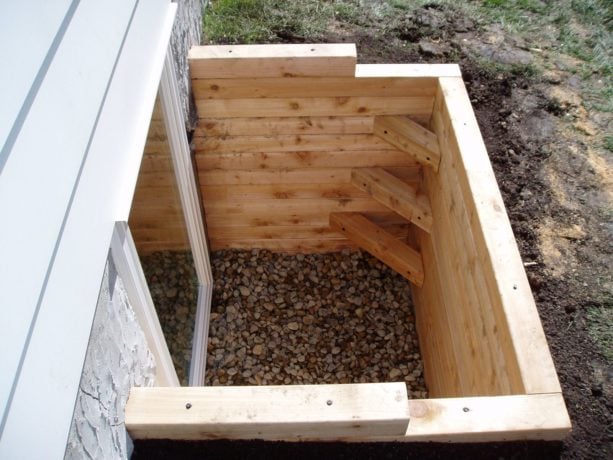 This is a simple basement window well, with minimal decor but still looks pleasant. This well is made of unfinished wood, so it gives a natural look to the landscape. The light tone wood looks lovely combined with the white wall above it.
Instead of planter boxes, the designers added tiny steps made of similar wood too in the corner of this well. Those tiny steps serve as an emergency exit. And since the steps are too tiny, there's no way the flower pots can be put there. It seems that the homeowners wanted a simple and clear design so it would be easier for them to escape if there was an emergency case.
At the bottom of this well, there are pebbles spread around. Combined with the light tonewood, those pebbles create a natural and trendy look. Apart from the aesthetic function, those pebbles are also useful to soak the rainwater.
9. Red Brick Basement Window Well with Black Cover
If you want a more traditional look, you can install a brick basement window well like this. This entire wall is made of brick, creating a classic and vintage look. The bricks are meant to blend with the brick wall of this house's exterior.
However, the brick wall has been polished. It looks browner instead of red. The window well, on the contrary, is made of unpolished and untreated bricks. The bricks appear brighter in a red color than the brick wall around.
There is a planter box made of similar bricks. The planter box is used as an area to plant flowers or foliages. It is also useful as an emergency exit too because this well is quite deep. The homeowners need steps to climb up.
There is a black cover made of steel to complete the whole look. With this cover, the natural light that comes into the basement can be filtered. So, during the summer, the light won't blind the homeowners in the basement. This cover can also be used to prevent pets or kids from accidentally falling into the well.
10. Stamped Concrete Basement Window Wells in a Backyard Patio
This basement window well is made of stamped concrete, similar to the paver of this backyard patio. From this angle, we can see that this well is deep, so there must be steps in it to let the homeowners get out from it in an emergency case.
The design of this basement well is pretty simple. It has an angular shape instead of a curvy circular one, making it look unique. The only downside of this basement well is it isn't completed with a cover or a safety guard rail.
Since this well is located in a backyard patio, which is a high-traffic area often used as a gathering spot, it is quite dangerous to install a well without any protection. Even adults might fall into the wall if they aren't careful.
If you are installing a similar basement window well like this, it would be nice to add a cover or a safety guard rail, especially if you have little kids or pets.
11. Combination of Wood, Concrete, and Brick of a Basement Window Well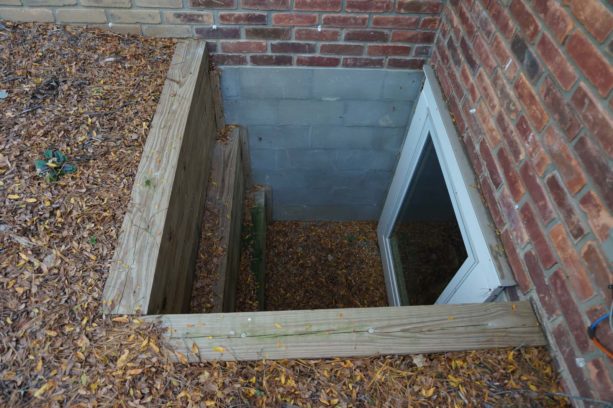 This mid-sized basement is in an arts and crafts style. It has a unique combination of wood, concrete, and brick to give a natural look with a touch of modern style. The well itself is made of unfinished wood, so it looks perfectly natural, an excellent choice for an arts and crafts design.
The sidewall of this well, on the other hand, is made of unpainted and untreated concrete. It creates a contrast between the wood around and the white window. On top of the well, the house exterior is made of bricks, which are also unfinished and untreated.
There is a tiered wood wall in this well that is clearly used as an emergency escape. The steps are too narrow to be also used as a display rack for potted flowers. So this minimalist basement window well has no decorative items. But that doesn't make it any less nice.
12. Extra-Low Basement Window Well Made of Natural Stone
Who said that the basement window well should be deep? This window well proves otherwise. Compared to other low window wells you've seen above, this one is extra low. Thus, there's no need to add steps to it.
Why is it possible to have an extra-low window well like this? Well, it's because the basement itself isn't located below grade or underground. We can see that this window is on the same level as the ground. This way, you don't need a deep well for the window.
The well here is made of natural stone that gives an elegant look. It is also combined with the multicolored pebbles at the bottom of the well and pink flowers on its side to create a pretty and feminine look.
13. Multicolored Stone Basement Window Well with Black Trim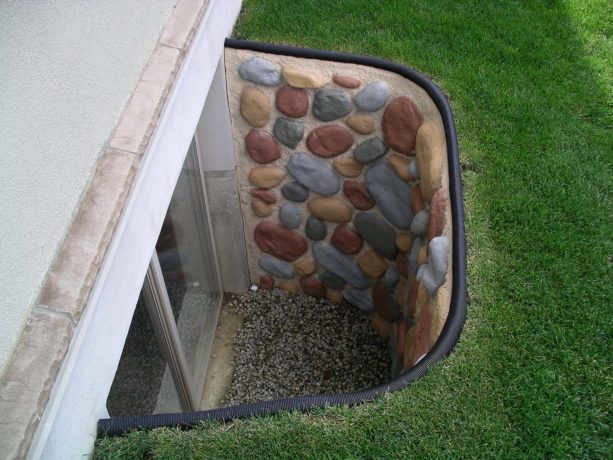 This one is perfect if you want a natural look for your window well yet unique and unusual. Unlike the other window wells, this one is quite simple with minimal decor. However, the stunning element in this window well is the multicolored stone in its wall.
It seems that those are artificial stones, though. However, that doesn't make it any less stunning. The "stone" wall is combined with black trim in the opening to neutralize the multicolored look. The opening itself has round edges to soften the whole look.
Small pebbles at the bottom of this well enhance the whole look. They are also useful to soak rainwater, so this well doesn't collect water. Even though this well is deep, it seems that there are no steps or planter boxes here as an emergency escape. Thus, we can conclude that this gorgeous stone window well is simply a decoration, a thing to let natural light come into the basement and to enable air circulation.
Closing
What do you think about the basement window well above? If you are already sure to install one for your basement window, you can follow these tips:
In order to get pest-free ventilation, you can screen or bar your window well covers.
Make sure your children avoid the window well, even if the well is perfectly covered and looks sturdy.
As stated before, the main function of a window well is as an emergency escape. So, you should practice exiting your basement window through the well and the cover. Replace or repair any equipment that doesn't properly function. Remove any obstacle on your way out.
For steel window wells, you can have rolled edges to prevent cuts.
Always consult with a professional if you have additional issues about your window wells, covers, emergency egress, and moisture problems.
Good luck with your project!