We can't deny that using matching wood floors throughout your home will create a sense of space and uniformity.
However, it is unnecessary to do that.
If you want to make the most of each particular room in your house, especially if you have open-plan rooms, it is recommended to use two different wood floors.
Using different wood floors in adjoining rooms will give you a clear boundary between one room and the other. The idea seems daunting at first. But, let's dig deeper through these facts below:
1. What Are the Different Types of Wood Flooring the Can be Combined in Adjoining Rooms?
When using different types of wood flooring, you should know the commonly used types of it. There are fewer common types, but they are not discussed here. Here are the recommended wood flooring types that you can combine for two adjoined rooms:
a. Laminate Floors
This type of floor usually has the look of wood flooring.
In fact, it is basically made of compressed fiberboard. The fiberboard is later overlaid with a laminated image of wood.
The upsides of using laminate floor are, it is easy to install and inexpensive. The downsides, however, are it doesn't appear anywhere near as great as an original wood floor. Plus, it is quite challenging to repair when damaged.
b. Bamboo Floors
You may have known that bamboo is basically grass. Thus, it has a moisture-resistant property. Bamboo grows rapidly, making it a sustainable source of flooring material.
The upside of using bamboo floors is it is eco-friendly, so you don't contribute to deforestation. However, it can be costly because bamboo grows in China, and it is expensive to import. Plus, bamboo floors are susceptible to marks and damage.
c. Solid Wood Floors
It is planks of hardwood, commonly around 20m thick. The thickness may vary, though. Solid wood can be stained, varnished, polished, sanded, or re-sanded, making it look beautiful yet practical at the same time.
The pros of using solid wood floors are, it is very durable and able to add prestige and value to your home. Yet, solid wood will swell in humid conditions, and it is highly susceptible to moisture too.
d. Engineered Hardwood Floors
This type of floor is made of several layers of wood.
The top layer looks just like solid wood. These multiple layers can protect the floor from environmental factors, like humidity and heat. The solid wood on the top layer also serves as a durable, beautiful plank. It seems that this type of floor is the most perfect choice because it doesn't have any downsides.
The upsides, though, are it is cheaper than solid wood, stable in a fluctuating temperature, less susceptible to humidity and moisture, available in many styles, and appealing.
Those are the most common types of wood flooring. But, what about the best types of wood for hardwood floors?
Here are the most popular hardwood floor choices on the market:
a. White Oak
This hardwood is considered a classic wood for floors. Thus, it is perfect for a traditional interior. It features grain and tone that gives warmth to the rooms. Oak is also considered one of the most structurally stable woods. Therefore, it can last longer and is more resistant to tear and wear. Compared to standard oak, white oak is paler, so it is a great choice to brighten up smaller rooms.
b. Red Oak
This type of oak has all the advantages of oak: texture, stability, and strength. It also has a lighter and warmer tone along with a red hue that can bring two adjoined rooms together. Installing a red oak floor is like turning up the color setting in your rooms.
c. Hickory
It is considered the best choice for hardwood floors because it has a dramatic pattern in the grain. Hickory floors are very durable. It has many color ranges, from quite dark to pale.
d. Beech
This is a highly dense wood because beech grows slowly. It makes hickory very resistant to staining. Even though hickory can't be stained, its natural color is attractive, so it only needs very little treatment. Beechwood can be lacquered, though. It is an easy way to bring more light to your room.
e. Mahogany
This wood has the deepest natural tones of wood. That is why "rich mahogany" is a common term in the interior design world. Mahogany is highly durable. No wonder it was expensive. Alternatively, you can use engineered mahogany as a more cost-effective option instead of solid mahogany floors. There is a wide range of floor styles when it comes to mahogany that you can choose to fit the room's design.
f. Cherry
There are two kinds of Cherry trees used in flooring, American Cherry and Brazilian Cherry.
This hardwood is often left as it is, with no treatment at all to enhance its natural form. It has a subtle grain, with a reddish-brown as its natural color. It never fails to give warmth to any room.
American Cherry gets redder the more it ages. Unfortunately, it easily dents even though it is quite expensive.
Brazilian Cherry, on the other hand, is not that easy to dent. It has more color variations, like blonde tones, reddish, and brownish. Brazilian Cherry is known as the most popular wood flooring among other exotic wood floors.
g. Walnut
This is also known as American Black Walnut.
As a hardwood floor, walnut gives a classy look to the room. It has a chocolate brown color that creates a warm and sophisticated look. When it is exposed to light, the tone will get lighter after some time.
Due to this light sensitivity, it is recommended to use rugs in the first six months of use to prevent color variations on the floor till the color gets more stable.
There is also another species of walnut called Brazilian Walnut, which is also known as Ipe. This is the most suitable type for high traffic areas floor. It has many different color variations, from medium tan to medium brown, which gets darkened after a while.
h. Maple
Naturally, maple has a creamy color, which is lighter than oak. The color may look a bit yellow in a well-lit room.
If you want to get a grey or whitewash look in your adjoined rooms, maple is your best bet. However, unlike oak, maple is not stain-friendly. Its sturdiness makes it hard to dent and scratch, though.
2. Where is the Best Area to Use Different Wood Floors in Adjoining Rooms?
If you have spacious adjoined rooms, it is recommended to choose dark wood for your hardwood floors, like Brazilian walnut or mahogany. Those types of wood can give a luxurious feel to bigger rooms.
Smaller rooms, on the other hand, would look better if combined with lighter wood grains, like maple, ash, or white oak.
You can also choose hardwood flooring for a long hallway. Just make sure that you don't install that wood floor running parallel to the length of the room because it will make your hallway look narrower.
If there is a doorway at the end of your hallway separating the spaces, you can install a new grain or wood running in a different direction to add interest. If there is no door that separates the hallways from the adjoining room, you can continue laying the floor in the same pattern.
You can also install different wood grain floors in adjoined rooms. Just separate them using T-moldings or wooden borders in the doors' thresholds.
For large adjoined rooms, you can divide both areas with different grains of wood. This is useful to highlight specific areas. You can use borders creatively to pair them with. Create a border around that area with contrasting wood grain from the adjoining space.
In an open floor plan, different kinds of hardwood floors can be used to distinguish each area.
For instance, the hallway area might have a parquet pattern wood floor, while the rest of the floor uses a straight-line pattern. This is also a great way to complement your home design.
Or, you can use different wood floors in the kitchen area. The white oak floor you choose, for instance, indicates that the area is used as a food preparation zone. If your kitchen shares an area with a dining space, you can use a mahogany floor, for example, to create a contrast.
3. Why Should You Use Different Wood Floors in Adjoining Rooms?
There are several reasons why you should use different wood floors in adjoining rooms instead of using the matching ones:
Trying to match existing wood floors is difficult. Why? Because there are various types and tones when it comes to wood floors. Even the different series of the same types of wood can have a slightly mismatched tone. After the floor is installed, the difference may be visible. It is frustrating. Instead, you can try creating contrast. Pick a new grain of wood to complement the other wood floors you have installed before without matching it too closely.
It is your time to be creative. Using different hardwoods in adjoining rooms enables you to be more creative with your design. You can vary the ambiance and appearance of different rooms. As a starting point, you can use different tones of wood floors to create a separate personality in different but adjoined rooms.
It is helpful to "zone" your home. As stated before, if you have an open plan, or two adjoined rooms with no partition, the prettiest way to separate those areas is by using different wood floors. It helps you support the different purposes of each room aesthetically.
It makes every room in your house look unique. This is quite the opposite of the flow and consistency gained by using matched or similar materials throughout the house.
4. Should You Emphasize or Minimize the Effect of Different Wood Floors in Adjoining Rooms?
This is the common question that often pops up in your mind if you have decided to use different types of wood floors in adjoining rooms, should you highlight the difference or even minimize it? Either way, here are some quick guides:
Emphasizing the difference
This is an excellent idea if you prefer an eclectic design for your adjoining rooms. Different hardwood floors can give you this effect. Each room will have a unique style and theme, highlighted by the hardwood floor species that is most suitable.
For instance, light floors can be paired with slightly distressed cabinets to gain a farmhouse or a country-style kitchen vibe, and the dining room in the following area can use dark-toned wood floors matched with traditional furniture to create a formal feel. The options are basically endless.
Minimizing the difference
On the contrary, it is also possible to minimize the difference between two types of wood floors in adjoining rooms.
For instance, you can choose different species of wood floors that have a similar texture and color. The spot where they meet will look a little less obvious.
Alternatively, if you have two different colors of wood floors, you can use a border in the opposite color in each room. That will make the transition smoother, and your design looks intentional.
5. How to Use Different Wood Floors in Adjoining Rooms?
Follow these guides to create a different wood floor look in adjoining rooms:
Fit the room. Even though you can choose any type of floor in each room based on your preference, the wood floor comes naturally to a specific room. Hardwood is perfect for dining rooms, kitchens, and open spaces. You can combine it with stones. If you want to combine soft carpeting to accentuate the look, it is only suitable for basements, bedrooms, and living rooms.
Watch where the transition begins. You should switch the floor at natural barriers or in the perimeter of the room, not in the middle of it. The transition will give a natural divider between each room.
Think about the color. If you want to emphasize the difference between wood floors, make sure you don't install woods with contrasting colors against each other without any transition. It is because the color creates continuity.
Keep the different colors to two at intersections. It means that you should not use more than two-floor types at any intersection.
Visualize the big picture. Think about how the different wood floors complement your room design, paint, and furniture color. Plus, it is also essential to consider your own tastes and preference. If you are not sure whether it will look good or not, it is recommended to hire a designer.
Be careful when laying the floor. If you lay two different wood floors in adjoining rooms without any door between them, maintain the direction where the floor runs throughout both spaces. If the adjoining rooms are separated by a door, you can mix two different wood floors up by changing the direction of the floor running in.
Transition. Make sure the transition between different wood floors in adjoining rooms is in a straight line at the room's threshold. You can use a piece of T-molding to create a neat transition. This molding creates a T-shape, viewed from the end, where the top part and lower part create a smooth transition. Draw a straight line to dot the center point of the room's threshold and leave a tiny gap to slot the T-molding between two floors.
Consider the room size. In a spacious room with little natural light, you can choose a warm wood floor, like Redwood, Brazilian cherry, or Beechwood, because they have warm red and orange hues. They will create a cozy ambiance. In smaller rooms, you can use light tone wood floors, like cypress, maple, or hickory. You can polish it too to create a bounce light around the room, making it look bigger.
6. Different Tones of Wood Floors in Adjoining Rooms of Kitchen and Family Room
This stylish open concept spacious room is divided into two areas, kitchen and family room.
The different wood floors are visible here because the designer created a unique contrast. The difference is not only in the tone of the wood but also in the type of wood as well.
The wood in the kitchen is engineered bamboo, which is a cheaper alternative than solid bamboo. It is made by mixing dark and light shredded bamboo giving it the brindle pattern. The product itself is called Synergy Bamboo.
The living room has dark wood. It is stained engineered maple wood. The dark color would most definitely be the ebony stain. Ebony stains are considerably popular these days. No wonder, because it can create an elegant and luxurious look.
Besides the color contrast, we can see that there is a transition between the kitchen's floor and the family room's floor, the small stairs. The stairs have a combination of engineered bamboo and engineered maple wood. This is a great way to highlight the difference in wood floors in the rooms.
7. Different Patterns of Wood Floors in Adjoined Entryway and Hallway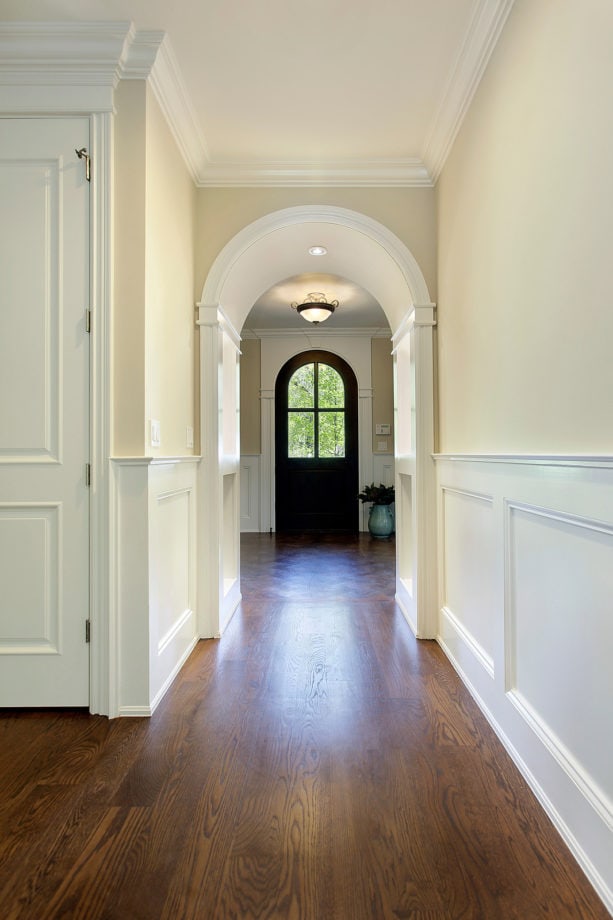 If you don't want a contrast difference in your wood floor, you can try this idea.
This is a mid-sized traditional entry adjoined with a hallway. The floor is made of 6" planks in Oak with dark walnut stain. Both the entryway and the hallway share a similar wood floor.
What makes them different is the pattern. In the entryway, the wood is set in a herringbone pattern. The pattern then changes to a straight way once the hallway starts. The transition is smooth and barely visible. This is perfect for any traditional design.
8. Brick Bond and Wood Strip Different Pattern Wood Floors in The Adjoining Family Room and Entrance
According to the designer, the wood used in these adjoining rooms is Brazilian Cherry. We can see that the entrance is open to the family room on its side. Both have a similar wood floor.
Like the previous picture, the homeowner decided that they wanted to minimize the difference. So, what makes both rooms different is the pattern.
The entrance features a brick bond pattern, while the family room uses a wood strip pattern.
The minimal contrast creates a more uniform look in these adjoined rooms, yet they both still have a boundary between each other, even though it is subtle. There is only a built-in cabinet between them as a partition, and the transition of the wood floor starts after the cabinet wall ends.
9. Laminate Wood Floors in Different Patterns in The Adjoined Hallway and Den Room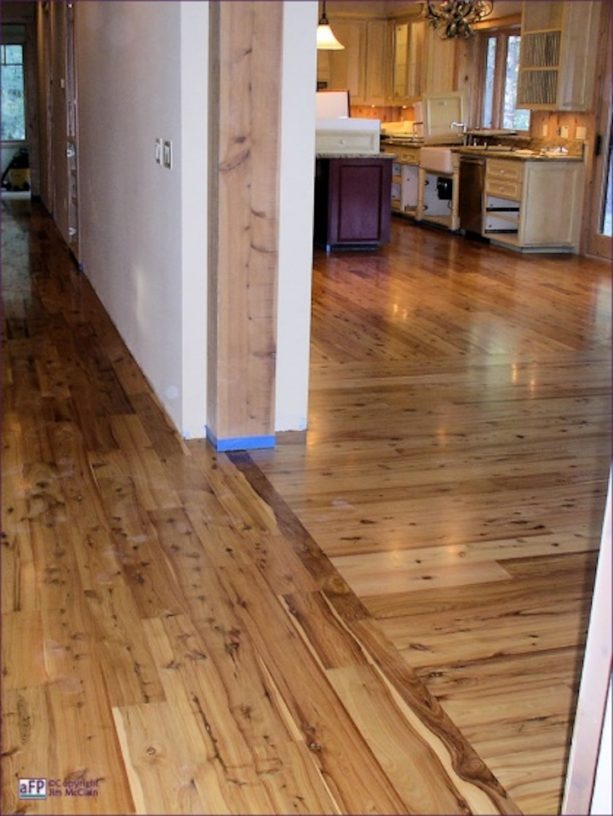 This is another example of adjoined rooms using a similar wood floor.
The rooms are hallway and den; both are separated by a wall partition that ends in the middle and opens on both sides. The floor is laminated wood for both the hallway and the den room.
The homeowner decided to install the same type and color of laminate in these adjoined rooms to create more flow and make the rooms look larger. However, he also wanted to distinguish each area of these adjoined rooms.
That is why later, he used a different pattern for the wood floor, even though basically it is the same material.
The pattern on the hallway, which is the left side of this picture, is vertical in the wood strip. While on the den, the wood floor has lain in a different direction, which looks horizontal from this angle, even though basically it is a wood strip pattern too.
This is a smart way to minimize the differential effect of the wood pattern.
10. Different Wood Types and Tones in Adjoined Deck and Indoor Rooms
It seems that the wood element dominates the entire room. This is a deck that opens to an indoor living space, which appears to be a kitchen and a family room.
The indoor living area is basically an adjoined room, a large room that is separated into two smaller spaces. There is no partition between both areas.
The start and endpoints of the kitchen and the living room are only marked by the rug. Both have a similar wood floor, which is the same type and color. Unfortunately, there is no detailed information about the exact wood used here, though it seems to be an oak.
The deck has a common style of wood floor that is usually used for decks. It has darker tones than the wood floor indoors. It appears that the wood type used is Cedar since it is the most popular wood species used for decks.
The direction, the color, and the type of the wood floor here are very different from each other. The difference of wood floors is obviously visible. The contrast is emphasized to distinguish the outdoor and indoor areas.
The difference is not that highlight if the bi-fold doors are closed. But once they are opened, the contrast is emphasized.
Closing
Remember, no matter what types of wood you choose for your adjoining rooms, using two different floors is all about balance. By balancing two different wood floors together, your room arrangement will become more attractive from any angle.
Mastering this balancing act is basically a piece of cake. All you have to do is just familiarize yourself with different types of wood floors, plus their pros and cons. Once everything is settled, it would come naturally to you to pick the suitable two different wood floors in adjoining rooms.
Good luck with your project!