Maybe you have purchased another car, or perhaps the edges of your driveway start crumbling. Whenever it rains, mulch gets washed away, and your cars most of the time stray into the grass, ruining your pretty lawn.
There is always a reason to widen your driveway with pavers. Why pavers? Because they come in various textures, sizes, colors, and shapes.
1. Is Widening Your Driveway with Pavers Similar to Driveway Edging?
When you widen your driveway with pavers, it means that you need more space for your car or you need to accommodate more than one car.
Driveway edging, as the name suggests, means you create a protective edge (can use pavers too) along your driveway's borders. In fact, it is known as the best way to increase the durability of your driveway.
It means that widening a driveway with pavers can be a way to edge your driveway too. In the past times, developers and designers widened the driveway or edged it with imported Belgian blocks. Nowadays, the materials of pavers are more endless. Some common types of materials are:
Concrete pavers
Brick pavers pavers
Cobblestone pavers
Bluestone pavers
Flagstone pavers
Marble pavers
Travertine pavers
Porcelain pavers
Rubber pavers
Granite pavers
Regardless of the material you choose for your pavers, make sure it suits your home's exterior.
2. Why Should You Widen Your Driveway with Pavers?
In fact, there are obvious reasons why you should widen your driveway with pavers:
Accommodating multiple cars. This is the top reason why people think they should widen their driveways. When you purchase another car, you should also consider expanding the driveway. And pavers can handle heavy traffic and vehicles very well.
Protecting the main driveway. Widening your driveway with brick or concrete pavers will keep those pavers in their places. It can also protect the concrete or asphalt driveways against chipping and cracking.
Protecting your lawn. When you widen your driveway by edging it with pavers, especially in a different color from the existing driveway, you create a visual barrier. Your visitors will be less likely to step across it because they are encouraged to walk on the driveway instead of the lawn.
Less maintenance. Does it have anything to do with widening the driveway? Well, actually, yes. It is because without edging or widening the driveway with pavers, you'll have to continually use a hoe or a shovel to edge your driveway's border. Using a permanent edging material like pavers will save more aggravation, effort, and time.
Preventing soil erosion. Widening the driveway with pavers can also help keep the plants, soil, and mulch in their places. It is because the paver acts as an effective barrier, preventing your lawn from blowing or washing away. Thus, during the muddy season or rainy days, your driveway can stay clean.
Better landscape planning. When you widen your driveway with pavers, you can define the visual goals of your property better. Seeing the elements of the driveway edging gives shape to your front yard and lawn.
Giving easier parking. If you have a circular driveway, chances are you have a twist or an odd bend in it. That is why you need to widen your driveway with pavers. It will make parking a lot easier for you and your guests. You can widen your driveway with different color pavers to get a more visual element. Thus, it will make your driveway easier to navigate.
Boosting curb appeal. You can't deny that when you add visual elements in your driveway by widening it and accentuating it with pavers that come with various textures, colors, and sizes. This way, your home will look more attractive and welcoming.
3. When You Widen Your driveway With Pavers, How Are Pavers Laid?
There are two main designs of paver and how they are laid together. Each of them has its own beauty:
Interlocking. As the name suggests, this is the design where the pavers are interlocked in some fashion. Usually, to enhance its visual appeal and to add dimension, the pavers used are in different colors. So when they are interlocked together, there are multiple colors tied together.
Slab. On the other hand, slab design is when the pavers are laid flat to create a flat surface of a widened area. This can be useful if you want to have an easy and less crunchy driving sensation in your driveway.
4. Is It Possible to Widen Your Driveway Without Using Pouring Concrete?
If you prefer not using concrete paver for a less permanent way to widen your driveway, there are some alternatives for you:
a. Using gravel
This is the commonly used alternative for those who want to widen their driveways easily, cheaply, and less permanently.
However, there are pros and cons to using gravel.
The upsides of this option are it is quite easy to install. Also, most of us also love the crunchy sound when the vehicles step upon the gravel.
In the short term, it is more affordable than if you use a permanent extension. Yet, don't forget to consider the costs after some time, though. You will need to replace some gravel after a while. It's quite common for gravel to wash away or get displaced from rain.
The other downsides of this option are, you have to remove the gravel every now and then from any areas around you don't want it to be, like garden beds or your existing concrete driveway. Because it is impossible for gravels to stay in their places.
Eventually, they will end up anywhere but their designated area. Plus, weeds can grow in gravel too. So, it needs quite complicated maintenance.
b. Using pavers
This is the best option if you don't want to deal with the mess gravels make.
But first, you have to decide whether you wish to use permeable pavers or regular pavers.
Permeable pavers are indeed more expensive, but they have better drainage than standard pavers. Moreover, they are usually made of environmentally friendly materials.
You also have to figure out how many pavers you actually need, do you need to cut them to fit, how deep you have to dig before placing the pavers and bedding sand, and how much bedding sand you need.
5. When Is The Best Time to Widen Your Driveway with Pavers?
Actually, you can widen your driveway with pavers anytime round the year. However, it is recommended to start your project during the dry season. It is because rain or snow will easily ruin the pavers you have laid before. You need a sand base before placing the pavers, and it should not get wet whatsoever to make sure the pavers will have a solid base.
6. Does Widening Your Driveway with Pavers Increase Your Home Value?
If your existing driveway is very narrow, it is highly possible that widening it will increase the value of your home. Yet, like any other home update, you should also know that your home can only be valued based on the needs of the home buyer. Many home buyers want to have an extra parking space for storing their boat, RV, or other vehicles.
If you want to widen your driveway that has actually been a standard size, it may not affect your home value. You need to carefully consider whether your new driveway's width will look excellent and appropriate. If it seems too wide, you may end up decreasing your home value instead.
7. Do You Need Permission Beforehand to Widen Your Driveway with Pavers?
It basically depends on the scope of your project. Some cities in the US have guidelines for residents you have to follow when you're planning to widen your existing driveway. For instance, you may have to maintain a certain percentage of the front yard setback area. It all depends on the municipal code of the city you're living in.
It is recommended to check the website of your city's planning department first to see what you need to do first before doing any type of construction. If you are in an HOA's jurisdiction, you have to check the HOA'S guidelines to make sure you're not violating the rules.
8. How Much Does It Cost to Widen Your Driveway with Pavers and Other Materials as a Comparison?
It all depends on a variety of factors, like what materials you use and the size of the expansion area. You will need to discuss this detail with a local contractor if you want to figure out your detailed driveway extension cost. However, here are some estimates to give you a general idea:
Pavers: It depends on the pattern and the type of paver. You will pay around $4 to $20 per square foot.
Gravels: The cost ranges anywhere from $1 to $2 per square foot.
Resurfacing: If you decide to just resurface your concrete addition, the cost is around $3 to $25 per square foot. It all depends on the style you want and what type of product you use.
Concrete. Generally, you have to pay around $4.25 to $6.25 per square foot for using concrete in your driveway extension.
9. Who Should Widen Your Driveway? Can it Be a DIY Project?
Basically, if you want to widen your driveway with pavers of simple materials like bricks or design it in a simple manner like a slab, you can do this project on your own. However, for heavier materials, it is always recommended to hire a contractor. Permeable pavers, for instance, are not a DIY project.
10. How to Extend Your Driveway with Pavers?
If you want to widen your driveway on your own with pavers, here are some basic things you should do:
Step 1
Decide the height of the concrete pavers, and then add 8 inches to this measurement. This is meant to be the base material.
Step 2
You need to dig out the area you want to widen to the depth indicated by your measurement before. Dig it 6 o 8 inches wider than the desired area you want to widen. Level it by dragging a board across the dugout area.
Step 3
Spread six inches of crushed rock over the dugout area. Use a plate compactor to compact the rock. A plate compactor is available in any home improvement rental store.
Step 4
Set the plastic edge restraints on top of the rock base along the perimeter of the paver area. Driving stakes through the edge restraints with a rubber mallet to secure them in place. The restraints are commonly constructed with pre-made holes around the edges for staking.
Step 5
Spread around a one-inch layer of sand between the edge restraints, over the top of the crushed rock. Pull a board across the surface to level the sand surface.
Step 6
Place the pavers as closely together as possible on top of the sand base. Fill any space in the joints by spreading sand over the top of the pavers. Last, sweep the excess sand in the paver surface.
11. Mix of Belgian Porphyry Squares, Reclaimed Curbing, and European Sandstone to Widen a Driveway
This is a unique widened area of a driveway. Basically, this is a traditional landscape with a huge traditional front yard stone driveway. What makes it beautiful is the combination in the driveway and in its extension.
The homeowners decided to use a combination of Belgian porphyry squares, reclaimed curbing, and European sandstone to create one pretty and functional driveway. It is clear that this driveway is made to last a lifetime, which means that this is permanent.
The existing driveway, the one in black, is made from reclaimed curbing. It is basically reclaimed granite. And like many different granite products, reclaimed curbing comes in many quarries, creating many color variations. Generally, curbing is made from gray granites ranging from light colors to almost charcoal-like.
The white lines in the middle of the reclaimed curbing are made of European sandstone. This is actually a cobblestone that has a more consistently worn top. It allows for a flatter finished paving surface. European sandstone is a tough material.
However, it offers a well-worn and smooth top with a unique color range. Colors can vary from earth tones to earthy green, which gives a perfect look to complement any landscape style.
This driveway is widened with Belgian porphyry squares, which is basically a stone paver. This material is suitable for heavy traffic zones. It can also be used for decorative concrete and widening the driveway. This gives a perfect retro look, as you can see in this picture. The colors vary from dark to light like this.
12. Using Courtstone of Unilock Concrete Pavers in Belgian Blue Color to Widen a Driveway
This is an example of a large front yard in a traditional style with a concrete paver driveway. The driveway here looks like it was made of previous pavers. Well, actually, the materials used here are concrete paver from Unilock. The product is called Courtstone.
The court stone looks as if they had large open joints, but below the polymeric sand joint, there are pavers butting up against each other, creating a tight joint. There are several colors available for court stone products. But this one is in Belgian Blue color.
This driveway is widened using granite from Coldspring Quarry in Minnesota. We can see here that the existing driveway and the border (the widened part) have a different colors. The main driveway is bluish dark gray, while the widened area is way lighter.
As stated before, a color difference like this eases the homeowners and other visitors to navigate their way in this driveway.
13. Granite from The Coldspring Quarry to Widen the Driveway
Commonly, people use gravel to widen their driveway cheaply, while the existing driveway is made of concrete or asphalt.
However, that's not the case in this driveway. It's the other way around. The existing driveway is made of gravel. Gravel is created from crushed stone, and in this case, it is crushed bluestone laid on asphalt.
It has been stated before that gravel can easily wash away and move from their designated area.
So in order to avoid that, the contractor sprayed a tar slurry on the asphalt before the crushed bluestone was installed. The crushed bluestone still needs to be raked occasionally through the year, though. During the winter, snow plows must be raised, too, so they don't scrape away the crushed bluestone. According to the contractor, they installed pavers first before the asphalt.
The edge or the widened part of this driveway is similar to the previous picture. It is made of granite from Coldspring Quarry.
In this driveway, the color contrast is even more visible. Even the texture of the surface is also different. The existing driveway is a bit crunchy, like most gravels, while the widened area is smoother.
From this angle, we can clearly see the black and white contrast in this driveway.
14. Multicolored Copthorne to Widen the Driveway and Give the Accentuated Look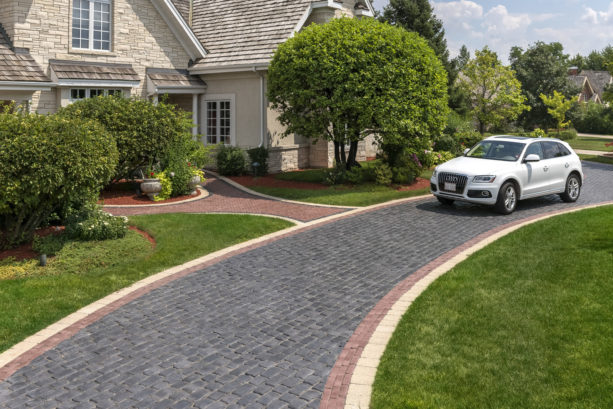 This is an excellent contemporary front yard completed with a concrete paver driveway. Similar to the previous picture, this driveway is also made of Courtstone from Unilock. Courtstone never fails to give a sense of old-world Europe to your landscape.
The great thing is, Courtstone also has a realistic texture creating a long-lasting product. That is why Courtstone is ideal for driveways of multiple cars because it can handle heavy traffic very well. It seems that the Courtstone used in this picture is also in Belgian Blue color.
We can see the widened area has multiple colors, reddish-brown and beige. It seems that it is made of brick pavers, while actually, it isn't. It appears that this widened part is made of Copthorne (Blend) Accents pavers. This material is reminiscent of the brick pavers. Usually, this is used in old European cities, villages, and towns. The great thing about Copthorne is that it will not fade, crack, or split.
15. Brussels Block Driveway with Courtstone Accent to Widen the Area
Unlike the previous pictures of driveways where concrete paver Courtstone from Unilock is used for the main driveway, this one is different. The courtstone is used to widen the driveway.
The existing driveway itself is made of Brussels Block from Unilock. This is an original tumbled paver. Brussels Block gives a relaxed and warm appearance, while the finish resembles the design cues of quarried stone. Basically, there are several options of color. But the color shown in this picture is Limestone with a Basalt accent.
The homeowners used courtstones pavers to edge the driveway and widen it at the same time. We can see a different pattern from the existing driveway here. The courtstone used here are in multiple colors, Belgian Blue and Dawn Mist. The Belgian Blue color gives a nice contrast to the existing driveway, obviously distinguishing the main driveway area and the widened part.
Closing
What is your opinion about widening the driveway with pavers? Do you think it is for you? If so, you can contact your local contractor and start choosing the right paver for your driveway extension. Good luck with your project!