Desert landscape for backyard is quite popular in American Southwest. The idea is basically to accommodate elevation changes that can create huge temperature swings. Higher elevation causes intense daytime heat and cold nights.
During the winter, there is light snowfall too. Thus, landscaping a backyard with a desert look can be an excellent idea because the climate of the Southwestern area is basically a desert climate.
That is why the desert landscape is also known as the Southwestern desert. The characteristics of the Southwestern backyard are low-water plants (because water is a precious resource), adobe-mud walls, shade structures, yuccas, gravel, and native cactuses.
There are two types of landscape remodeling here: hardscape and softscape.
For the hardscape, if you want to get the classic Southwest idea, you can use traditional materials, like dry-stacked stone, adobe-mud walls, and gravel pathways. You can mix modern materials with classic elements for a more contemporary landscape, like poured concrete and Cor-Ten steel.
And for the softscape, you can turn your usual backyard into a Southwest garden by choosing the right color palette.
The most common color palettes for a desert backyard are gray-green, sun-bleached wood, warm sandstone, and vivid hues of the desert. You should also add the wildflower bloom during the spring with hairy desert sunflower and native penstemon species.
Whether you live in the Southwest or not, here are the best ideas to get the desert Southwestern to look in your backyard:
1. Large Desert in a Backyard with Gravel Landscape Idea
This is a large Southwestern backyard that totally looks like a desert, minus the intimidating part. This backyard is drought tolerant, like any other desert landscaped backyard in a hotter area.
At first, you might see that this backyard is in hot and arid conditions. The light brown color that represents desert has already spoken for itself. However, there are also some plants and four towering palm trees there.
Those tropical plants are there to balance the arid look of the desert.
Instead of the gravel path, you see some scattering rocks here and there. The rocks are also completed with some pebbles around as a decoration. It seems that the whole backyard is paved in gravel, so it creates a desert landscape perfectly.
There is no shade or pergola you see here. This backyard is an entire sun area. And since there is no seating spot here too, we can conclude that this is not the place to gather around in the evening.
This backyard is basically a low-maintenance area that doesn't need regular watering and cleaning.
2. Mid-sized Partial Sun Backyard Desert Landscape Idea
This is a perfect example of a southwestern backyard. Even though this backyard is not that large, it is enough to accommodate a comfortable seating area with a fire pit.
A desert landscape is the gravel paving and what seems like sands around the seating area.
Some big rocks surround the chairs, and the fire pit is also made out of stone to match the rocky landscape.
Leading to the seating area, there is what seems like a concrete paver surrounded by pebble stones. And around this backyard, you can see the earthy tone soil that grows the towering trees around.
Unlike the picture before, this backyard can be used as a gathering place. This is a perfect place to enjoy the view outside, even on the chilly nights, because there is a fire pit to the rescue.
Additionally, this backyard is also partially sunny. It is impossible to see from this angle, but there are some shades here to cover the homeowners from the UV rays.
3. Idea for a Spacious Backyard with Tropical Plants and Desert Landscape
This is a spacious backyard that is newly planted.
This backyard truly represents southwestern landscaping. It is drought tolerant, making it perfect for a hotter climate area with the sun throughout the year.
This is also a full sun backyard landscaping. That means it is not friendly for gathering parties since there is no cover here.
However, there are some seating areas here. There is a lounge chair and a stone bench in the far corner of the yard. Besides it, there is also a small water feature to balance the arid look around.
What makes this backyard is really fascinating is its carefully planted plants. There are some bushes combined with colorful foliages and green grass. The tropical trees complete the whole look.
There is no towering tree here. Instead, the small bushes and foliages give more space to this backyard to show its desert landscaping.
From this backyard, one can see the breathtaking green view on the opposite side. No wonder the homeowner decided to add some chairs are facing the view.
4. Stone Desert Landscape in a Full Sun Backyard Idea
It is true that generally, desert landscaping is not completed with any creek or any water feature.
The southwestern backyard truly represents the desert climate, which takes water as a precious resource; thus, it should not be wasted. On the other hand, this backyard is really one of a kind.
It appears that this yard is located in a hilly area. So the designer decided to create a retaining wall.
The wall is made out of stone, knowing stone is one of the critical characteristics of desert landscaping. This natural stone retaining wall is surrounded by grass and some bushes and trees here and there.
The most astounding part is the creek. The creek bed does have water. It flows from the top of the slope down. It seems like the creek bed is not like a creek but more like an artificial waterfall.
There are huge rocks instead of small pebbles on the creek bed. The sound of dripping water, combined with the desert landscaping, gives a warm and relaxing sensation.
5. Idea for Desert Landscape with Low Water and Rock in a Modern Style Backyard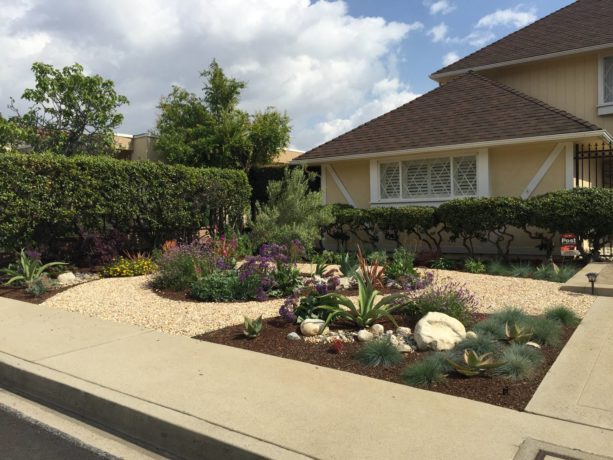 Who said that only a large backyard can be remodeled and transformed into a southwestern style? This backyard proves otherwise. We can clearly see that this is a tiny backyard. It doesn't even have any seating area. However, the designer managed to make it awesome.
It features a mid-century modern style. However, because this is still a southwestern yard style, it is also drought-tolerant. It features gravel landscaping too. The gravel is also combined with what seems like a stamped concrete paver.
In the center area of the gravel landscaping, there are some spots of the garden. These small gardens contain exposed soil and some bushes, and colorful foliages.
There are some small trees lined up in the back of this backyard, right next to the wall of the main property. Those trees are perfect to create some shades and give a cozy feeling to this arid desert look.
6. Curvy Desert-like Backyard Landscape Idea in Feminine Look
The designer of this backyard managed to combine a feminine, sensual look with a masculine style.
The curvy wall that can be used as a bench here represents femininity. On the other hand, the ascending planes of this facade and the trio rusted steel cor-ten panels have a masculine vibe.
Those panels could be used as accent walls, which are the characteristics of desert landscaping.
The panels deliver a lyrical quality to the walkway with ascending heights, sequential spacing, and alternating folds. They also blend with the material and the pitch of the roofline beyond.
As the walkway narrows in the curve of the walls, the visitor can sense a compression and, right after that, an expansion as the walkway turns and opens up again as it leads to the rusted steep pivot gate.
Like the usual desert backyard, this lovely yard is also drought tolerant and full sun. The gravel paver is smartly combined with the walls and the pots, which share a similar color. There are cactus and other potted small trees here to balance the arid look of a desert.
7. Slope Desert Backyard with Gravel Desert Landscape Idea
This is not like a traditional desert landscape backyard like you've seen above.
In fact, this is a large contemporary backyard on a hillside. Thus, you can see the steep slope here. The designer managed to create a gravel landscaping and drought-tolerant backyard here.
The question might arise, what's the optimum slope recommended for the gravel path?
Could it be steeper if you use grass instead of gravel between the steps like in this picture?
It is recommended to have more than an 8% – 10% grade for gravel. Because if it is too steep, chances are you will slip down the hill.
This steep backyard is accentuated with foliages and bushes around the gravel steps. The steps descend to a smaller area of concrete paved. There are also natural stones with more giant slabs used here. They seem nice combined with the gravel.
From this backyard, you can see that you don't need to use gravel for the entire space of your backyard to transform it into southwestern landscaping. In fact, you can only use gravel between the steps or pathways like this. And it still gives the look of the desert for your backyard.
8. Combination of Concrete Paver and Gravel in a Desert Landscape Backyard Idea
Another contemporary southwestern-style backyard here.
This property is also located on the hill. So the designer decided to create a descending backyard completed with a stair railing and rusted look retaining walls.
Surprisingly, this backyard really defies the essential characteristics of desert design: it has a swimming pool. While in fact, in southwestern design, there is no large pool or water feature because, like in the desert, water is considered a precious resource.
The combination of a swimming pool and southwestern backyard is indeed unusual, but it turns out it creates a unique design. This backyard, like the other desert landscape, in full sun and drought-tolerant. It has gravel as a soil replacement to plant some small bushes and foliages.
A polished medium-tone wooden bridge connects the southwestern backyard to the ceramic-tiled patio around the swimming pools. These 2-tier infinity pools open to the greenery views on the opposite side of the property.
9. Rustic Style Backyard with Gravel Path Landscape to Get the Desert Look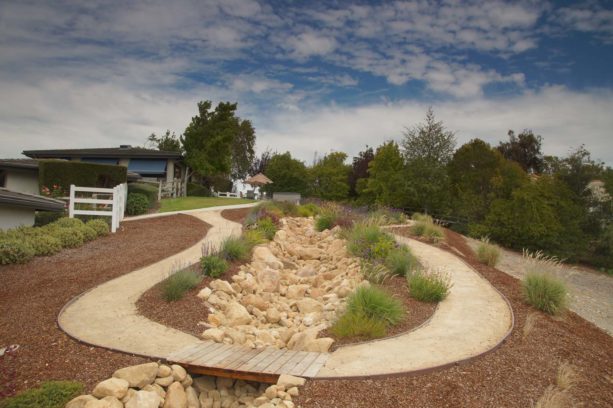 This is a perfect lawn replacement with property views.
Instead of having perfectly mown grass, this backyard features desert landscaping. It is completed with a dry creek bed with medium-sized natural white stones.
Around the creek bed, the curvy gravel walkway is smartly built. There is even a small wooden bridge upon the creek bed to connect the separated walkways.
Around the curvy gravel, red pebbles are surrounding the area. The small bushes are ideally planted here and there to balance the look of this full sun backyard.
In the far end of this backyard, there is a patio umbrella completed with a seating area. However, that area doesn't belong to this desert landscape because it is located in the mown grass area.
So this large rustic gravel garden path doesn't have any shade and seating area. It isn't meant to be a gathering spot. This idea is perfect if you prefer to have a low-maintenance desert backyard.
10. Idea for Low Maintenance Desert Backyard Landscaping
This is another low-maintenance southwestern backyard. FYI, this is a result of a remodeled project. This 5000 square feet area used to be a water-thirsty lawn. The designer and the homeowner decided to remove it to have a new canvas to work with.
The homeowner preferred to have a low-maintenance backyard without sacrificing beauty.
So the designer installed a small number of artificial turns to create a contrast with the decomposed granite. The emerald green looks nice against the blue of the century plant cactus too.
Instead of a pot, the designer added a pair of wooden open tables for the small foliages. There are also oversized pots for larger plants. One red chair serves as a focal point and a seating spot next to the gardening area.
Like the other southwestern landscaping, this backyard is also drought-tolerant and full sun.
11. Asian Style Desert Backyard with Full Stone Landscaping Idea
It is stated before that desert landscaping is also known as southwestern design. It is because this style is commonly used in the southwest area.
However, basically, there is no limit to creativity. Desert style can be combined with an Asian look too. So, the desert is not only closely related to the Southwest but it can also be linked to a specific characteristic of another region.
This backyard looks a lot like a Japanese garden. Japanese gardens are usually characterized by terrain or level ground. The dried-up Japanese landscape is commonly completed with composing rocks and pebbles. There is also sand or gravel to symbolize seasonally dried-up terrain. Looks a lot like a desert landscape, right?
In this large backyard, there are composed rocks. The stepping stairs are also made from natural stone. It is surrounded by pebbles.
This rocky landscape is combined with several shrubs to create a balanced look. The greeneries go well with the gravel and rock paver.
12. Southwestern Desert Landscape with Backyard Patio Idea
This desert landscape backyard is also equipped with a patio. Not a familiar style, but not a very unusual design either.
What makes it unique is the curvy lines of the wall with a double wooden door leading to the main property.
This wall is finished with a shade of color the blends seamlessly with the desert style. It features an earthy tone that has a similar color to the gravel.
The desert landscape features trees, shrubs, and a towering cactus. Those are the common plants for a hotter place and need no regular watering.
There is no pattern when planting the trees and shrubs, but the designer smartly planted them in a specific spot that can give a little shade to this whole yard.
There is a patio with red brick paver next to this desert landscape area. The red brick, combined with the rusty red metal of the table and chairs, mixes harmoniously with the gravel.
The seating area can accommodate five people, which means this place is not meant to gather or socialize. Instead, this is an excellent spot for the whole family member to enjoy their quality time. However, there is no fire pit here. So this seating area can't be used in the evening or during cold weather days.
13. Desert White Gravel Backyard Landscape Idea in a Steep Slope
This is an example of a large desert backyard with a contemporary style. This backyard looks neat, clean, and polished. However, it is still drought-tolerant and full sun with gravel landscaping, like another traditional southwestern-styled backyard.
What makes this backyard modern and polished is its primary color.
Commonly, desert landscape features a reddish-brown color. It is a color that is mainly associated with deserts.
On the contrary, this backyard features a neutral color instead. It combines lighter and darker greys for the landscaping. The grey paver is also balanced with the emerald green of the shrubs. There is also a pair of dark red trees as the focal point. Unfortunately, there is no detailed information about those trees.
This backyard is on a steep slope. So on top of it, there is a line of retaining walls made out of what seems like bricks. There are ascending stairs made from logs. The clean and sleek lines of this stair also managed to create a polished look in this backyard.
Unlike the usual desert landscape backyards that feature overly used rocks, this backyard also has rocks, but they are placed carefully in a particular spot. So the rocks are not scattered around and create a messy look.
Instead, these stones are put to accentuate the shrubs around. There are only six large rocks here to complete the look.
14. Small Conventional Desert Backyard Idea with Stone Landscape
This is another example of small desert landscaping. Despite being small, the area looks really stunning and oozes an ambiance often offered by a desert.
Located in Albuquerque, New Mexico, this lovely area beautifies the backyard of a house it's a part of. It provides a fabulous addition to the backyard, as you can see from the picture above.
Note that there's something extraordinary about this outdoor area. It's the fact that it has a drought-tolerant property to it.
The designers went for a more traditional look when designing this fabulous outdoor area. The area turned to become one that really suits spring. It doesn't mean that it loses its appeal when the other seasons come, of course.
Fortunately, space's traditional design really suits the house's. It's the best thing you can refer to if you need a source of inspiration as you try to do small concrete paver landscaping.
After all, this area offers the best drought-tolerant, partial sun, and desert landscaping for a backyard with a concrete paver.
The low wall in this backyard provides the shade that covers a small part of this area. However, there is no proper seating area here. It only features a rock that can be used as a bench, and it is completed with what seems like a standing lamp. There are pebbles around the gravel path with some bushes and foliages to complete the whole look.
Closing
Besides the materials that you have seen above, if you want to complete the look of your Southwest backyard, don't forget to add these garden elements:
Accent walls. You can choose free-standing walls that have vibrant or bold color paint. Make sure the accent walls can provide a screen or create backdrops for several plants.
Water feature. Desert landscapes see water as a resource that should be savored. Thus, a large pool is not a choice here. Instead, you can choose smaller water elements, like a recirculating fountain. This fountain is not only beautiful but also losing less water through evaporation. It can be a great focal point for your backyard.
Dry creek beds. Even only an illusion, water still has a soothing and calm effect in your desert landscape design. So, you can use a dry creek bed that can also be used to manage stormwater runoff.
Pergola and shade screen. The desert sun is usually intense, particularly at midday. So it would be perfect for adding a pergola or a shade screen made from durable outdoor fabric. You can also use patio umbrellas.
Firepits. Who said living in the Southwest doesn't need a fire pit? In fact, the nights in the desert can be intensely cold. So after the sun sets, fire pits and outdoor fireplaces can give warmth to your gathering spaces.
It's not that hard to create a desert landscape for your backyard, isn't it? It is recommended to work with a professional, though, so you can get the best of it. Good luck!