Basically, people install awnings above their front doors to protect the entrance from the weather.
An awning can give sun protection during the warmer months.
During the colder months, an awning can also protect you from the rain and snow, so you don't have to worry about the weather when you are opening your front door.
However, people also install an awning over the front door to create a focal point in the entrance.
Along with protecting your entryway from the sun and the rain, awnings can also complement your house's features. Your house's curb appeal will instantly increase after you install an awning in your front door.
There are several types of front door awning for you to choose from:
Fixed awning: This awning is also known as a stationary awning. It is attached to your house's exterior, becoming a part of it. This is a reliable and stable option to withstand any weather condition. When installing a fixed awning, it's important to have an expert's help. Plus. You'll need to invest in a durable material that can collect snow and rain. Keep in mind that fixed awnings are there to stay. So, know exactly where you want it to be installed.
Retractable awning: This is a canopy that can be folded or rolled up. A retractable awning is an excellent option if you want versatility for your front door. When needed, this awning can block out the sun. But if you want to soak up the sun, you can easily put it away. Usually, retractable awning expands to cover the front porch and patio.
Motorized awning: Basically, this is a retractable awning that can be programmed with a motion trigger, remote control, or a sensor. This is a luxurious and expensive option, but it can save you money and time in the long run. Motorized awnings also last longer than fixed awnings because you can store them during bad weather.
In the pictures below, you'll only find fixed awnings anyway. It is because a fixed awning is a more fantastic option if you want to create a permanent focal point in your entrance.
The other two options are more useful if you want something practical and functional instead of decorative.
Here are 13+ fantastic front door awning ideas for you:
1. Antique Awning to Enhance a Traditional Look in the Front Door
Traditional looks might be boring for some. However, there are many elements in a traditional look that can create a stylish and unique look. For instance, the antique awning in this traditional look front door.
According to the designer, this wrought iron awning is an antique from Europe. It is installed on this remodel.
So, actually, it is not an off-the-shelf product. However, you can mimic this by asking a local steel fabricator manufacturer to create something similar.
On top of the antique, there is a frosted glass to shade the front door and protect the homeowners and guests entering this house.
Frosted glass may be an unusual material for an awning; however, it is a great idea to apply if you still want to get natural light minus the harmful UV rays.
2. Vaulted Copper Awning to Create a Dramatic Effect on the Front Door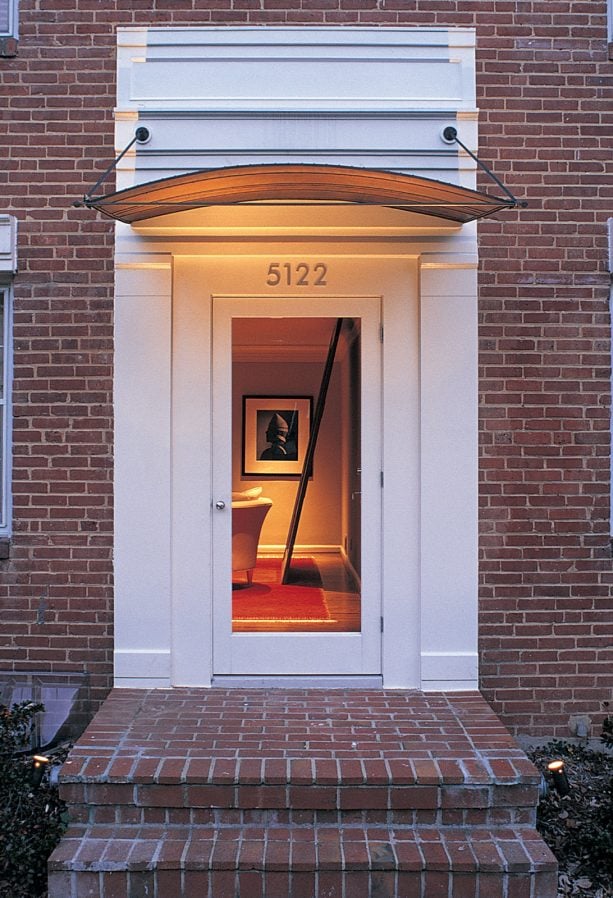 This vaulted awning is made of copper.
It features that light that shines from below to add a dramatic effect to the front door. It is because the door is made of clear glass, so the up light below the awning can dramatically reflect on the surface of the front door.
FYI, this awning was designed by FORMA. Later, it was custom-made by a local metal shop. It means it will be easier for you to copy the look. You just have to contact your local metal shop and order this awning.
This is the kind of awning that you need if you want to add a stylish look to your neutral-colored entryway.
The copper awning, along with its modern design, delivers a minimalist look but at the same time is also stylish.
3. Semicircular Decorative Awning for an Arched Front Door
For a traditional exterior with a touch of Mediterranean design, you might want to consider using this forged iron awning.
This awning is in semicircular design with decoration and ornaments.
This may not be the type of awning you need to completely protect you from rain and sun exposure. On the other hand, if you are looking for some decorations that can pop against the neutral color of your exterior, this will be your best option.
Even though this awning lacks shade, this is a fixed awning. It means that if you want to install this over your front door, you need to determine the right point where it should be installed because it stays with you permanently.
Make sure you do the measurement right.
You can install two wall lanterns on both sides of this decorative awning for a dramatic effect. The lanterns should also be made of metal and finished the same way with the awning. It will create a consistent and uniform look in your entrance.
4. Metal Awning for the Arched Front Door Idea
A metal awning is basically a popular option when it comes to the front door. This is a durable and low-maintenance awning.
This metal awning matches the metal roof perfectly. If you want to create a minimalist and modern look, you can copy this exterior.
The white siding, gray trim, and glass panel front door serve as a timeless element that you can easily find in a modern or traditional look.
Since this is a minimalist look, the designer and the homeowners avoid the too flashy and bold look. That is why the awning is solely functional, not as a decoration.
Metal can complement white siding perfectly. Plus, it can also complete the gray trim on the walls and the glass panel on the front door.
Overall, the metal awning is your best bet for a simple and affordable option.
5. Timber Door Awning in an Arts and Crafts Entrance
This timber awning is perfect to complement the arts and crafts exterior. It is constructed on a wood structure, which is painted to match the surrounding.
This awning is a product by Eric Stengel Architecture llc. It is called "Timber Door Canopy – No. 5".
However, if you want to copy the awning for your front door, you can also ask the local shop to custom make it. Custom making an awning for your front door is better because it fits the dimension of your front door perfectly.
It is obvious that this awning is part of the exterior, a fixed awning. However, it is functional, not just a decoration. It is because this awning is made to blend with its surrounding, not as a focal point, even though it surely does complete the front door.
6. Angled Copper Awning to Accentuate the Front Door
Unlike the previous picture, we can see that the awning here is meant as a focal point, an accent to the front door. It is because this copper awning is finished in black, while the siding surrounding it is finished in white.
The dramatic contrast color in it makes each of them pop.
Moreover, the design of this awning is also unique. It has angled sides, creating a small additional roof upon the front door.
If you want something permanent that can accentuate your front door, contrast your siding, and provide protection for you when you are fumbling for your key, this awning is perfect for you.
The color even matches the front door, even though the finish is different. It seems that the front door is finished with a glossy look, while the awning is more matte. With two different finishes, this entrance looks rich and stylish.
7. Green Striped Fabric Awning for a Green Front Door
This awning is different from the ones you've seen before.
In previous pictures, you have seen permanent and fixed awning that is part of the exterior. This one, on the other hand, seems to be less permanent.
Instead of being made of metal, this one is made from fabric. It is attached to the exterior wall, but it can be easily removed if you want to replace it.
Even though this awning is made of fabric, it also has sun protection and a weatherproof element. This way, you don't have to worry about the sun.
Yet, fabric awning can't withstand the weight of snow during the extreme winter. That is why this awning is perfect for you who live in a warmer area.
The homeowners also decided to use a similar awning for the windows and the patio in the side yard. It creates a consistent look on the exterior.
Moreover, the green striped pattern accentuates the beige walls around. It matches the green front door too. What a perfect look.
8. Victorian Style Awning with Ornaments for a Traditional Front Door
This traditional front door is basically plain. It only features glass panels as a window at the top and a raised panel at the bottom, finished in white, nothing special.
However, the victorian style awning over it managed to accentuate the simple front door perfectly.
It seems that this awning is also made of metal, finished in dark color.
The slope with a sharp-angled design creates perfect protection not only to the front door area but the entire small front porch. The unique designed awning is constructed upon ornamented metal on both sides, enhancing the victorian look.
It is clear that the homeowners wanted to create a beautiful look for this entrance by contrasting the awning to the surrounding wall and the front door. This way, the awning serves as an excellent focal point.
9. Curved Translucent Awning Attached to the Wall at the top of the Front Door
This curved translucent awning enhances the warm and luxurious look of this exterior.
Instead of curved or sloped, the design of this awning is curvy. It creates a whimsical look to the front door area and pulls off a contemporary look.
This awning is also made of translucent material instead of metal or fabric.
It is attached to the wall, at the top of the front door. It surely looks different against the beige walls and the wood-framed front door.
This way, we can conclude that this awning is meant to enhance the look. Plus, it also creates drama in the front area of this house.
Having a translucent awning won't stop the sunlight from entering the front porch, but it surely shades this space. So, you won't feel the heat of the sun but still get the shine.
10. Canvas Awning with Black and White Striped Fabric for a Timeless Front Door
This is another example of a fabric awning attached to the wall using a spearhead. It seems that this awning is semi-permanent, but it can be removed if it has to.
The canvas awning has a black and white striped pattern that creates a timeless look.
The designer wanted to incorporate something to the shade that seamlessly blended into the surroundings. Hence, this black and white fabric.
It matches the awning for the window on the upper floor. Plus, this awning mixes harmoniously with the two-story stucco exterior painted in white, creating a classic color scheme, especially when combined with the black trim.
If you want an awning that seems to be part of the exterior but you don't really want to deal with a fixed awning, you can choose a canvas awning with a pattern that can blend with your exterior color, like this.
11. Half-Circle Polyester Awning in a Transitional Front Area
It seems that the awning is made of polyester, another fabric awning for the front door.
The half-circle awning is considerably small, but it is able to protect and shade the front door.
This is the kind of awning you can choose if you just want to shade your single front door, minus the front porch.
This half-circle shade can also be your best option if you have large arched windows around the front door. It is because the design will match the arched look, creating a seamless look to the entire exterior.
This awning was also carefully selected to match the paint color of the exterior wall. Its design will make an excellent focal point while the color blends into the background. So it means that this awning can be both functional and decorative.
12. Glass and Steel System for a Minimalist Awning of a Front Door
If you want something minimalist that won't attract too much attention but still can enhance your curb's appeal, then you can choose this type of awning.
This is a unique awning made of glass and constructed with a steel system.
The thick glass is enough to block out the harmful sun rays but still let you have its warm shine.
We all know that glass is a timeless element. When incorporated in a contemporary look like this, a glass awning will pull off a modern look, especially paired with a steel system.
Overall, the look of this exterior is minimalist yet stylish. The crisp white walls, the matte black doos, and the glass awning. All of them deliver a sleek and polished look.
Glass awning will not only give you a nice decoration, but it is also low maintenance. What a good choice for those who live in a warmer area.
13. Black Awning to Cover a White Front Door
This fixed awning is finished in black to match the upper siding.
Basically, the color scheme of this house is neutral. It consists of black, gray, and white. All of them are incorporated to create an excellent arts and crafts look.
It seems that this awning is made of metal finished in black but constructed upon a white painted wood structure.
The contrasting color gives a playful element in this awning, but still in a traditional way. Moreover, this black awning is also used to cover the bright white front door. Another contrast is to create a dramatic entrance.
We all know that black can absorb heat. So, this black awning can be very hot during the hot summer days.
Thankfully, you don't have to spend a lot of time sitting in front of your front door if you want to mimic this look. So, the heat won't affect you that much.
Overall, this awning is weatherproof. It can withstand extreme sun rays, rain falls, and a stack of snow.
14. Industrial Hanging Awning for an Urban Style Front Door
For an urban look with a touch of industrial design, you can go for this awning.
This is an industrial-styled hanging awning that uses a steel system.
FYI, the awning was custom-designed by the designer and fabricated by a local welding shop. This way, you can custom order a similar awning to copy this.
This kind of awning is perfect for a double front door because it will look weird and unnatural if you make it smaller for a single door.
This awning is meant to be wide, strong, and durable. This will also complement a house with metal siding, as you see in this picture.
The gray metal siding of this exterior serves as a perfect canvas for this sophisticated metal hanging awning. It creates a contrasting look to the white trim and white front door.
All of the elements in this entrance delivered a cohesive look in an urban style.
15. Different Materials of Front Door Awnings
From the pictures above, we can conclude that there are several materials used for a front door awning. Yet, the most popular ones are:
Metal awnings: There are two types of metal awnings: aluminum and copper. Aluminum is low maintenance, UV radiation resistant, strong, impact-resistant, strong, and won't absorb heat. On the other hand, copper is an excellent option if you want a pretty ornamental solution. A copper awning is corrosion resistant and can prevent UV degradation and high-temperature damage. If you're going to use metal awnings, please know that some metal materials transfer and absorb heat.
Fabric awnings: Compared to metal awnings, fabric awnings may not be as durable as them. However, they can also provide a great visual appeal for your entrance. There are several types of fabric you can choose from cotton, polyester, and canvas. There is no cotton awning in the pictures above, but FYI, cotton awnings are versatile, affordable, waterproof, and breathable. They're easy to clean, you just have to use your washing machine. Polyester awnings are also easy to maintain. You just need to wipe them down with a cloth. These awnings can block harmful ultraviolet rays but still let the sunlight in. Keep in mind that polyester is mildew-resistant and lightweight too. Canvas awnings can give you a natural and classic look. They are a durable option to enhance the look of your front door. Canvas is also weather and water-resistant. Yet, keep in mind that certain printed patterns may face after some time because of excessive sun exposure.