Despite the size of your kitchen, having an additional storage solution is always an excellent idea. There is no such thing as too many cabinets in a kitchen. It is because you can never know what items you need to store right away in your cabinetry.
The upper kitchen cabinet is usually the most oversized upper storage. The ideas to build, design, and utilize your extra storage is actually endless.
Basically, the upper corner cabinet is an open cabinet. However, there is also a closed one, where you can store things you need to hide, like kids' snacks.
Open upper corner kitchen cabinet allows you to store coffee cups, glasses, or even wine glasses, items that you don't usually use every day, but when you do need them, they're just one raise away. Here, you can also store recipe books. Large items like bows, big platters, and such that don't fit the regular cabinets can be held here.
1. Angled Corner Cabinets
An angled corner cabinet is the cabinet that is usually installed in the crown molding.
Crown molding creates a nice transition between the ceiling and cabinetry. However, there is also a corner cabinet that is installed in a more like diagonal wall. Most angled corner cabinets stand between two adjoining walls.
The inside corners of the cabinet create a point facing away from the kitchen's interior space. Commonly, this cabinet installation uses at least one inside corner by attaching a corner cabinet where the adjacent walls meet.
Corner cabinets are helpful to save more space, even though the other cabinets have been used as storage too. The angled uppers look weird if it stands alone with no other cabinets coming around the corners.
This angled cabinet should also be easily reachable. Most people do store a lot of stuff there, usually the bigger stuff that is not used daily. This angled corner cabinet is perfect for a U-shaped kitchen. You will have two angled uppers in both corners.
When it comes to the type of cabinets used, it is relatively common to use the Susans. In the 90 degrees super Susan cabinet, you can store heavier stuff, like a toaster, food processor, blender, mixer, stockpot, and such. Or, you can also use drawers on both sides to store kitchen utensils.
2. 3-Tier Cabinet Corner Shelf Organizer
A 3-tier cabinet corner is a simple shelf organizer that can be installed on your own. So, this is a perfect corner cabinet for your DIY project. Generally, 3-tier cabinet corner comes in different shapes, types, and sizes. However, they are commonly made out of wood.
You can give your empty kitchen corner a practical makeover, but not a usual one. With a 3-tier cabinet shelf organizer, you can create a textural twist. Wood can bring warmth as well as contrast to any modern home, whether it is a polished white or dark kitchen.
You should consider the type, stain, and finish of the wood used to define the style. Rustic, traditional, and farmhouse styles are characterized by raw or live-edge unpolished wood. And for industrial or shabby chic style, you can add some metallic sparkle to the wood.
Since this is basically an open rack, you can use 3-tier wooden cabinet corner as a display for your china collection. You can use this as a display rack. Make sure not to save your daily dining set here because putting them on and off the shelves will make them easily crack.
If you love to grow herbs or keep indoor plants, you can also use your upper corner shelves to hold some pots of your succulents or create them in an indoor herb garden. Let the plants get natural sunlight.
3. Space Spice Rack
As a solution for a cramped and messy kitchen, you can use a spice rack in the upper corner of your kitchen.
Reorganizing smaller stuff like spices can be a nice thing to do. It will not only make your kitchen look tidier and neater but also allow you to find and reach the spices easily.
Stop putting your spice bottles on top of the countertop. With the combination of racks' versatility and creative ideas, you can make a fusion of a cozy and beautiful kitchen.
There are several types of shelves to be installed in your upper corner. Bekvam Spice Rack from IKEA is a simple solution, to begin with. This rack is made from solid wood. Bekvam is considerably versatile. Just put it right side up against the wall within your reach.
If you don't want an open spice rack, you can install a corner kitchen cabinet, and inside, you can attach the stackable shelf as your spice rack. It will help you organize your spice bottles easily. Install your stove near this corner cabinet so you can find your needed spices faster and more efficiently.
4. Glass Front Corner Cabinet
Glass-front cabinets deliver an airy and open feeling to your kitchen.
This can be used to display your favorite collection of tableware. It is such perfect storage to keep your daily dining set too, because the stuff stored inside can be seen through the glass. Just in case you forget, you don't have to guess where you stored your stuff.
However, be careful when storing stuff inside the glass front corner cabinet because any clutter will be visible. So that, it is essential to place a glass-front cabinet in your upper corner, so it can create an accent to your whole cabinetry.
These cabinets can nicely echo the look of your adjacent windows. This type of cabinet goes perfectly in the farmhouse and traditional kitchen.
Since a glass front corner cabinet is considered good for illuminating your kitchenware, this type of cabinet is such an adornment. It can be a decor item in a versatile manner too.
There are many types of glass you can use for this cabinet. Each type represents a different distinctive design. They range from frosted or swirled glass, textured glass, seeded glass, and pebbled glass.
When combined with the wooden cabinetry, this glass front cabinet can even take on an antique look. There are various types of unique designs featuring several doors and knobs. Choose one that fits your preference and kitchen style.
5. Turntable Corner Cabinet
A turntable shelf is usually a type of a Lazy Susan shelf. It is a classic choice for a blind corner kitchen cabinet. This shelf is perfect for holding smaller appliances, dry ingredients, or spices that you use daily.
Due to its circular shape, you can maximize both functionality and space as storing stuff on usual shelves inside blind cabinets can usually be difficult to reach.
Lazy Susans are usually made from plastic and wood. However, wide, stainless steel, marble, and glass may also be used.
Types of Lazy Susans are Kidney-shaped, round, and D-shaped.
The Kidney-shaped shelf features a rounded triangle cut-out that is soft to accommodate the 90-degree corner cabinet doors. The round type is commonly found in tables, base cabinets, or counters. The D-shaped features one rounded side and one flat side to let the pantry door close flush against it.
Lazy Susans basically make accessibility in both upper and lower cabinets. They offer solutions for turning wasted corner space into useful and easily accessed storage. Lazy Susan's cabinet design is independent of the cabinet location, personal preference, and door type.
Another alternative solution is Glide-Around. It is a perfect combination of corner cabinet drawers and a Lazy Susan. Glide-Around, like its name, can rotate 360 degrees. It is completed with drawers in the middle that can be an additional storage space on the sides.
6. Hanging Racks in the Corner
Hanging racks organizer is another great way to utilize your upper corner space.
With hanging racks, you can leave your corner cabinet exposed. Then, apply racks to hold mugs, wine glasses, or pots. These racks can be an accent to your kitchen style too. Racks with hanging copper pots are perfect for cottage or industrial kitchen style.
There are many types of hanging racks you can choose from. Commonly, they are made from high-quality industrial steel galvanized pipe and finished with a clear coat. They come with hooks, too, so you can hang your pots here.
There is also a type of hanging racks in the wall grid. The hanging kitchen wall grid doesn't use hooks. Instead, in your upper corner, you can install a grid made of steel. There, you can hang your pots, pans, and other hangable cooking sets.
Since this is open storage, you can easily reach the item you need. Just unhook them if you need them. It is recommended to give some space when you hang them, so it won't be difficult for you to reach one item and unhook it from its place.
7. Wine Display Cabinet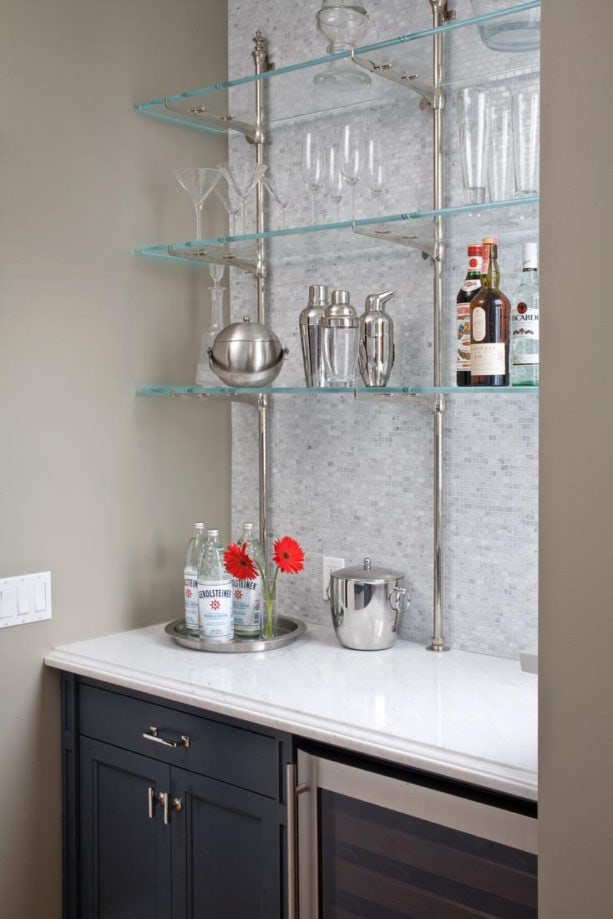 If you want to store your wine collection in your kitchen, it is useful to install a wine display upper corner cabinet. And because this is a display cabinet, so you better use an open shelf or a glass-front cabinet. This way, it will be easier for you to access your bottles of wine since you can see them right away.
However, if you prefer a closed cabinet to store your wine collection, you can use your corner area like a door that leads to a pantry. The kitchen niche closet can store more than 50 bottles safely. This wine rack spot can be accessed through a door.
As an alternative, you can also add a functional and decorative built-in corner cabinet as your wine display. This can be your next DIY project. Next to your cabinet, in the corner, you can utilize this space by installing a criss-cross wooden wine rack. Make sure to measure the corner space carefully.
8. Blind Corner Cabinet
Blind corner cabinets are a cabinet installed at the corner, which could be upper or lower, between two rows of base cabinets.
Part of the content of this cabinet is hidden by other cabinet rows. Thus, it is called blind because you can't see what is inside the hidden cabinet portion.
Without a shelving system or pull-out drawer, it is quite difficult to utilize this hidden space.
There are some different types of blind corner cabinet organizer solutions: curve blind corner cabinet shelves, cloud blind corner cabinet pull-out shelves, blind corner cabinet half moon Lazy Susans, and blind corner cabinet pull-outs.
Curve blind corner cabinet is attached to the cabinet doors. It gives complete access to your cabinet by delivering a huge curved shelf pulling out of the cabinet.
The cloud blind corner cabinet puts a modern spin on your shelf for a blind corner. The shape resembles a cloud completed with sleek curves and modern lines. Cloud pull-outs hang along a track to pull the content of the blind corner cabinet forward and out.
Half Moon Lazy Susans are another type of Lazy Susan cabinet pivoting 90 degrees. It enables you to put all stuff in your blind corner within reach. On the other hand, this cabinet also glides out of the cabinet, making all of the contents easily accessible.
Blind corner cabinet pull-outs could be a set of wire shelves or wood in a framework. It is activated when you open the door or pull a lever. Those pull-outs use a series of shelves pulling forward and out. The hidden shelves are pulled to open and making the content of the cabinet is accessible.
When it comes to what to store, this type of cabinet is perfect for daily used supplies, like sugars, tea/coffee sweetener, or spices. Its rotating design lets easy access eliminates the need to dig through the various containers and make a mess to find the needed item.
9. Hutch-style Cabinet
A hutch-style cabinet is a set of shelves or cabinetry placed on top of a lower unit. It is usually completed with drawers.
This cabinet is often interchangeable with credenza or china cabinet because all of them are meant to display something with glass front doors.
The difference between hutch cabinets and credenza is their appearance. Hutch cabinets are commonly a tall freestanding unit containing a display case and cabinets sitting on top of the set of drawers underneath. On the other hand, credenza is a long and short table with low cabinets. It usually features slender legs and comes with sliding doors to conceal the stuff inside it.
There are various designs of the hutch; however, for the upper corner kitchen cabinet, it is best to build a built-in hitch. It is because a built-in hutch can be additional storage as well as a nice visual display.
White cabinets are your best bet because they can match any style and color. A white hutch cabinet can be perfectly combined with dark countertops. You can also add a splash of color to this combination.
Hutch cabinet can be used to store your china collection. Your expensive dining sets can also be stored here. Just make sure that you organize every stuff here neatly because all of them are clearly visible.
10. Diagonal Corner Cabinet
Diagonal corner cabinets are commonly confused with angled corner cabinets.
A diagonal cabinet is a cabinet designed to fill a corner space and at the same time meant to provide a diagonal transition for the face of the cabinetry to run across the corner's right angle.
Angled corner cabinets, on the other hand, are the cabinets that create a 90 degrees angle with another row of the cabinet.
Commonly, wall diagonal corner cabinets are way bigger in dimensions than other wall cabinets because diagonal cabinets are designed in a trapezoidal dimension, unlike the other wall cabinets that are commonly in square shape.
A diagonal corner cabinet is utilized when the cabinets extend along with the corner of the room, and that's the common case in many kitchens. This cabinet delivers continuity of the cabinet units. It also adds visual appeal to the room.
A diagonal corner cabinet is basically used for smaller dishes. It is also perfect for storing your cookbooks. This cabinet can also hold a Lazy Susan, so it can help you use the storage space as much as possible.
You can make the diagonal cabinet like the other cabinet in your kitchen to make it blend seamlessly with the other and appear natural. You can construct the diagonal cabinet with the same materials, same styles, and same finishing techniques as the other cabinet units.
11. Corner Pantry Door
The kitchen pantry door can come in many different shapes and sizes. There are various practical and stylish designs to opt from, regardless of the size of your kitchen. Unlike the other ideas mentioned above, your corner space can be utilized as a door leading to a pantry.
This pantry can be a storage for your wine collection. It is perfect if you like your collection to be saved and closed safely instead of displayed in an open rack. The door is usually tall, and the height is commonly from floor to the same height as the cabinets around it.
One of the door styles that you can choose is the sleek style. This is a brilliant way to optimize your kitchen storage. This adorable larder features glass doors completed with sleek neutral-colored cabinets and wooden shelves.
Or, you can also choose the traditional pantry style. The white double doors that open to some pull-out drawers and open shelves on top of them. This type of pantry is more like a cupboard, but to store your precious collection that you prefer to hide.
12. Bookshelves in the Corner
This is another clever way to fill a corner space.
Instead of installing a cabinet, you can build a bookshelf here. The upper corner bookshelf is useful to store your cookbooks. Corner bookshelf comes in various shapes, sizes, and designs. It all depends on the look and style you prefer.
You can also use your corner bookshelf to display some of your display vases, accessories, and other aesthetic decorations.
If you want bigger bookshelves, you can build two corner bookcases and create a symmetrical design for both of them in angled design.
Since this is not a living room, you don't need to install bookshelves from floor to ceiling and use a ladder to access the top shelf. Instead, just install a not-so-tall bookshelf with the same height as the surround cabinets, so you can easily access the books displayed there.
13. Hinge Corner Cabinet
What are the benefits of using a double door/hinge corner cabinet instead of one door? For some, getting a hinge corner cabinet seems flimsy. It may bang into other cabinets and just don't feel right when you open the doors.
However, it all depends on the size of your kitchen. In smaller kitchens, this little extra space from the diagonal cabinet using double doors really makes a difference. If you have a more spacious kitchen, it is recommended to use a hinge corner cabinet, though. Double doors with standard shelves are indeed meant for upper cabinets and used for lighter items.
The size of the doors may vary between traditional raised panels or modern slab doors. The door size also depends on ergonomics and location.
Most of the upper doors are 24″ wide. It is not recommended to use a 45-degree corner cabinet door because it will be hard for you to open it. With a 24×24 L-shaped upper cabinet, you can get more storage that doesn't take up much overhead space.
14. Corner Display Rack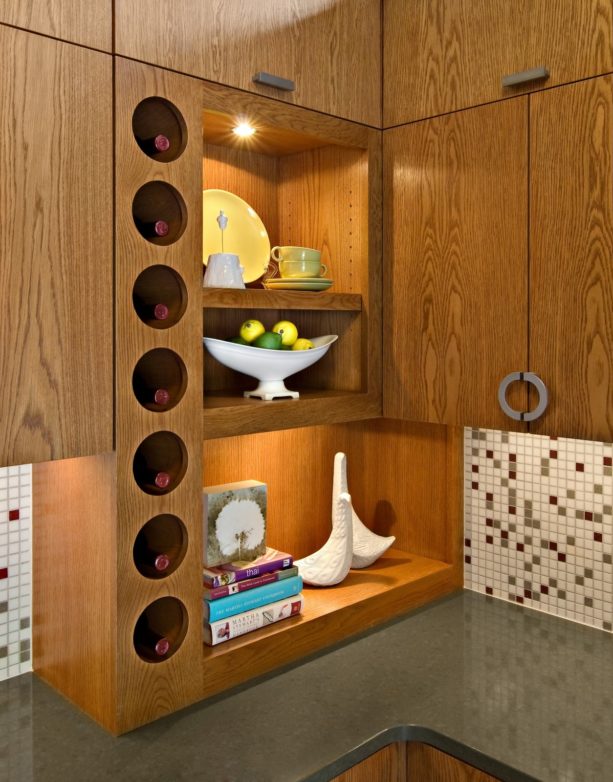 If you want to make your kitchen livelier or you simply have too many aesthetic decorations that would be a waste if you don't display them, then you might want to consider having a corner display rack to fill the corner space.
The corner display rack is never out of style. It can be much of a help if you have a small house and don't know where to store smaller decorative things.
The great thing is, corner display rack can be installed on your own, and you can design and decorate it based on your personal preference. There is no limit here. You can simply use your creativity in your next DIY project.
If you are into modern style, contemporary shelves come with wide-ranging styles. Modern shelves usually come in a unique design that can catch your attention right away.
If Boho chic is your vibe, you can select the various beautiful rustic shelves. If you prefer industrial or urban style, you can choose a square freestanding shelf or Zig-Zag shelf. If you want to display your small plant collections, you can use a stackable wire frame shelf.
The shelves can be freestanding or floating on the wall. For heavier items, it is recommended to use a freestanding one. On the other hand, for smaller stuff, you can go for the floating shelf.
Closing
So, what would you do with your corner space? No matter what type and design you choose for your upper corner space in the kitchen, make sure you go with these things first:
Make a plan. Separate your kitchen cabinet into categories, like a junk drawer, drawers for smaller stuff, cabinets for heavier items, pantry, and countertops. Reorganize your cabinet content one at a time.
Get rid of unused items. Throw away excess unused items like mismatched storage containers, broken glasses and plates, and such. Keep only the essentials and things you like.
Categorize your items. Store your items into smaller groups, like everyday items, special occasion dishes, or baking items.
Use cabinet and vertical space. Store special occasion dishes or items that you don't regularly use in the upper cabinets. Prepare a step stool handy to reach the items on higher shelves.
Use kitchen organization containers. Drawer organization can be useful to declutter your items. You can use it to keep forks, knives, or spoons.
Good luck with your cabinet project!