Generally, you can combine your black roof with almost any color as a neutral color.
However, if you want to create a stylish look, some best complementary colors will look best when paired with a black roof.
We can't deny that black roofs are elegant. Black roofs can give your house a traditional British look that most people like.
The thing is, not all houses go well with black roofing. If you want to incorporate a black roof in your house, make sure you can coordinate the color with the black roofing material.
Actually, there are many pretty ways to make a black roof go well with your house. These are the most popular black's pairing colors you can choose:
White: White siding or wall with a black roof is a classic combination. It is the most common pairing with black. White delivers a clean look that looks perfect with Victorian, Tudor, and European-inspired looks. You can add your black and white color scheme with accent colors, like green, red, or blue, to the front door if you want something bold.
Brick: Black roofs and brick exterior (any shade of brick) work together perfectly. You can combine rusty red brick with black roofs for a traditional look as a classic pairing. Pair your black roofs with gray bricks for a more modern and monochromatic look.
Beige: If you think black and white is way too familiar, you can use this alternative. The beige and black combo is making its way to the top. This color scheme delivers a less striking contrast that looks nice in a modern appearance. Some people even consider this a versatile look, especially in luxurious homes.
Gray: For your information, most black roofs are actually not really black. They look dark gray. This means that if you combine black roofs with gray siding, you will get an elegant monochromatic look. Better yet, a gray house that is paired with a black roof tends to have a cool-hued appearance. If you have a traditional ranch or Cape Cod house, gray should be on top of your exterior color list.
Blue: In a general paint setting, black is not warm, not cold hue. However, since black roofs usually appear gray, they tend to side on the cooler side. This is the reason why many designers pair black roos with cool undertones paint, like gray, blue, or even green. Blue house with black roofs is the real All-American house. They're retro, individualistic, and beautiful at the same time.
Apart from the colors mentioned above, some other colors and shades can be combined with black roofs. Do they look lovely? Let's take a look at these pictures below to find out:
1. Beach Style House with a Black Gambrel Roof with an Off-white Siding Color
This lovely beach-style house features a black gambrel roof that looks super nice in a large building.
The black roof adds an elegant look to this house, making it look extra. It seems that the designer wanted to play on the safe side. Thus, he combined the black roofs with basic white roof trim and an off-white siding.
Black and white will never fail to give you a classic look. This is the right color scheme you should go for if you want something simple and minimalist.
Black and white create a drastic contrast between dark and light tones.
White color can brighten up the exterior, while black will tone it down. On the other hand, black roofs can make a large building look smaller, but the white exterior wall counters it.
If you want to add an accent color, you can paint your front door along with the window trim in one solid bold color. However, in this exterior, the homeowners prefer to keep everything lowkey.
2. Black Metal Roof with Soft Green Siding Color Scheme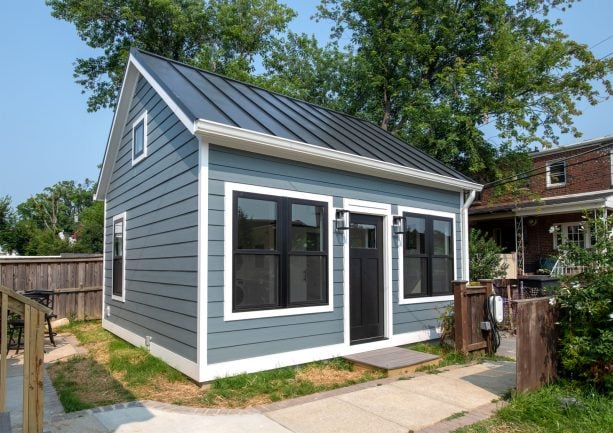 If you want a unique color scheme, you can pair your black metal roofs with soft green siding.
This tiny house features a classic concrete fiberboard and clapboard that was painted in mint green. It turns out that black and soft green do complement each other. Soft green has a warm undertone, making the black look bolder.
The designer didn't want to create a harsh and abrupt transition between black and soft green in this house exterior. That is why he used white trim around the house to tone down the mystery of black and enhance the softness of mint green.
Overall, the appearance of this tiny house is soft, warm, and inviting, despite the mysterious and confidential character of black.
3. A Black and White Color Scheme is Applied to the Roof and the Siding of the House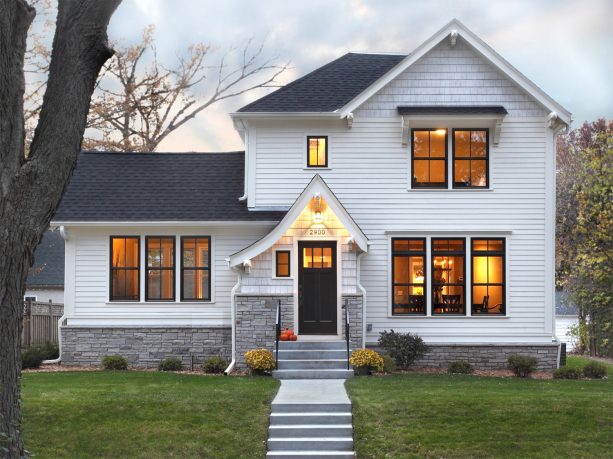 This is another classic color scheme of black and white. However, instead of off-white like the previous picture, this traditional house features a bright, polished, and crisp white color. Thus, the contrast is more drastic and bold.
Drastic contrast is perfect if you want to achieve a traditional look.
If you are wondering, the siding here is Hardie and cedar shakes, even though it looks a lot like vinyl siding. It was finished in Benjamin Moore – Dove White.
The single elegant front door is made of fir with a dark walnut stain to match the GAF Timberline roofs in black charcoal color.
The designer didn't incorporate a bold color to create an accent to this black and white color scheme. Instead, he added a low stone wall. It is because bold accent color will pull off a modern or contemporary look.
On the other hand, the stone is a timeless element, perfect for adding in a traditional color scheme to add more texture and character.
4. Charcoal Black Roof Paired with Classic Brick Color Scheme
This house also features a stone wall as an accent to be paired with black roofs. This Georgia granite stone makes the house look elegant in a traditional style.
However, for the main exterior color, the designer used traditional bricks. Bricks and black roofs can also bring out a traditional look.
So, if you think the black and white color scheme is way too common, as an alternative, you can use this combination instead.
To enhance the traditional style, make sure you choose the bricks in a classic reddish-brown color.
According to the designer, the brick was original to the house, vintage, from the 1930s. However, it looks a lot like the Hudson Valley brick.
The black shingle roofs are in charcoal color. White is also incorporated in this exterior, even though it's just a bit.
The white gabled roof creates a pretty contrast to the black roofs but accentuates the classic brick perfectly.
5. Farmhouse Exterior with Black Asphalt Shingles Roof and Country Lane Red Siding
This farmhouse looks classy and elegant due to the designer's right color scheme carefully picked.
The black roofs are asphalt shingles known as IKO Cambridge AR Shingles in Dual Black color. The exterior color is James Hardie – Countrylane Red.
The red is not as bold and fierce as crimson red. However, it is still able to warm the house and make it look bold.
It turns out the black roofs and the red brick combination brings out the main character of each other.
In home designs, black means sophistication and elegance. It is usually associated with power, authority, and strength. On the other hand, red means passion and life, which is often associated with joy, aggression, and attention-getting.
When black and red are combined, the house's exterior will look elegant in a loud way, sophistication that demands attention.
It is indeed not a popular color scheme, but you can try that if you want something timeless, that shows a passionate and powerful life.
6. Black Hip Roof and Gray Brick Exterior Color Scheme for a Timeless Look
You can combine your black roofs with gray brick for a timeless look that is still on a traditional design.
This black hip roof accentuates this large three-story building perfectly well.
To highlight the classic look of an old building, the designer decided to use the brick exterior wall in gray color.
Instead of classic reddish-brown brick, this brick color is considered more modern. However, gray is still a neutral color, a color that won't attract much attention.
Combining black roofs and a gray exterior like this will deliver a retro color scheme, something that you should copy if you want to create a classic look but don't want to go with something that is way too common, like a black and white color scheme.
The designer also painted the trim in crisp white color. So, basically, this exterior features three neutral colors, which make it look natural and elegant in its own way.
7. Soft Yellow Wall House Exterior Combined with a Black Shingle Roof
Who said that black and yellow don't go well?
After all, black is a neutral color. It can be a perfect background or an accent color that can be paired with any color and shade.
The designer painted the exterior in a soft yellow color in this small house.
If you want to combine your black roofs with a yellow color, make sure you choose a butter-yellow shade. When combined with a soft shade of bold color, Black will make the entire house look warm and whimsical.
Even though it is a muted yellow, yellow is still a statement color that can make your house different from the other ones in the neighborhood. It makes your house pop and stands out.
Maybe that's why the homeowners planted many greeneries, shrubs, and small trees in the front yard. Greeneries like that will make the yellow color look more natural and not too bold.
This black shingle roof balances the yellow exterior. It adds a mysterious look to the warm and cheerful yellow of the exterior.
8. Black Flat Roof with Natural Wood Color Wall in a Modern House
We have seen many traditional houses with black roofs and neutral color schemes.
What about a modern house with a black roof?
In this mid-sized minimalist house, you see the loveliest modern house with a flat black roof and natural wood wall. The exterior walls are made of vertical and diagonal thin slabs of wood.
It turns out that when black roofs, especially in a flat design, are paired with a polished slab of woods, they will deliver an ultra-modern and sleek look.
Basically, wood is a timeless element. It can be incorporated in both traditional and modern design, based on the style and finish of the wood.
If you want to combine your black roofs with wood elements to create a modern or contemporary look, make sure you choose the light tone wood and leave it unpainted or unstained. Just layer it with a transparent coat to highlight its natural tone.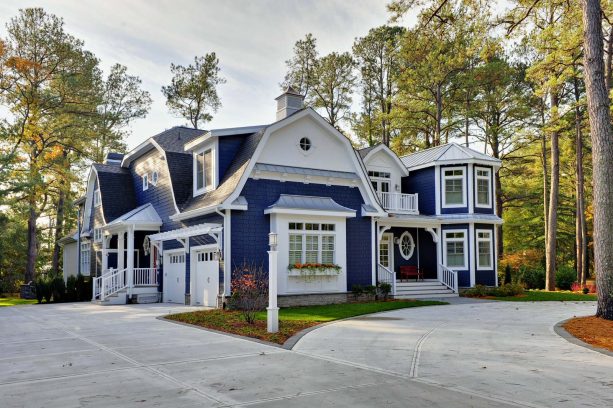 Combining black roofs with navy blue is a perfect way to create a coastal or beach-style look.
Yes, both are dark colors. That is why, if you want to incorporate them in your color scheme for a beach-style look, don't forget to use a white accent generously. In this house, the white color is used for the trim, the doors, and the windows.
The roof here is TAMKO 50yr.Arch Shingle in Rustic Black color. The siding is painted in Sherwin Williams – Naval SW6244.
Due to the white trim, the navy siding doesn't look too dark. When combined with white color, the blue in navy will be revealed. That is why the navy color doesn't look too similar to the black roofs, despite the fact that they're both dark colors.
A combination of blue and white is indeed a perfect option for a beach style.
Actually, black is not a color you would associate with beaches or oceans. Yet, it is an excellent choice if you want to absorb the heat during the day. Thus, black roofs here are more functional than decorative.
10. True Blue Siding and Black Shed Roof Color Scheme
Different from the previous picture, the black roof is paired with an authentic blue exterior.
Basically, judging from the design, this building is a Victorian house. However, Victorian houses are usually painted in white shades to enhance their elegance.
This house, on the other hand, is painted in true blue. It is obvious that the homeowners wanted to create something unique, an attention-grabbing element, for their house.
This house features vinyl and clapboard siding painted in true blue and a black shed shingle roof.
Combining true blue and black may not be a popular option. It is because blue is a bold color. It is the color you choose if you want to make a statement.
When combined with a black roof, the intensity of blue will be highlighted because black serves as a background color that will intensify any bold color paired with it.
So, this color scheme is perfect for you if you want something unique yet bold, something that makes your house stand out against the other houses in the neighborhood.
11. Dark Gray Exterior and Black Roof Color Scheme in a Tudor Home
This house is quite the opposite of the previous picture.
The color scheme on this exterior is ideal for you who don't want to attract attention. The black roof is combined with a dark gray exterior in this Tudor home.
For some, this color scheme may be too dark and dull. Not everyone loves dark colors. On the other hand, if you're an introvert who doesn't want any spotlight, this color scheme is perfect for your personality.
Plus, a black roof and dark gray exterior will never fail to give you a minimalist yet stylish look, an ideal color combo for a timeless design.
In order to create a strong focal point that is not too bold yet still contrast the surrounding, you can paint your front door in a crisp white color like this.
12. Orange Stucco Exterior and Black Roof Color Scheme to Create a Mediterranean Style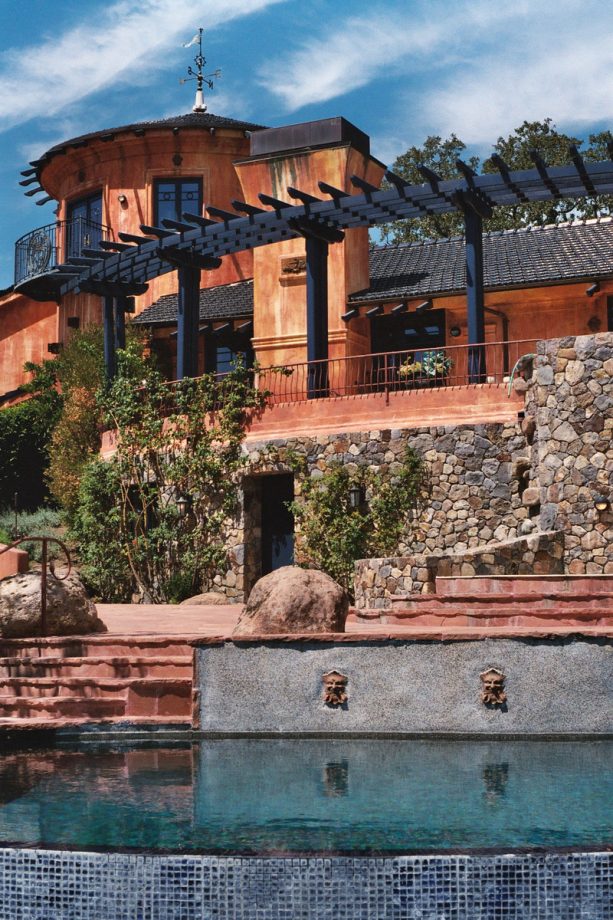 This is another bold color that is combined with a black roof.
Rusty orange looks gorgeous when paired with black roofs. It is because the black roof in this Mediterranean style brings out the rusty hue in this orange. The result is a warm house with a fresh look.
We can see that black is not only used for the roof only, but also in many parts of the house.
There is no accent color to bridge these two colors. Instead, there is a stone wall to accentuate them both. Plus, the stone will also enhance the Mediterranean style of this house.
If you want to combine your black roof with orange color, make sure the orange is not too bright and bold. Instead, choose a rusty orange with a streak of white. When it is intensified by the black roof, the color will create an elegant look instead of being too flashy.
13. Contemporary House with Brown Wall and a Black Roof
Brown, like gray, is a neutral color that will pull off a modern look when paired with a black roof.
In this contemporary house, the exterior features wood siding that seems to be polished and stained to enhance its natural brown color.
The brown exterior is illuminated by an LED downlight recessed in the ceiling in the evening. The warm glow of the lights softens the natural brown color of the wood siding. When the brown is softened, the black roof is enhanced.
So you can see here that the black roof gets darker during the night, delivering a mystique power, and the exterior gets warmer, offering an inviting and cozy ambiance.
There is no bold accent color, typical for a modern design. Instead, the designer used the stone wall to accentuate the brown exterior and black roof. This is the most common way to add texture and character in a neutral color scheme.
14. Black Timberline Roof with Beige Trim Color in a Traditional House Exterior
Even though the exterior of this house in this picture looks gray, it is actually painted in soft brown color.
If you are wondering, the siding is James Hardie Timber Bark with Navajo Beige trim. Timber bark stands in the middle ground between light and dark brown.
If you want to add depth to your exterior without darkness, this color is just for you. The designer painted the trim in to brighten the entire look.
However, the Timberline shingles roof is in black color. Paired with Timber Bark, the black roof will give a classic look.
Black, like a shade that is neither warm nor cool, can actually be paired with any hue to achieve a certain look. In this traditional house, black is paired with a cool shade with beige trim to deliver a simple appearance.
This is the right color scheme for you if you don't want to deal with bold and bright hues, but at the same time, want to give a bright look to your house.
The gray-brown siding will light up your exterior without making it too intense.
Closing
We all agree that black roofs can deliver a formal and upscale look to any home. However, they do have a big drawback.
Black roofs tend to bleach and face over time due to the sun's lightening effects on materials. Whether they're made of asphalt or black shingles, black roofs will get lighter after some time. It's a thing that you should count on happening.
Though black roofs usually show signs of fading, virtually all types of the black roof will get lighter to some extent or another.
However, black roofs are also functional. Light roofs are known able to reflect light and keep the rooms inside cool. Black roofs, on the other hand, can absorb and retain heat. Thus, they work incredibly well in colder climates to keep the house warm.
This way, if you live in a colder area, you can reduce heating costs.