For a front door, coral is considered a bold and vibrant color. It can stimulate and soothe at the same time.
Many of us still have no clue what color is real coral is. It is because coral combines various quantities of red, pink, and orange.
The shade of coral may vary, from fiery coral red to breezy coral pink. The great thing is, you can choose the shade that fits you best for your front door.
Coral is a strong color, and it is usually associated with travel and exploration. This can be your best option for your front door if you are a traveler or into traveling much.
To top it off, coral is also considered a lucky color for many centuries, promoting longevity and prosperity.
Basically, coral is a safe color choice if you want something vibrant on your exterior but are not ready to go entirely bold.
Coral offers a relaxing mood. It is more sophisticated than orange, less aggressive than red, and less feminine than pink.
Coral can balance many warm hues of the color spectrum. Coral was often seen as more orange and red than pink in the old color books. Yet, contemporary coral is brighter and softer, sitting between pink and orange.
Coral has various color families. It can be red coral, pink coral, or orange color. All of them are basically coral.
Keep in mind that coral's color diversity is ever-changing and fluid. That is why it has become a color that is especially difficult to define.
So, in the pictures below, you'll find several types of coral front doors, and the shade may vary from one another.
1. Benjamin Moore- Tomato Tango Coral Front Door with Window and Sidelights Combined with Off-white Walls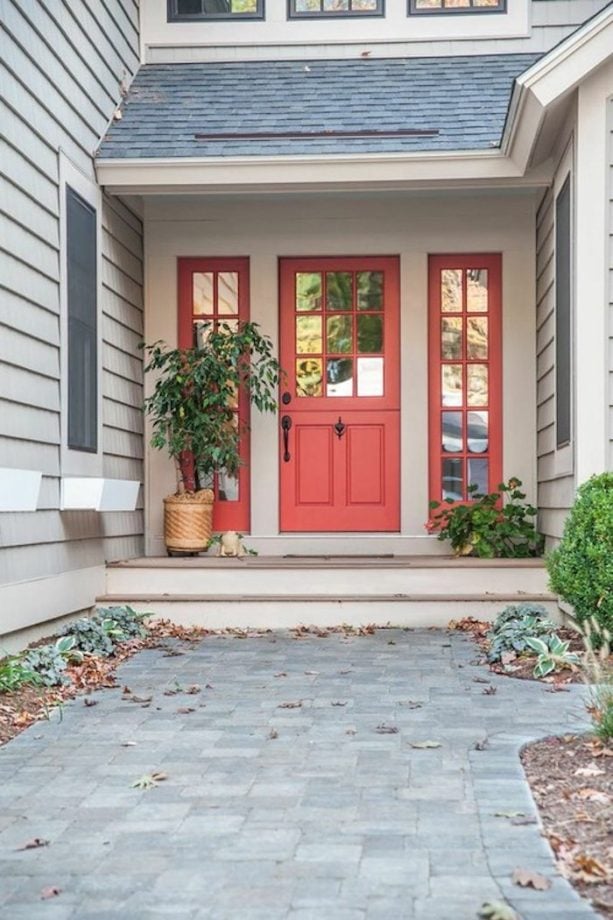 Thanks to the glass panels, this front door looks glossy, polished, and sophisticated. The glass panels act as a mirror, reflecting the view around the house and the natural light.
This glass panel door is also completed with a raised panel door painted in Benjamin Moore – Tomato Tango CSP 1145 to achieve this perfect coral color.
The sidelights are also painted in a similar coral paint, creating a uniformed look for this entrance.
The designer combined this door window and the sidelights with off-white walls to make the color pop.
The off-white walls, along with the very light gray siding, serve as a neutral color that can be a perfect background for this warm-colored front door.
Basically, the entire look of this entrance delivers a lovely beach style. The combination of off-white and light gray siding is perfect for a coastal look, yet the coral front door adds a pop of contemporary style to it.
2. Creating a Whimsical Look Using a Pink Coral Front Door Paired with Blue-Gray Cedar Shakes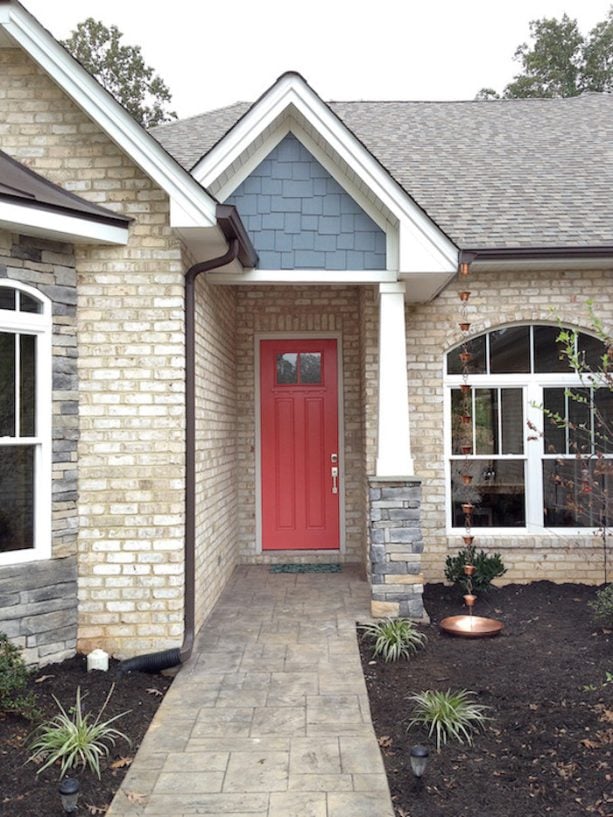 This pink coral front door delivers a whimsical look to this traditional entry.
The brick walls in a beige color are actually a classic look. Yet, similar to the previous picture, the homeowners intended to add something unique and whimsical. Hence, the pink coral front door.
Not only that, but the homeowners also paired the coral door with blue-gray cedar shakes. According to the homeowners, they went a bit crazy with color. However, it turns out that the result is incredible.
Pink coral may not complement blue-gray color like this. In fact, they will create a color block if they are juxtaposed. That is why the homeowners didn't use them side by side.
Yet, from this angle, we can clearly see how the pink coral door adds more character to the blue-gray shakes.
3. Orange Coral Front Door Painted in Sherwin Williams – Gladiola Surrounded by Yellow Walls
Actually, the coral color in this front door is a result of a custom-mixed paint. The designer custom-mixed the color on-site. However, according to him, this custom color looks very similar to Sherwin Williams – Gladiola.
This orange-coral door looks lovely when combined with yellow walls. If you are wondering, the walls here are Venetian plaster walls with a hand-cut stencil.
The trim is painted in crisp white to soften the bright yellow and coral color.
Apart from the trim, we can see how yellow complements orange coral perfectly. Yellow walls will bring out the orange touch in the coral color. Both complement each other to create a warm and cozy interior.
4. Transitional Exterior with a Set of the Double Coral Front Door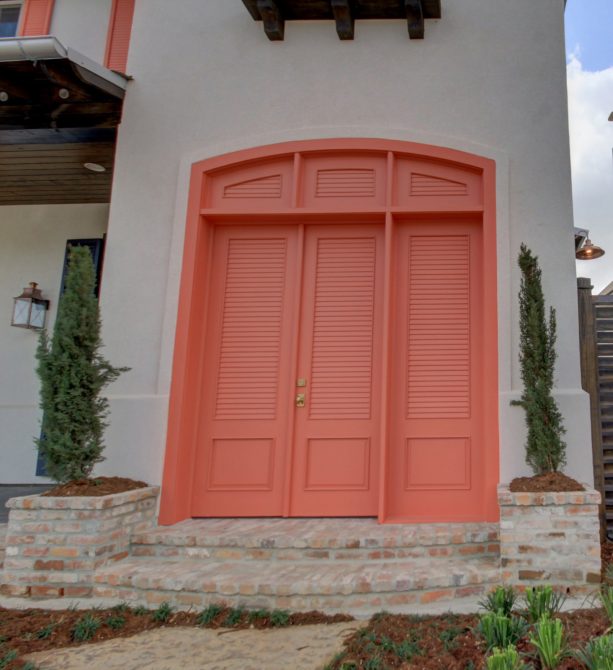 In this exterior, it is obvious that the most striking part of this entrance is the front door.
It is a double door completed with a sidelight and a transom. However, the sidelight is not really a window sidelight. It is more like a door panel, but it can't be operated. It seems that the third panel is only used to create a balanced look, which is more decorative than functional.
Apart from the superb design, the set of this double front door is painted in coral entirely. The sidelight, the transom, and every panel in this door are painted in this traditional coral color.
In order to enhance the traditional design, this set of the front door is paired with neutral white walls around and the brick front steps. The bright coral door adds a contemporary touch.
Combining traditional and contemporary elements like this will perfectly create a transitional look.
5. Craftsman Exterior with Coral Front Door and Yellow Wood Siding
This front door is painted in a more contemporary coral color, brighter and more intense than the traditional coral.
This is a red coral. It delivers a more assertive and bolder look too. The designer combined it with soft yellow wood siding. The result is this exterior looks fun and bright.
The soft yellow siding serves as a backdrop, while the red coral is an accent color that is meant to be a focal point in the entrance.
Basically, yellow and red coral are both intense and bright colors. That is why, if you want to use this color combination, make sure one of them is in a soft shade, so there won't be too many bright colors in one place.
Plus, when combining two intense colors, it is important to incorporate white as a neutral color to balance them. On this exterior, the white trim perfectly accentuates the soft yellow siding and the red coral front door.
6. Beach Style Hall with Coral Front Door to Create a Colorful Look
According to the designer, this is an ocean-front house. That is why she used a beach style for the interior.
Her aim is to create a bold, colorful, and eclectic interior that gives a fresh and sophisticated look. That is why coral and blue were selected as a color scheme. To avoid being too overwhelming, the designer uses coral and blue wisely.
The front door, for instance, is fully painted in coral. It is surrounded by crisp white walls and sidelight.
In the living room, the artwork includes a coral color that looks similar to the velvet armchair. The blue color is added to the throw pillow to create a rich look.
When combined with a blue and white color palette, Coral will never fail to give you a fun beach-style look.
If you are curious, the front door is painted in a custom color.
The designer stated that she sorted out the archives of old paint colors from Pittsburgh Paints and found a color called Lobster Tail. Inspired by that paint color, she custom mixed the paints to achieve this color.
7. Coral Front Door with Blue Siding
Pink coral is basically not the first shade you would want to combine with blue shades.
In this exterior, we can see two blue shades, the bold and the soft shades. The bold blue is used for the siding, while the soft blue is used as an accent color. Both of them are bridged by white trim.
The designer didn't stop there. She incorporated a pink coral front door to create a lovely contrast. Pink coral has a much red accent, making it look fiercer and bolder.
On the other hand, blue is also a strong color. As one of the primary colors, true blue like this will never fail to give you a statement look.
To avoid being too bright, white and soft blue shades are added. All in all, the entire exterior of this house delivers an excellent craftsman design with an eclectic look. What a perfect combination.
8. Mid-century Entry with Coral Front Door and Dark Gray Walls
For the safest option of a color combination, you can pair any shade of coral with dark color.
The orange coral is perfectly paired with dark gray walls in this mid-century entrance. The dark gray walls make the front door look pop.
The designer picked a front door with narrow glass panels to highlight the modern design. Moreover, the door is also accentuated with huge clear glass windows on both sides and the curved transom above.
As a timeless element, Glass will never fail to give you a modern design. And in a modern design, minimalistic and simplicity are the key. That is why you wouldn't want to incorporate more than one bold color in a modern design.
This orange-coral front door is enough to make a statement. It should be paired with a polished neutral color to deliver a minimalist style.
9. Elegant Entrance with a Sherwin Williams – Dishy Coral Front Door Framed with White Trim
This elegant entrance offers a warm and inviting look.
The coral front door is framed with white trim and surrounded by light gray siding. This single and glass panel door is painted in Sherwin Williams – Dishy Coral.
Coral is never a soft color. Even if it is a pink coral, that is still a pop shade that will brighten and create a fun look in a room. However, the coral front door looks soft and warm in this traditional entrance.
Don't forget to install a wall sconce around the front door if you want to create this look. The soft yellow glow from the sconce will tone down the boldness of coral and enhance the softness of the pale shade around.
A soft and warm appearance offers an elegant look that can fit any architectural style. After all, less is more.
10. Red Coral Front Door Paired with the Light Gray and White Color Scheme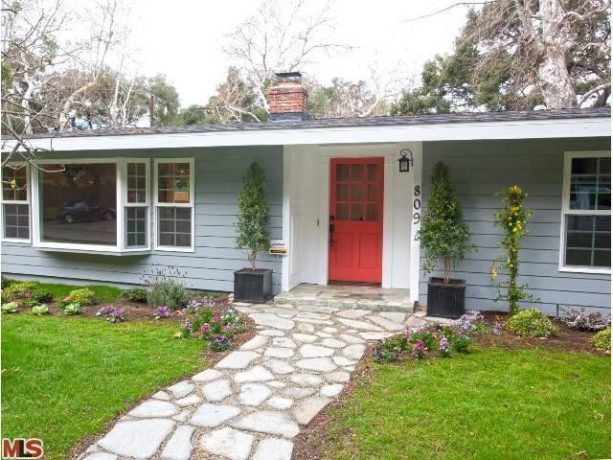 The red coral front door gives a bright, fun, and fierce look to this exterior.
This is the kind of color you should paint your front door if you want to create a unique look that draws attention and is different from your surrounding neighbors.
However, not everyone loves such boldness. If you want to make a statement but are not ready to entirely go with such assertive color, you can tone it down with white walls or frame around the red coral front door.
The designer also painted the siding in light gray color. The light gray and white color scheme is a perfect choice if you want to create a traditional look.
If you're going to go further, you can always paint your front door in a warm and fresh color like this red coral.
11. Bright Coral Single Front Door with Glass Panel
Sometimes, a seamless look is just not enough. You want something striking and piercing. If that's the case, you can combine your stucco white walls with fresh orange coral.
The orange coral front door managed to brighten up the entire exterior. Moreover, the front door also tells people how fun and to open you are as a person.
Since this is a modern exterior, bright color as an accent to the white walls is also not enough. You need a timeless element that can highlight modernity.
In this entrance, you see that the front door is a glass panel door. Clear glass can make your entryway look polished and sleek, especially when combined with fresh and bright shade.
12. Coral Front Door and Black and White Color Scheme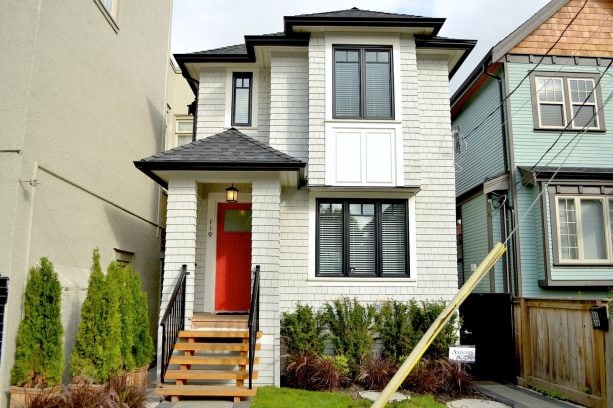 For an elegant look, you can also combine your bright coral front door with the black and white color scheme.
Black and white is a classic color combination, two colors that balance each other, representing yin and yang.
Yet, black and white are most of the time considered a union instead of two separated colors. That is why we always combine black and white with other colors, exceptionally bright colors, to make a colorful look.
This entrance is no different. The designer painted the siding with off-white color, while the trim and the banister are painted in black.
For a traditional look, you can stop there. However, for a contemporary exterior, you need to find one bright color as an accent. And since this is a contemporary entrance, the designer painted the front door in a red coral shade.
The wood floor and the stairs in front of the door also add warmth to this fresh front door. This is an ideal inspiration for a small contemporary house.
13. Eclectic Entrance with Coral Front Door and Blue-Yellow Color Scheme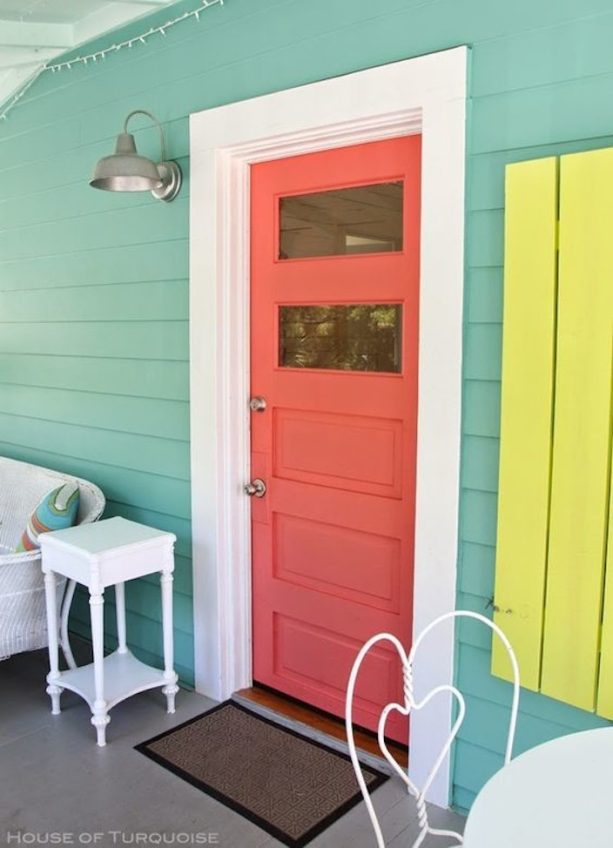 The first word that may pop into your mind after looking at this exterior is fun.
This bright and whimsical exterior features three bright colors that make the front door look super fresh and friendly.
For some, using more than two bold colors in one place may be overwhelming. Yet, the designer proves that it can be fun too!
Teal siding and bright yellow accents complement each other because teal has a touch of green color in it, and green is a perfect complementary color for yellow. Thus, those two colors do complete each other.
But, what about the coral front door?
Coral pink like this will look extra pretty when combined with teal or turquoise. It turns out that green doesn't only complement yellow but also red.
The green in teal and the red in pink coral will be enhanced when these two colors are juxtaposed.
Basically, this color palette is something you should go for if you want to create an eclectic style.
14. How to Pair Your Coral Front Door
From the pictures above, we can see that typical coral shades usually contain more orange than pink. However, there is also coral pink color, which contains more pink or yellow.
Deeper coral shades are in line with traditional coral containing red and a bit of purple.
Adding the amount of red in a coral color will make your front door look more assertive and stronger. On the contrary, increasing the level of yellow or pink delivers a softer and peachier effect.
In a home design, coral can offer a cozy and warm atmosphere. It looks incredibly chic when you pair the coral front door with charcoal gray, crisp white, or warm wood walls.
Basically, the shade of coral you choose for your front door influences its complementary color partner.
Coral pink or deeper coral red will look beautiful with turquoise, teal blue, or teal green, because red is complemented by green. On the other hand, orange coral will look perfect when combined with vivid and pure blues, like aqua blue, sky blue, or Tiffany blue.
In conclusion, coral is a versatile color. It is a warm color.
If you want to create a contrast, you can pair your coral front door with a cooler hue.
Pairing coral with dark blue will make a lovely chic pairing that balances the feminine and masculine look.
To create an elegant color combination, you can pair your coral front door with gray, black, or white.
For a nautical beach-style look, just combine your coral front door with a white and blue scheme.
Combining coral with other warm colors, like orange, brown, or red, will give a cozy and autumnal mood.
So, what shade of coral that you think will fit your exterior best?
Which color complementary can accentuate your coral front door?
Do you think it will be better if you contrast or complement your front door?
Share your thoughts below in the comments.