A wood garage door can come in many panel styles.
These wood garage doors can match any architectural design, from traditional to modern, despite the pane styles. Plus, wood garage door panels can also add timeless elegance and bold curb appeal to your home.
There are many designs and styles you can choose from, from the traditional carriage door style to the sleek flush panel.
As a homeowner, you can easily find the right door complement and accentuate your home exterior.
Here are some wood garage door styles to consider:
Solid panel: This is considered an economical choice. A solid panel door consists of only flat panels with no additional details.
Raised panel: This type of door is more expensive than solid panel doors. However, it gives more visual interest. Raised panel doors have shapes carved into the wood. Thus, it can deliver more characters to your curb.
Recessed panel: This is quite the opposite of the raised panel. However, recessed panel wood garage doors can also add more characters and depth to your home exterior.
Carriage style: If you want a timeless and attractive option, you can go for this door. It is not commonly found in urban areas, though. That is why it is perfect for a rustic or mountain-style look. Carriage doors don't open outwards. Instead, they open upwards, which saves more space. Plus, this one is also extremely durable.
Wood with glass panels windows: It is always an excellent idea to add windows to your garage door. There are many wood garage doors with glass panels, clear or frosted, that will let natural light penetrate the garage. Even though this type of window is quite expensive, it is really worth the cost.
If you want to take a look at the pictures with the aforementioned panel styles, here are 13 terrific wood garage door panel images that may inspire you:
1. White Painted Wood Garage Door with Glass Panels
This wood garage door is painted bright white. It makes the entire exterior has a clean and polished appearance.
This door is actually Amarr Garage Doors from Classica Collection. It has six wood recessed panels in the middle of the board, which delivers an excellent arts and crafts style.
There are glass panels at the top of the recessed wood panels.
The eight identical square-shaped glass panels are useful to allow the natural light to come into the garage. This way, every morning, this garage can be flooded with light.
The glass used here is clear glass, which also enables the homeowner to look outside from the inside.
A combination of bright white paint color and clear glass panels like this would always give you a simple and stylish design. Both elements also enhance the brightness in the area. This way, you don't have to use an extremely bright light outside.
2. Mahogany Wood Garage Door Panels with Metal Trim
This adorable garage door is made of solid Sapele mahogany with horizontal panels.
If you are wondering, this door is not stained. Instead, it was finished with a clear polyurethane-based sealer from Sikkens.
There are no additional ornaments or hardware added to this two-car garage door. Thus, it delivers a clear and sleek design, perfect for you who always like a modern look.
The designer also paired the wood garage doors with metal trim to enhance the modern appearance. The T-shaped metal trim perfectly frames both doors, creating a timeless look.
Using two contrasting elements with a different finish like this will never fail to draw attention.
3. Double Z Brace Wood Panels Clopay Garage Door
If you want something more traditional, you can opt for this carriage-style garage door.
As a carriage barn door, these ones are also made of wood with double Z brace wood panels, which are the common design for a carriage door. You can easily find similar doors at Clopay.
The doors feature a slightly arched top that is meant to soften the solid wood and the stone walls around.
They are also equipped with black hardware that creates a subtle contrast against the solid wood.
Instead of glass panels, the top of these doors is designed with an arched wood panel. Even though these doors may not let your garage be flooded with natural light, they provide excellent insulation, perfect during the winter days.
4. Dark Mahogany Plank Garage Door with Long Panel Frosted Glass
For an elegant option, you can choose this wood plank garage door.
This one is made of mahogany and stained in dark color. The natural tone of mahogany is basically red. Yet, you can stain it like this if you want to enhance the modern and elegant look to your curb.
This garage door has a stack of thin horizontal slabs paired with long panel frosted glass.
The frosted glass is useful to provide insulation. It can also be a good window for the garage.
Frosted glass is a recommended option if you want to let the natural light come into the room yet still maintain privacy. With frosted glass, you don't have to worry about unwanted attention from the people outside.
Unlike the other glass panel doors, the panels in this door are installed on the side, stacked vertically, instead of at the top of the door. This way, you can peep outside right from your garage easily.
5. Cedar Wood Garage Door Panels with Vertical Cladding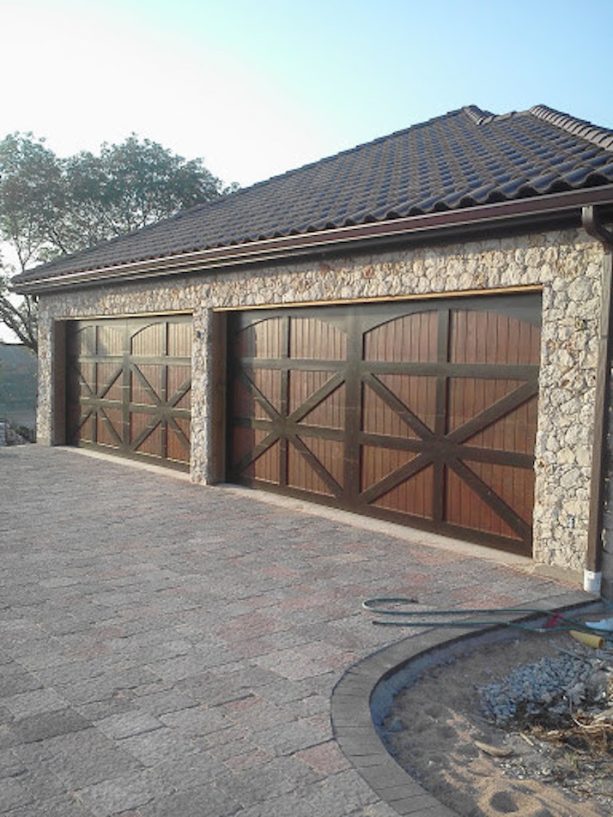 This is another carriage-style garage door.
There are four panels of doors that can accommodate four cars.
They are made of cedar wood, completed with vertical cladding, finished with dark stained, and accented by cross-buck overlays and arches. The cross-buck overlays are finished in a darker color than the vertical cladding.
Both create a perfect combination of the medium and dark tones of wood.
Actually, these are custom doors there were built and installed for the homeowners by Cedar Park Overhead Doors. Custom doors like this are always better than pre-made doors because they can easily fit your exterior design.
As you can see here, the house's exterior is rustic. The rustic style is highlighted by the stone walls around the garage doors. And the dark-stained cedar garage door enhances the rustic style.
6. Polished Vertical Panel Wood Garage Door for a Rustic Look
If you want to attain a sleek and stylish look, it is recommended to have a polished wood garage door like this. It seems that these two double doors are made of cedar, but finished in a natural stain that enhances the natural tone of the wood.
The polished look delivers a clean and sleek vibe, even though this garage has a rustic style, which usually features a weathered and worn-out look. Polished vertical panel wood garage door for a rustic look.
These doors are completed with perfect details that highlight their elegance. The black hardware and ornamented door pull accentuate the vertical panels beautifully.
With this door, you can have a rustic style garage but with a touch of a contemporary look, thanks to its sleek vertical wood panels.
7. Arched Mountain Style Wood Panel Garage Doors with Black Hardware
This double garage door also features a classic arched style at the top. The subtle arch is accentuated by the ornament details on the wall.
The combination of ornaments and arched designs can give you a lovely rustic, traditional, or Mediterranean look. It means that this design can fit those three designs perfectly.
Basically, this is an ordinary wood panel garage door made of solid wood with vertical planks.
Yet, it is paired with black hardware. The hinges, the round pulls, and the dots at the top and bottom of the door accentuate this simple door.
It may be a bit daunting to pair dark tone wood with black hardware. But it turns out that the result is simply fantastic.
8. Wood Recessed Panel Two-car Garage Door
For a mountain style with a touch of an Asian look, you can opt for these doors.
They feature wood recessed panels, which are two long vertical panels in each slab of the door. Each door slab is also completed with glass panels at the top.
The glass panels serve as windows for this garage. Moreover, they are made of clear glass. Thus, it can be a great choice if you want to fill your garage with natural light.
The pattern of the glass panels will remind you of the pattern in the Japanese screen door. This adds an Asian touch to the entire garage.
9. Combination of Wood and Clear Glass Panels in an Eclectic Garage Door
This door is basically custom-made. The designer managed to combine glass and wood together, creating a whimsical, eclectic look.
The doors were designed, crafted, and installed by Dynamic Garage Door in Los Angeles. Its eclectic design features the warmth of the wood's natural grain. There are clear glass panels to let a lot of natural light reach inside the garage.
According to the designer, this garage is mainly used as a playroom for the homeowner's children.
That is why it is important for the owner to have sufficient glass windows on the garage door, so that the natural light can support the children playing inside.
If you are wondering, the glass panes here are tempered to give added strength and precautionary measures.
The garage door's bottom side is made of solid wood with raised panels. It is useful to create a safety barrier through the door's lower portion.
Plus, the raised panels add a lovely architectural design that you usually see in Spanish Colonial Architectures.
Yet, that doesn't mean that this door is only perfect for a Spanish or Mediterranean style.
This eclectic style is a beautiful fit for any type of home style. For example, this garage door can be used easily on rustic, craftsman, modern, traditional, and contemporary homes.
10. Dark Painted X-braced Wood Panels Garage Door
If you want to paint your wood panels garage door, it is recommended to paint it in dark color.
Dark colors, especially black, are the safest option that can be paired with any home style and other colors. Plus, wood and dark stain is a perfect match. They both deliver a timeless and elegant look.
Dark color and wood can never be out of style.
This door proves it. Even though it fits a traditional garage, this door can also fit a modern or contemporary garage. The X-brace wood panels, however, enhance the traditional look.
Basically, a carriage door like this most of the time will give you a traditional vibe. However, when it is finished in dark color and completed with glass panels as a window, it becomes more transitional.
The square-shaped clear glass panels at the top of the door can be used as a window and as a peeper hole too. The homeowners can see what's going on outside without having to go out.
11. Sleek and Clean Wood Panels Garage Door for a Contemporary Look
The contemporary look will never fail to elevate your curb's appeal. It is because the sleek and clean silhouette that is usually used in a contemporary style is always stunning.
If you want to achieve a clean and uncluttered look like this, you can opt for this door.
This lovely door is from Hill Country Garage Doors. It can be used as a beautiful decoration to modern or California ranch architectural styles.
According to the manufacturer, this type of door is available in banak, cypress, mahogany, western red cedar, and other wood species. You just have to choose the one that fits your need and your budget.
The design of this door is unique. Instead of glass panels as a window at the top of the doors, there is a narrow space between each wood horizontal wood slab.
The space is used as a "window", because it seems that it is made of glass. The natural light can fill the room through these narrow spaces. This way, the overall design of this door is clean and free of clutter.
12. Tuscan Wood Garage Door with Vertical Panels
This two-car garage features high-quality doors that are made of wood.
These doors are from Dynamic Garage Door, with a Tuscan style that perfectly matches the surrounding.
The bold arched design makes the doors look like a small door in a fairytale. This whimsical design is basically a part of the architectural elements of the Tuscan Revival styles.
In this door, there is room for conformity and simplicity that is simply stunning.
These Tuscan wood garage doors were actually a custom design. They were designed to fit the arched garage door openings. So, the designer didn't build the garage after the doors were purchased. It's the other way around.
The doors are completed with vertical tongues and wooden groove slats. The perimeter trim pieces are made of solid wood.
There is iron ornamentation to accentuate the wood doors and enhance the Tuscan Renaissance style. The ornaments are a couple of ring knocker pulls, which have successfully made these doors look incredible.
Moreover, both doors are surrounded by stone walls. The combination of stone, wood, and iron creates a perfect contrast. Yet they show a well-balanced curb appeal as well.
13. Carriage Door with Long Wood Panels and Arched Glass
These carriage-style garage doors are from United Garage Door Company. This is an ideal example of a mid-sized classic garage door.
The double doors are made of mahogany with 2 pieces or arched glass panels. The long wood recessed panels are in a lighter tone, while the cladding is in a darker tone.
The combination of light and dark here is so subtle that it is barely noticeable. Yet, it managed to pull off a cohesive look.
The glass panels at the top of the doors are in arched style. The slight arched somehow fits the perfect rectangular-shaped garage opening.
We can see here that the glass panels are not that large. It means that these doors are not meant to be a window-door.
The glass panels are indeed useful to allow a sufficient amount of natural light to fill the garage. Yet, it won't drastically brighten up the room too.
Basically, the dark tone of these garage doors, along with the dark hardware and dark trim, will make your garage look a bit gloomy.
However, that may be the best choice if you are into a traditional home design with a minimalist design and no bold paint color to draw attention.
You can combine the whole dark elements in this garage door with a white accent, as you can see in the brick wall around. This way, you can balance the dark garage door with a touch of light color.
Closing
From the images above, we can conclude that the most common materials for wood garage door panels are:
Cedar: This popular choice is resistant to moisture and pest damage. Cedar wood garage doors are unlikely to crack and warp in any weather and temperature condition. For your information, cedar is a porous wood. So it is lighter and easier for you to install. It makes a great garage door opener. Moreover, cedar wood also delivers excellent soundproofing and insulation. It comes with flexibility. You can finish your cedar wood with any stain or paint, or even leave it unfinished for a weathered and natural look.
Mahogany: Like cedar, this is also a popular choice of wood garage doors. It is because mahogany is durable and beautiful at the same time. This material features an attractive and rich grain that can be easily finished. It is also rigid and strong with large panels that won't sag, split, or warp. Like cedar, mahogany is also resistant to moisture and pests. You can leave your mahogany door as it is with the natural red tones, or you can lighten it with bleaching.
Plywood: If you want an affordable option, you can choose this most basic wood door type. However, the plywood garage door also delivers an attractive outward appearance. You can cover it with exterior hardwood skin because plywood is thin. It may be equipped with foam insulation too.
So, what materials do you think will fit your garage's style best? Do you think it is worth the price? Share your thoughts below.