Burgundy is a rich and deep shade of red that is commonly used to create a welcoming and inviting room.
It is a warm color that makes it perfect for a cozy area, like living rooms with a comfortable open fore or a private bedroom.
Apart from that, burgundy can also deliver a romantic and sophisticated feel, depending on the color you pair it with.
Most of the time, burgundy is confused with maroon. Yet, maroon is an entirely different shade; it has more brown streaks in it, while burgundy has a more red-purple combination look, with only a few brown pigments.
Around the 1990s, burgundy has been widely used. Though its popularity has a bit faded somewhat ever since, it still remains a solid color choice when it comes to interior decor.
If you plan to incorporate burgundy into your color scheme, here are some colors that can really help set this shade off. You can check this list to see what colors that go with burgundy for a richer look in your room:
1. Beige
Beige is one of the most popular colors for wall paint in living rooms.
As you see in this living room, people often choose beige sofas to keep a neutral color palette.
However, all-beige design makes a space look boring, plain, and void of character. This living room has a sofa in beige color. All of them are indeed cool but too monotonous.
This can be solved by opting for an accent color to splash around the living rooms, either with curtains, lampshades, or throw pillows. Yet, in this eclectic living room, we can see that burgundy as a splash color fills the entire walls around.
Burgundy is considerably a safe color to use as a pair for beige, because it is deep and warm. Thus, it will make the room look cozy and feel welcoming.
Burgundy can be your best to accentuate beige rooms because it creates an impression without being too bold or loud.
Burgundy's rich tones will make beige look warmer. It also delivers a comfortable vibe that promotes calm and tranquility, making this color combination ideal for living rooms, bedrooms, and lounges.
2. Gray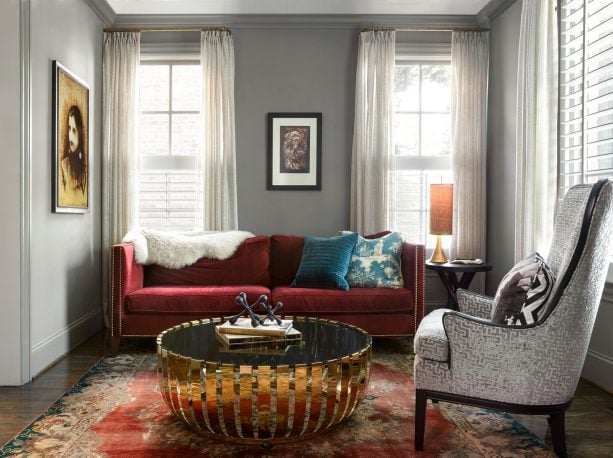 Naturally, burgundy is not a color you might immediately want to match with gray, light or dark. Yet, it turns out that when you do it right, burgundy and gray can look extremely stylish.
The gray accent can deliver a luxe appeal to burgundy. However, be careful when choosing gray for burgundy. Not all shades of gray will suit it. Avoid pale gray. Instead, always choose bold and deep anthracite gray.
You can paint walls in a dark gray and add burgundy accents in a richly textured fabric for an opulent appearance.
For instance, in these two living rooms, the dark gray comes from the walls. To accentuate it, the burgundy sofa will look perfect.
In these living rooms, it seems that the sofas are made of different materials that provide different textures.
The first living room shows a leather burgundy sofa with a polished and sleek texture, while the second living room features a velvety burgundy sofa with a soft feel.
The warmth of the burgundy will be useful to tone down the cool shades of gray. Burgundy will also make the gray living rooms more comfortable to spend time in.
Adding a touch of gold alongside gray and burgundy, like in the second living room here, will also add to the sumptuous appearance.
3. Brown
Even though burgundy is red with a more purple hue than brown, burgundy and brown basically have similar hues. So they can complement each other nicely.
Instead of creating contrast, burgundy and brown create a harmonious feel in a room. All elements and components in the room are allowed to blend in by the combination of burgundy and brown.
Burgundy and brown are perfect for formal rooms, like libraries, offices, or dining rooms, because this color combination delivers a traditional yet intense feel.
This traditional dining room, for instance, looks incredibly perfect with burgundy walls and brown furniture. The brown shades also come from the wood floor and ceiling.
This dining room shows that the best way to incorporate burgundy and brown together is to paint the walls in burgundy and opt for wooden furniture in a deep brown shade, like walnut.
To add more characters, you could also add other brown accents, like a decorative mirror with brown frame or brown windows with patterned curtains in burgundy.
4. Orange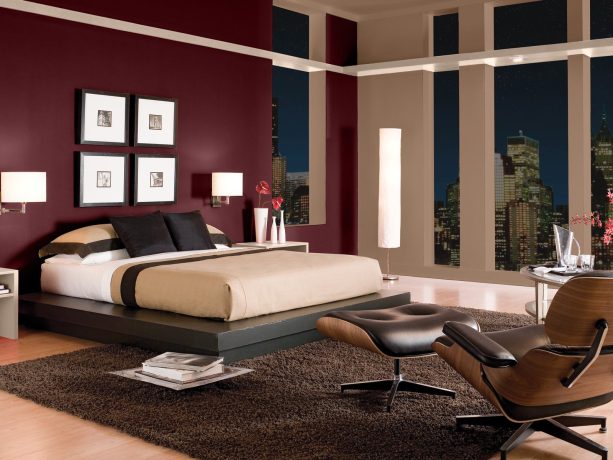 As a warm version of reddish-purple, burgundy will perfectly complement a soft orange.
However, be careful with choosing the orange shades. Bright orange is known as a bold and energetic color, while burgundy is deeper, calmer, yet also a bold color. Both bold colors in one room will only cancel each other.
So, since there is no lighter shade of burgundy, you have to choose a light and soft orange to be paired with it.
In this bedroom, the soft orange looks almost white, even though light plays a significant part. The softest shade of orange like this will tone down the boldness of burgundy.
If you are wondering, the burgundy wall is painted in Rumours MQ1-15, while the soft orange is Cavern Clay MQ2-41. Both are from Behr. The trim color is also Behr, Elusive Dawn MQ2-36.
You can see here that burgundy and soft orange are both charming and confident in their own way. But when they do combine, they create a web of confidence and security that is hard to ignore.
Saturation and pattern come into play when using such equally bold colors, so make sure you vary them accordingly.
5. Gold
Burgundy and gold are considered a classic combination that works perfectly well together in interior design.
If gold is paired with bright red shades, it can only make it look cheap. On the other hand, burgundy has a deep warmth that suits gold nicely. It highlights the richness of gold.
In a burgundy room like this traditional home office, the best way to incorporate gold is by using gold metal decor items, such as gold wall-mounted pendants like this.
If you think having every wall painted in burgundy will be too intense, you can also add a feature wall of gold wallpaper accent. The burgundy wall in this room features a pattern in gold near the ceiling, making the burgundy less bold.
Burgundy and bold are usually thought of as a more old-fashioned and traditional color pairing. That is why this combo is suitable for vintage-style interiors.
However, even though these colors look perfect in traditional settings, they can also look modern and sleek in the right space. To achieve a more modern look, opt for contemporary gold touches in a burgundy room, like chairs and tables.
6. White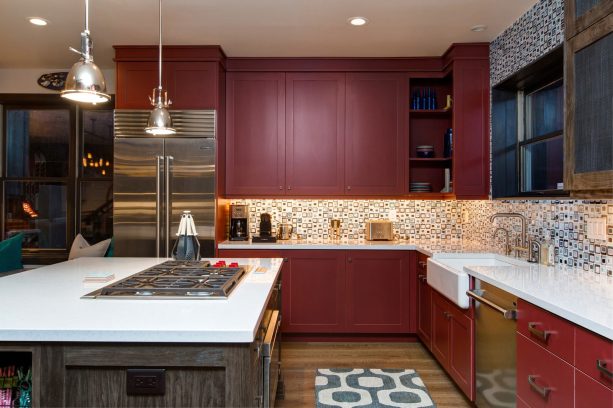 If you want to incorporate burgundy into a room, but you are still unsure if the burgundy is too dark for your space, you can consider pairing it with white.
White surroundings will make a great blank canvas for burgundy furniture.
In this transitional kitchen, the burgundy cabinets are paired with white quartzite countertops.
The polished white tops make the cabinets don't look too intense. On the other hand, painting cabinets in burgundy is also a great way to ground a white room. This way, you can deliver a pop of color in your white room.
This kitchen doesn't solely use burgundy and white as its main colors. In fact, there is a black and white glass tile backsplash and some shades of brown to accentuate the combo.
Incorporating neutral colors like black, white, and browns, is a perfect way to tone down the boldness of burgundy if you are not really ready to go bold.
7. Cream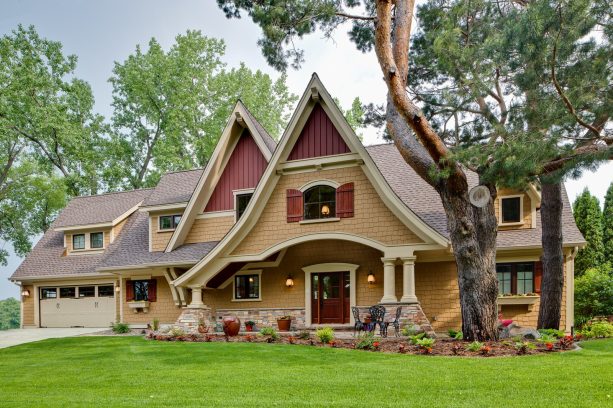 This cream color has a tint of yellow in it. It may look like a soft yellow with a touch of cream beige.
Combining burgundy with this color will create a lovely contrast. The intensity of burgundy will look stand out when paired with pale colors like creamy yellow like this.
Basically, this cream color also has its own warmth. It also delivers a warm and welcoming vibe in its own way.
Naturally, if you combine both warm and solid colors like this, they will clash. However, that's not the case in this color combination.
Burgundy and cream work in their own areas without bothering each other, but they are not complementing each other too. They just vibe in their own way, in their different areas.
Burgundy makes the wood siding in this exterior house look sharp. On the other hand, the creamy yellow makes the rest area of this exterior look soft. Both burgundy and cream are bridged by white trim to neutralize both prominent colors.
8. Olive Green
Basically, olive green and burgundy don't really work with each other. They are at a totally different end of the color spectrum.
Olive green will give you an earthy tone, perfect if you want to achieve a fall vibe.
Usually, olive green will look nice if it is paired with other earthy tones, like beige, brown, terracotta, and such. It also looks perfect when combined with neutral colors like white.
Yet, burgundy is not on the list. Burgundy is not even an earthy tone. It is also not a neutral color. It is a deep, rich tone, a bold color that will enhance the elegance in your room instead of a natural look.
Yet, when you really combine burgundy and olive green together in one room, it turns out that they both shine in their own way.
Sure, they don't blend, but they neutralize each other. Olive green will tone down the burgundy's intensity, while burgundy will balance the brightness of olive.
In this traditional dining room, the walls were painted in burgundy. The designer wanted to create something whimsical, something unusual to add a splash of fun.
Thus, she carefully selected olive green chairs. There are also two burgundy chairs among them that match the curtains and the tablecloth. This is the safest and easiest way to combine two contrasting colors: two elements that don't even touch each other.
9. Dark Green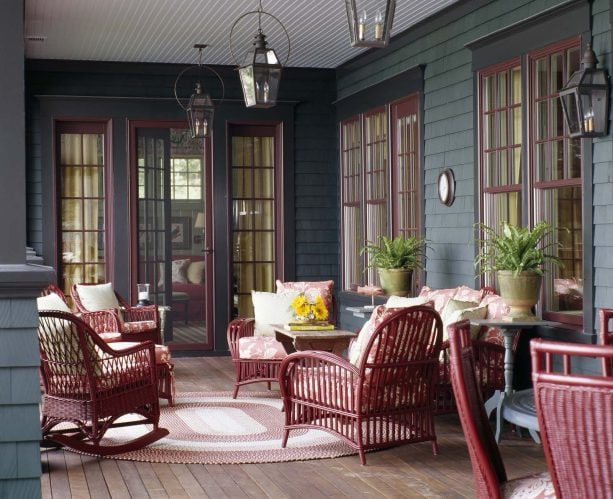 Burgundy is a shade of red, which means that green is the opposite color on the color wheel.
Basically, there are several shades of red and green that can clash next to each other. That is why you may have heard the old saying, "red and green should never be seen". Yet, like most things, there's always an exception.
Burgundy and dark green are the exceptions. Both are rich tones. When placed next to each other, they create a more luxurious look than when they are used alone.
Dark green like this is called emerald green. Burgundy and emerald green are colors that used to be paired together in many old English grand estates. So, no wonder this color combo brings out the feelings of grandeur and tradition.
Burgundy and deep dark green like this will be perfect in a formal setting, especially if they are combined with wood accents.
This traditional porch proves it. Its dark green siding, combined with burgundy trim, delivers a traditional yet formal setting that is perfect for you who love an old-fashioned look.
10. Tan
This tan color has a bit of a rusty look, with a touch of gold hue that delivers elegance. It turns out that tan can also be a perfect match for burgundy.
As one of the earthy tones, tan gives a natural and soft look to the entire room. On the other hand, burgundy as a bold color will shine intensely.
That is why it is better if you set your entire room in the tan color palette, and accessorize it with burgundy, so its boldness won't get in the way of your natural look.
In this transitional living room, the tan walls are paired with pattered valance in burgundy. The burgundy couch also sets the tone in this room.
If you really want to pair earthy tones with burgundy, you need to use at least one neutral color to balance them.
In this room, the white wainscoting is enough to bridge burgundy and tan. On the couch, the white throw pillows are also useful to tone down the intensity of burgundy. This way, every shade and element in this living room is perfectly balanced.
11. Black
It is known that burgundy and black are a classic color combo that works well in a range of styles.
Oriental-themed rooms can go together with this color pairing, but don't forget to also incorporate a neutral base color to avoid burgundy and black from becoming too overwhelming.
Ideally, you should opt for a beige or white color for the walls, then add in black and burgundy with soft furnishings, like sofas or couches. You can also add decor items in such a combo, like artworks or photo frames.
In this eclectic living room, the black velvet sectional looks amazingly perfect together with the burgundy armchairs. The gold patterns in the armchairs enhance the oriental look in this living room.
Using burgundy and black with white together can look both warm and modern.
If you are a big fan of the minimalist look but worried that your space will look unwelcoming and color, the safest way to solve it is by including burgundy and black to retain warmth in your space.
12. Mustard Yellow
Mustard is a color that delivers a totally obvious contrast to burgundy.
Mustard yellow is a warm shade that is located on the opposite side of purple on the color wheel. However, if you place mustard and burgundy together, mustard will be able to bring out the purple hue of burgundy.
You can use mustard accents in a burgundy room, or vice versa, to create a contemporary and stylish vibe.
This contemporary bedroom shows it. This one is a mustard room with burgundy accents.
The striped wallpaper in mustard and soft yellow create a fun yet warm look to the room. The burgundy accents are from the patterned carpet, the patterned armchairs, and the patterned couch.
We can see here that the designer didn't really use solid burgundy to accentuate the mustard yellow. She also incorporates other shades of red and plays with patterns to soften the drastic contrast between burgundy and mustard.
Moreover, when combining two bold colors like this, always remember to include one neutral color base, as you've seen in the previous picture.
The white ceiling and dark tone wood floor in this room are enough as a base color to accommodate burgundy and mustard.
13. Bright Red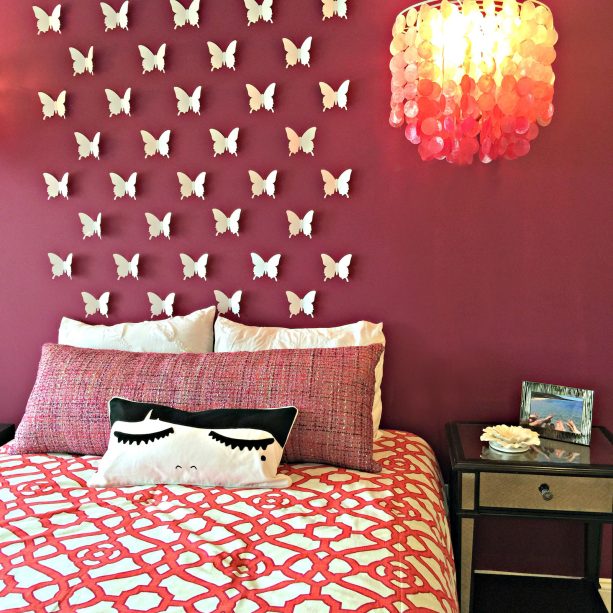 Yes, burgundy is a shade of red.
You may think that it is safe to combine them together because basically, they are both red. However, you should know that burgundy and bright red are both bold colors. One is deep and rich, while the other is bright and fun. But actually, when they are both used in moderation, they can make your space feel inviting and warm. You might have seen these two shades used together in wall tapestries or rugs.
In this contemporary kids' bedroom, the colors are used for the walls, the lamp, the duvet, and the pillow. The burgundy wall creates an elegant look. It is used as a canvas that was later filled with other colors.
In order to balance the boldness of burgundy and bright red, you should also include neutral colors as an accessory or as an accent color.
In this room, the butterflies artwork in white is used to create contrast against the burgundy wall as well as tone it down so it can be paired with the bright red lamp.
The duvet and the pillows were also carefully selected in bright red and white. It is not recommended to use solid bright red to be paired with the burgundy wall because they will clash and cancel each other.
So, use one of those bold colors in moderation as an accent color, and don't forget to neutralize it with the neutral base color.
Closing
So, what do you think about the pairing above?
From light to dark tones, many colors actually can go perfectly well with burgundy. However, it's best to avoid striking and neon shades of colors, like fuchsia, neon green, or turquoise, because using two bold colors in one place will create a battle of the spotlight.
Burgundy is a bold color. When you pick a color to complement it, make sure the pairing color only works as an accent, which means that it won't get in the way of burgundy's shine.
Even though in some of the pictures above, there are several rooms using burgundy as an accessory instead of the main color or a focal point, burgundy still attracts the most attention, even in the smallest area.
Thus, if you already use burgundy even as an accessories color, don't pair with any striking color as a focal point in the room. It will only hurt your eyes with too many bold colors.
Good luck with your project!