Want to build a closet, but you lack space? You can maximize the most under-utilized space in your house: the attic.
Your attic doesn't have to be a dark and forgotten space.
If you can convert it into a fun and secluded area, you'll have a lovely attic closet that will surely help you save more space.
Don't let its third-floor placement and angled design discourage you. Your attic can surely be a lovely storage room or a boutique master closet with a lot of characters and functionalities.
There are plenty of things that you should consider when you decide to build an attic closet.
And if you still don't have any idea about what to do to transform your attic, here are some genius ideas that you can apply to maximize your space:
1. Using Black Cabinets in an Attic Closet
It may sound counterproductive to use black cabinets in an attic closet because, more often than not, an attic is a small and compact space.
We all know that black will make the room shrink, making it smaller than it actually is. Imagine using black cabinets along both walls in the attic closet; wouldn't it make the room feel crammed?
Well, that's not the case in this attic closet. Somehow, the designer made the black cabinets look fit into this long attic closet.
If you're wondering, all of them are made from 3/4" Melamine in Chocolate Pear color, which is not entirely black, but a very dark brown that looks almost total black.
If you want to use black cabinets like this in your attic closet, there are two essential things that you should consider.
First, paint the walls white. It will create a visual balance and, at the same time, will also counter the effect of the black cabinets.
Second, it's important to invest in a lot of windows, or at least one huge window, to let the natural light fill the room. It won't hurt either if you also add plenty of artificial lights.
A bright room will make it look less crammed and feel airier.
2. Farmhouse Style Attic Closet with Shoe Racks
Actually, it's easy to add a farmhouse charm to your attic closet. You just have to use a light tone wood floor combined with white walls and storage. Don't forget the exposed beams in the ceiling. It's as easy as 123.
These beautiful beams are antique reclaimed white oak and supplied by Southend Reclaimed. The light tone wood floor, on the other hand, is a custom ordered white oak floor, finished with Woca oil, hand rubbed.
Unlike the usual closet, this one seems to be dominated by shoe racks. The racks are custom made, specifically designed in a slanted design to follow the ceiling line.
There's also another white freestanding shoe rack placed against the wall.
The homeowners also added a built-in bench with a cushion to promote comfort. This is a versatile bench because you can see the drawers at the bottom, which are useful to be extra storage.
This attic closet looks suitable for any small and compact room because the shoe racks are well-organized to avoid clutter. Plus, the combination of white and light tone wood will also make the attic look more spacious.
3. Long and Elegant Attic Closet with a Cabinet in the Middle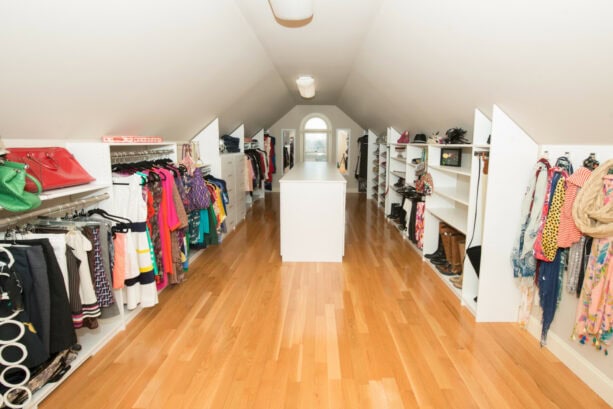 If you have a long and large attic, you have more options to decorate it and transform it into a closet. You don't have to use a closed cabinet to keep everything neat and avoid clutter.
In this attic closet, the homeowners preferred to use open cabinets and hanging racks, which will surely make any small attic closet look too crowded.
It is also great to use white cabinets along the walls to keep your attic closet open and bright. To avoid being too stark, you can use a medium tone wood floor like this. It will counter the starkness of the white.
In a large and spacious room, it's also important to place a thing in the center to help ground every item in the room and to tie every element. That single piece is also useful to separate two cabinets and racks on both walls.
The homeowners used an island cabinet as a centerpiece to ground everything. This way, the closet looks more balanced.
Don't think that an island cabinet will only make your closet feel crammed. On the contrary, it can help make the room look neat and polished, despite the open racks and shelves.
4. The Idea of a Modern-Style Attic Closet with Skylights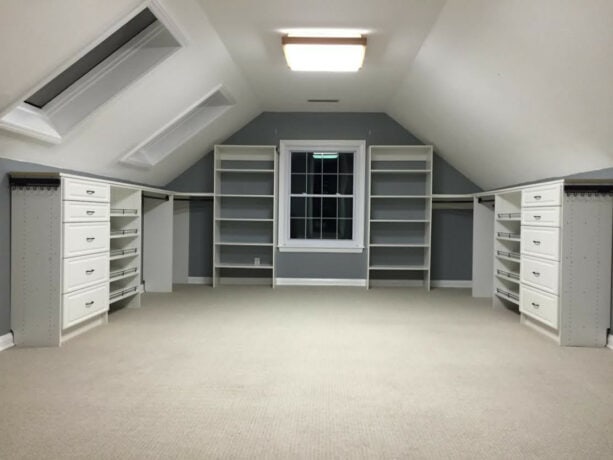 The essential key that you should not forget in modern styles is the neutral color scheme. It's because the modern design is often associated with minimalism, which means that you should stay away from any bold and bright colors.
The frequently used colors in a modern design are black, white, and gray. But don't think that it will only limit your creativity. In fact, working with only three neutral colors is easier than incorporating a lot of colors.
This attic closet proves that neutral color is anything but boring. It only has white and gray, but it is an ideal inspiration for a large modern closet.
One of the benefits of having a neutral-colored closet is that it is gender-neutral, which means that you can share it with your spouse.
This attic space looks warm with white raised panel cabinets, carpeted floor, and gray walls. Moreover, there are skylights on the ceiling. Skylight is one of the must-have items in your attic to make it look bright.
If you can install a window in your ceiling, why just settle with a typical window?
Apart from being able to make the room brighter, skylights will also make a great decoration.
5. Angled Attic Closet Idea with Glass Doors
For some, angles in the attic create an awkward space to work with.
However, for a skilled designer, angles will only make the room look more exciting and challenging to decorate in a positive way! You can maximize every space to make sure everything fits.
This closet is completed with built-in cabinets and glass doors.
Glass doors deliver many benefits for you. Apart from being decorative, a glass door also lets your cabinet look more open but at the same time still neat and well-organized to avoid clutter.
Did you know that these cabinets are lit with LED lights? Imagine how elegant it looks in the evening.
There's a wall in the middle of the room where a tall mirror is mounted. On both sides, there are hanging racks with glass doors, too, to match the built-in shelves.
Above the hanging racks, the slanted ceiling creates a hollow space. The homeowners cleverly utilized it by placing storage boxes on top of the racks. This way, a slanted ceiling will become beneficial instead of a downside for you.
To create a transitional closet like this, build the shelves out of light tone wood and paint the entire walls in soft green to represent a modern vibe.
Add some traditional decorations, like a vintage chair or chandelier, to complete the look.
6. The Idea of a Compact Two-sided Attic Closet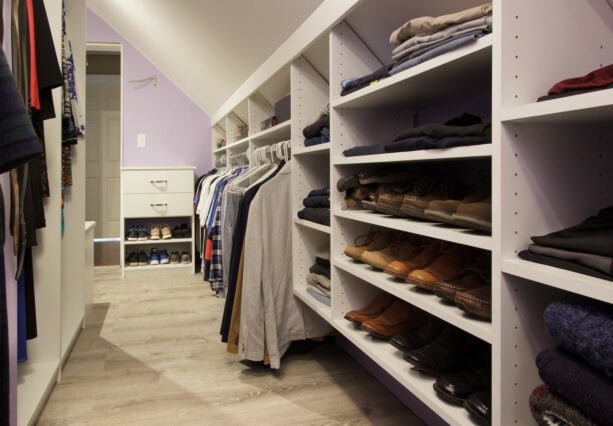 Some people said that if you have a small attic closet, it would be better to have a one-sided closet instead of two to make the space roomier. On the contrary, this attic closet is quite small, but it has two-sided parts.
Both walls are filled with racks. So, how to keep the room feel roomy?
For a start, it's important to paint the walls white.
As a neutral color, white is a shade that you should opt for if you want to make anything look larger, including a room. Plus, the starkness of white will make your attic closet look bright.
After that, make sure that you organize everything neatly because clutter will overwhelm a compact space.
A two-sided compact attic closet is better to be styled in a transitional design if you don't want to go modern all the way. The neutral color palette brings out a modern vibe, which looks perfect in a limited space.
If you want to add a touch of traditional design, you can pick a classic element, like a chandelier or wood floor.
7. Attic Closet Idea Completed with a Seating Space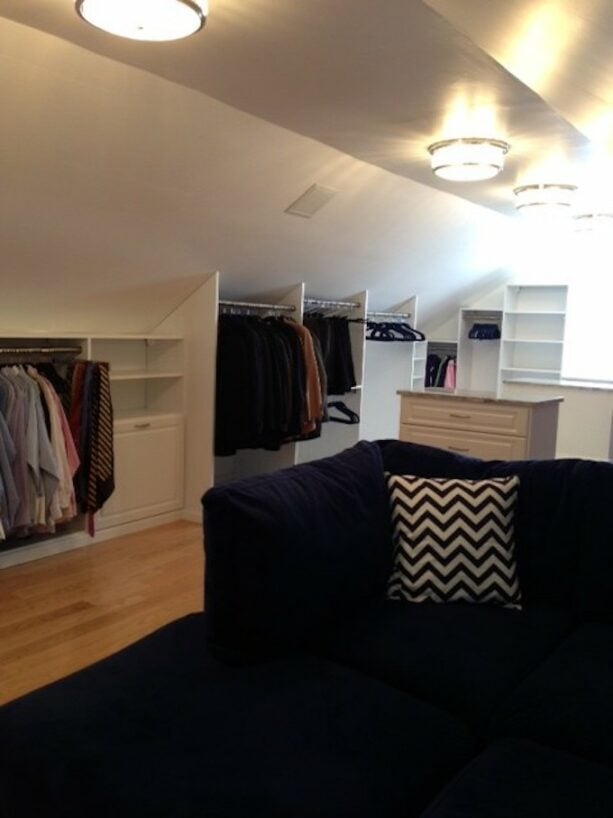 Just because you have your closet in the attic doesn't mean you can add a seating space.
Some typical closets are often equipped with a seat to make sure the owners can sit comfortably when they are trying to coordinate an outfit.
Even in a limited space, you can still have a seating space. But make sure the seat is suitable for the size of the room. If the room is tiny, avoid a huge couch.
And since the seat has taken up some part of the closet, so it's important to maximize every space you've got.
See the deep partitions in the angled wall of this attic closet; the homeowners managed to take advantage of it. It's used to hang clothing.
The benefit of hanging clothes on an angled wall like this is you can hang them higher than on any usual hanging rack.
Don't forget to play with the visual. Keep everything look balanced.
For instance, this attic closet has white built-in cabinets and racks, along with white walls and a ceiling. To counter the white's starkness, the homeowners picked a black seat.
Incorporate a lot of lights, too, to keep the area well lit.
8. White Cabinets in a Super Tiny Attic Closet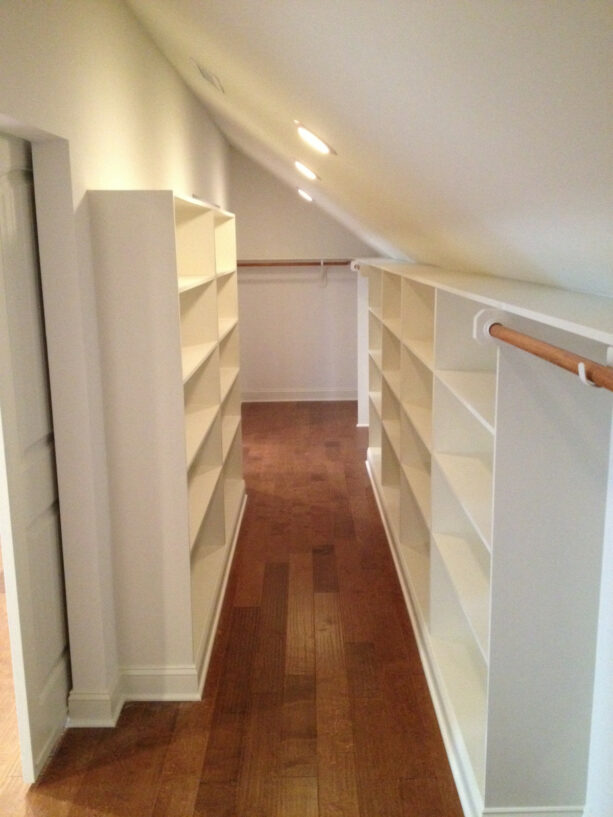 You can lean on white cabinets if you want to furnish a super tiny attic closet.
In a super limited space, keep everything simple and minimalist. And it should also be applied to the outfits you're going to store in the closet.
If you have open shelving and rack, it means that your outfits have become part of the decoration.
So, it's wise to stay away from bright and bold patterns.
If you do have bright clothes, it's better to store them in closed storage. In open and hanging racks, it's better to store neutral-colored outfits. Plus, it would be better to place shoe racks instead of cabinets for clothes.
The homeowners cleverly put shoe racks and hanging racks in this tiny attic closet to avoid clutter. Plus, consider the lighting too.
If it's impossible to have windows in your attic, then you have to add plenty of artificial lights. Remember that lights are also decorations. So, make sure you choose them based on your attic style.
In a traditional closet like this, it would be unwise to add a chandelier since the space is too small. Instead, invest in LED recessed lights. Install them in the slanted ceiling to illuminate the whole area.
9. Closed Cabinets to Optimize the Small Attic Closet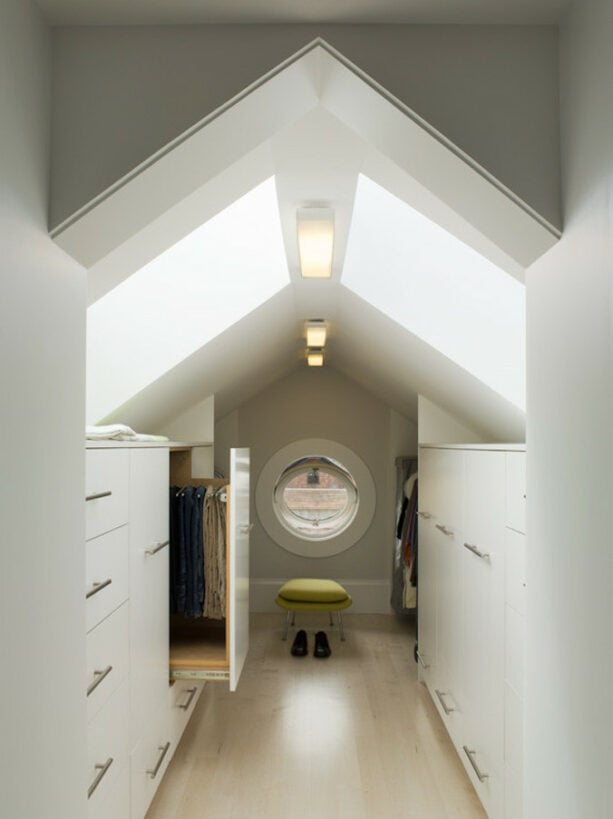 Even though having open shelving and cabinets is tempting to show off your outfit collection, it's better to have closed cabinets in a small attic closet like this.
Closed cabinets will deliver a neat look, perfect for a modern look that always cherishes simplicity and minimalism.
In the ceiling, there are skylights that light up the room, combined with a round window at the far end of the room.
As if they weren't enough, the homeowners also added several artificial lights to illuminate the closet.
Long gone are the days when the attic was a dark and scary place. These days, the attic has become a place that should be maximally utilized with a lot of lights.
There's an upholstered stool next to the round window, a complementary piece to separate the hanging racks, and the closed cabinets on both sides.
Obviously, even though the attic space itself is not that large, the homeowners didn't compromise comfort. Hence, the stool.
If you want to add a piece to ground the items, make sure you opt for a smaller element like this stool instead of a long island cabinet. Each piece should fit the room's size.
10. Luxurious Attic Closet with Traditional Style
You never knew that this place used to be a dark attic now that it has been transformed into a luxurious closet like this.
This is actually a dressing room with the necessary details to make it a closet, too, and a display room for the owner's collection of clothes.
In order to achieve a similar luxe effect, it's recommended to use white with a glossy finish. That's why marble floor is often used in a luxurious room to get a glossy and polished look.
However, since a marble floor is quite costly, you can use a polished wood floor like this as an alternative.
The closets are made of 3/4" furniture grade pressed particle board completed with thermo fused melamine skin, which is a standard material that all custom closet companies use.
To get the glossy look, the drawers and doors are made of thormofoil with a glaze.
Since this is a grande place, it would be a waste if there's no centerpiece to tie the furniture together. Thus, an island cabinet matches the glass door cabinets around.
This island could be used as storage if the owners wanted to keep something more valuable because it's closed storage.
To finish it off, there's a classic chandelier to complete a line of LED recessed lights in the ceiling. The chandelier delivers a royal and elegant look that brings off a traditional style.
11. Dark Tone Wood Walk-in Storage Space in an Attic Closet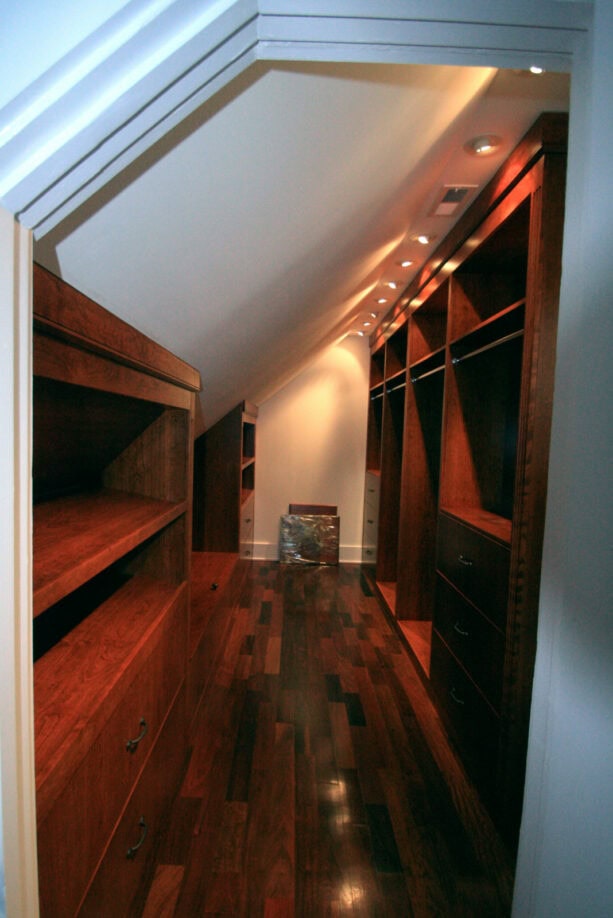 Like any typical attic, this one is also small. But the fact didn't stop the owners from adding dark tone wood cabinets.
On the other hand, we know that dark tone wood will make a small room feel overwhelmed.
According to the designer, this closet was actually made of two unused attic spaces.
There were 2 built-in walk-in closets along with walk-in storage space. Each closet has 15 linear feet of shoe storage, 50 cubic feet of drawer space, 9 liner feet for hanging clothes, and 20 cubic feet for shelf storage, so much for a small attic closet.
At the far end of the attic, against the wall, there's a built-in chest designed by the designer that can be used as storage and seating at the same time.
In a limited space, it's important to create a multifunction piece like this to save more space.
To avoid the dark effect of the wood cabinets, the designer added plenty of lights in the ceiling that illuminate the whole area. As long as there's enough space for foot traffic, there's no such thing as "too small".
You can modify the room with a lot of lights, be it natural or artificial if you insist on incorporating dark tone wood or any dark shade.
12. Built-in Storage for a Small and Compact Attic Closet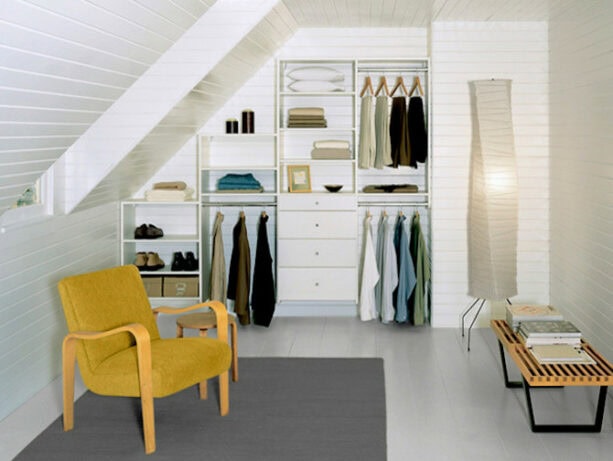 Nothing beats the trendy look in this contemporary closet.
Even though it is small and compact, the designer managed to make it look airier and more spacious than it actually is.
Different from the previous room, this one is full of white. It's because this attic is more square shaped than the previous one, which is rectangular.
Square shaped attic looks more compact than a long and narrow space, so it's better to use white in a small and compact square-shaped attic.
The panel walls are painted white. The cabinet and racks are custom-designed to match the white walls and fit a small space. This provides a seamless look to the surrounding.
The great thing about having an all-white attic closet is it is gender-neutral. Keep it that way by adding a neutral-colored piece like gray carpet in this attic.
To add a splash of color, the homeowners added a yellow gold armchair that adds more comfort to the closet.
There's also a contemporary-styled wooden table on the opposite side of the armchair to complete the whole look.
13. Timeless Attic Closet with Hanging Racks Bracketing the Window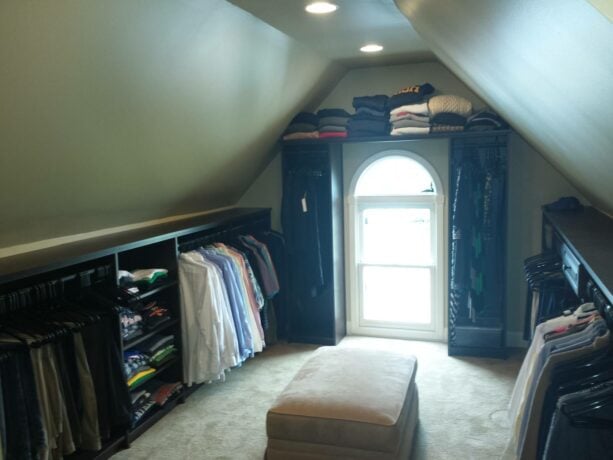 Basically, this is a simple attic closet. And it is the simplicity that makes it timeless.
The slanted ceiling only allows two short hanging racks placed against the wall. The beige carpeted floor makes the attic look more comfortable and chic, especially since there's a cozy ottoman in the middle of the room as a seat.
Along with the recessed ceiling lights, there's a big arched window in the wall. This double-hung window is useful to keep the attic bright and warm because the dark cool toned hanging racks make the room feel a bit cold.
The clever thing that the designer did was install a built-in hanging rack bracketing the arched window.
The hanging racks on both sides of the window are basically narrow, so they can only hold several hanging clothes. But, there's another open rack at the top of the window connecting them both, and this rack was used for piled clothes.
Having built-in storage spaces like this is indeed the best way to furnish a small space. This way, you can maximize every inch of your space and make sure that the designer fits the furniture to the size of the room.
14. Combination of White and Wood Elements in an Attic Closet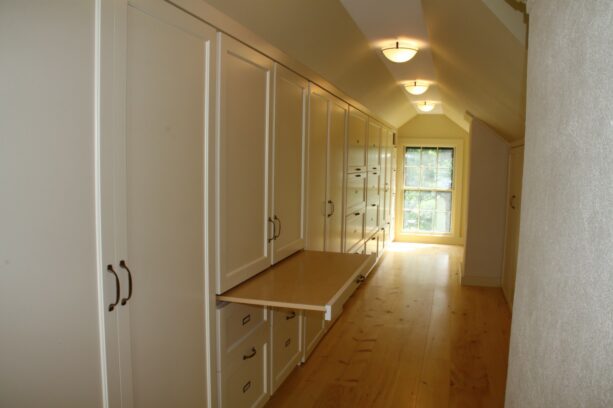 A long and narrow attic is actually the most common layout, and this one can't be fully considered a small space because at least you still have a long space that you can fill with storage along the wall.
Even so, this long attic space seems to only have one-sided storage. The closed cabinets only fill one wall, but it doesn't matter as long as the homeowners can maximize every inch of the wall.
This attic closet incorporates white color and wood elements, a match made in heaven if you want to create a gender-neutral closet with a touch of traditional flair.
Use light to the medium tone of wood for the floor to complement the bright tone of the white cabinets.
In order to avoid the room being too bright, use lights that have a warm yellow glow. The yellow glow will tone down the white's starkness and make the room appear cooler.
It's a perfect transitional closet that you can recreate if you think the modern style is too intimidating and the traditional design is not to your taste.
The white cabinets deliver a modern design, but the wood element brings out a traditional look.
This attic's polished and clean lines also represent a modern era, while the warm yellow glow is more classic. What a perfect visual balance.
15. A Brick Column in the Middle of a White Attic Closet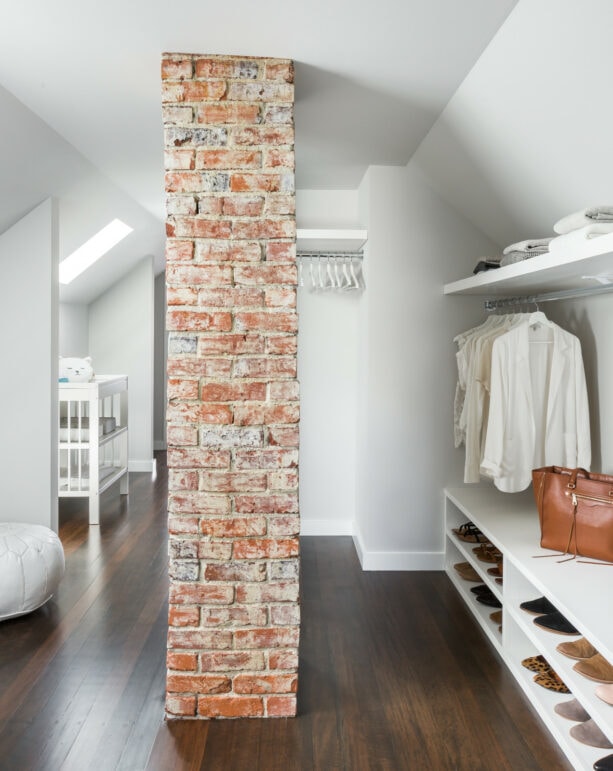 It's true that you have to be creative when designing a room. And creativity comes in many ways.
In order to be creative, you don't have to push yourself too far by adding too many decorations or artworks. Adding a pillar of brick in the middle of the room is also a creative way to decorate it.
If the pillar is pre-existing, rather than thinking of it as an obstacle, take it as a visual separator that zones the spaces into two areas.
See that the homeowners store the shoes, clothes, and other items on the right side, while on the left, there is a comfortable chair and storage. The brick pillar works functionally and aesthetically.
In an all-white attic closet like this, along with a hardwood floor, imagine there's one brick pillar in the center of the room.
Moreover, the bricks are finished in a rough texture, contrasting the polished look of the cabinets and the floor.
It looks out of place, but that's what makes this attic stunning. It adds a traditional appearance to the modern setting. Thus, it makes this attic closet a perfect transitional room.
If you want to recreate this look, you don't have to exactly use similar materials. The point is that you'll have to be able to use two contrasting textures and styles at the same time.
16. Additional Tips to Create an Attic Closet
Many of us might think it would be quite challenging to turn an attic into a closet, regardless of the creative ideas you've seen before. Don't be discouraged. Here are some additional tips you can consider:
Embrace your architecture: Don't think your attic closet will be like a typical closet. Visualize it more like a whimsical boutique space with quirky angles and sloped ceilings. If your attic is quite spacious, you can enhance the boutique feel by adding a cool upholstered bench or a center island cabinet. Embrace the sloped ceiling by adding built-in shelving or armoires along the walls.
The built-ins should be tall enough. Sloped ceilings are indeed able to cause some height issues. That's why you need to make sure you can access your built-ins without bumping your head. Applying the same code height for doorways when creating built-ins is recommended: 6 feet, 8 inches to 7 feet.
Energy efficiency is important: The temperature of your attic closet should be comfortable for proper storage of various items and, of course, for you. It means that you need to invest in a lot of windows; it would be even better if the windows were huge. You can also build skylights to let the heat and air penetrate the attic space.
Brighten with a skylight. Why are skylights important? When dealing with an attic closet with sloped ceilings, it would be a waste if you didn't add any windows. Even a small skylight will add a dramatic amount of natural light to your attic closet, making it feel more like an extension of your main house. But, don't forget about the energy factor. If you install skylights, make sure the space is completed with both cooling and heating systems because skylights can affect temperature.
Use mirrors. In a constricted and limited space attic closet, mirrors can help you reflect light to make the space look larger. At the same time, it can help you coordinate an outfit, too. A mirror placed near a skylight or across from a window will help reflect natural light around the space, making your attic feel airier and larger.
Utilize the entry wall. If you walk into your attic closet, check out the wall that contains the door. It can be utilized maximally, because it has more potential than you think. You can add a full-height mirror as the panel to create a paneled wall. The door can serve as one panel while making a third operable panel. This way, you'll get a multiple-sided dressing mirror.
Don't forget to accessorize. You can create a personal and unique space by adding a simple chandelier lookalike light fixture. It won't only provide the light for the room, but it also enhances the feel of a boutique area. It's also recommended to add your favorite painting or artwork to the wall space instead of filling every inch with shoe racks or shelves. Swap a clear glass with decorative glass for the armoires to add an extra flair.