You can always opt for a teal front door if you want to achieve a traditional look but don't want to make it look boring.
Teal front doors can match almost any exterior style, from the classic historical architecture to the uniqueness of the timeless eclectic style.
Teal front doors are also an ideal combination for a house with a white exterior or sidings made of natural elements (woods, bricks, and such).
Teal color will never fail to remind you of the calm of the sea and sky. Painting your front door in teal color can boost emotional healing. Plus, teal also symbolizes creativity.
The teal front door can be a pop-out color out of neutral-colored walls.
Basically, any type of front door can be painted in teal. From the single hinged door, double barn doors, double french doors to unique double Dutch doors, almost every door type can be painted in teal color. Yet, like other bold colors, be careful with teal. Too much teal on your exterior will make your eyes hurt.
So, how's the best way to coordinate teal as a front door in your exterior?
Below are fifteen pictures of the teal front door. You can get inspiration from the pictures to pair your teal door with the right surrounding:
1. Teal Front Door Surrounded by Yellow Siding
This is a simple single door with glass panels at the top that can function as an extra window.
This recessed panel door was painted in teal to create a contrast with the yellow siding surround.
Green and yellow are indeed a perfect combination. But, the designer wanted to make it further. That is why, instead of bright and bold green, the designer used teal for the front door.
The teal front door blends seamlessly with the yellow siding.
To bridge the teal and yellow color, white trim is added. The white trim perfectly frames the door and, at the same time, softens the boldness of teal and highlights the brightness of yellow.
2. Beach Style Entryway with a Bold Teal Front Door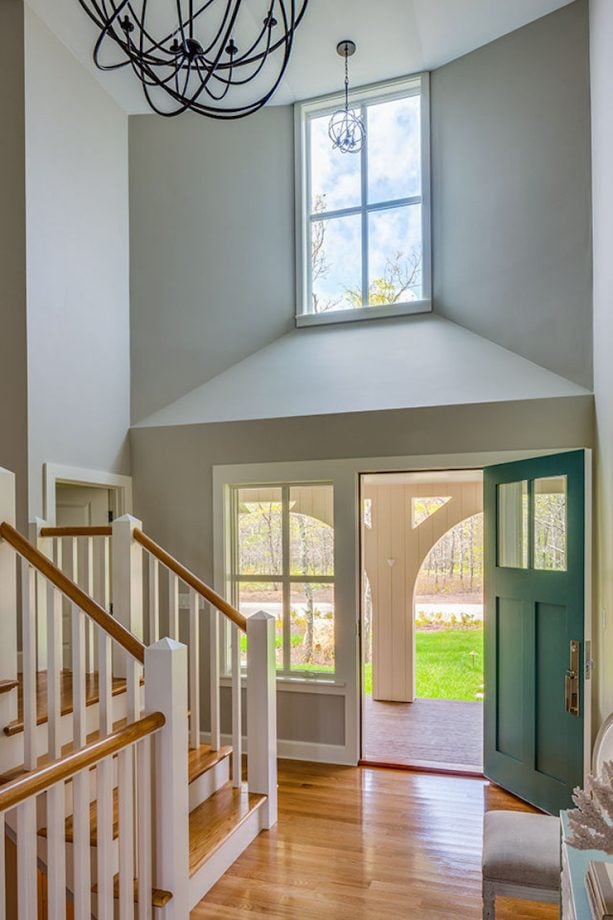 This is an excellent example of a beach-style entryway.
Like other beach-style interiors, this entrance also features an all-white design combined with wood elements. The white color in this room delivers a bright look, especially combined with huge windows.
To add a splash of color to this all-white design, the designer and the homeowner decided to paint the front door in a bold teal color.
This single recessed panel door is also completed with a glass panel at its top.
Installing a teal window in a white surrounding doesn't only make the entire area look pop, but it can also prevent the room from being too plain and boring.
A combination of white and teal like this is indeed perfect for a beach-style design because both resemble the calmness of the sea.
3. White Cottage House with Huge Double Sliding Barn Front Doors in Teal
This large cottage also features a perfect combination of white and teal. It has white siding around that makes the cottage even brighter under direct sunlight.
Here, the designer also added a pop of color to add a fun element to this white cottage.
However, instead of just painting the front door in teal, he also installed teal garage doors as well as teal trim for the windows. The color coordination delivers a bold look that accentuates the white siding prettily.
The front doors are double sliding barn doors in a double-Z brace pattern. The teal double barn doors open to a double french door and a set of windows around that were trimmed in teal color too.
You don't have to worry about using too much bold color if you combine it with white or other neutral colors.
4. Glass Panel Front Door with a Teal Frame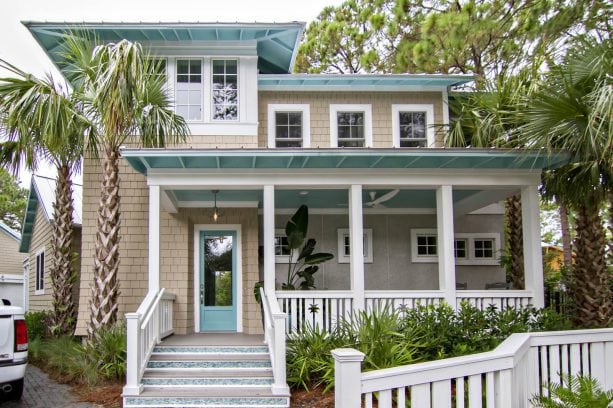 This beach-style exterior also features an even distribution of a teal color.
The front door itself is a glass panel door with a recessed panel at the bottom of the frame. This glass door is perfectly framed with a teal color.
If you are wondering, the front door here is sourced locally through Manning Building Supply. It was later painted in Sherwin Williams – Reflecting Pool.
The teal color is also added in the ceiling under the porch's roof and in the risers of the front steps. However, the teal under the porch's roof is different from the front door. It is painted in Sherwin Williams – Raindrop.
The teal color here is surrounded by taupe vinyl siding, which is actually Sherwin Williams – Tony Taupe SW 7038. It is also paired with white trim, which is Sherwin Williams – Extra White SW7006. It is obvious that teal is an accent color that will highlight the earth tone around.
5. Classic Entry Front Door in Teal Surrounded by Brick Walls
For a more traditional look with a touch of the fun element, you can install a classic four raised panel hinged front door painted in teal.
The traditional style of the door is enhanced by the white trim of the windows around. However, with this teal color, the homeowner managed to make more fun and welcoming entrance.
This teal door is surrounded by brick walls, which is actually another characteristic of a traditional exterior. Moreover, the bricks feature a reddish-brown color, a natural color for bricks.
Installing a teal door in such surroundings will prevent your entrance from being too monotonous.
To accessorize your teal door, you can mimic this look. Use a gold accent accessory combined with gold hardware. This way, you can add an elegant look to a fun element in a traditional setting.
6. Smooth Fiberglass Front Door Painted in Teal
This front door is Therma-Tru Pulse Ari smooth fiberglass.
This is the kind of door you should go for if you want to accentuate your neutral-colored exterior.
This single door is painted in Galapagos (T16-04) and completed with textured glass and granite privacy.
Galapagos is actually a teal color. It is an energetic color that is believed to be able to rebalance energy in our lives and revive the spirit. With this stylish color, your expressive, nonconformist, and optimist personality screams loud and clear.
The glass is used as insulation. So, with this kind of door, you don't have to worry about the weather inside.
Surrounded by brick walls, this teal front door adds a touch of modern style, making the whole exterior have a mid-century style instead of traditional.
In order to enhance the brightness and boldness of this teal door, the designer installed a wall pendant with a warm glow right beside the door. The yellow light from the pendant makes the door look warmer and softer at night.
7. Transitional Style Exterior with a Single Front Door in Teal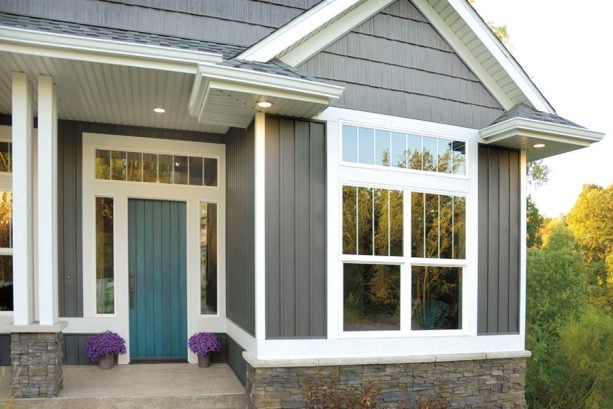 This single door seems to be made of wood, vertical slabs of wood that were painted in teal.
Wood is known as a timeless element that would bring out elegance in any design. In this entrance, the painted wood front door creates a transitional style, especially when combined with white trim like this.
The front door is surrounded by narrow windows on both sides and at its top.
Pairing wood and glass like this is a good thing to do if you want to achieve a transitional look. The white trim and glass panels will bring out a modern style, while the painted wood is more traditional.
However, the selected color to paint the wood is considerably bold. It makes the ordinary front door look extraordinary. Perfect if you want to make a point in your entrance.
8. White Farmhouse Exterior with Teal Double Front Doors
This great country house features a lovely farmhouse style, which makes it look inviting and welcoming.
The white exterior looks bright combined with the dark trim and roofs. A combination of black and white like this is a timeless choice. You can never go wrong with this classic color combo.
On the other hand, black and white may not be as exciting and eye-catching as bold colors.
That is why the designer accentuates that classic color combo with the teal double front doors. Painting the double front doors in teal color will create a great statement.
Those are double doors with glass panels that can be used as an extra window.
Surrounded by a black and white combination, these teal doors look stand out and pop. You can go for this look if you want to create a focal point in your entrance.
9. Modern Front Exterior with the Bright Teal Front Door
This is a perfect example of a modern front exterior.
In this exterior, you see a trendy house with stone siding in beige color, complete with a hip and metal roof. Most of this exterior is finished in a neutral color. The most beautiful and striking element is the bright teal front door.
This is quite the same as the previous picture, where the bold front door is surrounded by neutral colors. Yet, instead of white, this house features a beige stone wall. It turns out that beige also complements teal perfectly.
The single teal front door has a vertically stacked glass panel on its side. The glass panel is useful to let the natural light fill the room.
Basically, the front door is quite common. However, the bright bold color makes it look extra.
10. Teal Double Dutch Front Doors in a Beach Style Exterior
This beach-style exterior features a great combination of light brown and white. It shows that to represent coastal style, it takes more than just white color. Other light shades will also work. The light brown siding makes the entire front exterior look warm. The white trim and posts enhance its warmth.
In order to represent the ocean, the designer painted these Dutch front doors in teal. The bright and bold color will remind you of the beauty of the sea.
Apart from their bold color, these doors are simply unique. Usually, we see a single Dutch door. However, these ones are double instead of single.
The upper parts of the doors can be opened inside like a window. It is also completed with glass panels. Thus, it is safe to say that these are beautiful window doors.
The lower parts of the doors are accentuated with recessed panels, which give a traditional look.
11. Combination of the Teal Front Door and Soft Yellow Walls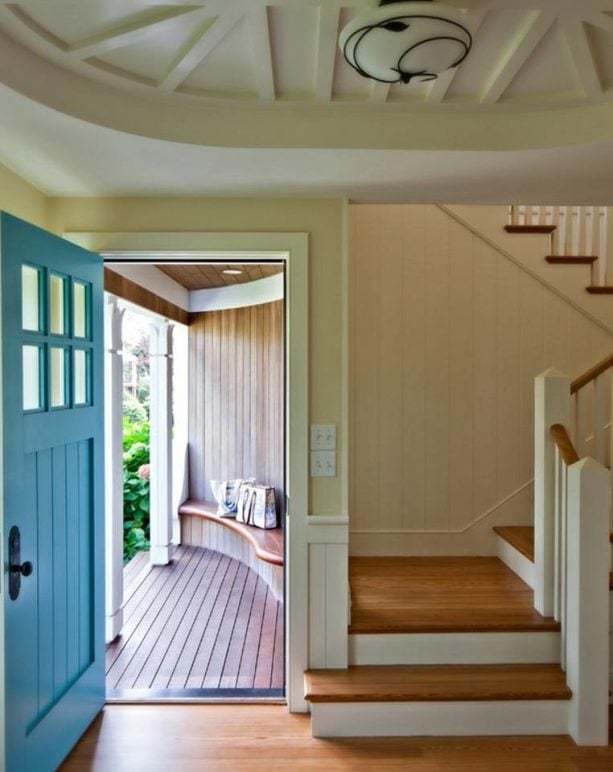 This is a farmhouse-style entrance that features a dark wood floor.
What makes this different than the other farmhouse-style designs is this area has bright colors.
Commonly, farmhouse designs only feature white color. This entrance, on the other hand, is completed with soft yellow walls and a bright teal single front door.
The front door has glass panels on the upper part and recessed panels on the lower part. Paired with black hardware, this door's style truly represents a farmhouse style.
Like the previous pictures, this door is meant to accentuate the soft shades around. However, instead of making a contrast, the teal door blends seamlessly with the soft yellow walls. It turns out that yellow shades can bring out the green in teal color.
Since green and yellow are a perfect match, they do complement each other in this entrance.
12. Teal Single Front Door in a Mediterranean Style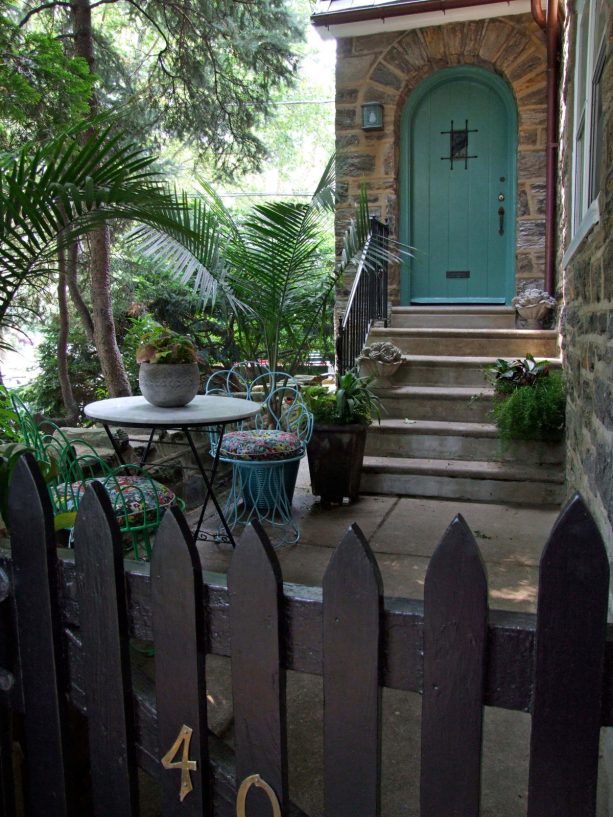 This single front door is quite different than the other teal doors you've seen before.
Most of the teal doors above have a traditional or modern style; some of them are completed with glass panels that can be used as a window.
This one, however, is unique. This teal front door has a Mediterranean style in it. It can be seen from its arched top.
We all know the arched design is one of the characteristics of a Mediterranean style.
This entrance doesn't only have an arched opening; it also features an arched front door in an arched opening! The bright teal color really pops out against the stone walls.
The paint color used for the front door is Benjamin Moore – Palm Trees. Yet, it looks a lot like Benjamin Moore – Caribbean Teal. For an alternative, you can also use Martha Stewart – Hummingbird Blue.
Those paint colors will never fail to accentuate stone walls like this, especially in a Mediterranean style.
13. A Bright Teal Front Door that Matches the Ocean View Nearby
If you live near an ocean, it makes much sense if you want to use beach style for your house's exterior and interior.
The homeowner of this house is just the same. It seems that this house is located near the ocean. In order to match the ocean view nearby, the designer and the homeowners decided to paint the front door in teal.
The designer also added white trim and glass panels around the front door to create a brighter look, which is a key element in a beach-style design. The front door is painted in Sherwin Williams – Bunglehouse.
It's easy if you want to copy this look. You just have to hang a nautical accessory in your front door, and don't forget to add two curved back wooden chairs on your front porch. Those are what you need to highlight a beach-style design.
14. Fiberglass Teal Entry Front Door in a Contemporary Style
This is an inspiration if you want to create a contemporary entrance.
This area featured a concrete gray floor with white walls and accentuated with a teal front door. The teal front door has fiberglass panels that pull off a modern look.
This kind of door is perfect if you want to design a bright entryway. The glass panels will ensure you have a sufficient amount of natural light every day.
The only downside of having a fiberglass panel is the lack of privacy. However, you can fix it by installing a screen right on your front porch.
From this angle, the teal front door creates a contrast to the white walls around. Yet, it matches the mural on the inner wall. Both are painted in green shades, even though the front door is a bit brighter.
This is the look you should copy if you want to add a fun element in a simple and minimalist design.
15. Combination of the Teal Front Door and Beige Walls
This is another beach-style entrance featuring a teal front door.
Teal is an excellent alternative if you don't want to overly use blue in your beach-style house. Blue may be the best representation of the ocean, but it is way overused in a beach-style design.
Bright and light blue combined with white is the popular color combo for a coastal look.
If you want to make it a bit different, you can opt for teal instead of blue.
Teal has a mixture of blue and green, a more perfect shade to resemble an ocean. Moreover, teal is more fun, more whimsical, and more energetic than blue, which is calmer and more tranquil.
To create a lively look in your beach-style house, combine teal with beige.
This entrance has a bright teal single front door surrounded by beige walls and white trim. The beige walls and white trim complement each other, but they both also highlight the boldness of the teal front door.
If you are wondering, this door is from JeldWen, with glass panels and gold hardware. It is painted in Sherwin Williams – Surf Green that adds a coastal look to this traditional-style front door.
16. Tips for Accessorizing Teal Front Doors
From the images above, we can conclude that teal doors should also be accentuated to highlight or soften their boldness. Here are some quick guides to accessorize your teal door:
Lush hedges and foliage. Planting a front garden will enhance the green touch in teal color. It creates a well-coordinated look to your curb.
Black trim. Most of the pictures above show a teal front door with white trim or walls. Yet, if you want to add a touch of sophistication, you can paint the trim in black.
Prime it. Basically, regardless of the color, hue, or shade you choose for your front door, it is recommended to use a primer before painting it. The primer will make your façade look fresh for a longer time. Moreover, remember that the front door is the exposed element in your house all year round. Don't forget to add a coat of weather protection too.
Choose the right finish. It's not only the color. The finish also plays a big part in creating the entire look of your façade. You can choose a high-gloss for a modern look, a sheen finish for an eclectic style, or a matte teal for a traditional appearance.
Flowers accessories. You can opt for accessories that match your exterior style. However, for the safest option, you can always go for bright floral arrangements. They work well during the spring and summer, accentuating your teal front door nicely. Some plants will still produce flowers even when the weather is getting cold, like dahlias. Begonias can be beautiful when placed close to your teal door, while penstemons and daisies can still flower until November if you take care of them well. For simpler maintenance, you can choose evergreen plants. Arrange them in ornate containers to highlight your teal door all year round.
Good luck with your project!