Having two windows that frame the entry door is aesthetically pleasing. They can increase the perceived size of the front door and give it look more elegant and presences as the facade of the home.
Although they look aesthetic, a sidelight panel is quite challenging to cover. Because sidelight is usually narrower and smaller than normal windows, it is usually hard to find any window treatment to give you more privacy.
That is why it is recommended to have a custom-made sidelight window treatment, so you can have a fitted cover for the panels that can even be paired with the door treatment. However, there are also some ready-made products out there.
Regardless of your option, there are some choices that are usually used to treat sidelight, so they can cover it perfectly.
In the pictures below, you'll find some popular window treatments for sidelights, like:
Shades: There are several types of shades, like cellular, woven, and roman shades. All of them have their own advantages and style. If you want to create a modern look, choose cellular. It is better to choose woven shades for a rustic, farmhouse, or beach style, while classic roman shades are perfect for a traditional style.
Drapery: Drapes and curtains can also be used as a sidelight window treatment. The opaqueness can be achieved depending on the thickness of the fabric. Heavy drapes can give you a luxurious and elegant look. They guarantee privacy too. While the sheer fabric is lighter, simpler, and more stylish, perfect for a contemporary look.
Shutters: This is considered the simplest and most minimalist sidelight window treatment. If you want something low maintenance but still give you the most privacy, you can choose shutters. Shutters can be fit in any dimension. Plus, shutters can blend seamlessly with any interior style and color.
So, how to incorporate each of them into your sidelight? Here are some pictures to help you figure out which one you really need:
1. Cellular Shades as a Sidelight Window and Double Doors Treatment
If you want to create a consistent and uniform look for your doors, windows, and sidelight, you can choose a similar shade for them all.
In this picture, the shade maker managed to custom-make a cellular shade in triangles, rectangles, and trapezoids as a treatment for the sidelight window and double doors.
The shades make the area undeniably stylish, creating a focus in this dining room.
Cellular shades are the kind of sidelight window treatment you should choose if you want a simple yet stylish cover.
This one will let you control the amount of natural light that enters the room and give you total privacy.
Cellular shades are available in different shapes that can fit any type and design of sidelight window.
We can see here that the shades are opaque enough to keep the room dim even on bright days. The white color blends seamlessly with its surrounding.
2. Custom Made Plantation Shutters as a Window Treatment for Sidelight
The sidelight windows here are narrower than the previous one. It is quite challenging to find the fit shade to cover them up. However, the homeowners decided to use Plantation Shutters to add a timeless and elegant look to this room.
This kind of shutter can be shaped to any shape and form to custom fit any sidelight. If you are wondering, this shutter is 2.5" louvers, perfect for a narrow sidelight like this.
Shutters are the best option for a simple operation and a low-maintenance treatment. You can just pull the cord to open and close the louvers.
If you close them, they will give you protection against UV lights and unwanted attention from passers-by.
3. Elegant Window Treatment Drapery for a Sidelight
If you don't want to make a detailed measurement in your sidelight, this is a simpler choice.
All you have to do is just measure the length of the area at the top of your front door and sidelight, install a curtain track, and hang a drapery there.
If you want to get privacy, you just have to close the curtain, and open it every morning to let natural light fill the room.
Using drapery as a sidelight treatment suits any traditional style. The most challenging (and fun!) thing during the process is finding the right fabric and pattern for the drapes.
Smaller patterns will fit smaller areas, while bigger patterns will complement larger rooms.
You can always go for heavy fabric, like velvet, for the treatment for the opaqueness. This fabric can give you extra privacy as well as block light and sound.
If you want something lighter, you can choose voile or lace as a lightweight material for your curtains. They do give you privacy but still let natural light enter through it. Muslin and cotton are also popular fabrics.
It seems that the curtains here are made of cotton. They are not too light, but not too heavy either. They give you full privacy, but surely they can't keep out the cold and block light and sound.
4. Combination of Cordless Roll-up Shade and Curtains as a Sidelight Window Treatment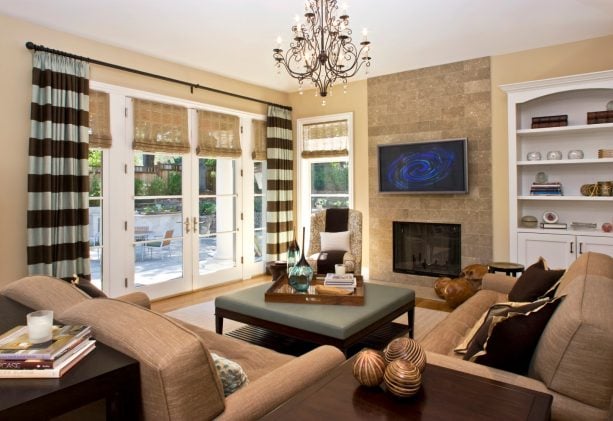 This is another type of sidelight window treatment that won't give you total privacy and light block-out. It seems that the sidelight window treatment is similar to the doors' treatment, which is a cordless roll-up shade made of woven bamboo.
However, it appears that privacy is a concern for these homeowners. That is why they combine cordless roll-up shade with curtains.
The simple curtains feature two colors that are opaque enough to block out the light and unwanted attention from others.
During the day, the shades can be rolled up, and the curtains are opened to let the natural light fill the room.
If you want to use a woven bamboo shade with a roll-up design for your sidelight and front doors, you should measure the dimension of the door and the sidelight first. It will be much easier if you have doors and sidelight panels that were cut and designed in a similar dimension to this.
5. Vignette Modern Roman Shades Window Treatment for a Single Sidelight
Unlike the previous pictures, this area only features one sidelight beside the door. It is because the limited space makes it hard to install two sidelights as usual, yet, the designer wanted to incorporate sidelight alongside the front door to enhance the focus in the entrance. Hence, a single sidelight.
For the treatment, the designer used Vignette Modern Roman Shades.
This type of shade is available in cordless options, an ideal choice if you want a sleek and sophisticated look like this.
The shade can be lowered or raised by a simple pull or lift in the handle. The bottom-up/top-down feature lets you have a view above with privacy below, and vice versa.
This is an excellent example of a small transitional entrance. The white color matches the door and the sidelight perfectly.
This shade is mainly used to give privacy, not a light blocker. The natural light can still enter the room through the glass panel at the top of the door and the sidelight.
6. Simple and Minimalist Roman Shade Window Treatment for the Sidelights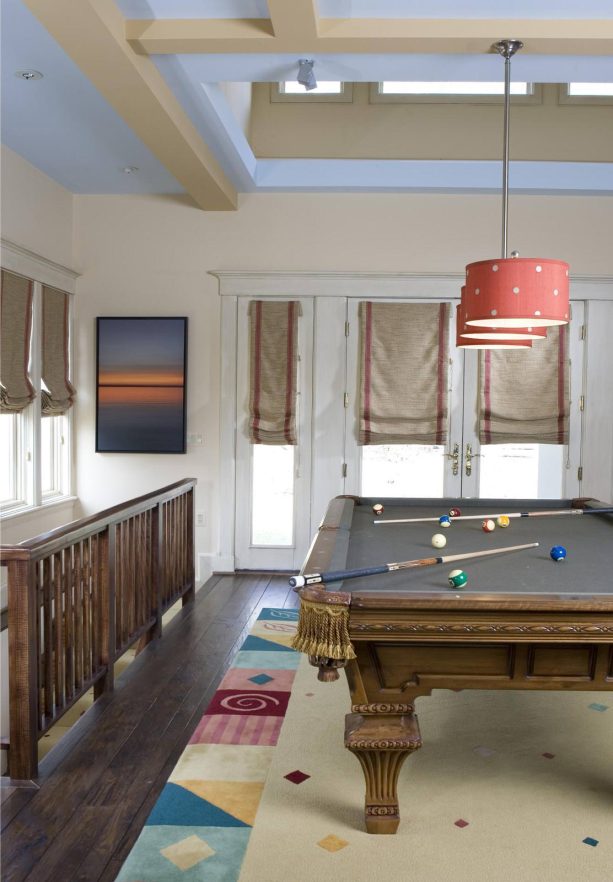 For a simple and minimalist roman shade, you can opt for a solid neutral color with only a stripe of bright color as an accent like this.
It seems that this roman shade is made of a thick fabric that can help you block the light and give you the privacy you need.
The homeowners created a consistent look by installing a similar roman shade for the french doors, the sidelights, and the windows in this room.
It is obvious that each of them has a different dimension. That is why the shade should be custom-made with a detailed measurement.
This is basically not an efficient choice if you don't want to deal with the fuss. However, the result is fantastic.
Using minimalist roman shade for sidelights, doors, and windows will pull off a neat look, especially when the shade is fully closed. This treatment is a perfect choice for an eclectic room.
7. Woven Textures Roller Shades as a Sidelights Window Treatment Highlighted by Lights
The great thing about this window treatment is it adds character and depth to the room, despite its function as a light blocker.
This is basically a Hunter Douglas Alustra Woven Textures Roller Shades with Hard-wired Motorization.
Woven shades will give you a traditional or rustic look. However, the technology, like hard-wired motorization, makes it look modern and stylish, creating a sophisticated look for the sidelight and the main door.
Woven shades can't give you total privacy. The sheer material will still make the room inside visible outside.
That is why it is recommended to use this kind of treatment for a backdoor that leads to the backyard. Or you can also use woven shades if you have no neighbors around. The shades will still let natural light fill the room, even not fully.
The prettiest view comes during the nights.
The designer installed a recessed ceiling light at the top of each sidelight and door glass panel. This way, the warm glow of the lights can highlight the woven shades perfectly.
The lights create a warm and inviting look. They have reflected the surface of the shades, making them as if they glow from the inside.
This is the look you should go for if you want to create an eclectic design with a touch of a modern look using woven shades.
8. Weave Bamboo Shade as a Window Treatment for the Sidelights
This is basically a traditional entry that would look best with a heavy curtain for a traditional look. However, the homeowners wanted something different.
Since the front door features a transom and two wide yet small sidelights, the best treatment would be shade.
Instead of roman or relaxed shade, the owners prefer to use weave bamboo shade.
As you can see here, the shade won't give you full protection from the sun's rays. The natural light can still penetrate the room through the shade.
Yet, for some, this may be the best option because not everyone would want to entirely block out the light once the shade is on.
Weave bamboo shade won't also give you total privacy. However, it accentuates the entrance perfectly, matching the brown color incorporated in this area.
9. Roman Shade Window Treatment for a Beach Style Sidelight
Kids' bedrooms should use roman shade as a sidelight window treatment than other treatments. It is because the roman shade can be folded up, so it is out of reach for the children.
Curtains and shutters are not efficient because kids can easily mess them up.
This room features a lovely beach style. So, apart from the bright colors from the beds and dark accent in the wall, this entire room was painted white. That is why white roman shades were selected.
However, in order to accentuate the bright white french doors and sidelights, the homeowners picked a black patterned white roman shade.
This shade is opaque enough to block out the light and unwanted attention from the neighbors. It is a perfect choice if you want something with a minimalist design.
10. Sheer Curtain Window Treatment in a Sidelight
It seems that the homeowners didn't want to use heavy fabrics for the window treatment. However, they still want to get extra privacy. That is why they combined sheer curtain window treatment for the sidelight and roman shades for the double doors.
We can see that the sidelight panels here are quite big. They also have quite a large gap in the doors. That is why it would be more efficient to use curtains instead.
However, unlike the previous pictures, the curtains don't meet in the middle, with only one railing track at the top. Each sidelight window here is completed with its own track, so they have its own curtain.
Lightweight fabric with small patterns like this will be perfect for a transitional room design. Moreover, the homeowners carefully selected the curtains to match the surroundings instead of making a contrast.
11. Large and Heavy Drapes for the Doors and Sidelight
This Mediterranean bedroom looks luxurious and elegant, thanks to the details and the elements incorporated here.
One of the elements that enhance the elegance in this room is the large and heavy drapes for the sidelight window treatment.
As stated before, drapes are perfect as a window treatment to cover a large area for the doors and the sidelight.
We can see that the arched double doors and the sidelights on both sides have a large gap and large dimension. It would be more efficient to use heavy drapes to cover them all at once. It will help you save more money since this is a more affordable option than having to custom-make shades or shutters.
The curtains meet in the middle, with only one railing track at the top. They can give the owners the privacy they need and block out the light easily.
12. Crisp White Roman Shade to Cover the Entire Area of Doors and Sidelight
According to the shade maker, the homeowners wanted to maintain the light and airy feel in their home, especially in this room. That is why they opted for a roman shade that can cover the front door and the sidelights all at once.
The window treatments are Classic Roman Shades in Lexi White color from blinds.com.
The crisp white color matches the surroundings perfectly. It indicates that the homeowners simply use this treatment for a functional reason, not as a decoration to accentuate the wall.
It seems that this shade is a cordless type, which is a perfect choice if you want to achieve a clean and sleek look. The shades can also give you privacy and light block-out if you need them.
Closing
So, which type of sidelight window treatment that you prefer? Basically, there are other types of treatments that you can opt for:
Paint: Yes, glass can be painted with glass craft paint. With paint, the glass panels can still let natural light come to the room but still give total privacy if needed, depending on the design and the paint color. It is also essential to know that painting on sidelight can be removed. Once dry, it pulls right off in a sheet. It means that you can change the pattern or art to suit the current occasion, holiday, or season. Faux paint finishes, like sponging or mock leather, are ideal for painting on windows. Geometric designs are a project for any skill level, so they can be included in your DIY project. There are also faux lead lines that can be stuck and peeled to the glass to simulate leaded glass.
Window film: This window treatment is also available in a decorative pattern. It can be applied directly to the window surface. It can give you total privacy as well as UV protection. Decorative window film is available in decorative tone-on-tone patterns, like diamond geometric, plain colors, and colored traditional designs, like large full-color artistic reproductions or green ivy trellis. You can install it on your own, and it can be easily removed. You need to cut the film to the exact size of your sidelight first.
Hardware: If you think hardware can't give you the privacy you need, think again. Swing arm hardware that is mounted outside the sidelight frame can let a curtain maneuver off the sidelight for light and swing back for total privacy. You can also use small tension rods to fit into the frame of your sidelight, at the top and bottom.
No matter your options, make sure you choose a sidelight window treatment that can fit your interior design and create an aesthetic view in your room.
Good luck with your project!