If you want to add a single accent wall that attracts attention and is a focal point in a room, installing wallpaper is the easiest and simplest way.
As an accent wall, the wallpaper will instantly impact your room, similar to other materials like wood, stone, and tile.
Basically, despite the materials, an accent wall is needed to add personality to the room. But, one of the benefits of using wallpaper as an accent wall is there are endless options of wallpaper out there. It means that it will be easier for you to pick one that represents your personality the most.
Why do you have to use wallpaper in an accent wall instead of an entire wall?
First, you don't want such daring design elements to overtake the space, especially with bold and colorful patterns. It would cram the room and make it look smaller if you use the wallpaper on the entire wall.
Second, the main reason you're using wallpaper here is to create an accent. No matter how tempting it would be to prevent yourself from using it all over the room, pick one side of the wall to be covered with wallpaper.
Third, of course, it would be more cost-efficient.
Now, we've e rounded up some beautiful and lovely accent wall ideas using wallpaper to get your creative juices flowing:
1. Orange and Gray Colored Sanderson Wallpaper as an Alcove Accent Wall
The accent wall in this bedroom is also marked by the alcove design.
The homeowners decided to install wallpaper to make it look more like a focal point. This is a Sanderson wallpaper in an orange, brown, and beige pattern with a gray background. A perfect choice to represent an edgy yet bright personality.
The gray background of the wallpaper matches the gray wall around. The orange accent in the element also coordinates with the bedding and the pillows, creating a visual balance.
Basically, every color in this wallpaper can be found throughout the bedroom. It means that the designer managed to mix and match everything.
There are two table lamps placed in front of this wallpapered accent wall.
During the evening, when the lamps are on, the light will illuminate the accent wall, highlighting its fun pattern and making the gray background appear lighter than the entire wall, even though the shade is darker than the paint on the wall.
There are recessed lights in the angled wall "wedge" that shine down the wallpaper when they're on.
Combined with the table lamps, these recessed lights will add a dramatic look to the accent wall.
2. Soft Pink and Gold Accent Wallpaper for a Girl's Bedroom
The wallpaper for this accent wall is called "Mimosa", which is originally a Blueberry Glitter painting that was converted into a large format wall mural. It's available in peel and stick decal application or traditional wallpaper peel.
Either way, this accent wall gives a feminine personality to the room. No wonder it's used in a girl's bedroom.
This wallpaper has a perfect combination of white, beige, lilac, coral, and gold. The print certainly makes a dramatic accent wall, especially if it's combined with bright white walls around. Surely this sweet patterned wallpaper will stand out.
The stark shapes and soft color deliver an eye-opening focal point in the space. The gold tones represent gold leaves; they were created in an abstract design.
We can't deny that a gold accent will never fail to give you a royal, extravagant, and sophisticated look. It will instantly accentuate the white background and any soft shades around.
The designer matches the soft pink coral shade in the wallpaper with the headboard and the bed to create a visual balance, while the metallic throw pillows surely match the gold accent. These shades are perfect to be paired with stark white background.
Since the wallpaper accent wall has already drawn much attention, make sure the rest of the room is finished in a neutral color.
3. Gray Herringbone Pattern Wallpaper Accent Wall in a Contemporary Style
If you consider yourself simple yet stylish, opt for this wallpaper as your accent wall at the back of your headboard.
This wallpaper is not bright nor bold, but somehow it's still able to catch the most attention. It's because the designer painted the rest of the walls white, giving the spotlight to the wallpaper.
The wallpaper has a large herringbone pattern in several shades of gray color, a perfect item to represent a contemporary style.
Right on this accent wall, the designer also installed two single windows with white trim.
The white trim does accentuate the gray wallpaper and makes it look more prominent in this bedroom. On the other hand, the gray shade resonates well with the throw pillows and the blanket.
Two table lamps are placed against this wallpaper to create a soft glow, making the wallpaper look even more gorgeous.
This gray herringbone wallpaper proves that even if you don't use a brightly colored and bold wallpaper as an accent wall, you're still able to create a focal point out of that.
All you have to do is just add another attractive element to it, in this case, white-framed windows. Don't forget to add the lights to enhance its dramatic look.
4. Graphic Wallpaper Accent Wall in Orange and Gray to Add a Pop of Color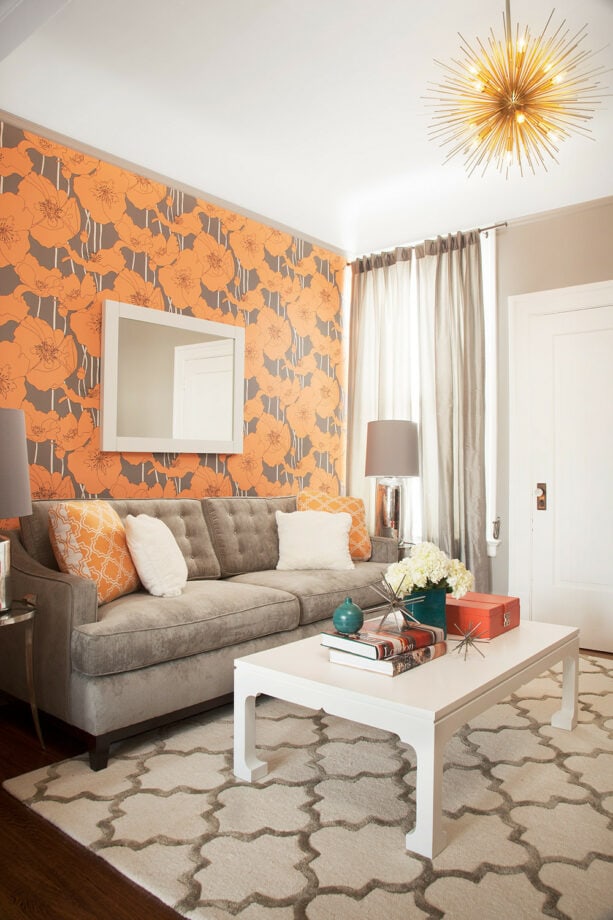 This wallpaper accent wall adds a splash of color to this gray living room, a perfect wallpaper to represent a fun and lively personality.
The graphic wallpaper features orange and gray shade, clearly complements the gray wall around and contrasts it at the same time.
Despite the bright wallpaper accent wall, this is actually a contemporary styled living room. Every detail in it completes each other. If you're wondering, the wallpaper is from Osborne and Little with pattern W5801-04.
The orange shade can also be found on the throw pillows, while the gold accent modern hanging pendant also coordinates with the orange wallpaper. Because the wallpaper has a full pattern, it's important to keep the rest of the details in a minimal pattern.
For instance, the orange throw pillows have a different pattern from the wallpaper. It's OK if the element is small, like throw pillows. However, avoid using a large surface with a different pattern.
The rug does have a pattern too, but it is minimalist. The color is also neutral.
The thing is, don't make additional patterns compete with the wallpaper. It will only make your room look too flashy and cheap.
5. Soft Floral Colorful Wallpaper Accent Wall for a Teen Girls' Room
For a teen girls' room who is high spirited, sweet, and lovely, installing a soft floral wallpaper as an accent wall is recommended.
This colorful printed wallpaper makes a punchy accent wall in the bedroom. It is bracketed by white walls on both sides that look pale against this multicolored accent wall at the back of the headboard.
This wallpaper is from Flat Vernacular called Soft Floral. The combination of many bright shades is a suitable option for a teenage girl.
See how the designer coordinates every shade in this wallpaper to every other item spread out in this bedroom.
The red shade matches the bright red headboard and the throw pillows. There's also a red cap on the mannequin in front of the wallpaper.
The blue shade is similar to the blue framed mirror on another side of the wall and the ribbons on the mannequin. Yellow and pink shades are represented by the decorative items on top of the bedside table.
The only additional patterned elements in this bathroom are only the decorative pillow and the bed cover.
Tip: if you want to add several different patterned elements in a room like this, make sure you use white as a dominant color.
6. Gray Cloud-patterned Whimsical Wallpaper Accent Wall for a Calming Look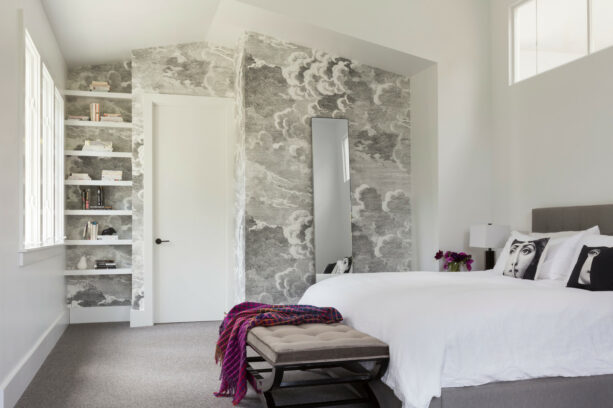 If you want to create a calm and tranquil room, you can go for this wallpaper.
According to the designer, this master bedroom was a calm oasis where the owners, the parents of young children, could escape for a while. The calm ad whimsical wallpaper is Fornasetti II Nuvolette from Cole & Son.
This wallpaper looks like a gray cloud. Being set around a bright wall background, this gray cloud-patterned wallpaper will make you feel as if you were floating in the sky. =
No wonder it feels so calm and relaxing. Who doesn't want to sleep upon a cloud?
The gray shade in the wallpaper matches the gray ottoman, the floor, the bed, and the headboard. Except for the black and white printed throw pillows, mostly everything in this bedroom comes in a bright white. Simple yet striking.
You should do this if you want to design a minimalist contemporary bedroom with a calming effect.
7. Bold Wallpaper Accent Wall in an Alcove from Manuel Canovas
It would be nice for a bedroom with twin beds to have an alcove wall like this as an accent with an angled shape.
Even without a wallpaper, this alcove wall has become an accent wall. However, to enhance its dramatic look, it's important to add something bright and colorful that resonates with the sweet and fun personality of the room owners.
This is an excellent inspiration for a country girl's bedroom.
The multicolored wallpaper accent wall is from Manuel Canovas, a Bengale Wallpaper in Paprika.
Bengale toile is one of the favorite products from Manuel Canovas. It's perfect to create a bold look. Combine with the coordinating fabric on the bed sheet to make the whole look even bolder.
There's a huge wall on this accent wall that's meant to highlight this area even more.
The window has white trim and is completed with a similarly white treatment. The white window and treatment match the white wall around, serving as a canvas for this bold wallpaper.
If you already have a window on an accent wall, you don't need to add artificial lighting anymore to highlight it. The natural light that comes through the window is enough to accentuate the wallpaper.
8. Aquarium Wallpaper Accent Wall Surrounded by Green Walls
For a playful and carefree children's space, adding a fun wallpaper accent wall with animal print is recommended.
Most children are fond of animals, so make sure to install the wallpaper as an accent wall with animals on it.
When it comes to animal print, don't think about leopard or zebra print that you usually see in women's fashion. This is a kid's space, so the wallpaper should represent the children's passion.
This wallpaper is from Nina Campbell called "Aquarium" and is available in multiple colors.
The strong pink shade in this wallpaper is combined with other additional shades to create a fun look. It has a white background to make the bright colors pop.
Having an aquarium wallpaper like this will make your kids feel as if they were in a huge aquarium.
This white-based wallpaper is surrounded by green walls. Green is one of the vibrant shades that's suitable for a kid's room, including a bathroom.
Pairing vibrant wall color with fun patterned wallpaper will instantly make any room look whimsical. In order to avoid being too flashy, make sure you add a white and natural element.
The door trim, mirror frame, and countertop are finished in white in this bathroom, while the vanity is made of wood. Those are enough to provide a background for the bright wall and bold wallpaper.
9. White and Gold Pattern Headboard Wallpaper Accent in a Transitional Bedroom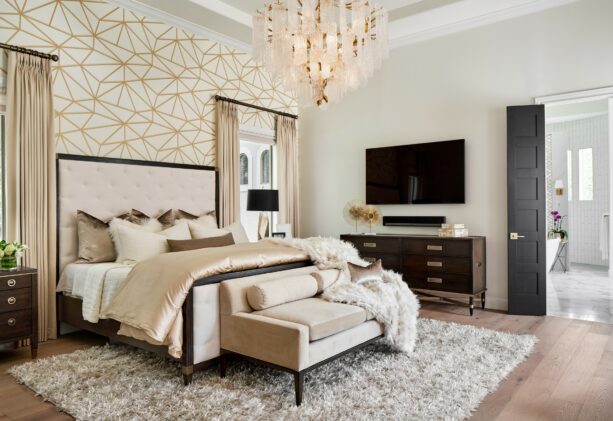 Elegant, luxurious, and womanly. The personalities are added by this white and gold pattern headboard wallpaper accent.
There's nothing bold and vibrant in this wallpaper, but that doesn't mean that it can't deliver an attractive look. There's something unique in a geometrical pattern, especially in a royal shade like gold.
The walls around are painted in a fresh soft white shade, blending with the background of the wallpaper.
The dark tone wood element, the light brown floor, and the beige bed are tied together by the gold accent. Apart from giving an elegant look, a gold accent is also useful to complement any soft and neutral color.
To complement the gold accent in the wallpaper, the homeowners carefully picked the throw pillows and the bed cover in metallic gold.
The wood elements deliver a traditional vibe, while the soft white walls and gold accent pull off a modern look. Both create a transitional design, a combination of traditional and modern looks.
The classic chandelier in the middle of the room will highlight the beauty of this wallpaper, along with the table lamps that were placed right in front of the window on the accent wall.
10. Black and White Wallpaper on a Bright Red Accent Wall
Everything in this bedroom screams bravery, boldness, and a bit of quirkiness; a unique combination in a personality. Such traits will be best represented by bold and bright red like this.
Like the usual accent walls in the bedroom, this accent wall is also placed behind the headboard.
What makes it different is the fact that the designer doesn't only use wallpaper as an accent wall but also a red paint. So, this wallpaper is installed right in the accent wall, not to accent the wall.
The accent wall is painted in General Paint – Fever #CL 1447, which is identical to the pillows. This bright red accent wall is trimmed with black material to add a dramatic contrast.
The wallpaper is placed in the center part of the accent wall. This is York Wall Covering #ZB32014 in black and white color. The Black and white combo upon a red wall delivers a unique look, an odd neutral and vibrant color combination.
To top it off, right on top of the wallpapered accent wall, the homeowners also hang a bike painted in dark red. What a weird decoration, but it turns out that it ties all the elements together.
Everything in the accent wall has been spread around the room nicely to create a visual balance.
11. Mosaic Wallpaper Accent from Schumacher to Complete the Neutral Color Palette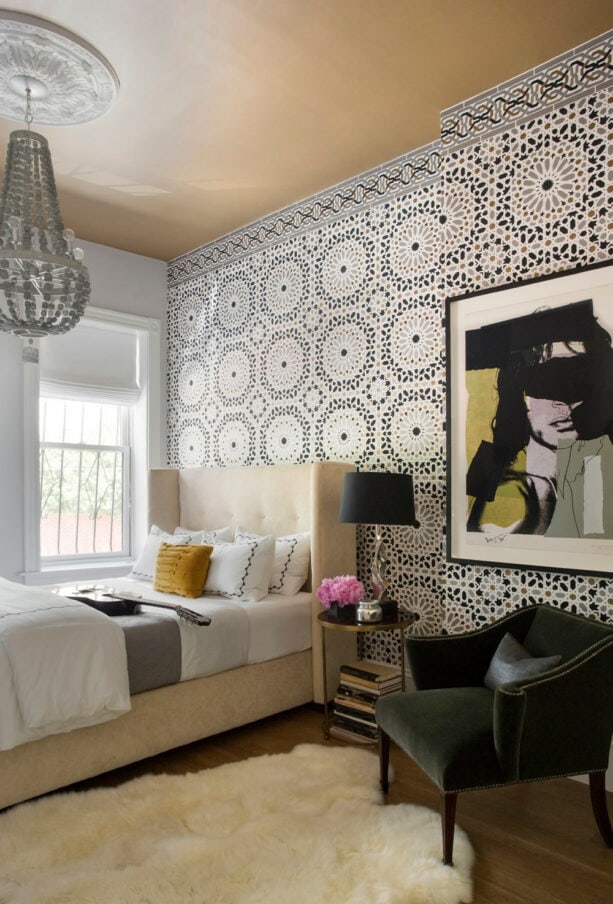 If you're into a vintage look with a bit of eccentricity, you can opt for this wallpaper.
This is a mosaic wallpaper from Schumacher called "Nasrid Palace", the best option, if you want to stick with a neutral color product despite it, is being an accent wall.
We can't deny that not everyone loves bold and bright wallpaper, even though it is meant to accentuate the wall. Some prefer to stay low-key and humble but still don't lose touch with their eccentricity.
Apart from being neutral itself, this wallpaper also completes the neutral color palette in this transitional bedroom.
The white background of this wallpaper corresponds with the white walls in the entire room. The beige headboard and bed are in line with the beige shade of the wallpaper, while the black shade can also be found in the chair beside the bed.
Since this is a neutral-colored wallpaper, so the designer adds another element to make this accent wall look even more prominent. There's a lovely artwork in neutral and soft shades hung on the accent wall.
The lamp table in front of it is also useful to create a highlight that emphasizes the wallpaper.
12. Stone Wallpaper Accent Wall to Easily Add a Texture to a Room
Who needs a real stone wall if you can use wallpaper instead?
The main reason people install a stone wall in a room is to create an accent and add more texture to their rooms. However, it will be much easier and cheaper to use wallpaper.
This stone wallpaper accent wall perfectly imitates real stone and gives a similar effect. It's elegant and perfect for you who want to stand out but still be down to earth.
This is 0236320 Einfach Schoner Wallpaper by P+S International. It is a non-woven wallpaper from top European designers with a modern and stylish look.
The great thing about this textured wallpaper is it's easy to clean. Plus, it also has tear-resistant properties, so you'll find it easier to handle it and place it on the wall, which means that you can install this wallpaper on your own without any professional's help.
All you have to do is just paste the wall with a paint roller or a brush instead of pasting the paper. The quicker the application is, the less mess it makes. Easy, right?
If you want to replace it somewhere in the future, this paper is easy to remove. It makes it a perfect choice for the renters or for those who want a less permanent option.
Fun fact: This wallpaper is also made of breathable fibers. It means there will be no mold or mildew growing behind it.
13. Vintage Bookshelf Wallpaper Accents in an Eclectic Bedroom
If you're a bookworm and want to sleep surrounded by books, it's better to use wallpaper instead of real books and real bookshelves.
Unless you have an extra grand master bedroom, it will take much space to add bookshelves and tons of books. So the most efficient solution is using wallpaper.
This is a hyper-realistic vintage bookshelf wallpaper; most people don't even believe that this is actually a wallpaper.
This one can unleash your inner nerd and intellectual persona. It's from Andrew Martin, FYI. Actually, there are several manufacturers of bookshelf wallpaper that you can choose. There's even a 3D option.
Since bookshelves wallpaper is a multicolored one and it's quite hard to pinpoint the dominant color or shade, you can pair it with other neutral colors around.
See how the homeowners picked a soft gray bed to put in front of it and the white bedsheets and pillows.
Colorful throw pillows are added later to liven up the white and soft gray bed and, at the same time, contrast the wallpaper accent wall.
Many colors, textures, and patterns in this bedroom make it a perfect example of an eclectic design.
14. Woods Patterned Wallpaper Accent Wall in a Black and White Bedroom
Having a nature scene on your wallpaper is the easiest way to calm you down instantly.
After all, nature has its own way of relieving the stress and healing you.
This type of wallpaper is perfect for you who consider yourself a loner and want to spend some quiet time alone. You can make up the situation in your quality time with yourself as if you were in the deep woods.
This wallpaper is from Cole and Sons, called "Woods".
Instead of green, this one features a darker shade, a view in the winter. Nature is not always green. There are many earthy tones, and these ones are some of them.
It's true that green is not for everyone, especially if you want to make your bedroom as classic as possible with a black and white color combo. Green will be too bold and too vibrant.
Maybe that's the reason why this wallpaper was chosen in the first place. The dark and light shade corresponds with the black and white colors throughout the room.
The furniture, even the fabric in this bedroom, was carefully picked to match the wallpaper. The result is a comfortable, cozy, and lovely contemporary bedroom.
15. Textured Brick Wallpaper Accent Wall to Add a Rustic Look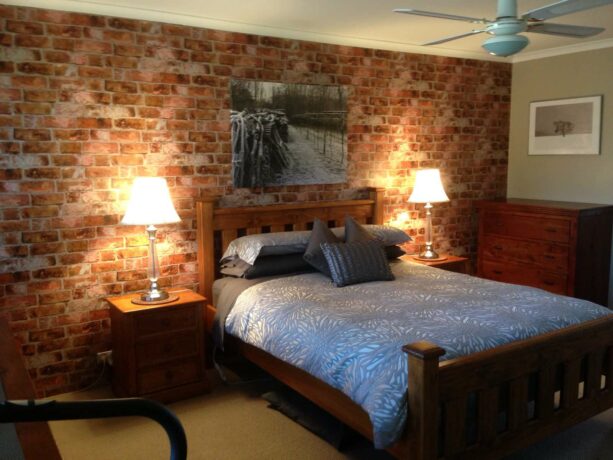 Similar to stone wallpaper, brick wallpaper is also the best alternative for real brick.
This will add a rustic look with a touch of industrial and unfinished look to your room. Unfinished brick wallpaper will never fail to deliver a simple countryside ambiance.
So, if you live in a city and want to relive your childhood memories back in the country, this rustic-style bedroom can be the best option.
This wallpaper is Orange Textured Brick Wallpaper in Orange/Rust sold by hproduct and designed by York Designs. Made of solid vinyl textured, this one looks and feels like the real thing.
See how the aged and weathered look created by the impression of the rustic-styled accent wall contrasts the clean and polished element in the bedroom.
Even though basically the wallpaper accent wall and the rest of the design of this bedroom are both classic and vintage, they have different textures and characters.
If you want to create a contrast, you can copy this look, not through the color but through the style.
16. Nova Mist Wallpaper in a Mid-century Living Room
Modern, trendy, loud, and fun. The personalities that this wallpaper brings to your room. If you are just the same, using this wallpaper will represent you the most.
This is a Nova Mist wallpaper sold by Isak. It is sold by the roll, by the way. So if you're on a budget, you can pick the narrowest and smallest side of the wall to create an accent and use this wallpaper to make a focal point.
This living room practically has a mid-century style. So, Nova Mist wallpaper won't be out of place here. On the contrary, it livens up the all-white walls. It brings a bold and sophisticated look to the walls.
In order to elevate the visual of this accent wall, the homeowners also placed a display rack and cabinet in front of it.
Many kinds of decorative items are displayed there, from the colorful ones to the black and white ones. Each of them represents the shade and color of the wallpaper.
It's not only that, but the designer also carefully chose the furniture and decorations to match the wallpaper. The bright blue sofa is similarly bold and flashy to the wallpaper, and so are the artworks hung on the wall.
So, although the wall is painted white, the other elements in this living room are lively and fun.
17. Corrugated Metal Wallpaper Accent Wall to Create a Clean and Aesthetic Look
Want to add more masculine touch to your room?
This corrugated metal wallpaper can be your solution. It's suitable in any industrial room, even a kitchen.
See how this kitchen looks perfect with this metal wallpaper?
Even though the kitchen is usually associated with a female area, that doesn't mean that man can own his own kitchen and add his personal touch to the decoration.
This wallpaper is from Brewster Home Fashions, Corrugated Metal Charcoal Industrial Texture Wallpaper in Bolt color. Its gray color is combined with a gray baseboard that blends seamlessly with this accent wall.
The wood floor makes a contrast, though. It's not only a shade contrast but also a texture and material contrast, the natural vs. man-made element.
The gray shade of this metal wallpaper is repeated again on the cushions. Since the wallpaper is not patterned but textured, it's okay if there's a different pattern added.
The pattern on the cushions is enough to elevate this minimalist room, complementing the textured accent wall and toning down the rough industrial look in this kitchen.
18. Realistic Scene Photographic Wallpaper Accent Wall as a Backdrop
Scene photographic wallpaper can not only be used as an accent wall but also as a backdrop.
This woodland scene photographic wallpaper makes this kitchen look flowing and more spacious because the scene on the wall creates a situation as if the kitchen was connected right to the forest.
This wallpaper is from Wallpapered. But actually, you can custom print your own design to create a scenic wallpaper like this.
Keep in mind that though natural scenic wallpaper has all the shade that nature has, it won't make it look simple and natural.
On the other hand, your room will be dramatically highlighted if you have scenic or panoramic wallpaper. In order to avoid being too intense, keep the rest of the designs and colors simple and cool.
In this kitchen, the dark tone wood floor, the wooden furniture, the dark countertops and stools, and the white walls give the spotlight to this wallpaper. They stay in the background and let the wallpaper accentuates the room as a huge backdrop.
Bright and bold artworks on the white wall liven it up a bit, but that doesn't steal the spotlight from the panoramic view.
Imagine having your meals served in this kitchen/dining room. The serene sensation it gives will instantly make you calm.
This is the kind of wallpaper that most travelers and tree-hugger should have. It brings the outside in without any door and window.
Add lighting in front of it to emphasize the view in the evening will be nice.
19. How to Decorate Wallpaper Accent Wall
Now you know that there are various wallpaper patterns available. It will be easy to find one that fits your personality and style.
The biggest challenge maybe you and your partner have to agree on what pattern to put up.
Yet, despite the pattern, here are some things you can do to decorate your wallpaper accent wall:
Choose a wallpaper pattern that coordinates with the room's decorating style and color scheme. It means it takes more than just your personality to use wallpaper as an accent wall. If you have modern decor, it would be better to use a geometric-inspired wallpaper. For a more traditional design, choose a damask variety. This is even better in a Victorian room. Pick a wallpaper with a large-scale pattern for the most updated look. Patterns with related colors will make the space more serene, while the patterns in sync with nature will deliver a dramatic final result.
Coordinating fabrics. Choose the wallpaper hues that coordinate with the bedding if you're in a bedroom makeover. Coordinate the wallpaper with the throw rugs, upholstery, and curtains in a living room. Blend it with smaller items for a brighter wallpaper color, like blanket throws or decorative pillows. Keep other patterns in the room to a minimum level to make sure they won't compete with the wallpaper.
Considering the light fixtures. You can add lighting to illuminate the wallpaper accent wall. It would be nice to add wall sconces in the wall area to enhance the overall pattern. Or, it would be OK too if you put lamps on end tables to bring light to the accent wall and emphasize its importance in the room. Alternatively, you can hang a ceiling chandelier to further accent this focal point.
Don't forget decorative accessories. You can also add a large mirror on the wallpaper accent wall to bring more attention to the wall ad reflect the light in the room at the same time. Pick up some of the wallpaper colors in items like paintings, picture frames, and candlesticks to create a space with perfect visual balance and distribute the visual weight to the room.