Most people think that a recessed wall niche is a waste of space if installed in a house, because such construction usually appears in apartments.
But that doesn't mean you can't have it on in your living room or even dining room.
This construction has been commonly used since the Classical Age, and it marks the stately home and the refined taste of the owners.
You may think that in a house, a recessed wall niche is only suitable in a bathroom, where it doesn't take much space, and it's basically needed to hold some toiletries. Yet, niche can appear anywhere, even in a staircase wall.
Depending on where it is installed, you can organize it in a practical and attractive way.
Usually, recessed wall niches are placed anywhere, but the bathroom can be used to display all your worldly treasures, from china collections to valued art pieces.
Recessed wall niches are traditionally mounted in a slender or tall curve. However, they now can be seen in many shapes and sizes, in a series or standing alone.
A recessed wall niche can also add depth to the room. They serve as convenient and safe place keepers for any fragile objects of art.
If the shelf or precarious coffee table won't do, the recessed wall niche comes to the rescue. They deliver a subtle balance between visual aesthetic and look-don't-touch non-verbal warning.
After the wall, what's the better way to display your signature pieces than with a well-crafted wall niche?
Here are some ideas of appealing recessed wall niches and how to use them in your room:
1. Recessed Beige-Colored Wall Niche in the Bathroom for Toiletries
This bathroom is accentuated by natural limestone wall tile completed with satin nickel fixtures.
In both of the walls, there are two simple recessed wall niches in beige-colored, simply used for toiletries.
Unlike the accent wall, these ones are made of lithoverde. It's a natural stone made of 98% recycled post-industrial content.
These two walls are specially made from leftover limestone, pressed together by the manufacturer, and then got sliced. It can be purchased in tiles or slabs.
The wall niche is bigger than the other. It seems that the bigger ones are used for toiletries, while the smaller ones on the other side of the wall are used for small bathroom items.
The bigger niches have two levels. The lower level is narrower and meant to hold a soap bar, while the upper level is much taller and supposed to keep bottles of liquid soap or shampoo.
The wall niches blend seamlessly to the wall, which means that the designer doesn't intend to make them a focal point.
It's clear that these wall niches are simply used for a practical purpose to save more space and make the bathroom look clean with less clutter.
2. Recessed Niche Wall in the Foyer for Vases with Blossoms
A series of recessed wall niches in this foyer is used as a display to show the collection of vases plus the blossoms.
The bottom portion of the wall niches are 148" by 108," and it goes up after the line above the niche.
These niches have different sizes, starting from left to top; here are the dimensions: 19 1/2" x 24", 19 1/2" x 10", bottom 41 1/2" x 19", top right 17" x 39".
The recessed wall niches also share a similar material and finish to the entire wall where they are located.
A simple and minimalist look but somehow still exudes a luxurious appearance. It may be because the designer painted the wall in white, a timeless color that will never fail to give you the right amount of sophistication.
Or, it may also be because there's a downlight in each of the niches. It's an LED rope lighting that can be turned on with a light switch.
Each niche holds one or two antique and polished vases that seem in contrast to the niche itself.
This is a great way to utilize your niche as a show-off spot. Place a decoration that looks in contrast to the niche, so it will look stand out.
3. Small Recessed Wall Niche with Downlight to Highlight the Urns
This plaster fireplace seems complete because the designer managed to fill the whole area with entertainment and decoration items.
Right beside the fireplace and the wall-mounted TV, there's a series of small recessed wall niches set vertically.
That small niche creates a stack in the wall. They're completed with a downlight to showcase the decorative urn placed in each of them. It seems that those are antique and precious urns because they get the special places in this living room.
If you want to highlight a special item or your precious belonging in a wall niche, it's recommended to design a small niche like this and create some in a series.
Place your antique decoration in each of the niches, one in each niche, so it gets the most highlight, especially if you combine it with the downlight.
A small niche with one precious item will show people how valuable your decorations are, but at the same time accentuate the entire wall too.
4. White Recessed Wall Niche Used for Candleholders' Space
According to the designer, this staircase connects the main level to the basement. The Mediterranean spiral staircase looks grand in this area.
In order to add more depth to the room, the designer also installed a recessed wall niche right next to the bottom landing of the staircase.
In order to enhance the Mediterranean look, the wall niche is also designed in arched.
The arched wall niche looks simple because it's not too deep in the wall. Moreover, this is a standing alone niche made of similar materials and finishes to the surrounding wall.
It's obvious that the homeowners want to stay humble with this niche. It's used for a practical and intentional purpose.
The wall niche is utilized to keep the candleholders.
Instead of usual lighting, the designer decided it would be nicer if this area was also illuminated by a candle, and the candles were set most aesthetically. They are held by vintage candle holders and placed in the wall niche.
Instead of being highlighted by the downlight or rope light, this niche is illuminated by the candles, that are also meant to light up the basement area, along with the candles in the accent stone wall beside the staircase.
So even though the niche is simple, it won't fade into the background.
5. Recessed Wall Niche with Decorative Background Idea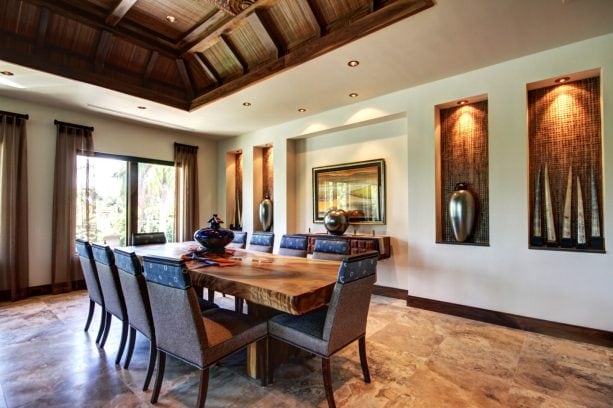 It would be nice if you hang artwork in your recessed wall niche, because the niche can be a frame to the artwork.
However, if you don't have any artwork, as an alternative, you can install a decorative wall in the back of the wall niche.
Such decorative walls can create a contrast to the entire wall where the niches are located, especially if the background is white.
Look at a series of this niche. Each of them has a similar dimension, which means that the designer intends to create a structural and organized look on the wall. See how the decorative items are also put in order.
This kind of niche is useful if you want to highlight your valuable collections. Add a downlight in each of the niches to enhance the luxurious look and show how precious the items are.
There's a bigger and deeper niche in the center of the wall that's meant to showcase artwork. This center niche beautifully highlights the picture, making it a focal point in this dining room.
Due to the fact that the center niche is large and spacious, it reaches the floor, the designer also makes it functional. It is used as a place to keep a console table.
6. Recessed Stone Wall Niche for Decoration in the Kitchen
Who says that recessed wall niche can't be added to the kitchen?
This structural design can be installed in any room, including the kitchen.
In this spacious kitchen, there's a peninsula that's attached to the accent stone wall. Here's where the niche is located.
If the niche is installed in an accent wall like this, it's better to keep the inside simple and plain because the accent wall has already been a statement.
Don't overwhelm the niche with too many accents. Moreover, the inside of the niche is meant to be a backdrop for any decorative item you put there.
If you want to install a niche in a decorative wall, make sure it's a standing alone niche. It's because usually, the decorative wall is not large.
So due to the lack of space, it would be more effective if you have one single large niche rather than a series of small niches, especially if the items you want to display it is quite big.
As an alternative to a downlight, you can install recessed ceiling lights near the niche. The result is the same with downlight; your decorative item can still be highlighted nicely.
7. Recessed Niche in the Wooden Wall for a Bottle Collection in a Bar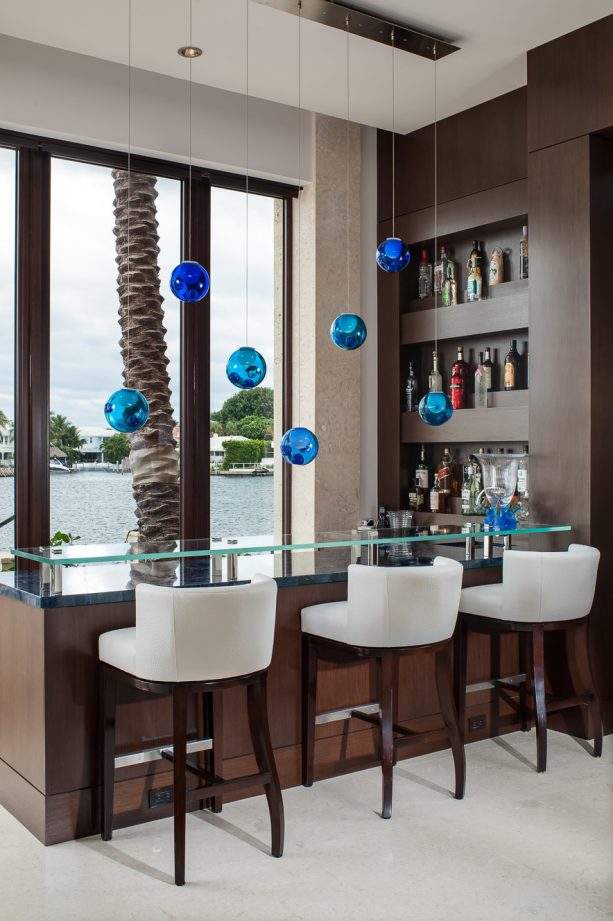 Installing a recessed wall niche in a bar is also useful because you can use it as a spot to keep your bottle collection. This way, you can display your wine collection without having to keep them in a closed cabinet.
Showing off your wine collection like this will ease you to grab one bottle if you need it, and at the same time, it's also useful to accentuate the wall.
A plain dark wood wall is good, but it will be too bare and plain if you have it throughout the room without any decoration. One of the best ways to decorate it is by installing a recessed wall niche.
It's a series of wall niches stacked vertically but in a wide dimension. Each of them has a similar dimension to create a consistent look.
If you want to design a wall niche for your wine collection, there is no need to make it too deep.
You also don't have to install any downlights because it's not an artwork of valuable decorations that you need to highlight. Keep it simple and lowkey; make it similar to the surrounding wall. Let your bottle collection make the statement.
8. Recessed Wall Niche in a Landing of a Staircase to Show Decorative Dinnerware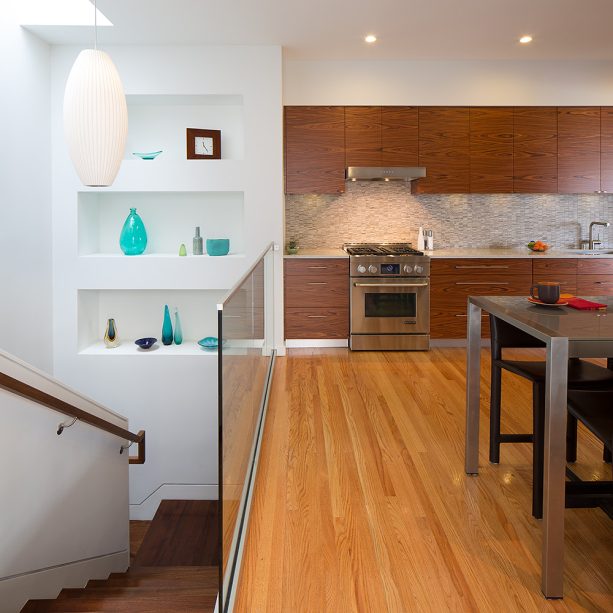 Building a recessed wall niche can also be in the wall around the staircase.
If you have an L-shaped staircase, the wall above the landing may look bare. That's the right spot to install a wall niche.
Depending on the size of the wall, you can build a series of niches or just one single niche to decorate the wall.
Similar to the previous picture, this wall features a series of niche that has a similar wide dimension, stacked vertically. These niches are finished in white, similar to the surrounding wall, clearly not to attract much attention.
Since the staircase is meant to connect the dining room to another area, it's reasonable to put some dinnerware as a decoration.
Decorative dinnerware like this would be a waste if you just put them in glass-front cabinets. It would be more appealing if it's placed in a more proper spot that gets the most attention.
These niches are made to blend with the surrounding wall. They're painted in white too.
This is surely a great idea if the decorations are in a bright and bold color. Let the niche contrast the decorations to make them look pop and stand out.
9. Recessed Niche in a Marble Wall Next to a Bathtub for Shower Gels
You've seen a recessed wall niche in a bathroom in one of the previous pictures. Actually, wall niches are a common thing in a bathroom.
That's one of the ways to create a sleek and clean look. You don't need to put a rack or a small cabinet to store your toiletries with a wall niche. This is especially recommended for a small bathroom with limited space.
The difference between this wall niche and the previous one in the bathroom is this one is smaller and simpler. This recessed wall niche is also similar to the surrounding wall.
Usually, matching the niche with the surrounding wall is only common if the wall is painted in a solid color, especially in white. However, this bathroom wall is made of marble, a Selene Marble that brings out the luxurious look in the area.
This recessed marble wall niche is used to keep the shower gels or other liquid products. Being installed right next to the bathtub eases the homeowners to reach any product they need.
It seems that the homeowners wanted to create a free-of-clutter look in the bathroom because even the wall niche is filled with well-organized items, and it looks simple, minimalist, yet stylish at the same time.
10. Recessed Niche Used as a Media Wall
Having a media wall in a living room is good. This way, you can gather all your entertaining kinds of stuff, including TV, books, and magazines, in one spot.
Most people used a built-in rack for a media wall. Yet, you can design a huge recessed wall niche and put a cabinet to accommodate your TV and book collection for a more unique look.
It takes an extra big and wide wall niche to put a cabinet into it. And as long as you have a large wall, there won't be any problem. Make sure the niche reaches the floor.
Putting a cabinet inside a niche like this will create a neat and clean look. Plus, it makes your room feel bigger because the cabinet is recessed to the wall, not taking much floor space.
There's another recessed wall niche above the media wall in the same width but much shorter. This upper niche is meant to use as a display rack.
What's better than putting your decorative items on top of a media wall?
This way, the entire area of the wall can be a great source of entertainment. This is a recommended design for any family room.
11. Deep Recessed Niche Surrounding the Fireplace to Liven up the Living Room
Like the previous picture, the recessed wall niche is also installed in a media wall. The difference is this series of niches surrounds a fireplace in the center of the wall.
Instead of a large and wide recessed wall niche to accommodate a cabinet, these niches are way smaller but much deeper than the ones you've seen in the previous picture.
For deeper niches like this, the best decorations to place into them are the large ones with wide dimensions. A pot of plants, small statues, or decorative baskets can be a great thing to accentuate this deeply recessed wall niche.
The unique setting of niches is useful to liven up the living room, especially if it's a formal living room in a traditional style, which is usually set in an organized look.
A bit of clutter won't hurt. In fact, such clutter will make the living room more liveable, less intimidating. Surround the focal point with these niches to make a statement.
If the room has a low ceiling like this, don't add too many niches to the wall. Make sure the upper niches end right where the ceiling starts.
12. Tuscan Kitchen with Recessed Niche Wall for China Collection
There are two recessed wall niches in this Tuscan kitchen.
The first one is in the backsplash above the cooking area, while the second one is next to the dining table.
The recessed backsplash is wide with a bit of an arched look at the top. It's used to store some herbs and spices, which is a better idea than having to install a spice rack, which can create clutter.
The recessed wall niche next to the dining table is wider and bigger.
In fact, this niche looks a lot like a built-in display rack. It's a series of niches stacked horizontally, and it seems that it's completed with wooden racks. These racks are used to hold the China collection, which looks so stunning in its various color.
If you have a wide space in your wall, it's actually a good idea if you create a niche out of it and complete it with racks.
Make sure the niche blends seamlessly with the surrounding, which means that you don't have to use accent material for the wall inside.
If you want to create a subtle contrast, install some wooden racks that look odd against the white or beige wall. This way, the decoration, and the racks will complement each other to create a contrast to the entire wall.
13. Two-level Arched Recessed Wall Niche for Small Decorative Items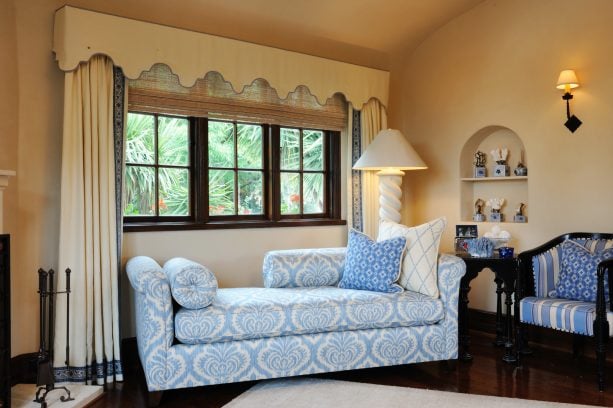 Small and simple, that's what this wall niche is.
If you don't want to attract too much attention with big and prominent wall niches to hold precious collections, you can install a small recessed spot in the wall like this. See how this niche blends into the surrounding.
What makes it attractive is the fact that it has an arched design and it has two levels. It would be interesting to have a small niche but in a bold design like this. The perfect arched design is suitable for any Mediterranean room.
Beige is also a color that's often associated with the Tuscan style. So, a beige-colored wall niche in an arched design will surely complement a Mediterranean living room.
The two-level niche enables it to hold many small decorative items. Small ceramic decorations can prettily accentuate this niche.
Since it's supposed to be a simple and minimalist niche, you don't have to add a downlight or an accent material to the inside of the niche. Let it mix harmoniously with the background and let the small decorative items make a statement.
14. Large Recessed Wall Niche to Place a Cabinet
A contrasting recessed wall niche and the furniture piece will deliver a whimsical look.
Basically, this dining room has a traditional style. However, the bold and bright red walls managed to add a splash of color to this conventional room. The white trim is meant to tone down the boldness and dramatic look of red.
The recessed wall niche is also similar to the surrounding wall. It's also painted in red with white painted at the top, the arched part.
This wall niche is so big that it reaches the floor. Maybe the main purpose of creating such a big niche is to be a spot where the cabinet can be put into. See how the wooden cabinet perfectly fits into it.
Instead of letting the cabinet stand-alone, it would be better to build a niche around it like this. Apart from making the room less cluttered, this niche is also useful to accentuate the room. The wall where it is located seems to be the focal point.
If you want to create a focal point out of a big recessed wall niche, decorate the top of the cabinet with art. See how the homeowners decorate the wooden cabinet.
There are two lamps that are both functional and decorative, artificial plants, and small artwork hung a few inches above the cabinet. All of them are enough to attract much attention, especially combined with such a red wall.
15. Ideas to make your recessed wall niche stand out
Don't let your recessed wall niche fade into the background. After all, it's meant to look prominent, the thing that draws the most attention. Make it stand out with these elements:
Moulding, Tile, and Paint: Use a contrasting color of paint in your niche, or add a tile backdrop. This is a simple way to elevate your wall niche. You can also make a subtle change by tiling or painting the niche darker or lighter than the surrounding walls. Or, you can also make a bold statement by choosing a contrasting shade to make the niche pop. Installing some molding can also be a great idea. Decorative molding around the niche makes it look more purposeful in your room.
Add a Statement Piece: Basically, a recessed wall niche itself has already been a statement, but if you place a carefully-picked item there, it can enhance the bold and attractive look even more. Make sure that those elements complement each other.
Highlight the Space: If you want to elevate the look of your wall niche, it's recommended to hang a kind of wall art in the background. The artwork can be framed by the wall niche; imagine how great it would be. As an alternative, you can also use a decorative wall as a canvas, making it a decorative and structural element at the same time in the room.
Turn It Into a Functional Area: If you have a recessed wall niche that reaches the floor, you can place a piece of furniture in it. Consider putting a small table, a cabinet, or even a little bench. Depending on the size of the wall niche, you can put any furniture piece in it. This can make the niche look more intentional and purposeful while at the same time highlighting the furniture itself.
Add a Downlight. If you want to highlight your artwork or valuable decorations, it's better to add a downlight right above the niche. The downlight works as a spotlight. It's supposed to showcase your collection and make it pop.