When it comes to balcony flooring, it's actually quite challenging to find the right one.
It's because you don't only have to find the floor type that fits your design style, but you also need to get the weatherproof material.
Mostly, the balcony is not completed with a roof. It would be a different story if you installed a roof extension.
Moreover, you also need to make sure that the flooring should be easy to clean.
Being outside all the time means the floor is exposed to many external factors that may leave dirt and dust. So, make sure your balcony floor could look clean all the time.
If you like the idea of planks as outdoor flooring, you have to know to consider the drain too.
Since the balcony is located on the upper floor, the living space below would be highly affected if it's raining and you have a poor draining and water absorption system on your balcony floor.
Don't forget to consider the beauty and aesthetic part too.
Even though your balcony floor won't be visible on the exterior, it's essential to create a visually pleasing area in your balcony, including flooring. Sounds daunting? Afraid not.
Here, we have curated some top balcony flooring ideas that will surely inspire you:
1. Limestone Balcony Floor to Create an Idea of a Contemporary Look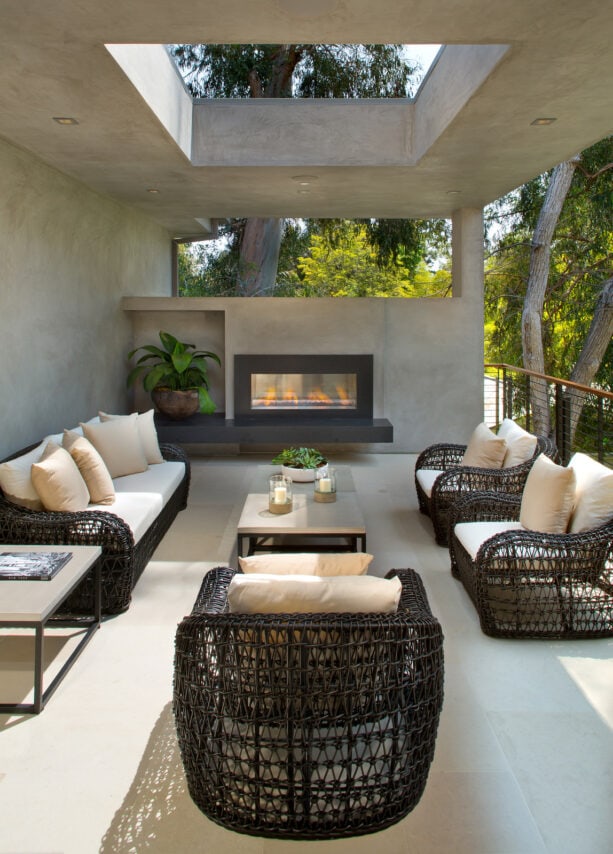 Even though this balcony only features a neutral color palette, that doesn't make it look plain and boring. On the contrary, there's something attractive in minimalism.
From the cozy and warmth it radiates, we can be positive that the flooring used is limestone. There are many reasons why people choose limestone for their outdoor flooring options.
Limestone comes in various colors and styles, but they are usually in earthy tones, like grays, greens, creams, and browns.
There are also many finish options, like glossy, leather, and honed. On this balcony, it seems that the floor has a honed finish.
The great thing is, that limestone is a part of natural stone, so it's very durable. When it comes to beauty, limestone offers a classic and timeless look that will never be out of style.
Due to its overall versatility, no wonder that limestone can increase your home's resale value.
See how smooth the floor is on this balcony. It looks polished and sleek, creating a contrast to the rough and more textured ceiling, which looks rawer. After all, limestone is a perfect choice if you want to create a contemporary look.
The minimalism it has is suitable for the "less is more" key element of a modern or contemporary style.
If you opt for a limestone flooring like this, make sure you combine it with other elements in the balcony in the same shade, like the cushion or throw pillows. To create a contrast, just put some dark-colored furniture pieces.
2. Vinyl Membrane Balcony Flooring that Looks Like Pebbles
Have you ever heard about membrane products? It's basically vinyl with a membrane layer to protect the tile from the weather.
Of course, this is the best option for a balcony flooring because even if your balcony doesn't have a cover, the flooring won't be damaged by the weather or other external factors.
The most recommended manufacturer for vinyl membrane decking is Weatherdek. This balcony also features vinyl tiles from Weatherdeck.
There are various patterns and colors you can choose from, and each pattern and color imitates other materials perfectly. There are pebbles, marbles, hardwood, and even concrete. Each of them has many different colors too.
In this balcony, it appears that the type and color used are pebble gray. Look how perfect it mimics the pebble. It makes your balcony unique because, after all, who used real pebbles for a balcony flooring anyway?
If you have a small and narrow balcony like this, combine the floor with white-colored furniture to add more brightness.
Paint the siding or the exterior wall white, too, so even though it's small and has a dark-colored floor, it still looks roomy and airy.
3. Orange Tiled Flooring from Spain Add a Mediterranean Look to the Balcony
If you're a big fan of the Mediterranean or Tuscan look, you should find something orange to fit the design.
Mostly, the Mediterranean style features an orange shade that will increase the warm ambiance in the room. This balcony is no different.
Even though we can't see any arched opening or arched windows from this angle like the ones you usually see in many Mediterranean styles, this one has an orange tile that's enough to represent a Tuscan design.
According to the designer, they got these floor tiles from a local store in Kerala. These tiles were imported right from Spain by the retailer. That makes it an even more suitable candidate for balcony flooring in a Mediterranean style.
The round edge of each tile also delivers an attractive look. If you want to create a contrast, use a gray grout for these orange tiles.
The rest of the balcony seems neutral, with white walls, brown accent walls, and brown exterior walls. The slatted ceiling completes the look.
If you want to add more fun, you can copy the look of this Mediterranean balcony: add some potted plants in the corner, along with some decorative items to liven this area a bit.
4. Using Concrete Deck Paver as a Balcony Flooring
This contemporary balcony is completed with a concrete deck paver. Yes, it does sound odd to have a concrete paver as a balcony "flooring", but it isn't impossible either.
One of the main reasons why people turn to concrete paver is because it has a low cost. The cost of concrete pavers is much less than other paving products because they are man-made.
Moreover, concrete pavers are also easy to install, which means that you can cut the cost of hiring a pro because you can do that on your own.
According to the designer, this concrete deck paver is completed with a 40-mil PVC roofing layer under the deck pavers. That's what it takes if you want to install a concrete paver on your balcony.
Ideally, pavers are an ideal choice for streets, patios, pool decks, sidewalks, and such. However, it turns out that it's OK to be used on a balcony or a roof garden.
There are many shapes and colors available on the market. This simple and minimalist balcony features a tile-like paver that imitates a natural stone look. This floor is even combined with stone posts to complement it.
Even though installing a concrete paver as a balcony flooring does take an extra effort, it's totally worth it.
5. Black and White Checkered Style Balcony Flooring
There's nothing wrong with being fun.
If you want your balcony, your favorite spot in the house, to represent your fun personality, you can consider using an eclectic style.
You're free to experiment with textures, colors, and shapes with an eclectic style. It's a mix and match game, where you don't have to worry whether this one suits that one or vice versa.
In this eclectic balcony, the floor is seemingly a usual ceramic tile. But what makes it fun is the checkerboard look.
As we all know, black and white is a classic combo. It's a timeless look that's frequently used in a traditional or vintage look.
However, in this balcony, the checkerboard floor is used as a canvas, a dramatic canvas indeed, for the flowers and plants around.
Turning your balcony into a gardening space is the best idea if you want to create an eclectic look. You can add more colors from the flowers and perennials.
What's better than a decorative living being?
Don't forget to add more colorful decorations, like small watering cans hung on the railing. The more colorful it gets, the more eclectic your balcony is.
6. The Idea of Using Glass Panels as Balcony Flooring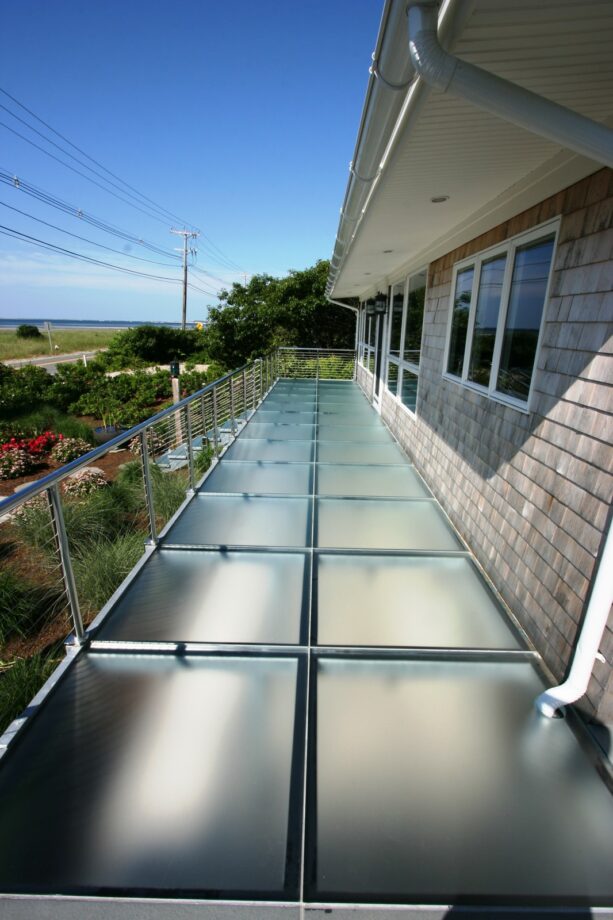 It may look dangerous to have glass as a balcony flooring. But once you know how it works, you'll surely want one for your own balcony.
Having a glass balcony flooring will deliver the best sensation when you walk on it. This is the most recommended option for any adrenaline junkie out there. Not that there's a risk it would fall down, though.
So, according to the designer, each project using glass as a balcony flooring has been structurally engineered. In other words, safety has been guaranteed. Variables like support and span of glass matter here.
In this balcony, the glass panels are 1-5/8," and it has already met the load limit of the building codes.
Since this is a unique floor, it would be a waste if you "cover" it with furniture.
You may not be comfortable, too, sitting upon this glass panel. Walking on it is fine, but sitting on a chair right on the glass panel in the second-floor balcony is another story.
That's why it's recommended to clear this area from any furniture piece. You can combine it with metal and cable railing to enhance the ultra-modern look.
7. Travertine Tile as a Balcony Flooring to Create a Trendy Look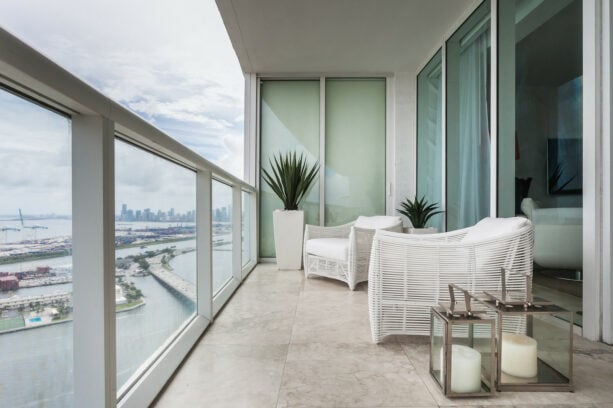 The travertine tile on this balcony floor looks simple yet elegant at the same time.
In fact, travertine is one of the most popular natural stones used in homes these days.
What makes it different from other stones is its hardness and its appearance. The durability and beauty of travertine make it perfect for floors and walls.
The great thing is, that travertine tiles are low cost. It's much less expensive than other natural stones, like marble, but has the same quality of durability. And the low cost doesn't sacrifice the appearance.
Travertine looks as if it has been there for a long time. This way, it has a timeless look. There are various stunning colors and patterns you can choose from out there.
The beige color with the dark veining on this floor also delivers a luxurious look. Combine it with glass element, and you'll double up the luxe.
That's why the designer installed the glass railing, glass wall, and huge windows around this balcony. Glass and travertine turn out to complement each other to deliver a sophisticated look.
In a modern or contemporary design, make sure you match the natural colored floor with similarly natural furniture and decorations.
8. Precast Concrete Pavers Balcony Flooring with a Glossy Finish
If you haven't heard before, precast concrete is a type of concrete used in many places. The construction form where concrete is cast and cured in a controlled situation is called precast concrete.
Even though it may be unusual for people to use precast concrete as a balcony flooring, this balcony proves that it's not impossible.
There are many considerations why people use precast concrete.
The main reason is, of course, durability. The precast concrete structure can last for a long time with minimal maintenance, thanks to its high density that's resistant to impact, corrosion, and acid attack.
Plus, precast concrete is also aesthetic. It has several combinations of textures and colors, with a wide range of sizes and shapes with smooth finishing.
In this Mediterranean balcony, the precast concrete is beige and laid in a diamond shape with rectangular edging. These tiles were finished with linseed oil and buffed in order to achieve a glossy look like this.
The glossy finish will never fail to give you a sleek and sheen look, which is a key element you need to have to increase a luxurious nuance.
Combine it with other elements in the balcony in the same shade to achieve a stylish and cohesive look.
9. Ipe Wood Decking for a Balcony Flooring
If you want to create a deck out of your second-floor balcony with no cover, it's recommended to use Ipe wood.
Apart from being exotic, Ipe is a type of wood that's frequently used in an outdoor space. It's because Ipe is highly resistant to any external factor, like most insects and the weather. Plus, Ipe is naturally resistant to rot, too.
Don't worry about hot summer days. Ipe won't burn your feet because it exhibits impressive heat dispersion.
The main reason why you should use Ipe for a balcony flooring like this is that it's basically low maintenance. You don't need to use any special or harsh chemicals to clean it up.
The sturdy and stylish look will also make your balcony look especially warm and inviting. If you can have a second-floor deck, why only use it on the ground?
This balcony has a mid-century style. In order to achieve the same style, you need to focus on muted tones, clean lines, integrating outdoor and indoor motifs, and a combination of natural and man-made materials. The last characteristic appears vividly in this balcony.
The Ipe wood floor is combined with a man-made railing.
10. Natural Style Teak Tile for a Transitional Balcony Flooring Idea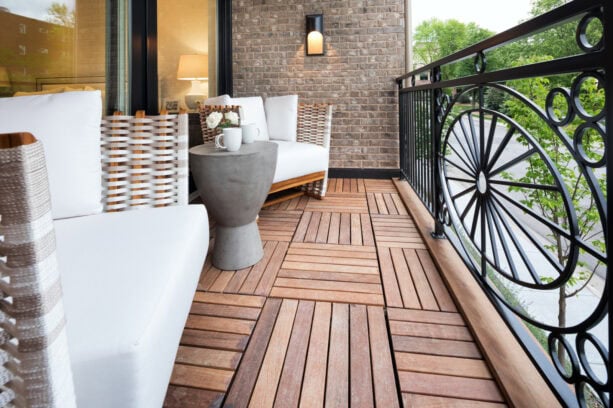 This transitional balcony has a Natural Style Teak Tile 9 Slats from Nordic Style.
Basically, this tile is teak wood. However, unlike the other outdoor decking spaces with a slab of teak installed like a panel, this balcony features the tile shape for the flooring. It delivers a more unique and whimsical look than the usual teak decking.
These tiles are actually a stylish set of classic teak wood. They are interlocking tiles consisting of nine tiles that run across the surface of each square tile.
The design is basically simple, but it's beautiful for you who always like a patterned or uniform look.
These tiles have a non-slip finish, so you don't have to worry about slippery surfaces during heavy rainfall.
Despite the fact that this flooring is anti-slip, this one also delivers a modern touch to this balcony.
In a transitional style, it should be a modern and traditional combination. In this case, the teak tile offers a modern vibe, while the brick wall and the muted furniture bring out the traditional look.
If you're wondering, these tiles have a premium oiled finish, so they look glossy and sheen all the time. The smooth and comfortable surfaces are perfect for kids and pets.
If you want to remodel your balcony one day, don't worry; these tiles are easy to remove as they are easy to install.
11. Artificial Grass as a Balcony Flooring to Enhance the Natural Look
For a more natural and green look, the grass is the best option as a ground cover.
But, since this is a second-floor balcony, it is impossible to use real grass, for there is no soil where it can grow.
The best alternative is using artificial grass. This type of flooring will instantly make your balcony look fresh and green.
If you're still hesitant to use artificial grass, here are some things to convince you.
First, artificial grass or turf doesn't need fertilizers, weeding, seeding, watering, and mowing. This way, synthetic turf is low maintenance and still able to deliver beauty. Even though fake grass is low maintenance, make sure you sweep or broom it occasionally to increase its longevity.
Second, you surely don't need any garden equipment to take care of this "grass". All you need is a broom.
Often used in a field of sports like football, cricket, and rugby, artificial grass is proven to be waterproof.
It doesn't mean that it's entirely water-resistant, but it has a quick-drying property, so you don't have to worry about the weather or the rainfall, even if your balcony has no cover.
It seems that this area is also completed with fake creepers that fill some areas in the wall. The combination of fake creepers and artificial grass will make your balcony look fresh and natural.
It's as if you are surrounded by nature, even though basically you are sitting on a second-floor balcony with no access to the ground.
12. Landscaped Balcony Flooring Idea with Hardwood Decking, Rocks, and Stone
If you think that adding a seating space on your balcony is way too common, you can consider utilizing it as a garden.
This area is called Corner Balcony SkyGarden. This landscaped balcony flooring combines hardwood decking, rocks, and stone tile.
According to the designer, the middle area was filled with cobble rock panels, circular stepping pads, and globe boxwood plant forms completed with Kyoto style stone lantern, a low voltage LED light to illuminate the whole area.
While in the corner, there's a small decking with a freeform hardwood floor, along with two circular stepping stones installed side by side, that is more like a decoration than a functional element.
The hardwood is surrounded by rocks and pebbles to increase the natural look. The plants look a lot like 20" Cedar Ball in Pot UV from Vickerman Company.
These plants were placed strategically around the corner area and on the perimeter of the landscape, right next to the glass railing.
The stone tile seems to be limestone, and it serves as an edging to separate the corner landscape from the middle area, where it has a different style completed with lights to liven up this balcony.
13. Shadow Grey Stone Tile Flooring for a Classic Balcony
Nothing beats stone tile to give you a natural beauty. It radiates an aura of sophistication and elegance because the classy textures and looks can instantly elevate the area.
Unlike the replica alternatives, each natural stone floor tile is basically unique. From the natural coloring to the veining, the tile will add a sense of prestige.
Another great thing is, that natural stone floor tile is considered the most durable flooring material on the market. It is sturdy, ideal for frequent or even daily use. They are not prone to breaking in spite of heavy foot traffic.
Due to its smooth surface, natural stone floor tile is easy to clean and hygienic. It doesn't collect dust or pet hairs. Thus, it can be an excellent option for you who have allergies. No need for intense scrubbing to clean it. You just need a quick wipe to make it clean again.
This balcony has a shadow gray-colored stone tile, with a touch of orange shades in several parts. Even though stone is actually timeless, it never fails to give you an elegant traditional look.
See how it complements this traditional balcony, with black and white surroundings and minimalist furniture.
14. Multicolored Natural Stone Balcony Flooring with White Grout
Even though this balcony also has stone flooring, it's different from the previous picture. Instead of tile, the owners prefer to have a slab.
Indeed, if you want to enhance the natural look in your outdoor area, not just the balcony, it's recommended to have a stone slab instead.
The freeform and inconsistent look and shape of each slab emphasize that the stones are not process-manufactured or at least minimal.
See how this traditional balcony has every element to make it look conventional and natural, from the stone slab flooring, the stone steps, and the stone walls. It seems that the stones used for the flooring, steps, and walls are different.
They have different shapes, sizes, and colors, even though they are basically stones. It makes the balcony looks richer with more characters.
Since the flooring is a multicolored natural stone slab, the designer wanted to create a contrast to enhance the aesthetic appearance.
The white grout is used to be paired with these multicolored stones. White grout looks prominent against these stones, creating a mosaic-like.
Since the flooring is the most attractive part of this balcony, it's normal if the homeowners don't want to add any furniture pieces. It may make the balcony look bare, but the beauty of the natural stone will shine more freely.
15. Patterned Tile Balcony Flooring for a Shabby Chic Style
Unfortunately, there is no detailed information about the specific tiles used on this balcony floor. However, there are many patterned tiles out there.
The key is creating a fun and colorful look with patterned tile, regardless of the pattern of the tile itself. So, you're free to choose any pattern and color for your balcony floor tile, as long as it looks festive.
This is a shabby chic balcony.
In terms of home design, shabby chic is a style that blends a rustic charm and baroque glamour made up of distressed finishes, antique furniture, and shiny ornate accents. It's obvious that this floor tile is supposed to be an ornate accent.
Don't be afraid to choose a bright, cheerful, and unique pattern for your floor tile if you want to achieve a shabby chic style.
However, make sure that you set the rest of the elements in the balcony neutral, natural, and even muted. Let the ornate accents make the statement, while the rest becomes a canvas.
The designer of this balcony combined the bright patterned floor tile with antique chairs and distressed pots that come in various shapes and colors. The siding remains neutral to make the floor look more stand out.
Creating a garden balcony in a shabby chic style is basically an unpopular look. So, if you want to create something unique that no one can beat, it's recommended to mimic this look.
Although this balcony is not that large, the designer optimized the small space and turned every corner of it into a liveable space decorated with living things, a combination of natural and man-made elements.
16. Recommended Materials for Balcony Flooring
Sure, you can stain or coat the balcony floor to achieve a certain look and color that will fit your personal taste. But still, the most important thing to consider is the material.
Here are some recommended materials for balcony flooring:
Wood. Many people would love to create decking on their balconies. It's because the wood will never fail to give an atmosphere of coziness. It would work better if the balcony was spacious. To top it off, wooden planks won't overheat during the summer days, and they're pleasant to the touch. If you want to create a landscaping or a balcony garden, wood is the best option. Yet, wood also comes in many types. If you're looking for exotic species that are perfect for outdoor flooring due to their durability, consider using: Ipe, Cumaru, Garapa, Kempas, Merbau, Tatajuba, and Banngkirai. Compared to other wood species, those ones are twice are resistant. But, the cost is also higher.
Composite. If your main concern is durability, always rely on composite balcony flooring. Composite planks will perfectly mimic wood but are way more durable. These elements are a mix of wood flour and plastic materials. Unlike wooden planks, composite material doesn't need to be preserved, so you can spare a lot of time. Plus, humidity won't be an issue too. Consider using this material for your balcony floor if you have kids or pets because composite is also easy to clean.
Rubber or classic tiles. Consider opting for rubber or classic tiles if you're on a budget. Many balcony floors are made of classic tiles because they offer a pretty look and an affordable price. The great thing is that rubber is frost-resistance. It has an anti-slippery layer to guarantee your safety. The only downside is rubber tiles are used less frequently these days, though they were quite popular in the past. But if being outdated is not a problem for you, consider using this. There are many options of sizes and colors, so it can create a lot of design possibilities.
Waterproof layer. This layer is made of polyurethane resin, and it's getting more popular recently. Being functional aside, this layer can make your balcony look attractive. This is the best option if you're looking for an industrial style, a style that you didn't find in the pictures above but surely has its own market. This type of balcony flooring doesn't need any preparation. The work is so minimal that the layer can be made on ceramic tiles, raw concrete, or wooden surface. The balcony floor with a resin layer is water-resistant, which means you don't have to worry about the drainage. It's perfect if you have a balcony with no cover and live in an area where there's a risk of strong wind during heavy rainfall. There is no need to worry about discoloration, high temperatures, and even fire.