Townhouses may have limited space, but you can always maximize all the space to create a beautiful patio out of it.
Having a patio, whether it is in your front yard or backyard, in your townhouse can extend the liveable space. It can add a space where friends and family could gather around any day for any event.
Due to the lack of space, it would be best if you add landscaping to your patio. This way, you don't have to separate both areas.
Why have different landscaping and a patio if you can combine them both in one spot?
Surrounding your patio with landscaping will make the space feel fresher.
Or, you can also create an outdoor kitchen and an outdoor dining area on your townhouse patio.
When the weather allows, using your outdoor kitchen and dining space in your townhouse patio seems like the natural thing to do.
Even chilly temperatures won't stop people from using that space, especially if it's completed with a fire pit or a fire table.
If you are looking for some townhouse patio ideas to draw inspiration from, we have curated 15+ must-try townhouse patio ideas to maximize your yard and make a cozy space out of a compact area:
1. Slate Patio in a Townhouse with Surrounding Fences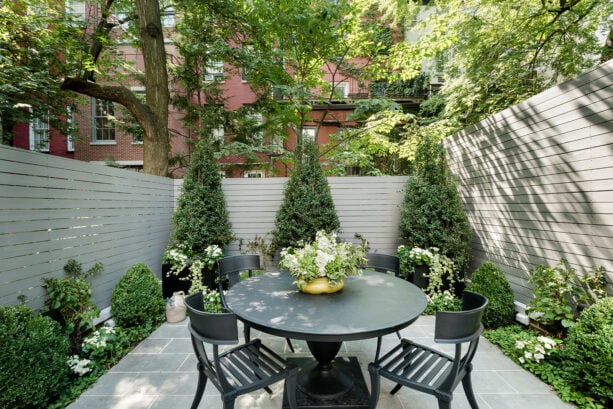 This slate townhouse patio is perfect for a front or backyard patio.
The area is small, yet the designer managed to make the most of it. Slate is used as the patio floor because slate is a timeless material with a natural gray color that can fit any design style.
The color palette used in this patio is indeed neutral. The slate floor is paired with black furniture and gray surrounding fences.
The surrounding fences are meant to protect this area.
In a townhouse, it's a wise option because fences can separate your patio from the neighbor's area and guarantee your privacy. The slat-wall fence was built high enough to protect the homeowners from any unwanted attention.
Since the entire area is in a neutral color scheme, the plants on the perimeter serve as an accent. It's always an excellent idea to use living things as a decoration.
The potted plant on the table matches the surrounding plants, except it is more elegant with white blossoms.
Overall, the look given by this slate townhouse patio is fresh and natural.
2. The Idea of Using a Container Garden on the Perimeter of a Classic Stone Townhouse Patio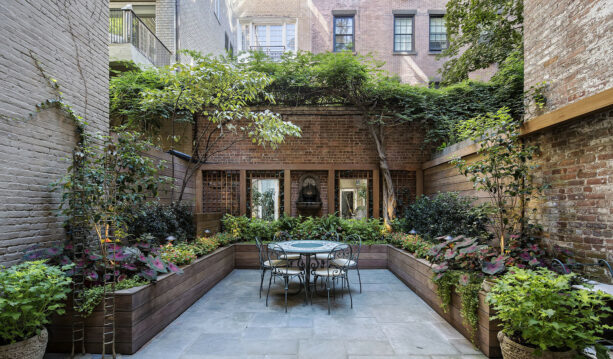 Compared to the previous picture, this townhouse patio is a bit larger, even though the layout is basically the same.
The wood fences in this patio are only on both sides, and they're not as high as the ones in the previous picture. However, the homeowners use creepers as an extra layer of protection. These creepers grow above the brick wall, providing a shade against the sun.
The seating area is simple; it is placed in the middle of the stone patio, which is made of Hanover pavers slate face, with a round table and ornate chairs that will remind you of a Victorian style.
This can be a perfect spot to enjoy a morning coffee or to have some light bites in the morning.
Greeneries are also planted on the perimeter. However, this patio features a container garden. The planter box has a U-shaped layout, following the patio.
Various plants with different colors and textures of leaves add more characters to this area. They provide a greener and fresher appearance with several pops of colors to contrast the greeneries.
The combination of stone, wood, and brick managed to pull off a traditional look.
3. Terraced Landscaping in a Townhouse Patio with Glass Block Decorative Flooring
There are several reasons why people use glass blocks in their patios.
If the patio is built above the basement, the glass blocks can let the natural light fill the basement. They are also useful to create a "cool factor" in any project.
The best part, you don't have to worry about breakage because glass blocks are strong. They can withstand the loaded weight.
The glass blocks used in this patio were fabricated by Circle Redmont and installed by Adler Windows. According to the designer, the nice thing about the Circle Redmont system was it was waterproof. So it's your best bet for any outdoor project.
Glass blocks in this patio also serve as a decoration. See how they create a contrast to the concrete surrounding.
This townhouse patio is designed for an outdoor kitchen. There's a grill upon the stone wall and countertop that matches the terraced landscape around.
The terraced planter boxes contain several kinds of plants in various shades and sizes in the farthest area. There are Himalayan Birch trees in the back of the 1×4 Ipe fence to provide shades for the area.
In terms of privacy, the homeowners installed a high wooden fence around, even attached to the brick wall of the townhouse.
4. Minimalist Townhouse Patio with an Outdoor Dining Space and Grill Floor
You can also use a grill floor as an alternative to glass blocks. This is the perfect flooring for a townhouse patio if the area below is more open.
For instance, you see that there's a swimming pool below this patio. It would create a connection between the upper and lower floor. Plus, the swimming pool below will also get the most of the sunlight from above.
This patio has also functioned as an outdoor kitchen and dining area.
There's a dining table along with the chairs and several blocks that can be used as benches, providing extra seating. This way, the entire patio is a great place to host a small garden party.
The minimalist style is ideal for you who always want to stay simple but fully functional.
Since this is an extension of the indoor living, the homeowners zoned the living area and the landscaping.
The outdoor kitchen and the dining area are free from any plants. On the other hand, the greeneries are planted in the container garden at the far end of the patio.
The towering trees make this area look larger because they draw the eye vertically.
5. Contemporary Townhouse Patio with a Pergola
Even though this townhouse patio is basically small, the designer managed to make it look more spacious than it really is.
It's because the space is extended with pavers and deck boards. Such a combination will add more characters to the patio.
The concrete paver is used as seating space. Two Adirondack chairs and a contemporary chair were placed there, completed with a pergola to create an architectural feature.
The seating space seems minimal without a table, but it's enough to accommodate three people at once to chill and unwind after a long hard day.
The deck boards mark the end of the seating area and where the landscaping begins.
The small gravel landscape in the middle of the deck boards delivers a green focal point that beautifully contrasts the deck and the concrete paver.
Greeneries are planted on the perimeter to accentuate the wooden fence. The various heights of plants and trees in the perimeter, prettily frame this townhouse patio.
There's a wooden bench with pebbles below on the left side, a tiny stone landscape in the middle of trees, shrubs, and perennials.
The combination of all of them creates a lovely contemporary look.
6. Concrete Paver Townhouse Patio with a Fire Pit Surrounded by Landscaping
There is no need to worry about the weather if you can have a townhouse patio like this.
The fire pit will always come to the rescue during the cold winter nights or in the fall. The designer said this patio was only a few yards away from the sunken hot tub and the outdoor kitchen.
This is a simple and nice seating area for having a conversation or just eating outside.
The concrete paver leads to the walkway made of a similar material, which leads to the outdoor kitchen.
The homeowners prefer to use mulch as a ground cover instead of deck boards to enhance the natural appearance. The mulch serves as a planter bed for the shrubs, perennials, and small trees as surrounding landscaping.
The unique part of the seating is there is no chair or couch. Instead, there's a built-in bench in a U-shaped design, following the layout of the small patio.
The bench and the fire pit are made of stone with a matching cap. This is meant to create cohesion.
The boulders are also set around the seating to deliver a natural look. Even large stone slabs behind the bench can be used as a back.
7. Bright L-shaped Bench with a Fire Table in a Modern Townhouse Patio
If you want to build a modern patio, you should consider the color palette.
Even though the modern style is often related to a neutral color palette or timeless black and white combo, you should add a pop of color and a bright tone to liven things up.
As you see in this modern patio, the L-shaped bench has a bright blue cushion with patterned throw pillows to make everything look cheerful.
The wooden bench, which is stained with Trex – "Spiced Rum", acts as a canvas for this bright blue cushion and patterned pillows, while the brick walls around also help accentuate the pop of color on the bench.
See how the "natural" look of the wooden bench looks odd against the metal fire table. It seems that each element in this patio contrast with one another.
Two armless chairs and a contemporary small round table are also placed right in front of the bench, separated by a fire table. Despite the season, this setting enables you to host a small get-together in this area.
The concrete floor has a turf edging to create a unique yet natural look.
Trees and other plants were set on the perimeter of this townhouse patio. During the spring, the trees will provide a beautiful view as well as shade against the sun's rays.
This is all you need to do to decorate a modern townhouse patio, simple but with a splash of bright color to spice it up.
8. Traditional Bluestone Patio in a Craftsman Townhouse with No Cover
Actually, the exterior of this townhouse features a craftsman style. You can see it from the brick walls and the black finished metal trim.
On the other hand, the townhouse patio has a traditional style, complete with classic furniture and vintage patterned tablecloths.
This combination creates a subtle contrast yet somehow still complements each other.
This patio is made of bluestone pavers and a trellis wall with cascading water fountain, which is not visible from this angle.
The seating areas consist of a set of dining tables with a matching bench as extra seating. The chairs are equipped with a blue patterned cushion for extra comfort and, at the same time, as an accent to this neutral color palette.
When it comes to the plants, this patio is surrounded by shade-loving plants. So even though it has no cover, the homeowners don't need to worry about the bright sunlight, for the plants have provided enough shade.
Bushes and small trees are planted on the perimeter to accentuate the bluestone.
Overall, this townhouse with seating is not only comfortable but also relaxing. The soothing sound of the water fountain and the greeneries around will never fail to calm your nerves.
9. Small and Simple Patio in a Contemporary Townhouse
If you have a trendy and minimalist townhouse with white-painted exterior walls and a lot of huge windows, the best way to add a front yard patio is by matching it with the style of the townhouse.
See how this patio complements the exterior.
Trendy style is frequently related to minimalist design. So, in order to stay simple, minimalist, yet still trendy, you should be able to avoid clutter and restrain yourself from using any bold and vibrant accent color.
This townhouse patio seems to be made of concrete without any decorative accent.
There's only one seating area in the center part. But, it's clear that the seating space is not meant to be a focal point because the furniture pieces are all finished in white, so they can blend seamlessly with the surrounding.
There is no accentuating plant in the seating space. All the plants were planted in the landscape, which is a few inches lower than the concrete paver.
Everything in this patio seems to be well structured and organized, with the clean and streamlined look that you need in order to achieve an ultra-modern appearance.
10. A Small Seating Space in a Townhouse Patio with a Water Feature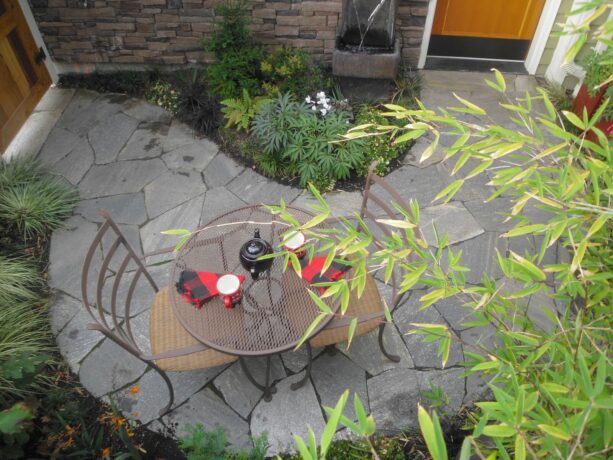 This townhouse patio is situated in the entry courtyard.
Due to the limited space, there's only one seating space that's only enough for two people. However, a small space is not a reason for the homeowners to create a cozy and comfortable space.
The stone slab floor dresses up this small entry patio beautifully. The curved lines soften the rough look of the stone, creating a balanced look.
The landscaping surrounds this stone patio nicely. There's even a fountain to compensate for urban noise, a soothing sound you need in a natural situation like this.
Everything in this small townhouse patio looks simple and natural. The color palette is cool, while the greeneries deliver a fresh and airy ambiance. The only accent color is the red cloth on the round table.
This is a simple and effortless way to add a splash of color to a traditional patio. The classic look is perfect for a traditional design, yet if you add a bright accent color, you'll add a modern vibe.
The combination of traditional and modern looks will create a new style, which is transitional.
11. High-screen Wall to Protect the Backyard Townhouse Patio with Rattan Furniture
This townhouse patio is situated in the backyard.
You can see the high screen wall delivers maximum protection to this patio from any unwanted attention. Plus, it draws a clear boundary between this area to the neighbors.
If privacy is an issue in your area, consider building a high-screen wall like this.
This trendy patio seems to be made of stone tile in beige color. It is surrounded by stone landscaping, which appears to be made of small pebbles.
The rock landscaping frames the patio beautifully, creating an accent and a contrast to the patio.
In order to complement the beige floor, the furniture pieces were carefully picked in a similar color with a different shade. Those are made of rattan, a material that is known for its durability and aesthetic look, too.
Rattan furniture will never fail to dress up any style of the patio because it is a timeless piece that will never be out of style. In this area, they make a contemporary style.
See how the wooden screen wall, the beige stone tiles, the rattan chairs and tables, the brick wall, and the off-white exterior wall complement each other.
The color palette varies from warm to cool tones, and black trim is meant to tie them all together.
Despite the fact that it lacks plants and greeneries, this patio proves to be a comfortable spot to chill.
12. Brick Townhouse Patio with Greeneries to Contrast It
If you're a fan of a different, unique, and whimsical look, consider using artwork that can be put outside as a decoration on your townhouse patio. It will instantly make your townhouse patio look elevated.
See how this cow skull wall decor contrasts the natural element around, even though it is basically finished in a similar shade to the wall.
It is not only a cow skull wall decor that steals people's attention but also the greenery hanging on the wall. It is a plant called Staghorn fern.
It usually comes attached to a piece of wood. Or, you can attach it to a rock or a tree with a fishing line. There are many how-to articles about it.
Once you're able to attach it to a piece of wood or other materials, you already make a stunning living decoration.
This patio is connected to the indoor living area. It's only separated by a sliding glass door. If the door is open, then the indoor and outdoor area is interconnected. What a clever way to create a flowing design.
Since this patio is an extension to the indoor living, it is acceptable if there's only one single chair as a seating space here.
The brick patio creates a contrasting look to the green chair, but at the same time, the green chair complements the cactus and other plants on the perimeter.
13. A Well-composed Townhouse Patio with Several Seating Areas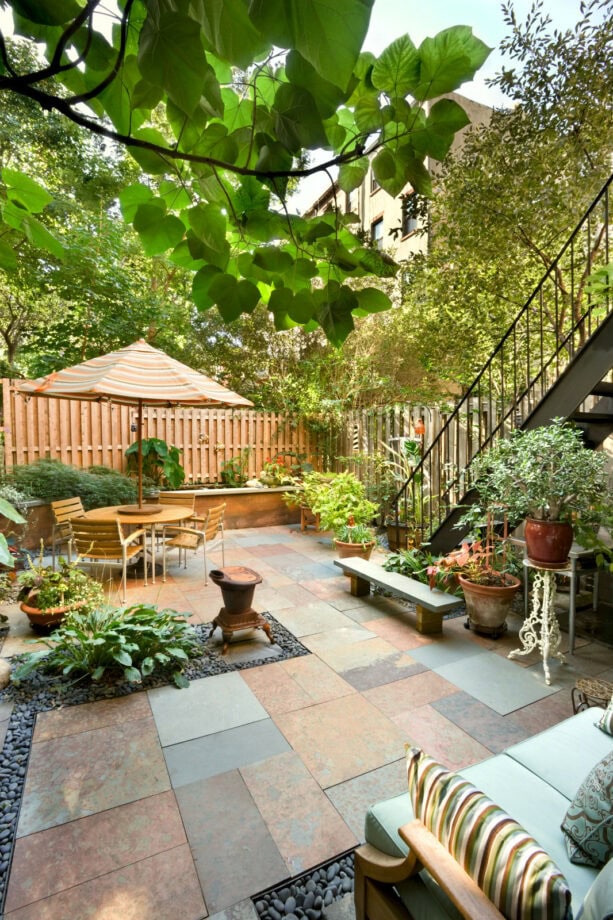 What lovely floor tiles. It seems that they are stone tiles in a multicolored design.
Using multicolor stone tiles adds more dimension to your patio, making it look like an optical illusion that flows endlessly to the farthest end of this area.
The landscaper also built an edging filled with pebbles to accentuate the floor tile.
The pebble edging leads to a small stone landscape in the middle of the floor tile, complete with a small tree and a decorative item. But, that's clearly not the focal point of this townhouse patio.
The focal point is the seating area which is completed with a sunbrella, a non-permanent solution to protect you from the weather. This is your best bet if you don't want to commit to a more permanent option, like roof extension.
There's also a loveseat on this patio that can be used as an extra seat.
The plants spread around the patio. Some are potted, while the others are planted right on the plant bed. There's also a planter box to complete the whole look.
Spreading the plants like this will deliver a well-composed look on a spacious patio. On the other hand, in a smaller area, it will only create a clutter that makes your patio look even smaller.
So, be careful when opting for this look.
14. An Enclosed Townhouse Patio with Comfortable Seating Fills Most of the Space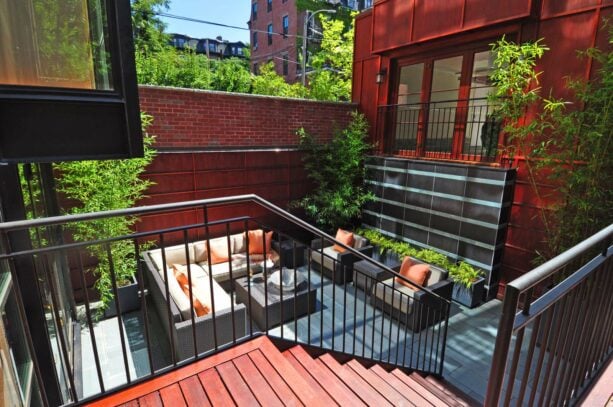 Compared to many previous townhouse patio pictures before, this one seems more private because it is enclosed by the walls and railing around.
The metal wall that separates this patio from the neighbors is also extended by a brick wall. It makes this a perfect spot to enjoy the morning light while at the same time keeping privacy.
The seating area looks cozy and inviting. It consists of a huge sectional and two chairs, with a coffee table and a side table.
This is a small patio, yet the homeowners use a bigger size of furniture to fill most of the space. For some, it may be counterproductive. But, as long as you're able to put the right things and combine them with the furniture, you're doing OK.
Even though the seating space takes most of the patio's space, it doesn't feel overwhelming. It's because the homeowners picked one out of two options: landscaping or seating area. In a limited space, it's impossible to have them both, so you have to choose.
Although the homeowners prefer to optimize this patio as seating space, that doesn't mean that they can't add some greeneries.
Evergreens are still added as a decoration. Yet, they are planted in pots and a planter box. This way, the patio looks more organized, clean, and neat with less clutter.
Remember to always avoid clutter in a small patio because clutter will only cram the space.
15. Bold and Vibrant Seating in a Belgian Cobblestone Townhouse Patio
Don't be afraid to use bright and bold colors on your townhouse patio, especially if you want to achieve a contemporary look with an accent color.
When choosing a color, consider opting for warm tones combined with a wooden fence to create a complementing effect.
The bright chairs here are by Paola Lenti, through Karkula. The combination of bright red and orange will never fail to draw much attention. Moreover, those chairs also create an odd look against the Belgian cobblestone pavers.
On the other hand, they complement the teak fence with a clear stain because, basically, wood also radiates warmth, similar to these warm tones.
Instead of a table, there's a cushion or more like an ottoman in the middle of this seating space. It delivers a whimsical look that will surely make this patio look different from the others.
When it comes to plants, all of them were planted in planter boxes surrounding the seating space.
The plants' various textures, colors, heights, and sizes add more characters and personality to this cheerful patio. The soft-colored blossom accentuates the chairs, toning down their boldness.
16. Outdoor Kitchen in a Trendy Townhouse Patio
Elegant, trendy, and sophisticated, are the three words that describe this townhouse patio best. Every element in this patio looks clean, polished, and put together.
The wooden panel fence is combined with the smooth wood wall on the other side. So, even the walls in this patio are basically made of wood; they seem to be different types and textures.
This trendy patio is utilized as an outdoor kitchen. There's a white cabinet with a countertop containing a grill.
According to the designer, there's also a dining space here, but it can't be seen from this angle. So it's safe to say that this is a long yet quite narrow patio.
The minimal planting makes it look more modern than natural. It's obvious that the plants in this patio are simply used as a decoration, not a living thing that's let grow naturally to provide a natural look.
The plants are meant to accentuate the wooden wall and the planter box.
The terraced planter boxes are also completed with a water feature, a popular architectural element to add to a patio to provide a soothing sensation.
In order to add comfort and an inviting look, the designer also installed some downlights on the wooden wall.
The soft yellow glow illuminates the entire area of the patio in the evening, making it look warmer and cozier.
17. Additional Tips to Create a Townhouse Patio
You know that you can basically create anything in your townhouse patio, from an outdoor kitchen to terraced landscaping. Yet, despite the design, here are some additional tips that you can take into account:
a. Extend the space with deck boards and pavers
You obviously can't put deck boards and pavers onto your neighbor's space, but you can create an eye trick if you put the pavers or boards at a slight angle toward the far end of the corner.
The pavers and/or boards should be at around a 45-degree angle. This angled design will make it look more spacious in a small area.
Instead of square blocks, use longer and narrower pavers to extend a concrete slab or pave the outside area. No need to use boards or paving in the entire space.
Different levels, like stepping down from boards, concrete slabs, or pavers will give a sense of space.
If there's one remaining space with no room for boards or pavers, you can use artificial turf to add greeneries that don't need mowing.
b. Use furniture and plants to create zones
Usually, colors like yellows, oranges, and reds are perceived as "warm", while colors like blue, purple, and pink are "cooler".
It's best to put warmer colors closer to your townhouse to enhance its coziness and put the plants with cooler tones in the distance to make your patio look larger.
You can use chairs and a cafe table to create a dining space, or bench and lounge chairs. There are even decorative cooler tones that you can use for seating.
When it comes to the plants, even on a small patio, always rely on some larger plants because varied heights add character and interest.
Opt for some plants with variegated and larger leaves. Vertical plants can add space because they move the eye up, while leafy plants with textured and large leaves can provide shade for a no-cover patio.
It's great to use raised beds around the perimeter of the plants. Plants with smaller leaves can reflect more sunlight, so they can be planted in the perimeter areas or in the container gardens.
c. Opt for variety in container gardens and planters
When you are buying planters or container gardens, opt for those that have plants with different leaf textures, heights, and colors.
Yes, uniform plants will look stunning in large gardens on a spacious house, but in a compact townhouse, they take up most of the space instead of enlarging it.
d. Don't forget about the unexpected
If you have a striking piece of artwork that would be lovely outside, you can put it on your townhouse patio.
It's important to know that reflective areas trick the eyes into thinking that the patio is larger, so you can also hang a mirror on the partition or the fence.
A pergola with string lights will also create a cozy atmosphere, while a small water feature will provide you with soothing sounds that you need after a long, stressful day.