Having a studio apartment means you have no wall to separate each room. It will remind you of the old days when you were still in college because it looks more like a dorm room than a real home.
So, what should you do?
Actually, there are many options for you. Even if you only have limited space, there are endless tricks to create distinct areas in a small space for working, sleeping, or just hanging out.
The main trick is, what you're lacking in space, can be made up for in style. There is no such thing as a too-small room for some layout adjustments and decorations.
The great part is, none of the tricks need a major renovation, like knocking down walls and building permanent ones.
As a renter, you will not change the basic layout of the studio apartment you're living in. But at the same time, you can make your studio apartment feel bigger with the illusion of separated rooms. Here are some ideas you can opt for to create a temporary and easy to install room divider:
1. Lathe Panels in a Beach Style as a Studio Apartment Room Divider
There is no need to build a tall and high room divider to separate your bedroom from the other areas in your studio apartment.
Here, you see the designer created a wood lathe panel that fits the beach style design of the interior.
According to the designer, the construction was quite simple.
The vertical 2×4's were attached with large screws to the bed frame. After that, they created the lathe panels with wood lathe cross pieces and 1×2 rails purchased from a building supply store.
The whiter primer was later thinned with water and a bit of gray paint to coat the unsanded lathe panels. Then, the designer attached the lathe panels to the vertical 2×4's. It doesn't take many tools and professional skills to build that.
There is a console table from IKEA placed right over the lathe panels. And the homeowners placed two white table lamps from Z galleries as an additional element to divide the room, along with the lathe panels.
2. Wooden Panels as a Room Divider to Make the Bedroom in a Studio Apartment More Private
If you want a more modern wooden panels room divider with a Scandinavian style, you can opt for this option.
The polished wooden panels separate the bedroom and the open concept living room. This room divider doesn't fully enclose the bedroom. Instead, it only covers the bed area.
The slatted design also enables the owners to check out their living room and kitchen while making the bedroom look more private.
To achieve a Scandinavian style like this, make sure you choose a light tone wood and polish it right.
The slatted divider is installed on top of a wooden board panel that blends seamlessly with the light wood floor.
This room divider is placed on the opposite side of the kitchen island, facing each other, to create a balanced look in this studio apartment.
3. L-shaped Wood Slatted Studio Apartment Room Divider Installed Above the Storage Box
This lovely studio apartment features an L-shaped wood slatted room divider.
Unlike the previous divider, this one has a weathered look that delivers a perfect rustic style to this eclectic living room.
This room divider is considerably unique because it doesn't only stand horizontally, but it has an L-shaped, a better way to separate a room from other areas, but not totally enclose it.
This wood slatted room divider is installed above the storage box, creating a contrast between weathered look and rough texture to polished look and smooth texture. This divider also contrasts the entire look of this living room.
If you are wondering, the walls in this studio apartment are painted in Benjamin Moore – Super White, a perfect color to choose for a smaller area to make it look bigger.
This room divider is also used as a decorative wall, a spot to hang some artworks.
On another side, the homeowners placed a console table along with two white table lamps on top of it. The table lamps accentuate the wood divider nicely.
4. Muslin Freestanding Room Divider Kit in Black Color to Create a Loft Style in a Studio Apartment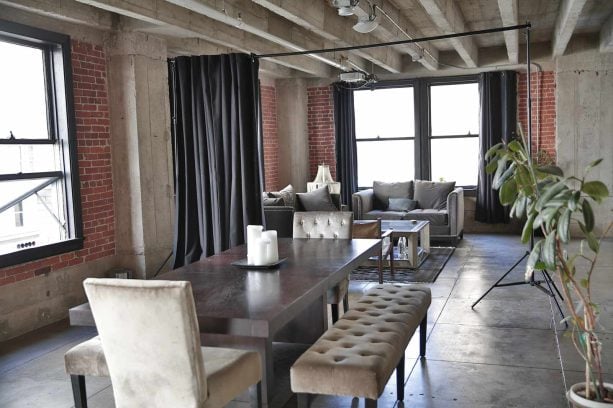 If you want a simpler and easier way to part two rooms without much effort, you can buy a room divider kit like this.
This room divider has a loft-style comes with a complete kit. It delivers an innovative way to bring privacy easily.
If you have a studio apartment with raised ceilings, this divider kit becomes an even better option for you.
Instead of panels, this room divider kit is made of high-quality 100% hand-dyed cotton muslin fabric in black color.
If you are wondering, this divider is finished and has a hemmer on all sides, so it looks neat and polished.
This muslin curtain comes with a freestanding hanging system and metal grommet rings to hang it.
The black curtain blends seamlessly with the industrial studio apartment. The gray floors and brick walls accentuate the black muslin beautifully.
You can open the curtain to provide a larger area for hanging out and close it to create more privacy.
5. A Motorized Sliding Element in a Studio Apartment as a Room Divider to Separate the Bedroom and the Other Areas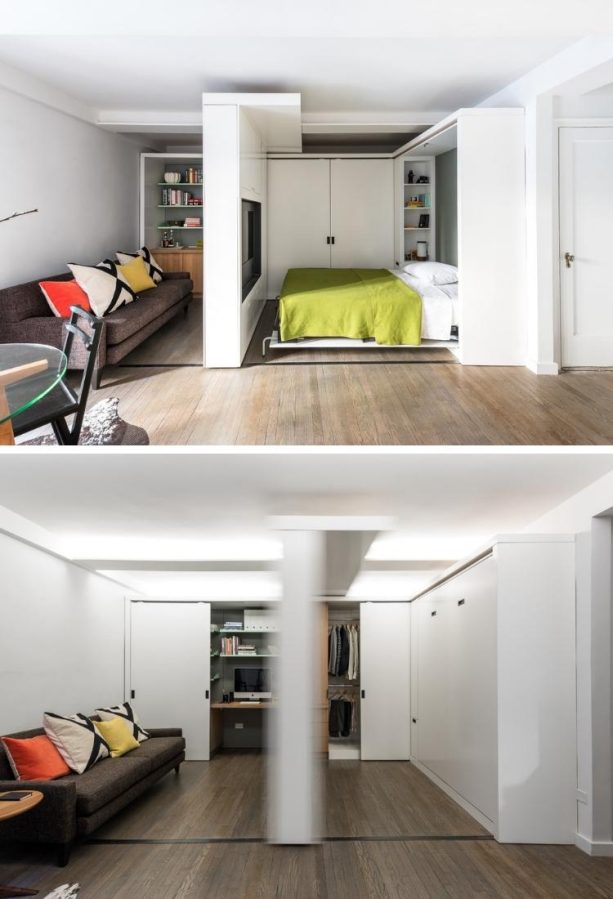 Having a motorized sliding element in your studio apartment is indeed beneficial. It will save more space and create distinct spaces perfectly.
This bedroom space is created behind the sliding element.
There is a white media wall that has a tv in it. The TV can rotate 360 degrees, so the owner can also enjoy the TV from the living room.
There is a built-in nightstand and bookshelves tucked in the bed opening. These are also meant as a room divider, enclosing the bedroom partially.
During the day, when the bed is not in use, the owner can fold it back to the wall because it is completed with a track. The bedroom area can function as a working station because the nightstand is completed with power.
This is a modern way to separate your private area in your studio apartment from the rest of the rooms. It takes a skillful designer to complete the entire project. It is usually a custom-made product, so you can easily fit it into your interior design's style.
6. Glass Panels with White Trim Room Divider in a Modern Studio Apartment
For a more unique divider, you can have glass panels room divider with white trim to differentiate your bedroom from the dining room.
Having clear glass panels as a room divider will give you several benefits.
Some of them are giving a polished look that can enhance a modern or contemporary style, creating a bigger space because glass is quite like a mirror when it comes to providing a bigger illusion in a small room, and enabling the owner to see what happens in the other room without having to be out of bed.
Glass is a timeless element. You can combine it with other colors perfectly. However, if you want o to pull off a modern look like this, you can pair it with a neutral color scheme.
In this studio apartment, the wall is painted in Valspar – Outlands Subtle Taupe in a flat finish. The bedroom niche is also painted in the same color paint, but one shade darker.
This way, the glass divider can create a cohesion look. Its dark frame matches the table and chairs set in the dining room, while the white frame mixes harmoniously with the walls around.
7. White IKEA Shelf as a Functional Room Divider in an Attic Studio Apartment
If you rent a studio apartment in an attic, choosing a small yet functional room divider is important to give you more privacy in your bedroom. It is because a bigger dimension of the divider will take much space in the room and make it look crammed.
The homeowners use a small white IKEA shelf as a divider in this area.
This is a clever way to separate the bedroom from other rooms because the divider can be functional too.
There are closed and open shelves in this room divider. The closed shelves can be used to store small stuff to avoid clutter, while the open shelves can function as a display rack.
Small-scale appliances work very well with this IKEA shelf.
Combined with bright colors and dormer windows for a lot of natural light, they all create an illusion of a large space in a one-space living.
8. Using Floor to Ceiling Bookshelf as a Room Divider to Create a Minimalist Style in a Studio Apartment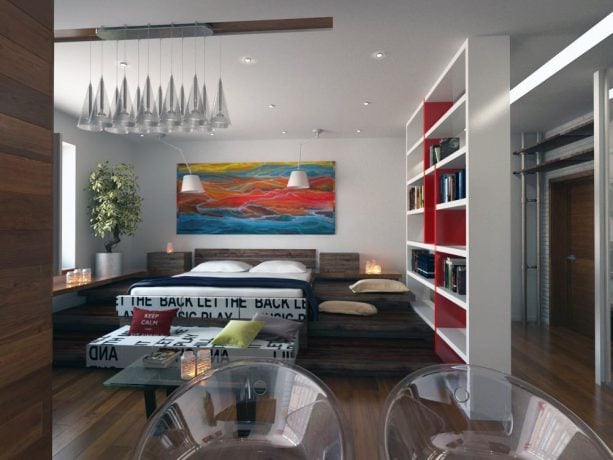 This is another functional room divider that can be used as a bookshelf.
Due to the larger space, it makes sense if the homeowners intend to install a bigger divider to give them more privacy in the bedroom.
This bookshelf seems to be custom-made. It stands from the floor to the ceiling. Basically, it acts as a wall, but with a function and with a space for an opening in the bedroom.
If you are collecting books, this is the kind of room divider that you should put into consideration.
Even though this bookshelf divider seems to be made of wood, it is painted in red and white to match the artwork hung over the bed.
Plus, the bright-colored red in the divider is also meant to give a splash of color to the wood floor, wood bed, and white walls around.
9. Custom Made Wheeled Unfolding Room Divider to Enclose a Bedroom in a Studio Apartment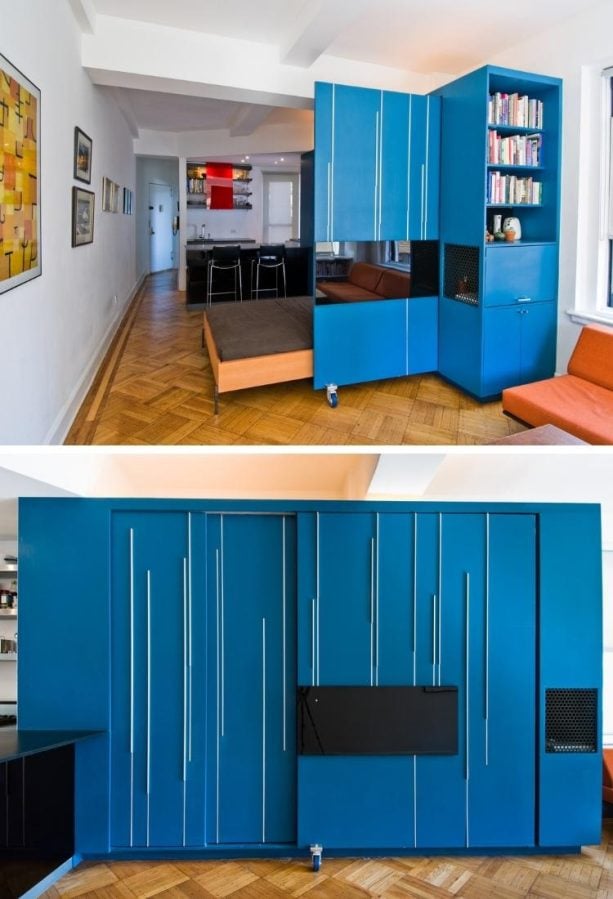 A custom-made wheeled unfolding room divider is actually the best thing you can add to your studio apartment.
With this divider, you can fully enclose your bedroom on one side. This way, if you invite some friends over, they don't need to see your bedroom.
Moreover, this unfolding room divider gives a bold statement. It is a spray lacquer, painted in Benjamin Moore – Blue Danube.
There is a darkened mirror accent in the middle part of this divider to enhance the modern and stylish look. In the corner against the wall, there is also a bookcase sitting on top of a closed shelf.
It is obvious that every single element in this divider is meant to be functional. Each of them can be both functional and decorative too.
This is an excellent choice for a smaller room or a studio apartment because you don't need to add extra furniture for your books and stuff with this kind of divider.
10. A Buffet was Placed Against a Small Wall in the Middle of the Bedroom's Opening as a Room Divider
For a sweet and feminine look, you might want to install this room divider in your studio apartment.
Basically, this divider is a wall. However, it seems that this is a small temporary wall placed in the middle of the bedroom's opening.
Why should it be placed in the middle of the opening, not against the wall?
It is because the bed is also floating, which means that it is placed in the middle of the room, not against the wall. This way, the temporary wall divider is used to cover the bed area, separating it from the next room.
Against this wall, the owner placed a white buffet against it. The white buffet with a wood top is useful for adding extra decoration in the divider area and making the wall look sturdier.
Apart from being a divider, this wall is also used as a decorative spot. However, instead of hanging artworks, the owner decided to hang a decorative mirror.
In a studio apartment where space is limited, it is important to prioritize essential things.
A mirror is more important than artwork, so hanging a mirror with a decorative frame on this wall is more reasonable to accentuate it.
You can create a contrast by choosing a dark-framed mirror against the white wall to spice up the look.
The decoration of the mirror, paired with the white wall, creates a perfect feminine and sweet look in a bedroom.
11. Simple TV Stands as a Room Divider to Separate the Bedroom and the Living Room in a Studio Apartment
You need a minimalist and simple piece to decorate a contemporary studio apartment.
In a contemporary or modern style, less is more. Like you see in this white room, there is a bedroom and living room, separated by a simple white TV stand.
The TV stand sits on top of a cabinet with a sliding door that can be used to store some video games or a stereo set.
This furniture piece is not grand and prominent when it comes to dimension. However, it is enough to create a distinction between the bedroom and the living room.
The TV stand covers the entire bed length, so the owner can sleep undisturbed when the other person is watching TV in the living room.
Blending the divider with its surroundings is great to create a not-so-noticeable partition. This way, the sense of separation between two rooms is less prominent.
White is especially a great color to create a blending element because this is a neutral color that doesn't attract attention. This white TV stand is no exception.
There is no decoration or accent to create a bold accent that draws attention.
12. Contemporary Studio Apartment Room Divider with a Combination of Ebony Wood Laminate, White, and Translucent Panels
For a simple option that is easy to install but still creates a clear distinction between two rooms, this contemporary style panel can be your best bet.
This is an 8' freestanding room divider from loftwall. It has a modern combination of ebony wood laminate, white, and translucent panels.
Freestanding panels like this are easy to move. So you can use it to separate any area you want in your studio apartment.
If you invite your friends over and want to get privacy for your bedroom, you can place this divider in your bedroom's opening. Protect yourself with this divider if you want some me-time in your living room.
Such a versatile piece can fit in any room without disrupting its basic interior style.
Moreover, basically ebony, white, and translucent panels are timeless. It means you can place this panel not only in a modern studio apartment but also in any style.
This panel is available in standard sizes and finishes if you want one. Or, if you want something that represents your personal taste better, you can customize it to meet your needs.
Basically, this room divider screen is created for studio apartments, workspaces, and lofts. This allows you to have divided spaces but still maintain an open flow throughout the space. What a great way to enhance a stylish look in your space.
13. Dark Open Shelves that Match the Leather Couch in the Living Room as a Room Divider
Using bi-level open shelves is another unique way to divide your rooms in a studio apartment.
This is obviously a traditional living room and bedroom. Due to the traditional style, the homeowners carefully picked the furniture pieces here in a neutral color.
The bi-level open shelves are placed between the bedroom and the living room. Its dark tone with polished look matches the leather couch and the coffee table in the living room perfectly.
They all create cohesion, delivering a sophisticated look in this adjoined room. On the other hand, the multilevel adds more depth and character to the room.
The open shelves are also used as a place for decorative items. However, be careful if you use open shelves as a room divider in a traditional room.
Make sure you don't overwhelm it with too many items in it. Placing too many decorative pieces of stuff on your open shelves will create clutter, and it is surely not the look you want to achieve in a polished traditional room.
14. Aluminum Framed Opaque White Glass as a Corner Room Divider in a Studio Apartment
If you want a more enclosed area, you can install this cornered room divided. Cornered divider means an L-shaped design installed against the wall.
This room divider features a 5-panel top hung. This one is trackless, so it is easier to install and operate.
This aluminum-framed opaque white laminate glass panel creates a contemporary loft-style bedroom in a studio apartment.
The opaque white laminate glass will not only divide two rooms but will also give you more privacy.
This one is perfect for a bedroom because it is a room where you need privacy the most. It is obvious that this divider is more functional than decorative.
This is an excellent alternative for a permanent wall.
Who needs a wall if you can purchase these opaque glass panels?
The aluminum frame provides a sturdy and durable construction to make sure the glass panels will stand upright.
15. White Screen Room Divider to Create an Enclosed Bedroom in a Studio Apartment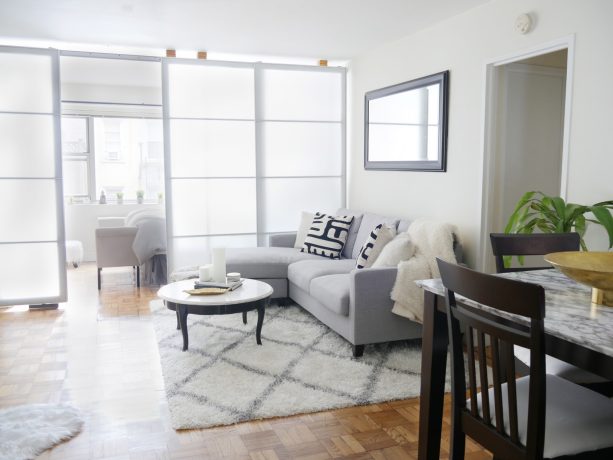 This is also a great way to enclose your open space area.
The room divider consists of several white screen panels that are installed horizontally from one end of the wall to the other. The bedroom on the other side of the room will be perfectly enclosed, completely concealed from the living room.
Similar to the previous pictures, this divider is also made of opaque glass. The opaque glass will not enable you to see the other room from the bedroom, but it gives a sensation of a separated room.
Instead of a door, there is an opening in the middle of the screen panel to enter the bedroom from the living room.
This screen has a white frame that seems to be made of metal. The white frame mixes harmoniously with the white walls.
Basically, this studio apartment is dominated by white elements to maintain its brightness and an illusion of a bigger space.
16. Custom Black and Gray Panels as a Stylish Studio Apartment Room Divider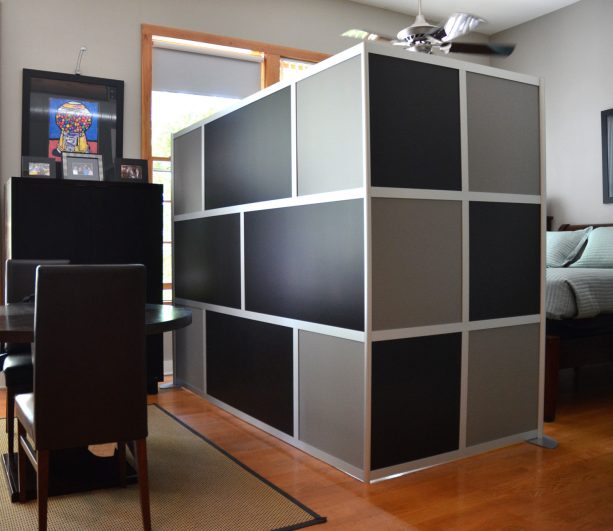 Generally, this freestanding room divider is similar to the previous freestanding panel. What makes it different is the L-shaped design. You can choose this design if you want a bigger area to cover by the divider.
Even though this L-shaped freestanding panel won't give you a perfectly enclosed room, you can still have a sense of separation, especially if you place one end of this panel against the wall.
This is a custom room divider consisting of black and gray panels, if you're wondering. According to the designer of this studio apartment, this room divider separated the bedroom from the dining area.
This divider is another product of LOFTwall. It is easy to assemble, move, and change whenever you need a change in your spaces.
The black and gray panels deliver a modern look because neutral colors will never fail to give you a stylish and updated look.
This divider will be best if you combine other black and white pieces around the room.
17. Soft Turquoise Blue Panel Wall Room Divider in an Industrial Studio Apartment
You can also create a bold statement through your room divider.
This industrial studio apartment is basically dominated by a neutral color scheme, with bright white walls, dark tone wood floor, medium tone wood tables, and dark sofa. The industrial style looks most prominent on both of the tables.
However, the soft turquoise blue panel wall room divider adds a subtle pop of color, which is often associated with a modern style.
This recessed wall panel is installed against the white wall, creating a subtle contrast to the white wall.
This room divider covers the bedroom area from the living room. People sitting on the couch won't see the one in the bedroom. What a minimalist way to protect your privacy.
This simple divider will add more character to your studio apartment.
Closing
Which room dividers from the pictures above that you like the most?
If you want a sturdier and more separated feel divider, you can try to install a temporary wall panel that can be used as a media wall.
As a temporary wall panel, usually, this wall is low and only fills one part of the opening. You can use this as a media wall to hang your TV or as a decorative spot to display some artworks.
For a lighter and easier-to-install divider, you can purchase a room divider kit that consists of a frame and a curtain made of muslin.
You don't need a drill to install the frame to the walls. Instead, just place it in the middle of two rooms and close the curtain if you want to get more privacy.
Or you can also opt for a screen panel that is made of wood or opaque glass to create a modern look.
To make the panel blend seamlessly with the surrounding, it is recommended to have it custom made. You can also paint the wood panel in a color that suits your best.