Choosing excellent walk-in closet lighting is a must for every wardrobe.
When installed properly, the right type of walk-in closet lighting can help brighten up unlit corners, so you can have better accessibility, transform your closet into an elegant space, and showcase treasured pieces in your closet.
When choosing the best lighting for your walk-in closet, here are some things you should consider:
How many lumens do you need? For LED lighting, lumens measure the bulb's brightness. In order to know how many lumens you need, you have to do some math. Your room square footage X your room light requirement (for instance, how bright a light is one foot away from the source) = required lumens.
LED vs. Fluorescent: Both are popular choices for walk-in closet lighting because they have better energy efficiency than traditional lightings. Yet, LED bulbs are brighter than fluorescent lights. They also have a longer lifespan and are less hazardous to discard than mercury-containing lights. Plus, they can imitate the warm glow of incandescent bulbs.
Wired vs. Wireless: For lighting control, you can select from wired or wireless systems. If you don't want to cut into walls and ceilings to install the lights, you can opt for wireless lighting. This lighting doesn't require any electrical hardwiring. Without any wiring, these lights are more flexible to scale. You can go for rechargeable or battery-powered options.
Now, it's time for you to take a look at the finest walk-in closet lighting curated below to help you choose which one's better for your own walk-in closet:
1. LED Walk-in Closet Lighting on the Hanging Rods
If you want a simple yet stylish design for your walk-in closet, you can consider using LED lights like this.
This Italian-designed closet system is completed with LED lighting on hanging rods, the cabinet pulls, and the drawer.
Each part of the cabinet is illuminated by an LED light. The lights are placed evenly, so there won't be any unlit space.
This is suitable for you to highlight every piece stored in your cabinet.
Since this is more like a display rack than a closed cabinet, LED lights on the hanging rods, cabinet pulls, and the drawer will illuminate your stuff perfectly, even at night.
This way, you don't need additional lighting because those LED lights illuminate your outfits and the entire area of your walk-in closet.
2. Vintage Sconces Walk-in Closet Lighting to Create a Traditional Look
For a more traditional look, you can go for a vintage sconce like this to brighten up your walk-in closet.
The designer added the wall-mounted sconces throughout the room evenly.
The warm yellow light from the sconces is enough to illuminate the entire area, even at night. No need for extra recessed ceiling lights.
It seems that these vintage sconces are made of nickel, which delivers a lovely accent when combined with white cabinets around.
Both elements create a flawless classic look that is perfect for you who want to achieve a polished and clean design.
3. Round Ceiling Fixture Combined with Recessed Walk-in Closet Lighting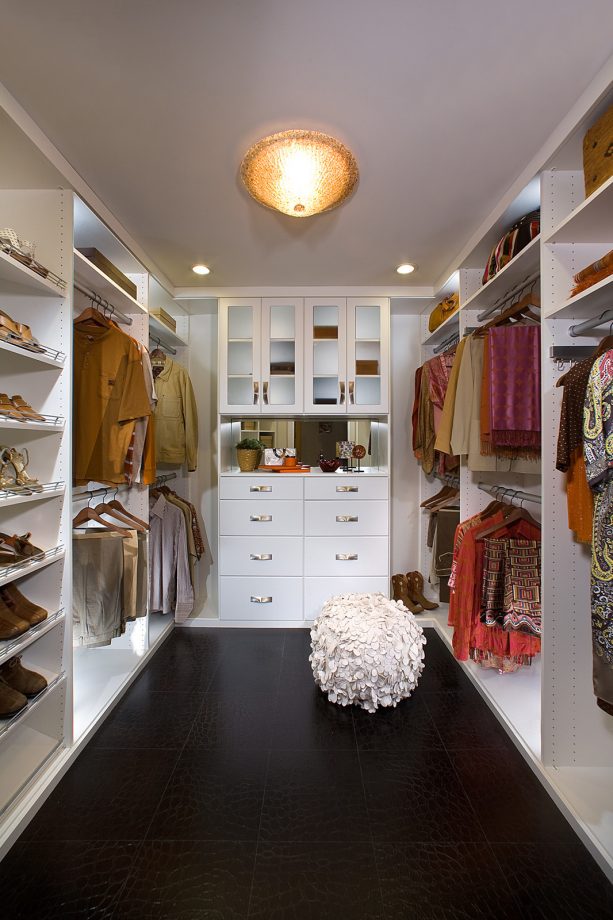 Installing one big round ceiling fixture in the middle of the walk-in closet will indeed give a sufficient amount of light to illuminate the area.
Yet, since this is an elegant fixture that is not only used to lit up the room but also as a decoration, it should also be combined with extra lightings.
In this walk-in closet, the designer added recessed lights in the corner of the ceiling to cast light upon the unlit areas. Yet, both radiate similar warm yellow lights that create a luxurious look.
There is no detailed information about the fixture, but you can go for 2 Light 12″ Ceiling Fixture Round Sunburst from Satco Lighting as a perfect alternative.
4. Triple Metallic Pendants as a Modern Walk-in Closet Lighting
Sconce and fixture will surely give you a traditional and elegant look.
Yet, what about modern or contemporary looks?
If you are more into a stylish and modern style, you can opt for hanging pendants like this to illuminate as well as decorate your walk-in closet.
There are triple metallic pendants over the cabinet storage here. It appears that the pendants used are Hudson Valley 8008-SN Marion Pendant. The designer installed them in line evenly.
A metal finish like this will never fail to give you a modern or contemporary look. And it can complement any shade in the room.
However, those pendants are not enough to brighten up the corners. That is why there are other recessed lights to help them floodlight the wall cabinets' area.
5. Stainless Steel Hanging Pendants Over Storage Cabinet as a Walk-in Closet Lighting
This is another large trendy walk-in closet completed with stylish hanging pendants.
There are two hanging pendants that seem to be finished with stainless steel. The two pendants were hung asymmetrically, with different heights, to increase the whimsical look of this brown walk-in closet.
Those are placed over the storage cabinet and across the cabinet's built-in mirror. This way, the light will be reflected in the mirror, making the entire room even brighter.
It seems that the pendants are from Urban Classic, PD2054 Kronos 1-Light Pendant.
The stainless steel mesh cage in gold, copper, or chrome finishes creates a faceted and unique exterior, while the warm light glows from within.
Since the glow is soft and light, it may not be enough to irradiate the whole closet.
Similar to the previous designs, this closet is also completed with extra recessed lights.
Basically, those recessed lights are the main light. These two pendants are more like decorations that accentuate and cast light upon the central point of this room: the storage cabinet.
6. Using a Combination of the Elegant Chandelier and Ceiling Light as a Walk-in Closet Lighting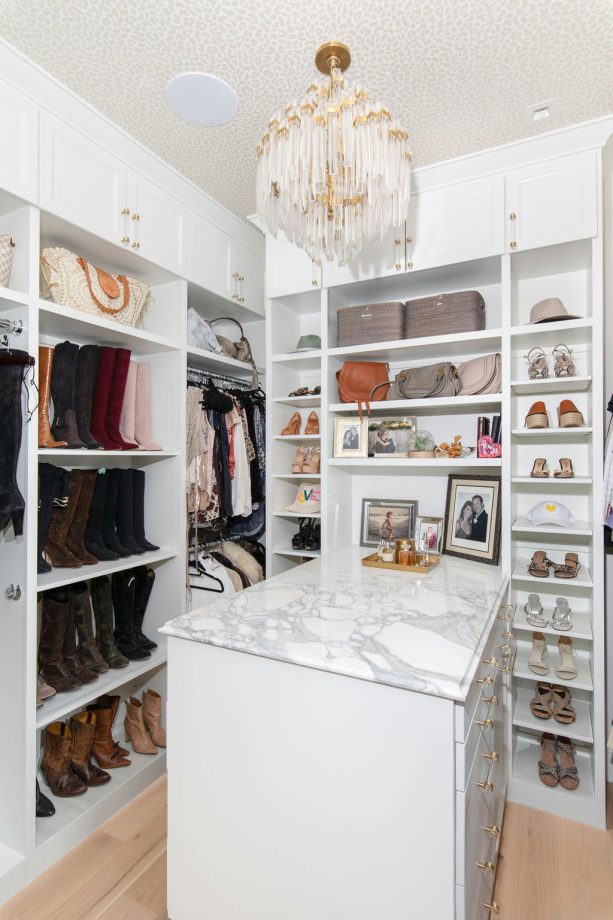 Pendants and sconces are beautiful, but the chandelier is on another level of beauty.
If you want to create a classic Victorian look in your walk-in closet, you can use a chandelier as the main light.
This picture shows how the elegant chandelier is placed upon the cabinet storage right in the middle of the room.
Yet, the homeowners don't really like a soft glow. It seems that they prefer a bright and well-lit room.
That is why they added an LED ceiling light next to the chandelier. The LED lights are less visible than the majestic chandelier.
It is clear that the homeowners intend to conceal the extra lights and want to create a focus on the chandelier instead of achieving an elegant look.
7. Spark Ball Pendant Lighting Fixture in a Farmhouse Walk-in Closet
Sometimes, a usual pendant is not enough. You may need something more unique yet still functional. This spark ball pendant lighting fixture may be the best solution.
This pendant lighting is installed alone in the center of the closet, unlike the previous pictures that use double or triple pendants at a time.
Hanging a single pendant like this will make the pendant look like a chandelier. It means that you still can get the elegance of a pendant but get the whimsical look of a pendant.
If you want to get a lovely pendant like this, you can purchase El Sol 16-Light Pendant Lighting Fixture.
Since this walk-in closet is narrow in an I-shaped design and completed with a glass panel door and mirrored cabinets on both sides, the designer doesn't need extra lighting.
The glass panel will let the natural light flood the room, and the mirrors on both sides will reflect the light from the pendant.
Overall, this farmhouse-style walk-in closet has a touch of a contemporary look from the spark ball pendant lighting fixture.
8. Contemporary Pendant Light with Hanging Bulbs for Walk-in Closet Lighting
If you want another bold and statement piece for walk-in closet lighting, you can opt for this contemporary pendant light.
Unlike the previous one, this pendant features hanging bulbs. Those hanging bulbs are set together in a black finish chrome slab mounted on the ceiling.
It looks pretty close to Pendant 16-Light with Polished Chrome Tones Finish G4 Bulb 19″ 160W by RIalighting. Even though there are 16 lightbulbs in this pendant, they are not enough to illuminate the entire area. Thus, recessed ceiling lights were added near the cabinets area.
Using soft glow lightbulbs like this as the main light is indeed perfect for a stylish black and white closet.
The combination of black and white will give you a minimalist look, which is a key for a modern style, And it looks flawless when combined with a warm yellow glow from the lights.
9. Antique Chandelier Lighting in a Transitional Walk-in Closet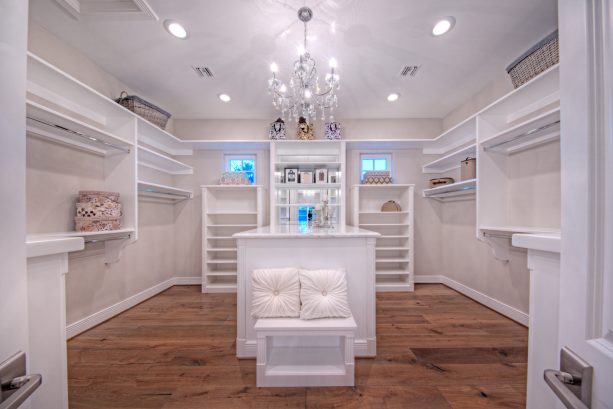 This is a transitional walk-in closet featuring an all-white design and light tone wooden floor.
It seems that the designer wanted to achieve a classic Victorian look. That is why, after using white color as its dominant color, the designer added a classic chandelier in the center of the room.
Here, the chandelier looks pretty close to Sterling 3601 Chandelier – Polished Silver, Clear Heritage Crystal by Swarovski. The clear crystal complements the all-white design perfectly.
There are LED lights recessed in the ceiling to complete the glow from the chandelier.
Even though the LED lights are the things that dominantly light up the room, we can't deny that the focal point of this walk-in closet is the chandelier.
The white design delivers a modern look, while the wooden floor gives a traditional look. Both are "tied together" with the antique chandelier. Hence, the flawless transitional walk-in closet.
10. White Large Clover Pendant Lighting for a Bright Walk-in Closet
This simple yet whimsical pendant looks a lot like the Large Clover Pendant by Lampa, which is made of white linen. The pendant is hung above the storage cabinet in the middle of the room.
The white color of the pendant complements the white cabinets, white ceiling, and cream carpeted floor.
Using a similar color for the light to the surrounding is recommended if you don't want a contrast or drastic change in your room. This is also an excellent idea if you're going to create a consistent and uniform look for your area.
There are additional lightings to complete the large white clover pendant. With such lighting, no wonder if this mid-sized walk-in closet looks bright and well-lit.
11. Track Lighting in Brushed Nickel to Illuminate a Mid-century Walk-in Closet
This mid-century walk-in closet features track lighting instead of a pendant or chandelier.
Yes, a pendant can deliver a modern or contemporary look, while the chandelier is closely related to the traditional look. However, if you want an even more stylish and functional option, you can opt for this type of lighting.
This one is seemingly a WAC Lighting Vector LED 4 Light Fixed Rail with a brushed nickel finish. With this lighting, you don't have to add extra light to your closet. The lights on the track are enough to lit your walk-in closet.
Moreover, those lights are flexible. They can be set to lit up a specific spot. That is why there won't be any dim or poorly lit areas in this walk-in closet.
The nickel finish seems to contrast to the light brown and white color combo around. And it adds an even more modern touch to this room.
12. Mid-sized Walk-in Closet with Small Chandelier with Burnished Silver Leaf Lighting
This small chandelier is perfect for the mid-sized walk-in closet like this because the usual sized chandelier will be a bit too much.
This chandelier is Hampton Small Chandelier with Burnished Silver Leaf from Visual Comfort. The silver finish adds a metallic touch to this crisp and polished closet.
However, it seems that the silver chandelier is not enough to perfectly lit the room. There is a recessed LED light next to the chandelier. Both will cast light upon the entire area.
Those lights, the chandelier, and the LED, have been finished in similarly white color to its surrounding.
In order to avoid being too plain, the designer installed a hardwood floor to contrast the all-white design.
There is a glass panel window on one side of the room that is useful to flood the right with natural light.
At night, when there is no natural light, those panels are helpful to reflect the light from the chandelier, making the room even brighter and look larger.
13. A Line of Recessed Ceiling Lighting for a Simple and Stylish Walk-in Closet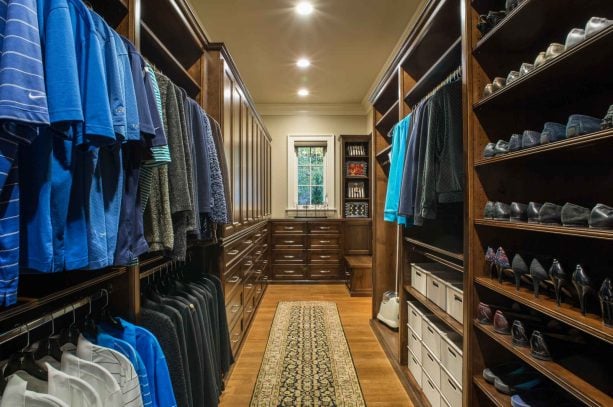 In previous pictures, the recessed ceiling lights are only used as additional lights. However, the recessed lights are used as the main light in this walk-in closet. They were installed in the center part of the room.
The lights are placed evenly. The closet itself is a perfect I-shaped.
The narrow space makes it easier for the line of lights to brighten up the entire area. This type of light is ideal if you want to attain a simple look that won't be too eye-catching.
Simple and stylish, that's a perfect way to describe this closet.
The warm yellow glow from the lights matches the dark tone wood cabinets and the cream walls. The polished and glossy finish in the cabinets is meant to reflect the warm glow from the recessed lights.
14. Elegant Mounted Chrome Lighting Over an Ottoman in a Walk-in Closet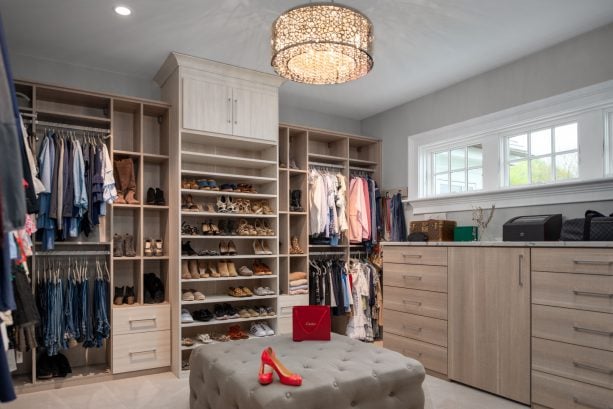 It seems that the beautiful light here is Amelie 4-Light Crystal Flush Mount in Chrome finish by Elegant Furniture & Lighting. The golden glow from this mounted pendant creates a bold contrast to the light tone wood cabinets surround.
Basically, the fixture consists of tiny crystals with four lights in it. The colors' yellow glow is reflected perfectly by the crystals, creating an elegant golden light. It is installed over an ottoman, which is clearly a focal point in this room.
If you want a dim room, this ceiling-mounted pendant is enough. Yet, if you're going to achieve a perfectly lit walk-in closet, this pendant should be completed with some recessed lights around.
This picture shows that the designer intended to create a well-lit room. Apart from the extra recessed lights, there is also a line of glass panel windows.
All the illumination elements in this room give very bright light, perfect for a transitional room like this.
15. Three Hanging Light-seeded Glass Pendant Lighting for a Stunning Walk-in Closet
Hanging three pendants asymmetrically like this is a great way to add a whimsical look to your walk-in closet. It serves as a stunning decorative as well as a functional element.
Instead of mounting them to the ceiling, those pendants are mounted in an alcove. It seems that the alcove features a window, so that opening is meant as a source of light.
It appears that these lights are Ilona 1-light Seeded Glass Teardrop Pendant Lighting Fixture from Uttermost. The glass element in this light helps diffuse the glow by reflecting it, making the light brighter than it actually is.
Soft yellow light is a common choice for a modern walk-in closet, especially when combined with the all-white design.
They are meant to highlight the dark tone wood storage cabinet below, while the recessed lights around are useful to lit up the whole walk-in closet.
16. Double Pendant 5-Light with Aged Brass Lighting in a Crisp White Walk-in Closet
The designer installed double pendants over the white storage cabinet as a decorative element.
The light here is Pendant 5-Light With Aged Brass Tone in Finish, A19 Bulbs Type, 25″, 300 W by World of Exclusive.
The aged brass finish, combined with the chain element, gives this crisp white walk-in closet a pop of color and texture. Yet, the finish contrasts the countertop of the cabinet below.
This is the designer's way to create a color block to add more character to this room.
Due to the large-sized closet, double pendants over the freestanding cabinet are not sufficient.
There are extra recessed lights installed in the ceiling next to the wardrobe and cabinets. The mirrors around are useful to help diffuse the light, so the entire closet looks bigger and brighter.
Closing
From the ideas above, we can conclude that usually, a walk-in closet is illuminated with these types of lights:
Recessed lights: These ones are installed and hardwired directly inside a ceiling. Their simple design is suitable for a standard walk-in closet because there will be no risk of hitting the lights accidentally when you are putting your clothes away. TIP: install a line of smaller low-watt fixtures instead of some high-powered ones. Make sure you space them evenly for uniform illumination.
Track lights: A track lighting system consists of individual lightbulbs on a rail. This type of light enables you to have full customization of your walk-in closet lighting to your preferences. You can place the track lights to highlight the specific spots.
Chandeliers and pendant lights: Both are basically artwork in their own way. These are statement pieces that will look incredibly stunning in any closet with their sophisticated yet whimsical appeal. They are available in many colors, sizes, and shapes. You can choose one that fits your preference to create a luxurious walk-in closet space. TIP: For a small walk-in closet, choose a pendant light or flush mount chandelier to optimize every inch of your closet space.
Good luck with your project!