Polished white kitchens are usually associated with an ultra-modern look.
Is it possible to use white, a clean and bright shade that is often used in a modern or contemporary kitchen, in a more traditional style?
Yes. Instead of making it polished and sleek, the trick is to make it distressed instead.
White distressed kitchen cabinets are the key element you need to achieve a traditional look. It is because cabinets commonly run across the entire room, putting the entire space together.
That is why, when designing your kitchen according to a certain style, your cabinets must align with the whole design style.
You can purchase ready-made distressed white cabinetry, or you can distress your pre-existing cabinets. Here's how to do it:
Clean your cabinets from any visible dust and dirt. Use a cleaning agent, but not the intense one. Just dilute a light grease-cutting detergent. Leave them to dry once they are clean.
Remove all the hardware.
Apply a primer. If your pre-existing cabinets are not in white color, you need to prime them first. On the other hand, if you already have white kitchen cabinets, you can skip this step and start to distress them immediately.
Using a sanding block, sand your cabinets.
Apply a coat of acrylic or antiquing glaze.
Apply a top coat. You can use a polycrylic coat and apply it with a sponge brush. Wait until it's dry before you add your hardware again.
Now, we've curated 14 admirable distressed white kitchen cabinets to create a perfect vintage look for your cooking zone:
1. Modern Rustic Kitchen with a Combination of Distressed White Cabinets and Wood Elements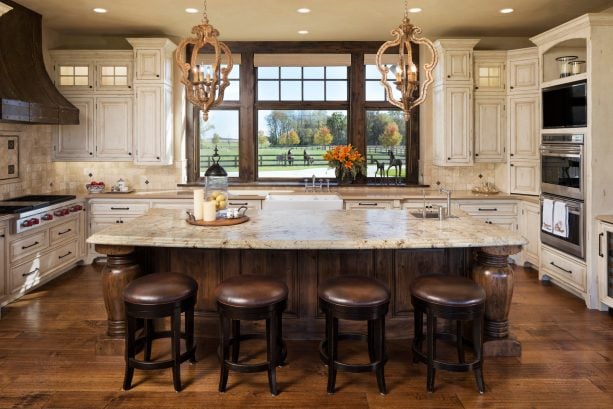 To achieve a rustic kitchen, you don't need to use an all-wood design.
The designer applied a modern rustic look in this kitchen, which is better for you who don't want to use wood in every inch of your kitchen.
Instead of a rustic wooden cabinet, raised panel distressed white cabinets deliver a traditional sense. They are completed with Cambria in Dover countertops to create a subtle contrast.
The island is meant to be an accent. It is made of wood that matches the window trim. The central island is 127-7/16" wide by 53" deep and paired with Hawaii granite countertops.
The window trim that matches the island is basically knotty alder with a custom-blended stain to achieve a dark tone.
The medium tone wood floor is rift and quartered white oak with beveled joints and hand scraping.
Along with the island and the window trim, it delivers a sufficient amount of wood element to create a modern rustic kitchen, beautifully paired with distressed cabinets.
2. Combination of Polished Marble Slab Countertops and Distressed White Cabinets
To add more characters in a traditional kitchen, you can create a contrast in texture.
In this kitchen, the distressed white cabinets provide a rough look. On the contrary, the countertops are polished. They are Italian Calacatta classic marble slabs with a polished finish.
To achieve the distressed look in these cabinets, the designer stated that they used sand through technique applied to raised profiles and corners to expose the underlying wood. This way, you'll get a natural look of wood but in white color.
To add a warm tone to this traditional kitchen, the wall in this kitchen is painted in Sherwin Williams – Silvermist.
The large round top windows bring in a lot of natural light to complement this classic space.
3. Mediterranean Kitchen with a Cozy Look from the White Distressed Cabinet and Brick Floor
There are a lot of wooden elements in this kitchen. No wonder, because it features a Mediterranean style.
There are two types of cabinets on this large island, the wood, and the distressed white ones. All of them are made by His Life Woodworks, and the wooden ones seem to be made of alder wood.
The distressed white cabinets are meant to counteract the wood element. It is because using too many wood elements in one room will make it look dark and grim. So, the distressed white ones are on the rescue.
However, to maintain the Mediterranean style, the designer decided to distress the cabinets instead of making them crisp and polished, which is actually a better way to brighten up the room.
They are paired with marble countertops to match the distressed look on the cabinets.
Because distressed white cabinets don't offer much help in brightening up the room, the homeowners need a sufficient amount of light and large windows to let natural light in. This way, the large kitchen looks warmer in a yellow glow from the lights.
4. Large Cottage Kitchen with White Distressed Kitchen Island Cabinet with Brown Glaze
This kitchen is clearly not for you who like to keep everything simple and minimalist with no clutter.
In fact, this is the right kitchen if you love shabby chic style with a touch of a rustic look, the one that reminds you of the welcoming and cozy kitchen of your grandma.
This kitchen features two-tone cabinetry.
The upper cabinets are 150-year-old barn wood that exudes the glory of past century look. The designer decided to let them stay unfinished to achieve a classic look. They just used patine on them and topped it off with layers of wax.
The lower cabinets are finished with red and black glaze.
The island cabinet is a distressed one. It is a unique piece in traditional white color and finished in brown glaze.
All of the cabinets look fabulous when combined with these details, like the collection of baskets, dishes, and others.
All of them deliver a chic cottage look to this kitchen.
5. White Distressed Glass Front Kitchen Cabinet with a Blue Island as an Accent
The most used look in a traditional kitchen basically features wood floor and white cabinetry.
If you want to make a slight difference in your traditional kitchen, you can install distressed white cabinetry instead of the crisp and polished one.
Later, add an accent color in the center of your kitchen that is supposed to be a focal point. Last, paint the walls the same color as the accent, but a few lighter shades.
The cabinets on the perimeter are distressed white, matching the white subway tile, a perfect canvas for any accent color you like.
The island is finished in a metallic blue shade, similar to the stools. It is obvious that the island is used as a focal point, an accent to the distressed white cabinets.
The designer painted the walls in a light blue shade to create cohesion. It somehow matches the island but at the same time tones it down. Plus, it creates a soft contrast to the distressed white cabinets.
6. Welcoming Kitchen with Distressed White Cabinets and Cherry Island to Create a Warm Tone
This inviting and welcoming kitchen features French off-white antiqued painted cabinetry, an island made of cherry with espresso finish, and a limestone hood. Those are the essential elements to create a warm tone and cozy traditional feel.
The cabinets are from Holiday Kitchens. They are finished with Destin wood paint with a mocha glaze to achieve a distressed look.
Paired with the Verde Oro granite with brushed finish countertops, these cabinets managed to give an upscale feel to the kitchen. Moreover, the glass element is also added to the cabinets, making them look more elegant.
The backsplash also adds a vintage look. The artisan handmade tile plaques deliver a unique detailing to the kitchen.
The medium tone wood floor serves as a canvas. It complements every element in this kitchen, including the distressed white cabinets contrasted by the dark tone wood island.
7. Distressed White Cabinets and Tiled Countertops to Exude a Classic European Style
You can see this picture if you want to know what a classic European kitchen looks like.
The kitchen here represents the real classic European kitchen with a touch of a dramatic look. The distressed white cabinets are completed with white tiled countertops. The backsplash is a delft-styled tile in white color with a blue pattern.
All of them exude a spotless European flair.
The shapely custom range hood also displays matching tiles to put the components together while at the same time delivering an uninterrupted flow with the cabinetry due to the white color.
The detailed elements like a classic tea pot and vase enhances the classic European look. The dark tone wood floor is completed with a classic patterned runner.
To add a more dramatic look, the designer painted the wall in red color.
The red wall adds a pop of color to this neutral scheme kitchen. It also accentuates the distressed white cabinetry and somehow completes the blue details in this kitchen.
8. Distressed White Kitchen Cabinets with a Multicolored Stone Backsplash as an Accent
If you have a small space, you don't need to install an island just to provide a complete kitchen.
In fact, you can still have a mesmerizing look even without an additional island or dining table.
In this rustic kitchen, the cabinets are facing each other. Both are distressed white cabinets in a raised panel style and completed with white granite countertops.
The stone backsplash is multicolor but in a combination of soft neutral shades to complement the distressed white cabinets. It is made of stone tile.
Using white cabinetry, white countertops, neutral-colored backsplash, white walls, and a white ceiling is recommended in a small kitchen like this. White never fails to give you an illusion of a bigger room.
However, instead of crisp and polished white, you can just use a distressed finish to achieve a certain theme, in this case, rustic.
Don't forget to complete the look with a lot of lights to keep the area bright. When choosing the lightings, make sure you choose smaller pendants and/or recessed ceiling lights, so the fixtures won't overwhelm such a small space.
You can install a light tone wood floor for a subtle accent.
9. Victorian Style Kitchen with an All-White Design and Distressed Cabinet to Create a Classic Look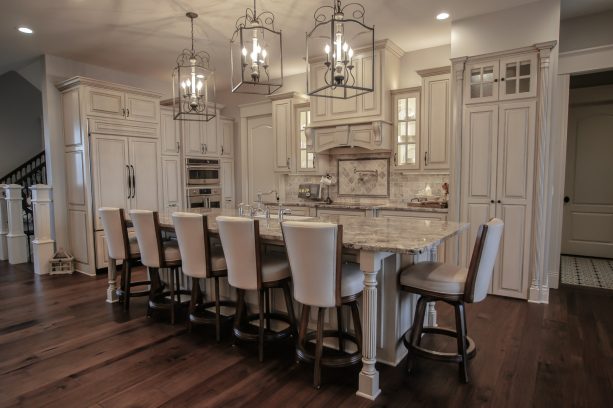 Victorian style is usually related to ornaments, dark wood floors, and distressed cabinets. All of them are the essential elements to achieve a classic look that radiates an elegant style.
In this kitchen, you'll see many aspects in a Victorian style. The ornate details complement the distressed white cabinets perfectly to create a classic look. The white granite countertops are also finely combined with the cabinetry.
The multicolored stone tile backsplash is in a soft neutral color, so despite it is being multicolored, it still matches the distressed white cabinets and the countertops.
In such a classic and elegant kitchen, it is very uncommon to add a bright accent color. If you do want to add an accent color, it should be a timeless one, a neutral shade that can fit in any style.
In this case, the designer added dark brown as an accent to the all-white design. The dark brown comes from the frames of the dining chairs and the dark tone wood floor.
The metal hanging pendants over the island also serve as an accent to this classic kitchen.
Metal and wood are considered timeless. They complement the all-white kitchen without demanding much attention.
10. Stylish Classic Kitchen with a Distressed White Beaded Inset Cabinet and Straight Blue Wall
The beaded inset cabinets are finished in white color with a distressed look.
The distressed finish complements the dark tone wood floor nicely because both radiate a classic look that never fails to give a stylish sense at the same time.
These cabinets are finished with faux patine and other accents to provide a rustic look. The white color brings out a dramatic contrast to the dark tone wood and the dark countertops. Yet, it matches the white window trim to create a consistent look.
The cabinets are paired with granite countertops, which are basically the ordinary pair for distressed white cabinetry. Maybe because this kind of countertops creates a contrast.
The polished surface of granite delivers a modern look, adding more character to the traditional kitchen.
The wall is painted in Starlight Blue color. That is the soft and light blue shade that complements the white cabinetry and white trim, providing a subtle contrast not only to the white elements but also the dark tone wood.
This is the kind of kitchen you should copy if you want to achieve a traditional design but intend to add a pop of color as well as a contrast in the subtlest way.
11. Faux Distressed White Cabinets Paired with Arctic Ice Granite Countertops
If you can't really distress your cabinets, the best alternative is faux distressing. The result is as gorgeous as the real distressed cabinets.
One of the simplest ways to faux distress your cabinets is by adding a brown or black glaze to the surface.
This will be better and simpler if you have a pre-existing cabinet in white color. This way, you don't need to sand, prime, and paint it in white.
This faux distressed white cabinetry delivers a lovely traditional look to the kitchen.
This kitchen features a complete cabinet: full pantry, corner, and an island cabinet. Moreover, it is also completed with an arctic ice granite countertop, which is more gray than white. They blend seamlessly to the gray patterned backsplash.
Gray is the safest option as an accent color for distressed white cabinets. Unlike black, gray will not deliver a dramatic yet cliché contrast.
In fact, gray and white will together create a unified look that you can usually find in many modern designs.
To make such a combo less modern and more traditional, you should add some treatments, like distressing the white cabinets or choosing the gray pattern element instead of a solid polished gray surface.
Don't forget to combine it with a hardwood floor, a classic feature that will always enhance a traditional look.
12. Large Traditional Kitchen with Yellow Backsplash, Bi-Level Island, and Distressed White Cabinet
This large kitchen is dominated in white color, similar to other classic kitchens.
The perimeter of this kitchen is filled with white and different neutral tones as an accent. On the other hand, the center part is filled with dark tone elements with a gray accent to create a dramatic contrast.
The distressed white cabinets are on the perimeter of the kitchen. They are completed with gray countertops as an accent.
However, the striking part of this perimeter is the yellow backsplash. From this angle, it is quite difficult to see the yellow shade in the backsplash, but actually, the backsplash is in a soft yellow color, which is highlighted by the light below the hood.
The bi-level island is made of dark tone wood. It is also completed with gray cabinets, similar to the kitchen cabinets.
As a neutral color, gray can perfectly complement both black and white shades.
The distressed white cabinets look nice with this gray countertop, while the dark tone wood island is also gorgeous when combined with this top.
The gray cushion on the dark tone frames of the chairs also matches the top, creating cohesion in the center of the kitchen.
13. Distressed White Cabinets with a Canary Yellow Wall as an Accent
A soft yellow backsplash may be the best option for you if you want a subtle accent to balance your white cabinets.
But, what about canary yellow?
Canary yellow is a bright shade of yellow, which is actually a vibrant and bold color compared to the white cabinets.
You can see in this kitchen, the distressed white cabinets are contrasted by the canary yellow wall.
So, how do you make sure the bright accent color does not interfere with the kitchen's traditional look?
First, make sure you add more classic elements to the kitchen. For instance, you can always lean on a distressed finish instead of a sleek white one if you want to achieve a traditional style.
Second, a classic piece of chandelier won't hurt either. You can hang it over the island to enhance the classic look.
Third, the combination of stone tile backsplash and granite countertops can also give you the right conventional look. Ornaments and vintage decorative items won't hurt either.
This Mediterranean kitchen proves that you can add a pop of color to your traditional design as long as you use it wisely.
Make sure most of the surface of your wall is filled with distressed white cabinets to keep the conventional look. And don't use more than one bright color as an accent. One is enough to accentuate the all-white design.
14. Distressed Alder Wood Kitchen Cabinets with a White Washed Base and Stain Finish
If you think that a clean and bright kitchen is overrated, this one may inspire you.
This is a cottage kitchen with a touch of a shabby chic look. Its a dark ceiling, along with the wood elements, makes this kitchen look a bit dark. But, a little darkness in a room will add a dramatic and sophisticated look. Plus, it makes the kitchen look calming and relaxing too.
For your information, the wood element in this kitchen is alder.
The cabinets have a white washed base and are finished in the stain. After that, the glaze was hand-applied to the surface to give it a nearly opaque look.
That's the designer's trick to achieve a distressed white look on these cabinets. The cabinetry is 100% custom-made by Rysso Peters, the designer.
It is obvious that the distressed look here is more prominent than what you've seen on the previous cabinets. It means the glaze was not applied lightly. It takes a very heavy glaze to achieve a heavily white distressed cabinet. But it turns out the best look for a dramatic traditional kitchen. It makes the room even darker but in a good way.
The floor is a handmade unglazed clay tile from Mexico. It is saltillo. Maganese was added to the clay to darken it.
If you are wondering, this tile was finished on-site with a sealer. Mexican Tile co and Mexi-tile in Phoenix are great resources for the same tile like this.
The designer added a red patterned runner to add a splash of color to accentuate the dark tone.
Usually, you see that white is used to counterbalance dark tones, so the area will look bright despite a lot of dark tones used.
However, in this kitchen, it is quite the opposite. The dark tone is used to counterbalance the brightness of white.
The white tone is even distressed to achieve a dark tone. It turns out that a dark kitchen will bring out a romantic ambiance, especially if you combine it with a classic chandelier with candles.
Closing
Now we know that distressed white cabinets are not only used in traditional kitchens only but also in a rustic and Mediterranean or Tuscan style too.
Basically, distressed white cabinets are commonly found in an antique French kitchen. Those things are the essential element in any classic European kitchen.
If you want to keep the kitchen classic, you can combine your distressed white cabinets with white tile countertops, white patterned backsplash as an accent, white floor, white ceiling, and white walls.
The all-white design will enhance the classic and vintage look. Plus, it can open up and make your cooking zone look bigger, especially if you add large windows around.
On the other hand, it just makes sense if you want to add a splash of color because using too many white colors somehow is daunting, too pale for some.
Adding a splash of color doesn't always mean you need to use a bold and vibrant color.
Most of the time, it is just a brown color that comes from natural wood. Adding a wood island or installing a wood countertop is enough. Better yet, you can have a hardwood floor in any tone as a canvas for your distressed white cabinet.
However, if you think a pop of color will do, you can pair it with your cabinetry.
Soft yellow backsplash can be a perfect combination for distressed white cabinets. A red patterned backsplash (with white background) can also be your option. Or, if you want to add more fun to the kitchen, paint the wall in a canary yellow color.
But make sure you apply it only in a small space of the wall, just to create an accent, not a bold statement.
Using too many bright colors will transform your traditional kitchen into a more modern one.