When it comes to log cabin rooms, including kitchens, they deliver endless opportunities to play with color combinations and texture, regardless of your style is.
From rustic to modern and bold style, the latest trends of log cabin kitchens are all about contrast and versatility.
In recent years, log homeowners now prefer to have a more modern and contemporary look instead of the conventional log aesthetic.
It is now common in log cabin kitchens to combine wood with other elements, like natural stone or even stainless steel and granite.
Natural stone is an excellent complementary element if you don't want to stray too far from the traditional log cabin look. Stainless steel, granite, or even porcelain are the options you can choose to create a more modern style.
Moreover, it is also quite common to have a bold color in a log cabin kitchen to accentuate the all-wood design.
Adding a splash of color will create an elevated look, a nice contrast to the wood elements.
Still not sure how to incorporate them all? Here are 15+ modern log cabin kitchen trends for your inspiration:
1. Combination of Reclaimed Oak and Natural Stone Element in a Log Cabin Kitchen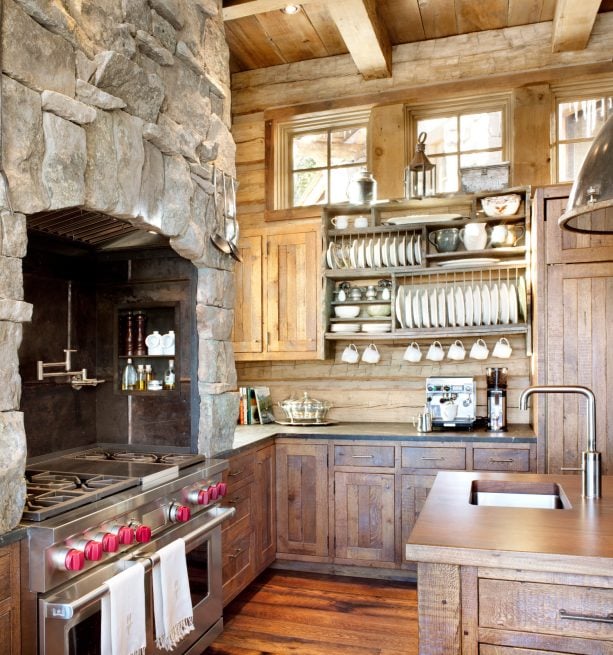 This kitchen features a lovely rustic style that leans towards a traditional design.
Even though the homeowners didn't use the all-wood elements, they combined the wood decoration with the natural stone element. This way, the log cabin kitchen looks like it was straight out of a medieval era.
The cabinets are made of reclaimed oak and finished with a matte poly sealer. The countertops on the perimeter are soapstone, while on the island is solid walnut.
Basically, despite the material, each element in this kitchen features a lovely brown color to create a consistent look.
The range backsplash is also brown, even though it is not made of wood. Instead, it is an old iron cookie sheet. All of them match the medium tone wood floor.
The stove area is the most striking part of this kitchen. It is covered in stone, which is a natural Montana Moss rock from Select Stone in Gallatin Gateway, MT.
Natural stone is indeed a perfect element to contrast wood, but not too dramatically. So, this is a perfect option for you if you still want to look conventional but with a contrasting element.
2. Trendy Log Cabin Kitchen with Two-toned Cabinetry in Gray and White
This spacious log cabin kitchen looks more modern than the previous picture.
The designer installed two-toned cabinetry to create a contrast to the all-wood design. The upper cabinets are painted in dark gray, while the base cabinets are painted in white.
Even the cabinetry has a contrasting element to each other. This is a perfect idea to create a layered contrast, a stylish way to incorporate a modern design.
On top of that, the designer also used slate floors instead of wood floors.
This is an undeniably modern element, a popular choice for the floor in a modern log cabin kitchen. The slate floor will create a lovely contrast to the wood cabinets, wood walls, and beams.
Speaking of beams, these are reclaimed beams from San Juan Timberwrights in Colorado.
Even the backsplash is a white subway tile. Combined with stainless steel appliances, such a backsplash will dramatically elevate a contemporary look.
This kitchen proves that you don't have to use wood as a dominant element to create a cozy log cabin style in your kitchen.
3. Deep Blue Island as a Splash of Color in a Brown Log Cabin Kitchen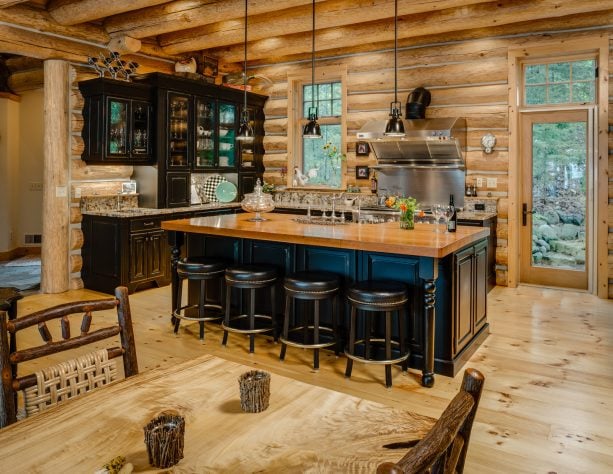 Instead of the floor, this kitchen features cabinetry and an island that contrast the wood around.
The cabinetry is painted in solid black color, while the island is painted in deep blue shade.
You may have known that black is the most perfect color to combine with wood. They complement each other. Wood, especially light to medium tone wood, will make the black color look shinier, more prominent, and more dramatic.
The designer also decided that the island should be different from the cabinetry, even though both of them feature dark tones.
Instead of black to create a consistent look, the island is painted in deep blue. It does generate a contrast to the cabinetry, but subtly. Still, it adds a splash of color to the surrounding.
It turns out fun to combine elements like this.
The deep blue island is paired with the polished wood countertop, while the black cabinets on the perimeter seem to be combined with granite counters. The multicolored stone slab backsplash also accentuates this brown kitchen nicely.
4. Rustic Kitchen in a Log Cabin with Blue Shaker Cabinetry to Contrast the Natural Wood Around
It is obvious that the designer didn't want to overwhelm the kitchen with too many contrasting elements.
The log walls, wood floors, and wood ceiling do complement each other and create a perfect uniformed look in this rustic style kitchen.
However, still, there must be a contrasting element to add a touch of modern look in this log cabin kitchen.
That's why the designer painted the shaker cabinets blue. It turns out that blue is a contrast color to the natural wood surroundings, especially dark blue. It serves as a focal point in this kitchen, a thing that draws attention the most.
It appears that this kitchen wasn't designed for cooking space only, but also for entertaining.
The wood block island with the Wolf range top is useful to be a space for snacks and conversation. On the other hand, the blue shaker cabinets deliver a more visual interest in this kitchen.
5. Combination of Beige, White, and Wood Element in a Log Cabin Kitchen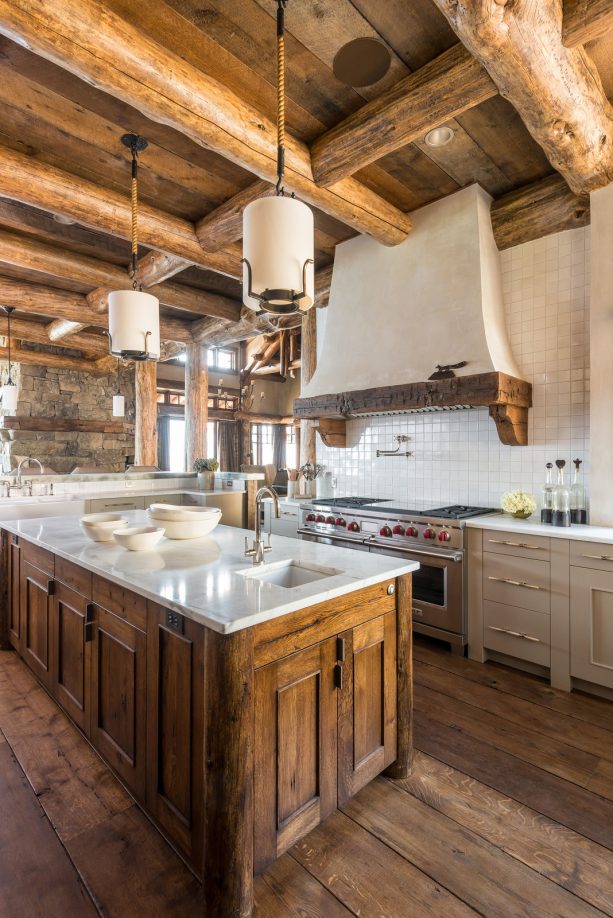 If you want to create a clean and polished look, combining your log cabin kitchen with bright neutral colors, like beige or white, is recommended.
When paired with wood elements, white is going to give you a polished look. In fact, it is a perfect canvas for any shade or material, including wood.
The beige cabinets blend seamlessly with the white backsplash and white range hood in this kitchen. All of them create a perfect contrast to the wood floor.
On the other hand, the island is made of wood, but it is completed with a seemingly white quartz countertop.
The combination of beige, white, and wood element in this kitchen proves to be the right combo if you want to stay simple and minimalist but don't want to settle for a conventional log cabin kitchen style.
White, and its shade variation, is known as a trendy color. Its brightness and clean look can fit any style.
6. Log Cabin Kitchen Made of Reclaimed Barn Wood with a lot of Lighting to Spice up the Room
Unlike the previous pictures, this log cabin kitchen looks consistent will the all-wood design.
This area features reclaimed barn wood walls, ceilings, and floors. Even the cabinets are made of dark tone wood that matches the wood backsplash and wood island.
Generally, this large kitchen is an ideal example of a conventional log cabin room.
However, the homeowners still want to add a contemporary element to this kitchen.
But, instead of creating contrast, they add a lot of lighting throughout the room. It proves that a thing as simple as lighting can do so much to a room. The warm yellow glow will shine upon the wood surface, creating a modern look.
We can see a hanging pendant over the island, the recessed ceiling lamps over the sink, and the contemporary pendant in the next room. All of them consistently radiate the same yellow glow.
If you want to use lighting to create a contemporary look, make sure that they have yellow lights instead of bright white. Yellow lights will create a warm, cozy, and welcoming ambiance and, at the same time, elevate the modern look too.
7. Trendy Log Cabin Kitchen with Light Tone Wood and White Element Accentuated by Dark Island
Basically, this kitchen features light tone wood as its main dominant element.
The light tone wood floor and light tone log posts and beams mix harmoniously with the white cabinets, walls, backsplash, and beige countertops.
The great thing about having a combination of light tone wood and white shades is it can give you an illusion of a bigger room. It opens up the room, creating an airy and bright sensation.
Yet, if you want to create a modern log cabin kitchen, it is important to create a contrast, even though it may be subtle. The contrast doesn't have to be bold cabinetry or island. Sometimes, all you have to do is a different tone and type of wood.
The island is made of dark tone wood in this kitchen, which accentuates the light tone wood and white elements around. The dark tone enhances the contemporary look, delivering a cool effect in this warm room.
This island is placed in the center of the room serves as an excellent focal point.
8. Dark Log Cabin Kitchen with a Red Accent to Brighten up the Room
This log cabin kitchen features dark tone wood elements contrary to the previous picture.
The dark tone logs in the ceiling dominate the room, so even the walls are painted in white, and the floor is made of medium tone wood; the overall look of this kitchen is dark.
The distressed wood of the cabinets may contrast the white walls, but still, they are not able to brighten up the room. That's why the designer added a splash of color, a vibrant shade that can give a spark to this dark room.
The bright red cushion on the stools managed to counterbalance the darkness. In this dim room, those red stools look pop and prominent.
This kitchen proves that sometimes you don't need to add an accent color to the cabinetry or the island.
Every single element in your kitchen, even the small ones, can be finished in bold colors to make a statement around the all-wood design.
9. Bright and Spacious Log Cabin Kitchen with High Ceiling and Large Windows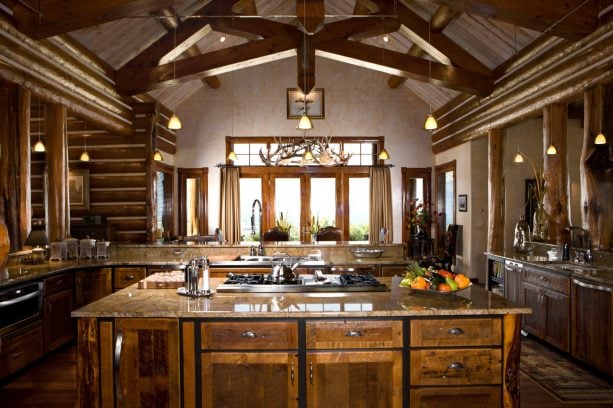 Even though it is not uncommon, it is not that usual either to see spacious and bright log cabin rooms, especially kitchens. It is because most log cabins are filled with logs and wood tones that may cram the room, making it look smaller than it actually is.
This kitchen, on the contrary, is quite the opposite. Even though it is filled with glossy logs, big trusses, medium-tone wood cabinets, a wood island, and even wood trims, this log cabin kitchen still looks airy and spacious.
The trick is to build a high ceiling and install large windows. Despite the big trusses, a high ceiling will create a more spacious sensation. The large windows are also useful to fill the room with natural light.
As a finishing touch, you can paint your wall in white. Bright white color will never fail to make the room bigger and brighter.
Don't forget to add a sufficient amount of artificial lights to illuminate the room at night. The well-lit rooms can look bigger than the poorly-lit ones.
10. Contemporary Log Cabin Kitchen with Red Cabinetry to Spice up the Wooden Area
This contemporary log cabin kitchen looks polished and sleek.
The paneled ceiling, the wood walls, the log walls, and the beige carpeted floor complete each other, creating a cohesive and put-together look.
According to the designer, this area is used to be a basement. Later, it was turned out to be a modern log cabin kitchen.
This rustic galley kitchen also features red raised-panel cabinets along with a white island and black countertops.
This is actually an open concept room, and the kitchen is marked by a bright and vibrant shade.
Uniquely, the open dining room next to the kitchen features dining chairs with a red striped pattern, that somehow matches the cabinetry. It shows that even though these are basically two different areas, they are connected through pattern and shade.
Bright red is the best shade to accent medium tone wood.
Moreover, the red cabinetry is highlighted by the right lightings. The reflected lights on the surface of the cabinets give more shine to the look, creating a glossy look that is perfect for a modern style.
11. Polished Log Walls in a Cabin Kitchen to Create a Sleek Rustic Look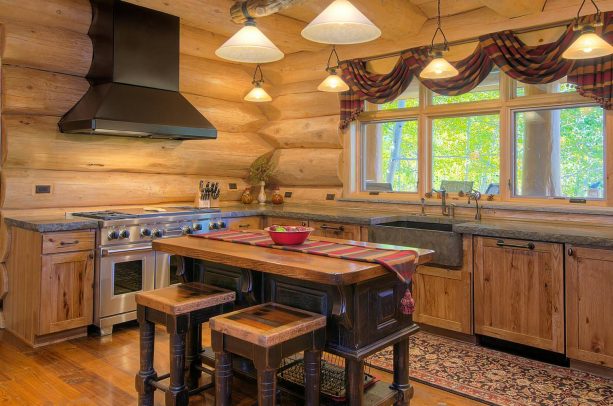 This mid-sized kitchen looks cozy and inviting with its medium tone wood floor, and grained wood cabinets match the polished log walls.
Polished log walls like this are perfect if you want to create a sleek look. Sleek is not only for modern or contemporary style, but it also fits for rustic style.
Just because you have a rustic look doesn't mean you can have a crowded and crammed room with too many wood elements.
The designer combined the grained cabinetry with gray granite countertops that match the gray farmhouse sink.
The combination of wood and gray may be challenging at first, but it turns out that gray can give a cooling effect to the warmth of wood.
The detailed element in this log cabin kitchen also plays a part in making this space more modern. For instance, the trendy window treatment, the classic runner, and the bright striped patterned table cloth.
12. Combination of Light Tone Wood and Black Elements in a Log Cabin Kitchen
Actually, light tone wood accentuated by black elements is not new.
That is why, to create a fresh idea, the designer didn't only use black to accentuate the medium tone wood around, but he also used black to balance the wood tone element.
The black color is used evenly to counterbalance the brightness of light tone wood.
Having a log cabin kitchen with a light tone wood element will indeed create a bright and airy look. However, sometimes you need something to counter it because too much brightness will be daunting and too flashy.
We can see black granite countertops, black appliances, black dining chairs, and other dark decorations throughout the room that are meant to create a contrast.
Using black elements as a part of your log cabin kitchen will give the best effect if you incorporate them in a large kitchen with a high ceiling and huge windows. It is because too many dark tones will also make your kitchen dark and crammed.
13. Light Wood Cabinetry and Granite Countertops to Create a Transitional Look in a Log Cabin Kitchen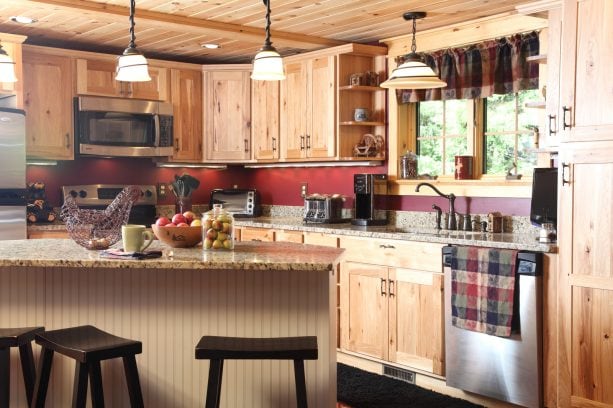 No matter light or dark, wood elements will always give a traditional look, especially if the wood is untreated.
The light tone wood cabinets, along with the light tone wood panel ceiling and double wood windows, highlight the traditional element in this rustic log cabin kitchen.
On the contrary, the granite countertops with their extravagant pattern deliver a modern look. Plus, the dark tone stools over the beige island create a contrast to the island and the light tone wood around.
A contrasting element is one of the characteristics of a modern look.
So, it is obvious that this kitchen features a perfect combination of traditional and modern elements. Such combo means a transitional look.
If you want a simple trick of how to create a transitional style, all you have to do is just incorporate traditional and modern elements at the same time in one space like this.
14. Light Blue Cabinetry with Gray Countertops Surrounded by Wood Elements in a Log Cabin Kitchen
What a perfect color scheme for a log cabin kitchen!
You have seen several bold colors to accentuate the all-wood design above, but this one is completely different.
The light blue cabinetry proves that you don't need bold and vibrant colors to create a contrast and make a statement. You can also use light and pale tones to combine the wood elements, like light blue.
This log cabin kitchen features light blue shaker cabinets and an island that are paired with gray solid surface countertops.
A combination of light blue and soft gray like this will always remind you of the sky. This is the best color combo if you want to add a splash in your wood kitchen.
The light blue cabinets look prominent against the wood walls and exposed beams in the ceiling. They even contrast the medium tone wood floor perfectly.
Basically, this is the kind of look you should copy if you want to add a fun element in your wood kitchen but not too bold and strong.
15. Large Log Cabin Kitchen with Porcelain Tile Floor and Black Appliances as an Accent
In order to create a cohesive look in your log cabin kitchen, you don't always have to install a wood floor.
This kitchen features a porcelain tile floor in beige color that nicely matches the light tone wood cabinetry and island.
It seems that the entire kitchen has a gradation look. It starts with the lightest tone from the bottom, and it is getting darker to the top. The ceiling is made of medium tone wood, which is a bit darker than the cabinetry.
The black appliances are similar to the porcelain tile floor. They are meant to accentuate the whole look.
A combination of black and light tone wood is indeed flawless to create a lovely contrast. Moreover, if it is also paired with a beige porcelain tile floor, the color scheme becomes richer.
The porcelain tile floor adds more character to the kitchen, while the black appliances give more depth.
All in all, each element in this light tone wood kitchen is meant to counterbalance the brightness and enhance a modern look.
16. Cozy Log Cabin Kitchen with Brick Floor and Dark Wood Shaker Cabinets
Wood floor is perhaps a fit element for a rustic style log cabin kitchen.
Yet, if you want a more modern cabin kitchen, you need to experiment with materials, textures, and colors.
Instead of using the wood floor, or slate, the safest option as an alternative to wood, the designer decided to use bricks as the floor.
The polished bricks have the natural tones of reddish-brown that complement the dark wood cabinets very much.
The designer also didn't want to install log or wood walls. Instead, he painted the walls in bright white color, the best shade to open up the room and make it brighter and bigger.
The panel wood wall is still used on one side of the room, and it creates a consistent look to the panel ceiling.
The light gray countertops accentuate the wood elements in this kitchen, blending seamlessly to the white wall and the white backsplash.
Contrasting elements and shades will always give you a touch of modern style, no matter what design you choose in the first place.
17. Tips to Decorate a Modern Log Cabin Kitchen
It is obvious that if you want to create a modern log cabin kitchen, here are the things that you should do, based on the pictures you've seen before:
The all-wood look is not very popular these days. So, when it comes to the log cabin kitchen's floor, you can learn more about ceramics or tiles. According to some designers, the latest trends in a log cabin are all about slate. If wood is not an option, people usually choose a natural stone, and mostly it is slate. But make sure don't go too far. Marble, for instance, is out of option because it's not going to fit. With slate floors, you can still stick with wood throughout the kitchen. Yes, a wood floor can make your kitchen look consistent, but slate, porcelain, or ceramic floor can deliver a more modern contrast.
Having monochrome cabinets is also trending right now. If you want to stick with a wood floor, then you can paint your cabinets so they will be the contrasting element in your log cabin kitchen. Choose a color that suits you best. Neutral colors, like white or black, are considered the safest option. White is going to give you a clean and polished look. On the other hand, Black is going to add elegance to your kitchen. It is fairly common to mix black with natural wood color. If you want to be bold, you can choose one vibrant and vivid color for your cabinet, like red or blue. The thing is, any time you have a lot of wood in your decoration, you need to counterbalance it with something solid and different.
If you think that in log cabin kitchens that, countertops should be made of wood to create a cohesive look, think again. In fact, quartz or granite countertops are the most popular material in a log cabin kitchen. Practical quartz can mimic real stone. Or, if you want to have more natural finishes, you can opt for granite tops. You either have extraordinary patterned granite countertops or super plain quartz. There's no in-between. Granite is perfect if you want to make a statement, and quartz is flawless if you're going to create a subtle contrast in solid color.
Good luck with your project!