There are many reasons why people would love to have a metal roof. One surprising reason is many of us love the sound of the rain that falls upon the tin roof. It creates a soothing sound that you can usually find in a meditation app or a white noise machine.
On top of that, a metal roof is also durable and long-lasting. Yes, it is indeed more expensive than other roofing materials. However, a metal roof is considered eco-friendly too. It is also energy efficient.
If you install a metal roof, you can save your money on heating and cooling costs because this roof has reflective properties. It reflects heat during summer to minimize heat gain.
No wonder that growing numbers of people have decided to install metal roofs, either on a roof replacement project or a new construction one.
The great thing is, metal roof always comes in a neutral color. It means you can easily combine it with any house exterior color.
If you want to get more ideas about metal roof house color combinations, here are some pictures that can be much of a help. FYI, because the metal color is basically a neutral color, all the styles shown below are minimalist styles for a modern and contemporary look.
1. Color Combination of Gray Metal Roof in a Craftsman Exterior of a White Bungalow
This white house had been remodeled. One remaining thing from the old version of this house is only the front porch. That creates an excellent proportional guide for second-floor expansion.
There are hand-sawn brackets holding up the flying rafter eaves—generally, this house features an arts and crafts design completed with a concrete fiberboard exterior.
The fiberboard was painted in white color. This common white looks perfect combined with the metal roof. The metal roof was manufactured by Roof Center in Virginia, and the color is charcoal gray.
The combination of white and gray in a house's exterior never fails to create a minimalist design, which is the main characteristic of a modern style.
To top it off, there is a gray front door that looks similar to the window trim. There seems to be a flagstone, too, as an accent in the stairs and the columns. Overall, the look of this house is just simple but not plain.
2. Asphalt and Copper Metal Roof Color Combination in a Stained Clapboard Siding House
This is an example of a large contemporary house. The roof is asphalt shingles from GAF in Pewter weathered gray color. Why gray? It is because black shingles roof will absorb more heat during the summer.
The shingle roofs are also combined with the standing seam metal roof in the first tier. Combining asphalt shingles and metal when it comes to roofing is basically the best plan. You can still get the benefits of a metal roof but still, save more money.
The gutters here are also copper, which is perfectly matched with the roofs.
The siding of this house is a combination of Maibec stained clapboard siding and natural cedar shingles. The cedar shingles are at the pool building. They look lovely in their natural color. The clapboard siding is stained in Roseate Tern color.
All of them are mixed with white trim. The white trim is there to balance the gray roof and natural siding. There is a stone chimney to accentuate the look too.
3. Color Combination of Metal Roof with Matte Black Finish and Polished White House Exterior
This is an inspiration for a small yet timeless building. Even though it is considerably small, but this house basically features two stories completed with a metal roof.
The color combination of this house is black and white, a perfect match for a modern design.
The metal roof is an Englert Kynar Ultra-Cool Low Gloss in black color with a matte finish. This type of roof has a 20-year warranty. Additionally, this finish is durable and long-lasting.
The siding and the window trim color is Brilliant White by Benjamin Moore. If you are curious, the siding of this house is clapboard.
There are shutters too to complete the whole look. Shutters and the door trim share similar color, which is dark gray. Unfortunately, there is no detailed information about the paint used.
4. Beige, Metal, and Natural Wood House Color Combination with a Shed Metal Roof
If you are into a contemporary style, you might like this house.
This is a mid-sized house with three stories. The exterior has a great combination of color and texture. They are completed with a metal roof.
The roof is a standing seam metal roof, while the roof deck is wood decking installed upon a single-ply membrane low slope roof.
The exterior has three color combinations. The front one is metal siding. It is AEP-Span and mini V-beam panels. Those are pre-finished by the manufacturer. There are soffits made out of rough sawn plywood with a natural stain that looks perfect combined with the cedar siding at the back front.
All of them are combined with the beige wall color to match the metal and wood siding. There is a bluestone driveway mixed with gray retaining walls and stepping stairs.
5. Perfect House Color Combination of Standing Seam Metal Roof and Neutral Color Stone
This is a remodel house project. At first, this property was a classic mid-century bungalow. After being remodeled, this property has become a modern beach villa with an open concept.
The open concept creates an airy sensation that is perfect during the summer days. This modern one-story villa is also painted in white and completed with a metal roof.
The exterior is a coral stone from the Dominican Republic.
The stone color is beige, which is a neutral color that can be easily combined with any accent color. The beige color blends seamlessly with the walkway. There is no information about the material used for the walkway, but it seems that it is a travertine paver.
The roof is a standing seam metal roof from Custom Built Metals. The roof is also added with Kynar coating making it even cooler. It is R-19 insulation that is added below the roof sheathing. This features high solar reflectance that can help reflect sunlight, so the heat can be overcome. It means the roof temperature is reduced, and the homeowners can increase the energy efficiency of their house. On the exterior, though, there is no rigid foam insulation.
When it comes to the cost, a standing seam metal roof is not too expensive compared with a tile roof. The roof is pre-weathered Galvalume with Kynar color.
6. Black and White House Color Combination Completed with Dark Metal Roof
What a nice modern combination of black and white.
This is a modern farmhouse that used to be an old beach cottage. The main focus of the remodeling project was to create many spaces for entertainment. The mixed materials of glass, steel, and wood also add a playful look to this house.
The entrance door and the window above are made out of steel in matte black color. They are from Euroline.
The balance of the doors and the windows are Sierra Pacific aluminum clad in "Battleship Gray" color. The wood door with a rustic look on the right is a custom-made door. It is made out of reclaimed wood that was locally sourced.
There are two types of siding here, black and white.
The black siding was installed with the side-out rough finished in the stain. The finish was carefully achieved in transparent color, so the natural grain and warmth of the wood could be maintained.
The designer worked really hard to make sure the red of the cedar doesn't throw off the carbon color they wanted to achieve. On the other hand, they don't want to make it too opaque that it can compete with the black paint horizontal siding.
The horizontal siding was cedar bevel siding with a smooth side out. It was painted with Benjamin Moore – Black Panther 2125-10 and finished with low luster to give it a perfect sheen. The white siding is board and batten. It is 1×2 battens with 1×3 corner trim and 16" on the center. The b&b was painted with Benjamin Moore – White Heron OC-57.
7. Stunning House Color Combination of Stained Cedar Shakes Siding and Metal Roof
This is an elegant house exterior completed with a metal roof. It features a unique combination of dark metal roof, glossy wood siding, and stone. The stone used for the lower walls and the chimney is Connecticut fieldstone. It seems that the stepping stairs were made out of a similar stone. This stone creates a perfect accent for the whole look.
The wall exterior has two types. The first one is cedar shakes for the entire front wall. It is stained with Sikkens SRD. Unfortunately, there is no information about the color used. The second one is cedar board and batten for the gables. Both are completed with white trim, which is also similar to the white wall of the top building.
The standing seam metal roof here features 6" half-round copper gutters. It is equipped with a snow guard system that is meant to stop the snow from falling from the roof. The snow guards are from Firestone Building Products, the same company that manufactured the metal roofing.
8. Pre-weathered Galvalume Metal Roof with White Dove House Exterior Color Combination
This is an example of a mid-sized farmhouse. It features two stories with a wood exterior. The wood exterior is completed with a white metal roof.
The combination of white roof and white siding might look plain and boring, but on second thought, that creates a perfect harmony of relaxing color.
However, keep in mind that when you use two neutral colors at the same time, always add a pop of color as an accent. In this case, the accent color is the front door. It looks like the door was painted in gray color.
The walkway that leads to the porch can also be an accent in this all-white house. It is a sandset natural stone. The porch here looks like it was stained or painted concrete. Well, in fact, the surface of the porch is composite 1×6 decking with no paint at all.
The roof is from Berridge Metal Co. It is a pre-weathered Galvalume roof. The siding is painted in Benjamin Moore – White Dove (OC-17). With colorful bloomed flowers on the front porch and the front yard, this house looks totally stunning during autumn. The color of the flowers brings a spark of color to this all-white house.
9. AEP Metal Roof in Cool Zactique Color and Black Satin Finish House Exterior
This elegant house is a transitional two-story building with a wood siding exterior.
The combination of dark grey metal roof and siding looks super stunning. Due to the light and the camera, the picture shows black siding instead of gray. However, the siding was actually painted in dark grey color, which is Rock Bottom from Sherwin Williams.
The window trim is also painted in a grey color to match the roof and the siding. It is painted in Sherwin Williams – Attitude Gray.
The entryway is a clear finish that blends seamlessly with the cypress siding. There is a Watauga fieldstone walkway that leads to the front door. This stone is also gray.
When it comes to the siding, this house features a reverse board and batten. All of the siding in this house is 1x clear cypress and has a satin finish. The metal roof is from AEP in metallic gray color, which is called "Cool Zactique."
10. Modern Aesthetic House with Color Combination of Zinc Gray Metal Roof and Vertical Cedar Siding
This is a modern farmhouse that becomes a prominent focal point in the landscape of rolling plains.
This house's composition is domineered by three steep gable rooflines. All of them are linked together by a central spine. That creates a unique design evoking a sense of contraction and expansion from one spot to the next.
The combination of poured concrete, vertical cedar siding, and zinc gray metal roof makes this house a modern farmhouse. It is also mixed with a weathered barn's aesthetic of a shop. It gives a touch of modernity but still remains rooted in its surrounding environment.
The mixture of gray metal roof and natural color of wood siding also unites modern and traditional look perfectly.
The doors and windows here are Glo double pane A5 series. All of them were carefully picked for this project due to their modern aesthetic and sleek look. Moreover, these windows also feature advanced thermal technology installed over the traditional aluminum windows.
The multiple air seals, bigger continuous thermal breaks, low iron glass, and high-performance spacers let the A5 series deliver cost-effective durability and high-performance values. And at the same time, they have a stylish and sophisticated design.
These operable windows are strategically placed and compared with fixed picture windows' large expanses; they deliver a visual connection to the outdoors and natural ventilation.
This is such a perfect home if you love spending time outside but don't want to leave the comfort of your home.
11. Gray Siding House with Standing Seam Roofing Metal Color Combination
This is a large trendy house with three stories combined with a metal exterior and a shed roof. It is not usual for a house exterior to use metal siding. But this house shows its modern design with both metal roof and metal siding.
The front door of this house serves as a focal point. It is a custom-made door designed by the home designer Jordan Iverson Signature Homes. It was made by a local door fabricator and supplier. This is a fir door completed with a clear lacquer and etched glass inserts.
The darker gray siding on the front of this house is metal. It is a standing seam metal roof in a horizontal pattern used as siding. And the brand is ASC Building Products, and the paint color is Sherwin Williams – Metal Shavings 8775D.
The lighter grey siding in the back is Hardi-panel siding, which is a fiber cement product and painted in Sherwin Williams – Polished Gray. It is painted to match the standing seam metal. The wood siding is cedar with a clear seal. It is installed over a screen system.
12. Galvanized Metal Roof House Mixed with Red Color and Stained Cedar Siding Combination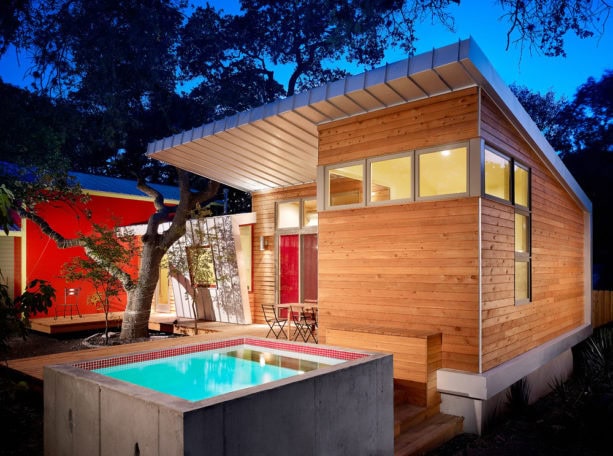 This is a result of a remodel project for a couple.
The designer of this project adds a standing seam clad to the existing house, jutting out into the front yard.
The stained cedar siding of this house exterior is also added to this project. The siding blends seamlessly with the attached deck and wraps the precast concrete dipping pool.
The combination of paint color in this house creates a lively palette that gives clues of what the backyard holds, even from the street.
The mini pool here is too small to call a pool. It is more of a spa instead of a pool. Even the spa looks bright with its red color.
Unfortunately, there is no detailed information about the red paint of this siding. However, you can check Benjamin Moore – Million Dollar Red. Next to the red siding, there is a bent piece of galvanized metal that is similar to the roofing. The metal roof is from Berridge, galvalume metal.
13. Iron Gray Hardie Plank with Clear Cedar Color Combination with Metal Roof House
This is a large modern two-story house with a mixed siding exterior. The exterior looks sleek, but it's not the only cool thing about the house. Also playing an important role in making the property look awesome is the building's shed roof.
The house's exterior is iron grey Hardie Plank complemented by clear cedar. There's also a door in a custom color selected personally by the owner.
If you're concerned with colors, note that the house's front door was beautifully painted in BEHR, 'New Penny' S-H-210.
Also, know that the cedar is tongue and groove clear cedar with the effective Cetol preservative. As for the windows, they were custom-made by the excellent Gienow Windows & Doors.
There's also a wall that was built thicker than the cedar wall. This wall has stucco, and the difference in thickness reaches 2 inches.
The wall's stucco was custom color-matched to an ICI paint color. The paint color is called 'Veil.' Also interested in the fascia? It's James Hardie's black smooth lap siding. The combination is so awesome it oozes impeccable modern beauty with no trouble at all.
14. Custom Color House Exterior with White Trim and Medium Bronze Metal Roof Combination
This is considered a BIG, tiny house.
The main aim of the designer when building this property is simply to create an open feeling space and a liveable area in a 690 SqFt for a modern farmhouse.
The open space is delivered by tall windows and doors, pocket doors, and a vaulted ceiling. Moreover, the designer decided to use a white color palette and a pop of color to make this small house look bigger and feel like a home.
This farmhouse features Hardie Board and Batten siding as well as metal roofing.
The porch looks unique with a tabby base and a tabby porch surface with brick edging. Yes, the tabby porch surface is a bit hard to walk on. It is indeed a bit bumpy and scratchy. However, it is way cheaper than building the whole porch in brick. The brick border used in both the porch and the stairs is Old Savannah Brick.
The siding was a custom blend. It is basically not truly white but grayer. The trim, on the contrary, is plain white. It is Benjamin Moore – White. The roof is a Galvalume standing seam metal roof, and the color is medium bronze, which is called Patricia Bronze. The white color palette for this exterior is perfectly matched with a stained mahogany front door.
15. Yellow and Olive House Color Combination with Metal Roof
What a pleasant color combination. Combining yellow and green is a nice idea if you want to make your house look warm and inviting.
This is a cottage wood with two stories and a metal roof. There is no information about the yellow paint used for the siding, but it looks close to Behr – "Chopped Dill." Keep in mind that different lighting produces different colors. The green trim here is Olivetone #252 from Benjamin Moore.
The metal roof is Englert Kynar Ultra-Cool Low Gloss in medium bronze finish. The medium bronze color looks amazing, combined with a yellow and green exterior.
This roof doesn't feature gutters. Instead, there is a drip edge that was smartly planted. This drip edge is meant to deal with water runoff during the summer, fall, and spring. And during the winter, the deeper overhangs could push throw away the snow to protect the house. If hung correctly, actually, copper gutters might be more appropriate here.
On top of the metal roof, there is a protruding chimney that accentuates the whole look. It is a wood enclosure completed with clearance for the boiler exhaust and stove pipe. The chimney is also painted in yellow color, similar to the siding.
Closing
So, what do you think about the color combinations shown above? Which one do you prefer?
From the pictures above, we can conclude that a neutral color palette is often used for the siding and metal roof. However, to avoid looking too plain and simple, there is a touch of bright color as an accent there to balance the whole look.
If you want to mimic one of the color combinations above, make sure to do the color test first. Keep in mind that the colors in the pictures might be different in real life. It won't hurt to discuss with the color professional or discuss it with your home designer before choosing one specific paint.
Good luck with your home remodeling!