Ceiling wood panels have many benefits as well as being aesthetically visual.
Wood has characteristics like blocking sound, heat and electricity conduction, and weather resistance.
No wonder using wood panels in your ceiling would make your home construction more valuable.
When you have ceiling wood panels in your room, you don't need to use a heater because wood ceiling can keep your room warm.
Other than that, wood panels in the ceiling can create a cozy, warm, and inviting sensation.
In order to maintain the comfortable look that wood can bring, it is recommended not to paint it. Let the wood panels shine in their natural glory.
If you really have to stain or paint them, make them white instead of other colors.
The good thing about ceiling wood panels is their flexibility when it comes to decorating.
If you can't come up with an idea of a ceiling decoration, here are some popular decorative ceiling wood panels to make your room more stylish and elegant:
Traditionally flat ceiling: If you want to keep everything simple, use wood panels in any shade to create a simple traditionally flat ceiling. This is low-cost ceiling lets you leave out all the fuss.
Coffered ceiling: For a more luxurious and classy decoration, you can use a coffered wood ceiling with wood panels. This ceiling delivers an ultramodern design to enhance the aesthetic. However, this ceiling is expensive and quite challenging to install.
Ceiling with beams: Wood panels with beams can give you a traditional and rustic look. You can install this in living rooms or dining rooms with raised ceilings to visually lower the ceiling length. To create a contrast with the wood panels, use beams made of a different wood shade.
Slanted ceiling: This type of ceiling can make your room stand out. The ceiling starts at the high point and slants down to the low point of the wall, creating a nice visual effect.
For a more detailed look, here are 15+ pictures of decorative ceiling wood panels with many decoration styles:
1. Beaded Pine Ceiling Wood Panels with White Trim
This screened-in porch features a beautiful ceiling made of beaded pine wood.
This is the type of ceiling paneling that you can choose if you want everything to be simple yet elegant.
The designer created angled corners to create a unique look, and the dark tone ceiling wood panels are framed by white trim to create a classic and traditional contrast.
The ceiling wood panels are completed with recessed lights to keep everything simple.
As a focal point in the ceiling, the fans were added. Those fans are not simply used for a functional purpose but also for aesthetic reasons.
These wood panels can fit any timelessly designed room perfectly because their simplicity and elegance can work well with both traditional and modern elements.
2. Traditionally Flat Reclaimed Wood Panels for a Farmhouse Kitchen's Ceiling
To create a rustic or mountain-style look, you can use untreated reclaimed wood panels.
Traditionally flat panel for a farmhouse kitchen's ceiling is an excellent option if you have a small room and keep your budget low.
Traditionally flat panel ceiling may be a bit boring for some who like a luxurious look.
The key to making it look more pop is choosing the right type of wood with a naturally attractive pattern. Or, keep the wood untreated and unfinished like this, so the natural tone of wood can draw attention, especially when it is combined with white polished ceramic tile walls, as you've seen in this picture. They both will create a lovely contrast, making the traditionally flat design more fun.
3. Red Cedar Wood Panels in a Vaulted Ceiling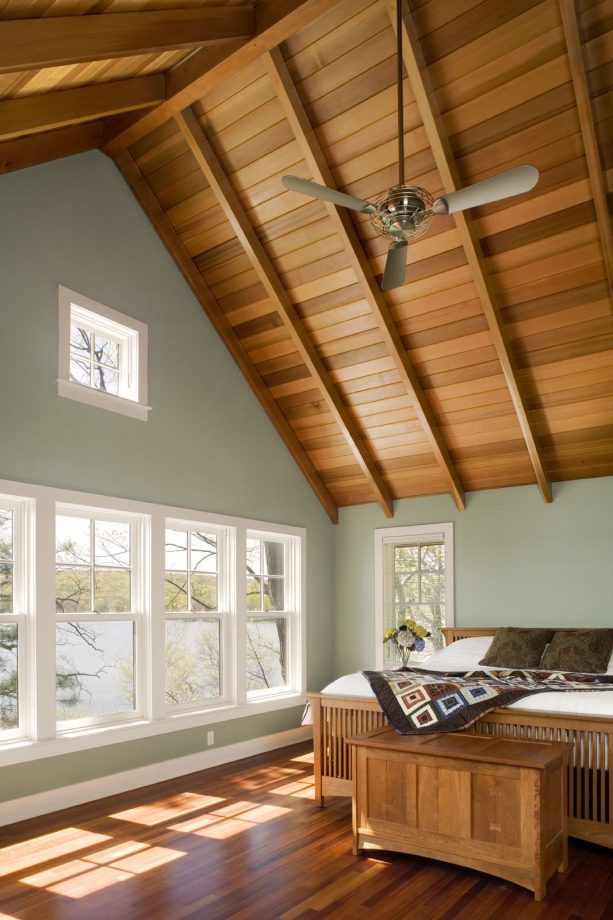 A vaulted ceiling is a great way to elevate your room and make it look more spacious.
This inverted V design will make your ceiling look majestic. That's why, for a vaulted ceiling, choose the best wood type.
In this room, the wood panel is Tongue & Groove V-joint 1×6 Red Cedar with a clear finish. You can see here that red cedar can totally pull off a polished and sophisticated look even with no stain.
To accentuate the wood panels, the designer also added exposed beams that are thin enough to match each panel. This room is what you call a modern rustic look, pretty and perfect.
4. Reclaimed Fir Wood Panels in a Rustic Kitchen's Vaulted Ceiling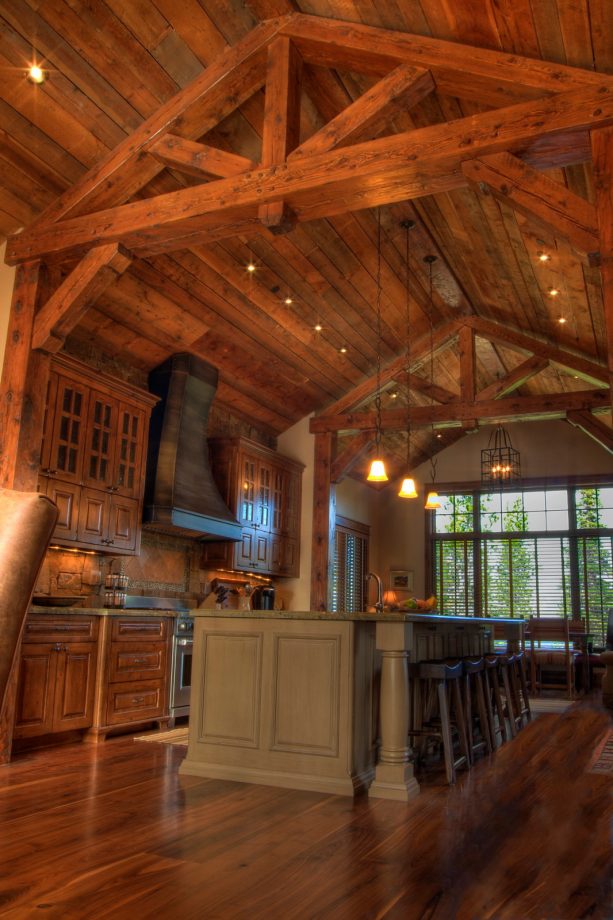 This is another rustic kitchen with a vaulted ceiling. However, it is so much different from the previous picture.
Even though this is a vaulted ceiling, it also features trusses to support the wood panels. Instead of red cedar, the wood panels hare are reclaimed fir, which has the ability to resist insects and decay.
Fir in its natural tone with a clear stain will make your room darker, especially when it is combined with medium tone wood floor and wood cabinets.
That is why the designer created a vaulted ceiling room to make it look bigger and brighter. Plus, huge windows are also needed to let the natural light fill the room.
And for additional lightings, there are many recessed LED lights installed in the ceiling wood panels, along with long hanging pendants over the sink. This way, the room will glow in soft yellow light.
5. Pine Tongue and Groove Ceiling Wood Panels with Windows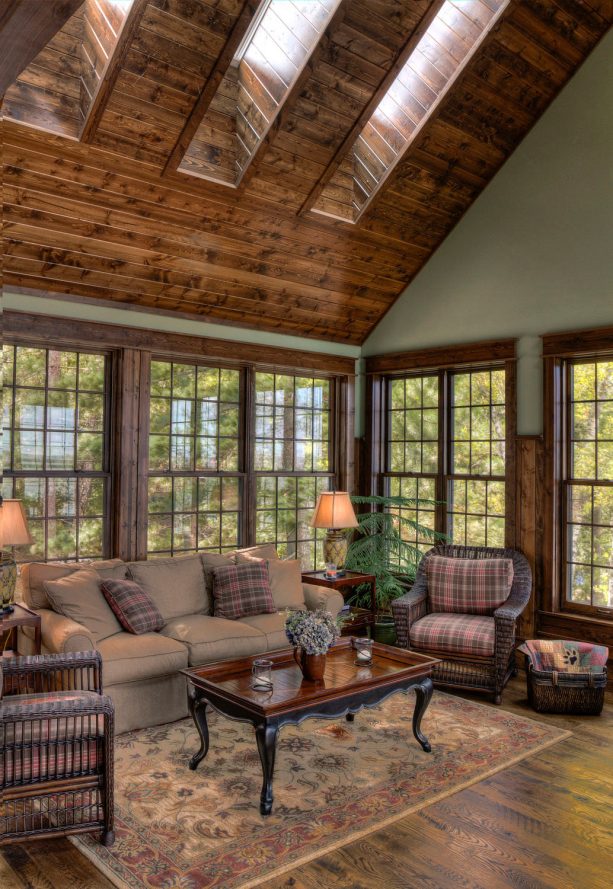 We can see that the ceiling wood panels here are similar to the trim. They are both stained Pine Tongue & Groove. It seems that this is also a vaulted ceiling. But, instead of beams or trusses, the designer added windows right on the ceiling to create a sunroom out of them.
The windows are narrow rectangle-shaped openings installed side by side with glass at their top to allow the natural light to penetrate the room.
A combination of vaulted ceiling and windows on the ceiling will make the room bigger and airier.
This type of wood panel works well in any rustic style, especially if you stain them with a touch of black color.
6. White Ceiling Wood Panels with Natural-looking Timber Beams
Painting wood panels in white color can be your option if you have a traditional or beach-style room.
White ceiling wood panels will create a continuous and consistent look, along with other white-painted elements in the room.
Basically, the ceiling is just a traditionally flat ceiling with white wood panels. However, the designer added beams from the natural-looking timber to create a more balanced look.
Using timber for beams creates a pretty contrast to the white ceiling. Plus, it adds a touch of a rustic look to the traditional style.
Install recessed lights in the wood panels for more accents and combine them with hanging modern pendants over the island.
This type of wood panel design is an ideal choice for a small to mid-sized room with a low ceiling.
7. Dark Ceiling Wood Panels Completed with Recessed Lights
Want something more trendy and stylish?
You can combine dark wood panels with a white ceiling.
The wood panels are recessed in the white ceiling, accentuating the ceiling elegantly. The different height in this ceiling makes it look ultra-modern.
This is the design that you can go for if you choose an expensive type of wood. It would be very costly if you have the best quality type of wood installed on a traditionally flat ceiling. That is why you need to use the panels wisely. And this is your best bet.
The dark wood panels in this room are highlighted by the recessed lights. The lights were installed generously around the panels, along with a modern pendant over the dining table.
8. Wood Panels with Cross Beams in a Low Ceiling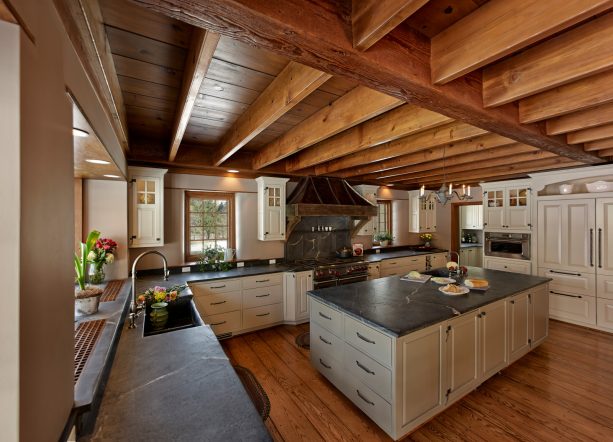 A low ceiling will make your room look more intimate, warm, and welcoming.
This is usually the design used in a farmhouse style. To create a low ceiling, you can combine the wood panels with cross beams like this.
It seems that the cross beams are made of a similar wood type to the wood panels.
Basically, the wood panels are installed to create a traditionally flat ceiling.
The flat ceiling matches the floor perfectly. Both are wood panels that seem to be made of the same wood type. However, cross beams are added to accentuate the panels, making them look more majestic in such a small room.
9. Combination of Ceiling Wood Panels and Recycled Beams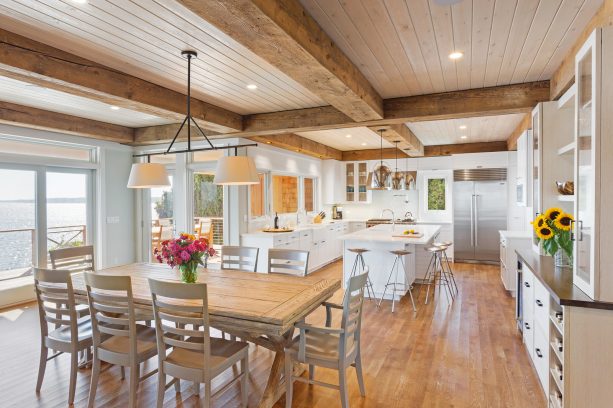 This beach-style dining room actually also features a traditionally flat ceiling wood panel.
The light tone wood is combined with white walls, white appliances, and similarly light wood floors. All of the elements in this room are meant to make it bright and airy.
The ceiling wood panels are paired with thick recycled beams that are also styled in a cross design.
These cross beams look thicker and sturdier than the ones in the previous picture. However, they are also simpler. But, both are meant to make the room lower.
The polished wood panels look in contrast to the recycled wood beams. Both have different textures and tones. The polished panels and the rough beams complement each other, making the room look more balanced.
10. White Painted V-groove Wood Panels in a Coffered Ceiling
A coffered ceiling is considered the most challenging style to install. This is the work that should be finished by a professional. However, the result is incredible.
The coffered ceiling features white painted V-groove wood panels in this beach-style open floor plan.
It seems that wood panels are used for the ceiling and the walls, even though the cuts are different. The white ceiling and walls create a uniform look.
This is the design you can mimic if you want a luxurious and classy-looking room with a bright vibe.
There are no recessed lights in the ceiling like you've seen in the previous pictures. It is because the room has already been completed with windows and a glass panel door to keep it bright.
Artificial lights are from the hanging pendants. This way, the ceiling wood panels look cleaner and sleeker.
11. Simple Wood Panels in a High Ceiling to Create a Beach Style
This is another white-painted ceiling wood panel to create a beach style.
This is a simple wood panel style in a high ceiling that is only meant for the kitchen.
The various heights in this room deliver a clear distinction between one room and another because this is an open floor plan. The kitchen area is indicated by the high ceiling with wood panels.
The white wood panels are completed with super-thin beams that are obviously not meant to support the panels. The beams are simply used as a decoration only, to accentuate the simple traditionally flat ceiling.
The lights on the ceiling are also useful to highlight the wood panels as well as illuminate the entire kitchen.
If you want a low-cost ceiling wood panel design but with an elegant touch, you can mimic this look by combining thin beams and recessed lights to your wood panels.
12. Industrial Style Wood Ceiling Panels with Exposed Beams
Exposed cross beams are not only associated with rustic or traditional style. In this bedroom, the white-painted cross beams perfectly fit the industrial style. In fact, it is the beams that enhance the industrial look in this room.
The beams are used to support the white painted ceiling wood panels. Despite being painted, the wood panels seem bare and natural, with some overlapping.
There are no recessed lights in the wood panels. It is because recessed lights will outshine the bare and natural wood panels, eliminating the industrial look.
So, if you want to create an industrial look in your bedroom, make sure you use hanging pendants instead of recessed ceiling lights. Let the ceiling wood panels highlight the industrial style.
13. Walnut Ceiling Panels that Match the Wood Walls
Walnut is the type of wood that you should choose if you want something durable, long-lasting, and elegant at the same time.
In this luxurious living room, the ceiling wood panels are made of walnut. However, instead of being cut in a long and thin slab, the panels here are in a rectangular shape of the slab, installed together to create a patch style.
The different tones of walnut in this room add more character and depth to the room. Moreover, the designer also used similar panels for the wall and the cabinets. It makes the room look consistent and flowing.
The classy wood element in this room already speaks for itself. That is why you don't need to over-accessorize it. Recessed lights are enough to highlight the ceiling.
14. Weathered Ceiling Wood Panels in a Dark Tone to Create a Mountain Style Look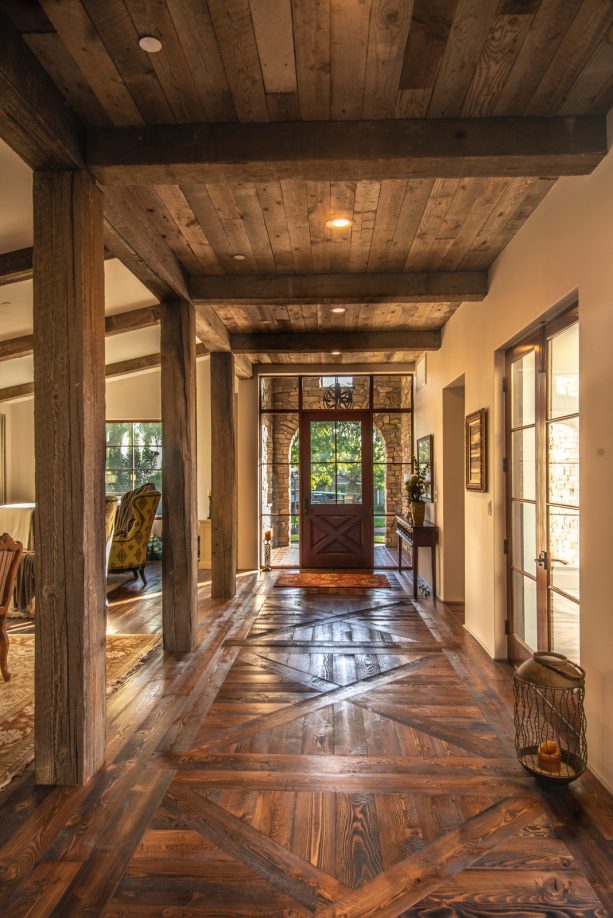 The mountain style in this room is enhanced by the weathered ceiling wood panels.
The flat ceiling is installed in a long and narrow space that is meant as an entryway. The wood panels are completed with exposed posts and beams to support them.
The dark wood panels, posts, and beams, may make the room a bit darker. That is why, if you want to use them, make sure to do it wisely.
The designer incorporated dark wood panels, posts, and beams only along the entryway, not to the entire room. Plus, they are paired with white walls to balance and brighten up the room.
There are many windows and a glass panel front door to flood the room with natural light.
Recessed lights are somehow useful in dark wood panels to create a warm glow. The lights can also accentuate the dark wood, making them look warmer.
15. Light Tone Wood Panels in a Slanted Ceiling
A slanted ceiling will add more dimension to your room. It looks like your room has more pop, too, delivering a whimsical design.
In this farmhouse kitchen, white is the dominant color. Light tone wood panels in the ceiling serve as a lovely accent.
The panels are supported by exposed beams that were installed evenly throughout the room. The exposed beams are meant to accentuate the simple wood panels.
If you want to use the same wood panels, you can add beams to decorate them, so they don't look too bare.
Light wood panels are useful for making the room cozier, especially when combined with a slanted ceiling.
16. Curved Ceiling Wood Panels with Beams
Basically, contemporary rooms have a more flexible design. This is where you can experiment with anything.
In a contemporary room, the options are endless. For instance, the ceiling wood panels here are not like the usual traditionally flat or vaulted, like you've seen above. Instead, the wood panels are installed in a curved style, creating a unique look.
The wood panels are also coated and stained to create a glossy and polished finish. Polished wood panels will never fail to give your room a luxurious and sophisticated appearance.
The ceiling here is high, different from the dropped ceiling in the next room. Both create contrast in height, adding more dimension to the open floor plan.
There are exposed beams to decorate the wood panels. Similar to the panels, the beams are also curved to follow the shape of the ceiling.
There is no recessed light on the ceiling wood panels to keep everything clean and sleek. Fan and hanging pendants are enough to accentuate the surface.
17. Best Types of Wood for Paneling Ceiling
From the pictures above, we have seen different species of woods with their own shade and characteristic.
So, what's the best option for ceiling wood panels?
Well, the answer may depend on your budget, your preference, and the home design. However, here are some popular woods for paneling ceilings:
Cedar: This is the type of wood that is sold at a mid-range price. This wood has a natural resistance to decay and rot, so this can be your bet if you have problems with insect attacks at home. Cedar is easy to install too.
Fir: This wood species can accept glues, finishes, and stains very well. It has a natural resistance to insects and decay. For a more affordable price, you can consider using Douglas-fir.
Pine: Out of all the wood options, pine, especially southern yellow pine, is the most common and the cheapest wood type. This is an excellent choice for ceiling wood panels outdoor because it has a natural resistance to weather and decay. This wood is available at a mid-range price and is ready for sealing, staining, or painting. Choose the pressure-treated pine to create more protection against the elements for exterior use.
So, what type of wood panels and ceiling decoration that you think it's best for your home?