Compared to the other kinds of garage doors, side sliding doors have more benefits for homeowners.
The advantages include the creation of garage ceiling space. It is because side sliding garage doors open to one side or both sides, so the entire ceiling of the garage can be easier to decorate, create, or remodel.
Besides, side sliding garage doors also have these benefits:
Easy to use. This door can be easily opened and shut with only a little effort. The track moves on one side or both sides instead of up and down. This can be done by anyone because it only needs little force exertion. Sling garage doors are available in electric and manual operation.
The motor operates quietly. Many of us can't stand the loud noise from the motor of a traditional garage door. However, inside sliding garage doors, that won't happen. The motor operates quietly, and it is perfect for a garage that is built above the bedroom or office. The tracks of the side sliding door are set horizontally, so the motor needs less force to open the doors. Thus, the noise is minimal.
Less escaping air. You don't have to fully open the door for a car's access. You just have to open it wide enough for the car to get through. Compared to other garage doors moving vertically, side sliding garage doors prevent excess air from coming out of the garage.
Continuously full height. Most of the time, you need to enter or exit the garage quickly, but you don't really want to open the garage door entirely. In overhead garage doors, you should duck under the partially opened door. On the contrary, with a sliding garage door, despite the width of the opening you need, it always opens at full height.
Quick to fix. There will come a time when eventually, you need to change or repair some elements of your garage door. Another advantage of a side sliding garage door is it is easy to maintain. If it is broken, repairs can be made easily and quickly.
Ready to change your garage door with a side sliding one? If so, here are some ideas for you to get inspiration from:
1. Horizontal Side Sliding Garage Door Illuminated with Paving LED Lights
This large garage features a minimalist style, along with the overall style of the main property. It is because this garage is attached to the main house, so it shares a similar style.
The garage is completed with a horizontal side sliding garage made from wood. The woods used were stacked vertically to create a modern design garage door like this.
The wood side sliding garage door is combined with the white wall above. The combination of neutral color and natural element like this never fail to create a modern style.
Moreover, this side sliding garage door is also illuminated with LED lights in the paver. It gives a warm yellow light to the garage, making it even more stylish.
It seems that the paver is concrete. Concrete paver is a common choice when it comes to paving. However, it is versatile. It can be paired with any element and applied in any style.
2. The Combination of Natural Stacked Stone Wall, Brick Paver, and a Contemporary Side Sliding Garage Door
There are three natural elements in this stylish yet straightforward garage, stone, brick and wood.
The stone can be seen in the wall surround. The wall around the garage door is made out of natural stacked stone. It seems that it is a fieldstone wall. The paver is made out of red brick, and it accentuates the wall perfectly.
Both may seem unmatched, but it turns out that they look nice together, especially when combined with wood.
The side sliding door is made from wood in vertical lines. This door features a similar wood frame, exposed. The exposed post and beams in this garage give a touch of a rustic look. But, since the wood used here is a light tone one, so it looks more contemporary than rustic.
The absence of any decorative elements in this garage, even lights, makes it even more attractive. The clean lines and exposed structures are never out of style.
3. Large Minimalist Garage with Side Sliding Door in Modern Style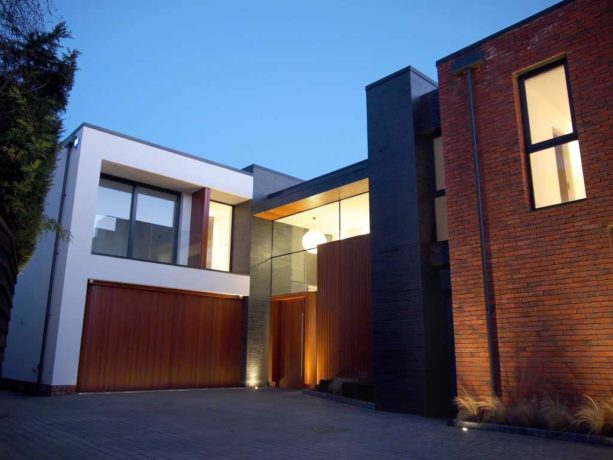 What a lovely modern garage. This one also features a minimalist look, with clean and sharp lines and natural colors. This garage is attached to the main house, so it shares a similar style to the house.
The garage is large enough to accommodate two cars at the same time. It features a wood horizontal side sliding door in medium tone.
The garage door looks lovely combined with the white wall around. The neutral color and natural element combination are some of the characteristics of a modern look.
Above the garage, it seems that it is a bedroom. This is one of the reasons why the side sliding garage door was chosen, because, like stated above, the motor operates quietly. So it won't disturb the people in the room above.
There are some LED lights in the paver, placed in some strategic spots to illuminate the whole building, including the garage. The warm yellow light gives an even more modern minimalist look to this whole building.
4. White Side Sliding Garage Door Completed Under Goose Neck Lighting
This barn-style garage has an apartment above. There are identical glass panel windows in the first and second stories. The windows are Okna 5500 series Double hung vinyl windows with grids.
This all-white garage is detached from the main property, so it is considered a more secured place to keep your precious belongings.
This garage features whitewash pine board and batten siding. The white siding looks lovely combined with black metal roofing. Both create a perfect contrast in this farmhouse-style garage.
The double sliding door is also painted in white color. It has a lovely barn style. This sliding garage door is made from rough sawn pine.
On top of the garage door, there are goose-neck lighting fixtures in a rustic barn look. It is completed with a protective cage too. It seems that the light is the only decoration in this minimalist garage.
This mid-sized cottage-style garage seems even more awesome with no other decorative elements.
5. Wood Side Sliding Garage Door with Overhead Steel Decor
This rustic side sliding garage door looks fantastic combined with the overhead steel decoration. Both create a vintage and classic look. This wood sliding garage door has a simple yet stylish look. This is a perfect example of a small cottage garage.
We can see the white stucco wall around this garage door. So it's safe to say that this garage is in a Mediterranean house. The decorative lantern beside the overhead steel also enhances the Tuscan look.
It seems that the paver in front of the garage is red brick. The red brick is installed side by side with the dark wood deck and post. Surprisingly, brick and dark wood can complement each other when they're juxtaposed.
6. Bold Blue Side Sliding Garage Door Combined with Gray Siding
Want something more bold and eye-catching? You can try using a blue-side sliding garage door like this. This blue garage door is undoubtedly an accent color in a pale gray color surround.
This garage door is combined with board and batten siding in gray color. It is matched with the overhead steel above and the wood structures above. The overhead steel is painted in a lighter blue color, though.
This farmhouse garage is not that large. It seems that this can only accommodate one car along with a seating space. It looks warmer with the wooden fence and the climbers with pretty flowers above. The gable roof on top of it also enhances its style.
Along with what seems like a stamped concrete paver, all the elements completed with a side sliding garage door create a vintage craftsman style.
7. Full Glass Panel Side Sliding Door in a Rustic Garage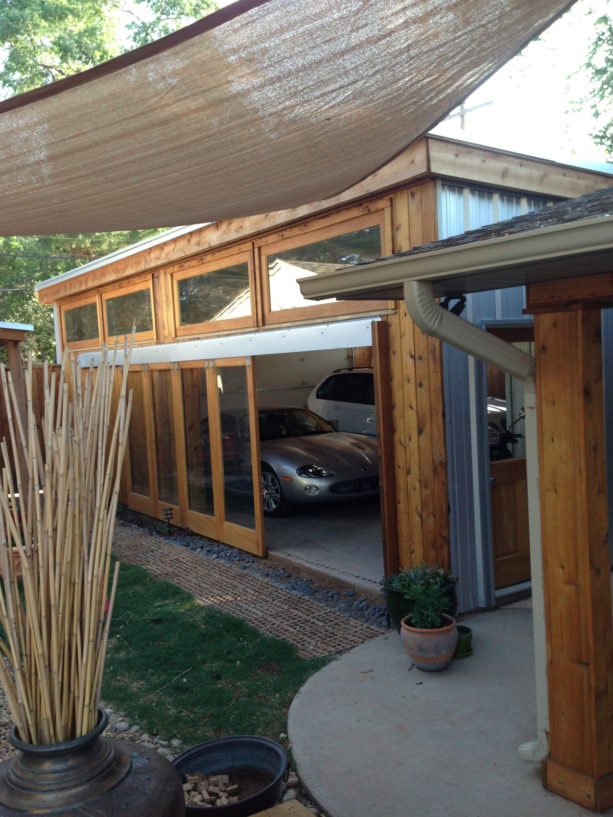 If you prefer a modern garage with a more opened and exposed look, you can consider having a full glass panel side sliding door like this.
Glass panel doors or windows are often associated with a modern look. However, this horizontal side sliding glass door is installed in a rustic garage. The door slides out of the way to present a two-car garage.
The designer combined four full glass panels sliding doors with wooden structures and metal siding. On top of the sliding door, there are also four full glass panels windows separated from the door by a single metal railing.
This picture shows the side angle of the garage. Its side is completed with pebbles, decorative walking stones, and turf. All of them give a rustic look with a natural element.
8. Medium Tone Wood Side Sliding Door in an Industrial Garage
If you like an industrial garage, surely you'll like this one. It is a wide garage with a horizontal design. It can accommodate two cars parked side by side at the same time.
However, it can be seen from this picture that the homeowners also use this garage to store other stuff too.
What makes this garage industrial is the metal roofing. The exposed beams are basically a combination of metal and wood. Both are intertwined together. It seems that the posts are made from painted wood. The frame structure is similar to the concrete paver. Both are in a neutral color. The accent comes from the side sliding garage door.
The garage door is medium-tone wood. It seems that it is made out of polished and stained pine. It consists of timbers stacked up and stuck together horizontally, creating a wider dimension than it actually is.
9. Side Sliding Barn-track Carriage Door in a Three-Car Garage
This is what a mid-sized trendy three-car garage's interior looks like. There is a small area above the garage connected by the stairs. It seems that there is an apartment in the back of this garage too.
This garage is secured by the sliding barn-track carriage door. It is a custom-designed and custom fabricated door made in Lancaster County.
This unique side sliding garage door features a combination of insulating glass and aluminum extrusions with aluminum panels at wainscot level and laminated wood. With insulating glass, there won't be any problem with heating here. Moreover, it can also let natural light pour into the room.
The flooring is a poured epoxy resinous with a semi-gloss finish. Somehow it perfectly matches with the glass panel door. The exposed beams on the ceiling give an industrial look to this garage.
The construction of the roof includes 5" of polyisocyanurate rigid insulation. It is installed on top of the exposed plywood sheathing. The white TPO membrane, which is fully adhered, gives finished weather protection. Roughly, the ceilings are 14" high.
10. Garage with Cherry Side Sliding Door and Stacked Exposed Concrete Blocks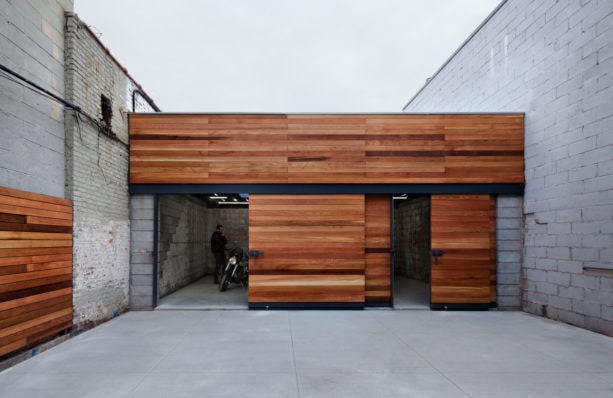 This contemporary garage looks simple yet stylish and trendy. This is another perfect example of "less is more" design.
This garage building is bracketed by the unfinished wall on both sides. Those walls are made from stacked exposed concrete blocks. It creates an industrial look, but the overall look of this garage is still contemporary.
This garage is large enough to accommodate three cars at the same time.
The side sliding garage door seems made out of cherry wood in a matte finish. This medium tone wood garage door is also completed with dark trim to complete the whole look. There are no decorative elements in this garage's front, except the door's pulls.
The paver, it seems that it is made out of concrete. The pale gray color blends seamlessly with the color of the walls around.
11. Two Car Garage with Black Side Sliding Door
This one is also a minimalist yet trendy garage. From what it seems, this garage is wide enough to accommodate two cars side by side at the same time, plus other stuff around.
This garage is secured by a side horizontal sliding garage door in black color.
This black color is combined with the crisp white wall around. The black and white combination never fails to deliver a stylish modern look. As an accent color, the reddish-brown gable roof is there to accentuate the neutral colors.
12. Combination of Metal, Glass and Wood Side Sliding Garage Doors
What a lovely modern garage! This is a perfect example of a cottage garage but with a modern touch. Every single element in this garage looks perfectly incorporated. They were carefully picked in neutral colors to deliver a minimalist look.
The most unique part is the side sliding door. It looks a bit confusing.
So which one is the slider, the wood door, or the windows? Is the glass panel one even a window?
Basically, both of them slide. The glass panel one can be used as a window or a sliding door. And the wood slides over the glass panel door to create more privacy.
When the weather is nice, the homeowners can open up the wood sliding door and leave the glass panel door exposed. This way, natural light can pour into the room. However, during the cold days or when the sun rays are too intense, the wood sliding door can come to the rescue.
There is a single-window right next to the sliding door. It is helpful to give extra light to the room. These window and wood doors are Loewen Windows and Doors. They are anodized aluminum.
The wood sliding door is made from white cedar shingles combined with yellow cedar trim. They were weathered naturally. All of them blend seamlessly with the Englert roofing above in Dove Gray color.
The driveway is a combination of gravel and stone. The stone right at the front of the garage is Schist. This multicolored stone gives a perfect accent to the all-grey design.
Closing
From the pictures above, we can conclude that wood, stainless steel, and metal are the most popular choice of side sliding garage doors.
No wonder because those materials are considerably durable, easy to maintain, and easy to pair with other outdoor elements. Those materials can also match any outdoor style too.
You can decide on glazing, color, and position based on those materials. If you want something more personalized, you can have a customized horizontal side sliding garage door. Make sure to discuss it with your builder/architect first.
Good luck with your project!