Nowadays, people are tired of the mass-produced elements in Victorian homes.
The old, classic, and traditional style era is done, and the Craftsman movement has been born. There's something charming in Craftsman homes.
Unlike Victorian homes, Craftsman homes are inspired by hand-crafted elements. They usually feature horizontal lines and take an aesthetic approach to decoration.
One of the key elements that you should consider in Craftsman homes is the window trim.
Craftsman-style exterior window trim is thicker than other styles. As a result, the trim choice is an essential element to achieving this much-loved look.
Keep in mind that you don't always have to build a craftsman home. You can incorporate craftsman-style exterior window trim basically in any home style.
However, except for the real craftsman homes, thick window trims would look best in a traditional, farmhouse, rustic, or cottage style.
Creating a window trim in a craftsman style is actually easy. You can include this in your next DIY project as long as you have the required tools. This way, you can enhance the attractiveness of your window trim, making a statement out of it.
But first, before starting to build it, determine first what kind of trim you would like to have in your exterior window.
Here are 13 charming craftsman style exterior window trims that may inspire you:
1. Thick Craftsman-Style Exterior Window Trim Made of Smooth Stucco Finish
This simple yet stylish craftsman house features a thick window trim in white color.
The trim is treated with a smooth stucco finish to achieve a crisp white color like this. It blends seamlessly with the entire exterior. The exterior wall seems to be painted in Benjamin Moore – Celery Salt OC-136.
The upper and lower floor windows have various styles, but all of them are nicely framed with thick white trim.
Using a white color palette for your exterior is recommended if you want to achieve a traditional look. It is a neutral color that you can combine with literally anything.
For those who want to stick with a conventional look, just use white and its shade as a combination for the exterior and window trim.
On the contrary, if you prefer to add a modern touch to your traditional exterior, you can add a pop of color, an accent that looks pop against the all-white design.
There is no accent color or even an accent texture on this exterior. But that doesn't make it any less stylish. The bright white window trim still looks pop, even though subtly, against the off-white exterior.
2. Cream-Colored Craftsman-Style Exterior Window Trim in a Simple Style for Traditional Appeal
The cream color is your best bet if you are tired of white, but you still want to get a traditional look.
The cream-colored window trim delivers a warm look because the designer combines it with the reddish-brown windows, which are Marvin aluminum clad windows.
The trim features a sleek and simple line. This is an excellent option if you want to stick to a conventional look. Those are casement windows that enable the homeowners to get an emergency escape.
A combination of cream and red tones creates a fresher look. So even though the homeowners prefer to use a traditional color scheme, it still looks different than the usual traditional exteriors.
The lower and upper floors have different siding to complement the cream-colored trim.
The lower floor has gray siding, which adds a touch of a modern look to this exterior. The cream-colored trim, on the contrary, exudes a traditional style. Both create a timeless look.
The upper floor has wood tone siding. This is the kind of siding that complements cream and/or white shades perfectly. They give an undeniably conventional look.
3. Farrow and Ball – Pointing Clean Craftsman-Style Trim Paired with Single Hung Windows Painted in Benjamin Moore – Black Tar
There's something elegant and mysterious on this front porch of a craftsman's house. It has leaded glass windows, a dark wood floor, and a custom-made bench to combine the original craftsmanship and modern influences.
The window trim is basically not as thick as the previous ones. However, it still somehow represents the craftsman style. The clean lines are also characteristics of a craftsman style.
The trim is painted in Farrow and Ball – Pointing, while the windows, along with the front door, are finished in Benjamin Moore – Black Tar.
We can see here that the trim has various widths. The trim of the single-hung windows looks thinner than the one around the front door. It makes the window trim less prominent.
The exterior is painted in 75% of Benjamin Moore – Iron Mountain. It is diluted at the paint store by 25%. You can do it the same way at the paint store and tell them you would like it at 75% saturation.
The white trim, black windows and door, and gray siding combination deliver a modern look. It is because this craftsman house exterior features all the neutral colors in it.
4. Extra Thick Olive Green Craftsman-Style Window Trim in a Traditional Exterior
This cottage house has several styles incorporated together.
The color scheme delivers a traditional look, while the curved roof has a modern style. The stone accent gives a rustic look, and the window trim has a craftsman style. What a perfect exterior!
The trim looks extra thick, which is meant to draw attention. It is painted in olive green color, the color that gives you freshness, a calming, and an organic look. It looks pop against the white siding.
The white siding and the metal roof act as a backdrop for any accent color added later. In this case, the olive green trim creates a contrast to the siding.
The front door is also finished in a brown color, a perfect wood tone. Along with the window trim, the front door gives an accent color.
The double-hung windows here actually look simple. Yet, with the extra thick trim that is painted in a contrasting color to the siding, they look pop.
The stone wall also complements the entire look. It adds more character to this exterior, proving to be the best accent texture. You can also use a stone wall and olive green trim combination if you're a huge fan of a natural look.
5. Dark Green Window Trim in a Different Thickness Combined with Light Green Siding in a Craftsman-Style Exterior House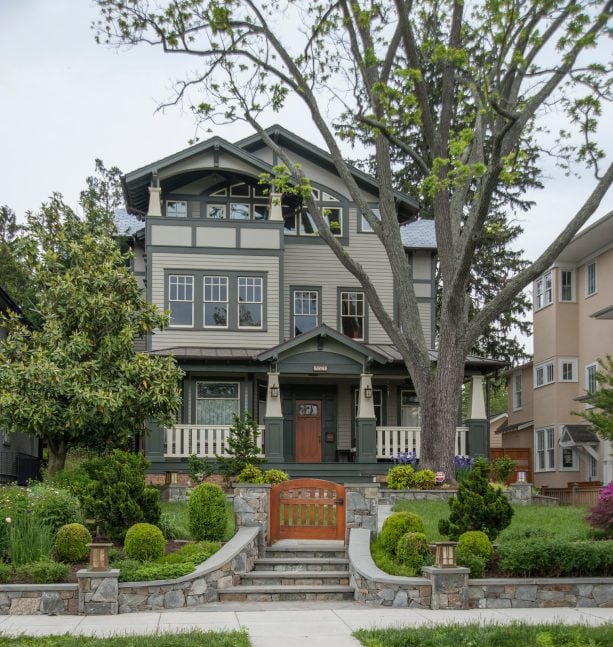 Green is a color that is often associated with craftsman style. There is no clear reason why, but maybe because green creates a fresh and calming look when combined with a lovely craftsman style.
In this large house, the designer uses several shades of green to paint the exterior. The entire trim and the posts are painted in dark green, while the wood siding is painted in light green.
The trim of the double-hung windows here have different thickness. The trim is thick in the upper part of the windows, while it is thinner in the lower part.
There is no accent added to this exterior paint. This is a great way to incorporate a classic combination of dark and light if you think black and white is way too common.
The homeowners also asked the landscaper to fill the yard with trees, shrubs, and bushes to add a more organic look to this green craftsman home. This way, this green home blends seamlessly into its surrounding.
6. 1×6 Backband Craftsman Window Trim in Various Thicknesses Painted in White Color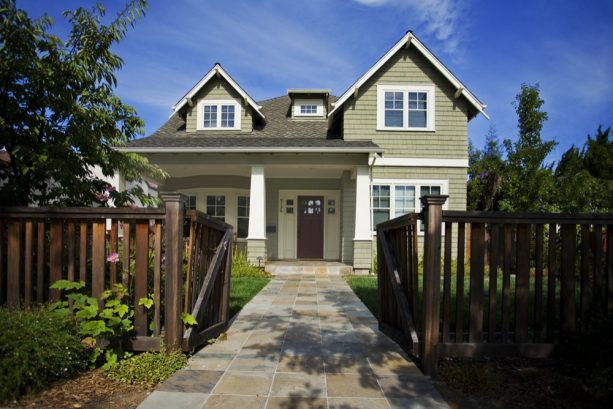 This traditional craftsman house looks elegant with a green color. The siding is basically a custom color.
According to the homeowners, they started with Benjamin Moore – Raintree Green and added a touch of yellow color in it. It turns out that the result is fantastic, even better than the original Raintree Green. The yellow tint makes the contrast to the white window trim less dramatic.
Similar to the previous pictures, the craftsman-style window trim also has various thicknesses. The upper part is thicker than the lower part. Maybe double-hung windows like this look more perfect if framed in a different thickness of craftsman style trim.
The window trim is made of a 1×6 backband and painted in white color. Indeed, white is the safest option if you're not sure what to pair the siding.
As a neutral color, white is versatile. However, white can also give you a traditional look, especially if you combine it with soft or muted colors.
To add a pop of color, the homeowners painted the front door in dark brown color. Unlike the usual accent colors that are bold and bright, this dark brown color shines in its own way.
The white window trim and the soft green siding is meant as a canvas to make this color pop. This is a great way to add an accent color traditionally if you don't want to deal with bright, vibrant, and bold colors.
The dark brown door also creates a contrast to the white window trim.
7. Craftsman-Style Window Long Trims Painted in Sherwin Williams – English Ivy Paired with Natural Stucco Wall
This is an ideal example of a craftsman-style two-story home.
The dark color scheme may look a bit plain for some, but this is the kind of color palette you'll need if you want to stay low-key and don't want to attract too much attention. The traditional color scheme fits the craftsman style perfectly.
The exterior wall is stucco, and it has a natural stucco color.
Unfortunately, the designer didn't remember the exact color used. However, that doesn't matter because when natural stucco is mixed and applied on site, the color may look different every time depending on the humidity, temperature, etc.
The window trim is painted in an old Sherwin Williams product called "English Ivy".
Apart from being thick, the window trim here is also long. It is because the designer connects the craftsman-style window trim to the entire trim of the house. The thick connecting lines create a unique look.
The color of the porch siding is called "Antique Linen" from an ICI color. Basically, the soft olive green trim looks browner here because the designer combined it with a soft brown siding. The green tone seems to fade a bit.
8. Clean Lines Traditional Green Window Trim Paired with The Black and White Exterior Color Palette in a Craftsman House
Black and white may be too cliche for some, yet such a combination is timeless. It can fit in any design style.
Actually, black and white are never plain as long as you know how to incorporate them. The black and white colors are not just mixed up in this craftsman's house. Each of them dominates the different floor.
White is used to paint the first floor, while black siding is used for the upper floor. The result is this house looks whimsical with a color block pattern.
However, on both floors, the designer painted the craftsman-style window trim in traditional green.
This house is another proof that green is the best color to be paired with craftsman style. Black and white are both neutral colors. So, any accent color can look pop against them.
However, the trim here is not as thick as the usual craftsman trim. Still, it has a strong characteristic of a craftsman style from the clean lines it has.
You can see in this exterior, the traditional green window trim looks in contrast to the black siding, and it complements the white wall.
If you want to decorate your craftsman house exterior with a touch of contemporary style, you can mimic this look.
The Black and white combo actually will give you a traditional appearance. However, when they are incorporated in a color block, especially when accent color is added to the trim, they offer a more modern look.
The traditional color scheme with a splash of fresh color and incorporated in a different way will create a contemporary style instead.
9. Combination of Benjamin Moore – Cloud Nine Exterior Window Trim with a Crown Molding and Weekend Getaway Body Paint Color in a Craftsman House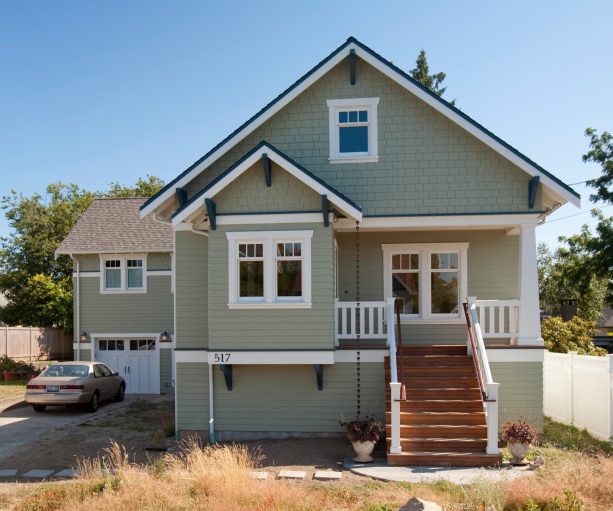 For a smaller craftsman home, it is recommended to avoid any dark shade because it will only make your house look even smaller. Instead, always stick to the bright color scheme.
Bright color doesn't have to be a bold and vibrant color. White is your best bet for a small home.
This small craftsman home looks excellent with modern materials. It is completed with Hardi shingles roof and Hardi plank siding combined corner metal to create a beveled look.
The thick window trim is painted in Benjamin Moore – Cloud Nine, which is actually a bright white color.
The trim is not only thick, but it also looks extra lovely with the crown molding. The designer adds crown molding at the top of the window trims to create a classy look.
The body is painted in Benjamin Moore – Weekend Getaway, a timeless and elegant grayish-green.
The combination of soft grayish-green and white produces a brighter look. It makes the entire exterior look more open and welcoming at the same time.
As an accent color, the designer adds a touch of black. Adding a small amount of black to this bright-colored house will not make it look smaller. Instead, it adds sophistication and elegance to the exterior. Hence, the house won't be too plain. A bit of contrast won't hurt anyone.
10. An Unusual Pair of Simple Window Trim Painted in Pratt & Lambert – Split Pea Green and Siding Painted in Daly's – Sorcerer Blue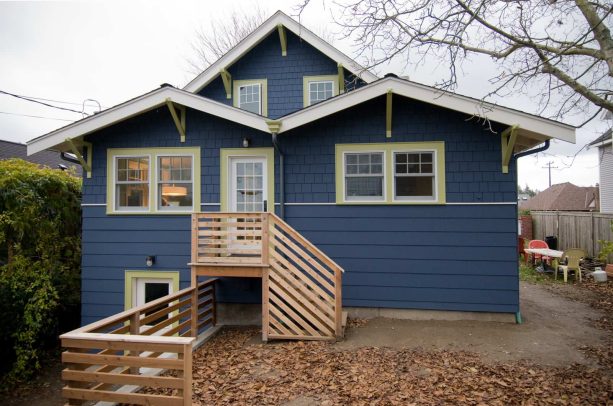 If you think that painting the lower floor in white and the upper floor in black has been already striking, you have to see this color scheme. The combination of dark blue and soft green is even more jaw-dropping. It makes this craftsman house look modern.
There are two types of trim here, the window trim and the house trim.
The house trim is painted in Pratt and Lambert – Snowflake 16-1, while the window trim is painted in Pratt and Lambert – Split Pea 16-28. Both of them are paired with the main body, which is painted in C2 – Sorcerer.
Unlike the previous picture, where the craftsman-style trim looks classy with crown molding, this one is simpler with no additional ornament. Due to the simplicity, the trim's thickness looks even more highlighted.
The striking blue in the main body makes this craftsman house look bold. This is the color you can choose to paint the body of your house if you want to make a statement, a stand-out look against the surrounding neighborhood.
The soft green trim is a color that will create a contrast to the dark blue siding.
The designer also adds a wood element to this exterior to top it off. The light tone wood railing in the front stairs and below also adds more character. The natural tone of wood gives a contrasting texture to this bold color combination.
11. White Window and Exterior Door Trim with an Overhang in a Grey Siding of a Craftsman House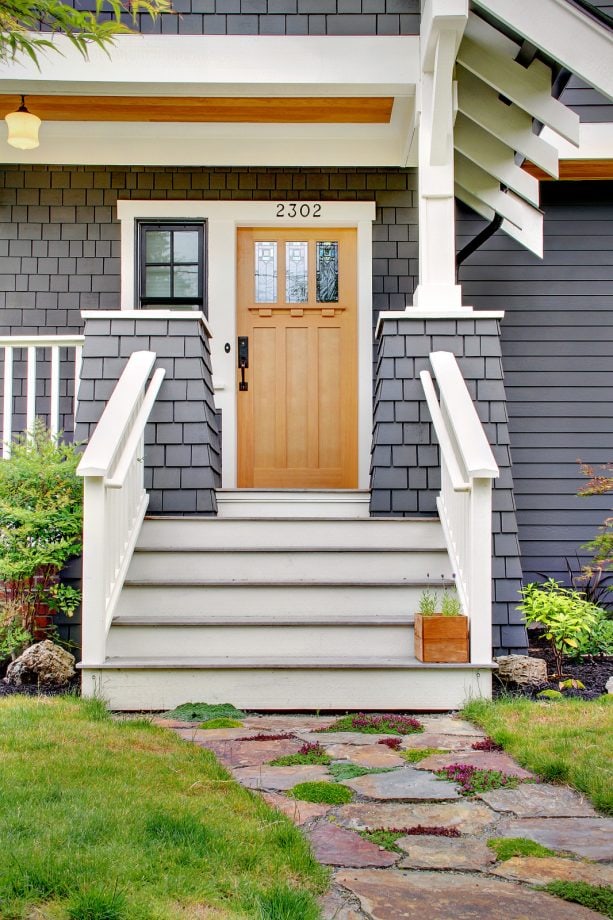 The small single window here is installed right beside the front door. Thus, it just makes sense if the designer created a trim that connects them both.
The trim of the window and the front door is painted in white, the typical color for a traditional look.
What makes the trim here different from the other craftsman-style trims is it has a little bit of overhang design on both sides. The overhang trim makes it look thicker, highlighting the craftsman style.
To enhance the conventional look of this craftsman exterior, the designer also finished the siding in gray color.
The Gray and white color combination is a safe option because both of them are neutral colors. Such combo serves as the best alternative to black and white. Gray is used if you don't want a bold contrast yet still want to create an odd look anyway.
The front stairs, along with the banisters and the posts, are also painted in white to match the trim.
To add a subtle accent, the front door was carefully selected in medium-tone wood, and the window seems to be made of dark aluminum. The wood tone and the dark aluminum themselves look elegant when mixed with white trim.
12. Aluminum Exterior with Beige Trim that Matches the Windows Against the Brown Siding of a Craftsman House
Beige is an excellent alternative to white.
If you think that bright and crisp white is too intimidating, you can count on beige instead. Similar to white, beige is also a neutral color, but the pairing options are more limited than white.
The thick window trim is painted in beige on this craftsman-style house exterior. The designer paired the beige trim with beige windows too. This way, the trim will look extra thick. It is meant to create a complement against the brown siding.
The siding is painted in brown to mimic the natural tone of the wood, which is an excellent way if you want to achieve a traditional look.
The beige color is also used on the posts and the steps in front of the porch. Using only two colors for your exterior like this is simple, minimalist, yet still trendy because neutral colors are never out of style.
To add a touch of a modern look, the designer installed clear glass windows along with the french glass doors. Adding glass elements in a neutral color combo will create a contrast to the conventional look.
13. Recessed Trim Craftsman-Style Exterior Window Trim Painted in Sherwin Williams – Rural Green
This window trim doesn't look too thick, which is a characteristic of the craftsman window trim. However, the trim is recessed, creating an illusion of a thick look. This trim perfectly frames the casement windows draw attention.
The dark green color gives a statement, creating a bold look to the surrounding. This window trim is painted in Sherwin Williams – Rural Green SW6418.
However, basically, the entire style of this house is not craftsman; it is a rustic exterior. The panel siding is finished in a natural wood tone, a key element in a rustic style. A combination of light tone wood and dark green trim creates a contrast.
This dark olive green basically exudes a traditional look despite its bold color. When combined with panel siding, they both create a conventional look.
Dark shade paired with wood is a combination that you need if you want to eliminate a contemporary or modern touch in your home design.
14. Tips on How to Decorate Craftsman-Style Exterior Window Trim
It takes more than just a thick trim to create an attractive and statement craftsman stye exterior window trims. Here are some things you can do to decorate them well:
Paint the window trim in a bright color to create a modern craftsman look. The 13 pictures of the craftsman style above show that the most popular bright color for a craftsman's window trim is green. Maybe because green, especially dark green, will also exude a fresh and cozy look. However, basically, your options are endless. You just have to make sure the bright-colored trim complements the siding/wall.
Thick cream trim for a traditional look. White and its shades, including off-white, are the best option if you want to add a touch of traditional look in your craftsman home.
Make a statement with black window trim. You can always rely on black to create a dramatic and sophisticated look. Black will never fail to draw attention, especially if you design a contrasting look.
Balance the dark and the light. If you paint your craftsman-style window trim in a dark shade, you can pair it with a light siding. Or vice versa. Balancing dark and light tones will make your home look classy and elegant regardless of the style. Or, if it is impossible to balance the trim and the siding, you can create a contrast between the trim and the window itself. Choose a dark-colored window to be paired with light-toned trim and vice versa.
Combine it with other accents. The accent here doesn't only mean one bright color. It can also mean an additional texture. Bricks or natural stones in the exterior will enhance the craftsman's style, especially if they are combined with thick trim.
Varying trim widths. You don't have to use the same trim width throughout your craftsman home. Instead, combine different trim widths around the windows and doors also to draw attention to the areas you want to focus on. For example, the thinner trim around the door lets the window and wreath be the center of attention.