The kitchen is an essential part of the home. That is why it is vital to create a functional yet beautiful kitchen. Whether it is an improvement work or a home renovation, paying more attention to the kitchen is a must.
Cabinets have been an indispensable part of a kitchen. The color and design of kitchen cabinets can enhance the look and style of the overall area.
Sure, there are many choices of colors and designs of kitchen cabinets out there. However, if you want something versatile, easy to pair with, and excellent at the same, brown color is your best bet.
Brown is a neutral color. It is often seen as solid, like the earth. That is why, brown color is often associated with safety, security, dependability, and resilience. Moreover, brown color can also evoke feelings of comfort and warmth.
This color is usually described as conventional, down-to-earth, and natural. However, brown can be sophisticated too and give more sensations if you combine it with other colors.
Here, you can see some beautiful combinations of kitchen colors with brown cabinets. These traditional-looking brown cabinets below are perfectly paired with other colors, and they managed to create any look but traditional and boring!
1. Dark Brown Kitchen Color with Light Brown Flat-Panel Cabinets and White Countertops Combination for Natural Look
The combination of dark brown, light brown, and white creates a perfectly natural look. This is considered the safest mixture for those who don't really like bold or statement design.
Combining brown and white is indeed traditional and simple. However, adding more than one shade of brown to the mixture will deliver an earthy tone. That never fails to give a warm, secure, and rooted feeling.
This trendy u-shaped kitchen features a dark wood floor that looks pretty similar to the paneled appliances over the peninsula. There are flat-panel cabinets in light brown color.
We can see here that the transition of dark and light brown is rather abrupt because there is no bridging color in between. Yet, it creates a bold transition.
The bridging color, which is white, is in the peninsula and the countertops. The countertop here is quartzite granite, and the color is white Macaubas. As a neutral and crisp color, white delivers a perfect foundation for any pairing color.
2. Medium Tone Wood Brown Flat-Panel Cabinets with White Backsplash to Create a Perfect Harmony
The classic combination of brown and white indeed gives an "earthy" feeling.
That combination is called a perfect harmony for a reason; it complements each other. Both are basically neutral colors. However, brown in this kitchen is in a lighter shade or medium tonewood. Combined with white, it gives a creamy look that never fails to deliver a polished, sweet, and clean look.
The designer of this kitchen shows no fear of being too "earthy" with this color combination. The grey floor completes the whole look.
Except for the stainless steel appliances, there are no other accents here. No added textures as well. This palette is perfectly monochromatic, and for some, it might look dull.
This modern kitchen features a concrete floor with flat-panel cabinets, white quartzite countertops, white subway tile backsplash, light brown island with white countertop, and stainless steel appliances.
Besides being earthy, a neutral color combination also gives a modern and trendy look.
3. Unique Combination of Brown Flat-panel Cabinets and Cobalt Blue Countertop Kitchen Color to Give a Bold Look
Want to try something different? Bolder and more striking? If so, you can combine your medium-tone wood brown cabinets with cobalt blue like this.
Yes, it might sound awkward at first because bright blue and medium tone wood brown don't seem to match. However, the designer shows the unusual color combination to create a bold and statement look.
Basically, brown and blue kitchen color schemes are elegant and earthy. When used alone, both brown and blue are considered neutrals. Thus, they can be a solid background for other colors. However, when they are both combined, these colors balance one another with perfect harmony.
Brown and dark blue create an alluring and bold look, while brown and light blue enhances the elegance of the room. What about brown and strikingly bright blue like this? They both add more personality to the room.
A full-height wall of white subway tile completed with a colorful horizontal band of glass tile nicely balances the bold combination of brown and blue. This blue countertop is cobalt blue quartz. It provides a durable work surface for meal prep.
The wood cabinetry is original from the house; it is from the 1950s. In order to keep the vintage and classic look, the designer also added retro bar stools that complement the vintage cabinets.
4. Beige Floor and Sherwin Williams "Cachet Cream" Kitchen Color Combined with Brown Shaker Cabinets for a Nice and Warm Look
The classic and crisp combination of brown and beige is never out of style. It indeed looks a bit pale for those who are not a big fan of neutral colors. However, brown and beige are a match made in heaven. They give a trendy look but are still classy.
Brown and beige mixture is a solid scheme. This perfect earthy-tone combination is often associated with safety, warmth, and security, much like the earth.
The cabinets are made out of maple wood with a Nutmeg stained finish. The beige floor is Armstrong Alterna vinyl with Driftwood grout. The beige backsplash is a Laufen Monte Bellow ceramic tile in taupe. It is combined with other colors forming a horizontal line to make the 3" accent border.
The white countertop is natural quartz by Silestone. The color is called Tigris Sand. This white countertop, as well as the white wall kitchen color, creates a bridging color between brown and beige.
The wall is painted in Sherwin Williams – "Cachet Cream." Basically, this white wall creates a perfect harmony with the brown cabinets. It serves as a solid background.
5. Unique Combination of Blue Backsplash Kitchen Color and Dark Brown Shaker Cabinets to Give a Calming Sensation
Another lovely combination of brown and blue! This blue shade is not too dark but not too bright either. When combined with deep dark brown cabinets, this blue creates a warm and relaxing feeling. This color palette has a peaceful enveloping presence.
However, in order to avoid being too bold, the designer only uses a small dose of blue in the backsplash. It is a gradient decor indigo gloss backsplash in 3×12'.
Surrounded by dark brown shaker cabinets, this blue backsplash serves as a focal point and an accent color in this kitchen.
Basically, this kitchen features a usual combination of earthy tones, like medium tone wood floor, dark brown cabinets, medium tone wood bar stools, and white countertops.
The designer added a blue glass tile backsplash to avoid being too boring and dull. And turns out that's a good decision since this kitchen looks more bright with the additional blue color.
6. Black Countertops and Green Backsplash Kitchen Color Combined with Brown Flat-panel Cabinets for an Elegant yet Refreshing Look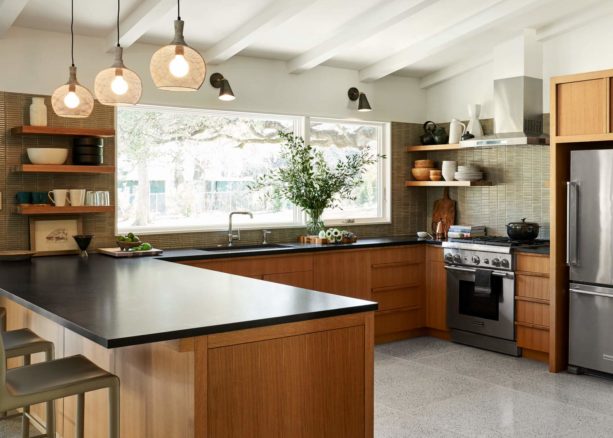 Black meets brown. Many people consider both hues will cancel each other because both are neutral colors. However, if it is a lighter shade of brown, it turns out that it goes perfectly well with the black color.
The black does not only create more drama against the cabinetry, the backsplash, and the floor; it also brings out the beautiful shades of green backsplash.
This green color is clearly the best accent color for the brown and black combination. The pale shade of green blends seamlessly with the medium-tone wood brown cabinets.
The white terrazzo floor serves a basic neutral color that can be paired with anything. The stainless steel appliances add more accent to this rich-colored kitchen.
7. Grey Subway Tile Backsplash Kitchen Color Mixes Nicely with Brown Recessed-panel Cabinets for a More Open Look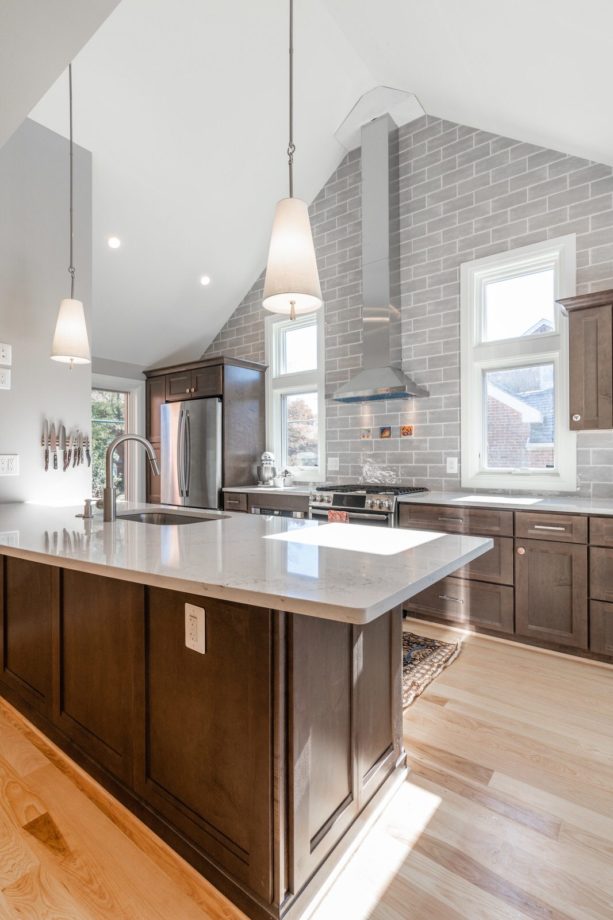 Brown is basically a warmer tone, while gray is generally a cooler tone. Usually, these two colors are not used together because they are too contrasted and they are too vibrant to stand each other. However, there is no reason why you can't combine them together.
Keep in mind that brown and grey come in various shades. That makes finding a good combination for both of them easier.
The first step to combine brown and grey is choosing the right shades. When the brown is dark, make sure the grey is light, and vice versa. Second, you need to add a pattern to combine them.
In this kitchen, you can see that the brown cabinets are in a deeper, darker color. That is why the grey backsplash is in a lighter shade. The cabinets are also solid. It is flawlessly combined with a subway tile backsplash.
The medium-tone brown floor completes the whole look. This color scheme delivers an open, light-filled space room. Because this is basically an open kitchen, the color fits perfectly. To add more accent, stainless steel appliances were put there.
8. Brown Flat-panel Cabinets Perfectly Combined with Multicolored Countertops Kitchen for a Warm and Elegant Look
Combining brown with multicolored countertops is another level of elegance. This creates a bold and contemporary look.
The adorable combination of high gloss cabinetry tempered with an elegant rush of gold, wood grain, and warm neutrals with textured glass is undoubtedly a great thing.
The multicolored countertops and island blend seamlessly with the dark brown flat-panel cabinets and creamy white glass tile backsplash.
The dark brown and white color palette is a thing, but when combined with a multicolored accent, it looks more elegant.
9. Beige Kitchen Color Mixed With Light Brown Raised-panel Cabinets to Achieve a Homey Feeling
As stated before, beige and brown are a match made in heaven. That is why this color scheme is widely used. However, as seen in this kitchen, the shades of beige and brown look too pale and earthy. For some, it looks warm and inviting. Yet, for those who don't like neutral colors, this is a bit too boring. Because there is no additional accent color to complete the whole look.
These brown raised-panel cabinets are in a lighter brown. It is mixed with beige countertops and beige wall color. The light tone wood floor seems to contrast with the medium tone wood ceiling, but still, they share the same hue.
This monochromatic look, even it looks a bit plain, also gives a homey feeling. Because earthy tones like this have a similar trait with the earth itself: grounded, secured, down-to-earth, and safe.
So, no wonder when we step into this kind of kitchen, we will instantly feel warm and comfortable, as if we were comforted by the earth itself.
10. Farmhouse Style Combination of Brown Shaker Cabinets, Black Soapstone Countertops and Red-colored Brick Wall to Add More Texture in the Kitchen
For a lovely classic farmhouse design, adding more texture to the combination of brown and black is an excellent idea.
This kitchen features pale brown shaker cabinets. They go perfectly well with the black soapstone countertops. As stated before, a combination of brown and black can be a great idea if the brown color is in a lighter or paler shade, so they don't cancel each other.
The black countertop adds a more dramatic sense to this farmhouse kitchen, which is basically unique because generally, farmhouse kitchens are not dramatic; they should be timeless and natural.
The slate floor is also in a dark color, even though much lighter than the countertops. Both blend harmoniously with the pale brown cabinets because, basically, they are neutral colors that can be paired with any color.
Besides the dramatic effect, another great thing about this kitchen is the exposed red brick walls. These walls surely add more textures to this kitchen.
The polished countertops combined with exposed rough bricks create an adorable contrast. They put this kitchen into another level of farmhouse design.
11. Combination of Gray Travertine Backsplash, White Countertops Kitchen Color, and Brown Shaker Cabinets to Get Cozy Sensation
Here is another example of the perfect combination of brown cabinets and grey kitchen color. The various shades of grey of travertine backsplash mix harmoniously with the white countertops and the gray porcelain tile.
As neutral colors, gray, white, and brown complete each other to create a cozy feeling. They are warm, inviting, comforting, and relaxing.
This craftsman kitchen features an Amhurst white door to match the white countertops, a grey travertine backsplash, stainless steel appliances, Hickory cabinets in Molasses color, a Silestone ET Calcutta Gold Silestone, and a farmhouse Kohler Whitehaven 36" Undermount sink.
This mid-sized kitchen is accentuated with the black metal hanging pendants and black polished backless bar stools.
The black stools are meant to bridge the transition of a lighter shade of gray floor to the darker shade of gray travertine peninsula, similar to the backsplash.
The black metal hanging pendants are meant to bridge the transition of the white ceiling to the dark brown cabinetry. This color coordination brings perfection to this kitchen.
12. Bright Blue Colored Chairs Combined with White Backsplash and Brown Glass-front Cabinets to Add a Coastal Look in the Kitchen
In order to achieve the neutral and earthy tones, the designer of this kitchen combined the most used color combination: brown and white.
If you want to achieve a neutral earthy-tone combination that can be paired with an accent color, a brown and white mix is your best bet, especially light brown color like this.
Light brown glass front cabinets here mix seamlessly with the coastal beige floor kitchen. They both compliment each other to give a soft look. In order to bridge the transition between coastal beige color and light brown cabinets, there are white backsplash, white islands, and white countertops.
It seems that white here dominates the look. However, to avoid being too pale and too monochromatic, the designer also added bright blue-colored tall back chairs to complete the white islands.
The bright blue color might look too bold for an earthy tone room like this. However, light brown, beige, and white are neutral colors that serve as the best background. Those colors can be paired with bold and striking colors as an accent. This way, the room will appear cheerful.
Moreover, the homeowners intended to have a coastal and beach-style kitchen. That is why the bright blue chairs will complete the look. Without these chairs, this kitchen would only be a usual traditional kitchen with a neutral color combination.
13. Terracotta Tile Kitchen Color Combined with Brown Cabinets and Turquoise Island to Achieve a Neutral yet Striking Look
Playing with bright and bold colors is indeed fun. Bold and bright colors are often associated with open-minded, fun, flexible, and adventurous ones.
If you are the one who has that trait and wants to show your personality through a room design, you can try using a unique color combination like this one.
The terracotta tile kitchen floor will give a friendly and warm look. This is usually used for a Mediterranean style. However, clearly that this kitchen is anything but the Mediterranean. It is more like a transitional kitchen.
The combination of terracotta floor, which is one of the key characteristics of Mediterranean style, with bold accent color, clearly shows the open-minded personality of the owner.
The patterned beige-colored porcelain backsplash seems to match with the brown flat panel cabinets. The island and the countertops are also in beige color, which is considered the most perfect color paired with brown.
Yet, the most striking and eye-catching element in this kitchen is the turquoise island.
Yes, the bright blue color doesn't even match with the cabinets. However, this island is not meant to be matched with the cabinets. Instead, it is meant to stand alone, to give a pop of color to this neutral kitchen.
This way, this transitional kitchen looks more striking and personalized. What an excellent way to add a splash of color in an earthy-tone kitchen.
Closing
Despite those beautiful color combinations you have seen above, we can't deny that colors have a lot to do with our personalities, experiences, environment, and upbringing. In other words, when it comes to choosing colors for your personal space, it is simply a matter of preference.
No matter how beautiful the color combinations you have seen above, it is important to pick the right color that evokes the right emotion that you want to feel inside whenever you step into the kitchen.
Good luck with your home improvement project!