There's something luring about rustic style. It is often associated with nature and organic settings and is often used in rural areas to enhance the countryside ambiance.
The rustic fire pit is a whole new level of an organic look.
Basically, a fire pit is something that will remind you of nights in the open air. Add it with a rustic style, and you'll have a pretty, organic look in your landscape.
Commonly, a rustic landscape with a fire pit is full of stacked stones (any kind of stone, but usually flagstone, fieldstone, or natural rocks), pebble or gravel floor, and wooden chairs.
As an alternative to gravel floors, many people also use stained or stamped concrete. Moreover, there is a mulched landscape in the backyard, complete with a fire pit to enhance the natural look. Hence, the more rustic style.
Apart from the organic elements, the rustic landscape should also be immersed in native vegetation and/or flowering perennials delivering color through most of the growing season.
Shrubs, bushes, and trees in various sizes should also be planted around the fire pit area.
The fire pit itself is usually made of a stack of stone. Or, better yet, it is sunken and surrounded by boulders.
Some people even use a freestanding metal fire bowl for a more different look as a fire pit. Either way, all of them will never fail to give you a perfect rustic fire pit.
Looking for more ideas for an organic rustic fire pit that will remind you of a campfire setting? Keep scrolling below to check these rustic fire pit ideas out:
1. The Idea of a Rustic-Styled Patio with a Fire Pit Made of Stamped and Stained Concrete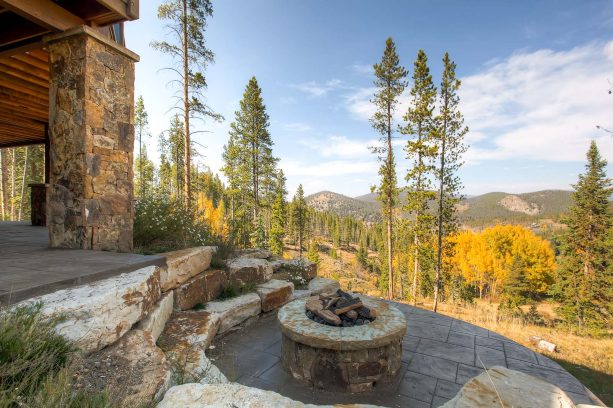 This round fire pit is installed right in the center of the rustic-styled patio.
Even though the patio is made of stamped and stained concrete, the fire pit seems to be made of natural stone to highlight the organic look. It is also completed with a white stone cap that matches the stacks of rocks around.
Instead of benches or chairs as seating space, the landscaper used these rocks set in a half-circular design to fit the small-spaced patio.
There's something warm and intimate in this small patio. Even though it may not look as extravagant as the other spacious rustic fire pit areas, this one is enough to host a small gathering and get-together during the summer.
The stones used for this area go very well to the view around. This is the kind of stone that you can opt for if you like in a drier area with fewer greeneries.
2. 42" Round Rustic Fire Pit in a Patio Completed with a Water Feature
This is also a patio with a 42" round rustic fire pit.
This patio is surrounded by stone edging, which is basically a retaining wall. There is around 48" of clearance between the edge of this fire pit and the retaining wall. All in all, this fire pit and seating area is approximately 12' x 12' space.
It appears that this patio has stained or colored concrete as its floor to create a matching look with its surrounding. On the other hand, the fire pit is truly made of real stones with a smooth and polished cap.
This fire pit area is located in a spacious backyard. Around, you can see a pond and a view of a mountain. Right next to the patio, there is a water feature that enhances the natural look of this area.
It is quite impossible to spend a short time on this patio with such scenery. That's why the homeowners decided to use real chairs instead of just boulders or logs.
There are five Adirondacks chairs painted in brown to mimic wood, so they can blend seamlessly to the surrounding. Five chairs are surrounding the fire pit, perfect for a small get-together and barbecue party in the summer.
3. Rustic Patio with Gas Fire Pit from Quadra-Fire Surrounded by Adirondacks Chairs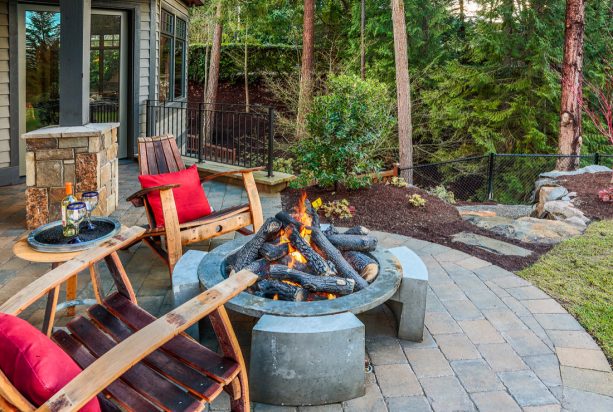 If you're curious, this fire pit is basically a freestanding fire bowl constructed with four legs made of concrete. This is a gas fire pit made by Quadra-Fire Mode# FG21SP-NG.
We can see here that even though the fire pit is not made of stones, like the ones you've seen in the previous pictures, it still exudes rustic style. It is because the wood accessories at its top make it look like a traditional wood-burning fire pit, a natural-looking one.
This patio also features a concrete floor with edging.
The Adirondack chairs look a bit stylish, quite different from other Adirondack chairs, but still have the style. They were painted in a wood tone, a combination of dark and medium tones of the wood, to mimic the natural pattern of the wood. They come with a small round table too.
To add a splash of color to this area, the homeowners added red-colored throw pillows.
This concrete patio is surrounded by mulch landscaping completed with a stone retaining wall and towering trees to highlight the organic look.
4. Huge Rustic Backyard with Mulch Landscaping and a Fire Pit for Summer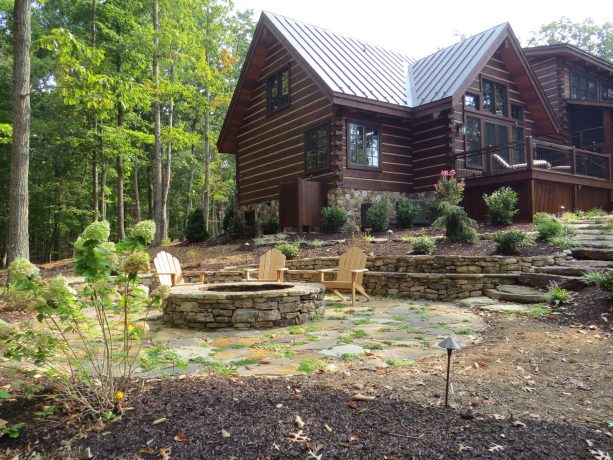 This fire pit area will be a perfect space to enjoy the nights and stargazing during the summer.
This area is located in the backyard, a perfect mulch landscaping. However, the patio itself is not entirely made of mulch. It seems that the floor is made of a slab of rocks with grass in each space. That is a clear distinction to separate the patio and the other areas.
Right in the center of the patio, there is a low and round-shaped fire pit that seems to be made of fieldstone. Three wooden chairs were set around this rustic fire pit with no table.
The absence of accent color in this organic-looking fire pit makes it blend more seamlessly into the surrounding.
Around the patio, there is terrace retaining walls made of similar stone to the fire pit. The shrubs and bushes around creates a more welcoming ambiance.
5. Mid-sized Rustic Gravel Landscaping with a Fire Pit for Fall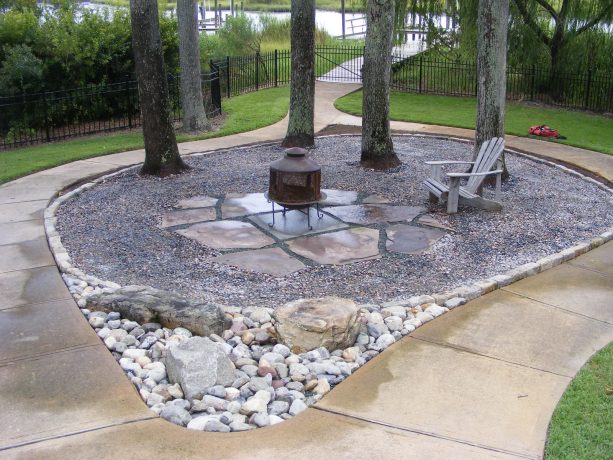 This freestyle-shaped patio looks gorgeous with various stones that blend together to create a rustic look.
Instead of a usual fire pit, this area features a movable fireplace. This freestanding fireplace adds more versatility to the patio. The metal with a bit of rusty look makes this "fire pit" look rustic even though no stack of stone is seen.
Instead of concrete, the landscaper uses gravel as the patio's floor. However, in the center area, the spot where the moveable fire pit is set, the floor seems to be made of stamped concrete that mimics a slab of rocks flawlessly.
This area also has a stone edging to separate it from the concrete walkway around.
There is a mix of varied stones at the corner that adds a unique character to the space. It is undeniable that blending different stones like this will give you a unique and fun look.
There is only one Adirondack chair that seems to be finished in a weathered look. What a perfect spot to spend some time alone during the fall, when the air changes from humid to wet.
6. The Idea for Concrete Paver Landscaping in a Rustic Style with a Fire Pit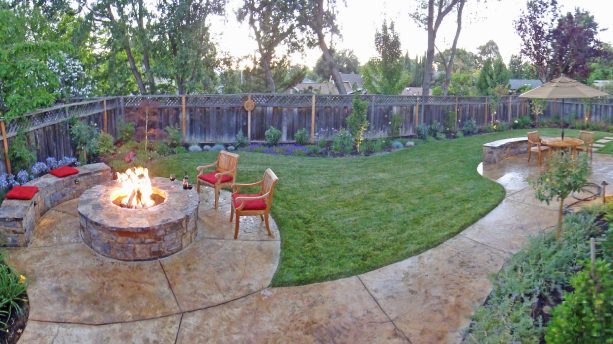 This rustic landscape looks so big and open. This is the perfect space to host a garden party. It features a fire pit and dining area. Both are connected by a concrete walkway. Basically, both of them also have a concrete floor.
The fire pit is round and made of stone with a cap. There are two classic wooden chairs and a built-in stone bench surrounding the rustic fire pit. The natural stone fire put has a gas line for ez of use.
You may wonder how the landscaper set the dividing lines. According to him, he pressed in the expansion joints with a joint tool when the concrete was wet.
The concrete paver is stained in a "mission brown" color to enhance the rustic look, because the color of the concrete is part of the earth tones.
This concrete paver area is surrounded by mown grass and lined by the wooden fence as a screen.
7. Rustic Patio with Stone Landscaping and No Chairs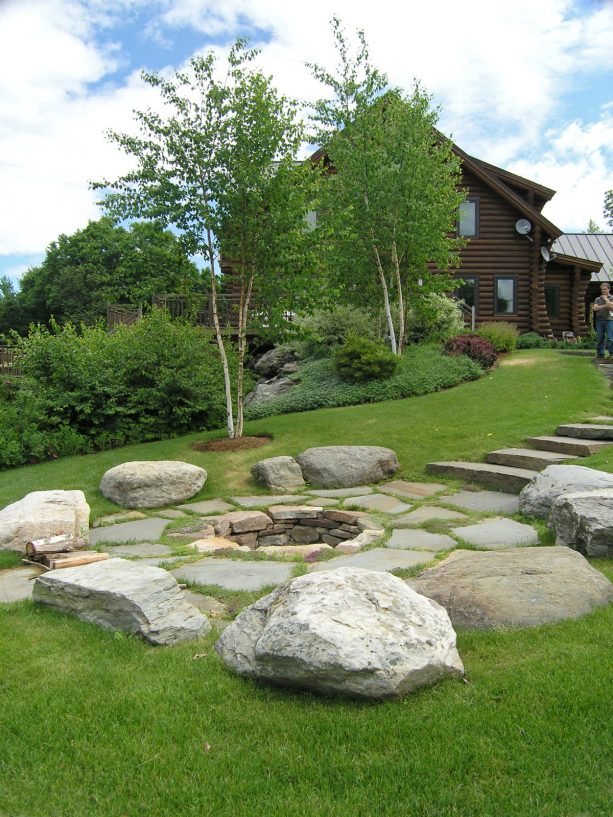 This is an ideal example of a mid-sized rustic patio with stone landscaping and a fire pit.
The patio is made of stone slabs with grass as its grout. It is surrounded by boulders.
The boulders here have a double function. First, they are useful as a boundary to separate this patio with mown grass area. Second, they can also be used as seating space. So, there is no chair to be found. This is a great way to emphasize the natural look.
It seems that there is a concrete staircase to reach this patio from the property. This rustic patio itself is perfect circular shaped. The mown grass around serves as a canvas to make it pop against the bright green color.
The plants around, especially the trees, highlight this rustic fire pit. Even though this area has no cover, it will still feel shady and comfortable with the plants around.
8. Freestanding Fire Pit in a Rustic Landscape Idea Paired with Wooden Chairs
Small and simple, that's the best way to describe this rustic landscape.
The fire pit area seems to be made of stamped concrete with grass filling the space. In the center of this patio, there is a freestanding fire bowl made of metal, another element that is not wood or stone that exudes rustic style.
This kind of fire pit will perfectly fit any small rustic patio. It is because most of the time, a stone fire pit will make the small area look too overwhelmed and crammed.
No matter how small it is, the Stone fire pit always gives a majestic look to its surroundings. That's why it isn't a perfect option for a tiny rustic patio like this.
There are three Adirondacks chairs made of wood, finished in the natural color of the wood. This way, the rustic patio has perfectly combined three elements of rustic style; metal, stone, and wood.
9. Sunken Fire Pit with Brick Edging in a Rustic Landscape with Red Chairs as an Accent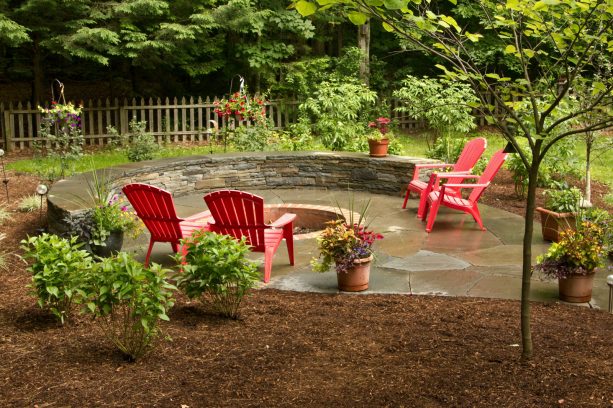 According to the designer, the owner of this property wanted to create an outside space to host parties and serve her food. That's why the landscaper came up with this idea.
They built the base and the outlet for the water that enters the fire pit basin with concrete to create a smooth and polished surface. They also completed the area with plantings to highlight the rustic organic look and contracted the stonework.
The fire pit itself is a sunken one with brick edging. It might seem absurd at first to combine brick elements with concrete floors. However, it turns out that they go perfectly well.
To add a splash of color, the homeowners added four bright red Adirondacks chairs as an accent. Due to the fact that this area is meant to be a place to host parties, four chairs are not enough. So, the landscaper created a built-in stone bench.
The stone bench is designed in a half-circular design, following the lines of this patio. That is quite a large bench that can accommodate many people all at once. There are some potted plants put here and there to create a fresher look.
10. Modern Rustic Backyard Ideas with a Roof Extension and a Fire Pit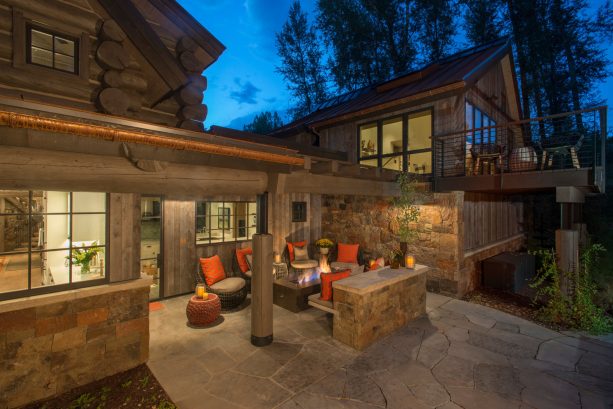 Unlike the other fire pit areas you've seen before, this one has a cover.
Basically, this area is covered with roof extension to indicate that this space is part of the living space. It is an extended indoor living space, so no wonder the homeowners wanted to make it as comfortable as possible.
This patio is part of the large rustic-style backyard stone patio. However, the fire pit area, along with the seating space, is set under the roof extension.
The rectangle-shaped fire pit seems to be finished in a metal tone to achieve a rustic look. It is surrounded by tall back chairs and a built-in bench completed with cushions and throws pillows to provide comfort.
Compared to other rustic fire pit areas before, this one is the most comfortable, with many seats and a cover. The exterior stone walls also enhance the rustic style flawlessly.
11. Square-shaped Sunken Fire Pit with a Cover Surrounded by Logs
Instead of round, this sunken fire pit is in a perfect square-shaped design. It is also completed with a cover to elevate the aesthetic look and, of course, for safety.
Surrounded by bushes, this patio has gravel landscaping in a freestyle design. A similar gravel walkway connects the main property and the patio.
There is no Adirondack chair here. Instead, you'll find four logs surrounding the fire pit. Opting for lumbers for seating is considered the best way to elevate the rustic look. It is because logs ad lumbers are usually associated with rustic style.
The landscaper finished the logs in a pale and muted white to match the gravel landscaping around. This way, the homeowners can maintain cohesion despite the rustic organic look.
A cohesive gravel patio with a fire pit can be a great focal point with bushes around. Moreover, there is no garden or retaining wall whatsoever.
Everything in this area is still pure and genuine, the way nature grows. Instead of shaping it, the landscaper decided to highlight and maintain it. Therefore, this fire pit has become a rustic patio with the most natural look.
12. Laid-back Styled Landscape with a Rustic Look Completed with a Fire Pit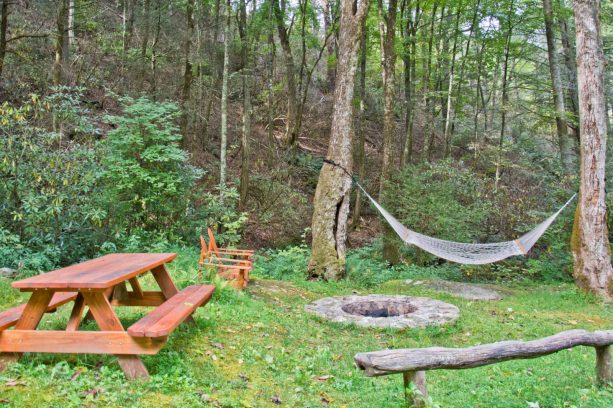 Want to add more fun to your rustic landscape?
You just have to immerse in a laidback look.
No need for extra effort to achieve this look. Adding a hammock is enough. Plus, the homeowners don't feel the need to reshape this whole area into an aesthetic landscape. Instead, they make their backyard as natural as possible. They don't even install flooring for this patio.
The fire pit is located in the center of this area, a sunken one with a round shape and made of stone.
Instead of surrounding it, the seating spaces are set more freely. There are two wooden chairs placed side by side, and there is a set of dining table and benches on one side. The hammock is set on the opposite side of the set.
There is also a natural bench simply made of tree trunks.
The ground of this area is not even smooth and flat. The grass, the bushes, and the small trees are intertwined, creating a natural look for some but a wild backyard for some others.
If you want to let nature show its glory without interfering with it, this is the right style for you.
13. Rustic Landscape with a Flagstone Patio and a Mortared Stacked Fire Pit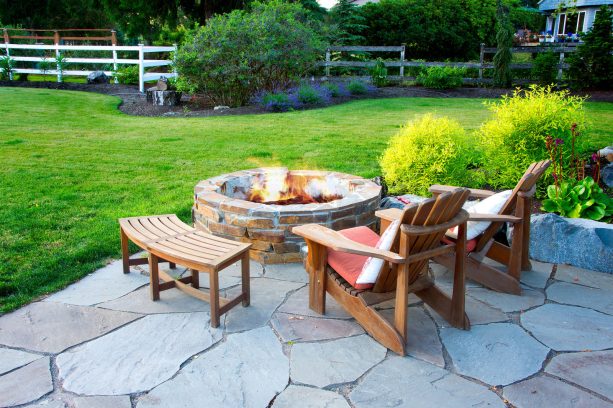 This rustic fire pit area is surrounded by the mown grass. It has a random flagstone floor that looks in contrast to the green grass around. However, the flagstone is what makes this fire pit area look rustic and rough.
The landscaper built a mortared stacked stone fire pit in a round shape to create another contrast. Stacks of mortar look odd against the flagstone patio, but they both have rustic elements, so it turns out that they work well.
There are two unpainted Adirondack chairs. The wood tone of the chairs matches the unpainted curvy bench. These seats give a perfect combination of the fire pit: wood and stone. Two elements that will never fail to create a rustic look.
To add a subtle pop of color, the homeowners add a red cushion and white throw pillow in each chair. White as a neutral color will give a subtle accent, while red blends with brown, which is the natural shade of wood.
This is an excellent way if you want to make an accent in your rustic fire pit area without making it too bold and prominent.
14. Rustic Backyard Stone Landscaping with a Fire Pit Made of Two Types of Stones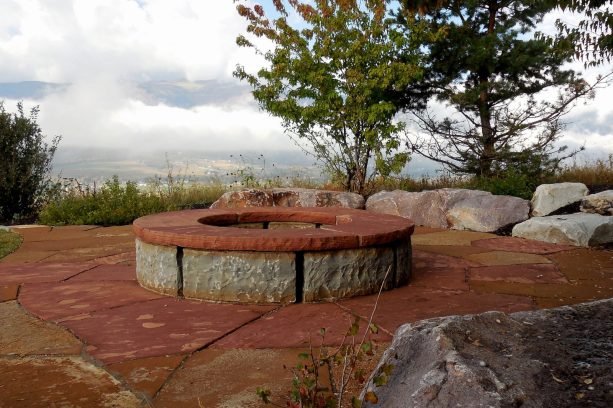 The red shade in this rustic stone landscaping is so attractive.
Even though this area lacks greeneries, somehow, it still has an organic look. The rustic stone landscaping has a built-in fire pit made of two types of stone: Brown Dog sides and a red sandstone cap.
You see that there are gaps in the stone fire pit. According to the landscaper, those gaps are useful to let the airflow.
The combination of red and blond sandstone makes up this rustic patio. To create more intimacy, this fire pit area is also surrounded by boulders.
Perhaps the reason why the landscaper and the homeowners refuse to add any additional chairs in this area is that chairs or benches will ruin the beauty of the red stone.
The red surface will be interfered with by the presence of chairs. Thus, they prefer to maintain this organic look.
Instead of chairs, the boulders are used as seating space. Even though they may not be as comfortable as real chairs or benches, boulders can create a warmer ambiance and a more intimate setting space.
After all, this rustic patio is a perfect spot to have an excellent stellar view at night. The lack of plants around the patio creates a clear and smooth surface for people to sit right upon the red stone.
15. Rustic Fire Pit Surrounded by Salt and Pepper Granite Boulders
Similar to the previous rustic fire pit area, this one also lacks seats.
The fire pit is sunken and surrounded by salt and pepper granite boulders. The boulders surrounding the sunken fire pit are the same as the ones surrounding the entire fire pit area.
This area itself has a gravel floor. The decomposed granite gravel is set on top of weed fabric. It is compacted tight to create a more solid foundation.
The gravel landscaping provides a smooth and polished look. It creates a contrasting texture to the boulder's surround, which delivers a rough look.
The boulders around the gravel patio function as a border to separate this fire pit area with the mulch landscaping around and can be used as seating space.
If the owners and their guests think that sitting upon boulders is uncomfortable, they can choose to sit directly on the gravel floor because the floor is smooth enough to become a comfortable sitting surface.
16. Rustic Landscape with Naturalistic Features and Natural Stone Fire Pit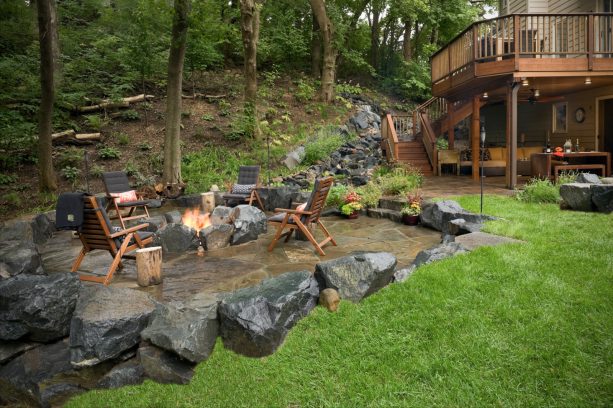 There's something calming and tranquilizing in this rustic landscape.
The landscaper designed this concept to emulate nature as much as possible. This spacious landscape is created with several living spaces: a patio, a natural stone fire pit area, and an outdoor living room tucked under the upper deck.
The fire pit is set in a round-shaped design surrounded by polished and glossy dark-colored boulders. The fire pit area has a stone slab floor to highlight the rustic look.
There are four wooden chairs completed with black cushions to create a contrast to the chairs and to make them more comfortable to sit upon for a long time. Instead of a table, there is a faux chopped tree trunk, a natural element in this rustic area.
Naturalistic features are also added around this fire pit area, in line with the purpose of the landscaper, to emulate nature perfectly.
A waterfall is completed with the streams that look as if they had been there forever. There is a mown grass area that is separated by boulders from the fire pit.
All in all, we can see the combination of grass, stone, wood, water feature, and sloped area with trees around this landscape.
Closing
Basically, stone and wood are the most common element to use in a rustic setting for a fire pit. The stones usually come in many sizes and shades, depending on the type. That's why you need to choose wisely to create cohesion in your rustic landscape.
When it comes to the seating, the most popular seats for a rustic patio with a fire pit are Adirondack chairs.
Just because you have a rustic fire pit patio, doesn't mean you can't have a bold accent color. You can paint your Adirondack chairs in a bright and vibrant color to add a splash of fun to your rustic landscape. It will be a great focal point.
If you prefer to have as organic a look as possible, have logs instead of benches and chairs. Put them around your fire pit as seating space.
For more comfortable seating, always rely on metal chairs for a solid and stable structure. You can even add a hammock as additional seating to create a laidback look.
What do you think? Which type of rustic landscape fire pit looks that you like the most?