You may have known about craftsman exterior. It's nice to have one.
But, having a craftsman exterior won't be enough if you don't complete it with a craftsman-style fence.
Even though a craftsman-style fence doesn't exclusively belong to a craftsman house only (you can have any exterior style but craftsman but still have a craftsman-style fence, to be honest), it would create a consistent look with your arts and crafts home.
To put it in a nutshell, a craftsman fence is a wooden fence. In a broader definition, a craftsman-style fence is a structure consisting of vertical and horizontal lines with craftsman architecture characteristics.
You can have them made of untreated wood to let the beautiful grains add visual interest to your curb, or you can paint them.
It would be nice to combine a craftsman-style fence with a craftsman exterior to create a consistent style. But that doesn't make the craftsman fence suitable only for craftsman houses.
Due to the classic charm, many people prefer to have this kind of fence to frame their homes.
There are many types of craftsman-style fences. It's wrong to think that wooden fences are simple and usual. In fact, in craftsman styles, you can add a complicated decoration, pergola, or even an arbor.
For a better understanding of craftsman-style fences, here are 8 charming craftsman-style fences to match your arts and crafts (and other styles) homes:
1. Cedar Craftsman-Style Fence with Dumpster Enclosure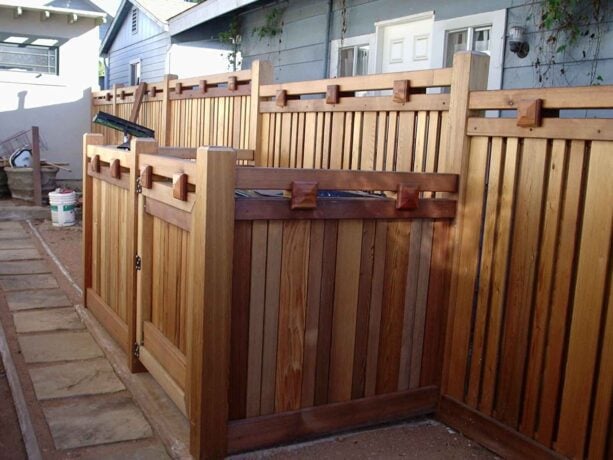 It's obvious to see that this is a premium product.
According to the designer, this craftsman-style fence was costly, made of clear air-dried western red cedar. It's basically a usual cedar, but the treatment makes it premium and expensive.
There are two types of board used in this project. The wide boards are 1×6", while the narrow ones are actually the wides ripped in half.
All of the boards were coated with teak oil. To achieve a polished look like this, the owners should re-coat every single board in this craftsman-style fence every year. It seems that it takes an extra effort (and money!) to complete the look, but the result is worthwhile.
What makes this craftsman-style fence different is not the design, for it seems typical like any other craftsman style. But the designer also built a dumpster enclosure attached to the fence.
Adding a dumpster enclosure to the craftsman-style fence is actually a good idea. But, you have to consider the aesthetic part. Adding a dumpster enclosure to the front yard fence would be less visually attractive.
A useful tip: if you want to adopt this idea, you can make a side yard landscaping and build a craftsman-style fence like this, attached to the dumpster enclosure. Make sure the dumpster enclosure is made of a similar material to the fence, with a similar design to create a balanced look.
2. Light Tone Craftsman-Style Fence as a Border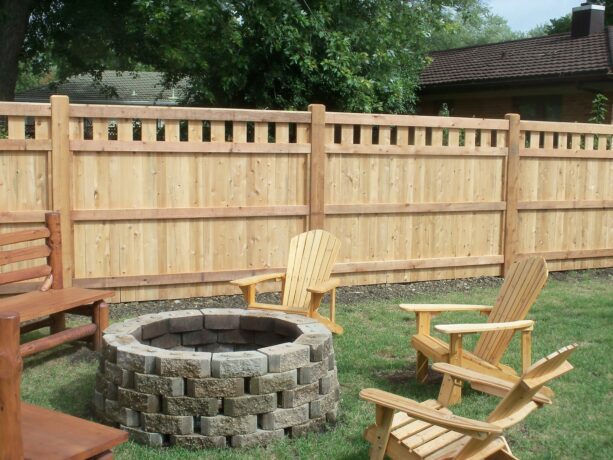 Building a craftsman-style fence is not only useful for an aesthetic purpose only, but also for a practical reason. In this landscape, the fence is used as a border.
The owners wanted to create cohesion by building a craftsman patio with craftsman furniture, and all of them are completed with a craftsman-style fence as a finishing touch. It works as a border to mark the property of the owner and the neighbors.
The fence is made of a light tone wood which seems to be untreated. It makes the whole fence look more natural.
The original grain of the wood, which is a natural pattern, looks visible. And it matches the Adirondack furniture that's also made of light tone wood.
Creating a border out of a fence means you have to do a little modification.
For instance, a craftsman-style fence originally had some panels at the top that had little space for each other. But in this case, the panels are tight, which means that there's no gap that can be used as a peel hole.
The grid at the top is also made narrower, and it's built high at the top, so it would be quite impossible for the neighbors to sneak a peek.
3. Low Craftsman-Style Fence in Front Yard Landscaping
This craftsman-style fence is lower than the typical craftsman fence, but it's actually okay if you don't want to create a fortress-like nuance in your front yard.
The owners installed a craftsman-style fence for their front yard landscaping to protect their lawn area and separate their property and the street in front of the house.
This fence also has a tight panel, but it's not for privacy but for aesthetic purposes only.
A craftsman-style fence with a tight panel at the bottom looks neater and more streamlined. The grid only consists of a single line to accommodate the owner's open personality.
To make it look pop, the designer added some post caps, which are a bit higher than the level of the entire fence.
At the top of the post, the owners placed a modern lantern. This is a kind of lighting that will illuminate your front yard landscaping but at the same time can highlight the beauty of the fence, too.
Tip: if you want to steal the look, there is no need to place a lantern at every post cap. You can place them every two post caps or the high lantern in the center of the fence to create a focal point.
4. Huge Craftsman-Style Fence with a Tight Panel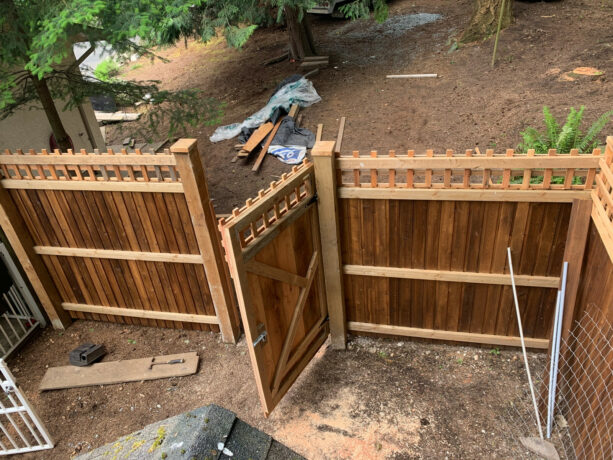 You've seen a tall and tight paneled craftsman-style fence before, but nothing like this one.
This craftsman-style fence has a great wood finish combination that delivers a visually attractive look. Judging by the location, we can conclude that this fence is made to decorate the backyard and create a privacy screen.
The panel is tight shut, and the grid at the top is narrow, with only a small gap that makes it hard for the passers-by to peep inside. This fence is also completed with a gate, an entrance to let people in and out of the backyard.
The highlighting point of this craftsman-style fence is the color gradation.
The panels are made of dark-tone wood that looks polished. It seems that the dark tone wood panels are treated with a glossy coat to enhance the dark grain pattern of the wood.
To create a good combo, the designer paired it with two horizontal panels that are made of light tone wood, similar to the grid at the top.
The combination of light and dark wood tones may not do too much to the whole structure of the fence itself, but at least it can deliver a unique look that makes your fence not so typical.
5. Craftsman-Style Fence with Double Welded Wire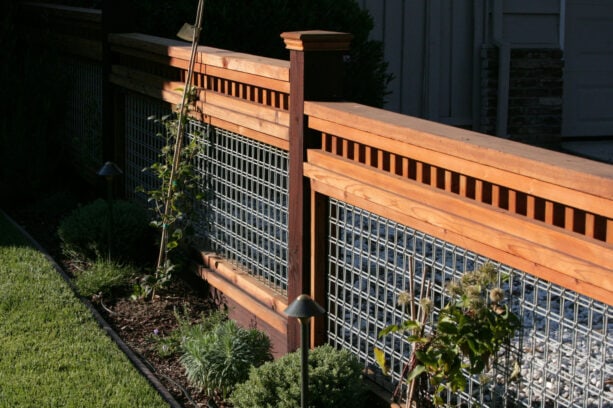 It's worth knowing that a fence doesn't only work for a privacy screen. Sometimes, a fence is just a thing to mark your area and your neighbor's. If that's the case, there is no need to create a tight paneled look.
In this project, the designer decided to make something different. Instead of using a wood panel, they used doubled welded wire as an alternative.
This craftsman-style fence is also complete with a lock mechanism that enables the owners to operate this fence automatically.
The doubled welded wire is framed by redwood as the main structure.
The steel itself creates a 2×2 grid. It is safe for pets and children because they can't walk through the fence.
At the top, there's a wooden grid, a usual design for a craftsman-style fence. The top grid seems even narrower than the steel grid at the bottom.
The designer created a staggering look at various heights at the top of the fence to create an attractive look.
This fence was built on top of a wooden base, a base finished with a dark brown color that matches the fence's post.
6. Craftsman-Style Fence with a Gate and an Arbor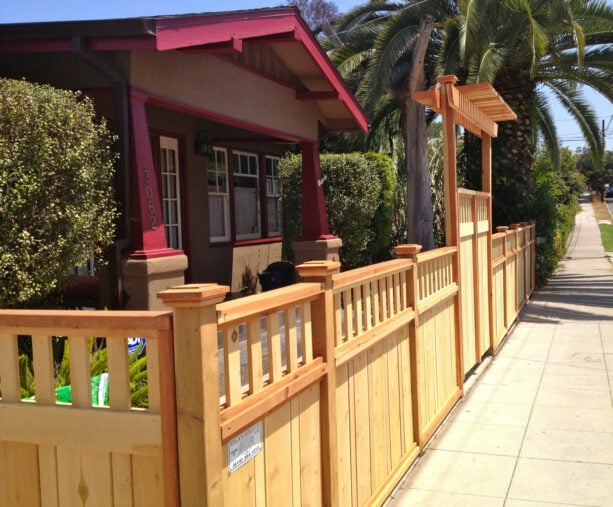 It's true that if you want to create something extraordinary, you have to think out of the box. Adding an arbor to the craftsman-style fence is actually an excellent way to start.
This craftsman-style fence is used to separate the main property area from the front path, an outer border to frame the house.
It's clear that the craftsman-style fence was built to complete the craftsman exterior so they will complement each other.
But, the designer also wanted to make a contrast. That's why they built the fence out of light tone wood, while the exterior seems richer with a deep dark red color.
To add some decorations to it, the designer also included a cap in each post.
The decorative post caps are narrow enough to put a lantern upon them, but no need to add more decorative items since the cap has already been attractive in the first place.
The top grid of the fence is not in a square shape like a usual grid, but it has an oblong, rectangular shape, so it's not really a grid.
It's safe to say that it's a just space gap between each smaller panel at the top, while at the bottom, the panel seems tight shut with no spacing.
This fence is completed with a gate because this is a front fence, so the owners need access to enter the house. The gate is higher than the fence, clearly highlighting the different functions of them both.
To make the gate (and, of course, the entire fence) look more playful, the designer added an arbor above the gate. The arbor is not meant to provide a cover but simply to add an architectural feature.
7. Craftsman-Style Fence with a Slatted Top and a Pergola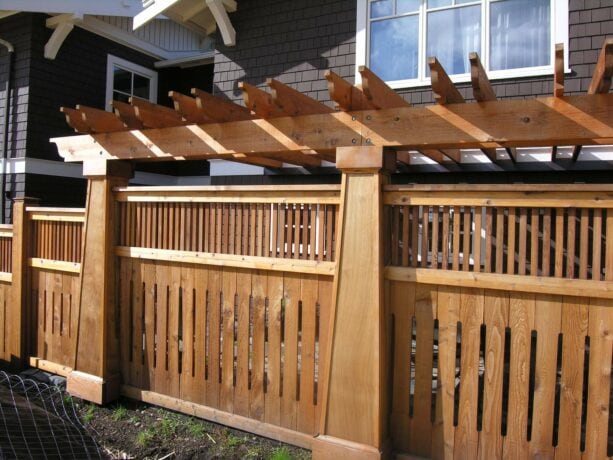 If an arbor wasn't enough, you should consider adding a pergola above your craftsman-style fence.
This is surely a custom-designed and built a craftsman-style fence, completed with a pergola. While the previous picture has an arbor for aesthetic reasons, this fence has a pergola to deliver privacy in a crowded space.
Unlike the typical craftsman-style fence, this one looks sturdier and stronger. Its tall design makes it perfect for front yard landscaping, protecting the house from unwanted attention from the passers-by.
However, the designer decided it would be better to add a tiny space between each panel at the bottom. The space creates an oval hole that looks different from the space of the top panel.
At the top, instead of a grid, the designer created a slatted wood panel that gives extra privacy to the homeowners.
Each fence has a sturdy and huge column made of wood, similar to the entire fence. The columns are meant to support the pergola. The pergola itself is attached to the house, creating a perfect cover for the front yard landscaping.
The fence, the columns, and the pergola are made of a similar wood with a similar treatment to achieve cohesion.
8. White Painted Craftsman Style Fence with Decorative Posts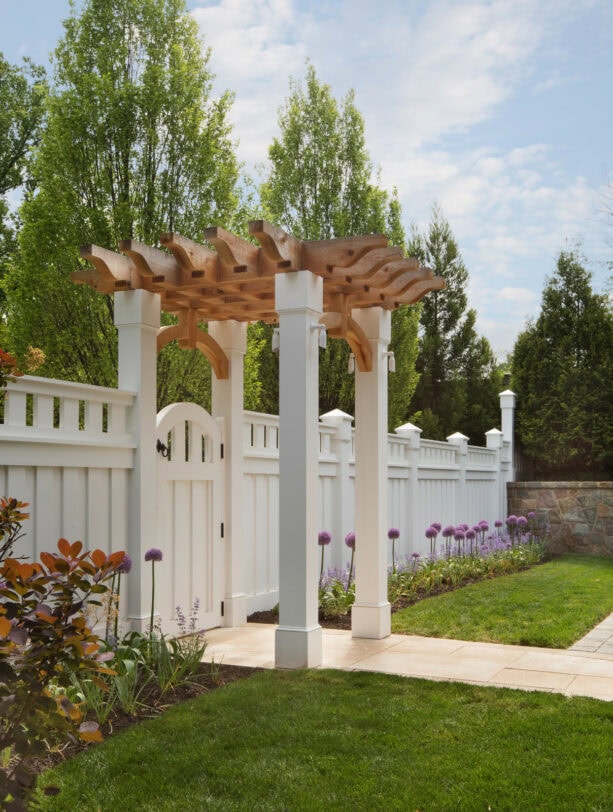 There's no better way to describe this craftsman-style fence than stylish, luxurious, and elegant.
The most craftsman-style fence is made of wood, and the wood remains unpainted to let its natural charm shine.
In most cases, the boards of the fence are only coated with a transparent coat to enhance the glossy look.
However, this one's different. The homeowners painted this craftsman fence white. In order to get a polished, neat, and bright appearance, white is your best bet.
Look how this white craftsman-style fence delivers a spotless look to the landscaping. They work as a canvas for the purple blossoms in front of it. Additionally, white is also a common color option for a traditional style.
Indeed, it seems unusual to paint your craftsman fence in white. But this is a better option than leaving it bare if you want to add a bit of a traditional look.
As though it wasn't good enough, the designer also added decorative posts with a cap.
The panel itself is tight, but the space for the top panel is quite wide, creating a rectangular grid.
Even though this fence doesn't seem to be a front fence, the designer also incorporated a small gate with an arched top. The top difference between the gate and the fence showcases their purposes.
The gate is also equipped with a tiny arbor, a square shape. Four columns are added, two attached to the gate, and the other two stand in front of it to support this arbor.
The cover seems to be made of a different type of wood from the gate and the fence, and left unpainted to make a contrast.
Pro tip: It would be better if you add some vines or other creepers in your arbor and let them grow through the posts and the cover. It's because one of the main reasons people add arbors to their landscape is to create a structure for vines.
Closing
It's plain to see that the craftsman-style fence has warmth and charisma, despite the design, that can enhance the appeal of your home.
The pictures above show that most of the craftsman-style fences are painted white. No wonder because white is a neutral color that can match any siding or exterior wall color.
However, it's interesting to know that wood fencing in craftsman style can be stained, varnished, or painted to match any decorating style.
Yes, a white fence is good, but have you ever seen a natural fence made of unpainted wood?
The wood's natural grain is clearly visible, adding to the charm of the craftsman style. But if you prefer to coat color on it, make sure you prime the surface first.
It makes this type of fence quite versatile. Moreover, we all know that wood is a timeless element. To put a cherry on top, wood is the best option for security and privacy. You can pick a certain design that meets your standard.
For instance, it's recommended to use a full panel craftsman-style fence for better privacy, and you pick the height.
An original craftsman-style fence is also a good option for privacy, except it has a top grid that works both ways to take a peek.
The designs of the craftsman-style fence are quite various, even though basically they have a panel at the bottom and the grid at the top. The panel and the grid can be made out of unusual designs if you want something different.
It's actually not that hard to build your own craftsman-style fence. If you have a basic carpentry skill, you can include it in your over-weekend DIY project.
Simple design, either full panel or modified panel craftsman style fence can be built on your own.
On the other hand, for something that's unusual and different, with a more complicated design to fit your personal style, you can custom make your fence or purchase a ready-made product.
It would be more complex if you decided to add a pergola or an arbor on top of your wooden fence. Better to hire a professional for the best look!