Suppose you live in a warmer area that gets the sunshine all year long or take advantage of the summer sunshine.
In that case, you can consider transforming your outdoor space into a restaurant patio, a business that you can run right in your own yard.
Why waste your spacious yard if you can turn it into a profitable patio destination.
Outdoor dining areas or restaurant patio ideas can range from lavish poolside bars or simple sidewalk spaces.
To make the most of the lovely weather, consider adding comfy and inviting elements to provide guests with outdoor dining options and make people want to stay.
But, before you build your own restaurant patio, there are some things that you should take into account:
Check restaurant patio laws and regulations. It's important to take into consideration any federal, state, or local regulations regarding restaurant patios or bars.
Designing a patio layout. You could change part of your patio into a comfortable lounge with couches and fire pits. If you want to provide live entertainment, you'll need to create a space for hosting open mic nights, DJs, or house bands. If you prefer not to have any live music, you can implement a full-service patio bar or outdoor cooking space.
Prepare for the bad weather. Even though your restaurant patio is meant to be a summer hanging-out spot, no location is immune to bad weather. That's why always equip your restaurant patio with heaters for chilly days, wipe down chairs and tables after the rain, offer a lot of shade using deck covers or umbrellas, place fans along the roofline to give airflow and keep the customers cool, and prepare an evacuation plan just in case extreme weather happens.
Now, let's see the following restaurant patio ideas that you can recreate to transform your own space into a bar or cafe.
1. The Tropical Restaurant Patio Idea is Completed with a Lot of Warming Lights
Many restaurant patios are completed with strings of light, but it seems that this patio looks warm and prominent with a lot of lights.
The first impression you'll have after seeing this lovely restaurant patio is how warm, welcoming, and cozy it is with such a lot of warming lights.
This restaurant patio itself has a tropical style, completed with a wooden pergola with climbing vines as a natural cover to provide extra shade in the pergola. It has floor tile that corresponds with the seating.
Look how the green tile matches the green chairs. It makes the patio looks bigger because such a combination lets the eyes follow them to the far end of the area, creating an optical illusion.
To top it off, this restaurant patio is dramatically lit. The pergola is equipped with hanging lights that beautifully highlight it.
On the other hand, the trees are wrapped around with strings of light that create a dramatic ambiance. It looks as if the branches radiate their own yellow glow.
Suppose you want to make a restaurant patio with dramatic lights like this. In that case, you should make your business open in the evening instead of morning to afternoon because the guests will be able to enjoy the lights more in the evening.
2. Modern Restaurant Patio Idea with a Roof and Umbrellas
This is Hilton Mexican Rivera Outdoor Dining Restaurant called Madero Steakhouse in Los Angeles.
This modern-styled restaurant patio has one important thing that should be included in your own restaurant patio if you want to make people stay: a breathtaking view. This area overlooks one of the swimmer-friendly beaches in LA.
Just like any restaurant patio that faces the ocean should be, this one has a high-energy concept that delivers a playful comfort area combined with vibrant style.
The whole area is made of decomposed granite, which makes it look more polished, elegant, and sophisticated.
The great thing is, even though it is situated beachfront, the restaurant patio is cooled enough. There's a roof that fully protects the guests from the weather.
However, the guests have their options. If they prefer to be in a more open area to soak up more sun, they can sit in the outer area shaded by umbrellas.
The sunbrellas, an umbrella that protects people from the sun, are situated on the perimeter of the restaurant patio. Each sunbrella is meant to shade a seating space.
The ones sitting in this outer area may not be fully protected by the solid roof, but they surely have a better view of the ocean.
3. Courtyard Restaurant Patio Made of Permeable Brick Pavers
This restaurant patio looks more intimate and homey than the previous picture because it's undoubtedly simpler and humbler, but that makes it a perfect choice for those who prefer to stay low-key.
This area is paved with permeable brick pavers, a kind of paver that adds extra warmth to the patio.
There's a live entertainment area in the corner. We can see that there's no stage or special space made for this purpose. The band just plays in the same permeable brick paver area.
The owner just cleared that space from seating to make people know that it's meant to be a makeshift stage.
This is a good idea if you want to include live entertainment on your restaurant patio but don't want to build extra space.
The owner also incorporated a fire pit to make the whole area warmer and more inviting.
The fire fit is Belgard Keystone mix with natural Pa. It has a bluestone cap that was designed and built right on site. There are columns in the back of the fire pit that are also Belgard Weston, completed with granite tops.
Generally, this is the best design that you can recreate if you're looking for inspiration for a huge timeless courtyard restaurant patio.
It has no cover, though, except in the bar area. So the only solution when the weather is not friendly is for the guests should go to the bar instead.
4. Restaurant Patio Covered by Waterproof Retractable Enclosure
Even though this spacious restaurant patio looks perfect for summer days, the owners should prepare for the worst.
The genius way to protect the guests if the rain falls is by using a waterproof retractable enclosure. This is a retractable pergola awning that can provide protection from the sun and handle inclement weather.
The pergola can be retracted to let the guests enjoy the weather if the sun is out.
The retractable pergola itself is called The Gennius, specifically designed to handle rainfall.
The rainwater will be routed downward with the slope of the fabric, and then it will be captured in a gutter that's integrated into the supporting framework of the awing.
Don't worry; the rainwater will escape the gutter through the posts and be diverted away from your restaurant patio.
Basically, this is a Mediterranean-styled restaurant patio. It is completed with a curtain in each post that will also give extra protection to the guests.
There are three different areas on this large patio; the bar, the round table, and the more relaxed zone. All of them are fully protected.
5. Log Cabin Restaurant Patio on the Po Side with a Fire Bowl
Although most of the restaurant patios on this list are summer spots that should be enjoyed when the sun's out and the weather's nice, that doesn't mean you can't build a restaurant patio in a colder area.
See this patio of The Yellowstone Club, America's most exclusive ski resort. It is located in Big Sky, Montana, and is a popular place for outdoor enthusiast who loves luxury.
This patio is completed with a spa and a copper pool. Imagine sitting in one of these chairs after the spa while enjoying your meals.
This restaurant patio also offers a breathtaking view of the mountain that makes people want to prolong their stays here.
This mountain-styled backyard patio is completed with a fire bowl, a must-have element that you should incorporate if you build a patio in a colder area.
There is no cover on this patio. In an area where it often rains, it may be an issue. But in a colder area like this, where snowfall is more of an issue, people would love to spend more time in a more open area to enjoy the view.
6. An Enclosed Restaurant Patio with Stunning Frameless Glass Panels
This restaurant patio proves that even though you enclose your business area, you can still let your guests enjoy the outdoor view.
This patio is completed with stunning frameless glass panels that work as a screen to protect the guests from insects and, of course, the weather. Glass panels will preserve the view and bring the outside in.
According to the designer, each glass panel in this patio can slide and stack out of view to open up this area. In this picture, panels are in a closed position.
With a roof extension and such panels, the owner doesn't have to worry about the bad weather.
You should invest in this combination if you live in a hotter area where insects are a big issue, similar to heavy rainfalls.
Apart from the beautiful view around, this patio also looks cozy, bright, and cheerful because of the colorful patterned pillows.
Each chair is completed with a beige-colored pad that is paired with a brightly colored pillow. The pillows make the whole patio look more fun.
If you want to add a splash of color like this to your restaurant patio, make sure you've prepared a neutral color backdrop. It's also recommended to incorporate natural elements like wood to contrast the bold colors.
7. Trendy Restaurant Patio on the Rooftop with No Cover
Indeed, the restaurant patio that is situated on a rooftop is more appealing than the ones in the courtyard or backyard. It's because the guests can enjoy the view from above.
If you live in an urban area where there is no mountain or ocean view to offer to your guests, it's recommended to have a rooftop restaurant patio.
So, even though your patio is not surrounded by a view of nature, your guests can still enjoy the skyline view from the top.
This rooftop patio looks trendy with several seating spaces in a different settings.
There's an outdoor kitchen where the guests can see how the meals are served. This area has no cover, though. But it's better that way if you build a rooftop patio because a cover will only limit the skyline view that the guests should enjoy.
Actually, it's basically easy to recreate this trendy restaurant patio. All you have to do is just design several zones with different seating settings.
Make sure you let your guests have their options, whether they want to sit in a more formal setting, on a bar stool, or in a more relaxed seat.
Don't forget to incorporate patterns and bold colors.
8. Natural Restaurant Patio Designs with a Water Feature
If your patio lacks natural elements because it is situated in the city center like this, then you can build your own zen garden. It's possible even though you don't have a real garden or landscaping in your yard.
All you have to do is add a water feature. There are several options when it comes to the water feature, from fountains and ponds to waterfalls. The designs are also endless. You just have to pick one that suits the style of your patio.
In this restaurant patio, the owner picked a majestic waterfall as a water feature that brings nature to this area. It is installed at the far end of the area against the wooden fence.
The three-tiered waterfall delivers a soothing sound of water splashing that most people like. This is basically the easiest (though not the cheapest) idea to instantly add nature to your urban restaurant patio.
Don't forget to pair the water feature with plants. You can add potted plants, trees, or decorative plants mounted on the fence, bracketing the water feature like in this patio.
The plants should frame the water feature, creating a lovely focal point on your restaurant patio.
9. Urban Restaurant Patio Equipped with a Comfortable Built-in Fire Table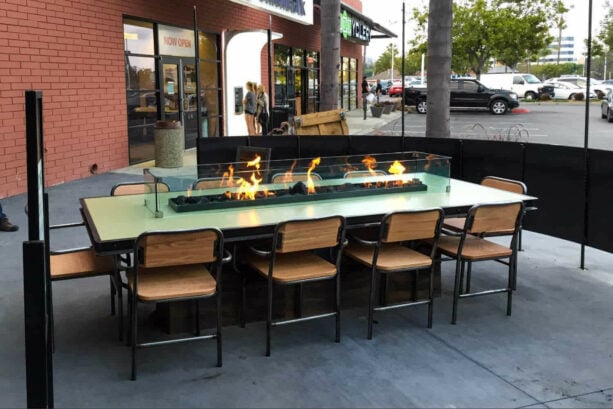 One of the keys to making your restaurant patio appealing is by incorporating a unique and different furniture piece that people can't match.
In this urban restaurant patio, there's a custom fire table that was specifically made for this restaurant. It is handmade and one of a kind, an element that can be a signature of the business and make the guests always remember this restaurant patio.
This is called Fire Table, a dining table that has a built-in fire pit in the center with a glass wall around.
This Fire Table is portable, so it can be moved anywhere, an efficient solution for any restaurant patio.
With this unmatched table, you don't need to add a fire pit or fire bowl anymore to your patio, which is the best option if you have a small or limited space.
Since the Fire Table is custom made, you can build your own and choose your own finishing materials, like cement, tile, quartz, or granite. You can also choose the table's length, height, and width.
The main thing is, you just have to make sure that your own Fire Table will suit the style of your patio, and it will be easy to remove if the rain falls.
10. Raised Restaurant Patio Situated in Front of a Home Bar
This is another tropical restaurant patio that is located in Bali, Indonesia. Situated in a tropical country, this patio offers a beautiful landscape around with greeneries that get the sunlight all year round.
This is an extra-large business area. A home bar with a roof is meant to be an alternative hanging-out spot for the guests if the rain falls.
Right in front of the home bar, there's this large patio with some sunbrellas to provide a less permanent option for shade. The patio area itself is raised to distinguish it from the surrounding landscape.
The setting of the seat is more relaxed, perfect for those who want to chill and unwind.
In a tropical country, or at least in a tropical-styled patio, a must-have element includes a greenery landscape.
It is recommended to surround your patio with a garden or a lawn completed with tropical plants with colorful blossoms or leaves. The colorful plants will be a beautiful splash of color in a green setting.
It won't hurt to add boulders either as a border to enhance the organic look.
11. Restaurant Patio in an Organic Look with Reclaimed Hit & Miss Oak Flooring
Compared to the previous patios, this one is considerably small. It features reclaimed hit & miss oak flooring completed with wallboards around.
The oak flooring, the wooden table, the wooden posts, and the stone wall deliver an organic and authentic look to this space.
This is an excellent option if you want to build a traditionally styled patio or you want to stay humble with many natural elements in a neutral color scheme.
However, for some, too many natural elements in a neutral color may be too plain and boring. That's why you have to be able to counteract this.
The owner of this patio, for instance, managed to overcome the plain look by incorporating strings of light above the patio.
Maybe that's the reason why the owner preferred to let this area open with no cover because the strings of light would look better without a cover.
The lights will add a dramatic look to your neutral and natural patio. It would be better to add wall sconces too, so this area is well-lit.
The light's warm yellow glow can work as a splash of color without being too bold and vibrant.
12. Country Styled Restaurant Patio with a Traditional Walled Garden
This is Old Parsonage Bar and Restaurant, located in Oxfordshire, England.
Situated in the countryside of England, it's reasonable for the owner to include the charm of the countryside in their restaurant patio. This one has a classic English style with a traditional walled garden.
The furniture is made of wood with a worn-out finish to add a bit of rustic style to this traditional restaurant patio. The stone steps and stone floor perfectly matches the stone wall around.
Next to the stone wall, on the perimeter of this patio, there are neatly-trimmed bushes and simple landscaping to complete the patio.
There are trees in the landscaping that can provide a natural shade to this restaurant. Even though this area has no cover, it still looks cool and shaded, thanks to England's climate.
Judging from the trees around, this restaurant will have a better view during the spring or autumn.
If you want to recreate this restaurant patio, there is no need to include the classic English style like this if you don't live in England, especially in the countryside.
You can build your own patio with a local design. For instance, in a hotter area, it would be better to have a tropical setting with a lot of tropical plants, a lot of colorful blossoms, and a splash of vibrant colors.
The main point is building a restaurant patio with a local taste. This is more attractive to natives, especially the elders, because these people tend to dislike modernity and prefer to stick with the memories of the old glory days.
This is also a more efficient option if you have an old classic building that you are going to turn into a business area. No need to remodel it drastically, which cuts more building costs.
13. Tips to Make Your Restaurant Patio Warm and Inviting
You've seen a lot of restaurant patio ideas with different ways to make people stay and enjoy their time there. It may be a bit hard to summarize what you should add to your restaurant patio.
Here are some basic tips to turn your area into a warm and inviting patio:
Go bright. Lighting is an essential thing to add to your restaurant patio. Ample and unique light sources can boost mood and create ambiance. They even provide safety to your guests and employees, especially if your patio has uneven ground. You can incorporate string lights, globe strands, candles, or any custom installations.
Rooftop patios. Some people think that rooftop patios are better than yard patios. If you're lucky to have a rooftop restaurant patio, don't forget to add plenty of cushions and pillows to encourage your guests to have a good time and chill.
Add natural beauties. If possible, you can use plants for dividers or surround the restaurant patio with a landscape. It would be nice to have a pop of color from the blossoms. Incorporating climbing vines, container gardens, or hanging baskets will deliver a more natural and organic look. They also highlight the outdoor elements in your patio.
Unconventional seating. Always opt for some commercial patio furniture that will create a whimsical look to your space. Look for pieces that no one will be able to find it anywhere, so it would be better to have them custom-made. Don't be afraid to choose unconventional tables, stools, chairs, or such. Guests love something different.
Provide the view. If you want to make your guests stay, then you have to offer them a breathtaking view right in front of your restaurant patio. Seat your guests on a patio with a beautiful view of the city lights, ocean, or mountain. If it's impossible to do in your area, you can just design pretty landscaping.