If you only have a small backyard on your property, that doesn't mean you can't have a lovely patio.
A patio is a spot everybody needs to chills and relax or to enjoy a cup of coffee in the evening. Installing a small concrete patio is your best bet.
Regardless of the space, you have to build a patio or the budget, you can still take advantages of concrete's ability to be constructed in almost any color, pattern, or shape.
Those decorative options will give your small patio and backyard enhanced visual appeal as well as functionality.
Here are some ways to transform your small backyard into a usable yet beautiful patio:
Don't change your concrete slab too soon. If it is possible, stain it instead to upgrade the look and give it a new fresh color.
Have new concrete poured to extend the square footage. This way, you can make your concrete patio look bigger.
Add concrete pavers to your existing patio.
Cover any crack, unsightly old concrete, or discoloration by resurfacing your patio.
Purchase small comfortable patio furniture that won't take much space in your backyard.
Decorate your patio to make it look like an extension of your indoor living.
Use string lights above to illuminate and decorate the patio at night.
Use fences or patio walls to create vertical gardens. Or, add a small wall fountain instead.
The views beyond the patio can be accentuated to make it look bigger.
Use plants for small backyards to make the patio lush.
Install a fire pit in the central area of your patio. Or, you can have a portable fire pit that can be kept when not in use.
Add a bistro table and some chairs to turn your patio into a dining area.
These are some adorable concrete patio ideas for a small backyard that will give you more visualization about what a concrete patio should be:
1. Contemporary Small Backyard with a Fire Pit and Paved with Concrete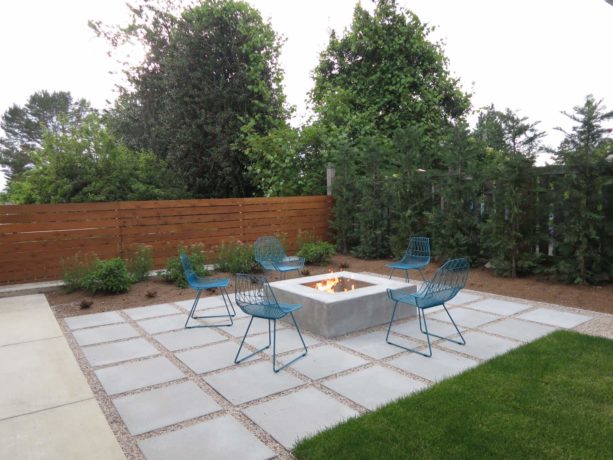 This small patio looks open and inviting because there is no physical border here, except the cedar fence in the back that is used as a backdrop for the entire backyard. The patio itself is simple with a contemporary style.
It is made of 24" x 24" concrete pavers. Between the pavers, there is 3/4 clean crushed granite in the entire patio. The combination of paver and crushed granite like this creates a fresh and polished look.
In the central area, there is a fire pit that is also made of concrete. It is a cast-in-place concrete fire pit with 18" deep concrete at the bottom.
Since the fire pit and the concrete pavers here are all in simple, plain, and neutral color with no additional decoration, the homeowners placed five chairs in bright blue color. Those chairs are useful to add a pop of color to the whole area.
2. Small Backyard Traditional Concrete Patio in Front of the Master Bedroom
This patio features a traditional square shape. Thus, it can be categorized as a traditional patio.
Unlike the usual traditional patios, this one seems to blend with the surrounding. There is no border between the concrete paver and the mown grass surrounding it. Plus, there is an extra area in even a smaller square shape in the corner of this patio.
This comfortable seating space is located in front of a master bedroom. Thus, basically, this is a private patio in a backyard that opens to the view in the back of the house.
There are no patio walls or fences to border this area. The patio opens to the sloped area planted with some bushes and installed with some lights.
The patio itself is completed with a concrete fire pit that matches the entire paver concrete.
The paver concrete is stained in beige color with black borders. The beige color perfectly matches the exterior wall.
There is no table here. Instead, there are three comfortable padded chairs surrounding the fire pit, making this patio a perfect area for lounging with loved ones.
3. Transitional Patio in a Small Backyard with The Concrete Paver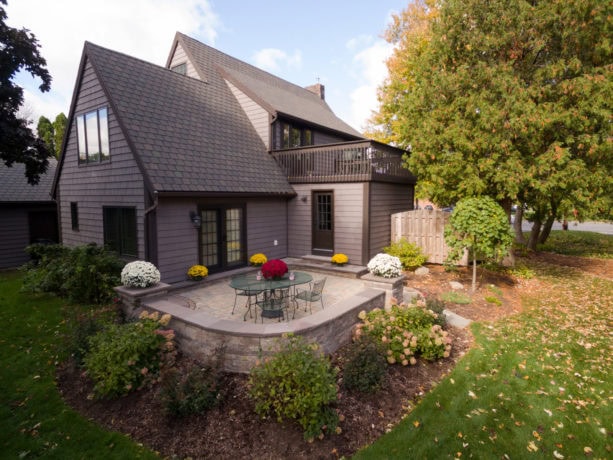 This small backyard is only filled with a patio. Even though basically this small patio has a traditional square shape, it incorporates curves too, which gives it a more modern look. That's what this patio is more transitional instead of traditional.
The low curved wall is made of concrete with a stone cap that can be used as a bench for additional seating space. In both corners of this bench, those spots are used as a small planter box with an identical bush planted there.
Right in the central area of this patio, there is a small seating space, a four-chair round table in green color completed with a bright red color as a centerpiece on the table.
The designer here managed to add some fun elements in a plain concrete paver by adding bright colored shrubs and a seating set.
4. Small Yet Stylish Modern Backyard Poured Concrete Patio With a Cedar Plank Backdrop
According to the designer, the homeowners here wanted a backyard that represented their bohemian-eclectic style and, at the same time, could give them additional privacy from the construction around them. So, the designer created this patio, a spot for hanging out while enjoying coffee in the backyard.
The space is cohesive and connected to the rest of the yard.
As a focal point of this backyard, there are modern poured concrete pads. A poured concrete wall is used as a bench here. It is also meant to create a visual anchor for the patio.
Small succulents and ground cover were planted between the pads to soften the hard materials.
There is a custom cedar plank wall as a backdrop. It is combined with a trellis to add plenty of privacy and to soften the vertical space. The trellis here is anchored by a Coral Vine that is meant to add interest.
There is cafe-style lighting, that was strung across the area. That light gives a sense of intimacy.
There is a small seating area placed on this stylish patio. It is a round metal three-chair table in bright yellow color. The table itself is covered with patterned cloth in bright red color.
The combination of bright colors like this gives a pop of color to the entire area. It is what makes this small patio stylish and modern.
5. Midcentury Small Backyard Patio with a Roof Extension and Concrete Paver
This mid-century small backyard is created between an L-shaped plan of the living room and kitchen/dining room. It features a shed roof floating on a flowing glass clerestory. The roof extension covers the backyard partially.
In more open space of this backyard, the designer installed a patio.
There is a concrete walkway that connects the indoor living space to the patio. This patio itself is paved with stamped concrete that looks a lot like crushed stone. It is framed with poured concrete to create a contrast.
As a small patio, it only features simple furniture. Instead of a table, there is a classic fire pit placed in the middle, making this patio a perfect space to chill and relax even during the fall or winter nights.
In front of the fire pit, there is a wooden couch that seems to be the only seat on this patio. This is an efficient way to save more space if you have a small patio like this.
6. Classic Long Patio in a Small Backyard Paved with Concrete
Basically, this backyard is also small. However, unlike the previous pictures where the small backyards are incorporated in a square shape, this one is in a perfect rectangle shape. So, the patio is also long instead of large.
This patio is completed with an L-shaped outdoor cushion that runs along the perimeter of the patio. When the cushion ends, it is extended with a wooden bench that serves as additional seating space.
It is obvious that this patio is the right place to hold a small get-together or throw an intimate party because it surely can accommodate many people at once.
The long cushion is matched by the modern fire pit that also has a unique rectangle shape. Both the cushion and the fire pit are in crisp white color that creates a contrast to the concrete paver.
The black throw pillows on the cushion also give a contrasting color to the white surrounding. On top of the patio, there seems to be a retaining wall to retain the soil on the upper garden.
7. Mediterranean Concrete Patio with Raised Planters in a Small Backyard
Similar to the previous picture, this patio is also in a rectangular shape. However, this one is simpler and more minimalist.
Along the perimeter of this patio, there are built-in raised planters. Those planters are meant to border the patio. They themselves are also bordered by a high wooden fence that separates this apartment from the neighbor.
Those built-in planter boxes and the wooden fence are what make this patio Mediterranean. The patio itself is quite simple. It is paved with concrete, and it seems that there is no other outdoor furniture except a small round table with two chairs.
It is clear that the homeowners didn't build this patio to host an outdoor party. Instead, this area is simply used to enjoy an intimate and quality time with a loved one. This patio is perfect for a young couple or young family with no kids.
8. Cozy Small Backyard with a Covered Concrete Patio
Even though this backyard is small, so is the patio; this area still looks cozy and elegant.
In the back of this patio, as a border, there is a built-in planter box combined with a black fence to give more privacy to the homeowners.
The patio is also accentuated with potted plants. There is a walkway that leads to this area, which is also made of a similar concrete paver to the patio.
On the side of the curved walkway, there is remaining space that is used by a homeowner to plant some succulents and small trees.
The focal point of this backyard is the patio. This patio has a cover that makes it look a lot like a pergola. The cover structure is also completed with a roof, so this seating area won't be bothered by rainfall or the heat of the sun.
The seating area itself features a four-chair round table set in black color. The black color creates a contrast to the white cover structure.
9. Small Concrete Backyard with a No-cover Elegant Patio
This is another small concrete backyard with a comfortable patio. This is an open patio with no cover. It makes this patio a perfect place to enjoy the view outside fully, ideal during spring and summer days.
The concrete paver has a shape like bricks. There is no physical border here. The concrete just ends there where the patio stops, and it opens to the more fantastic garden.
There are some steps in the patio open to the door inside. So, this patio is located a bit lower than the main ground.
When it comes to the seating area, there are two seating spaces here. The first one is a four-chair round table in a dark green color. There is also a white curved tall back chair as additional seating space.
Due to the lack of seating space, this patio is only meant for family members, not an ideal place for a get-together with some guests.
Strategically, the homeowners put pots of bright-colored flowers here and there. One of them is placed on top of the table that serves as a centerpiece.
10. Small Backyard with a Cornered Stamped Concrete Patio
What a lovely small patio! Even though this backyard is small and the patio is even smaller, this is a modern and unique space.
The patio is placed in the corner, in a circular shape. Due to minimal space, this patio was at a premium. It is an exclusive space.
The homeowners wanted a sitting area complete with a fire pit. They also wanted the space to be low maintenance. That is why the designers created a simple stamped concrete patio like this equipped with a fire put butted up to the corner of this backyard.
There are natural rock slap stepping stones connecting the lower area from the staircase to the fire pit patio.
The patio itself is surrounded by black mulch planted with some lovely plantings rounded out the project.
The seating area includes one bench and two chairs. There is no table here to save more space. The fire pit in the center is enough to provide comfort.
11. Unique Small Backyard with a Concrete Paver Trendy Patio and Vertical Garden
This is a perfect example of a small yet trendy backyard. It appears that the designer managed to optimize every corner of this backyard and turn it into a usable area.
In the middle of this small backyard, which serves as a focal point, there seems to be an artificial turf that is extended to the wall, creating a vertical space perfect for a unique backdrop.
Unique small backyard with a concrete paver trendy patio and vertical garden.
The seating area is placed in the corner. Instead of a set of tables with chairs, this patio features a built-in bench in an L-shape.
The patio is also completed with artificial turf combined with concrete and pebbles. Right on its side, there is a huge vase with an outdoor plant, completed with a raised base and surrounded by pebbles.
What makes this patio unique is the vertical garden on the back wall. It looks flawless paired with the brown wall surround.
Apart from its unique and cozy look, this concrete paver trendy backyard is also completed with a grill. This way, this backyard is also functional as well as stylish. Across the seating area, there are floating planter boxes accentuating the area.
This is an ideal patio for you who love the eclectic design and want to enjoy some BBQ time with your family and friends.
12. Timeless Concrete Patio in a Small Backyard as a BBQ Area
This concrete patio looks fresh and bright. Actually, this is a BBQ area, similar to the previous picture before. However, the grill in this patio is installed in an outdoor cabinet and fully protected.
The wall around serves as its ceiling, while the roof extension protects it from the rainfall.
The patio area, on the other hand, is more open. It has no cover. The concrete is also combined with pebbles around as a border.
The stone border creates a pretty contrast, dark and light color combination that makes a timeless look to this patio.
The seating is placed in the center; it includes one square-shaped table and four curve-back chairs.
The entire backyard is bordered by a planter box. There is even a container garden, a whole new experience of gardening. The mown grass is also used as an outer border of the patio.
The combination of grass, container garden, and planter box, along with bright flowers in the background, accentuate this small backyard.
The stone retaining wall that holds the soil of the upper garden also serves as a lovely backdrop to the patio.
13. Tips for Applying Concrete Patio in a Small Backyard
After looking at the pictures above, indeed, you have chosen the design you like to be applied to your own backyard.
However, there are some additional tips you should follow if you want to create an attractive yet functional concrete patio in a small backyard:
Incorporate curves: No need to settle for boring square shapes and straight lines if you can incorporate curves. A curved patio blending with the landscaping is a huge trend right now. Make sure your patio only "square off" when it meets with the doorway or walkway.
Add a pattern: Give your small patio the natural stone's or bricks' look by using stamped concrete paver. Or, you can also use a stenciled design. With stencils, you can create more various custom designs.
Add a border: If your patio has a pattern, you can frame it with a border. Borders are also a cheap and effective way to spice up plain concrete.
Use color smartly. Even though you can use any decorative effects in any color, when it comes to a small backyard and small patio, it is always recommended to keep everything simple. It will be more efficient to use the same color for borders or patterned fields. You should also choose colors that complement or match the house.
Have enough space for patio furniture: It is recommended to have a minimum patio size of 20 – 25 square feet. It is to make sure you still have enough space for walking and outdoor furniture. If you want to incorporate a six-chair patio table, you will need at least 10 feet of the dimension of the table, plus an extra walk-around room.