There are many reasons why there should be a cozy front porch for your log cabin.
Outdoor living spaces for log cabins provide additional usable exterior square footage. They also offer protection from the heat and any weather conditions (if they are covered).
And, of course, a porch with seating is a natural fit for a log cabin, blending the cabin's architecture with natural elements and the landscape around the lot.
Actually, outdoor living spaces are not limited only to porches. The choices available can be overwhelming, say, decks, patios, gazebos, pergolas, loggias, three-season rooms, and many more.
However, porches can be interpreted generally. You can create a decking porch, a screened-in porch that can be used as a sunroom, and even a front porch that blends with a patio.
But in a more traditional definition, porches are a gallery or a room situated in front of an entrance of a building, the facade, and forms a low front.
They can be paired to a railing, front steps, or columns and posts. There are also some of them that are completed with a lot of seating spaces if the space is quite large, and those that don't even have any seating in it.
Log cabin porches are commonly framed by potted plants, log posts, or wooden railing to create a natural divider. They are often raised with landscaping below the area.
So, if you want to get to know log cabin porches a little bit more, here are 12 pictures of them that offer coziness and comfort as an outdoor living space:
1. Screened-in Log Cabin Porch with a Roof Extension and Decking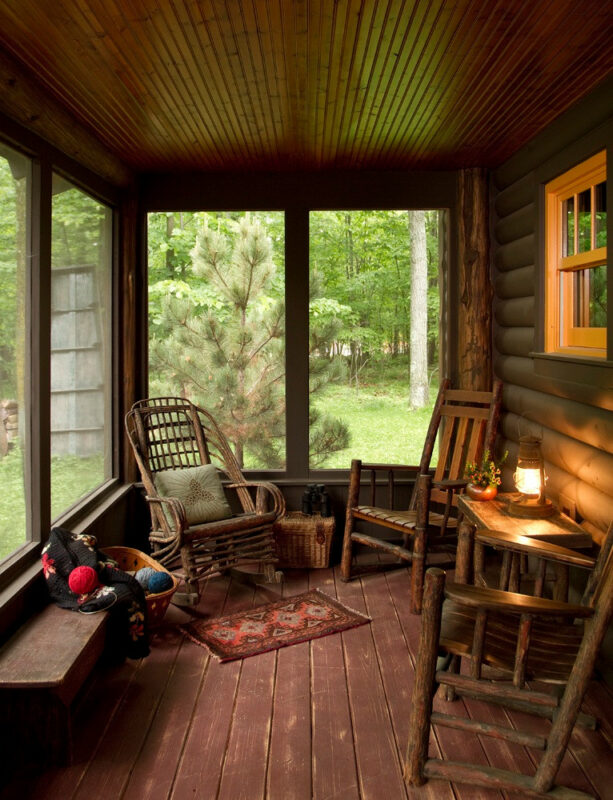 No need to worry about the weather condition if you have a cool rustic screened-in porch like this. Everything will be fully protected.
That's why the homeowners opted for these wooden furniture pieces to match the log cabin. There's a set of wooden table and chairs completed with a comfortable rocker from Old Hickory that can be found through many antique dealers in Minnesota.
The roof extension enables this porch to have a panel ceiling finished with a glossy and polished look, contrasting the decking floor that looking more natural with a weathered look.
The screen makes this porch look brighter despite the fact that it is entirely made of dark-tone wood. It also enables this area to be a sunroom, a perfect spot to enjoy every day's morning light.
If you want to build a screened-in porch like this, make sure the screens fully protect the porch.
Depending on the wall space, the screen windows should also take up most of the space, so you can still enjoy the view around even though you're sitting on a fully enclosed porch.
Don't forget to add a bench as extra seating. It can be built-in on the wall.
2. Small Log Cabin Porch Completed with Bright Colored Furniture
Even though this is a small log cabin with a small porch, somehow, it is still able to radiate comfort and warmth.
Unlike the previous picture, this small porch is open with no screen, which is a more suitable look for a small porch like this.
It seems that this one is made of stone, a slightly raised area that is connected by stone walkways to the landscaping.
In order to add a splash of color to this natural setting, the homeowners added two green-colored Adirondack chairs that are meant to liven up this space.
These chairs are put on both sides of the door to create a visual balance.
Due to the lack of space, it appears that there is no table to complete the chairs, but that doesn't make this porch less intriguing. The simplicity with a touch of bright color makes it lovely.
If you have a similar small porch, maximizing the spot and making it as rich as possible is important. Don't stick with wood only. Stone is another rustic element that will look best if paired with wood.
So, you can have a stone porch like this completed with stone columns as a foundation for the wooden post that enhances the charm of a log cabin.
3. Spacious Log Cabin Porch Made of Heavy Round Timbers as a Statement
Nothing beats the sensation of relaxing on this spacious log cabin porch.
This rustic porch is made of light tone wood, heavy round timbers that make a bold statement for the entire building.
We can see two different zones on this front porch, the one with a screen and another one with no screen. Both are covered with a roof extension that protects them from the weather.
In this more open porch with no screen, there are a lot of seating spaces with different settings.
There's a round table complete with four chairs for a more formal setting, while for a more relaxed setting, the homeowners provide a small table with four chairs facing the front door.
There's a hammock as a lazing around the spot. The patterned and colorful throw pillows are supposed to add a splash of color.
It's actually easy to recreate this look as long as you have a similarly spacious space.
All you have to do is just incorporate several seating spaces with different settings. There's no basic rule about certain furniture. You are free to choose any piece as long as it corresponds with the log cabin style.
The safest options are the pieces that are made of wood or rattan. Add a statement piece, like a hammock, to make your porch look more fun.
4. Long and Narrow Log Cabin Porch with Rustic Furniture
This log cabin porch is actually spacious too, but instead of large, this one is long and narrow.
This is a common layout for a log cabin exterior because mostly log cabins are wide, and the porch is made around the front area.
There's a roof extension that fully covers this porch. No screen, though. Instead, there's a wooden railing that is both functional and aesthetic.
This railing can provide a beautiful frame and border for the porch and, at the same time, protect the area, which is a wise option if you have children or pets.
The porch itself looks simple with a decking floor that's in line with the railing's log siding and wooden posts. For the furniture, in spite of the long space, the homeowners only added two rockers here.
It's obvious that the owners wanted to keep this area clutter-free, clean, and open.
If you are into a minimalist style, it's recommended to have a log cabin porch like this.
The traditional setting would be lovely to be paired with a rustic look. There is no need to add a lot of seating spaces, for it only overwhelms the narrow area.
Pick only a statement piece, like these two rockers, to complete your front porch.
5. Elevated Decking Log Cabin Porch Connected to the Patio
If you only have a super tiny space for a front porch, you can try to imitate this design.
The homeowners cleverly connect their small porch with a decking patio. The porch itself is super tiny in free form.
To distinguish the log cabin porch and the decking, the designer made the porch elevated, even though they are both made of wood to form a deck.
There are steps to connect the deck and the porch. It's important to create cohesion between the deck and the porch because the deck is meant to be an extension of the porch, a more open and spacious area for the owners to hang out.
That's why the porch looks simple, even though it is completed with a roof extension. There's only a minimalist seating space there, a pair of wooden chairs bracketing the front door.
The recessed lights on the ceiling deliver a warm yellow glow to the porch, making it look more inviting despite the crammed space.
6. Tiny Log Cabin Porch with Front Stairs to Reach It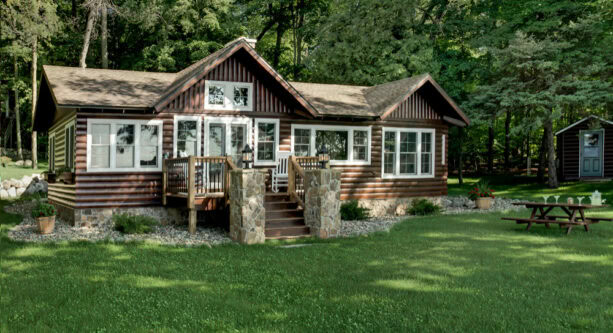 If you think the railing is only suitable for a large front porch, think again.
This log cabin porch is super tiny, but the wooden railing around it doesn't seem to overwhelm it. On the other hand, it adds beauty to the area and prettily frames the entrance.
Since this is a raised log cabin porch, the designer built a wooden staircase, completed with stone columns on both sides, to enhance the rustic look. The columns have caps, too, so the owners can put lanterns in each of them.
Similar to the previous picture, the seating is also minimalist. Two white chairs match the trim of this log siding cabin.
If you want to recreate this idea, restrain yourself from adding too many furniture or decorative items to the porch because it will only create clutter and make your porch look even smaller.
To make it look more spacious, you can incorporate white color. For instance, on this front porch, the white chairs are meant to accentuate the rustic wooden area and, at the same time, open up the whole porch.
7. Shabby Chic Log Cabin Porch with Comfortable Seating
This one is the same as one of the pictures you've seen above, a spacious porch divided into two spaces, the screened-in one and the open one.
Now, we are to discuss the enclosed one. This screened-in porch is built right next to the more open porch. It has a glass door to connect them both.
The great thing about this porch is that it looks pretty, friendly, and sweet due to the shabby chic style it incorporates.
Basically, this is a rustic porch with log siding, wood walls, wood ceiling, and even wood and rattan furniture. But the designer managed to add a splash of color to this area. The floral patterned fabric beautifully covers the cushions of the chair, ottoman, and sofa.
Not only that, but the green painted wood furniture also plays a big role in creating a sweet and feminine touch to this rustic porch.
The floral accent and green color are also accentuated by white elements and shabby chic decorations, like the rattan basket, table lamps, and vintage ceiling fan.
Even though the porch is enclosed, but doesn't look small with such a pattern and bold color accent.
So if you want to mimic this design, make sure you add huge screen windows to minimize the cave-like sensation and make the whole porch look more open despite the fact that there are a lot of things incorporated there.
8. Covered Log Cabin Porch with Minimalist Seating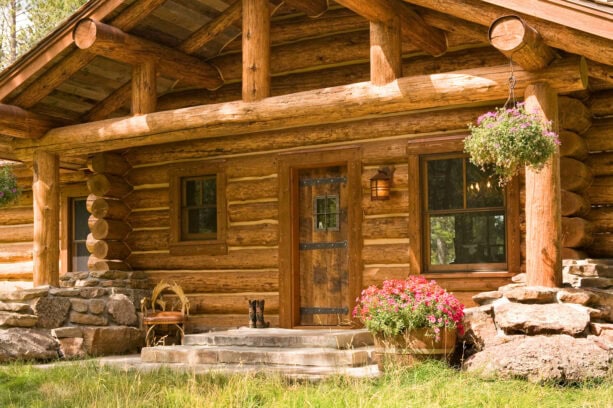 There's nothing more rustic than this. Every element in this log cabin porch screams "rustic" loud and clear, from the worn-out look of the log siding to the timber posts and beams.
Instead of flagstone columns, the designer wanted to go a little bit far here. They used a stack of stone slabs as a foundation for the timber post. What a clever way to enhance the rustic look.
The porch itself is also made of stone. It's a large stone slab that looks like poured concrete, which is more costly than the smaller stone slabs people usually use for their patios.
But it's worth it to see how this front porch looks more streamlined and clearer in spite of the rough texture of the natural stone.
There are steps on the porch that lead to the front door. These steps take up most of the space here, so adding more than just one seating is quite impossible.
The seating is only one single chair placed beside the stone wall. That wooden chair may not be useful for a comfortable seat during a long sitting period, but it works as a complementary accent to the whole area.
If you want to incorporate large pieces of stone like this in your log cabin porch, it's essential to use only one single chair.
It's because this porch is clearly not meant to be a hanging-out spot, so the seating should not take the spotlight from the natural elements around.
9. Concrete Porch in a Green and Yellow Log Cabin Exterior
Usually, log cabins are finished in a natural look, so the homeowners can still retain the organic charm of the wood.
Yet, the homeowners wanted something different here. They painted the log siding in dark green color, which is complemented by the yellow trim and red front door. All of them complete each other, delivering a warm ambiance.
The log cabin porch is made of concrete poured over stones. It means that they still get the rustic look from the stone, but at the same time cut the cost too, because concrete is more affordable than stone.
This can be a great idea if you're on a tight budget but still want to keep the rustic charm in your log cabin.
There's a wooden rail with X braces that pulls off a traditional look. To top it off, this railing is finished in a dark tone, a perfect traditional shade that can fit any style.
When it comes to the seating, since this porch is not that large, there are only two Adirondack chairs in a worn-out finish to complete the porch.
They may not be grand and comfortable, but at least enough to be a porch seating space that goes well with the rustic surrounding.
10. A Lot of Seating Spaces on a Log Cabin Porch that Opens to a Beautiful Landscape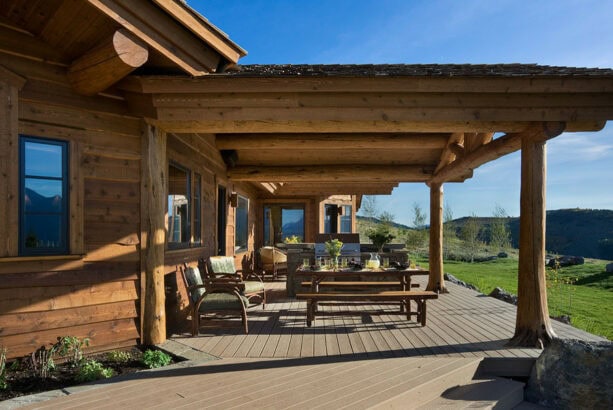 This log cabin porch has a cover, a roof extension that is wide enough to protect the entire area of the porch.
This is a large area, so no wonder there are a lot of seating spaces incorporated here.
It seems that the homeowners also use this porch as an outdoor kitchen. You can see the grill put on top of the low wall along with a countertop.
There's an outdoor dining space too, with a long table and a pair of wooden benches that can accommodate many people.
Besides the dining table set, there are also other chairs spread around the porch to make sure everyone here will get a comfortable seat.
Situated on top of a deck, this porch is a perfect spot to hang out in the dusk because it opens to a beautiful landscape in front of it.
Who can resist the chance to enjoy the sunset from this cozy log cabin porch?
If you have a quite similar setting and layout, it would be nice to turn your large porch into an outdoor kitchen and dining space. Don't hesitate to incorporate a lot of seating spaces, as long as you're able to zone each of them.
Use timber posts and beams to enhance the rustic ambiance and to complete the log siding.
11. Raised Stone Log Cabin Porch with Front Steps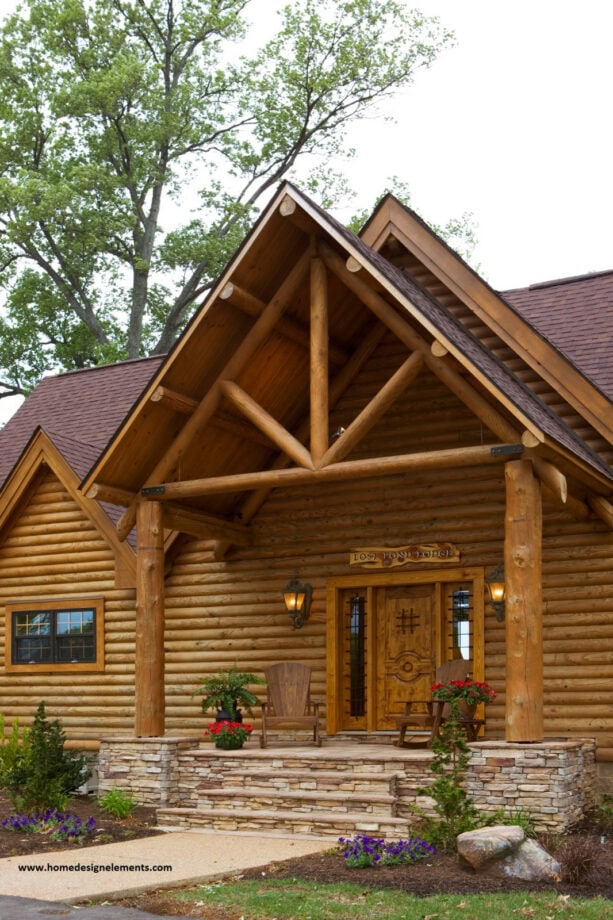 This lovely log cabin is made of Jim Barna Log & Timber Home, and the pretty porch has natural logs for the porch supports with a round rafter system.
The porch is raised, and it seems that it is made of flagstone with concrete poured over it.
The columns and the rises of the stairs are visibly made of flagstone, and the concrete appears to be finished in beige to match the tone of the stone.
The timber posts look polished, even though they still carry the natural characteristics of wood.
Simple and minimalist, this porch has no screen or a lot of seating.
The homeowners wanted to focus on the aesthetic surrounding, including the landscape, the decoration, and the rustic style itself, instead of the comfort. So, there are only two rockers placed in this raised stone log cabin.
In order to add a splash of color, the potted brightly colored plants were added right next to each column.
If you want to focus on the beauty of the porch instead of the comfort, make sure you surround your log cabin porch with a beautiful landscape. It won't hurt either to add brightly colored blossoms in pots like this to liven up the neutral color scheme.
Try to incorporate ornate details in the front door, too.
12. A Single Rocker in a Small Decking Log Cabin Porch made of Driftwood Timbers
Small decking makes a cozy log cabin porch too. As long as you're able to maximize your space, a tiny area should not be an issue.
This is a raised decking porch surrounded by a landscape. Even though it is slightly elevated, there are no steps to access the porch. Instead, there's a decking path that seems to connect to the patio.
This porch is made of driftwood timbers and completed with a single rocker as seating. There are also decorative tree branches on the rocker's opposite side that are useful to complete the rustic look.
The warm lighting that comes from the hanging wall sconces makes for an inviting entryway too. If you want to purchase a sconce like this, 7 Wide Elk at Dawn Hanging Wall Sconce from Meyda Lighting is quite similar.
In order to compensate for the limited space, you'll have to be able to create a decorative porch like this.
If you also have a small porch and you want to make the most of it, instead of cramming a lot of seating spaces, it would be better to add the proper lighting and incorporate rustic details like this.
You can also use a natural tree trunk for your pillar, completed with a curved trunk to create an arched opening that connects the two pillars for a more natural look.
This is an excellent detail to create an organic surrounding for your porch and to make a more whimsical entrance.
13. Tips for Creating a Rustic Porch That's In Line with The Log Cabin
Even though you can basically create a porch in any style for your log cabin, it would be better to use a rustic style.
A rustic porch will correspond with a traditional log cabin. It's important to match both the porch and the cabin to make cohesion.
Well, for a start, here are some tips for creating a rustic log cabin porch:
a. Use natural material
Porches that are built of rocks or stone slabs will never fail to give you an earthy feel.
You can create evenly laid concrete blocks or asymmetric stones; the options are limitless. It would be nice to use a mix of textures and stones, too, so you can clearly define other spaces like steps, decks, or patios.
You can add a wooden beam, posts, or railing to pull off the rustic beauty and function to create a more elaborate porch. This wood railing provides a security border to frame the porch.
Don't forget to add potted plants to complete the entire look because regardless of the size of the space, your porch won't be rustic unless it's married to nature.
b. Opt for comfortable seating
If you want to create a cozy and comfortable outdoor living space, complete your porch with comfort that represents the indoors.
Your seating should have refreshing characteristics. Wooden benches, Adirondack chairs, rockers, and oversized chairs made of natural resources can enhance the rustic charm of your porch.
It's recommended to invest in weather-resistant furniture and fabric because the seating is exposed to harsh conditions if your porch is not covered.
When it comes to the colors, it's best to stick to earth tones, like green, tan, and brown, although cream and white hues are also inviting and refreshing.
c. Add a patio
Apparently, the most alluring feature in a log cabin is a patio, especially if it's completed with a fire pit. It's a perfect spot for family and friend gatherings, ideal for roasting marshmallows or sausages.
So, it would be best to connect your front porch with a patio. You can use steps or stairs to connect them both.
Don't forget to add more seating spaces to your patio, so your porch and patio can be a perfect spot to host a get-together.
d. Don't forget the lighting
Outdoor lighting is essential here. It can add drama as well as put the right mood on your log cabin porch.
If you have a raised porch or steps on your porch, always invest in a lot of outdoor lights to illuminate the whole area.
Opt for classic sconces mounted on the wall or vintage lanterns on the floor for a more inviting look. The soft yellow glow will enhance the warm ambiance.