The Wall unit with a fireplace is more or less a wall-mounted fireplace and usually completed with an entertainment unit or accented wall.
If you are considering this kind of fireplace for your home, there are some decisions to make.
First, do you want to cut into the wall?
How much depth that it takes for the fireplace if you do?
If you're going to build the wall around the fireplace, how far into the room do you want to create?
Do you want to mount your fireplace on the wall's surface?
Do you want a complete entertainment media wall with a TV above the fireplace?
Do you want or need heat from the fireplace?
If you consider building out a wall or cutting into the wall to install your fireplace, it is recommended to find out first how deep you want your fireplace to be. The range of the depths is from 4,25″ to 12″ for the standard linear models.
Here are some best ideas for a wall unit with a fireplace. Each of them has its own style and function. You can spark your inspiration from these pictures below:
1. White Wall Unit with Polished Black Fireplace
This living room was remodeled to accommodate the newest audio/visual technology.
The fireplace used to have exposed brick, but now it is clad with wood paneling. It is added with a pair of sconces to illuminate the light, and the hearth is covered with marble.
Next to it, there are bookcases completed with a wall-mounted TV.
The angled wall in the bookcases is 60″. It is meant to accommodate a TV, roughly 54″.
This cabinetry is custom-made. The cabinet's design was based on the selection of the TV and other electronics here, so they could perfectly fit into the cabinet.
The cabinetry includes paneling to the opening's left, spray painting, electrical work, and a marble hearth. It is painted in Benjamin Moore AC-5 Springfield Tan and finished in satin.
It is impossible to see from this angle, but there is a single window with drapery panels on the right side of the fireplace. The dimension is roughly 4′ wide. A chair angled into the room looks nice in the corner and relates to the curved wall with the TV.
If you are curious about the marble hearth, it is actually walnut travertine in 2cm. The stone was chosen due to its creamy beige tones that complete the paint color. It also has a minimal pattern. On top of the fireplace, there is an art painting that blends seamlessly with the whole design and color.
2. Contemporary Living Room with a Tile Fireplace in a Bookshelves Wall Unit
This is a perfect contemporary living room completed with a tile fireplace and wood cabinets and floating bookshelves on both sides.
The cabinets were custom made, so they can fit into the wall. Generally, most cabinets in an architect's portfolio are custom-designed specifically for the client's room.
The base cabinets and the shelves here are walnuts. They mix harmoniously with the wooden floor in this room. Even though there is no entertainment unit here, the designer managed to create a comfortable and inviting area.
The floating bookcases here are not mainly used for books. Instead, they are utilized as a display rack. You can see many framed photos and decorative arts here. The base cabinets are meant for storage.
The tile on the wall of the fireplace is "luxor grey" tiles from Ann Sacks. It is a 3/4″ x 17″ some kind of limestone. This type of tile looks lovely combined with medium-tone wood. Both create a stylish and modern style.
3. Eclectic Style Fireplace Featuring a Bar and Entertainment Area as Wall Unit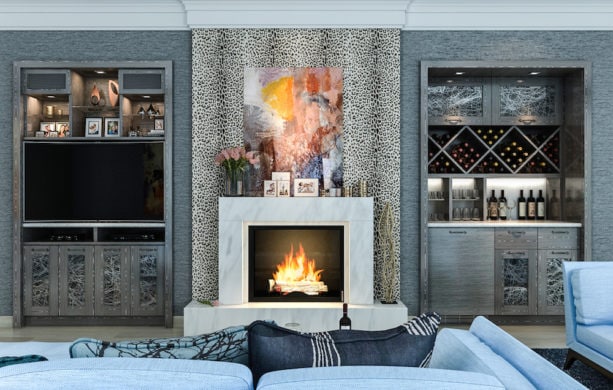 This fireplace features a custom built-in bar and entertainment area around.
Unlike the usual entertainment unit fireplace, this one is not attached to the entertainment unit. Instead, it is crammed between two custom cabinetry. The fireplace here is clearly a focal point of the room.
This white marble fireplace is also completed with animal print wallpaper. On top of the fireplace, you can see several art paintings there. So, space can be maximized as a display area.
The cabinets around feature framed doors with silver spun resin and specialty veneer to deliver an eclectic style.
The bar has crosshatch wine racks and a marble countertop.
This can be a great idea if you have a lot of wine collections. It is matched with the TV unit on the other side. The unit features a hidden speaker space. On top of the TV, there are open racks that are used as a display too.
Overall, this mid-sized eclectic living room is completed with a light wood floor, gray walls, a standard fireplace, and a media wall. Those are enough to create a stylish as well as warm, and inviting living room.
4. Wall Media Unit with Bio Alcohol Burning Fireplace
This media unit features a built-in fireplace. The whole polished white unit blends seamlessly with the grey decorations and creates a nice contrast with the black rug, ottoman, and standing lamp.
The neutral color palette in this room undeniably delivers a modern style. This is a perfect design for those who love minimalist and masculine styles.
The media unit features a white mat lacquer structure as well as bio alcohol burning fireplace in silver shine stone.
The fireplace is surrounded by bookcases and a wall-mounted TV. The media unit is custom-made in Italy to fit precisely the media needs and space.
However, if you want something like this that is readily made, you can check out IKEA. Even though the products won't be 100% similar, you'll be surprised to know that their options are totally endless.
There is no detailed information about the fireplace here, but Amantii Electric Fireplace with Surround 26″ is quite similar. It is Sierra Flame WM-FML-26-3223-STL 26″ Electric Fireplace. It gives a perfect alternative to a wood-burning or gas fireplace.
This fireplace can be wall-mounted or recessed into a wall during installation.
In order to create an attractive flame display, Amantii fireplace features FIRE AND ICE flame presentation. It offers multi-color flame options that can be changed through a touch of a button. Thirteen back-lit surround colors can highlight the ambiance of the fireplace.
Besides the stylish appearance, this fireplace boasts a 4,800 BTU heater. It can produce heating to an area between 400-500 square feet. Moreover, this 26″ unit also has an easy-to-use remote control. Every aspect of this fireplace can be controlled only by the touch of a button.
5. Modern Wall Media Unit with Fireplace Surrounded by Cut Marble Stone
Another fireplace is surrounded by floating bookcases and a base cabinet. However, on top of the fireplace, there is a wall-mounted TV instead of art paintings.
This contemporary media unit features a center wall section that is used for a fireplace. It has a cut marble stone facade surrounded by an electric fireplace and recessed TV.
The floating bookcases basically are not bookcases. They are meant to be a display rack. Those side shelves, as well as the base cabinets, are commercial-grade texture laminate.
The dark color looks to contrast with the beige floor but blends nicely with the gray walls and ceramic tiles.
There is recessed LED lighting in those free float shelves. Those lights are also completed with two hanging pendant lights.
If you want this kind of pendant, you can check EQLight Hado Pendant Light in Large Size. It can give a modern and chic style to the room.
6. Custom Wood Wall Unit with Corner Fireplace
Instead of installing the fireplace in the central area of the wall unit, this architect decided to create something unique and unusual.
The custom cabinetry is completed with an entertainment unit and bookshelves, and right in the corner, there is a built-in fireplace in a slightly angled area. So this fireplace is called a corner fireplace.
The entertainment center and the corner fireplace combination surprisingly creates a beautiful balance. Notice how the room is appealing to the eye.
For some, the additional corner fireplace looks as if it were added hurriedly at the last minute. On the contrary, the added angled built-in fireplace finishes off this masterpiece.
The distinguishing design elements also include fabric speaker doors, custom TV frames, elegant acanthus leaf corbels, and oversized crown molding. All of them give a classic home design look.
It seems that the fireplace here is Napoleon Ascenr B36 Gas Fireplace Package. This fireplace adds ambiance to the room. The shallow depths make it possible for versatile installations, so it is ideal for corner application. The clean face design optimizes the viewing area, so you can enjoy the hand-painted PHAZER as well as the realistic flame to the fullest.
7. Classic Living Room with Wood Wall Unit Decorative Shelving and Marble Fireplace
We can't deny that this huge custom cabinetry gives a classic yet elegant look to the living room.
This floor-to-ceiling cabinet features display racks, base cabinets, a wall-mounted TV, and a fireplace. The fireplace and the TV are installed in the central area. They are surrounded by a decorative display.
As you can see here, the open racks are used as a display of sports memorabilia. All of them were made from what seems like walnut. It creates a great contrast with the marble hearth. The walnut cabinet mixes harmoniously with the medium-tone hardwood floor.
Unlike the modern design wall unit, this one doesn't have an LED backlight. Instead, this room is illuminated by eyeball trim lights.
8. Polished White Wall Unit with Stone Standard Fireplace
This is a perfect example of a classic traditional living room. It features a custom floor-to-ceiling white wall unit, white coffer ceiling, white wall, white sectional, white door, and white plush carpet for the flooring.
This all-white look is balanced by the stone around the fireplace, the black fireplace, a black TV, and a grey coffee table.
This elegant cabinet features open shelves and base cabinets. In the central area, there is a fireplace completed with a TV on top of it. It seems that fieldstone was surrounding the fireplace.
There is no information about the fireplace used here, but it is pretty similar to Napoleon NEFB40H Ascent Built-in Electric Fireplace in 40″.
This Napoleon fireplace delivers a high-quality electric fireplace for an indoor living space.
The stylish design combines with a premium construction creates a perfect ambiance. It features a 5,000 BTU heater that plugs into a standard 120V household outlet. It doesn't need any special venting.
On top of that, this electric fireplace has a "whisper quiet" fan that can improve heat circulation in the room. It can increase heating efficiency. All features of this fireplace can be controlled by a touch of a button in the remote control.
For the wall paint, it is painted in Sherwin Williams – Worldly Gray. The trim is a custom color. It mixes with Sherwin Williams color too.
9. Black Glass Wall Media Unit with a Gas Fireplace
This contemporary living room features a unique and elegant wall unit with a fireplace.
Unlike the other units, this one doesn't have an entertainment unit completed with shelves and cabinets. However, it doesn't make it any less versatile.
This fireplace is perfect for those who have a larger living room because it doesn't feature any cabinet as storage. The space isn't much of a concern here.
This unit was installed by the local dealer Lisac's Fireplace. The builder involved here was Bernard Custom Construction. The gas fireplace here is built by Ortal. It is Ortal Clear 150 TS Gas Fireplace. The media used here is black glass media.
The built-in modern three-sided fireplace is simply stunning. It provides a clear view from multiple points.
On top of that, like other Ortal pieces, this fireplace also features advanced safety technology that allows the unit to keep everything cool without sacrificing the warmth of the fire. It has heat barrier solutions, a power vent system, a direct vent, and a heat control system. There is internal lighting for dramatic effect too. Every aspect of this fireplace can be controlled from a mobile device.
10. Freestanding Bookshelves as Wall Unit with Two-sided Fireplace
What a spacious and elegant living room! This is a perfect example if you want a polished, stylish, modern, and neutral-colored design.
The fireplace is not surrounded by the media unit like the other fireplaces. Instead, it is around the standing bookshelf.
This freestanding bookshelf features a two-sided fireplace running on bioethanol. It is finished in matte Grigio Antracite lacquer to deliver a polished look.
On the other side, there are hanging wall units. One of them is used as a display rack. All of them are made from "aged" natural oak. On the lower area of these wall units, there is a wall-mounted TV to complete the look.
The gray walls, the tall bookshelf, and the wood wall units create a minimalist formal living room. It represents loft-style too. The brown floor looks perfectly nice combined with the gray wall and navy blue sofa.
11. Beige Wall Unit with Travertine Marble Fireplace
This transitional living room features an original hardwood floor over 80 years old and a linear bare bulb chandelier. That combination gives a mix of classic and contemporary styles. On top of that, the gas fireplace is there to warm the whole room. It is completed with a Charles Eames' 50-year-old lounge chair and ottoman.
The gas fireplace is purchased through Woodstove & Fireplace Center in Oakhurst, NJ. It is surrounded by travertine marble, which is Birched Honed by Realstone from their Collection Series. That travertine marble is made of many tile pieces from 16″ x16″. The mantle of the fireplace is cut from Silk Georgette Stone. That is actually a type of grey marble.
All of them go well with the color of the room. If you are curious, the wall in this room is painted in Benjamin Moore – Edgecomb Gray HC173. The trim is coated with Sherwin Williams – ProMar Metal Enamel – Alkyd Semi-Gloss Rust Preventative Alkyd Coating.
Overall, this living room is such an inspiration for a mid-sized transitional room with an open concept. This brown living room is perfect in its beige walls, a ribbon fireplace, a wall-mounted TV on top of the fireplace, and a hardwood floor.
12. Asymmetrical Entertainment Wall Unit with Slate Fireplace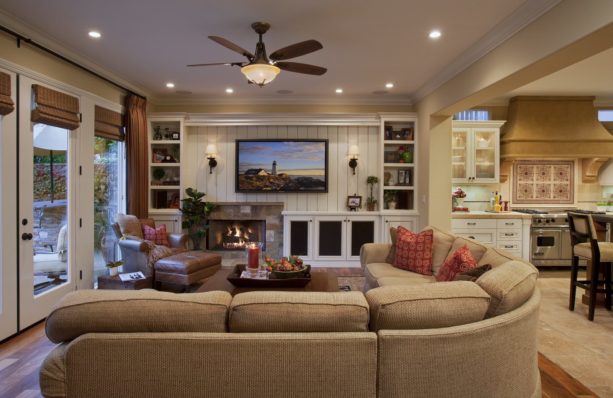 At first, it is quite uneasy for us to see that the wall unit and the fireplace here look asymmetrical.
The fireplace should have been in the central area while the wall unit was around it. On the contrary, the fireplace was installed in the left corner, right next to the left open shelf. On the right side of the fireplace, there are base cabinets. On top of the fireplace and the cabinets, there is a wall-mounted TV.
FYI, the designer intentionally decided to design a custom-made entertainment wall unit like this. It is because the clients wanted to center the TV instead of a fireplace.
Moreover, the fireplace was an original thing in this room and not remodeled at all. The slate stone around it was original to the house.
So, the entertainment unit was built around it, and the designer tried to balance the asymmetrical appearance of the fireplace with cabinetry, TV, and sconces. The tall cabinets and sconces add balance.
This large timeless living room features an open concept too. So the designer matched the cabinet color in this living room to the kitchen cabinetry. It was meant to increase the space as well as add unity to the open great room concept.
The color of the room is custom-blend. The design used Benjamin Moore, but it is also lightened up by Monroe Bisque HC-26.
13. Custom Shelving and Wall Unit with Custom Designed Tiled Fireplace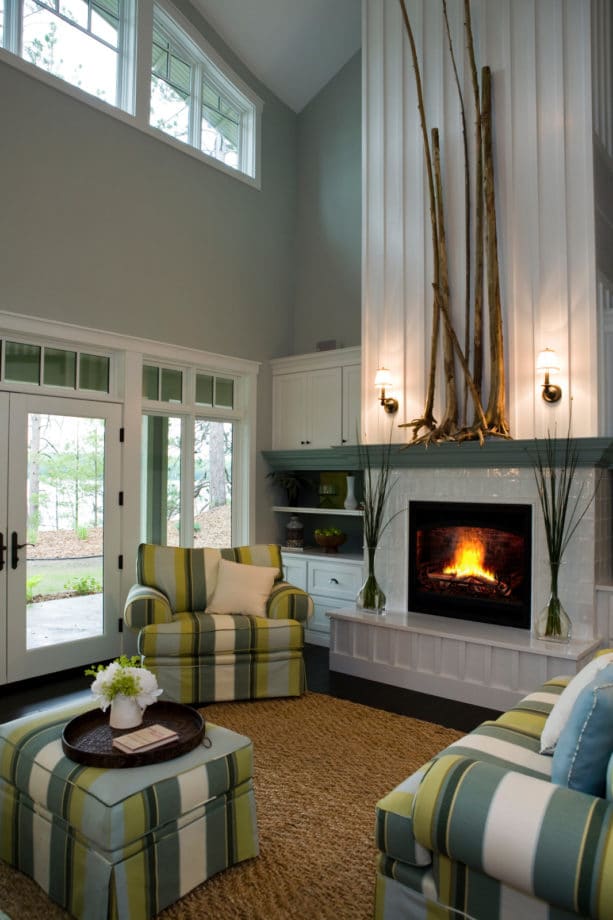 This living room is not that large, but it offers warmth and comfy nevertheless.
This is a 21st-century bungalow-style living room. It features 30ft ceilings with a custom-designed tiled fireplace.
The wall color looks grey, but it is actually bluer. It is painted with Restoration Hardware, but the product has been discontinued now. However, Dutch Boy's Stonewall Jackson is a similar color.
The fireplace looks like a freestanding fireplace, but the ceiling makes it look a standalone one. In fact, this is a wall unit with a fireplace.
The material over the fireplace seems like the board-and-batten. The look can be accomplished a bit more economically by installing the battens (vertical trim) directly over the drywall, not plywood. After that, it is painted in a white trim color. When it comes to the painting, using paint-grade plywood beneath the trim is considerably more durable. However, for this design, those vertical surfaces above the mantel don't look very prone to abuse up there.
The hearth is approximately 96″ wide and 15″ deep. The material used for the hearth is engineered stone. The combination of a customer-designed tiled fireplace with a custom mantle flanked by an entertainment unit and custom shelving and engineered stone hearth highlights the board-and-baton style wall treatment.
Closing
From the thirteen pictures above, we can conclude that most people use a wall unit with a fireplace as an entertainment center or as bookshelves. However, if you want to make your fireplace a focal point in your living room, here are some tips:
Create a floating fireplace. When you install a freestanding fireplace in the recessed wall, it gives a 3D feel and opportunities for glowing backlights behind the wall unit.
Complete the fireplace with bold artwork. The space above the fireplace is a critical spot. Keep in mind that nothing draws more attention to the fireplace more than an incredible accessory. So, you need to get a statement artwork piece that can serve as the decorative aspects of the room.
Be creative with the hearth. It is always nice to have a unique shape hearth with square recessed shelving. That can double as a display for art pieces.
Paint the mantle with a bold shade. You can use a color that doesn't fit with the whole color palette to create a highlighted spot.
Use a colorful tile to the base. There are two purposes of this aspect. First, it can protect your floors from loose sparks. Second, it can serve as a decorative aspect too. Choose a unique and colorful tile pattern to attract attention.
Go wider. The extra-wide fireplace should fit a wall's broad space. It can spread the warmth as well as give the eye-catching element.
Fill the fireplace area with interesting objects. Consider putting unexpected objects in your wall unit to maintain it as a focal point. Create contrast with the shape of the fireplace. For instance, for the rectangular fireplace, you can put spherical shape decorations.
Double-sided fireplace. If you want something different, install your fireplace right in front of a tall window so you can catch a view of the outside as if you're having a bonfire right in the living room.
So, which one do you like? What would you choose for your fireplace remodel project?