It is always nice to have a sight of a beautiful window in the kitchen. The right windows can enhance the beauty of the room and the natural light pouring into the room.
When you can bring natural light to your kitchen, you can save money on your utility bill.
More often than not, people often underestimate the importance of choosing the right windows in a room. The importance of insulation and the potential to heat the room during the winter is often overlooked.
Finding the ideal windows that fit your specific needs can indeed be a tedious task.
So to simplify your decision, here are 17 most alluring kitchen windows over the sink that can enhance the beauty of your kitchen and enhance the light in the room.
1. Double Hung Windows Over Undermount Sink in an L-shaped Kitchen
This polished white kitchen perfectly delivers a modern look.
The designer managed to combined wood, stainless steel, metal, and porcelain. The wood comes from the cabinets. The cabinetry here is wood with a painted finish. It is the same with the floor. The stainless steel appliances, modern zinc pendants above the island, nickel pendants above the windows, and porcelain countertop complement each other nicely.
This L-shaped kitchen also features a crisp white double-hung window over the undermount sink. These windows allow the homeowners to have natural light poured into the kitchen.
Double-hung windows are a considerably popular style for the kitchen. You will have total control over air circulation from double-hung windows because they can be opened from the bottom or the top. You can open them as much or as little as you want.
Usually, double-hung windows feature a set of safety latches on both sides. These latches are helpful to prevent the window from being opened wider than 5 inches.
Here, the homeowners added two vases of plants on both sides of the windows, bracketing the sink. Those white vases blend seamlessly with the window trim and the wall color. FYI, the color here is painted with Sherwin Williams "Silverplate."
2. Vintage Kitchen with a Cast Iron Sink and Triple Hung Windows Over
If you can have three instead of two, why only settle for double-hung windows?
In this vintage kitchen, you see the majestic triple-hung windows over the cast iron sink!
The most alluring part is, of course, the valance. The designer added it and made it look like a shade. It is because the homeowners didn't require any window treatment to function in this window.
The designer later used this shade of valance to add a pop of color to this neutral-colored kitchen and soften the window.
There are two fabrics used for this valance. The main fabric is from Osborne & Little, while the striped fabric is from Jane Churchill. However, it seems both fabrics have been discontinued.
If you want to get materials like this, it is better to check if you have access to the fabric designers. If not, there are many other fabrics that look as beautiful as these ones.
These triple-hung windows are as wide as the cabinets below. These white cabinets are made from pine and painted in Benjamin Moore – Acadia White.
In the middle of it, there is what seems like a cast iron sink. Cast iron sinks are usually sprayed with a coating that gives them a glossy finish. It appeals to those who have a vintage, country-style, or farmhouse kitchen.
Compared to the other sinks, cast iron is heavier, but it is also more durable.
There are a pair of potted plants on top of the cabinet's countertop in both corners. They create a natural look in this vintage kitchen.
What makes this kitchen look so perfectly vintage?
First, of course, the pale green-colored floral valance. The second is the distressed wood freestanding cabinets. Combined together, both create the classic yet homey look to this kitchen.
3. U-Shaped Kitchen with Bay Windows Over a Single Bowl Sink
This modern kitchen features a U-shaped design that is basically one of the basic kitchen layouts.
Even though the design is not new, this kitchen shows many aspects of modern design, like black, white, and grey color coordination, porcelain tile, and a huge island with seating.
One of the majestic elements in this kitchen is the bay windows. This large window is perfect for a spacious kitchen like this.
A bay window can be a nice thing to add dimension to the house. It is because this window is styled with an outward design to create an alluring visual display.
If used in the living room, bay windows can provide additional seating. However, since this is a kitchen, this bay window provides a space that is maximized by the designer for a sink.
You can see here that this inset cabinet below the window protrudes toward the window. It leaves the kitchen looking much larger than it is.
This black cabinet itself is combined with a solid surface countertop and a single bowl sink.
Basically, single bowl sinks are perfect for small kitchens with narrow counter space. However, the designer of this kitchen proves otherwise. A single bowl sink is also great for a large kitchen as long as it is cramped in the protruding space below the window bay.
4. Victorian Kitchen with Double Hung Windows Over a Farmhouse Sink
This is an example of a mid-sized victorian kitchen.
So, what does it take to have a Victorian-style kitchen? Victorian kitchen is characterized by a single brass kitchen faucet. The floor is usually tile or stone slab; however, sometimes there is a wooden floor area too, where the cook stands.
The upper walls are usually whitewashed and plain, while the lower part is covered with a surface like glazed brick or tiles that are wipeable for hygiene. The large Victorian kitchen also has a rectangular softwood table for meal prep.
In this kitchen, instead, we see the granite countertops as a spot for meal preparation. However, the granite countertop is installed on a recessed-panel whitewashed cabinet.
FYI, they are painted in Benjamin Moore – Natural Cream, and the granite is called Bianco Romano. So, that quite fits the characteristics of Victorian kitchens,
The windows here are double-hung ones from Marvin. The size is 5'-0" in height and 2'-8" in width. Those windows are perfectly installed over the sink to make sure the natural light enters the kitchen perfectly.
The sink itself is from Rohl and one of the series of Shaws Fireclay. This farmhouse sink blends seamlessly with the all-white design.
5. Traditional Kitchen with a Standard Undermount Sink and Picture Windows Over
This traditional kitchen is completed with a large kitchen island with stools, painted white cabinets, picture windows, a sink, and stainless steel appliances.
A traditional kitchen like this usually has aesthetic visuals that resemble the past.
The interior usually features arches as well as ancient contemporary materials for floor and wall. This kitchen never fails to give an elegant look and combines the sensation of culture and traditionalism. The dimensions of this kitchen are 17'6" x 19'9".
The wall paint here is Benjamin Moore, an exact copy of Restoration Hardware – Bay Laurel. The countertop is granite called Venetian Gold. The kitchen floor is oak with alternating planks, and it is finished with Minmax English Chestnut.
The backsplash is in beige color. It is a subway tile with an ivory grout. The tile is Florida Tile 3×6. The cabinet is painted in a color that looks very similar to Sherwin Williams – Antique White. It is also glazed in coffee color.
The windows here are picture windows. Picture windows are considered energy-efficient windows. These windows have various shapes and sizes, so they can fit any space and design.
Picture windows can't be opened. They only let you enjoy the view outside without circulating the air. This kind of window can blend harmoniously with the other elements in the room.
This window trim is 67" wide and 54" tall. The windows are also completed with custom-made window treatments. The designer used pinch pleat drapes above the sink as well as faux relaxed roman shades on the windows on the right side. The fabric used here is from Robert Allen.
The sink below the windows is a usual undermount sink. It is the most common sink used for any kitchen design.
6. Large Awning Windows Over a Single Bowl Sink in a Transitional Kitchen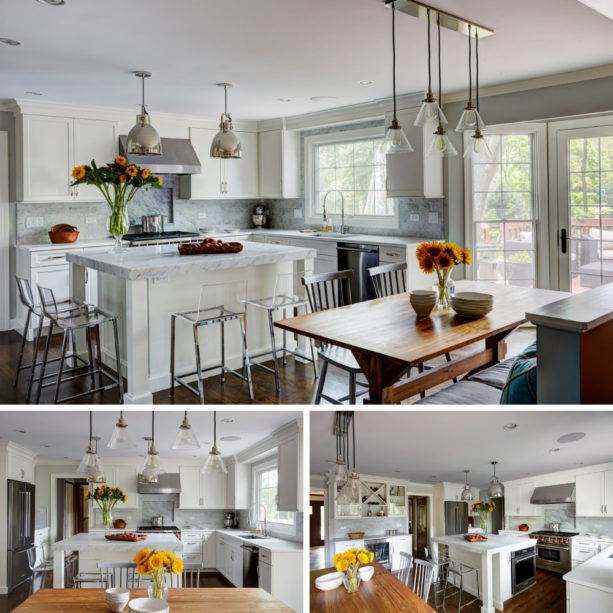 This transitional kitchen is a large space complete with ample room. The large awning window and the glass panel double doors open to the beautiful backyard.
As a transitional kitchen, this one has a modern style. It is also space-friendly and only needs less space for basic house amenities. Transitional kitchens are quite common in recent day planning.
FYI, this remodeling project only left a large peninsula layout and dated cabinet.
So, the designer started working with them. The aims are to add a large island with four seatings and an open, cheerful bright space for entertaining and daily meals.
The designer created banquette seating as a solution to combine the existing breakfast table and an island. It gives the extra inches needed to accomplish the setting.
For the bright and cheerful kitchen, a large awning window is added over the kitchen sink. The window lets ample light enter this space.
Awning windows are meant to open outward and hinged at the top. They enable you to have additional airflow in a kitchen. Moreover, these windows are also easy to open and shut.
The undermount and single bowl sink here is perfect to complete the cabinet. Because this kitchen is already cramped enough with an island and breakfast table, it is not wise to use a larger sink.
A simple pallet of white cabinets combined with polished nickel fixtures and Carrera marble countertops have completed this transitional design.
7. Contemporary Kitchen with Floor-to-Ceiling Bay Windows Over a Bar Sink
The most eye-catching thing in this contemporary kitchen is its floor-to-ceiling bay windows.
Common bay windows have already taken up much space, so what about this kind of window? In fact, instead of taking up space, this window serves the opposite. It delivers some extra inches of space in this kitchen.
If you want to go big, floor-to-ceiling windows are indeed the best option for your kitchen. These windows are commonly associated with a modern look. It is because they give the room the daylighting it needs to become a modern room. One of the characteristics of modern design is brightness.
Choosing the right frame material is important when choosing this window type. It can add a fresh look to the room.
In this kitchen, the bay windows are made from metal in black color. Metal and neutral color are also two characteristics of contemporary design. So those are perfectly right in this modern kitchen. The bay windows are from Bill Curran. The dimensions are 9' high, 3,5' deep, and 10' wide.
Instead of the kitchen island, the designer decided to use the peninsula. The peninsula here is completed with white marble countertops, stainless steel appliances, and a bar sink. Bar sinks are generally more shallow and smaller than usual kitchen sinks. Typically, they feature a single bowl design and stainless steel material.
8. Country Style Kitchen with a Farmhouse Sink and Casement Windows Over
This is a perfect example of a mid-sized country-styled kitchen with an L-shaped design.
Country-styled kitchens generally feature bright and pastel color combinations. They also add design elements, like vintage signage or stenciling. The materials used in country-style kitchens include stone and wood, along with other organic materials.
This kitchen features a freestanding wood cabinet, a wood table, medium-tone wood floor, and soapstone countertops. All of them are organic materials, the characteristics of a country-style kitchen.
The soapstone is not only for the counters but also for the sink. The blue-gray material looks fine in this farmhouse sink.
If you are wondering, this material is easy to clean. They are easy to scrub, even with oil spills. If you look into the sink, its interior has darkened, but in a great way.
The blue-gray soapstone looks in contrast with the white cabinet. The cabinet is painted with Old White by Farrow and Ball. It blends seamlessly with the color of the windows.
The windows may look like picture windows here, but unlike picture windows that can't be opened, there is pulling in each of the windows on the bottom left corner. So it means that these windows are operable, and these ones are casement windows.
Even though casement windows are usually great for a contemporary or a transitional room design, this window can work well for some different kinds of rooms, too, including a farmhouse, country, art deco, Tudor, arts and crafts, and mid-century modern.
This window is perfect for energy efficiency and maximum airflow. It offers a wide-open view as well.
9. Black Painted Pella Picture Windows Over an Undermount Sink in an Island Kitchen
Like the other island kitchen, this kitchen also features an island right in the central area. The island is not like the other wide island, though. This is sized to fit the space as well as deliver sufficient clearances around it for nice traffic flow.
This island kitchen adds a seating area to the room. There are a pair of stools here to accommodate the homeowners when they are having their meals.
The island blends seamlessly with the white cabinets and white subway tiles. The all-white design was created to provide an organic accent. It is also combined with a freestanding walnut cabinet. The countertops area Calacatta.
The sink here looks very similar to Kohler Stages 33" x 18-1/2" X 9-13/16" with Wet Surface Area Kitchen Sink. This sink was specifically designed in collaboration with the chefs of Five Diamond Resort Hotel. So no wonder that it perfectly meets the needs of the home cook.
This sink feature a full array of integrated accessories. It is useful to simplify the cooking and cleanup process. It also has a wide basin to fit larger pans and pots. This sink was made from high-quality stainless steel.
On top of the sink, there are black painted picture windows from Pella, and, there are some potted plants put in front of them that are useful to enhance the natural look. The black paint is meant to contrast with the white cabinets and subway tiles around.
Above the windows, there are brass lamps to illuminate the area in a warm yellow light.
10. Cottage Chic Kitchen with White Picture Window Over Top Mount Sink
This is basically a cottage kitchen, but it also has a touch of shabby chic design in it, thanks to the potted flower as the focal point on the island.
Cottage-style kitchens are basically the combination of Craftsman and farmhouse style. This type of kitchen usually features solid light colors, a clean design and often completed with squared lines and a bit of smoothed texture and trim.
White and light neutral colors are able to give a refreshing look, which is what cottage-style fans love.
Apart from the solid light colors and clean design, this chic cottage design also has stainless steel appliances, white raised panel cabinets, a white marble backsplash, an undermount sink, and white trim picture windows.
The picture windows here are tall enough to deliver a great view from the outside. Even though it is not operable, this window is still able to let the natural light come pouring into this kitchen, which can make it even brighter. The windows are bracketed by the white corner cabinets.
Below the windows, an undermount sink is installed right in the cabinets. It is surrounded by honed marble countertops, similar to the countertops of the island.
There are two sinks in this kitchen, one in the cabinet and one in the island. The cabinet sink is a standard top mount sink. A top mount sink is also called a drop-in sink. It is because this sink drops into the counter, creating a rim or lip around. This is considered a versatile choice because it provides extra support for any material regardless the weight, and it is easy to install.
The sink in the island is a usual kitchen island sink. This kind of sink can be used as a prep sink or a primary sink. It seems that this sink is used as prep one, though. The kitchen island sink is a great thing to save more space on the main counter. It can also turn the island into a complete cooking space.
11. Transitional L-shaped Kitchen with an Undermount Sink and Casement Windows Over
It is a transitional L-shaped kitchen that has a combination of wood tone and polished white. Like any L-shaped kitchen, this one also features slabs on the two sides of the walls. This is basically a common type when it comes to kitchen design.
However, this kitchen is somewhat unique because the designer added lighting above the sink. Even though it is not that uncommon, adding lighting on top of the windows over the sink never fails to give a stylish and unique design.
Those triple wall sconces fill the space with a nice amount of light. They balance the windows too. Besides that, the designer also managed to combine metal finishes with wood cabinetry.
There are two sinks here, the main sink and the prep sink.
The main sink is the articulating version when it comes to the faucet, while the prep sink features the arc faucet. The prep sink is a bar island sink, which is a Pescara by Franke. The main sink in the cabinet is a standard undermount sink. It is a Kohler Prolific.
The three hung casement windows accentuate the kitchen very well. Installed over the sink, these windows deliver a greenery view of the outside as well as allow the natural light to come in. They seem to mix well with the subway tile backsplash and LG Vietera Quartz – Marvel countertops.
12. Industrial Kitchen with an Integral Sink and Wide Picture Windows Over
The great thing about this kitchen is the wide windows and door. Door panels and windows here reach for the 12 ft ceilings. They both flood the kitchen with natural light, which is a nice way to cut the electricity bill.
Another striking thing is the stainless steel cabinetry. Cabinets are commonly made from wood. However, this one is different, and it is surprisingly perfect for an industrial kitchen!
The cabinetry was custom designed and custom-built by Craftsman Metal Fab. It is combined with an integrated sink and commercial style faucet, stainless steel countertops, stainless steel appliances, and a metallic backsplash. The light fixture completes the whole look. That fixture was also custom-designed by Emerick Architects.
However, the stainless steel and metal elements in this kitchen are also balanced by wood. The designer decided to used reclaimed wood planks and painted white for the flooring.
The ceiling is also a reclaimed wood plank but painted in Char-black with 80% intensity. The color was a custom mix found by the painter on-site, with a matte finish.
Those wide picture windows are also painted wood. It is best to use picture windows here because the dimensions of the windows are already wide enough. So there's no need to open and shut the windows because they can let the natural light flood the room even without being operated.
The sink here is a 37" x 19" stainless steel sink. Because it is part of the cabinet, it is also a custom-made sink. It is completed with a drainboard too.
Kitchen sinks with drainboards are considerably eco-friendly and practical because they make the food prep mess-free and simple. The drainboard gives dry kitchenware and dishes a spot by letting excess water run off to the sink. This way, you don't need to use a dishwasher to wash and dry the dishes.
13. Double Hung Windows Over a Farmhouse Sink in a Small Kitchen
This is not a large kitchen, but it still has a cozy and comfy look, thanks to the country style.
This kitchen has an L-shaped layout, which is perfect for a small area. It features beaded inset beige cabinets, an island, stainless steel appliances, and a farmhouse sink.
The double-hung windows there were installed over the sink, in the far corner of the kitchen. Those are considerably smaller than the usual double-hung windows, but they fit perfectly in this kitchen because it is not a spacious kitchen.
The windows seem like they were made from metal and completed with an orange shade too. Above the windows, there is lighting to illuminate the whole room.
The sink is a farmhouse model. It seems pretty close to ALFI Brand AB503UM 24" White Single Bowl Fireclay Undermount Kitchen Sink.
This fireclay sink is known as a throwback to a simpler time. It has a traditional look but also completed with a contemporary twist. This is made from the premium quality of solid fireclay that can last for a long time. There is a glaze on the surface, too, that delivers both shine and durability.
14. Elegant Traditional Kitchen with Bay Windows Over an Undermount Sink
This elegant L-shaped kitchen features an undermount sink, white shaker cabinets, white backsplash, and bay windows.
The beautiful countertop here is limestone in Sea Grass color. It's one of the elements that make this kitchen elegant. Another thing is the decorative decal above the stove. It is basically a single decorative tile from Walker Zanger, part of the Ceramic Alhambra collection in Paja color. Its size is 2" x 6".
There is also cabinetry from Bentwood in "Sourdough" color. It seems perfectly in harmony with the paint color in this kitchen that can be seen from the wall upon the windows.
The wall is painted in Colorhouse Leaf .03. FYI, this paint is highly recommended because it doesn't contain VOCs or other toxins.
The window over the sink is unique. It is basically a bay window, but it serves as a garden window too. You can see a line of potted herbs put in the window's sill to add some greenery to the kitchen.
The sill in the windows matches the floor. It is a stained 3/4" oak. According to the designer, if you want to place plants like in this picture, it is better to seal the wood with polyurethane to protect it against damage from the water.
Above the window, there is an area that is pretty close to an open shelf. Here, the homeowners can store and display some of their china collections.
The kitchen sink below the window is the usual stainless steel sink. It is a Nantucket sink NS43-10 made from 16 gauge stainless steel. The interior dimensions of this sink are 28" x 16" x 10".
15. Countertop Folding Windows Over a Farmhouse Sink in a U-shaped Kitchen
This house, especially the kitchen in this picture, shows the Passive House design principles. It is a solar-powered building with many eco-friendly features included.
The design of this kitchen is considered modern with a sustainable theme. The designer added a palette of natural materials, like FSC-certified pine for the windows and doors, reclaimed wood finishes, and lime plasters that give the crisp contemporary look.
The windows here are not like the usual windows you've seen in the pictures above. These do not picture windows that cannot be operated, even though they look like ones. These are countertop folding windows.
The windows give a seamless connection between indoor and outdoor with a 9' wide custom size. They open the kitchen up to the mown grass court where the towering trees serve as shades, clearly an extension of the indoor living space during summer days.
The windows were also installed with air-tight construction to meet the standard of Passive House Retrofit airtightness.
The farmhouse sink below the windows looks closely similar to Platus Fireclay Apron Front of Undermount Single Bowl 36" Kitchen Sink in White color from Houzer Inc.
This timeless classic Houzer Apron Front Fireclay Sink has a surface impervious to chips, scratches, and stains. It features the newest cutting-edge technology using the most modern injection molding method and the grace of hand craftsmanship.
16. Arched Windows Over an Undermount Sink in a Traditional Kitchen
This open-concept kitchen features an L-shaped layout with a traditional design. It is completed with white recessed-panel cabinets, marble countertops, white subway tile backsplash, stainless steel appliances, an undermount sink, and lovely arched windows.
This all-white kitchen looks beautiful in contrast with the dark wood floors. Both create a neutral color palette that basically the main element of a modern design. However, there are some parts of this kitchen that cannot be classified as modern design.
One of them is the arched window. This window was custom designed by the designer Archer & Buchanan Architecture. It seems that actually they are casement windows since they can be opened outward, but the designer made them with the arched design, which is one of the key elements for a classic traditional look.
The sink below the windows is a standard undermount sink made from stainless steel. In order to add some natural elements to this kitchen, the homeowners later added some potted plants around. Two of them were placed on both sides of the sink, right in front of the windows. So even though the window is obviously not a garden window, they are also completed with potted plants in their "sill."
17. Large Single-Hung Windows with Deep Sill Over a Farmhouse Sink in an Open Kitchen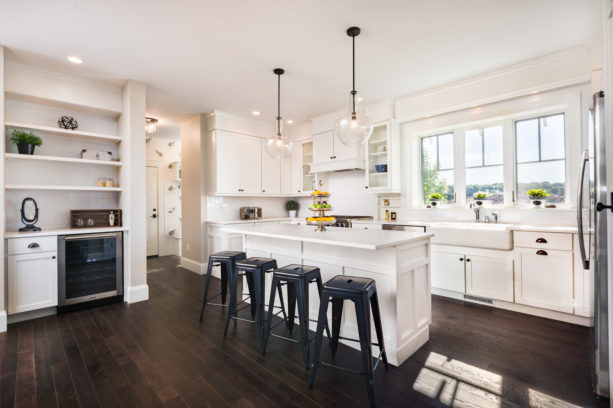 This is a lovely modern farmhouse kitchen featuring a dry bar that opens to the great room. This is not just a kitchen. It is clearly a place to entertain.
The modern farmhouse kitchen is slightly different from the traditional farmhouse style. The modern farmhouse kitchen is characterized by a clean and rustic look, dramatic black and white, simple open shelving, light and bright look, bold, beautiful, yet soft and subtle. All of them are included in this kitchen.
The white 3×6 subway tile, white quartz countertops, white shaker cabinets, and white walls are all perfectly contrast with the dark stained oak floors. The stainless steel appliances and windows are meant to accentuate the black and white combination.
A large window was installed over the sink. The window has an extra deep sill that can be useful for decorative pieces. In this picture, the windows are accentuated with some potted herbs in front of them. They deliver the look of a farmhouse style.
A white farmhouse sink over the windows is completed with white subway tile and a chrome faucet. Those bring the farmhouse look elements in this kitchen. The sink looks pretty similar to Aquaterior 18" Rectangle Porcelain Ceramic Sink with Overflow & Drain & Faucet from Yescom.
Closing
So, what do you think about the various windows over the sink above? Which one do you like?
In spite of the style and the design you prefer, it is recommended to always discuss your choice with your home designer/architect first so they can fit everything you like in the kitchen.
Even though it is easier to pick everything readily available, it is always nice to have the basic elements in your kitchen custom-designed and custom-made to fit perfectly with the room dimensions and your preference.
Good luck with your project!