When it comes to renovation or house remodeling projects, updating the garage is most of the time overlooked. It is because a garage, especially a detailed element like a garage's door, for some people, may not enhance the curb's appeal.
On the contrary, garage door replacement should be your priority for a remodeling project. It can improve the resale value of the property.
Come to think of it, it all makes sense because garage doors take up a huge part of the usual home's exterior. It means, around forty percent of your curb aesthetic appeal comes from your garage door's style.
Due to the importance of garage doors, you have to consider the available options.
Modern doors are quite popular because they can match the exterior of more updated homes.
Yet, "modern" is a broad term to define some subcategories like mid-century modern. It means that in the umbrella term, you have that chance to make modern style entirely your own.
Typically, mid-century garage doors are made of a wide range of material options, like glass, wood, aluminum, steel, or corrugated metal.
Customizing your mid-century garage doors is a fun thing to do, because you can unleash your creativity, as long as it fits the design.
Commonly, mid-century garage doors feature window configurations and panel types.
In a nutshell, mid-century garage doors emphasize simple and clean lines in metal, wood, or glass framework. The key to mid-century modern design is essentials and functionality only with no clutter.
Below, we are going to explore many types of garage doors in mid-century design that you can use for your new garage door.
1. Mid-century Garage Door Made of Aluminum and Glass
A one-car garage like this would be great if the doors match the main entry door, as you see in this picture.
The garage door is made of aluminum and glass. Such a combination will ensure the homeowners will get a lot of natural light in their garage.
Aluminum framed garage doors like this won't only give you a bright room; they also deliver a sturdy structure.
The overall lines of the door appear strong as well as clean. That is why aluminum is your best bet if you want to achieve a mid-century and stylish look.
The glass looks to be insulated, so you don't have to worry about the temperature inside your garage during the winter night.
2. Fine Mid-century Garage Door in Dark Color
For a more sleek look, you can go for this fine door.
This mid-century garage door was designed to parallel the horizontal linear siding of the house, which is basically an accent wall the homeowner added to enhance the look, contrast, and depth of this ranch-style house.
The garage door was made of composite material. The result is the door has the natural beauty of wood. It has a modern mid-century design while at the same time delivering warm energy radiating throughout the home in the absence of real solid wood.
No one would know that this door is actually not made of real wood. The dark paint conceals it very well. Plus, dark color will never fail to give you a luxurious and elegant appearance, perfect for a modern mid-century design.
3. Eichler Sliding Garage Doors in a Mid-century Design
The moss green color of these garage doors creates a soft and subtle contrast to the creamy white siding surround.
These doors are the original Eichler sliding garage doors; sleek, simple, and stylish, perfect for a mid-century design.
However, this door is quite pricey for some.
If you want to duplicate this look with a more affordable alternative, you can buy a standard flush panel garage door and mount Eichler siding to the door panel.
This way, you could custom your own garage door's design and paint it in any color you want.
4. Solid Mahogany Garage Door with Horizontal Planks in a Mid-century Design
Basically, this is an eclectic style garage door. Yet, it has a flare of mid-century modern design, thanks to the solid mahogany horizontal planks.
The door is completed with top windows in a group of three to create a modernistic symmetrical appearance.
Each top window is perfectly framed with a silver-coated steel frame, and the white laminate glass panes let a lot of natural light come into the garage.
Don't worry about privacy, though. The glass opaqueness gives privacy from unwanted attention.
The silver frame looks in contrast against the dark-stained mahogany door. The dark stain accentuates the window panes nicely, making them a focal feature.
The door itself basically gives a beautiful contrast to the white siding surround. Black and white is a never-fail color combination for a modern mid-century design.
5. Uneven Garage Door with Sloping Bottom Sections in a Mid-century Design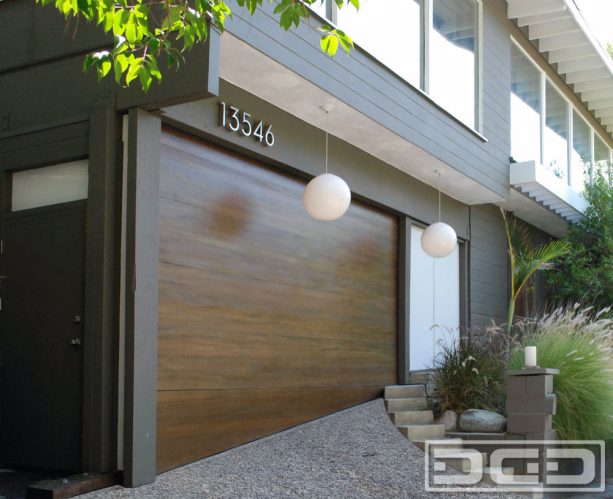 Building your garage in a sloped area? You can go for this garage door.
It is clear that this door is actually a custom-made product. It was designed, created, and installed by Dynamic Garage Doors, making it blend naturally into the home's architectural style.
You can see here that the ground was pitched at a sloping angle. It needed a custom-designed asymmetrical garage door that would fill the huge gap at the bottom of the opening.
Measuring correctly was the key to handcrafting this garage door, so it would perfectly fit into the asymmetrically shaped garage opening. The result is an uneven garage door in a mid-century design to complete the whole look.
The fine-lined garage door is made out of horizontal tongue and groove slats in solid mahogany. It was also stained to duplicate the home's existing Ipe wood accents.
The designer chose Ipe-stained mahogany instead of real Ipe to save more cost because it turns out that having a custom-made Ipe garage door is more expensive than a mahogany door.
However, wood is basically a perfect element to add if you want to achieve a mid-century design.
6. Cedar Wood Mid-century Garage Doors with Vertical Window Panes
Another wooden garage door here. It seems that the door is made of cedar wood. Its medium tone looks lovely combined with the beige siding.
The natural wood accent in this door adds depth and dimension to this house's exterior, a perfect choice for a mid-century design.
The door is also equipped with vertical window panes.
Instead of installing the windows at the top of the door, the designer decided it would be better if the panes were attached to the door's right side.
There are four window panes here that are useful to lighten up the garage. It is an efficient way to cut the electricity bill. It seems that the glass of the windows is opaque enough the hide the insides from the onlookers.
7. One-car Mid-century Garage Doors Made of Mahogany with Double Window Panes
This one-car garage door looks simple and plain but actually elegant in its own way.
This door is made of horizontal planks solid mahogany, like the previous doors you've seen, but this one is smaller.
There are double window panes with four glass panels each at the top of the door.
Judging by the look of the glass, it seems that they are not really useful to give privacy since it is more clear than opaque. Yet, since they were installed at the top of the garage door, passers-by cannot really look into the garage.
A combination of glass-paneled window panes and a solid mahogany door is what it takes to create a mid-century design. Because even though the exterior design here is traditional, sleek and clean lines of the garage door add a touch of mid-century look.
8. Frosted Glass Panels Garage Door in Mid-century Design
It is obvious that this garage is an architectural center point of this exterior.
The garage door looks gorgeous with its anodized aluminum frame and opaque glass panels. This is Clopay Avante Collection overhead door, an excellent choice for a mid-century design.
The designer opted for this door to complement the white exterior paint and the house's clean lines.
With a door like this, natural light could enter the garage easily and at the same time protect privacy as well. At night, the door emits a warm glow, pretty much like the desert around this home a moment before sunset.
9. Carriage-style Garage Door with Rectangular Windows in Mid-century Design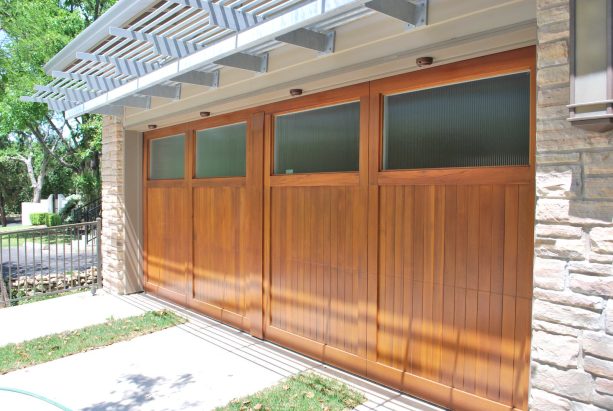 Mid-century garage doors don't always have to be simple and plain due to the minimalist style. They can also be a carriage-style doors. This picture perfectly proves it.
This door is actually a carriage-styled one completed with large rectangular windows at the top and a simulated center post.
The huge windows let the natural light into the garage and make the space inside warmer and brighter. The opaqueness of the glass offers privacy too.
The combination of wood and reed glass delivers a distinct mid-century modern sense. At the same time, that combination also complements the steel trellis at the top of the door.
What an excellent option for a large garage.
10. Steel Garage Doors with Long Panels in Mid-century Design
Vertical window design in steel garage doors like this will never fail to give you a mid-century vibe.
The steel doors were painted in beige color to soften the harsh and strong material (steel).
Basically, these ones are traditional doors with long panels. What makes it look more mid-century is the vertical window panes at the side of the door. They add a splash of contemporary to the otherwise traditional doors.
They both were installed mirroring each other. The window panes seem opaque enough to protect the privacy of the homeowners. The frameless glass creates a cleaner line with no clutter in these doors.
11. Three-car Garage Doors with Uplight in Mid-century Design
This three-car garage is completed with glass-paneled doors that radiate a mid-century vibe.
Instead of glass panels as a window pane in a solid wood or steel door, the doors are simply made of glass with a steel frame.
Three identical doors were installed side by side to create a flow and uniform look.
From this angle, we can see that the glass here features an opaqueness that won't let the onlookers see what's inside.
Glass is actually a material that always brings a luxurious, elegant, yet modern style in a design.
Including glass in your design, especially as a focal point like this, would create a sleek, smooth, and shiny surface.
In order to give a more highlighted look to these mid-century doors, the designer added three lights as an uplight at the top of each door.
12. Mid-century Black Colored Garage Doors with Vertical Window Stack
A combination of modern and contemporary style in a garage door like this delivers a perfect mid-century design.
This adorable door is from ProLift Garage Doors of St. Louis. It matches the entry door at its side, creating a consistent look that would surely add the resale value of this house.
Garage doors with a vertical window stack are always an excellent idea, especially with two vertical window stacks on both sides of the door instead of one!
Having two vertical window panes like this is recommended if you want to custom-make your own large garage door. This way, you could illuminate your garage more with natural light.
Both the garage door and the entry door were painted in black color to give a trendy look. They were made of premium insulated steel that is attractive, durable, and energy-efficient.
With this door, you can cut your electricity bill and at the same time keep warm during the winter.
13. Sleek and Clean Lines of Flush Panels Garage Doors with Mid-century Design
If you don't like window panes on your solid door, you might love this one.
This simple and sleek garage door is also from ProLift Garage Doors of St. Louis, offering a mid-century design with a lovely combination of modern and contemporary elements.
Installing a flush panels garage door is one of the best ways to add a mid-century modern look to your home's exterior.
You can see here that the lines of the door are sleek and clean without any ornamentation.
The door is made of faux wood with the appearance of weathered wood. The soft gray tone is also completed with wood graining, delivering a minimalist and simple look with an energy-efficient feature.
14. Insulated Carriage Style Mid-century Garage Doors with Faux Wood Look
This is another carriage-style garage door that has a sense of mid-century design.
This one-car garage door is made of faux wood and painted in brown to mimic the natural medium tone of the wood.
There are double window panes attached at the upper part of the window. The smaller glass panels here balance the smaller doors.
The window glass seems not really opaque. In order to protect the homeowner's privacy, the window panes are installed horizontally stacked instead of vertical, so it would take extra effort for the passers-by to look into the garage inside.
The doors are Clopay Canyon Ridge Carriage House, and perfectly insulated, thanks to their five layers.
Even though they look a lot like wood, basically, these doors are structured with steel for durability and strength and molded composite materials for realism and beauty.
15. Trendy Mid-century Garage Doors Made of Horizontal Slats Wood
This is another garage door with horizontal planks made of solid wood that radiates mid-century vibe clearly.
Even though these doors are also made of horizontal planks of woods like the previous one, these ones are lighter than the previous ones, creating a brighter and more trendy look.
The two-car garage doors seem to have been stained with Sikkens Door and Window Dark Oak.
There is no window pane in the doors, making them look cleaner, simpler, and sleeker. It seems that the wood garage doors were opted to match the wood siding.
Creating a consistent look can add value to your home because it makes your property looks modern and luxurious.
16. Corrugated Metal Mid-century Garage Doors Combined with Wood Siding
This mid-century garage door features a modern classic look.
What makes this whole garage unique is the combination of three timeless elements here: natural wood siding, stone base, and corrugated metal.
The garage door is made of corrugated metal in dark gray color and a worn-out look to create a classic look. Yet, the frameless window panes give a contrasting modern look.
Instead of separated, the window panes here blend with the doors naturally. There are five metal panels of these doors. One of the upper metal panels is replaced with glass. This way, no need for extra space for the doors to add the windows.
The glass is transparent instead of opaque. Yet, that's what makes this garage door unique.
Privacy is not an issue for the homeowners here because it seems that they really want to give a sneak peek of their garage to the people outside.
The metal material looks in contrast to the wood siding around, making the whole garage door a gorgeous focal architectural point.
Closing
From the pictures above, it's safe to say that mid-century design is quite similar to classic modern design. This style focus on uncluttered lines and a sleek look.
Different from usual modern garage doors, mid-century doors favor the pairing or juxtaposition of two contrasting elements. Plus, mid-century garage doors also show a detail of boldness in asymmetrical design or color.
Basically, if you want to custom-make your mid-century garage doors, make sure you have these elements:
No external hardware accessories are needed.
For slats, they are usually thin and horizontal.
Flushed panels.
Window configurations are primarily vertical and broad.
The materials are either steel, dark wood, or full-view glass.
Good luck with your project!