When it comes to structuring, it seems that design is not the priority and vice versa. Architecture and designs most of the time don't get along well.
One of the architectural elements that you think would not look nice in your interior designs is the beam and its supports.
However, we can't deny that a load-bearing ceiling beam is the most noticeable feature that people would see when they walk into your room. It is inevitable because a load-bearing or support beam gives functional support for your home.
You can't just remove it for the sake of a visually aesthetic look.
Yet, support beams can be dressed up. Instead of hiding it, you can just make it look like an intentional structural element in your room.
The way in which you decorate it depends on the general feel of the room.
For instance, you can combine two columns to create bookshelves or even a minibar. For a single column, you can use a natural tree trunk as a decorative tree trunk, perfect for a tropical design.
Here are some ideas to decorate your support beam to make it look nice in your interior design:
1. Decorating Support Beam with Cantilevered Light and Tight Rope Tied Around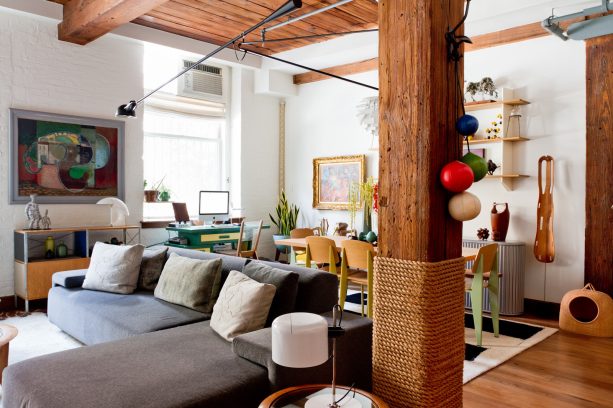 This eclectic living room looks even more adorable with the decorative support beam. Its natural wood column as a supporting beam is located at the center of the room, making it to be the center of activity.
You can see that there is a rope wrapped around this column. It is basically used as a cat's scratching post.
Yet, the combination of wood and rope gives a good sensation for humans to touch too. It feels good to run our fingers across as we pass by.
It seems that the homeowner is a cat lover, and it shows much in this room. The supporting beam is also hung by some cats' toys.
There is a cantilevered light attached there to illuminate the whole area. This way, the column is functional as well as eye-pleasing.
2. Setting a Kitchen Island Around the Decorative Support Beam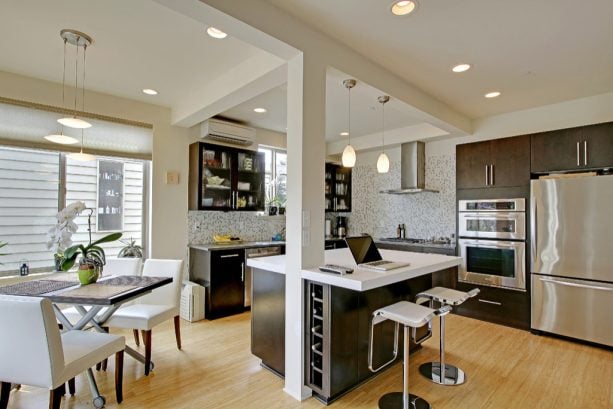 The designer here has utilized the decorative support beam as a column to anchor the island.
The column is used as a pivot point to your built-in furniture. In this case, it is an island. It seems that the island is attached to the column perfectly.
See how the floor remains consistent throughout the kitchen, yet the column marks the kitchen space in combination with the same sized beams.
This island is a perfect spot to hang out with your friends and family since it features a built-in wine rack, and it is completed with bar stools too.
3. Decorating Support Beam with Arched Design Ideas on an Elevated Level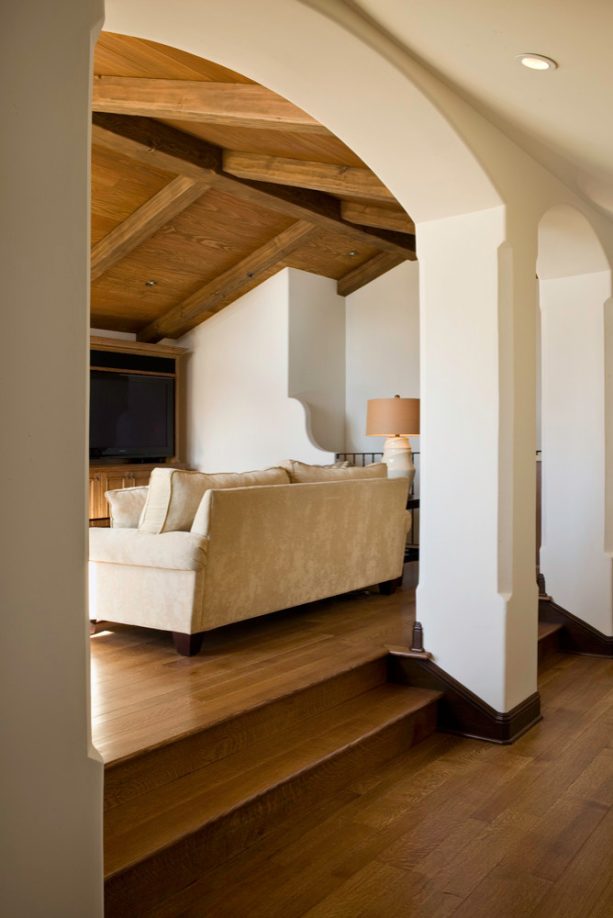 Compared to the previous pictures, basically, these columns as a supporting beam are simple and minimalist.
Moreover, they were painted neutral-colored, which means to blend with the surroundings instead of making an attractive point.
Yet, this row of columns as decorative supporting beams is useful to signal a level change. Those are considerably perfect as a place to put one or two steps up to a raised section of the floor plan.
The arched design also adds an elegant touch to the room. Installing columns as a supporting beam on an elevated level serves as a visual cue to watch your step.
4. Decorating Support Beam Ideas as a Light Box to Illuminate the Area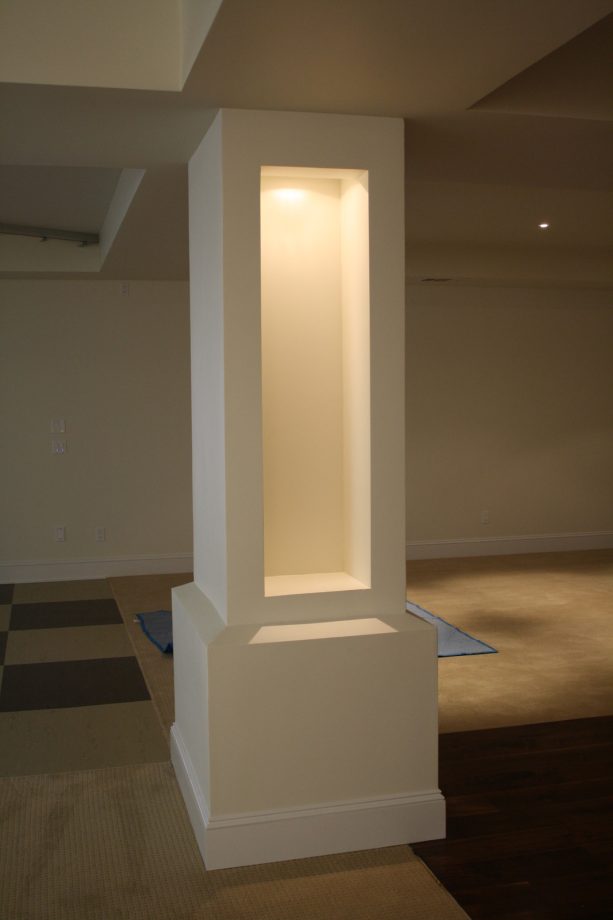 This is a trendy basement that features a lot of lighting to keep it well-lit.
The designer installed the light inside the column as a decorative supporting beam. It is obvious that this is a custom column with a built-in light that is usually used to display art pieces. It was installed at the top of the column that also has a removable shelf.
This column is actually more like a display box with integrated downlighting and uplighting.
The column was also painted in white color to give a perfect background for the piece of art put there.
If you want to get a supporting beam like this, you need to find an electrician to install specialty lighting like this.
5. Decorating Support Beam with an Ornate Pattern in a Tropical Patio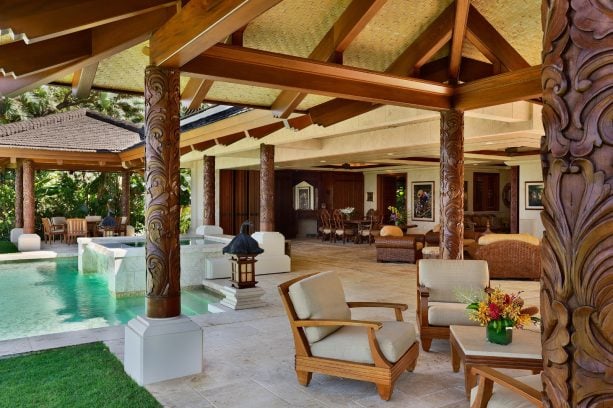 This is a large patio with a tropical design, and it is called a Bali house for an obvious reason.
The columns here are used as a supporting beam. These decorative support beams are basically a work of art. They feature a carving or an ornate pattern.
The columns are made of wood in a dark tone that looks in contrast to the beige color around.
The carving here indeed reminds us of the traditional Balinese style. They give an attractive look to the entire area.
6. Large Stone Columns as a Decorative Support Beam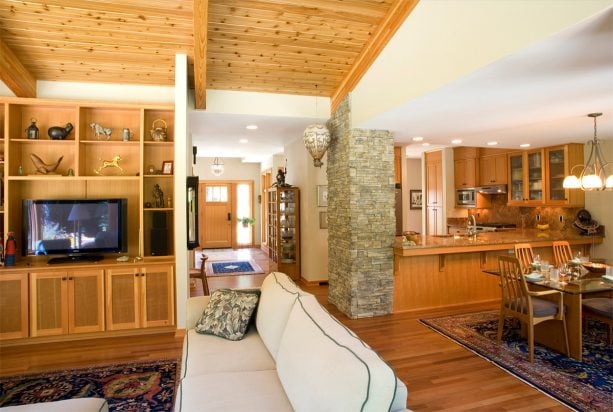 This decorative support beam is made of stacked stone from Eldorado Stone. The color is Alderwood.
The imposing presence of a stone column like this will remind you of its aim, and at the same time delivering a tactile material contrasting with the entire soft interior.
It would be a good idea to bring some of the material from your home's exterior insider like this. The siding material outside can be used as a decorative support beam.
The peninsula has its end attached to this column, creating a lovely contrast of wood and stone.
7. Decorating Support Beam with Wood Slats as a Media Wall Idea
Who said that a decorative support beam is only used solely as a decoration?
In fact, apart from its main use as a support for the beam, it can be used for many things too. In this room, you see that the designer managed to turn the decorative support beam into a media center.
If you have a lovely open floor plan and you don't know where to put your TV, you can turn your structural column into a media wall like this. It would be smart planning either to install electrical outlets near the column for your entertainment purpose.
The designer here also used the lower part of the column as a built-in bookcase.
If you are wondering here, the wood slat columns here are made of Poplar wood. This was custom-made by the local carpenters. Make sure you choose a skilled carpenter for this project.
8. Decorating Two Columns of Support Beam as a Shelving Idea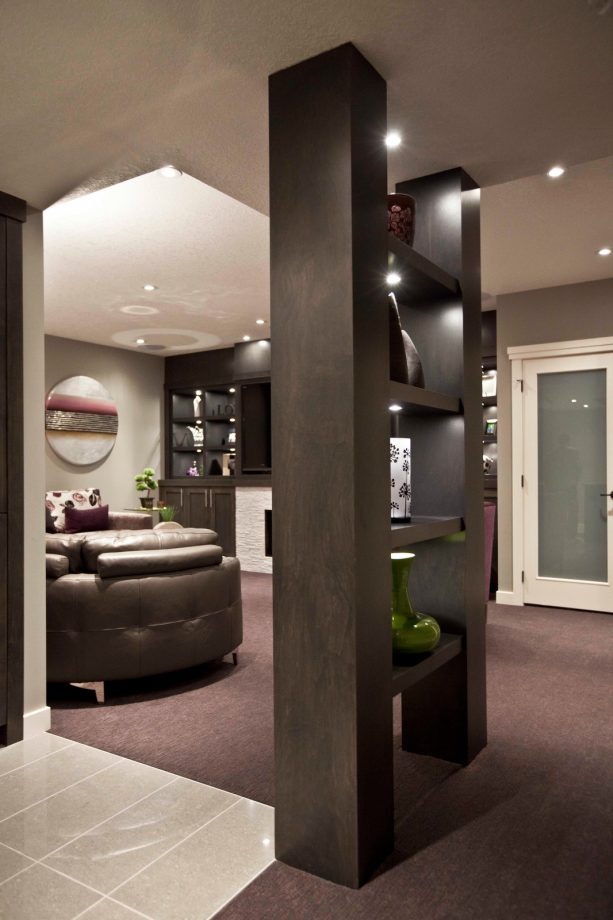 If you have two columns placed side by side, you can turn them into a bookcase like this. Thus, it would be a great decorative support beam.
If you want to create a bookcase out of two columns like this, make sure those columns are close together. So, it would be easier to create shelving and add lighting for storage space or display.
It would be even better if you clad them to match other built-in furniture pieces in your room. This way, no one would know that they're basically structural.
The columns here are made of maple wood. The wood was stained, but there is no specific stain because it was created by the designer for their custom cabinetry shop.
The stain is actually brown with a sort of gray feel in it. Yet, paint color Benjamin Moore – "Driftwood" looks pretty close to this.
9. Encasing a Support Beam as a Decorative Wine Rack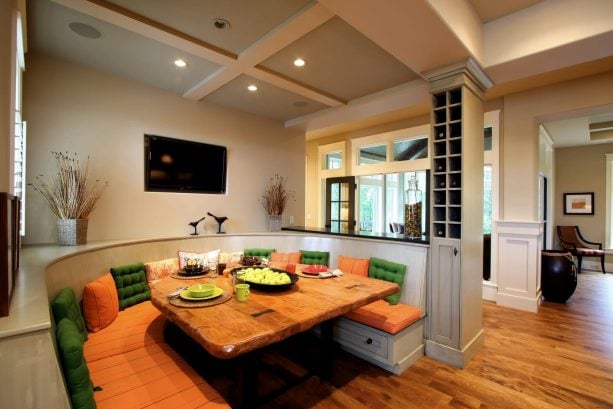 If you want another useful decorative support beam, you can turn the column into a wine rack too!
This tall and narrow column is perfect to be encased and added with some cubbies. This way, you will have a lovely spot to store your wine collection.
As an alternative, you could do something similar for your CDs, shoes, or other collections that could fit into the cubbies.
The color of the column creates a soft contrast to the entire look. The color looks gray in this picture. Actually, according to the designer, it is a combination of sage green and beige with an antiqued finish.
10. Decorating Support Beam Using Space Between Two Columns as a Mini Bar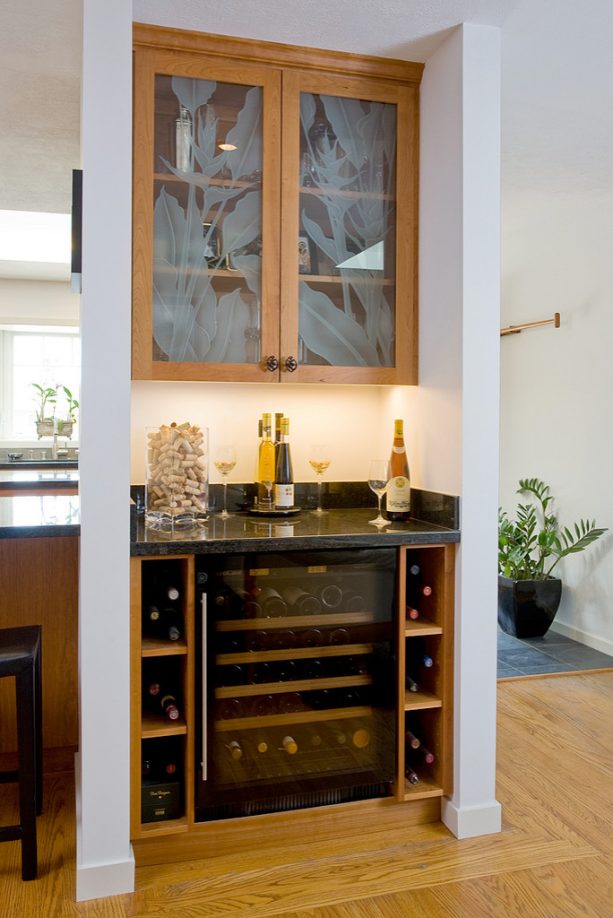 If you have columns that blend with the walls around and that are not so close to each other, you can create a mini bar inside the nook. This way, the columns would be an adorable decorative support beam.
This support beam has a space for a minibar.
Who needs a wine rack if you can use the columns as an ice station or a minibar?
This minibar is completed with glass-front cabinets made of medium-tone wood. It is paired with a black countertop in the lower cabinet that is filled with cubbies on both sides and display shelves in the middle that seems to be a fridge.
If you want to achieve this look, don't forget to complete the bar with a wine fridge. This way, you can always serve cold drinks to your guests.
11. Decorating Reclaimed Barn Wood as a Support Beam on Both Sides of the Island
The first impression of this kitchen is natural and organic. The columns tell a lot about this kitchen. As a support beam, those columns strongly stand in the middle of the room, on both sides of the kitchen island.
It seems that the columns are made of reclaimed barn beams.
Using a reclaimed element like this will add a decorative look to your support beam. The columns look in contrast to the polished and smooth countertop of the island. The rough surface of the columns also adds texture to the entire kitchen.
12. Decorating Support Beam with Low Storage as a Room Divider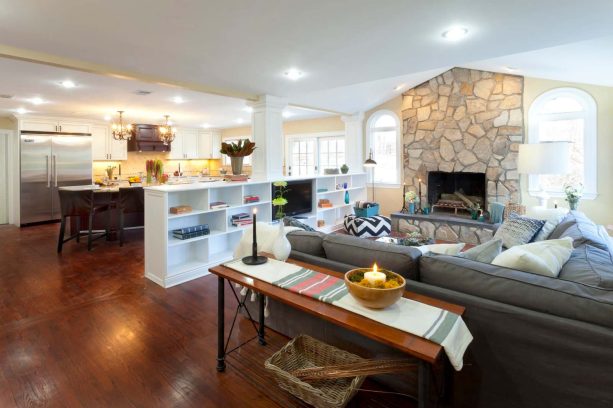 If you have an open floor plan, you can use your support beams as a room divider.
If your support beam is a row of columns, turn those columns into low storage that can serve as a room divider.
According to the designer, the homeowners of this house intended to maintain the open feeling of the space, yet they also wanted to add a little more separation between the different areas.
That is why the designer added a structural half wall with custom shelving out of two white columns. Thus, those columns have been transformed into a decorative support beam completed with low storage.
The designer managed to combine design and function. The storage cabinet is used as a bookcase, display shelf, and media area.
13. Open and Floating Shelf as a Decorative Supporting Beam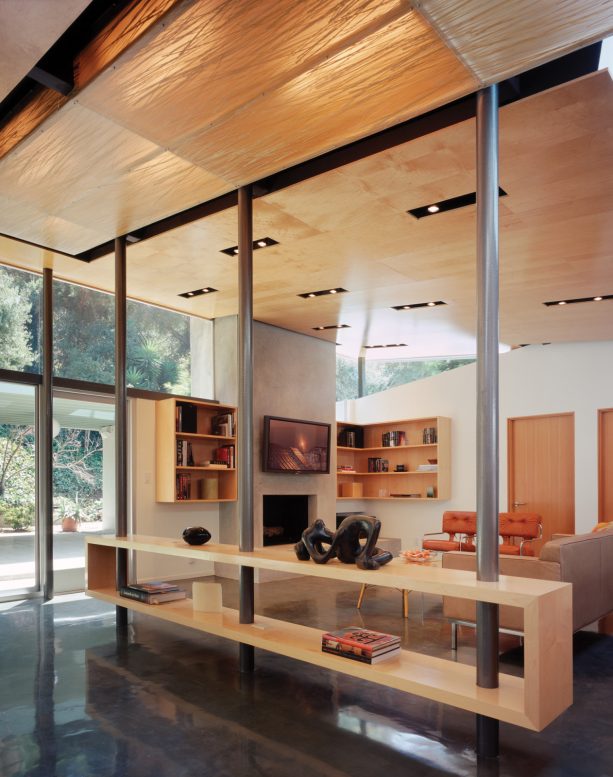 It is another example of storage between columns, like the previous picture. However, this one is more unique and more stylish.
This storage also serves as a room divider. Yet, the shelf is floating and open. The system has a totally different feel from the previous picture, but the result is quite similar.
It is a custom-fabricated floating shelf completed with a light box above to highlight the area.
The combination of metal columns and open shelving delivers a simplicity most people yearn for. This way, the simple and usual metal columns have been converted into a decorative support beam.
The open shelf is kept simple with minimal items put on that.
14. Decorating and Creating a Storage Space from Two Columns as a Support Beam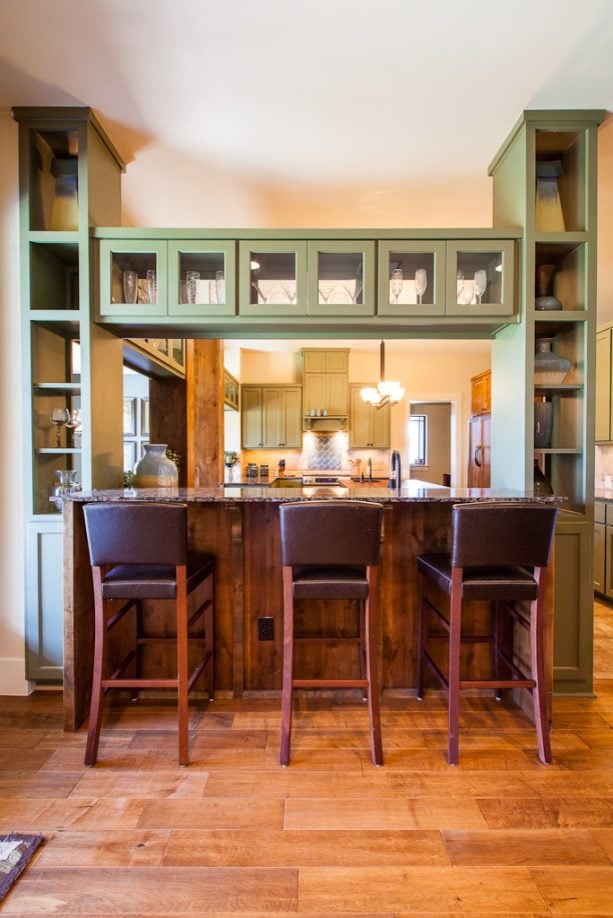 Another reason why you should have two columns stand side by side with a precise distance is you can create custom furniture out of them. This picture shows the best example.
Two columns here have become a bar that nicely frames the kitchen. Both also provide horizontal and vertical storage space.
This way, the columns shouldn't have to be concealed. Instead, they should stand out to become a decorative support beam.
These columns have been turned into a cabinet with an island in the middle of them. The glass-front cabinets display the homeowner's collection prettily.
If you are wondering, the cabinets were painted in Benjamin Moore – Wethersfield Moss color.
15. Decorating Built-in Display Shelves as a Support Beam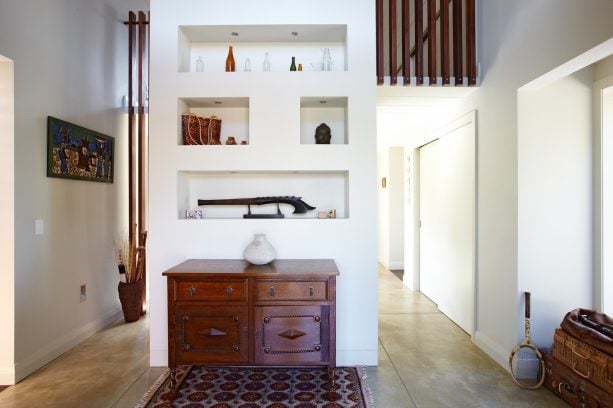 This contemporary living room also uses its column as a decorative support beam.
Unlike the other columns that usually have a tall and narrow space, this one is wide enough to make it more like a screen instead of a column.
The front side of this decorative support beam shows a display case with built-in shelves.
On the shelves, the homeowners store their most favorite collection. It is also combined with an antique dresser to give a more classic look.
Basically, the function of this support beam is not only for a display case, but it also marks the distinction between a more public area in the living room and a more private zone of the property.
16. Floating Typography Artwork to Decorate the Support Beam
Actually, the columns in this luxurious living room are simple. They both were painted in white color, which shows simplicity.
Yet, in order to add more decoration to the columns, the homeowners added a display art on the columns. Thus, they become a decorative support beam.
Those large white columns function as blank canvases for a 3D wall phrase art, a floating typographic artwork.
There are lights recessed in the ceiling, the downlights that cast shadows on the columns. With the lights, the artwork looks even more noticeable.
17. Using Tree Trunk as a Decorative Supporting Beam in a Tropical Living Room
If you want to bring natural elements in your living room for a tropical design, you can use a tree trunk as a column.
The columns should be lined in a horizontal line to provide rhythm.
You should know that our eyes take comfort in patterns. That is why, uniformed columns like this will bring a sense of rhythm in a neutral-colored space.
The tree trunk used for the columns as a support beam here is from Ohia posts. It is an original tree in Hawaii and is often used in many Hawaiian architecture designs.
The columns blend perfectly to the limestone floor that was sourced from Pietra Fina in Kona.
18. Creating and Decorating Seating Spot from the Column of the Support Beam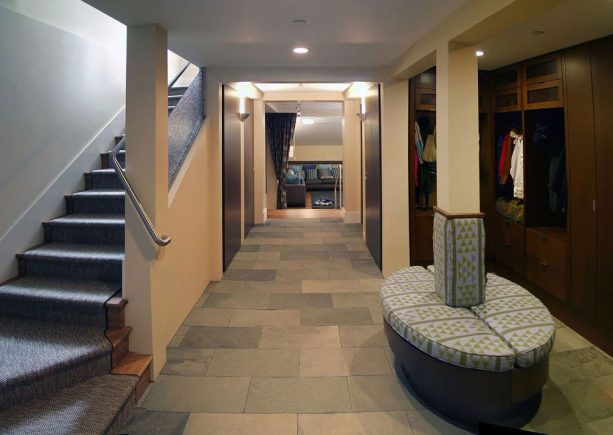 This is another unique decorative yet functional support beam. The support beam is a column that has been decorated to become a seating.
Creating seating around the column base like this is perfect for a mudroom.
So when the guests come, they can have a seat while taking off their jackets and coats. The jackets ad coats can be stored in the cubbies to the right.
The bench is upholstered to provide extra comfort. The cushion is similar to the pad in the column's wall. It is obvious that this is a custom-fabricated cushion that is combined with dark leather material in its base.
19. Decorating Support Beam by Contrasting Texture of Columns to the Walls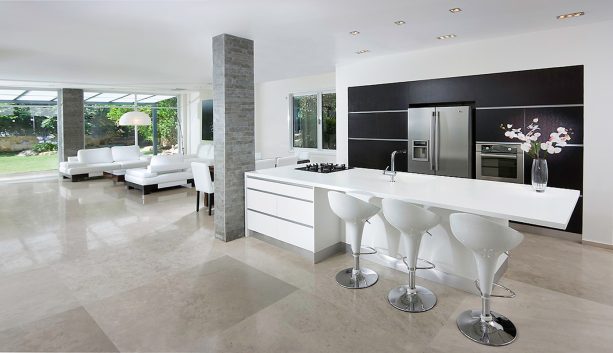 If you have an all-white design in your room and you want to create contrast, it would be great if you used the columns like this.
This column is a decorative support beam with a feature wall that also adds texture to the entire room.
For a column like this, you can clad or color it with a contrasting texture with the rest of the design to add a pop in a room with minimalist style.
This open floor plan looks elegant with its white and cream color combination. Yet, for some, a neutral color combination might be a bit too plain and boring. That is why the designer installed these textured columns framing the living room.
20. Classical Column in a Contemporary Setting as a Decorative Support Beam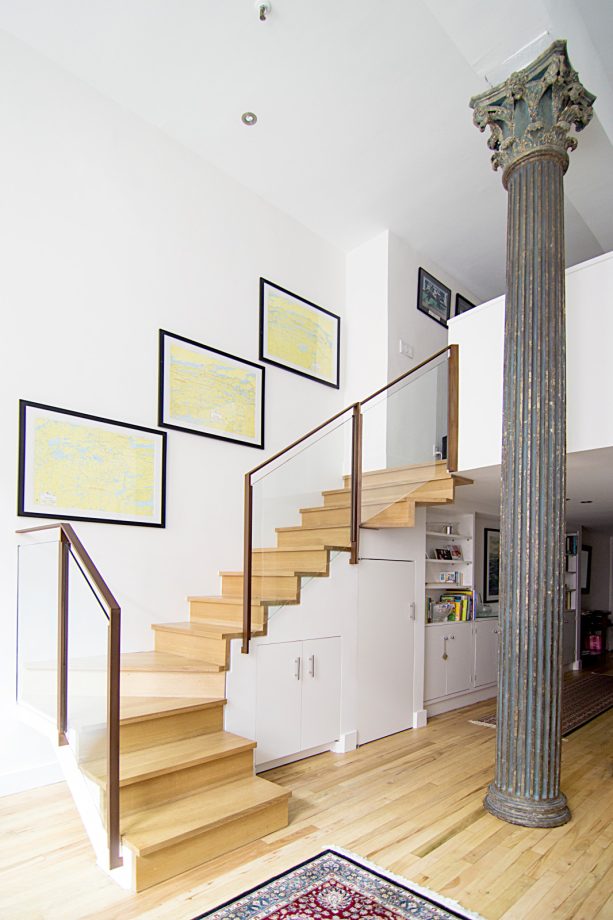 Having a contemporary or modern design in a room is the simplest way to make it look trendy. It is because contemporary and modern design usually features a minimalist decor with a neutral color palette.
However, applying minimalist decor can be a bit intimidating due to its clean and sterile look. That is why adding some elements to it will be a great idea.
This picture proves it. The designer created a contrast between styles.
Basically, the entire set of this room is contemporary. Yet, the majestic column in the middle of the room features a classic Victorian style. It was also finished in a gray color that looks pop up in this light-colored room.
The contrasting style and color in this column make it a perfect decorative support beam.
21. Decorating Whimsical Support Beam in a Timeless Hallway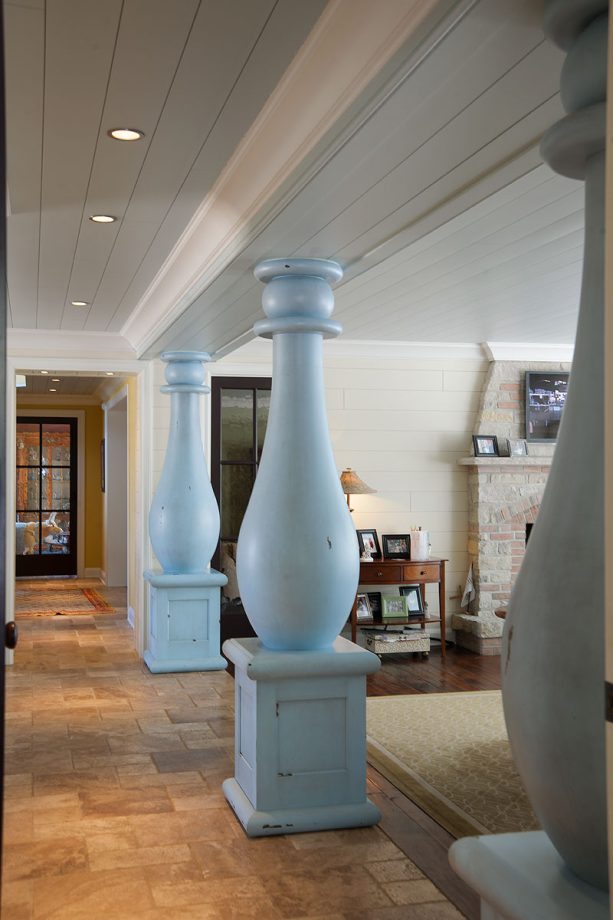 It's OK to show your playful and fun side in your room.
One of the best ways is by decorating your support beam into a row of whimsical columns like this. These bottle-like columns remind us of Disney movies, something that resembles a castle in a fairytale.
The columns have a rectangular base that makes them look solid and sturdy. The columns don't need more elements as decor because their unique shape already makes a point here.
Similar to the previous pictures showing a row of columns, this picture also displays a uniform look and sense of rhythm from the white-painted columns.
22. Decorating Support Beam with a Light Tone Rustic Style Wood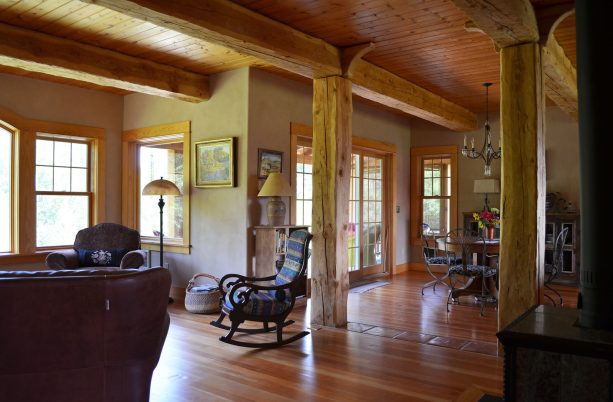 This mountain-style living room looks even more rustic because of the columns.
In order to match the wooden floor and ceiling, the designer added natural look columns to support the beam.
The decorative element is the unfinished look with the rough texture of the columns. It seems that as if those were made from the real tree trunks.
The natural cuts and stains of the wood create a contrast to the polished floor and ceiling. Moreover, the columns feature a lighter tone than the floor.
Contrasting texture like this is a simple way to make a decorative support beam.
23. Fun and Decorative Support Beam with a Swing on Its Side
This sky house located in Manhattan was designed by David Hotson Architect in 2012. It's predominantly white and has quite a high ceiling. The furniture pieces are mostly in light colors, and so is the carpet on the floor.
What you see here is a trendy contemporary living room that is a part of the sky house.
The living room has a decorative support beam. The beam is painted white, and it is decorated with dots in green and orange.
One part also has a swing that the residents can use to have fun during their leisure time.
24. Decorating Support Beam with Glossy Bright Orange Color to Separate Two Areas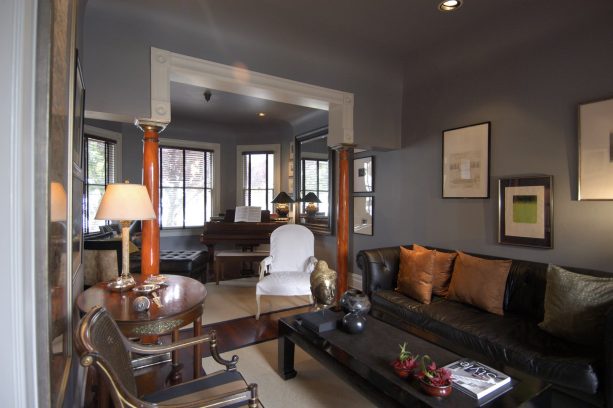 This eclectic living room is a perfect example of an artistic living room.
This living room is located in San Francisco. It is in a house with details such as cherry cabinets, slate floors, marble counters, stainless steel art niches, glass mosaic tile backsplashes, and a reproduction of a painting from the renaissance era.
The living room has a music area. It also has two shiny decorative support beams that stand out in the room.
The beams are browny orange in color, and they are so polished that they are extremely visible in the room. The decorative support beams are in the form of columns, and they separate the living room and the music room.
25. Wood Decorative Support Beam Attached to a Dining Table
This contemporary kitchen is bright, clean, and comfortable. It has a light wood-colored floor and white modern kitchen cabinets. It also has a wooden dining table surrounded by black dining chairs.
There is a set of posts and beams attached to the dining table. The dimension of the post and beams is 10×10.
The decorative support beams are wooden, and the color is the same as the dining table.
The way the post and beams are attached to the dining table gives the kitchen a very unique and creative look.
Closing
So, what do you think about decorating support beam ideas above?
After looking at those pictures, you might have been assured that instead of attempting to hide the structural columns in your room, especially in an open floor plan, you can just celebrate them and make them pop. Because, at the end of the day, the column is useful to give support for the beam.