Choosing log cabin exterior paint colors is actually not that easy. It is because we can't really paint the logs.
Paint is meant to protect the surface underneath. Painting can prevent your stones, woods, metals, and other similar materials from rusting. Plus, color paint can add personality to your property too. So, painting a log cabin may be a good idea.
However, you should know that when it comes to log, paint won't protect logs like it does other materials. On the contrary, paint will only cause the logs to rot. If you want to add some color to your logs, it is better to stain it.
The question that always pops up is, can't I paint my log cabin?
Well, basically there's nothing stopping you. Even though paint can rot your logs, if you really want to paint your log cabin, you can just do it. But there are some risks in it.
Here's the fact. Logs are different from other house materials. Logs contain moisture. Plus, logs are thicker than dimensional lumber. Unlike most lumber that is only a cross section, logs contain the full tree. You can let the logs dry for a year, but still it doesn't really get rid of the moisture.
Moreover, logs also absorb moisture from the air. During winter, your log cabin will take on more moisture.
So what happens if you paint your logs?
Paint can keep the moisture out, or in.When you paint the logs, they cannot breathe. It means, the moisture will be locked inside. FYI, logs need to breathe
On the other hand, stain works differently than paint. Stain will not seal the logs. Instead, it will soak into your logs and give them a beautiful color you like, while at the same time, preserve the wood's natural grain.
So stain will give benefits to your logs. It makes the wood more resilient and stronger against the weather and any outer elements.
When you use stain, your logs still can breathe and the moisture inside the logs can be evaporated too. Stain can keep the moisture from getting in. The logs can stay dry during every season.
If you really want to add some colors in your log cabin exterior, it is better to use a pop of color in the trim, the doors, or the windows. Some of the pictures below also paint the roof to give some extra color. Here are some pictures of log cabin with exterior in different striking colors. You can find your inspiration below:
1. Natural Oak Color Stain Log Cabin Exterior with Pine Siding
This large log cabin home has three bedrooms and a bunk room too. What makes it more homey is, it features a fully covered porch too.
So it doesn't matter if the weather is not that friendly, the owner can still enjoy their quality time on the porch off main level.
On the first story, you can see the hot tub patio. It is perfect during the cold weather if you want to warm yourself up while enjoying the surrounding view.
Now, let's see the whole exterior in more details. The logs here are Western Red Cedar. All of them were crafted by Pioneer Log Homes of BC.
The crafter could totally manage to reveal the beauty of the wood in Alaskan Style staggered tails. When it comes to the stain, the logs were finished in natural oak color from Sikkens Cetol Log and Siding. The siding, on the other hand, is made out of local beetle pine and stained by the same product with the logs.
2. Sikkens Butternut Log Exterior Color Stain Combined with Siding Cetol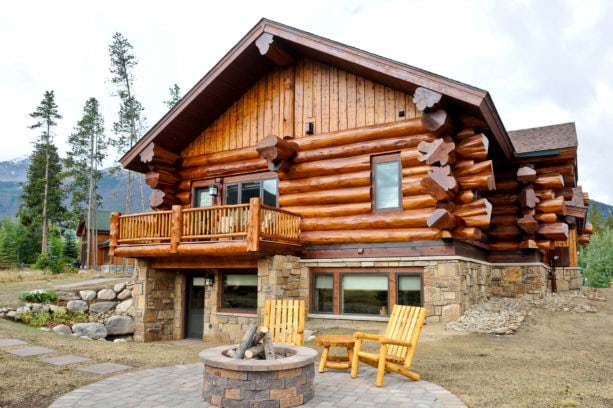 This homey log cabin feature four bedrooms and 3,5 bathrooms. It also has decks, large common areas, and outdoor living space. So the owner can enjoy the warmths of their fireplace inside the log or spend some time comfortably outisde too.
This large mountain style logs are made out of Western Red Cedar, built by Brian L. Wray in Colorado Rockies. It has a great combination of siding exterior and a shingle roof.
The logs here are sealed inside out. The stain used is Sikkens Butternut with siding oil on them. For the railing, it is also made out of the same wood and stained with the same product too with the main exterior.
3. Combination of Solid Stain Color of Siding and Semi Transparent Log Cabin Exterior Paint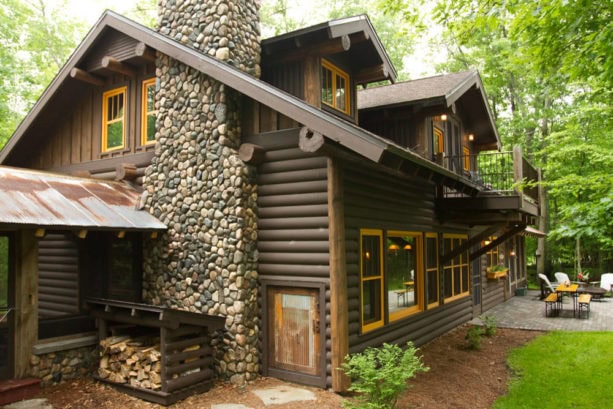 This elegant log cabin is a lakeside residential. It features a covered storage to store firewood.
Yes, basically firewood or lumbers should be kept indoor in a cool and dry location. However, you can also store your lumbers outside like this, as long as you don't keep them directly to the ground and you place some cover above them.
Right beside the firewood storage, you see the little door in this picture. That is the door for loading the firewood. So the owner of this cabin doesn't have to carry the wood through the house. This is a fully insulated door and was created in a vintage style. The door appear harmonious with the windows, which are Marvin Ultimate Windows.
The stain on the siding is a solid stain. It is from Cabot in Bark Color. The railing logs/corner logs were also stained with the same product, but in the semi transparent product line. So you see here the logs appear darker than the railing ones.
4. Rustic Wood Exterior Log Cabin with Custom Color in Benjamin Moore Paint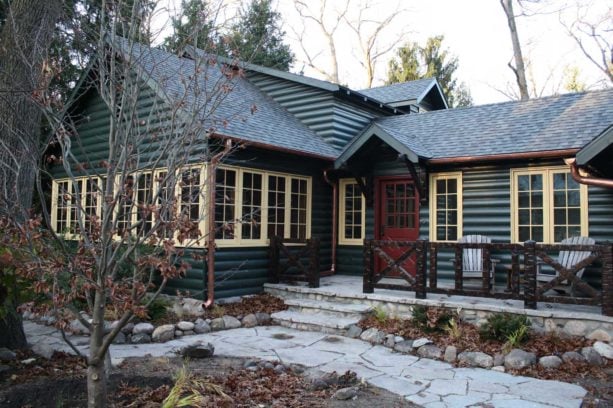 This classic log home was firstly built in 1930 and was recently updated. It now has an additional screen porch, connecting two-car garage, new entry, and some extra rooms inside.
Those additional designs were carefully built so they wouldn't go against the cabin's original aesthetic. The exterior materials were still the same, but now they are painted.
Yes, it is actually uncommon to paint the logs. But in this case, this cabin doesn't feature logs. Instead, the designer used wood siding. So it's okay to paint the exterior.
The paint used here is Benjamin Moore. However, the green siding, the yellow window, and the red door are all custom colored. To achieve such color, the designer had to mix some existing paints of Benjamin Moore from the paint samples.
5. Luxurious Log Cabin Finished by Ramiro Ponce of Absolute Quality Painting for Exterior Paint Color
This building resembles a perfect escape to the mountains. It was designed in a rustic style, but it also has a touch of a modern cabin house. The combination of green roof and natural wood makes the exterior look more inviting. FYI, the roof is made out of metal.
The exterior wood of this large log cabin has PPG ProLuxe Cetol Log and Siding stain in Natural Oak color. This stain product is a high-performance sealer in translucent satin wood finish. It is perfect for vertical wood surfaces.
Cetol Log and Siding also features high solids formulation that offers maximum protection as well as luxurious look in only just two coats.
The trim is made out of cedar, while the siding is pine. Both trim and siding were finished by Absolute Quality Painting – Ramiro Ponce.
6. Mountain Style Two-Story Log Cabin with Shingles in Sage Green Color of Metro Shakes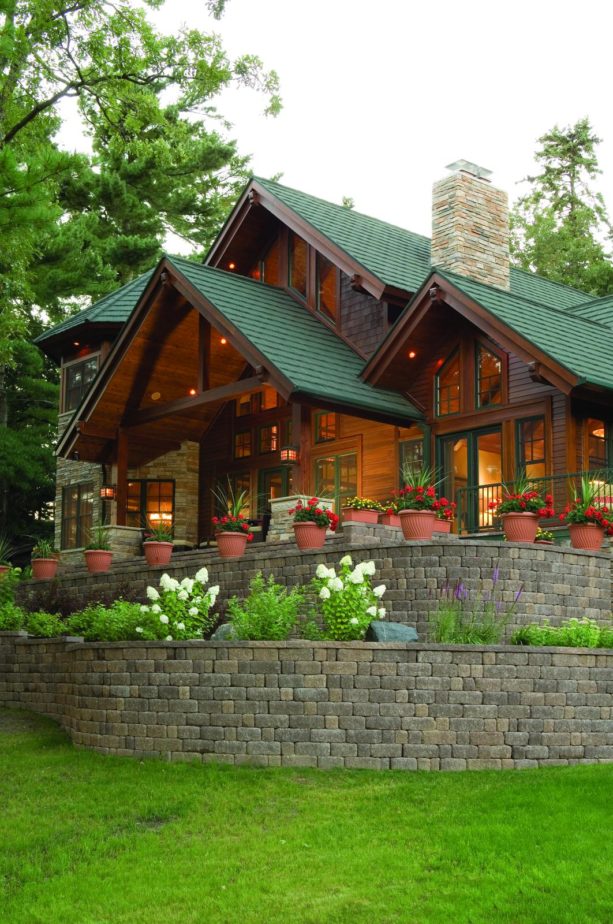 Green works well with mountain and arts & crafts homes, and the picture of this house proves it. Green let the house shine, because it is a rich color and can energize but has a sense of calming too at the same time.
This two-story log cabin features green shingles. The roof was painted in Sage Green by Metro Shakes. The railings here are green too. They are green wrought iron. They seem perfect combined with the cedar lap siding. The siding was stained with Sikken's Butternut.
Tip: if you use Hardie shake product, it is important to work with your painter to make sure the color matched as close as possible.
Extra tip: if you have the similar house like this, with green trim, cedar sided, and brown Marvin windows, it would be nice to have a great accent color. And red is your best bet. Choose a red door to complete the whole look.
7. Arts and Crafts Cabin Home with Exterior Paint Mix Color of Benjamin Moore Charleston Green
This is an example of an arts & crafts home. This is also a proof that green does well with arts & crafts homes. This large house is a three-story building with wood siding and a hip metal roof. This is basically not a log, but it is considered a cabin home, which delivers quite the same benefits with a log.
The exterior color here is a beautiful combination of white and dark green. The dark green color was a custom mix. It was started out with a Benjamin Moore – Charleston Green paint color. The designer lated added black color to it.
If you want to do the same with your siding, you should know that on the exterior, this color mix always seem lighter than if you use it indoor. It is advised to take a large board, then paint it with several coats of the mixed color. Put it under the sun and review the color.
The trim in this house also has the same color, but it has a higher gloss. The railing that you see in this picture is also a custom wood.
8. Benjamin Moore Linen White Exterior Paint Color for a One Story Cabin
This is an example of a farmhouse cabin. Even though it is not a log, but the crisp white of the exterior makes this tiny house is impossible to pass. Located in the woods, this building can deliver the best escape too as any logs out there.
This lovely small house features a metal roof. The roof comes with that color, so it was not painted at all. For the exterior, it is plywood and batten. The plywood was painted in Benjamin Moore Linen White, makes it look nice, clean, and polished. The deck color here is a standard color from Trex, the manufacturer.
9. Two-Story Wood Log Cabin with Valspar Cherry Pickin Color for the Trim Exterior
This mid-sized country home cannot be fully classified as a log, because the exterior of the main building has wood siding. However, it is attached with a smaller building, which is actually a log. The log was stained in a similar color with the siding. Unfortunately, there is no detailed information about the stain used. But you can easily find one in a semi-transparent coat.
This wood exterior house features a striking red trim and some elegant windows. No information shared about the trim color, but Valspar – Cherry Pickin' is the closest paint color that you can choose. The windows are from Marvin, and the color is Brandywine.
10. Large Cabin with Behr Red Pepper Paint Color Exterior
This large two-story cabin features a mixed siding exterior. The classic garage doors here are real wood. Those doors are from Great Northern Door Company, located in Minnesota. The siding is a smooth cedar lap. It is stained with Sikken in Butternut color with three coats (Cetol System).
The red paint above the main door and the garage door is "Red Pepper" color #UL 120-22 by Behr. All of them look nice combined with the windows and the roof. The windows are from Marvin in Bronze Color. The roof is perfectly dark in Charcoal Color from Timberline.
11. Mid-Sized Contemporary Cabin with Benjamin Moore Ocean Floor Exterior Color Paint
This contemporary cabin has a warm and inviting front porch. This is a two-story building with a recycled travertine pavers and some steps that lead to the front porch. The porch itself is a poured-in-place concrete. The pavers are from LBJ Library in Austin. It also features concrete fiber cement siding.
The siding was painted in Benjamin Moore – Ocean Floor. The grey looks calm and relaxing. It seems nice combined the four wood pillars and the wood-framed glass door. Unfortunately, there is no detailed information about the stain used for the wood. However, it seems that the sealer used here is Columns from YellaWood. The elegant windows in this exterior are Andersen 100 Series composite windows.
12. Benjamin Moore Ashley Grey Mountain Style Rustic Cabin Exterior Paint Color with Metal Roof
This rustic cabin was completely finished in a year of renovations. After the renovation, this cabin finally has new trim, new paint, new double-pained windows, and new deck. It is a two-story building with wood exterior combined with a metal roof. It is mid-sized mountain home, perfect for a winter holiday.
The wood trim here is not painted at all. It is stained by Sikkens in Dark Oak color. The dark oak stain completes the gray color of the exterior. It is painted in Benjamin Moore – Ashley Gray. The black iron railings are there to give boundaries to the porch. And the metal roof completes the whole look.
13. Homely Two-Story Wood Exterior Cabin with Marvin Wineberry Color Windows
This lovely lakeside house features a rustic design. It is a two-story wood exterior cabin with a shingle roof. It looks classic yet elegant at the same time.
There are two seating areas outdoor. Both can provide a full entertainment for the owners. They are also completed with an outdoor grill, which makes it possible for all family members and friends to enjoy their quality time together outside the house while barbecuing.
There is no paint used for the wood siding here. The designed used stain instead. The stain is Sikkens in Dark Oak color with Cetol System (three coats)
The brown shingles roof is painted in burnt sienna color, but there is no information about the paint manufacturer.
The trim here is actually a color combination of dark oak stain and a solid stain. Both are roasted in red pepper color. And for the windows, they are Marvin Windows in Wineberry color.
14. Recommendation of Best Log Cabin Exterior Stains
1. Outlast Q8 Log Oil
This is one coat oil based stain that is able to protect your logs from rot, mildew, mold, and even insects. It can be used on the logs or on the wood siding.
This product can repel water too. It canot peel or crack. The solution will seep into the logs to give protection from the inside, not just on its surface.
2. Seal-Once Eco Friendly Premium Wood Sealer
This stain is one of the few sealants that delivers green color. It can be used not only for exterior, but also interior. It can give protection to your logs up to 10 years!
Like Outlast Q8 Log Oil, this sealant also penetrate into the logs, protect them, and stabilize them against the weather. It uses nano-polymers as its formula to create a barrier to your logs, that is flexible and long-lasting.
The non-film forming Nano Guard also allows your logs to age organically without decay.
3. Capture Log Stain
This product, like its name, really captures the natural beauty of the wood.
If you use this stain, the essence of the natural wood will come through. Capture Log Stain can stretch and compress the logs. The result will create a light stain. Plus, it can protect the logs from moisture as well as sun damage.
Capture can also cover tiny cracks that may happen over time and it contains a mildewcide too.
4. Cascade Clear Top Coat
This is a clear top coat and can be used together with Capture Log Stain. Both can work as a team not only to seal the logs but also stain them perfectly.
When you apply Cascade over Capture, the color will be more vibrant, even after years. You can choose matte or gloss finish for Cascade. It is water-based, so you can easily clean it up with water.
5. Transformation Log and Timber Stain
No matter if you want to remodel your log cabin or build from a new wood, you can use this product as a perfect stain.
Transformation Log and Timber will deliver a glossy finish. Like its name, this product can transform your log log cabin into a new beautiful one.
This stain can be used with most stains. It mans, if you have used a coat of stain before, you can top it off with this sealant. It works well with new wood too.
6. X-100 Natural Seal
This stain is considered a wood preservative, because it can protect your logs. It contains wood protecting ingredients as well.
Once you use it on your logs, it can seep into the wood the protect it from sap stains, cracking, and splitting.
This exterior sealant can also provide protection against weather elements and mildew and mold. It is an oil-based stain and environment friendly.
Closing
So what do you think about the color exterior of the log cabin above?
Do you really think it will worth it if you insist on painting your logs?
Or do you prefer to use stain instead?
If you want to use stain instead, have you decided which stain you would choose for your log cabins?
No matter what brands you choose, you should know that there are three types of stain. They are deep penetrating stains, shallow penetrating stains, and surface stains. Make sure you choose the right one for your logs.
Good luck on your remodeling project!