A ranch house has become quite popular in the United States nowadays. However, many of us are still confused, cannot distinguish between a ranch-style home, a rustic home, a craftsman home, and a mountain-style home. It is because all of them have some similar characteristics.
However, the most common critical elements of a traditional ranch style home are:
It usually has a single story.
It features an open floor plan concept.
It is L-, U-, or rectangular shaped.
It has large windows and a hinged entry door.
It has a low-pitched roofline and wide eaves.
It has an attached garage.
It has a deck space, a patio, or a front porch.
Now, the front porch is what we are going to discuss here. A front porch gives a place to entertain as well as to socialize for the homeowners. Moreover, a front porch can be used as a place to watch the kids playing in the front yard.
Adding a front porch in your home can also deter criminal activity since you, as the homeowner, can hear and see what's going on in your front yard and in the neighborhood.
Combining a ranch-style home with a front porch is always a great idea to try. That way, you can increase your home's value. Here are some pictures of the most inviting front porch in a ranch style home that you can get inspiration from.
1. Small Front Porch Ideas with a Soft Color in a Ranch Style Home
The first thing that catches visitors' attention when approaching this house is the soft-colored front porch.
The front porch is small, but that's all it takes to create an intimate seating area. On this porch, we can see there are two white chairs and one table located right below the window. The all-white table set seems perfect with the white trim.
The color of this house's exterior is very light mint green. The combination of light mint green and white delivers a very relaxing and soft look. According to the designer, the paint used here is Benjamin Moore – St. John's Bay.
The porch is painted with oil-based paint; the designer didn't provide further information, though. However, the designer stated that it was clearly not latex-based because it wouldn't have lasted this long.
The single-story, the combination of soft color, and the gable roof create a pleasant and small ranch house, which is perfect for a countryside area. The potted plants here and there enhance the beauty of this front porch.
2. Three-Colored Front Porch ideas with a Roof Extension for a Ranch Style Home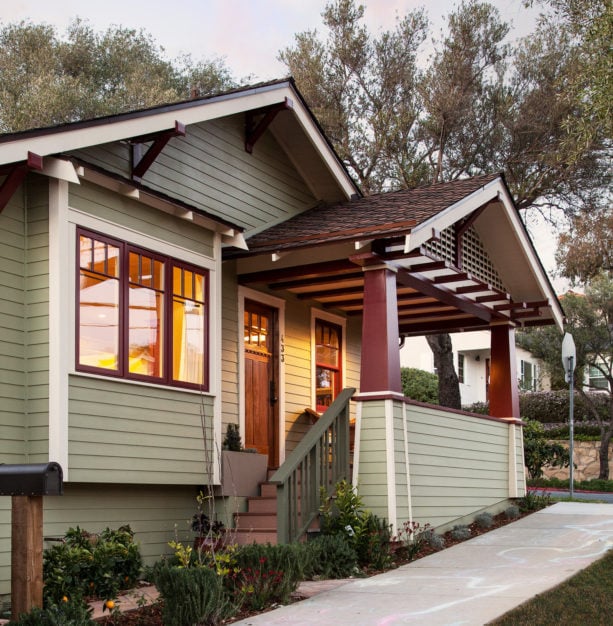 This porch is also not that large, quite similar to the previous front porch.
There is a small staircase on one side of the porch. It means that the front porch is located in an elevated space. Even though the house itself has many characteristics of a ranch style, the front porch has a craftsman style.
It features three colors, the primary color from the siding, the trim, and the color of the columns. There are two columns, and exposed beams in the front porch, and the woods used were perfectly polished and painted.
The primary color is Sherwin Williams – Colonial Revival Green. The exterior trim cream color is Sherwin Williams – Navajo White, and the columns, as well as the windows', were both painted in Sherwin Williams – Rockwood Red. The combination of light green, white, and deep red delivers a vintage look that looks nice in a ranch-style house.
The roofing used for this house is Presidential Comp Shingle, and the color is Aged Bark. The roof is covered with a roof extension that has a similar color to the roof of the main house.
3. Ideas of a Ranch Style Home with a Fun and Bright Front Porch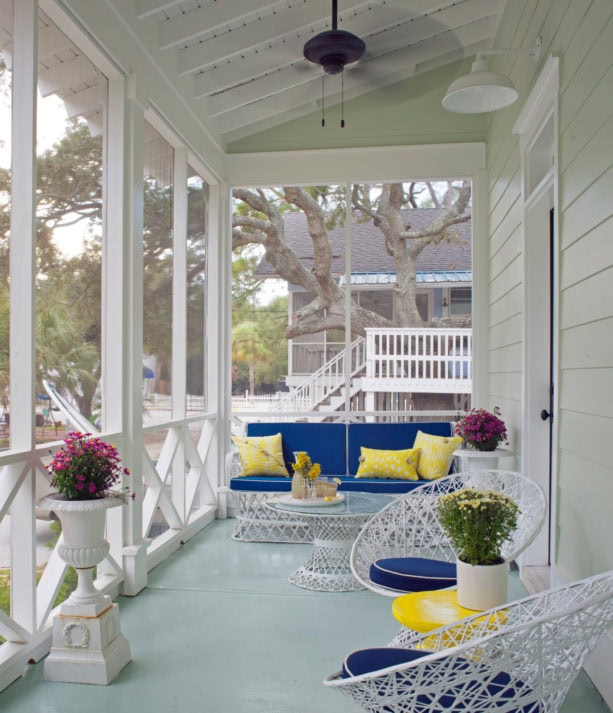 This is basically an ordinary classic front porch with a neutral color palette, roll-down screens, vintage furniture, and a concrete floor. What makes it look extra is the pop of color from the sofa cushions and the throw pillows.
The exterior itself was painted in Sherwin Williams – Dewy 6469. The trim color was painted in Sherwin Williams – Extra White 7006, while the floor is concrete and was painted in Benjamin Moore Porch & Floor Enamel. The furniture pieces are vintage fiberglass. What an inspiration for a mid-sized front porch in a coastal style.
The vintage furniture pieces were completed with bright blue cushions and patterned yellow throw pillows. The round table is also in a similar bright yellow color. All of them genuinely give a splash of color in a creamy white front porch. This way, the exterior of this house won't look too plain and boring.
There are rolling down screens in a track. They are secured to the floor to protect the porch from the bugs. Those would mount inside the railings, so only a minimal additional structure was needed to create the holding track. It is called retractable porch screening.
4. Vintage Ranch Style Home with a Traditional Front Porch
Like any typical ranch house, this one only has one story but with wider dimensions. The exterior features brown bricks that were combined with white trim and dark brown railings. Those colors compliment each other nicely. All elements in this house create a perfect vintage look.
The front porch itself is in a traditional design. It has a seating area that accommodates two persons at a time. There are two tall back chairs in a bright red color, creating a perfect contrast with the brown bricks around.
Basically, every element in this front porch delivers a traditional style, that for some people, is just too plain. Luckily, the homeowners decided to add potted plants with bright flowers attached to the railing. Those plants complete the whole look of the front yard, which was also planted with green foliages.
5. Large Front Porch with Motorized Retractable Screens in a Ranch Style Home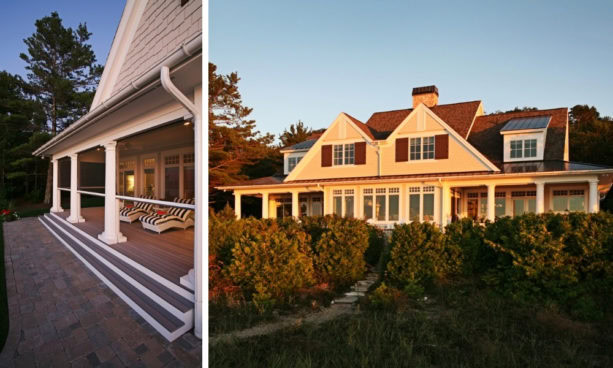 Unlike the other ranch-style homes, this one has two stories. However, it seems that the second floor is not that tall.
This house features a double gable roof and a chimney at the top. The white exterior, combined with the red roofs and red window shutter, creates a colonial and traditional look perfectly.
The front porch is a large one. It is equipped with motorized retractable screens to protect the porch well. The tracks of the screens were recessed into the columns, so the screens can stay out of sight completely until they're needed. The expansive outdoor deck delivers a perfect outdoor entertaining breeze.
There are two lounge chairs with black and white cushions as an accent color to this decking front porch. It seems that they are enough to give a cozy and comfortable extension of an indoor living area.
6. Tiny Front Porch with Decking and Seating Area in a Ranch Style Home
This small ranch house has a traditional brick exterior with wood window shutters. The most comfortable element in this house exterior is its front porch. The front porch is located on the deck, with several seats and no screen at all.
Like the main house, the front porch is also tiny. However, the homeowners managed to make it look cozy. The flooring here is pressure-treated tongue and groove in 8' x 10'. Everything is coated with Sikens clear sealer.
The front porch is also combined with corrugated steel siding, which can only be found in the front of the house, and not on any side.
The body of this house was painted in Sherwin Williams – Fenland. In real life, the color is slightly more green than in this picture. It is combined with the trim, which was painted in Benjamin Moore HC-80.
7. Large Front Porch of a Ranch Style Home with Gabled Ceiling and Multi-tapered Columns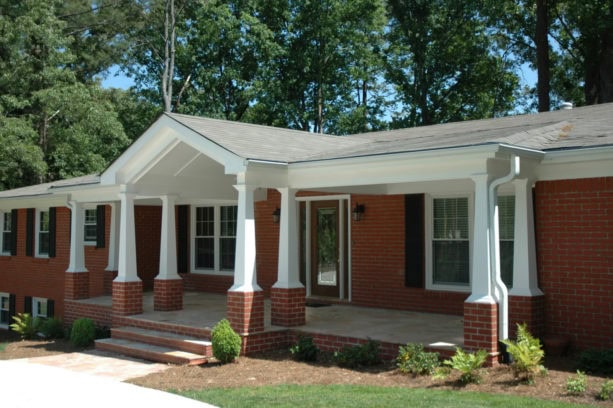 This is an elegant ranch-style home with the main characteristics of a ranch: red bricks. In order to create a more traditional look, the designer combined the red brick with white columns and windows' frames.
The front porch has no seating area, which means that this porch is only meant to be a transit place before the visitors entering the house.
However, this simple large porch enhances the traditional look of this house. It is completed with multi-tapered columns with brick supports. The gabled ceiling makes this house stand out among its neighbors.
There are several steps leading to this front porch. It seems that the floor used here is a concrete floor, which blends seamlessly with the brick exterior and white trim. This is an ideal example of a large transitional front porch with a roof extension.
8. Classic Front Porch in a Ranch Style Home with Gray Brick Exterior
This 1970's ranch-style home has one story and a traditional brick exterior.
The gray exterior, combined with the white trim and columns, delivering a warm and grounded feeling because those are the popular color options of an earthy-tone design. The whole house still remains classic despite the remodeling project here and there.
The front porch also has a classic look. It has no seating area here, so clearly, it is not the place to enjoy the nature outside. Despite the fact, the front porch is perfectly "framed" with green foliages and bright-flowered plants in its both sides. There are also two potted plants placed on both sides of the main door.
The main door, which is a classic hinged door, was painted in dark green, similar to the window shutters. The dark green color serves as an accent color to this gray brick house. It enhances the beauty of this whole exterior.
9. Traditional Front Porch with Stairs and Deck in a Two-story Ranch Style Home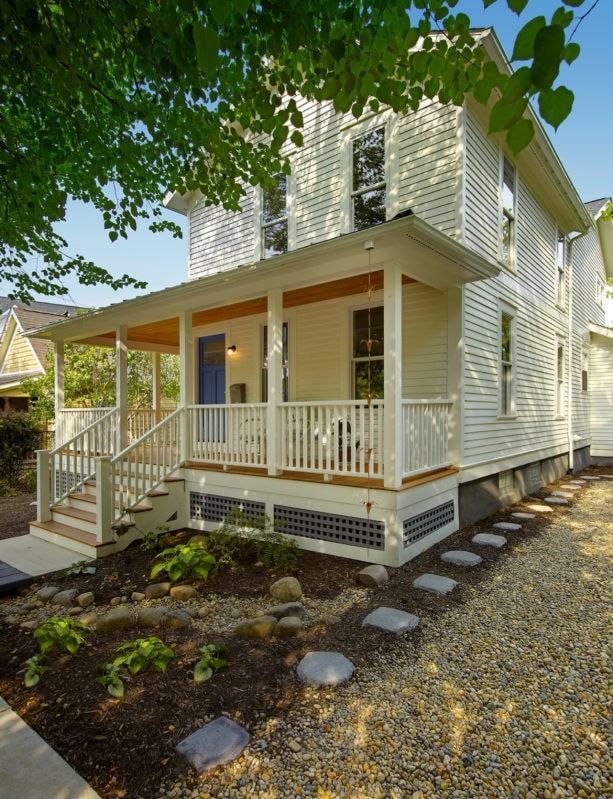 This house can also be categorized as an unusual ranch house because it has two stories instead of one. However, that doesn't decrease the value of this ranch-style house. This one has a creamy exterior that creates a warm and inviting ambiance.
The front porch is small and traditional. It seems that there is a seating area on this porch. This is located on a deck completed with porch stairs. Both deck and stairs were made from Douglas fir.
The siding in this front porch (and the whole house) is in the same color as the trim. The paint color is Behr Woodland Cream.
There are lattices below the porch, which also make it look more unique. The lattices were made by a local lumberyard, Finglerle Lumber. The designer uses Woodway #1 grade Western Red Cedar in a square pattern, 1 3/4" spacing, and 3/4" thickness.
10. Before and After Remodel: Modern Front Porch in a Retro Ranch Style Home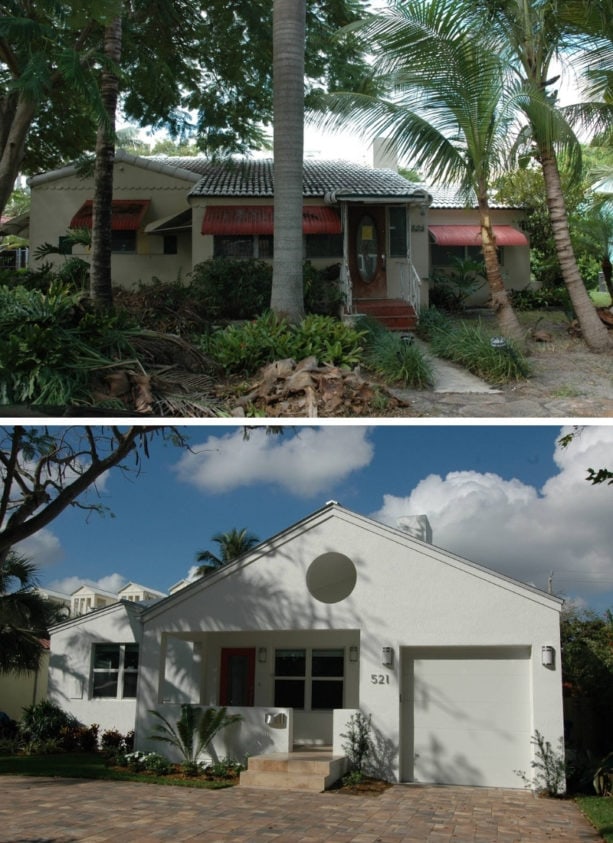 What a jaw-dropping transformation this house got after being remodeled.
Before, this house was only an old ranch house with a cream-colored exterior, red awnings. Red and cream don't complement each other. Moreover, the red color here was already worn out.
There was no front porch here. Instead, there was an elevated entry with stairs leading to the front door. The front yard was full of towering palm trees, which made the house look dim and grim.
After being remodeled, the house has become more modern, brighter, and cleaner. The designer and the homeowners removed the palm trees and changed the paver. Now it seems that this house features an interlocking concrete paver.
The whole exterior has been painted in white color with no accent. The all-white exterior perfectly delivers a modern look.
The house itself still has its retro vibe. This ranch house now features a gable roof and a front porch. The front porch also has a modern style.
The stairs are still there; however, the position of the main door has been moved to the left. That way, there is a small area that can be used as a front porch. There is no seating area there, though. It might be the homeowners' way to keep the house clutter-free, clean, and bright.
11. Ranch Style Home with a Mid-sized Front Porch in a Green Color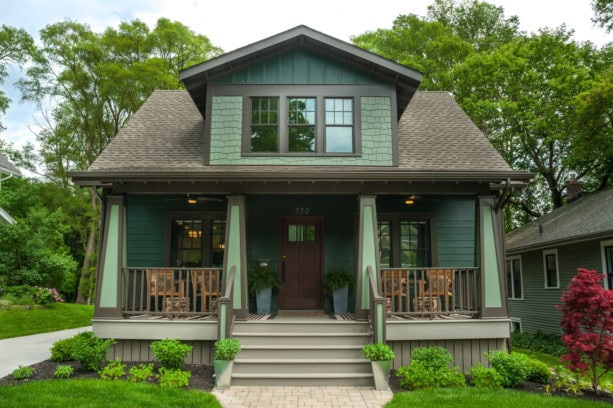 This lovely ranch home is an ideal example of a mid-sized one that also has a touch of craftsman style in it.
The combination of the green and black color of this house gives a stunning look. It is quite a standard color combination option in a traditional, mountain style, ranch style, craftsman, and country style house. It is because green and black are known as some earthy tones that can give a grounded, warm, and secured feeling.
The front porch here is not that small, but it is not too large either. It can accommodate two sets of seating areas that bracket the main front door. There are stairs leading to the porch and the front door.
The floors and stairs here are finished with engineered wood. It is from Greyne, Craftsman Collection, and made out of European White Oak with Sultana finish.
There are two potted plants on both sides of the door. Both are useful to enhance to look and make the front porch seem even more natural. There are rugs on both of the seating areas, indicating that these areas are meant to be clean, so the visitors should take off their shoes here.
12. Creamy White Ranch Style Home with an Elevated Timeless Front Porch
This is another example of a traditional ranch-style house. It has a wide size and is only one story.
The exterior of this house was also painted in creamy white color. Combined with the gray roof, it gives a simple minimalist yet chic color combination, a standard color option for a ranch-style home.
The front porch and the entrance of this house were elevated. So to reach them, visitors and guests should climb the small stairs first.
The front porch was covered with a roof extension. It seems that there is no seating area on this porch, even though it is spacious enough to accommodate some. There are four white columns attached to the white railing. The columns make the front porch look elegant and stylish.
13. Midwestern Ranch Style Home with a Craftsman Front Porch
This is a midwestern ranch-style house. However, it also features some details of craftsman style to add the right amount of character to the exterior, especially the front porch. That way, the scale and the front elevation feel inviting and comfortable.
The craftsman front porch has some standing out columns that still look striking even through the winter, according to the designer. It is because the designer used a very thick stain application to get the darker saturation. Later, it's also topped with a marine-grade boat finish in two coats. The wood used here is Southern Yellow Pine, clear.
The columns were attached to the stone posts, making them even more grande. It seems that the floor used here is concrete. The element combinations in this front porch deliver an arts and crafts design with characters.
14. 50's Ranch Style Home with a Spacious Contemporary Front Porch
This ranch-style home has a gable roof with a decking front porch and a spacious yard. It is clear that this house is from another era, another decade. It was built in the 1950s, and the classic elements of this house are still kept intact even though it has gone through significant remodeling.
The spacious contemporary front porch is decked. It features a wooden floor, like a standard deck. There is a single step of the stair that leads to the elevated decking front porch. The high gabled ceiling and the exposed posts and beams add a touch of mountain style.
The wall is made out of natural stone in cream color. It is also combined with light brown posts and beams, and both deliver a soft neutral color. The white railing serves as an accent color, even though white is also a neutral color.
We can see here that there are several seating areas. The first one consists of two chairs and one table on the right side of the porch, while another one is a bench below the windows on the left side. The hinged door is installed in the middle of it. What a warm and lovely porch.
15. What to Add to Your Front Porch
After seeing those beautiful pictures above, chances are you are going to design and build your front porch right away. If you are still unsure what to add to your front porch to enhance its beauty, here are some elements you should consider adding:
Rugs. An outdoor rug is a symbol that everyone knows that the front porch is a spot where the guests should kick off the shoes and recharge.
Comfortable seating. Even though it is not necessary, it would be nice to spend some time comfortably on your front porch. Add some seatings that can accommodate at least two people.
A table. Make sure that you choose an accent table as a convenient spot to put a drink. The table should not be taller than your seating's arms.
Accessories. If you want to add a pop of color to your neutral-colored exterior, you can use some accessories, like throw pillows or sculptural decor in a bright color.
Potted plants. You can also place some potted plants in a group based on their textures and heights. Make sure the plants you choose can survive the excessive exposure to sunlight.
So, what do you think? Isn't decorating a front porch in a ranch-style home is an easy thing to do? Let me know what you're thinking in the comments below.