If you intend to build a house, the first thing to consider is the basement. It is because a house can't hold without a solid foundation.
When it comes to a basement, surely you have choices besides a load of backfill and four block walls. Many of us now prefer a walkout basement.
What is a walkout basement anyway?
A walkout basement is the underground area of a house that has at least one wall above grade entirely. This way, the homeowners can put a door in the structure wall, letting them access directly right to the basement.
Walkout basements are quite common in the hill area, where the slope is excellent enough for the structure's one end sits completely above grade and another end below.
In order to add the function as well as beauty in your walkout basement, you should put the entrance door into consideration.
There are many walkout basement door options out there. You just have to find what's right for you based on your home style, the dimension of the basement, and of course, your personal preference. Here are some door options you might like for your walkout basement.
1. 2 Panel Bi-fold Walkout Basement Door Option in a Red Brick Wall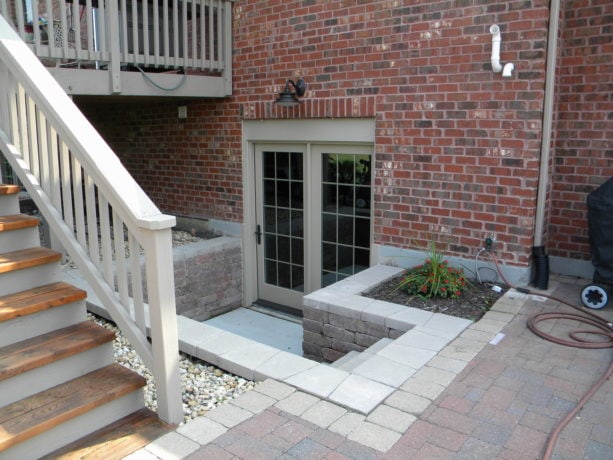 An external bi-fold door is such a modern way to upgrade your home. It is because this type of door can help maximize your space as well as fill your room with natural light, creating the illusion of more space.
This is perfect for a walkout basement because most of the time, a basement needs a lot of natural light in it.
In this walkout basement, the doors used are 2 panel bi-fold. It was made up of large panels of glass completed with a light gray frame. Somehow, these doors create a traditional design, especially it was mixed with a red brick wall around.
The doors here are hinged and fold back. They are meant to create large open areas. Bi-fold doors are an excellent option for those who want to open up a large external wall.
Moreover, bi-fold doors are considerably very flexible. They can be manufactured for any size and any building.
2. Glass Panel Walkout Basement Door Option for a Contemporary Look
Glass panel doors like this are also known as accordion doors.
We can see that this walkout basement has a grand entrance. So the designer added a pair of glass panel doors that cannot be operated and a hinged glass panel door that can be opened inwards. However, three of them have a similar frame.
The dark-framed doors are juxtaposed with beige stone walls around. Together, they create a perfect contemporary look.
The doors are made from reclaimed wood, while the walls are from natural stone. Along with the ceramic tile flooring, low hanging ceiling, and a raised ceiling, the whole elements in this room deliver a softened look.
3. Good Option of Dutch Door Walkout Basement Door Side by Side with White Sliding Windows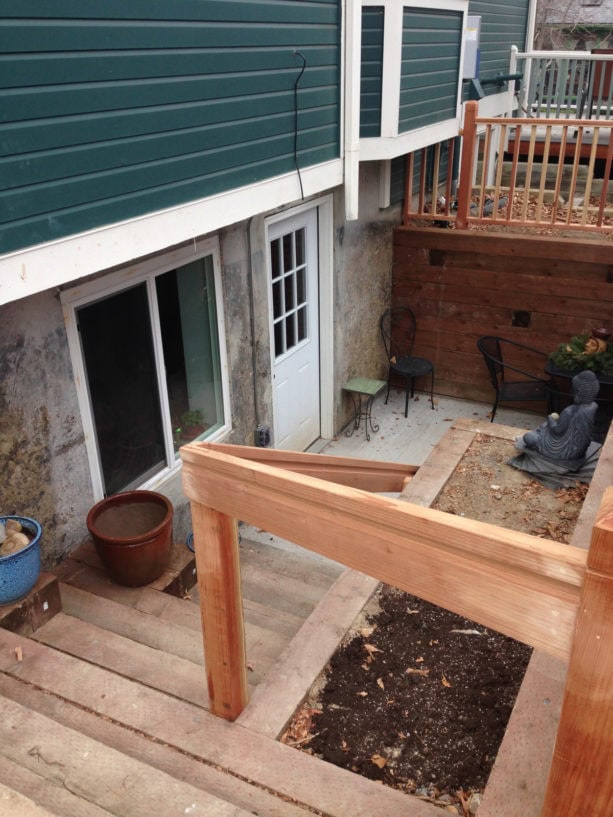 This sunken and walkout basement uses a dutch door as the entryway. That white dutch door looks flawless, complemented by the white framed double sliding windows.
The main benefit of using a dutch door is that you can open its top side. Thus, the airflow is let inside while the dirt and dust are filtered outside.
Because the basement usually is not a safe place for a pet and kids, a dutch door as an entryway is the best option. Because pets and kids can't go inside without you noticing them.
This door is also helpful if you live on a farm where animals like chickens and sheep running freely in front of your house. They can't come inside your basement with a dutch door.
There are several options of materials used when it comes to a dutch door. There are different types of wood that can be used too. It is recommended to paint the door once it is installed, like the one in this picture. It seems that this dutch door was made out of hardwood, which is the favored material for a dutch door. It is because hardwood is considered high quality and sturdy, even though it is pricey too.
4. Dark Green Hinged Walkout Basement Door Option with White Trim
The door of this walkout basement opens right to the patio. It was painted in dark green to perfectly match the lighter green siding above it.
The combination of dark and light green in this house exterior creates a relaxing ambiance. It is because green symbolizes the natural world and nature. It is often used to represent tranquility. The green color is also balanced with beige trim here. All of them create a flawless contemporary look.
Unlike the other larger walkout basement, this one is completed with a single hinged door. Traditional hinged doors like this have many advantages, such as quiet operation, a reduction in draughts, light-proof, and soundproof. Those are ideal for a basement, a full of privacy and confidentiality area.
Moreover, hinged doors are also easy to use. They can be matched with many optional additions, like an automatic door closer, transparent panels allowing for vision through the door, and larger pull hands.
However, since this is a contemporary exterior, there is no such thing in this minimalist hinged door. The bold color has already screamed loud.
5. Bright Yellow Dutch Walkout Basement Door Option for a Fun Element in the Exterior
This dug-out basement looks fun and bright even though the whole look is basically in a traditional style. It is because the doors here were painted in a matching bright yellow color.
The walkout basement door and the side door has a similar color that is meant to be a pop of color in this grey siding. The all-grey exterior combined with bright yellow doors deliver a nice timeless look.
As stated before, the dutch door is perfect for a basement, especially the sunken and walkout one.
Since this basement is located lower than the main building and it was secured by a dark metal railing around the entryway, it will be hard for natural light to come into the room.
That is why the designer of this house decided to use a dutch door, which features a glass panel in the upper half of the door. The glass panel will let the natural light pour into the room, so the basement won't be too dark and damp.
6. Gray Hinged Walkout Basement Door Option for a Rustic Exterior
This walkout basement's entryway was designed nicely to match the rustic exterior. There is a straight stone staircase descending to the basement. It was crammed between the stacks of natural stones on both sides of it.
This basement's entryway itself is a hinged door in gray color, which is meant to blend seamlessly with the stacks of stone above the staircase. This gray door is surrounded by polished red bricks, enhancing the rustic look.
A hinged door like this has many variations. You can choose one that can fit the theme of your room.
In this walkout basement, the type of hinged door used is the wooden panel one. Hinged doors like this can be designed to utilize an L-shaped room, where a sliding door can't be used.
Other things to consider are, a hinged door is easy to maintain and easy to operate. This is an aspect that is often ignored.
In fact, many people find it more comfortable using a hinged door than any type of door because closing and opening for us is a matter of habit. It can't happen on sliding doors, though.
Last, a hinged door is long-lasting. Yes, the hinges can wear out, but it is simpler to fix than the worn-out metal tracks of the sliding doors.
7. Hinged Glass Door Option with a Gray Frame in a Stone Walled Walkout Basement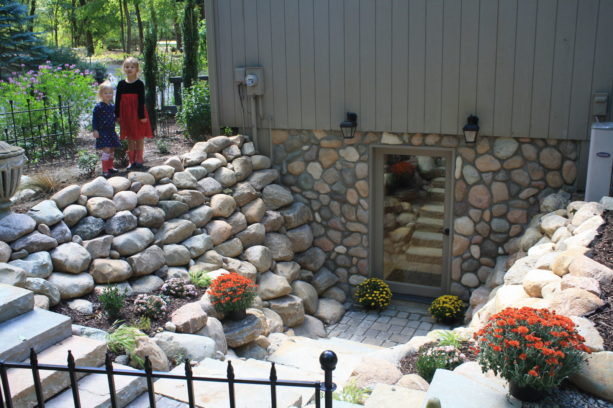 The most remarkable and most unique part of this walkout basement is the full glass-hinged door. Usually, a hinged door is made out of wood with panels. However, this hinged door was made out of a full glass, with a dark gray frame around it.
This door is surrounded by stacked stones as the exterior wall and the retaining walls. There are retaining walls in this basement's entrance because it is located in the slope area. The stone and the frame of the door blend seamlessly with the vertical siding above.
Most people prefer using a glass door for their walkout basement's entry simply because the glass can let the natural light come into the room.
Basement is often known as a damp and darkroom because it is located underground, where natural light finds it challenging to reach. On the contrary, the designer of this house wanted something different. Clearly, the designer and the homeowner intended to create a basement full of light. Hence, the glass door.
Generally speaking, this door can't be fully said as a glass door, because usually glass doors are used in sliding or french type. This is a hinged door, with only one single door that opens inwards and is secured by hinges.
The basement is not that wide, so it can't use a usual french door or sliding door. However, the homeowner wanted the basement to be bright, so the hinged glass door was installed nicely here. A perfect solution for a small basement that needs to be lightened up.
8. White Framed Glass Walkout Basement Door Option for a Traditional Look
Unlike the previous type of door, this one is a traditional type of door. These are double doors with a frame around, creating a simple yet stylish look.
These double doors are also completed with a pair of huge windows with a similar white frame. They are a perfect element to create a traditional look, especially when combined with beige walls like this.
A double door like this is ideal for a large classic walkout basement. It is also perfect for colder climates area because this type of door is an excellent energy-efficient solution. It has unique insulation properties that keep the basement cooler in summer and warmer during the winter, thanks to the glass. Thus, you don't need artificial cooling and heating in the basement, a thing that is commonly used for an underground area to prevent extreme heat or cold.
A double door can also increase the architectural style and curb appeal of the house. You can see it here, where the white framed doors enhance the traditional look. They also provide a larger access point for moving large pieces of furniture.
And the most important is, with doors like this, especially combined with the tall windows, more natural light will illuminate the basement.
9. White French Walkout Basement Door Option for a Grand Entrance
The combination of neutral colors like this never fails to create a perfectly modern look. However, this basement's entryway delivers a traditional look with its dark metal railing, white french doors, and concrete paver.
In front of the french doors, there is a stone staircase that opens to the traditional patio around. This walkout was built to create a grand entrance to the basement.
A french door never fails to create a beautiful appearance. This is the most beneficial thing of investing in exterior french doors. They can look pretty in traditional, industrial, rustic, modern, or any style of the home.
This door is assembled with two built-in windows on both sides of it, creating a sturdier and grander look.
Installing french doors in a walkout basement is also an easy way to add additional light to the room. A majority of french doors are completed with a large piece of glass surrounded by many types of wood grilles.
In this picture, the wood grilles are quite wide. Yet, you can purchase the french doors without grille patterns to enhance the amount of sunlight in the room.
A two-glass panel french door is perfectly fit with a medium to the large basement. It makes it easier to enter or exit the basement.
If you want to repurpose your basement into a living space that can be used as a gathering area, you and your family will indeed spend a lot of space in the basement, using a french door as an entryway will increase the comfort and coziness in the area because it will keep the room warmer and more relaxed, depends on the current weather.
10. Nice Option of Triple Walkout Basement Door in a Stack of Natural Stone Wall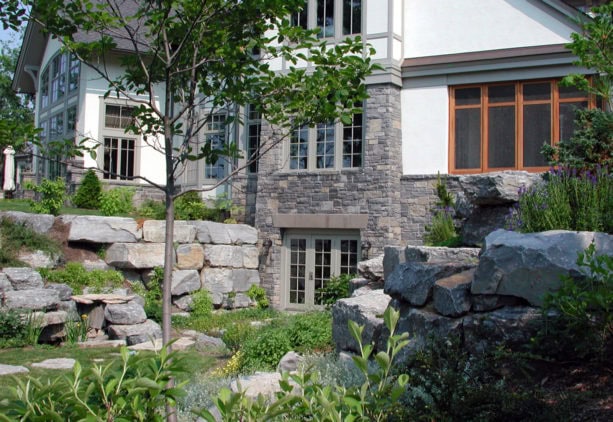 Unlike the other walkout basement that features a single or at least double doors, this one features a triple door.
The triple doors seem similar to the triple pane windows above in the second story. It appears that there are only two doors that can be operated since they both have a door pull side by side.
The third "door" is not really a door; it is more like a window but has a similar size with the doors beside it. Thus, they create an illusion of triple doors in a basement's entrance.
Triple doors like this are helpful to create easy access to the basement. With that, even wheelchair users can enter and exit the basement easily. These doors are also completed with glass panels that can ensure the natural light coming to the room.
To have a door like this, you should have a large basement. This one, for instance, from the exterior, we can judge that it has a similar dimension with the room above it. The triple doors were painted in gray color, and they blend harmoniously with the stack of the natural stone wall around.
In front of the basement's doors, there are two retaining walls on both sides of it, made from bigger stacks of natural stone. Those elements create a perfect farmhouse design.
11. Trendy Bi-fold Glass Door Option for a Contemporary Walkout Basement
What a trendy bi-fold glass door!
This walkout basement is really one of a kind. The designer and the homeowner were seemingly against the idea of a traditional basement, where it is usually dark and messy. In fact, this walkout basement seems clean and bright, thanks to its minimalist style and the huge bi-fold glass door as well as the glass ceiling.
The doors like this can flood your basement with natural light. No matter it is opened or closed, bi-fold doors let maximum sunlight come into your basement, transforming a normally dark area into a room full of life and zest where you want to spend more time.
This kind of door also gives you a sense of freedom. You don't need to be outside physically to feel that. It is so much unlike the conventional sliding doors that clearly distinguish the sensation of being inside and outside. With this door, you feel the comfort of being in the basement while enjoying the outdoor space too.
Another great thing about bi-fold doors is, they don't take up much space. It means that they don't cause any disturbance to your basement's natural flow.
Bi-fold doors collapse back on themselves, giving the advantage of opening up the wall completely. A minimalist, clean, and bright room like this never fails to deliver a perfect modern style.
12. Best Option of Transitional Double Walkout Basement Door in Gray Frame
Another bright and full-of-life walkout basement.
Long gone are the days where the basement is meant to be a secret place where mysterious things happen. This basement proves it very well. Instead of being fully covered, this walkout basement is open and bright. It features a glass wall as well as double glass doors.
The glass doors are combined with a gray frame, creating a nice neutral look. The gray frame is also added to the glass windows around. This walkout basement protrudes from the original structure of the main property. It features a roof extension that thoroughly covers the basement.
We can easily conclude that this contemporary basement is constantly flooded with natural light. No wonder that this basement is turned into a gathering space, because who wouldn't like to spend more time in a room like this?
The glass doors and windows also ensure that the room inside will be cold enough during the hot summer days and warm enough during the cold winter nights because glass doors and windows feature an insulation property.
However, a significant advantage of glass doors is that they are easy to clean and highly durable. Glass doors won't collect dust and grime, won't rust and corrode. They only need an occasional wipe with a clean cloth as required maintenance.
13. Wide Glass Panel Walkout Basement Doors Option in White Frame and Dark Hardware
Want to have an elegant double door that is wider than usual french doors and more stylish? Maybe you can have a double door like this.
We can see here that these double doors have glass panels like a usual french door, but they also feature a wider frame painted in white color. The white frame is combined with dark hardware, creating a black and white color palette, perfect for a modern and stylish look.
This type of door will give you the benefit of glass doors, like enough natural light, a bright room, and a chic modern design. However, the wider frame also gives you the privacy most people crave when they have a glass door. Such a combination will deliver an irresistible walkout basement door.
It seems that the door's opening is not that wide. It means that this type of door can be used even in a smaller basement. It looks like the frame was made out of painted wood, delivering a sturdy stand for a glass door.
Closing
Now we know that basement entryway doors have many benefits when properly installed. For example, they create a more attractive look for the house. Moreover, walkout basement doors also help visitors and guests to know that there is a walkout basement underneath the main property.
The type of door to install very much depends on the style of your house or your preferred taste.
You can install it to complement your house's style or even install a whole different door that can give your home a unique look. Just make sure the door you choose should enhance the aesthetic visual and safety of the basement at the same time.
Good luck with your walkout basement project!